3 Days in Atlanta: A Perfect Long Weekend Getaway that Packs a Big Punch
Well, HELLO ATLANTA! We're here to spend three days in Atlanta enjoying everything the city has to offer. It doesn't matter if this is a staycation or we're visiting from out of town, we're here to enjoy a long weekend getaway in Atlanta, packed full of fun, dining, culture, shopping and just hanging out.
In order to see and do as much as possible during our three-day Atlanta getaway, we decided the best way is to divide and conquer, so for day one, it'll be Buckhead; day two, Downtown; and day three, the full-of-character in-town neighborhoods. Our cells are turned off, we bought a MARTA weekend pass and a CityPASS to enjoy the attractions at a discount–and we haven't eaten in days so that we can enjoy the rich culinary scene.
Here are just some of the ways you too can spend an absolutely incredible three days in Atlanta.
Day One: Buckhead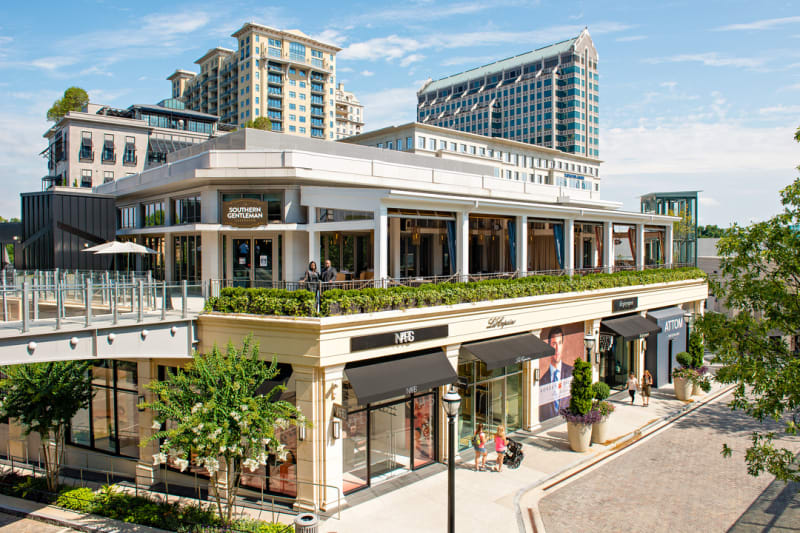 The key is to pace ourselves, so we're going to start the day off at the Highland Bakery for sweet potato pancakes, with made-from-scratch cinnamon rolls, SOYsage and a steaming hot cappuccino. Braced with nutritional energy, it's time to walk a few block to shop. And, we mean shop. Lenox Square has 198 stores on four levels and Phipps Plaza (across the street) boasts another 100-plus stores where we can easily spend lots of money.
Believe it or not, after all of that, we still want to shop. So it's off to the Buckhead Village where we find even more items at Abbey Glass, Tod's, La Perla, Brunello Cucinelli and Hermès. All that shopping makes us a bit hungry so we need a snack. Well, actually, we get a red velvet cupcake from Georgetown Cupcake as we walk a few blocks to the Atlanta History Center.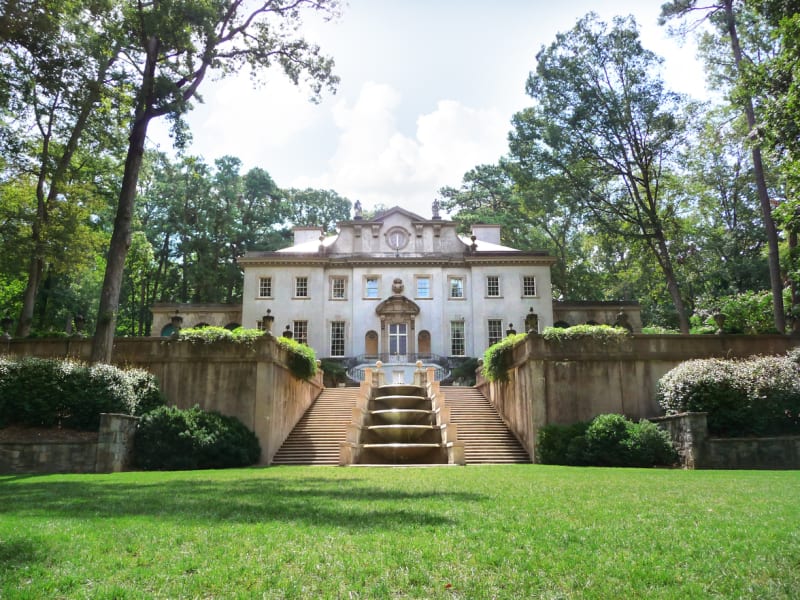 Set on beautiful grounds, the Atlanta History Center showcases the city's history including special exhibits on the Civil War, traditions and the Bobby Jones Story. New to the center is "Cyclorama: The Big Picture," featuring the fully restored cyclorama painting The Battle of Atlanta, a 132-year-old hand-painted work of art. Of course, no trip to the Atlanta History Center is complete without going to the Swan Coach House restaurant and experiencing Southern charm at its finest. A must-order is the Swan's Favorite, the restaurant's signature chicken salad served with a creamy frozen fruit salad.
It's time for some exercise, so it's a quick Lyft trip to the Painted Pin, an upscale bowling and entertainment venue with 20 lanes as well as indoor bocce ball, table shuffleboard, Ping-Pong and a bimini ring toss. It's lots of fun and we definitely needed to get moving.
The exercise did the trick and now it's time for dinner at one of the locals' favorite restaurants, Hal's. Tucked away by a strip center, Hal's has been an unassuming favorite for years with no celebrity chefs or fancy promotions, just outstanding food in a friendly, comfortable atmosphere.
After dinner, it's time to party and what better way than to cut a rug at another Atlanta institution, Johnny's Hideway. Johnny's Hideway features some of the city's best DJs spinning hits from the '50s, and it doesn't matter if your favorite dance is the shag, disco or the electric slide… Johnny's will play it.
Day Two: Downtown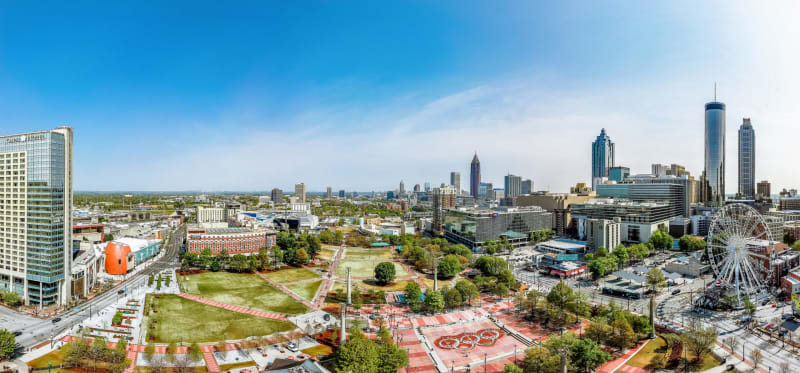 We may have overdone it on Day 1, so we're taking it a little easy on our second day. We start the day at one of the city's best breakfast spots, the aptly named Atlanta Breakfast Club. While it serves up delicious dishes such as salmon croquette, breakfast tacos, crispy fried chicken and waffles, plus the Southern breakfast with eggs and grits, we're going to be good and start with fresh fruit & yogurt and follow it up with old-fashioned oatmeal. However, we can't resist the biscuits with chicken sausage gravy.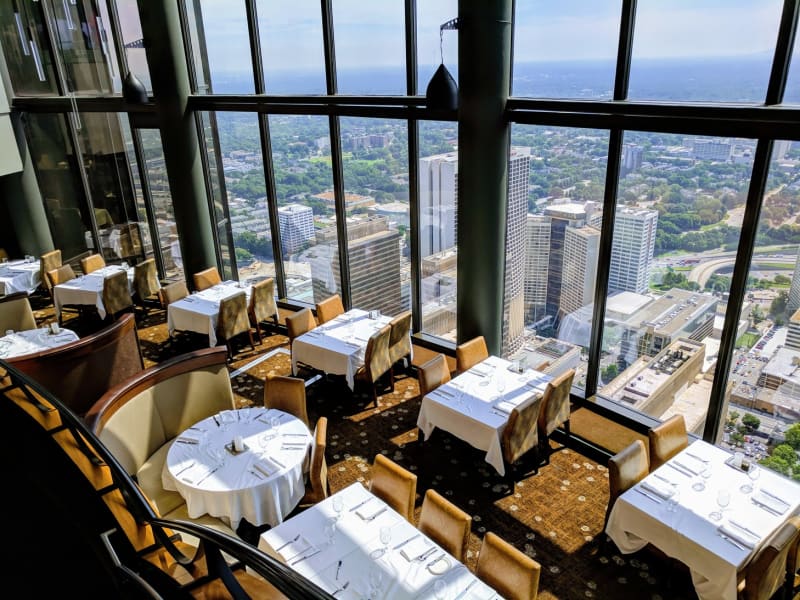 We decide to go the the W Hotel Downtown and book a massage at the Spa @ W Hotel. Before we have our massage, we lounge by the rooftop pool, sweat out some toxins in the sauna and then get a massage to put the get-up-and-go back into us.
We decide we need to enjoy some of the city's best museums so we start at the Georgia Aquarium, which houses 10s of thousands of animals swimming in more than 10 million gallons of water, then it's just across the green to the National Center for Civil and Human Rights followed by the World of Coca-Cola. The grand finale at the homage to Coca-Cola is a tasting room where we sample Coke products from around the world and get the needed sugar rush to see more of Atlanta. Nearby is a string of restaurants including STATS, Max's Coal Oven Pizzeria and Der Biergarten but we're going with Twin Smokers BBQ, which features regionally inspired BBQ including a Dinosaur Beef Rib that would make Fred Flintstone proud.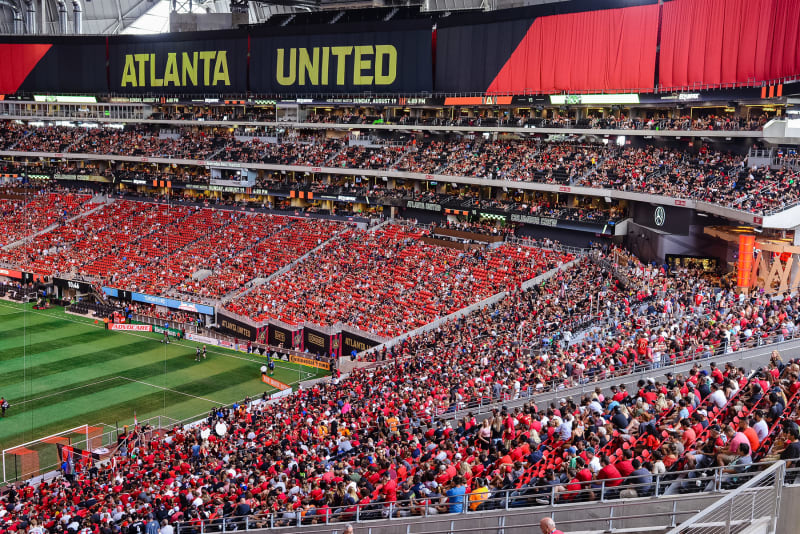 Being sports lovers, we know Atlanta offers several options. There's Georgia Tech and Georgia State University sports right downtown as well as the Atlanta Hawks, Atlanta Falcons and Atlanta United. We walk over to the spectacular Mercedes-Benz Stadium to cheer on the soccer team and again sample some of the city's best restaurants including Kevin Gillespie's Gamechanger, Molly B's Kitchen and No Más! Cantina. After the game, we walk around the historic Castleberry Hill neighborhood and enjoy the colorful murals and realize that a lot of television shows are shot here.
We decide to close the evening out at Agatha's Mystery Dinner Theater, a comedy murder mystery theater that encourages audience participation. The show is always fun and the food is astonishingly good and includes an array of hot and cold appetizers and a choice of six entrees including honey pecan chicken, beef tenderloin and pork tenderloin.
Day Three: In-town Atlanta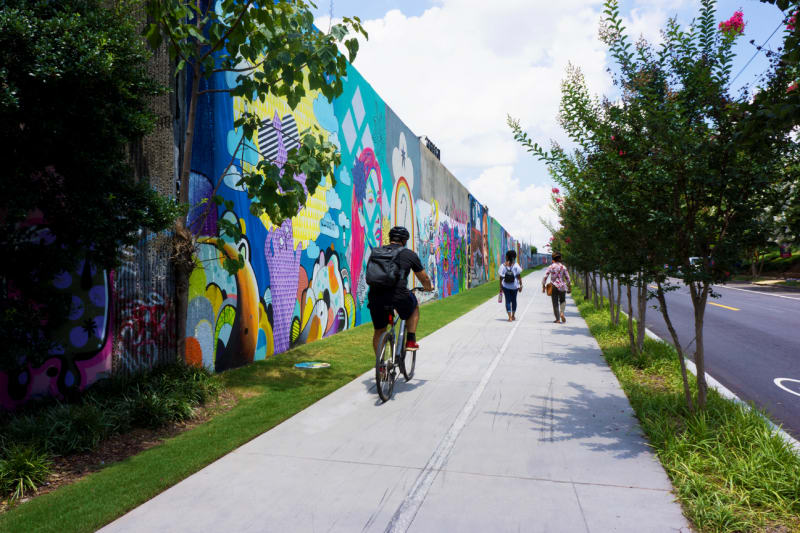 Atlanta has a number of historic neighborhoods, each with its own personality. We take the MARTA bus 102 or 2, get off at Ponce City Market and figure out which of the fine restaurants in the upscale food hall would be perfect for breakfast. We decide to join Atlantans walking on the BeltLine and look at the colorful artwork, restaurants and shops along the way. We pass Bazati, which consists of two great restaurants, The Brasserie and Estrella (which has a great rooftop), then we pass Bully Boy and TWO Urban Licks before crossing over to the Old Fourth Ward where there frequently is a festival going on. Among the other restaurants are Barcelona Wine Bar, Bantam Pub and Venkman's. We walk over to the Jimmy Carter Presidential Library & Museum. On Saturday there is a farmer's market, but we go inside the museum to get even more insight to President Jimmy Carter.
It's a short walk to Little Five Points, the city's favorite counterculture hangout. L5P is the place to just chill and people watch. For those who love vintage, this is the place. The Clothing Warehouse, Rag-O-Rama, Junkman's Daughter, Psycho Sisters and Stefans Vintage are just a few of the stores that offer clothing and accessories you won't find elsewhere, and Wax n Facts and Criminal Records have just about every album ever released, including some you wish never had been. While we contemplate going to the Vortex for its famous burgers, instead we walk a couple doors down and opt for a true dive (not that the Vortex isn't), Porter Bar. The Porter Bar offers more than 800 beers, but even more surprising is that its menu is quite sophisticated, diverse and fabulous. Sure, it has burgers and nachos but also ricotta meatballs, bahn mi pork belly steamed buns, pot roast and a vegetarian beet Reuben. To walk off our meal we meander around nearby Inman Park where the Victorian houses are postcard perfect.
We round out our evening with a play at the Horizon Theatre Company, which has been bringing exciting regional and world premieres of contemporary plays to Atlanta since 1983.
Well, that was three days in Atlanta and we barely got started. There is still so much to do, and that's why a repeat visit is necessary.
Discover More
Get to know Atlanta, and discover the best things to do around the city.