7 Unique Things To Do for Black History Month
February is Black History Month. And when you think of the contributions of Black Americans to our country along with the history of technology, music, food, civil rights, politics, and more, you'll undoubtedly consider someone or some place in Atlanta. Atlanta, of course, can't celebrate with the nation's largest parade this year, but there are plenty of other things to learn and things to do in our city to pay homage to Black history. Here are a few ideas.
The status and hours of the businesses listed below may vary due to COVID-19. Please check the business website for the most up-to-date information. Please see our disclaimer regarding the accuracy of this information. For more COVID-19 resources, click here.
1. Stroll down Auburn Avenue
See the lesser known locations in this famous Black Atlanta neighborhood.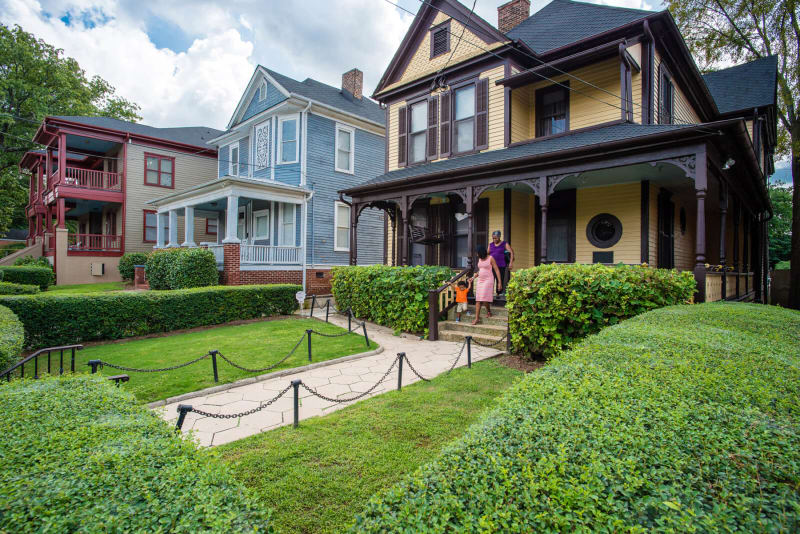 Sweet Auburn was once the center of cultural, spiritual and business life as well as a safe haven in Black Atlanta. Use our guide to learn more about the historical sites on what was known as "the richest Negro Street in the world," walk in the footsteps of those who came before on famous Auburn Avenue, and see the Black and Brown owned businesses that are helping to revitalize the area.  
Location: Start at the Auburn Avenue Research Library, head across the street to the APEX Museum, then make your way down to For Keeps Bookstore before heading to the MLK Birth Home shown above.
2. Support Black-owned businesses
Learn more about how your continued support of Black-owned businesses in Atlanta makes a difference. And tell a friend.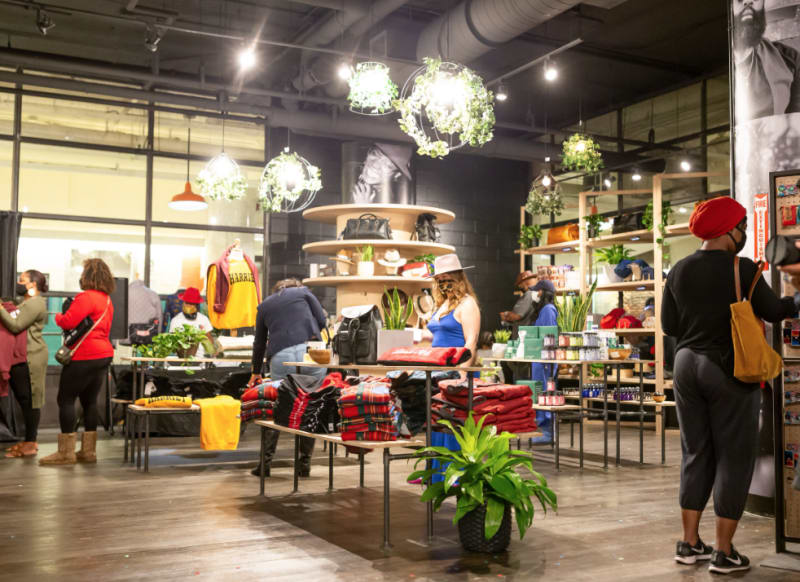 Although you may know of many Black and minority owned businesses, including your favorite spa, gallery or tour group, you may not know how much your continued support contributes to building stronger communities, closing the wealth gap or even entrepreneurial equity. The Village at PCM opened in Nov. 2020 to add a new level of support with a storefront featuring more than 25 local Black entrepreneurs. As their team says, "Support is a Verb," so buy gift cards, leave reviews for your favorites, shop online and tell a friend to support local Black-owned businesses, especially during Black History Month and, really, anytime.
Location: The Village at PCM, shown above, is at Ponce City Market in Midtown at 675 Ponce de Leon Ave. NE
3. Hear from the mothers of icons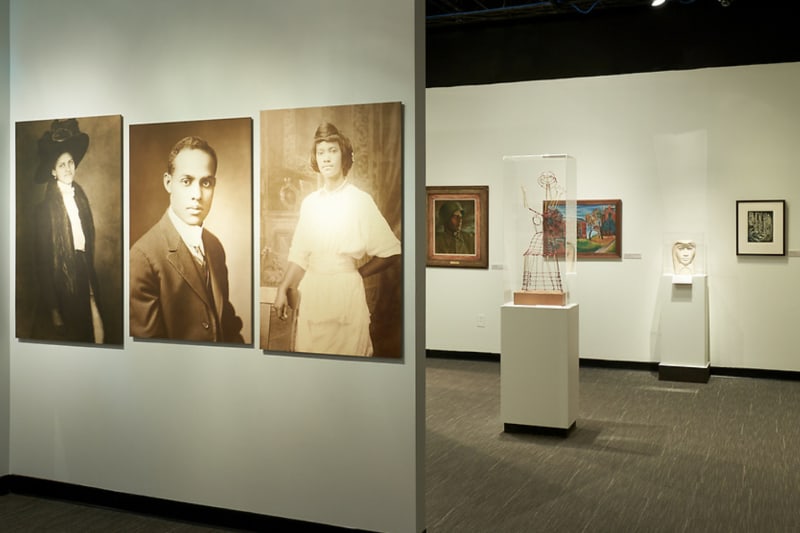 Atlanta History Center hosts four author talks this month including a conversation with Chad Sanders regarding his trauma and triumph in Silicon Valley plus Anna Malaika Tubbs story of the women that raised James Baldwin, Martin Luther King Jr. and Malcolm X.
"Black Citizenship in the Age of Jim Crow" highlights the ways African Americans advocated for full inclusion in American democracy from 1865 through World War I. The exhibit was created by the New York Historical Society in collaboration with the National Museum of African American History and Culture. Atlanta History Center has enhanced the exhibition with a focus on local stories and artifacts.
The exhibit remains on view through Feb. 28.
Location: Atlanta History Center, Buckhead at 130 West Paces Ferry Road NW
4. Enjoy a two for one at the High Museum of Art
See the beauty through the artists' eyes: David Driskell Exhibit Opens Feb. 6; Dawoud Bey show continues.
David Driskell's art combines observations of the American landscape with the imagery of the African diaspora. The High's exhibit is the first to unite his paintings and works on paper. All told, the exhibit includes 60 works and is the first major survey of his work since his death in April 2020 at the age of 88.
What to look for: Explore the evolution of Driskell's use of collage as a medium and works that exemplify his incorporation of African images and forms.
But don't leave the museum yet. There's more.
Photographer Dawoud Bey has used his camera to create meditations on visibility, race, place and American history. From early street portraits made in Harlem to a recent series imagining an escape from slavery on the Underground Railroad, Bey uses his photography to reveal communities and stories that have been underrepresented or even unseen.
What to look for: Particularly in his Harlem photos, see how he treated his subjects with respect.
Location: High Museum of Art, Midtown at 1280 Peachtree St. NE
5. Honor Black trailblazers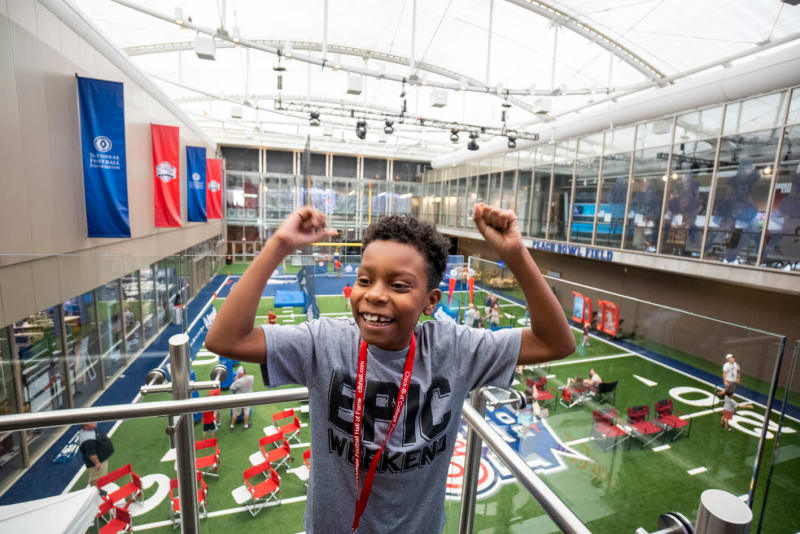 Each Monday in February, Chick-fil-A College Football Hall of Fame will host the "Not Your Average Hero" webinar, sharing the stories and impact of pioneers in college football. Or grab your mask and head Downtown for the special exhibit featuring a collection of stories, artifacts and college football treasures from Historically Black Colleges and Universities. While you are there, take note of this message from the College Football Hall of Fame: Hall of Famers come from diverse backgrounds and have achieved the pinnacle of college performance. Many have broken down social barriers while facing tough obstacles yet have used those experience to educate others and seek change. The Hall supports the Black community in its corridors, on the field and in the stands.
Location: Chick-fil-A College Football Hall of Fame, Downtown at 250 Marietta St. NW
6. Surprise the kids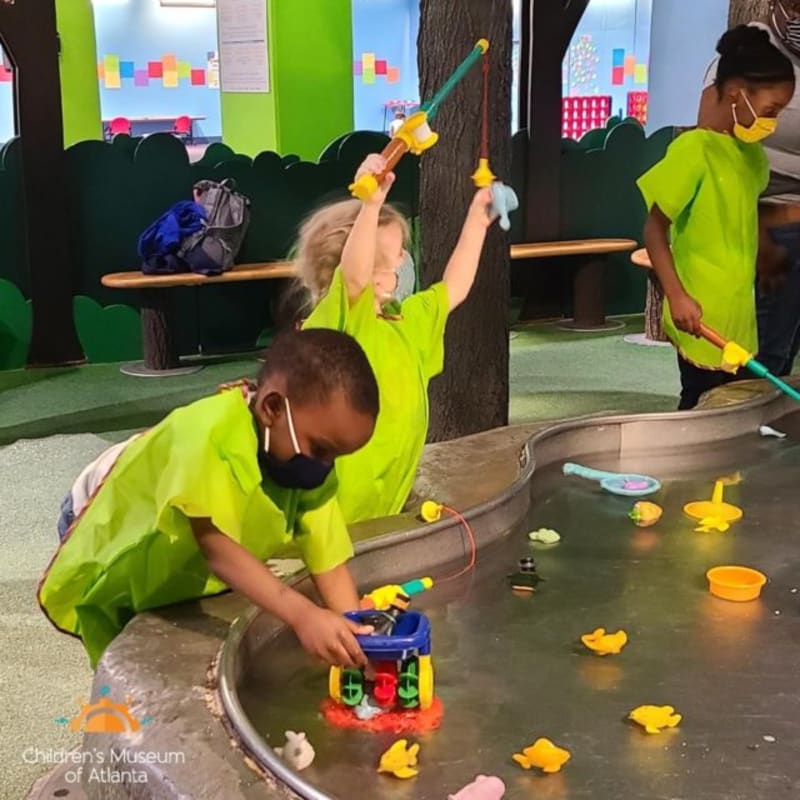 All month long, kids have the opportunity to learn about some of our nation's greatest heroes and particularly their achievements in the fields of science, technology, engineering, mathematics, and art. Immerse your family in Black History Month at the Children's Museum of Atlanta beginning Feb. 1. Here's a sample of what you can expect: ⁠⁠
Get hands-on with science greats like biochemist Marie Daly, electrical engineer Otis Boykin, mathematician Marjorie Lee Browne and surgeon Vivien Thomas. ⁠⁠
Create art inspired by Granville Wood's telegraphony invention, Jacob Lawrence's dynamic cubism, Augusta Savage's and James Washington, Jr.'s sculptures, and Gwendolyn Magee's fiber art.⁠⁠
Be inspired by the real-life stories of astronaut Mae Jemison and ballet dancer Misty Copeland.
Location: Downtown at 275 Centennial Olympic Park Drive NW
7. Create a new food itinerary
Purchase a gift card, pick up takeout, or chow down at a Black-owned Atlanta Restaurant. Anytime.
Here's one idea for an Atlanta food itinerary supporting Black and Brown owned restaurants:
Coffee: Coffee of the Day at Urban Grind
Breakfast: French Toast Sandwich at Le Petit Marche
Lunch: Rapper's Delight at Local Green Atlanta or Dat Ish Wrap at Tassili's Raw Reality Cafe
Dinner: Mama Joyce's BBQ rib tips at Old Lady Gang, Ludacris's fried catfish sandwich at Chicken + Beer or fried chicken at Paschal's.
This is just a start. You'll find that continuing for longer than a month is easy (and delicious).
For more glimpses into Black history, once it is safe to do so and they are open for business, visit the National Center for Civil and Human Rights, the Martin Luther King, Jr. National Historical Park, APEX Museum, Herndon Home Museum, Wren's Nest and the Trap Music Museum. Also, keep an eye on our Black History Month page for ideas for things to do, events to attend and more ways to celebrate.
Discover More
Get to know Atlanta, and discover the best things to do around the city.