Potential AFC Championship Hotels
Room Blocks and Special Rates
Atlanta Marriott Marquis
Where: 265 Peachtree Center Ave NE, Atlanta, GA 30303
Distance to MBS: 1.5 mi
Rate: $229
Phone: (404) 521-0000
Learn More
Special Notes: Sunday night stay only
Atlanta Marriott Suites Midtown
Where: 35 14th St NE, Atlanta, GA 30309
Distance to MBS: 3.5 mi
Rate: $209
Phone: (404) 876-8888
Learn More

Embassy Suites by Hilton Atlanta at Centennial Olympic Park
Where: 267 Marietta St NE, Atlanta, GA 30313
Distance to MBS: 0.5 mi
Rate: $249
Phone: (404) 223-2300
Learn More
Special Notes: 2 night minimum stay required if arriving on Saturday, 1/28. Block held until 1/23/23 at midnight.
How To Book: Call Hilton Reservation line and request the AFC Final room block, 1-800-HILTONS
Hilton Atlanta
Where: 255 Courtland St NW, Atlanta, GA 30303
Distance to MBS: 1.6 mi
Rate: $179 s/d rate, $25 additional person rate
Phone: (404) 659-2000
Learn More
Special Notes: Block held until 1/25/23 at midnight.
Hilton Garden Inn Atlanta Downtown
Where: 275 Baker St NW, Atlanta, GA 30313
Distance to MBS: 0.5 mi
Rate: $249 (1/29 only)
Phone: (404) 577-2001
Learn More
Special Notes: Block held until 1/23/23 at midnight.
How to Book: Reservations can be made by calling Central Reservations at 1-877-STAY-HGI (1-877-782-9444) and ask for AFC Final room block.

Hotel Indigo Atlanta Downtown, an IHG Hotel
Where: 230 Peachtree St NE, Atlanta, GA 30303
Distance to MBS: 1.3 mi
Rate: $219
Phone: (404) 523-7600
Learn More
Special Notes: Block held until 1/25/23 at midnight.
Hyatt Regency Atlanta
Where: 265 Peachtree St NE, Atlanta, GA 30303
Distance to MBS: 1.4 mi
Rate: $229
Phone: (404) 577-1234
Learn More
Special Notes: Rooms from $229 while available (rate to increase once block is sold out).
Omni Atlanta Hotel at CNN Center
Where: 100 CNN Center, Atlanta, GA 30303
Distance to MBS: 0.4 mi
Rate: $349
Phone: (404) 659-0000
Learn More

The American Hotel Atlanta Downtown – a DoubleTree by Hilton
Where: 160 Ted Turner Dr NW, Atlanta, GA 30303
Distance to MBS: 1.1 mi
Rate: $229
Phone: (404) 688-8600
Learn More
Special Notes: Two-night minimum stay required, if arriving on Saturday, 1/28.
How To Book: Call Hilton Reservation line and request the AFC Final room block, 1-800-HILTONS

The Westin Peachtree Plaza, Atlanta
Where: 210 Peachtree St NW, Atlanta, GA 30303
Distance to MBS: 1.0 mi
Rate: $199 (add $20 premium for QNQNs)
Phone: (404) 659-1400
Learn More
Looking for additional hotel options?
Potential AFC Championship
Welcome to Atlanta
We're looking forward to hosting you in Atlanta. Whether you've been recently or haven't been in a while, you're in for an experience on a different level. Atlanta is a city that is constantly progressing, so while it's fun to explore and discover on your own, sometimes you want to have a few things planned. From the best hotels within walking distance of Mercedes-Benz Stadium to delicious restaurants with must-try flavors, here's what to know before you go.
Discover More
Get to know Atlanta, and discover the best things to do around the city.
HAPPY HOLIDAYS
COLORING PAGES OF YOUR FAVORITE ATLANTA ATTRACTIONS
If you are in Atlanta or cannot wait to visit, we want you to explore our city your way. Atlanta's on National Geographic Travel's "Best of the World 2022″ list for our culture and history and been named one of the best cities to visit in 2022 by Lonely Planet, so there is so much we want you to see and experience.
Discover Atlanta through these coloring pages from our favorite places and attractions, then pack your bags and come check things out for yourself. We'll see you soon!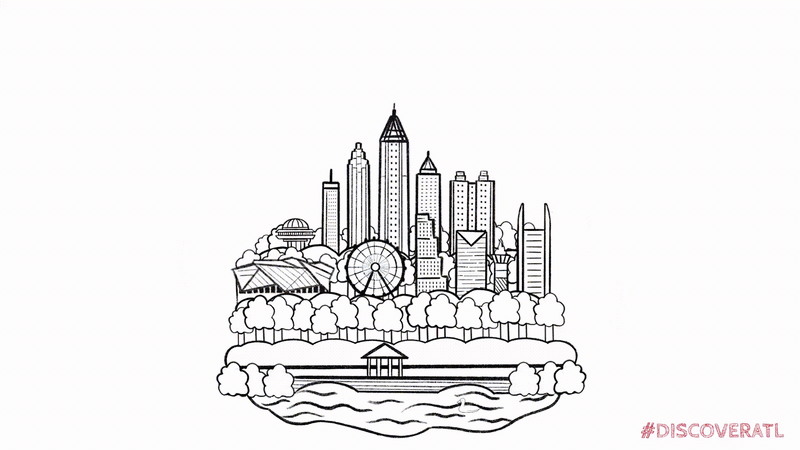 Whether your holidays are calm and cozy or blissfully wild, we've got the perfect activity for you. Color, paint, or even animate and share your Atlanta masterpiece with us (tag @DiscoverAtlanta or #DiscoverATL).
View and download the full #DiscoverATL Coloring Book here.
Visitor Information Center Mural at Centennial Olympic Park
Full #DiscoverATL Coloring Book
Music Festivals
Sample music festivals year-round
Atlanta's thriving music scene, from local artists to national headliners, makes it the perfect place to sample music festivals year-round. These day-long or weekend outdoor festivals feature a wide variety of music genres including hip hop, rock, indie, EDM, jazz, bluegrass and so much more. Check out some of the largest and most popular music festivals in Atlanta. Or explore our calendar for more music events taking place every day.
April Festivals
SWEETWATER 420 FEST
MORE INFO
Celebrate Earth Day with the Atlanta-based brewery's annual festival in Centennial Olympic Park! Enjoy live music, an artist market, comedy tent and 5K race, all while safely enjoying the best of Sweetwater's beverages.
May Festivals
SHAKY KNEES MUSIC FESTIVAL
MORE INFO
Shaky Knees Music Festival features more than 30 bands, comprised of national, regional and local favorites, over two days at Centennial Olympic Park in Downtown. In addition to a stellar musical lineup, the festival includes food trucks, artisans and more.
ATLANTA JAZZ FESTIVAL
MORE INFO
Celebrating more than 40 years of soulful expression, the Atlanta Jazz Festival is the perfect way to start your Memorial Day weekend. Explore Piedmont Park and visit vendors displaying some of the city's finest arts and crafts, food and drink and merchandise.
June Festivals
TUNES FROM THE TOMBS AT OAKLAND CEMETERY
MORE INFO
A music festival in a cemetery? That's what happens in Historic Oakland Cemetery every June. There will be more than one type of spirits floating about as drinks are poured and music fills the air for the one-day festival/fundraiser in our favorite haunt.
August Festivals
DECATUR BBQ, BLUES & BLUEGRASS FESTIVAL
MORE INFO
Harmony Park is the site of this annual festival that started as a fundraiser to save the old Decatur train depot. Now, more than 5,000 music and barbecue lovers gather annually to enjoy six hours of live acts and some of the tangiest, spiciest, juiciest barbecue anywhere in Atlanta.
September Festivals
IMAGINE MUSIC FESTIVAL
MORE INFO
Dive into an undersea aquatic adventure during Atlanta's three-day long electronic dance music festival at Atlanta Motor Speedway. With international touring DJs, circus performers, friendly fans, art installations, vendors, and more-it's a party worth attending.
MUSIC MIDTOWN
MORE INFO
Join in the fun as Piedmont Park hosts nationally renowned acts in Atlanta's most scenic concert venue. Music Midtown brings two days of amped up artistry for a full weekend of sun and sound you won't want to miss.
ONE MUSICFEST
MORE INFO
This annual outdoor music festival has featured performances from Common, De La Soul, Nas, Amel Larrieux and Snoop Dogg to name a few. In its short time on the scene, this live music experience now attracts thousands of people to Aaron's Amphitheatre at Lakewood.
October Festivals
A3C HIP HOP FESTIVAL
More Info
Atlanta's own A3C Hip Hop Festival has become the nationwide gathering place for anyone who creates hip hop music or is a fan of the culture. The festival features more than 200 performing artists in addition to turntable, producer and breakdance competitions and educational programming.
Discover More
Get to know Atlanta, and discover the best things to do around the city.
Juneteenth
How to Celebrate Juneteenth in Atlanta
Juneteenth, also known as Emancipation Day or Freedom Day, is celebrated on June 19 in the United States to commemorate the day Union Gen. Gordon Granger and Union soldiers told enslaved people in Galveston, Texas, that they were free. It was June 19, 1865, more than two and a half years after President Abraham Lincoln signed the Emancipation Proclamation on Jan. 1, 1863.
In Atlanta and across the country, businesses and communities are honoring the cultural and historical importance of Juneteenth with educational events and programming, parades and holidays. It is the only holiday that commemorates the emancipation of enslaved Africans throughout the United States. As the heartbeat of the American civil rights movement and home of many civil rights activists including Dr. Martin Luther King Jr., Coretta Scott King and U.S. Rep. John Lewis, Atlanta is responding to the call to reflect Black history with the following events:
Things to do on Juneteenth in Atlanta
Celebrating Juneteenth in Atlanta
Friends and families look forward to gathering and celebrating African Americans' Freedom Day. The annual Juneteenth parade sparks excitement at Centennial Olympic Park and for the tenth year, Atlanta History Center continues to bring awareness by hosting special programs and events.
Support Black-owned Businesses in Atlanta
Atlanta has a wealth of Black-owned businesses that run from boutiques to spas, music stores, book stores, galleries and so much more. If you're hungry, we've got you covered there too with a few of our favorite Black-owned restaurants, too. Here are some places to check out.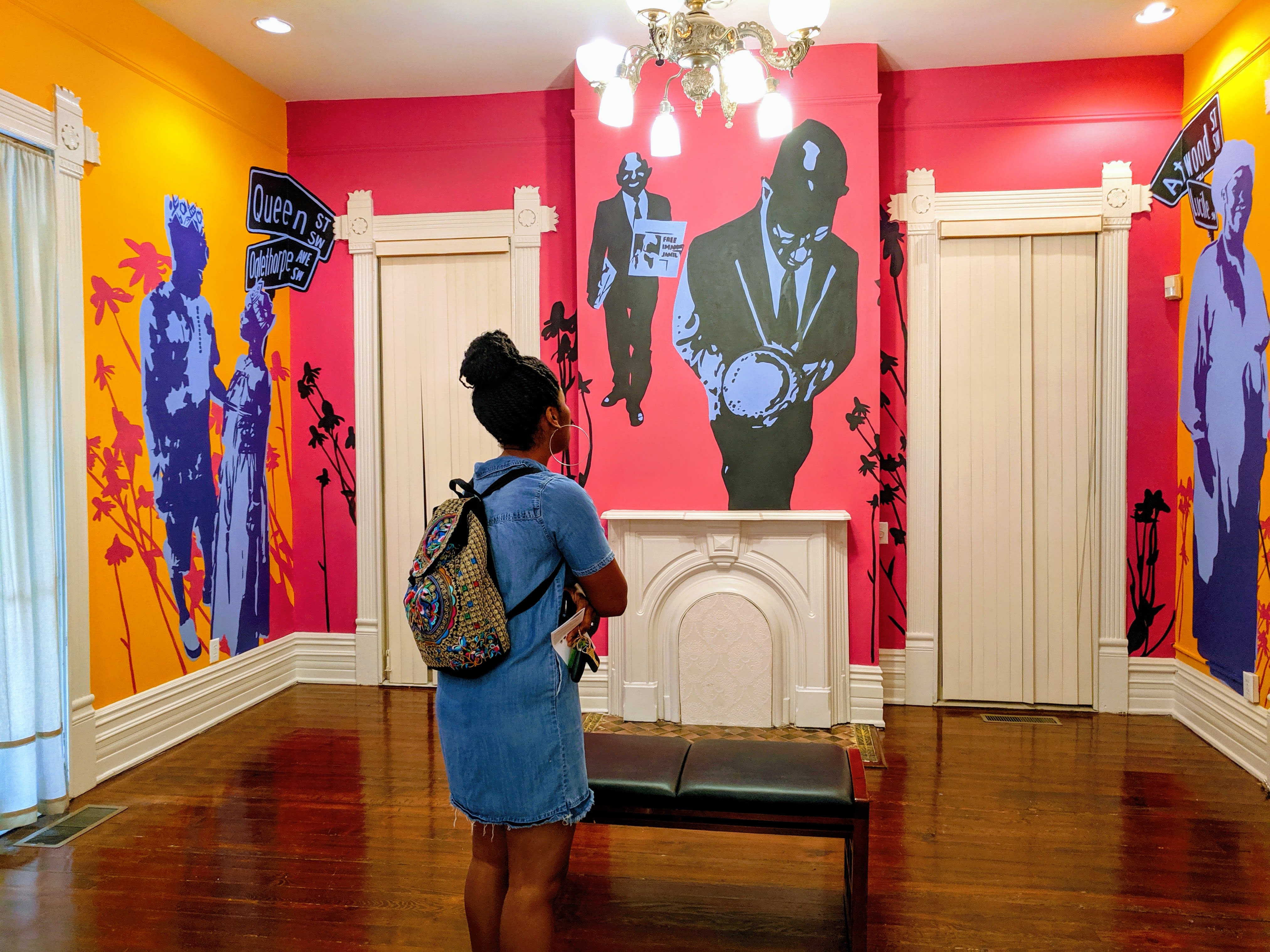 ATL Unguided: Atlanta's Black Travel Guide
Atlanta's rich heritage is deep, progressive and continuously evolving. ATL Unguided invites all to experience the largest collection of HBCUs, historic churches, popular Black-owned restaurants, trendy lounges and legendary art galleries.
An Evening with Dr. Ibram X. Kendi
In partnership with 44th & 3rd Bookseller and Little Shop of Stories, Agnes Scott College presents an evening with Ibram X. Kendi, historian, antiracist scholar and author. Adults, children and teens are welcome and encouraged to attend this event where Kendi will be discussing his latest work, "Goodnight Racism."
Jubilee: A Juneteenth Celebration
Join the National Center for Civil and Human Rights for a weekend of engagement to celebrate Juneteenth through music, history and culture. Enjoy music inspired by history, immerse yourself in the culture of Juneteenth through performances and find a new piece of your tradition. Visitors will also be able to view the new "King" exhibit during its launch.
Comedy Festival
Uptown Comedy Corner is hosting its 2nd Annual "1865 Comedy Festival" in honor of Juneteenth for Black Comedians. More than 50 stand-up comedians from all over the country will perform at the festival celebrating black comedy and unifying the community in support of Juneteenth.
Discover More
Get to know Atlanta, and discover the best things to do around the city.
Upcoming Events
IMPORTANT UPDATE: Some events have been canceled or postponed due to COVID-19 outbreak precautions. These listings may not reflect the most recent updates. Please check official event and venue websites to confirm the status.
Bounce through the incredible events happening around Atlanta today, tomorrow, this week or this month. Plan your fun and be in the know on everything from family-favorites, to can't-miss hot spots, concerts and foodie festivals.
Virtual Events
Experience
Atlanta events
in a new way
Festivals and events may not currently be what we're used to, but that hasn't stopped Atlanta from keeping the fun from happening. Many events have been altered to allow visitors to experience them from the comfort (and safety) of their own home.
Discover fun virtual events in Atlanta to stream online from your favorite attractions, museums, and theatres.
Showing

1

–

2

of

2
1/26/23
Have you ever wondered about drop shipping? What is it and how does it work?…
Multiple days until 02/19/2023
Featuring work made over the past two decades, this exhibition is the first museum survey…
Discover More
Get to know Atlanta, and discover the best things to do around the city.
Thanksgiving Day Half Marathon
Attend Atlanta's biggest Thanksgiving pre-game
This event may have been changed due to COVID-19 outbreak precautions. Please check official event and venue websites to confirm the status.
When: Thursday, November 24, 2022 – 7:30 am
Where: Center Parc Stadium (Georgia State), 755 Hank Aaron Dr, Atlanta, GA 30315
Not only does the Atlanta Track Club organize the world's largest 10K, but it also whips locals and visitors into shape at their annual Invesco QQQ Thanksgiving Day Half Marathon, 5K, Mile and Dash. Here are a few reasons why both spectators and runners should attend this Atlanta Turkey Day tradition.
Reasons to go to the Thanksgiving Day Half Marathon, 5k, mile and dash
You can eat as much as you can at the table without the guilt since you already worked off all those calories.
The half marathon's course twists and turns through historic and beautiful neighborhoods including Inman Park, Old Fourth Ward, Grant Park and Little Five Points, giving runners a glimpse at the city's quiet residential areas.
While Georgia State Stadium serves as the starting and finish line for the race, spectators can also watch from other popular Atlanta sites including the Capitol Building, Centennial Olympic Park, Atlantic Station, Piedmont Park and Historic Oakland Cemetery.
Whether running or watching from the sidelines, this event is a family affair. And no matter your age or fitness level, there's a variety of distances for everyone.
After crushing it on the course, runners receive a medal, a Mizuno t-shirt, free photos, and a post-race pie!
Insider tips
Whether it's wearing a turkey hat or dressing up as your favorite Thanksgiving dish, participants and attendees are known to arrive in style to celebrate the popular festivity.
The annual holiday race draws thousands of participants, which means a lot of cars and road closures. Plan ahead and take MARTA to the Georgia State rail stop then catch a bus (or enjoy a short walk) to Georgia State Stadium.
Since it is a consistently sold-out event year to year, the Atlanta Track Club advises runners to register online a week early to reserve their spot.
Run the race with ease by making a playlist the night before, studying the course map, and dressing in layers. Clothes that are shed at the starting line are washed and donated to charity.
Although the city is known for being rather warm, late November for us means low 60s to mid-50s temperatures. Depending on your natural comfort level, prepare by looking at the weather report ahead of time, dressing accordingly and bringing your own chairs and/or blankets.
Whether it's noisemakers or home-made signs, Atlanta's race spectators provide encouragement all throughout the course for runners. Get creative with your signs and banners; you can never have too much glitter.
Know before you go
What time does the Thanksgiving Day Half Marathon and 5K start?
The Thanksgiving Day 5K starts at 7:15am and the Half Marathon starts at 7:30am.
Where does the Thanksgiving Day Half Marathon and 5K start?
The starting line for the Thanksgiving Day Half Marathon and 5K is along Hank Aaron Drive next to the Georgia State Stadium (formerly known as Turner Field). View and download course maps.
How much does it cost to particpate in the Thanksgiving Day Half Marathon and 5K?
Costs vary for the different races included in the Thanksgiving Day Half Marathon, 5K, Mile and Dash. The 50m Dash is free to participate in. The Mile race costs $10 for registrants 15 years and older (14 and younger are free). Costs to participate in the Half Marathon and 5K vary depending on when you register; costs for the Half Marathon range from $50-$100 and costs for the 5K range from $20-$50. The sooner you register for these two races, the cheaper the entry fee.
Thanksgiving Day Marathon contact info
Georgia State Stadium Contact Information
755 Hank Aaron Dr SE
Atlanta, GA 30315

Discover more fun things to do during Thanksgiving Weekend in Atlanta.
Discover More
Get to know Atlanta, and discover the best things to do around the city.