Get to Know Atlanta's Popular Neighborhoods
Atlanta's neighborhoods offer unique and unexpected experiences. To help you explore what to do and where to go when you visit Atlanta, here's a look at each neighborhood.
Downtown Atlanta
Atlanta'se iconic skyline houses a hub of commerce with major venues and attractions near a variety of hotels. Within these city blocks you'll discover professional sports at Mercedes-Benz Stadium and State Farm Arena. The centerpiece of Downtown is Centennial Olympic Park, where you can visit nearby attractions to find out how Coca-Cola is made, explore the largest aquarium in the Western Hemisphere, trace the civil rights movement and reflect on college football greats.
Eastside Atlanta
Fun and funky, Atlanta's Eastside is the hippest place in the city. This is where Atlanta's young, vibrant and tattooed flock for inspiration and fun. It is where to find amazing street art and community food halls. The Eastside adds to the city's growing reputation as a global beacon for equitable, inclusive and sustainable life. As you traverse the Atlanta BeltLine, discover Old Fourth Ward Skate Park. Immerse yourself in alternative culture at Little Five Points where independent bookstores, skate shops, record stores and coffee shops thrive. Learn the storied history of the civil rights movement in Atlanta by visiting the Sweet Auburn district. Old or young, skinny jeans or not, the Eastside has something for everyone.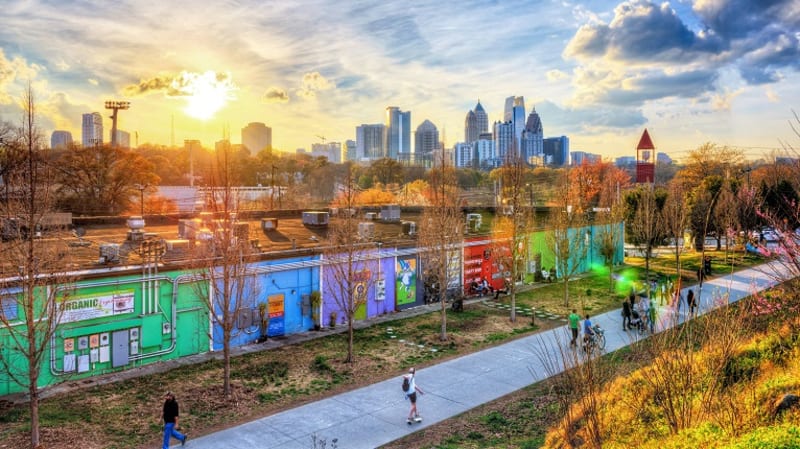 Midtown Atlanta
The heart of the arts beats in the vibrant neighborhood we call Midtown. This is where the classics meld with dynamic, edgy new experiences. It's home to the High Museum of Art, the Atlanta Symphony Orchestra and the Alliance Theatre, and it's where new artists emerge and legends come to play. Atlantans flock outside to Piedmont Park, one of the largest green spaces in the city with trails to walk or bike and spaces to simply soak it all in. The area's trendy boutiques and chic nightlife lend style to Midtown. When the sun goes down, Midtown turns up the volume with nightclubs and lounges. It's an electric, captivating experience.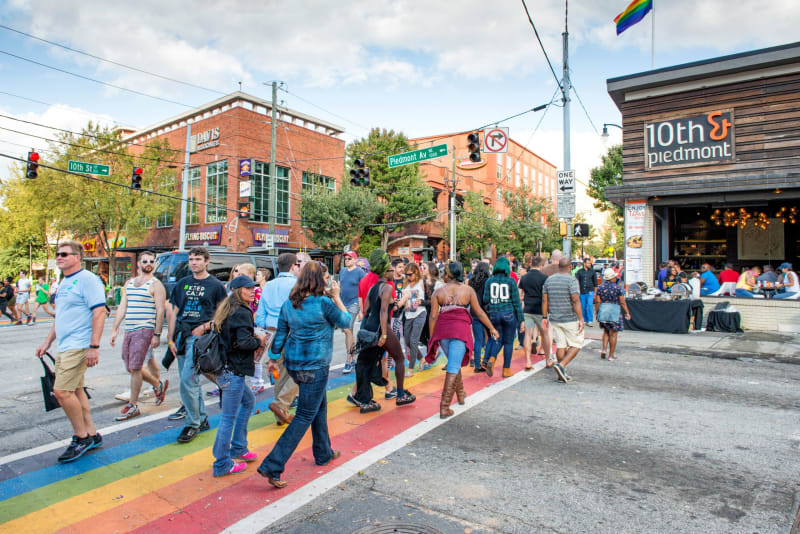 Westside Atlanta
The Westside is for the collectors and the curious, the artistic and the imaginative. This is where they come for inspiration. It's home to more home goods and interior design shops than we can count. From the retail mecca of Atlantic Station to the Westside Provisions District, the Westside is where you will find unique treasures, new tasty eats and drinks and a place to simply relax and recharge. Head over to Southwest Atlanta to explore West End and Atlanta University Center with storytelling at the Wren's Nest, performances at Southwest Arts Center and a glimpse into Atlanta's history and future.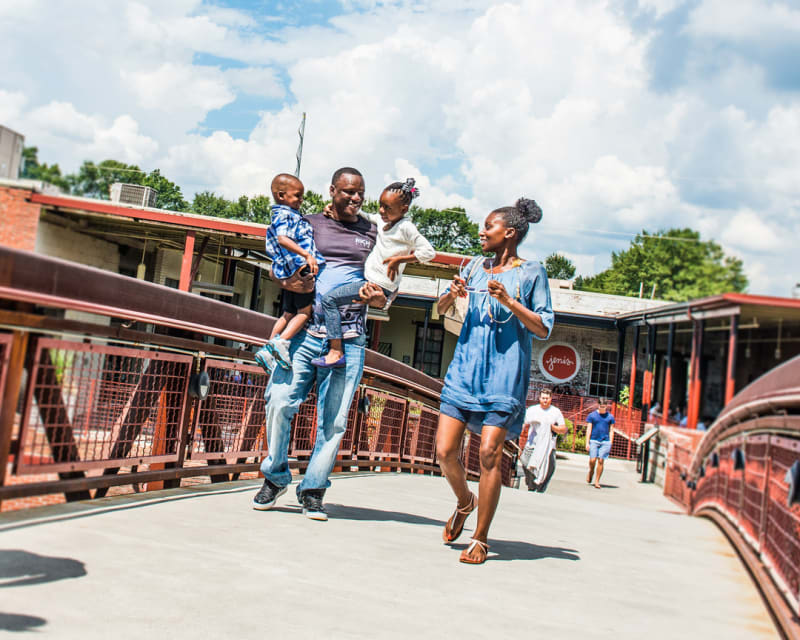 Buckhead Atlanta
The Beverly Hills of the east is Atlanta's most affluent neighborhood, Buckhead. By day, a shopping heaven, and by night, party central, Buckhead has long been the place to see and be seen. It's a destination within a destination, where sweeping Southern mansions are nestled in remarkable landscapes. Mingle with the who's who of the city while browsing and buying at high-end shopping centers including Lenox Square, Phipps Plaza and Buckhead Village District. Tempt your taste buds at progressive restaurants featuring Atlanta's culinary icons and budding chefs. Continue into the night at trendy hot spots and rooftop bars.
Discover More
Get to know Atlanta, and discover the best things to do around the city.