Activities and Attractions Abound in Buckhead's Parks & Gardens
Published October 10, 2020
Last Updated January 17, 2023
Chastain Park, located in trendy, upscale Buckhead, is one of Atlanta's favorite year-round destinations. Known for its concerts at the amphitheatre, the park beckons visitors and locals alike with an array of excellent attractions on its 268 acres. A swimming pool, an arts center, tennis courts, gymnasium, walking trails, playgrounds, softball diamonds, a golf course, and even a horse park—any of which appeal to athletic types and Sunday morning strollers alike.
In fact, there's so much ground to cover at this popular park that its security team actually patrols on horseback. Whether you're up for a heart-pumping run along its leafy trails, a hands-on class at its arts center or getting in the saddle at its beautiful horse center, Chastain is one of Atlanta's year-round favorite spots.
Live Music Under the Stars
The Cadence Bank Amphitheatre at Chastain Park, formerly known as Chastain Park Amphitheatre, is the centerpiece of the park's attractions. Since opening in 1944, the outdoor stage has played host to a who's who of legendary artists including Aretha Franklin, Ray Charles, Frank Sinatra, Paul Simon, and Bob Dylan. But it also attracts a stellar rotation of newer stars like John Legend, Lenny Kravitz, Norah Jones, and Jason Mraz. Between reserved seating and an expansive lawn, there's room for nearly 7,000 at this iconic venue, where concessions are programmed exclusively by Proof of the Pudding, one of Atlanta's best-known caterers. For the amphitheater calendar and information on ticketing and seating, see the FAQ page on the park website.
Golf, Equestrian Lessons and More
The Chastain Park Athletic Club opens its pool during the summer and is free to the public on weekday mornings. Nearby, the Chastain Park Tennis Center offers lessons and league play for adults and kids, while the Northside Youth Center maintains a gym and playing fields and hosts youth football, cheerleading, fast-pitch softball, baseball and basketball. Golfers love Chastain Park's public 18-hole course, where the hilly terrain provides stellar views of the Buckhead skyline.
Equestrians of any skill level can take lessons at the Chastain Horse Park, which maintains a therapeutic riding program for people with disabilities and, in the summer, hosts a Horse Lovers camp for kids.
A Hub for the Arts
Outdoor activity isn't the only draw at Chastain Park. The Chastain Arts Center and Gallery is the oldest of Atlanta's educational arts facilities and has been offering workshops and arts education for more than 50 years. Classes include mixed media book making, illustration and comics, picture framing, figure drawing, ceramics, collage art and printmaking. There are even yoga classes that cater specifically to artists.
Walking and Hiking Trails
Chastain Park is a good destination for active types who want to walk or run along a paved path. Several trails — two 5k and a 3k — are managed by the PATH Foundation. The yellow-marked trail makes a three-mile trip, and the red and blue trails clock in around five miles. Each route will take you past the golf course, over Nancy Creek by bridge and around a fish-filled pond where you're likely to spot wild ducks and geese.
Playground
Kids will have a blast at the Chastain Park Playground, where giant "oodle" swings allow two children to swing together. They can also race downhill on bumpy slides, scramble up a climbing wall and go exploring in a tree house. There's even a music area where kids can play drums and chimes.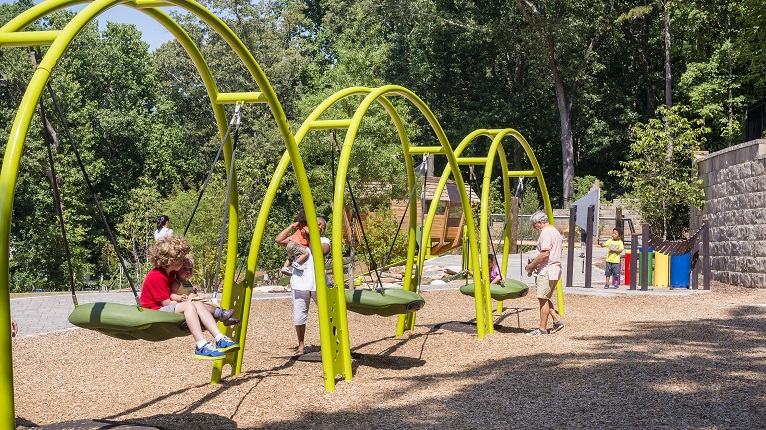 Restaurants and Hotels Near Chastain Park
You won't have to go far if you get hungry as Buckhead is brimming with dining options. Take your pick from Southern fare, Korean barbecue, eateries near The Shops Buckhead Atlanta and the cluster of great dining establishments around Lenox Square, just a 10-minute drive from the park.
Buckhead is also booming with top-notch accommodations. Enjoy the luxury and five-star accomodations of the Waldorf Astoria, or travel just a few minutes south to Midtown, for a boutique experience at the Artmore Hotel. Along Peachtree Road, throughout Midtown and Downtown — just 20 minutes away — find all the well-known names like the Westin, W, Sheraton and Marriott.
Discover More
Get to know Atlanta, and discover the best things to do around the city.