Parks and Gardens: Downtown
Centennial Olympic Park
Centennial Olympic Park is truly at the epicenter of Atlanta's downtown scene. Located near the Peachtree District, Little Five Points and the Old Fourth Ward, Centennial Park sits comfortably at a confluence of several major Atlanta neighborhoods. Built in 1996 for the Olympic Games, this 22-acre park is a popular outdoor attraction for millions of visitors annually. Take a stroll through the park on a guided mobile tour, or bring the kids to the Fountain of Rings, an enormous interactive water feature that visitors can cool off in. The park is also home to an outdoor amphitheater, numerous art installations, and even a 200-foot-tall Ferris wheel.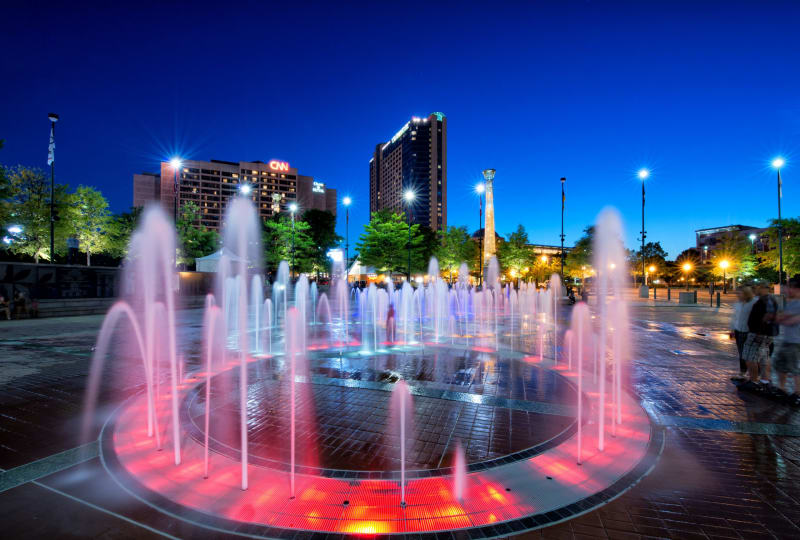 Woodruff Park
Located between Peachtree Street and Park Place, this 6-acre park is nestled among the high rise office towers and historic buildings of the Fairlie-Poplar downtown district. Woodruff Park, formerly known as Central City Park, is situated at the perfect intersection of business and pleasure. Woodruff offers a natural gathering space ideal for exploring downtown Atlanta and nearby attractions like the Georgia Aquarium, Martin Luther King, Jr. National Historical Park or the World of Coca-Cola.
Discover More
Get to know Atlanta, and discover the best things to do around the city.