Where to Go for Concerts and Shows
Hip-Hop
As the hip-hop music capital of the South, the ATL has a pedigree for banging out hip-hop and trap artists who have redefined the genre beyond the Atlanta scene and into one of the most prolific and followed sounds in the world. From the likes of OutKast, T.I., Ludacris, Killer Mike, Goodie Mob, Childish Gambino, Jermaine Dupri, Jeezy, 6lack, Gucci Mane, Future, Migos, 2 Chainz, and more, there is no denying that the ATL has something to say. No wonder so many up-and-coming hip-hop artists flock to Atlanta to make it big. There's definitely something about the ATL, come find bold beats and fine rhymes at these Atlanta clubs.
MJQ Concourse
Equal parts hole-in-the-wall and ATL institution, MJQ Concourse doles out the culture with pristine hip-hop vibes with a feel for the trap scene. Check out Fantastic Fridays every third Friday of the month for old school hits that are sure to keep your head bobbing.
Where: 736 Ponce De Leon Ave. NE.
Apache Cafe
Since 2001, Apache Cafe has been a mainstay in the Atlanta music scene as a haven for neo-soul vibes and hip-hop culture. Serving as a backdrop for monthly open mic nights, unsigned artists have a spotlight to flex their lyrics to industry execs.
Where: 880 Woodrow St. SW.
Union EAV
From old school hip-hop DJ sets and live concerts to underground rap cyphers and open mic showcases, Union EAV delivers on its namesake in uniting local artists with a clamoring community of beat lovers ready to hear them drop some verses.
Where: 485 Flat Shoals Ave. SE.
Little Spirit
Want some Wu Tang-inspired sips with your hip-hop beats? We got you covered, fam. Enter the 36 Chambers of stellar cocktails and rap tunes playlist to boost your enjoyment at Little Spirit in Inman Park.
Where: 299 N. Highland Ave. NE.
Escobar Restaurant and Tapas
What can be more hip-hop than a rapper owning his very own restaurant to celebrate the culture and music of his peers? 2 Chainz's Escobar Restaurant and Tapas delivers on combining signature bites with trap beats and hookah in a venue full of up-and-coming talent ready to be buried in a Gucci store. Plus, there's a DJ booth made out of a gold Mercedes-Benz. Just sayin'.
Where: 327 Peters St SW.
The Sound Table
This Old Fourth Ward mainstay is here to make you groove. Whether it's DJ sets spinning everything from old school hip-hop to trap or live performances, The Sound Table made the Edgewood Avenue nightlife scene what it is today.
Where: 483 Edgewood Ave SE.
MOTHER Bar & Kitchen
DJs belting out unapologetic rhythms and booze fill the bricked-out walls of part art gallery-part bar-part music destination, MOTHER in O4W. Offering karaoke for brave civilians and live showcases for independent artists honing their craft, this is one bar built for bass-heavy beats.
Where: 447 Edgewood Ave SE.
CRU Urban Lounge
The phrase "It's lit" definitely must have had hookah house CRU Urban Lounge in mind. Make your way through the green neon glow of the flavored smoke-filled Downtown space and prepare to catch a vibe with karaoke and DJs spinning trap-heavy tunes.
Where: 255 Trinity Ave. SW.
Dance
With a nearly unlimited supply of places to pop, lock and drop it, everyone knows it's going down in ATL. From bass-heavy EDM clubs and salsa houses to underground mosh pits, these are the ATL hotspots where you can shake it to your favorite beats.
Believe Music Hall
The minds behind eye-popping EDM wonderland, Imagine Music Festival, bring the same high-energy atmosphere year-round to the three-story, 15,000-square-foot cathedral that is Believe Music Hall. Cue bass-heavy beats, fog machines, lasers and confetti galore.
Where: 181 Ralph David Abernathy Blvd.
Johnny's Hideaway
With a reputation as cougar central and a nightclub for "Big Kids," Johnny's Hideaway is where your mom and dad go to have a good time and forget that they're actually grandparents.
Where: 3771 Roswell Road NE.
Tongue & Groove
On the scene for more than two decades, Tongue & Groove is an iconic ATL nightlife hotspot, attracting a younger crowd of partygoers with its sleek interiors and musical variety from hip-hop to Latin to EDM.
Where: 565 Main St. NE.
Buckhead Saloon
While the name may give visions of honky-tonk heaven, Buckhead Saloon ain't no wild west bar. A diverse crowd opens the doors to a high-energy dance party.
Where: 3227 Roswell Road NE.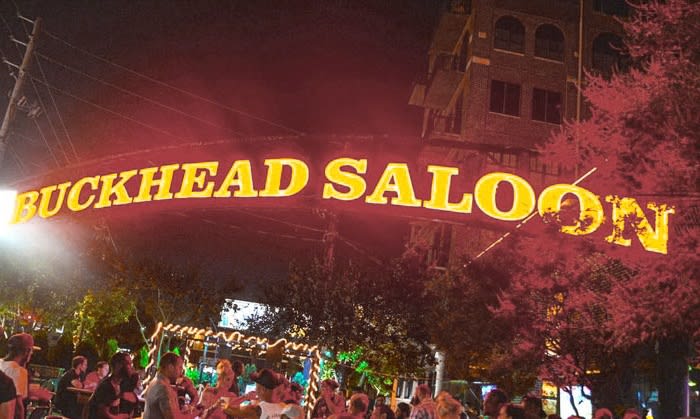 Havana Club
Havana Club is another ATL nightlife OG, bringing a diverse crowd into its neon womb, where the beats range from Top 40 and old school hip-hop to reggaeton and dubstep.
Where: 3112 Piedmont Road NE.
The Basement
Head to The Basement for some old school hip-hop, R&B and soul bangers, raucous rock, and '80s hair bands.
Where: 1245 Glenwood Ave. SE.
District Atlanta
The new kid on the block of Atlanta's thriving nightlife scene, District is a color-filled bastion of EDM, dubstep, and trip-hop sounds that wash over a sea of sweaty, party-craving millennials cooled by billowing smoke machines. It's a party like no other.
Where: 269 Armour Drive NE.
The Sound Table
As an Edgewood nightlife mainstay, The Sound Table was one of the original ATL "club-staurants" offering brilliants eats under the enigmatic industrial vibe of an underground nightclub.
Where: 483 Edgewood Ave. SE.
Noni's Bar & Deli
Your favorite Italian restaurant filled with meatballs, pasta, and overloaded sandwiches, Noni's is hiding a secret. It's secretly a trippy dance cave orchestrated to the tunes of disco, retrowave, synth, and trap. Shhhhh. Don't tell.
Where: 357 Edgewood Ave. SE.
MOTHER
A mix of funky art gallery and an exposed brick-adorned Brooklyn nightclub, MOTHER invites a diverse selection of patrons for late night dance parties under the glow of live performances, underground house tunes, and hip-hop DJ sets.Where: 447 Edgewood Ave. SE.
Ravine
A wood-clad, multisensory experience of light, sound, and touch, Ravine is the ultimate EDM destination, bringing the big budget festival experience to Midtown weekly.
Where: 1021 Peachtree St. NE.
Koo Koo Room
Post up. Take a selfie. Party. The diverse vibe of Midtown's Koo Koo Room offers something for everyone with house, hip-hop, reggae, and R&B sounds sure to make you move.
Where: 1140 Crescent Ave. NE.
Opera Nightclub
Domed ceiling, ornate furnishings, with luxe character, Opera Nightclub is ATL's new kid on the block with EDM, house, and hip-hop beats. Where: 1150 Crescent Ave. NE.
Opium Nightclub
Looking to mingle in Midtown under a blanket of bass-filled hip-hop and trap music? Then slide into Opium and be the central character in your own ATL movie.
Where: 960 Spring St. NW.
Loca Luna
It's like taking a trip to Latin America without going through customs. Immersed in traditional cuisine, cocktails, and lively Latin vibes, Loca Luna keeps things en fuego in Midtown.
Where: 550 C Amsterdam Ave. NE.
The Warren City Club
Cozy country club-esque event space meets bustling nightclub on the weekends, The Warren is one of Virginia-Highlands' top party destinations. Bumping DJ sets include house, hip-hop, and more.
Where: 818 North Highland Ave. NE.
El Bar
Hidden behind El Ponce, El Bar is Ponce's best-kept secret. A hole in the wall with legit dance club vibes, you'll be hard pressed not to move and groove after a night at this underground hotspot.
Where: 939 Ponce De Leon Ave. NE.
Compound
The most prominent hip-hop club in the ATL, the Compound is where industry movers and shakers link up with the hottest rappers burning up the Billboard charts. Getting lit on the dance floor is required.
Where: 1008 Brady Ave. NW.
Jazz
Home to Atlanta Jazz Festival, one of the largest free jazz festivals in the country, the ATL is no stranger to smooth sounds. Sit back and relax and listen to that sax at these smooth vibe hot spots.
Elliott Street Deli and Pub
Located in historic Castleberry Hill, Elliott Street Deli and Pub is a friendly neighborhood pub offering a variety of live music, including lots of jazz.
Where: 51 Elliot St. SW.
The Lumen Lounge
In the Ritz-Carlton, The Lumen Lounge is a lobby bar with a modern vibe and contemporary elegance. Enjoy signature cocktails and relax to live jazz, classical guitar, and Peruvian flute from artists Cooper Tisdale, Matthew Miller, Johnna Jeong, Jean Pierre Verbist, Mathis, and Mauricio Amaya.
Where: 181 Peachtree St. NE.
Apache Cafe
Apache Cafe attracts a diverse group of patrons who enjoy the intimate loft-style club that combines food, art, and music. Come for the music and enjoy the Southwestern, Latin, and Caribbean-inspired fare.
Where: 880 Woodrow St. SW, NW.
Blind Willie's
While Blind Willie's is best known as a blues club, they also deliver a heavy dose of jazz and roots music. Jazz lovers will appreciate the authentic feel, bar food, (the gumbo is fantastic) and amazing music.
Where: 828 N. Highland Ave. NE.
Cafe 290
A legend in Atlanta's jazz scene, Cafe 290, in Sandy Springs, attracts some of the best established and upcoming jazz acts, and you might even spot a jazz-loving celeb or two in the audience.
Where: 29. Hildebrand Dr.
Kat's Cafe
Where the "cultured and sophisticated mingle, wine, and dine," Kat's Cafe hosts regular live music as well as stand-up comedy, poetry/spoken word, art shows, and book signings.
Where: 970 Piedmont Ave. NE.
Northside Tavern
One-of-a-kind Northside Tavern has been voted one of the top 10 dive bars in the country and delivers some of the best jazz and blues around. Hear the sounds of Uncle Sugar, Danny "Mudcat" Dudeck, and the Breeze Kings.
Where: 1508 Howell Mill Rd. NW.
RedLight Cafe
The ATL's favorite listening room for jazz, blues, folk, bluegrass, roots rock, and everything in between — they throw comedy and burlesque into the mix — the RedLight Cafe offers an intimate setting to see a live show while nibbling on warm Brie with fruit and bread, spinach and artichoke dip, and sweet endings.
Where: 553-1 Amsterdam Ave. NE.
St. James Live
A Southside gem for those who love great jazz, St. James Live has a monthly WCLK Jazz It UP concert series, a variety of acts on the weekends, and Smooth Jazz Sundays with such acts as flautist Kim Scott, keyboardist James Lloyd from Pieces of A Dream and saxophonist Dean James. Dine on lamb chops, pan-seared white fish, wings, fish tacos, and cheesecake while you enjoy the riffs.
Where: 3220 Butner Rd. #240
Sweet Georgia's Juke Joint
Who doesn't love a juke joint? Sweet Georgia's Juke Joint delivers outstanding jazz, and books some of the best R&B and blues performers in the ATL.
Where: 200 Peachtree St. L05
The Earl
In the East Village, The Earl features a wide variety of music, including jazz.
Where: 488 Flat Shoals Ave. SE.
Venkman's
Located in the historic Old Fourth Ward, Venkman's pairs comfort food classics and live music. With a state-of-the-art sound system, the free shows feature local mainstays to national stars.
Where: 740 Ralph McGill Blvd. NE.
Discover More
Get to know Atlanta, and discover the best things to do around the city.