Atlanta BeltLine Itinerary
Atlanta BeltLine Eastside trail tour
As most locals have discovered, the Atlanta BeltLine is one of the coolest things about Atlanta, and it's not hard to navigate. Here is a suggested itinerary to guide you on your travels, whether you walk, hike, bike or jog.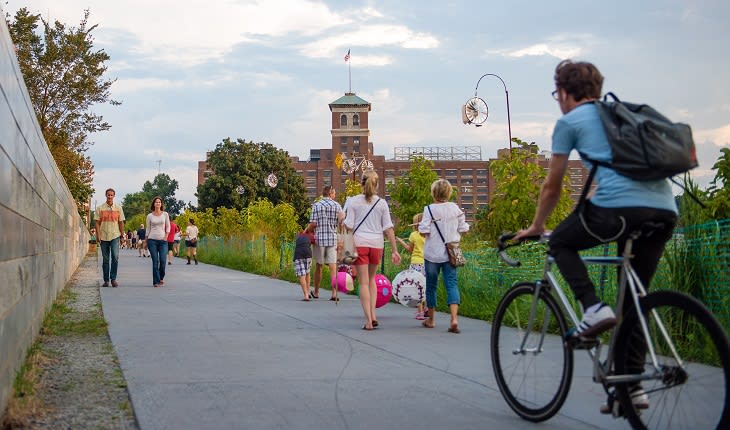 Day 1
Breakfast
Little Tart Bakeshop inside Krog Street Market
A renovated 1920s warehouse and the former home of Tyler Perry Studios, Krog Street Market is one of Atlanta's culinary meccas. Retail stalls specializing in high-quality housewares, jewelry, chocolate and flowers round out a complete market experience. Little Tart Bakeshop utilizes local ingredients to serve pastries and coffees and works with local farmers, jam makers, beekeepers and cheesemakers.
Morning
Walk the Atlanta BeltLine Eastside Trail
Walk from Krog Street Market to Ponce City Market. Visionary Ryan Gravel first conceptualized the Atlanta BeltLine during his studies at Georgia Tech. The Atlanta BeltLine Eastside Trail is part of a larger project that will transform 22 miles of historic rail segments into parks, green space and transit around Atlanta. Take a walk through this two-mile segment to discover what makes this project so impactful, and see art commissioned by local artists, as well as the Historic Fourth Ward Skatepark.
Lunch
Ponce City Market
Housed in the fully renovated 1925 Sears, Roebuck & Company building, Ponce City Market features a central food hall, leading retail brands, living and working spaces.
Skyline Park is bringing old-timey fun to the heart of Atlanta. Perched on the roof of Ponce City Market, Skyline Park is quickly becoming a premium destination for those seeking delicious food, refreshments and good times for all ages.

Nine Mile Station is an elevated beer garden located adjacent to Skyline Park. This sleek, indoor-outdoor space offers sweeping, unobstructed views of Atlanta's skylines spanning from Buckhead to Downtown. Nine Mile Station serves craft beers, classically-prepared cocktails and delicious, shareable food.
Afternoon
Explore Historic Fourth Ward Park and Paris on Ponce
Historic Fourth Ward Park offers 17 acres of green space packed with amenities for all to enjoy. The main section of the park includes open lawns, a playground, splash pad, outdoor theater and a two-acre lake.

Paris on Ponce offers a range of eclectic home furnishings and décor. Sprawling more than 46,000 square feet are three closely linked entities showcasing art, antiques, furnishings, ateliers, boutiques and oddities.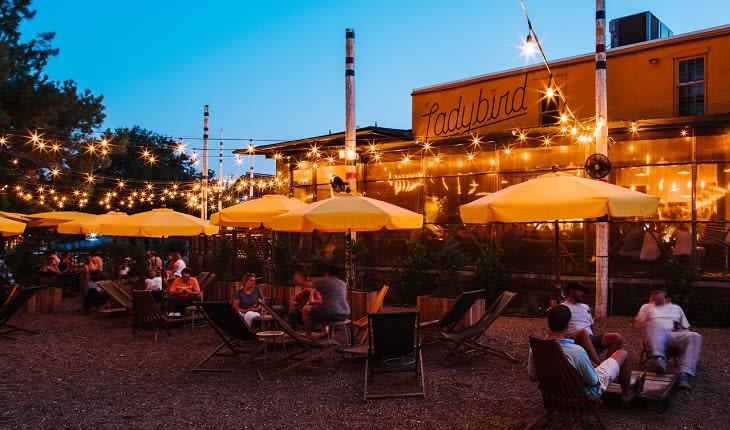 Dinner
Ladybird Grove & Mess Hall
Ladybird Grove & Mess Hall prides itself on being the first outdoor-oriented bar and restaurant along the BeltLine Eastside Trail. The menu features shareable "campfire cuisine" that can be enjoyed around the restaurant's outdoor lawn chairs. Popular menu items include Southern favorites like pimento cheese fritters and fried chicken alongside mussels and barbecue shrimp.

Or:
Dinner and live music at Venkman's
Located in historic Old Fourth Ward and housed in an old bottling factory, Venkman's mixes a modern take on classic comfort food with an eclectic selection of nightly live music.
Day 2
Breakfast
Bread & Butterfly
This café & bistro is located in the heart of Inman Park, is European-inspired and a great space to enjoy a cappuccino and croissant, breakfast, lunch or dinner.
Morning
Walk to Made Again, a gallery showroom adjacent to Atlanta BeltLine Eastside Trail, that features furniture, fine art, lighting, textiles, ceramics and jewelry. Artists use locally-sourced materials creating recycled and repurposed pieces, unique to the Atlanta community.
ATL-Cruzers Eastside Electric Car Tour
Take an Eastside Electric Car Tour that includes an in-depth look into Atlanta's neighborhoods that surround the BeltLine. The guided 90-minute tour includes both history and scenic views of some of the oldest neighborhoods in Atlanta. The tour will highlight historic sites including Inman Park, Martin Luther King Jr. National Historic Site, Old Fourth Ward, Oakland Cemetery, Grant Park and Cabbagetown.
Lunch
Victory Sandwich Bar
Victory Sandwich Bar quickly garnered the attention of Anthony Bourdain and Bon Appétit with its inventive offering of sandwiches and snacks. The Inman Park location is convenient to the Atlanta BeltLine Eastside Trail, making it an ideal refueling station.

Dessert at King of Pops
Started by three brothers, Atlanta's own King of Pops has become a staple at festivals, concerts and fairs around the city. The iconic carts sporting rainbow umbrellas dole out frozen pops made with fresh, locally-sourced ingredients for combinations such as blueberry lemonade, pineapple habañero and key lime pie.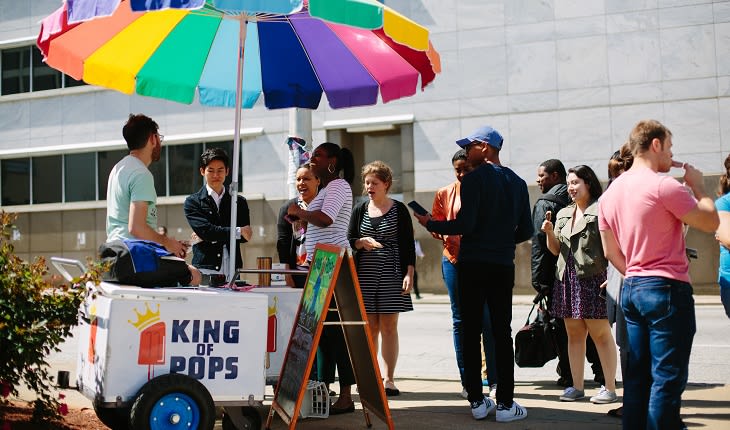 Evening
Tour and Tasting at Orpheus Brewing
Overlooking Piedmont Park and Atlanta BeltLine, Orpheus Brewing focuses on wild creations with new hops for inventive beers not found elsewhere in Atlanta. Tour the brewery and taste offerings with names drawing inspiration from Greek mythology and designs from local artists.
Dinner
Kevin Rathbun Steak
Kevin Rathbun Steak features Prime steaks from Allen Brothers in Chicago along King of Pops with a menu offering over 50 items.
Ready for another day? Start your tour of the Westside, including the Atlanta BeltLine Westside Trail.
Discover More
Get to know Atlanta, and discover the best things to do around the city.