Fun Day Trips near Atlanta: Kennesaw Mountain National Battlefield Park
Located about 23 miles northwest of downtown Atlanta, in Marietta, Kennesaw Mountain brings together history and nature. The violent past that's the namesake of Kennesaw Mountain National Battlefield Park is in sharp contrast to the tranquility and beauty of the park today.
The site of a major Civil War battle in 1864, this beautiful park offers more than 17 miles of interpretative trails dotted with historical markers that crisscross the 2,965-acre national monument. The scars of war are still visible throughout the park, most notably on the Cheatham Hill Trail where some of the eight miles of earthen fortifications remain. Even today it's possible to stumble upon Civil War relics in the area, though it's illegal to search for them or remove them from the park.
Despite the singular name, Kennesaw Mountain National Battlefield Park is actually made up of two mountains, Big and Little Kennesaw. During the week it's possible to drive or bike up a paved road to the top of Big Kennesaw, the tallest peak in the metro Atlanta area at 1,808 feet in elevation. (The road is closed to vehicular traffic on weekends.) Little Kennesaw is lined with hiking trails that connect the big mountain with the rest of the park.
For a look back on a pivotal era of American history or simply to enjoy the natural beauty that's there today, a trip to Kennesaw Mountain National Battlefield Park is one of the must-do stops on any trip to the Atlanta area.
Activities and Things to Do at Kennesaw Mountain National Battlefield Park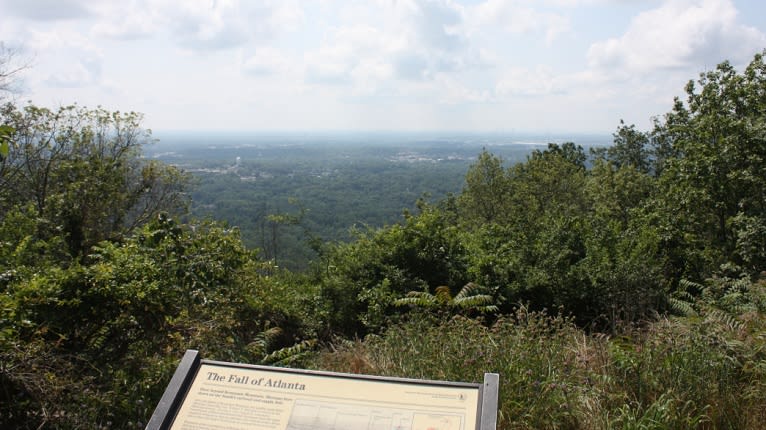 Explore Civil War History
The museum and visitor center near Cheatham Hill, off Stilesboro Road near Old Highway 41, is a good place to start your visit. Pick up park guides and maps then explore the history museum. A 35-minute movie about the battle and Sherman's march on Atlanta plays at 15 minutes past the hour every hour.
Take a Hike
Trails range in difficulty, length and elevation changes. The shortest are less than a mile and easily traversed. Some of the more adventurous routes include a 16-mile loop from the visitor center at the north entrance to Kolb Farm in the park's southern reaches. This hike includes ascents of both mountains.
Enjoy Scenic Skyline Views of Atlanta
Reaching the summit of Big Kennesaw is a relatively short, one-mile, trek from the visitor center (all uphill, one-way) that culminates in a scenic overlook of the Atlanta skyline in the distance and, on a clear day, Stone Mountain, some 28 miles away.
How to Get to Kennesaw Mountain
Kennesaw Mountain is located about 23 miles northwest of downtown Atlanta in Marietta, Ga.
The address is:
Kennesaw Mountain National Battlefield Park
900 Kennesaw Mountain Drive
Kennesaw, Ga. 30152
Where to Park at Kennesaw Mountain
There are several parking areas, depending on what you want to explore. Head for the visitor center at 900 Kennesaw Mountain Drive to hike or drive up the mountain, or talk to a ranger before setting out on foot. Small parking areas on Burnt Hickory Road provide access to Noses Creek Trail and Pigeon Hill Trail. You'll also find parking near the information kiosk on Cheatham Hill Road (a good place to start and finish the Kolb Loop Trail) and on Calloway Road at Kolb Farm.
Discover More
Get to know Atlanta, and discover the best things to do around the city.