National Center for Civil and Human Rights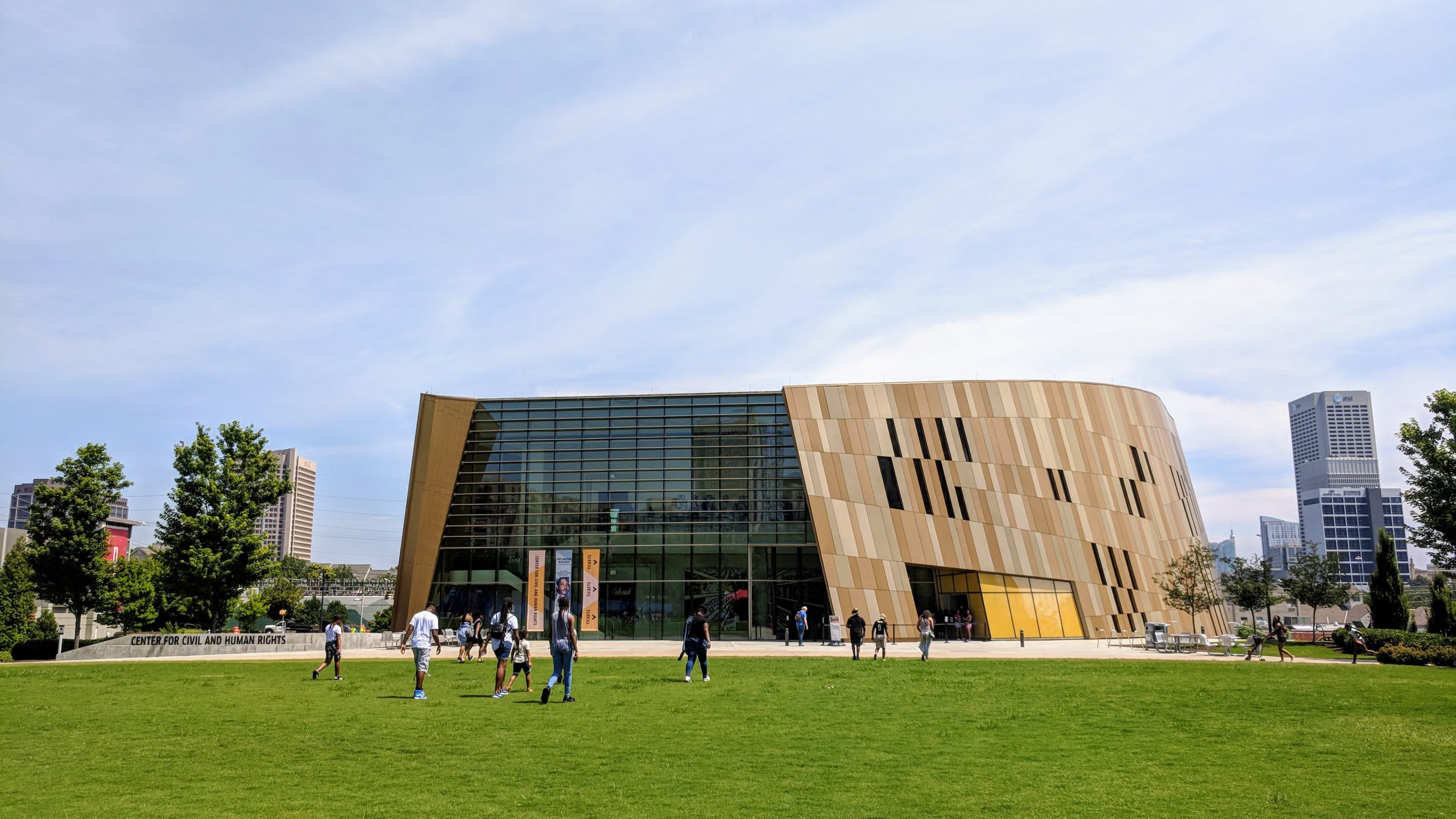 El Centro por los Derechos Civiles y Humanos, ubicado a pocos pasos del Parque Olímpico del Centenario, analiza la relación entre el movimiento por los derechos civiles en los Estados Unidos y las cuestiones de derechos humanos actuales mediante exposiciones y experiencias interactivas de vanguardia. El centro sirve como punto de partida para quienes están interesados en la historia de Atlanta y permite a los visitantes conocer en mayor profundidad cuál fue el papel de la ciudad en el movimiento por los derechos civiles.
EL CENTRO POR LOS DERECHOS CIVILES Y HUMANOS DE ATLANTA OFRECE UNA EXPERIENCIA SOBRECOGEDORA
El Centro por los Derechos Civiles y Humanos ubicado en el centro de Atlanta, es el punto de partida perfecto para explorar la historia de la ciudad y su rol en dicho movimiento. Explore dentro de un par de horas las tres principales exposiciones del Centro: Los Derechos Civiles, Los Derechos Humanos y la colección de la Universidad Morehouse sobre Martin Luther King, Jr. Cada exposición cuenta con pantallas interactivas que atraen a los visitantes hacia el tema. Vea un video en la pantalla panorámica o siéntese en un comedor que simula a los utilizados en las protestas de los llamados Viajeros de la Libertad (conocidos en inglés como Freedom Riders). Póngase de pie junto a las imágenes de tamaño natural de los dictadores del mundo (¡que por cierto son sorprendentemente pequeños!).
Razones para ir al Centro por los Derechos Civiles y Humanos
El Centro es el lugar perfecto para comenzar su exploración del pasado histórico de Atlanta. Sus instalaciones destacan de manera única, la participación de la ciudad y su gente en el movimiento por los derechos civiles. Luego visite el Sitio Histórico de Martin Luther King, Jr. y el Centro Carter.
En la planta baja (por debajo del nivel de la entrada principal) está la exposición "Voice to the Voiceless". Esta galería, con objetos personales y escritos de Martin Luther King Jr., también proyecta en la pared la famosa frase "I have a dream" en más de 20 idiomas. Aquí, usted verá no sólo los borradores originales de los discursos más famosos de MLK, sino también cartas y notas escritas a amigos y colegas invitándolos a continuar la lucha por la justicia.
El Centro por los Derechos Civiles y Humanos ampliará su visión sobre los activistas en la lucha por los derechos civiles. Una mirada a la pared de los Freedom Riders o de los Mártires y usted encontrará rostros diversos, jóvenes y viejos, blancos y negros, hombres y mujeres. Los defensores de los derechos civiles venían en todas las formas y tamaños.
No se pierda la increíble escultura de agua. Antes de entrar a través de la puerta principal, diríjase hacia Ivan Allen Boulevard para echarle un vistazo. Cuenta con citas de Margaret Mead y Nelson Mandela y perfectamente representa todo lo que el Centro está trabajando para el futuro.
Usted puede contar su propia historia. En el segundo piso, hay un stand donde los visitantes pueden compartir sus propias experiencias referentes a los derechos civiles y humanos. Los videos son luego editados y se muestran en la pared del Centro.
Tips locales
No se deje intimidar por la densidad del tema. Es cierto que los derechos civiles y humanos no son temas fáciles de abordar, pero el Centro logra hacer la experiencia además de gratificante, inspiradora. Usted va a salir apreciando mucho más los logros que se han alcanzado hasta el momento y lleno de esperanza para el futuro.
Haga planes para pasar un par de horas allí. Así puede darse tiempo para la lectura, observación e inmersión en las exposiciones.
Tome nota del ambiente de cada habitación. ¿Tiene una luz tenue? Probablemente representa un periodo oscuro de la historia. ¿Es luminosa? Ese lugar muy probablemente representa un momento más esperanzador en el tiempo.