3 Reasons We Love Killer Mike

"K-I-L-L! This is the name that came to alter the game." Most people don't recognize the name "Michael Render," but mention "Killer Mike" and fans immediately know that you are talking about the larger-than-life lyrical pugilist. His musical credits include multiple Billboard charting albums, collabs with the ATL's own Outkast, and his part in the critically-acclaimed hip-hop duo, Run the Jewels. His freestyle rhymes delivering the truth about growing up in the ATL earned the rapper his name.
Music
One of a robust cadre of down-South rappers and hip-hop artists who have helped solidify the ATL's dominance in hip-hop culture, Killer Mike made his musical debut on "Snappin' & Trappin'" from hip-hop royalty OutKast's "Stankonia" album. From there, he went on to receive a Grammy Award for his verse on the group's follow-up single, "The Whole World." Laying lush flows over bass-heavy beats that sound best bumping out of the trunk of a Caddy riding down Peachtree, we love his musical authenticity. We've attended his concerts at the old Masquerade, Lakewood Amphitheater and Terminal West and danced to his music at Star Bar and other top hip-hop clubs in the ATL.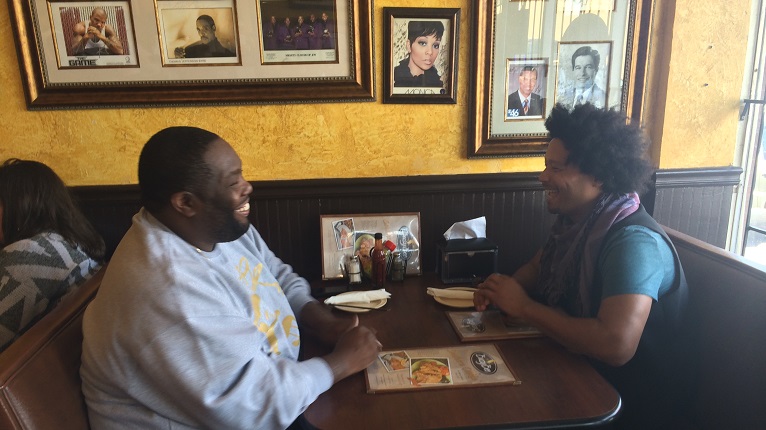 ATL Ambassador
While he didn't grow up in optimal circumstances, the streets made Killer Mike into the man he is today. At Frederick Douglass High School, he was struck by the abolitionist's quote "If there is no struggle, there is no progress," and it still strikes a chord within him today. He takes these experiences and shares the beauty that is the ATL everywhere he goes. From sold-out concerts in Sweden to elevating black communities through his barber shops (the Graffitis SWAG Shops), Killer Mike lives, eats and sleeps ATL.
The rapper's dedication to the betterment of the city even garnered him a special day in his honor when July 17 was proclaimed "Michael 'Killer Mike' Render Day" by the Atlanta City Council. And how many artists do you know who have had an $11.6 million drill named after them as an homage to their commitment to being an outstanding ambassador for the ATL?
Social Advocacy
While some rappers only talk the talk, Killer Mike walks it as an outspoken activist and social justice advocate, fighting against police brutality, racism, and income inequality.
Sharing his point of view on CNN panels, HBO's "Real Time with Bill Maher" and other platforms, Killer Mike keeps it real with the truth about social inequality. He even wrote an op-ed in Billboard magazine citing the rampant officer-involved shootings against young black males. Killer Mike rallies crowds to inform and educate on the issues of the day. He has been honored for his work with the Bank Black program, Black Teens for Advancement, the Atlanta/Fulton Commission on Children and its program Kids 4 a Change. Using his platform to reach millions to help influence positive change, Killer Mike is an advocate everyone would want in their corner, and we're happy to have him in the ATL.
Discover More
Get to know Atlanta, and discover the best things to do around the city.