Independence Day Fireworks Light Metro Atlanta Skies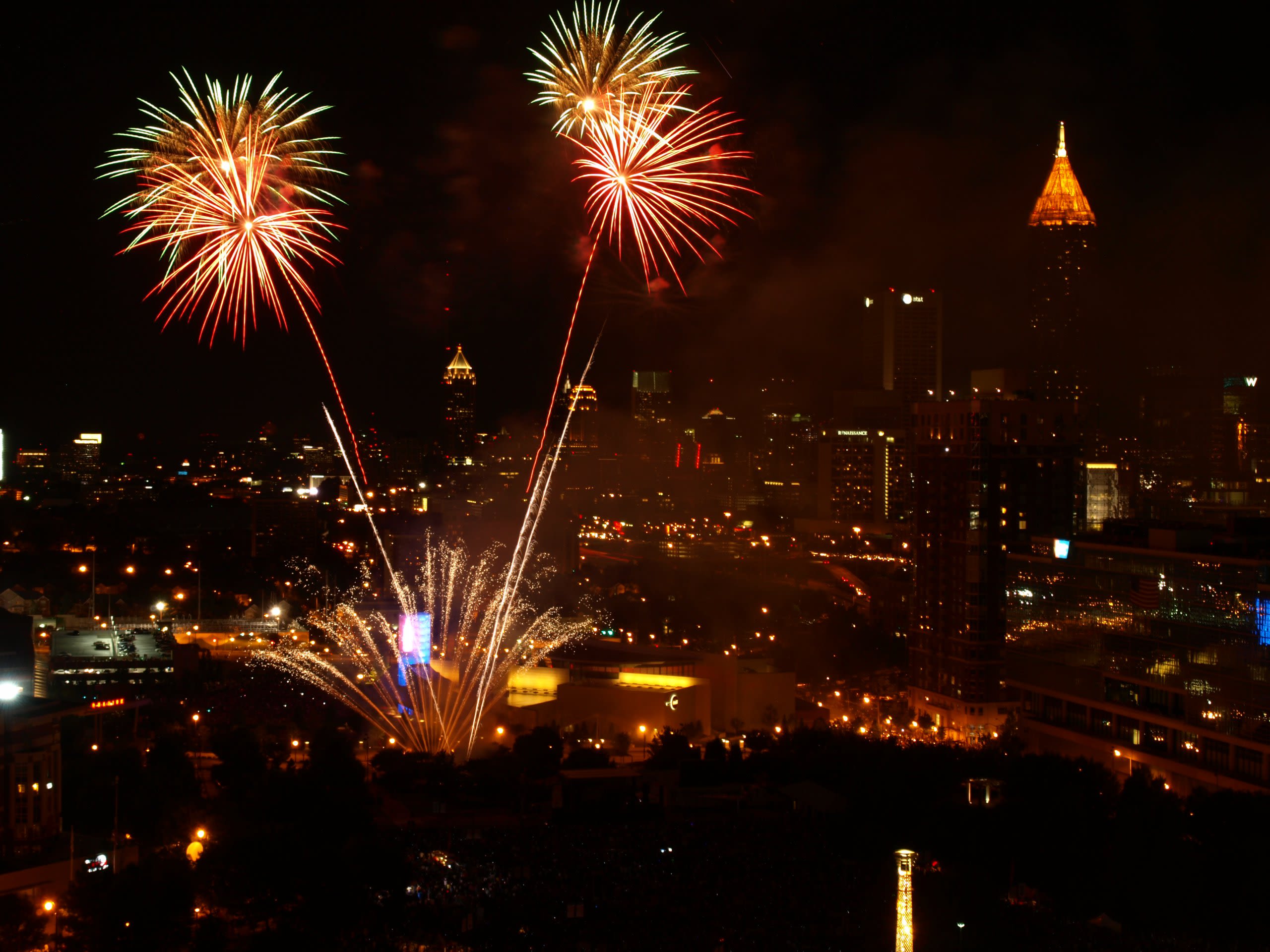 Wondering where to watch fireworks in Atlanta this Fourth of July? The largest fireworks show in the Southeast is set for July 3 in Centennial Olympic Park Downtown. More celebrations are breaking out all across the metropolitan area.
Atlanta: Centennial Olympic Park
Look Up Atlanta, the Southeast's largest fireworks show, explodes across the skies of downtown Atlanta above Centennial Olympic Park on July 3 from 5 to 10:30 p.m. This is a ticketed event with proceeds going toward continued beautification of the park. The Atlanta Symphony Youth Orchestra will perform as will Angelica Hale, national recording artist and America's Got Talent runner-up.
General admission tickets, $10, include access to the park and fireworks viewing areas on the lawn, and food and beverage options available for purchase. Adult VIP admission tickets are $40. VIP admission tickets for children age 12 and younger are $20. The VIP Village offers a more exclusive experience, including purchase of some of Atlanta's best bites and beverages. VIP tickets include front-row access to the evening's entertainment and fireworks show, parking, summer gifts and other surprises. Use the promo code "DISCOVERATL" for $5 off per ticket.
Midtown: Ponce City Market
The Roof at Ponce City Market plans a Fourth of July party starting at 11 a.m. on Saturday. Entertainment includes balloon artists, a magician, music and a fireworks show. Read all about it.
Alpharetta: Wills Park
Fireworks light up the skies of Wills Park, 11925 Wills Road in Alpharetta, beginning at dusk on July 4. Charcoal grills are strictly prohibited. Small propane grills are allowed with permit and will be granted to the first 50 applicants. Submit all July 4th Fireworks grill permits to hlew@alpharetta.ga.us and email or call 678-297-6382 for questions.
Acworth: Cauble Park
The city of Acworth and the Acworth Business Association are hosting an Independence Day celebration at Cauble Park, 4425 Beach St., on July 4. The event features live music starting at 5:30 p.m. Fireworks begin at dark. The concert and fireworks are free to the public. If you do not have a parking pass or if the parking area is full, you will need to park downtown and walk to the park. Shuttles will not be running for this event. Handicap parking will be available at McCall Primary School beginning at noon, and there will be a shuttle provided for handicap attendees.
Chamblee: Keswick Park
Fourth of July festivities kick off at 5 p.m. July 4 in Keswick Park, 3496 Keswick Drive, Chamblee. Activities include music, food and fireworks.
Cumming: Cumming Fairgrounds
The city of Cumming plans its annual Thomas-Mashburn Steam Engine Parade on July 4, staring at 10 a.m. The parade route travels south on Tribble Gap Road, starting at Forsyth Central High School and ending at Cumming Fairgrounds. The Fourth of July celebration occurs at the Cumming Fairgrounds from 4 until 10 p.m., with fireworks beginning at 9:30 p.m. The celebration includes music, drinks, food, games vendors and various contests throughout the day. Admission and parking are free, but there is no parking inside the fairgrounds. Outside food and beverages are not allowed.
Decatur: Near DeKalb County Parking Deck
The city of Decatur's annual Pied Piper parade starts at 6 p.m., making its way through downtown Decatur. Residents are invited to gather friends and family to ride bikes, walk or skate in this community parade. Neighborhoods and organizations are encouraged to make floats and join the fun, too. Red, white and blue will be the color of the day. A concert by Callanwolde Concert Band begins at 7 p.m. at the Community Bandstand. Fireworks begin at approximately 9 p.m.
The parade lineup is at 5:30 p.m. at the First Baptist Church of Decatur, 308 Clairemont Ave. Pedestrians should gather on the lawn, and vehicles will line up in the parking lot. Anyone may participate in the parade, but those with vehicles must register by completing a form available on the city's website and emailing it to jacqueline.moore@decaturga.com or by calling 404-597-3218.
Dunwoody: Streets of Dunwoody
The Dunwoody Homeowners Association and the Dunwoody Reporter newspaper plan a parade to celebrate the Fourth of July. Dubbed "Georgia's largest Independence Day Parade," the parade's theme is "Parade of Stars." This annual event dates to 1976.
The parade route is approximately 2.7 miles and steps off from the intersection of Mount Vernon and Jett Ferry roads at 9 a.m. The parade proceeds west on Mount Vernon to Dunwoody Village, turns right onto Dunwoody Village Parkway, circles around the Parkway, and turns left into Dunwoody Village. The Festival Area will be on the Walgreens side of Dunwoody Village.
Parade spectators are encouraged to set up chairs along Mount Vernon and circle around the Dunwoody Village Parkway into Dunwoody Village. Guests are invited to join the community after the parade in front of the U.S. Post Office in Dunwoody Village for family fun and food.
John's Creek: Newtown Park
The Independence Day celebration in John's Creek is set for 6 to 10 p.m. July 3 at Newtown Park. There will be music by The Platinum Band plus activities, food and fireworks. Participating food trucks are Texas Tacos, A Little Nauti, Bento Bus, The Patty Wagon, Gotta Have It, Lee's Street Tacos and Windell's Seafood. Sweet treats will be available from King of Pops, Frozen Sweets, Repicci's Italian Ice and Kona Ice. Outside alcohol is not permitted; alcohol will be for sale from vendors. Pets are not allowed except for service animals. Tents and personal fireworks are not allowed. Lawn chairs or blankets are welcome.
Kennesaw: Downtown Kennesaw
The city of Kennesaw will host its annual Independence Day celebration of freedom, music and fireworks on July 3 from 6 to 10 p.m. in downtown Kennesaw. Admission to the event is free.
The Salute to America celebration will feature two stages of live music, festive street entertainment, food vendors and kid's activities. The evening will conclude with a fireworks finale, visible from Depot Park and along Main Street, at 9:30 p.m.
The School of Rock East Cobb House Band will kick off the evening on the Main Street Stage, performing from 6 to 7:30 p.m. Leah Belle Faser, from the 20th Season of ABC's "American Idol" will take the Main Street Stage from 8 to 9:30 p.m. The neo-psychedelic rock band, Kaydelis, will perform on the Depot Park Stage from 6 to 7:30 p.m. From 8 to 9:30 p.m., The American Flyers will perform hits ranging from the sounds of sixties rock trios to big R&B groups.
In addition to street vendors and sponsor booths, attractions will include pay-to-play inflatable amusements. Entrées, cold beverages and snacks will be available for purchase. Guests may bring picnic baskets or coolers. Grills will not be allowed. A six-foot rectangular table, located in front of the Depot Park Stage, that seats six, can be reserved for $75. With the exception of reserved tables near the Depot Stage, all seating will be general admission, so please bring a blanket or comfortable low-back chair. Table reservations are available online at www.kennesawjuly3.com.
Families in the community are invited to participate in Kennesaw Parks & Rec's Kid's Parade on July 3 from 12 to 1 p.m. Participants will meet at Commemorative Park and walk down Main Street, ending behind City Hall. Parade participants are welcome to dress up and decorate their strollers, wagons or bicycles with a red, white and blue theme. Motorized vehicles are not allowed. Parents must accompany their children for the entirety of the parade. Registration for the Kid's Parade is available online at www.kennesawjuly3.com.
Lawrenceville: Lawrenceville Lawn
The city of Lawrenceville will host a special Prelude to the Fourth Fireworks Spectacular Honoring Independence Day on July 1 at the Lawrenceville Lawn. An evening of fun for the whole family starts at 5 p.m. The expanded fireworks display begins at dusk. Lawn chairs and blankets are welcome. Enjoy food from vendors located at the Lawrenceville Lawn. Prelude to the 4th is a rain or shine event.
Marietta: Fourth in the Park
The city of Marietta's 4th In The Park Celebration begins at 10 a.m. on July 4 and includes a parade, free live concerts, arts and crafts show, food, carnival games and fireworks finale. The Let Freedom Ring Parade begins at 10 a.m. A festival including arts & crafts, a kids' zone, festival food and free concerts runs from 10 a.m. through 9 p.m. Noon brings a concert featuring Scott Thompson. There is a bell-ringing ceremony set for 2 p.m. The Atlanta Concert Band will perform at 2:30 p.m. Josh Jones performs at 7 p.m., and the 8 to 9:30 p.m. concert features Departure, The Journey Tribute Band. Fireworks begin at dark.
Norcross: Lillian Webb Park
The city of Norcross is throwing its pre-Fourth of July block party, Red, White & Boom, on July 3. Occurring in Lillian Webb Park and downtown Norcross, the party features food, fun and fireworks. Celebrations begin at 5 p.m. with bounce houses (nominal fee), face painting and food vendors.
Powder Springs: Thurman Springs Park
The Powder Springs 4th of July Celebration and Fireworks Show this year includes a cruise-in. Running from 6 to 10 p.m. on July 4 in Thurman Springs Park, the celebration continues a tradition started years ago that includes food, fun times and fireworks. The Cruise-In Car Show is new this year. If you love your car and want to show it off to the community, check the Powder Springs website for a registration form or register the day of the event from 2 to 4:30 p.m., as space allows.
Roswell: Roswell Area Park
The city of Roswell plans a July 4 celebration beginning at 6 p.m. in Roswell Area Park, 10495 Woodstock Road in Roswell. On the agenda is live music plus food trucks and fireworks. Food trucks open at 5 p.m. Music begins at 6 p.m. with a break at 7:30 p.m. The second set will run from 8 until 9:30 p.m. Fireworks are scheduled to begin at sunset.
Sandy Springs: City Springs
The Sandy Springs Stars & Stripes Fireworks Celebration begins at 4 p.m. on July 4 at City Springs. Food trucks open at 6 p.m. Blankets, lawn chairs (low back chairs preferred) and umbrellas are allowed, and guests are asked to hold off setting up until 4 p.m. and also to lower umbrellas when the music starts. Tables and tents are not allowed. Neither are personal sparklers. Guests may bring their own picnic, purchase from one of the nearby restaurants or patronize one of the food trucks. Only alcoholic beverages sold on site are allowed. Participating food trucks are Azucar Cuban Cuisine, Dot Bowl, Korean BBQ, Gyro Chef Mediterranean Food, Mac Queen Food Truck (Southern staples), McDaniel BBQ, Negril Food Truck (Caribbean street food), Repiccis Italian Ice & Gelato, Spice the Americas (North, Central & South American cuisine), Three Tikis ((Italian shaved ice) and Yumbi Food Truck Asian American Tacos.
Stone Mountain Park: Throughout Park
Stone Mountain Park's Fantastic Fourth celebration runs July 1-5. Visitors are invited to enjoy family attractions and live entertainment, followed by the Lasershow Spectacular and a patriotic fireworks finale.
Sugar Hill: E.E. Robinson Park
The city of Sugar Hill plans its Independence celebration, "Sparks in the Park," for July 3 at E.E. Robinson Park North. The free fireworks display and live music show begins at 6:30 p.m. with fireworks starting at sundown.
Guests are asked to wear red, white and blue and pack a picnic basket. Musical entertainment on stage will be Sibling Rivalry: Tristan and Tyler Reese Tritt.
Parking at the Level Creek E.E. Robinson Park North entrance lot is limited to those with ADA (American Disabilities Act) stickers. Guests may park and walk on sidewalks from Sugar Hill Elementary School, Sugar Hill Church and E.E. Robinson Park South, a .3 to 1-mile walk depending on the lot. No shuttle service is available. Guests are encouraged to bring chairs and blankets as well as their own food and drink. Food trucks will be at the entrance of Sugar Hill Elementary School.
Woodstock: The Park at City Center
The city of Woodstock Fourth of July "Spectacular" begins at 7:15 a.m. with the annual Woodstock Freedom Run 5K and 10K. The parade kicks off at 10 a.m. at Woodstock Elementary School on Rope Mill Road and travels down Main Street to Sam's Club at Highway 92. After the parade, the community is invited to come to The Park at City Center until 3 p.m. for food, DJ Ronnie, children's games, inflatables, arts and crafts, and vendors. The day concludes with fireworks at dusk behind the Lowes shopping center at Highway 82 and Interstate 575.
Visit our 4th of July page for more fun things to do in Atlanta.
Discover More
Get to know Atlanta, and discover the best things to do around the city.