Independence Day Fireworks Light Metro Atlanta Skies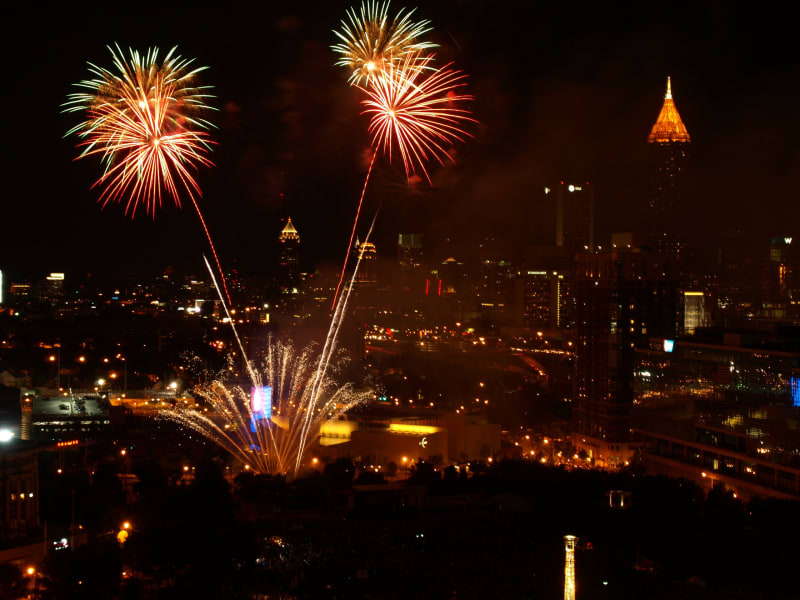 Wondering where to watch fireworks in Atlanta this Fourth of July? Celebrations are breaking out all across the metropolitan area.
1. Alpharetta: Wills Park
Fireworks light up the skies of Wills Park, 11925 Wills Road in Alpharetta, beginning at dusk on July 4. Precautions related to COVID-19 mean that, this year, the celebration will be fireworks minus any of the activities that typically accompany the party. Charcoal grills are strictly prohibited. Small propane grills are allowed with permit and will be granted to the first 50 applicants. Email rflynn@alpharetta.ga.us or call (678) 297-6123.
2. Acworth: Cauble Park
The city of Acworth and the Acworth Business Association are hosting an Independence Day celebration at Cauble Park, 2293 Beach St., on July 4. The event features live music starting at 5:30 p.m. Fireworks begin at dark. The concert is free to the public, and tables for six are available for an additional fee. Tables are $50 each for city of Acworth residents and $70 for non-residents. Each table includes six chairs and one parking pass. This parking pass allows holders to park at Cauble Park as long as spots remain available. To purchase a table, visit AcworthParksAndRecreation.org.
Parking at Cauble Park is first-come, first-served, by pass only on July 4. Those without a parking pass, or if the parking is full, may park downtown and walk to the park. Shuttles will not be running. Handicap parking will be available at McCall Primary School, and there will be a shuttle, beginning at noon.
3. Cumming: Cumming Fairgrounds
The city of Cumming plans its annual Steam Engine Parade on July 4 from 10 a.m. until noon at the Cumming Fairgrounds, 235 Castleberry Road. The annual July 4 celebration runs from 4 to 10 p.m. at the Fairgrounds.
4. Decatur: Near DeKalb County Parking Deck
The city of Decatur's annual fireworks display is set for July 4, beginning at approximately 9 p.m. The community is encouraged to find a safe, socially distanced place to watch the 15 to 20-minute show that will launch from the top of the DeKalb County Parking Deck. Streets in the fireworks fall-out zone will be closed.
Decatur will not gather officially as a community, neither will Decatur host the annual Pied Piper Parade and Concert on the Square. The city encourages folks to wear a mask and enjoy the display safely and socially distanced.
5. Duluth: Town Green
The city of Duluth plans its Duluth Celebrates America event for July 3. Starting at 5:30 p.m. and running until 10 p.m. on the Duluth Town Green, the party includes a fireworks display, live music, food trucks and more. This event is free.
6. Kennesaw: Downtown Kennesaw
The city of Kennesaw's traditional pre-Independence Day Salute to America celebration takes place on July 3 from 6 to 10 p.m., centered around the Historic Train Depot at 2828 Cherokee St. The event features two stages of live music, food vendors and kids' activities as well aa fireworks display.
The Star-Spangled Fireworks Spectacular is scheduled to begin at 8:30 p.m, and will be visible from several locations throughout downtown Kennesaw.
The Kid's Parade begins at noon. Presentation of colors and the National Anthem are set for 6 p.m. on the Depot Park Stage.
Woody Earwood performs from 6 to 7:15 p.m. on the Main Street Stage; The School of Rock entertains on the Depot Park Stage from 6:05 to 7:15 p.m. The Paul Hand Band plays on the Main Street Stage from 7:30 to 9:30 p.m.; and Band X provides entertainment on the Depot Park Stage from 7:30 to 9:30 p.m. Fireworks begin at 9:30 p.m.
Admission is free. Parking will be available along Main Street, at the intersection of Main Street and Moon Station Road, behind the Southern Museum off Shirley Drive and off Sardis Street near the intersection of Big Shanty Drive. More parking will be available from Watts Drive to Summer Street and Watts Drive from Little General Clogger Avenue to Main Street.
Additional information is available by calling (770) 422-9714, visiting KennesawJuly3.com or visiting the Facebook page at Facebook.com/KennesawParksRecreation.
7. Lawrenceville: Lawrenceville Lawn
The city of Lawrenceville plans a Prelude to the Fourth Fireworks Spectacular Honoring Independence Day July 2 on the Lawrenceville Lawn. The evening starts at 5 p.m. with performances by Riley Biederer and Electric Avenue. The fireworks display begins at dusk. Lawn chairs and blankets are welcome and social distancing will be mandated. Revelers may purchase food from vendors located at the Lawrenceville Lawn, Bicentennial Plaza and city hall. Interested people can follow the city's social media for more information.
8. Marietta: Fourth in the Park
The city of Marietta's Fourth in the Park celebration begins at 10 a.m. July 3 and includes a parade, free live concerts, museum tours, arts and crafts show, food, carnival games and a fireworks finale.
Noon brings a concert featuring Scott Thompson followed by a bell ringing ceremony at 2 p.m., a concert by the Atlanta Concert Band at 2:30 p.m. and another Scott Thompson concert at 7 p.m. Preceding the fireworks, which begin at dark, there is an 8 to 9:30 p.m. concert featuring Bogey and the Viceroy.
The parade begins at Roswell Street Baptist Church and travels west on Roswell Street, north on East Park Square past Glover Park and the Square, down Cherokee Street and ends at North Marietta Parkway. The end of the parade marks the start of the festival.
For more information, call Marietta Parks and Recreation at (770) 794-5601
9. Norcross: Lillian Webb Park
The city of Norcross is throwing its pre-Fourth of July block party, Red, White & Boom, on July 3. Occurring in Lillian Webb Park and downtown Norcross, the party features food, fun and fireworks. Celebrations begin at 5 p.m. with bounce houses (nominal fee), face painting and food vendors.
10. Roswell: Roswell Area Park
The city of Roswell plans a July 4 celebration beginning at 5:30 p.m. in Roswell Area Park, 10495 Woodstock Road in Roswell. On the agenda is live music plus food trucks and fireworks.
Food trucks open at 5:30 p.m. and include Gotta Have It, South of Philly, Kajun Asian, The Patty Wagon and Let's Taco Bout It. Dessert trucks scheduled are Steel City Pops, Sweet Escape and Kona Ice.
Fireworks are scheduled to begin at 9:30 p.m., weather permitting. Check the Rec & Parks Facebook feed for updates.
11. Sandy Springs: City Springs
The Sandy Springs Stars & Stripes Fireworks Celebration lights the sky over City Springs on July 4. Rupert's Orchestra will play beginning at 7:30 p.m. with a combination of top 40 hits, Motown, classic rock and swing. Fireworks begin at 9:30 p.m.
Guests are invited to bring their own picnic or purchase from one of the nearby restaurants or event food trucks. Food trucks will open at 6 p.m. Only alcoholic beverages sold on site are allowed. Tents and personal sparklers are not permitted.
12. Snellville: Towne Green
Star Spangled Snellville begins at 4 p.m. on the Towne Green. The afternoon starts with games and musical entertainment and winds up with the traditional fireworks display after sunset.
13. Stone Mountain Park: Throughout Park
Stone Mountain Park's Fantastic Fourth celebration runs July 1-5. Visitors are invited to enjoy family attractions and live entertainment, followed by the Lasershow Spectacular and a patriotic fireworks finale.
Visit our 4th of July page for more fun things to do in Atlanta.
Discover More
Get to know Atlanta, and discover the best things to do around the city.