Community, Conversation and Coffee
We might not solve the world's problems over a cup of coffee, but we can come close.
Much of Atlanta's diverse culture starts in its neighborhoods, each with a different personality. Coffeehouses and tea shops cultivate a community vibe and provide a place to gather. From civil rights leaders sharing strategies in a diner to neighbors poring over ideas on a restaurant patio, the ritual of coffee and dialogue is timeless.
Whether your coffee break is to simply take a breather or plan the next revolution, Atlanta has options to fuel your fire.
PERC Atlanta
Sometimes, one coffee drink isn't enough to carry you through the day and that's why PERC offers flights. Try the One & One featuring a single espresso and a single macchiato. Stay wired with seasonal drinks such as the Bobby Jones-wild espresso, old school Coke and lemon peel. Friendly service, bagels made in-house and the Big Fat Grilled Pimento Cheese Sandwich complement the coffee, served in the Kirkwood neighborhood.
Status: Outdoor seating, takeout
Dancing Goats Coffee Bar
With locations in Ponce City Market, Decatur and more, this coffee bar powered by Batdorf & Bronson Coffee Roasters produces strong beverages to combat whatever the day throws. The signature Dancing Goats blend is best for espresso and pour-overs, joining specialty lattes and cappuccino on the menu board. The Ponce City Market patio is a local favorite for people-watching, possibly with a canine companion.
Status: Outdoor seating, takeout
Chrome Yellow Trading Co.
Coffee, hand pies and doughnuts make the world spin a little brighter, or you can at least pretend that it does at Chrome Yellow in the Old Fourth Ward. From the freshly brewed espresso to a maple oat latte, cups of comfort are delivered with a smile by husband and wife duo Kyle and Kelly Taylor. Pick up a bag of the Neighborhood blend, which supports charities such as The Giving Kitchen.
Status: Delivery, curbside pickup
Spiller Park Coffee
Atlanta chef Hugh Atcheson and partner Dale Donchey opened Spiller Park as a nod to the place where Atlanta's minor league baseball team played for almost six decades. From the Hot Cup of Joe to specialty drinks like the Tumeric Tonic Latte, the options are complemented with killer toasts topped with jam, Lil Moo farmhouse cheese, nut butter and fruit. Check out locations in Ponce City Market and Toco Hills.
Status: Takeout, outdoor seating
BRASH Coffee Roasters
The Westside flagship store fashioned out of repurposed shipping containers is a favorite spot for many locals. High-quality, single origin selections from El Salvador and Colombia are folded into vanilla lattes and drip coffees for guests to grab on the run or savor on the patio. Other locations are found at Atlanta History Center and in Midtown.
Status: Delivery, takeout
Blue Donkey Coffee
Blue Donkey, a local, small batch coffee roaster, churns out Arabica beans to create craft iced coffee drinks. Try the Blue Donkey Original, simply laced with natural milk from Southern Swiss Dairy and 100% natural cane sugar. For an extra jolt, the Tear Jerker is made with twice the coffee-per-brew ratio. Hit one of the locations at Emory University, Georgia Tech or Grant Park.
Status: Varies by location
East Pole Coffee Co.
East Pole's baristas create freshly brewed lattes, drip coffee and cortados inside the shop's modern, sleek design with relaxed seating and a patio. Located in Armour Yards, East Pole has been active in fighting racial injustice by matching donations to local nonprofits Atlanta Solidarity Fund, The King Center and The Partnership for Southern Equity.
Status: Delivery, takeout
Momo Cafe
Classic drip coffee and cappuccinos are on the menu at this Midtown café but lean in closer and you'll discover Matcha and Hoji Cha blends or even the refreshing flavor sensation of Iced Lemon Coffee Soda. Soft serve ice cream-black sesame and affogato-beckons for those who need a little more flavor in their life.
Status: Delivery, takeout, outdoor seating
Taproom Coffee
This coffee and craft beer bar serves all the major drink groups with a chill vibe. Partnering roaster East Pole Coffee Co. and Atlanta craft breweries combine to serve brews throughout the day and into the evening. Located in the Kirkwood neighborhood, the community shop also features sweet pastries from H&F Bread Co. and Ratio Bakeshop.
Status: Takeout, curbside pickup
Dr. Bombay's Underwater Tea Party
Tall bookshelves tower over clusters of framed artwork and comfortable tables at this spot in Candler Park. Meet for quiet conversations over a cup of loose-leaf tea or indulge in high tea with an all-vegetarian array of sandwiches and sweet morsels. Dr. Bombay's is the home of The Learning Tea, which provides university scholarships to impoverished young women in India.
Status: Takeout, curbside pickup
Hemlock Salon & Apothecary
A different sort of coffee awaits in this oasis of holistic wellness services. Locals gather at this Krog Street destination for salon services and then head to the accompanying medicinal tea bar. Rasa Koffee, an herbal coffee alternative, gives a natural energy boost. Try a refreshing Dirty Mint tea or down the Euphoria wellness shot for optimal calming.
Status: To-go orders only
Just Add Honey
Linger for tea on the Eastside Atlanta BeltLine where customers choose from 40 different blends of loose-leaf teas. No tea bags here. Opt for a Honey Lavender Latte or customize your beverage with rose petals and ginger. The TEAm of Brandi and Jermail Shelton operates both this full-service cafe and another location at The Municipal Market (Sweet Auburn Curb Market).
Status: Outdoor seating, delivery, takeout
Refuge Coffee Co.
Expect friendly service, crafted lattes and steaming espresso at Refuge. Behind every smile is a story, as Refuge started as a training program for resettled refugees in Clarkston, Ga. These individuals shine at this location and a new Refuge shop in the Sweet Auburn District. Order the Honey Bee Latte or Casablanca Twist tea and take time to meet this phenomenal team.
Status: Outdoor seating, takeout and delivery
Victory Coffee + Calamity
From the makers of favorite Victory Sandwich Bar comes this retro hip coffee bar serving not only interesting coffee drinks but also the touted "gas station" biscuits. Sample the Colada, a long poured shot of Bustelo with sugar, or a sparkling Americano, a double espresso shot topped with Topo Chico sparkling water over ice.
Status: Takeout
Portrait Coffee
Look for Portrait's new West End location opening in fall 2020, where the team will offer freshly roasted coffee and socially conscious culture. In the meantime, check out Portrait's coffee soft serve and Aunt Viv Cold Brew Float at Big Softie in Summerhill and order a bag of Costa Rica Tarrazu online before it sells out.
Status: Online, until store opens
Dusé Coffee
This community-based company fights mental illness in Atlanta by using coffee as a platform for change. Visionary Iyasu Dusé created Dusé Coffee after watching a close family member battle mental illness and now uses this nonprofit to provide counseling and professional services to those in need. Support his mission by ordering coffees, online, such as the Community blend offering notes of brown sugar and cherries.
Status: Online orders
The Chai Box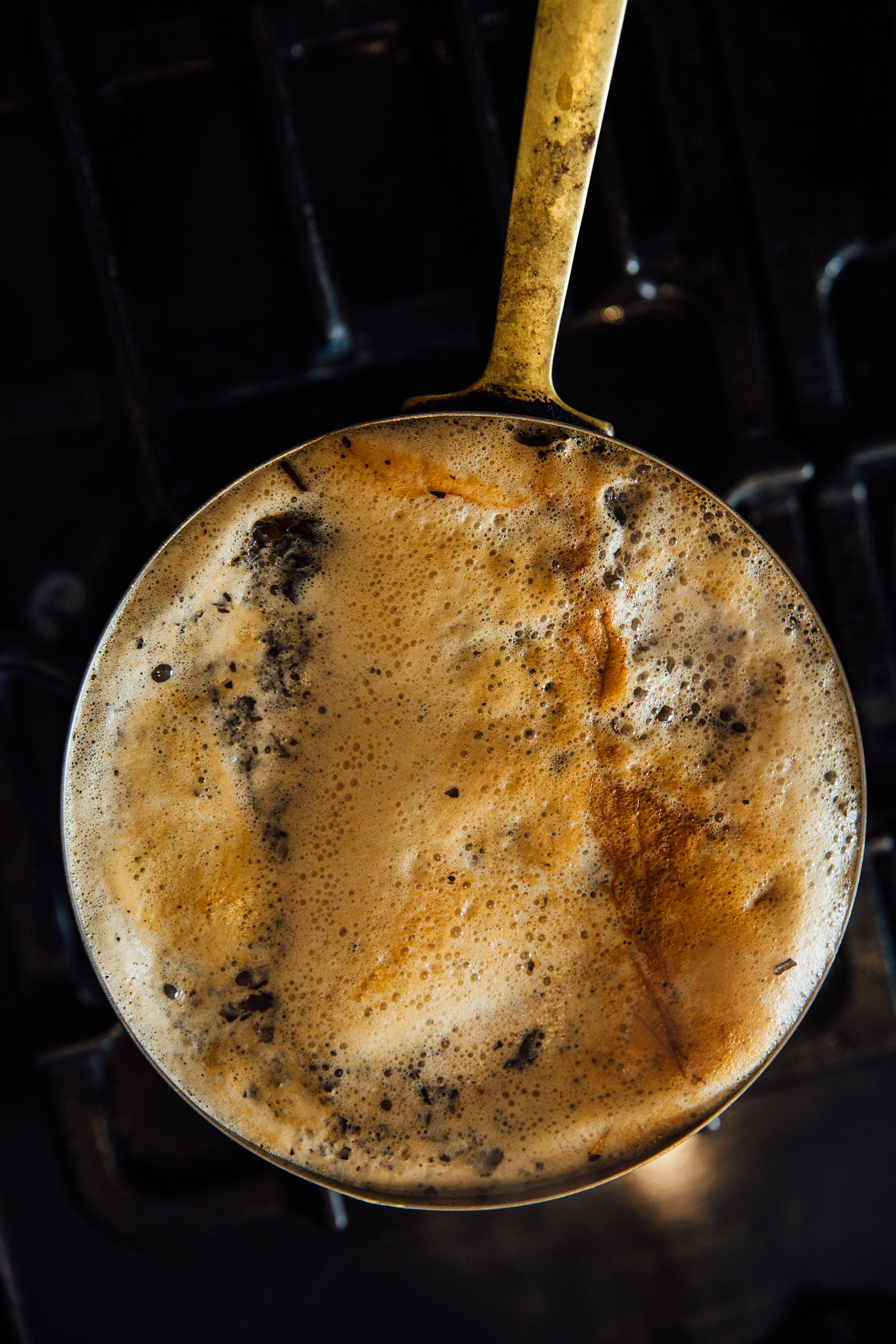 The Marietta, Ga-based Chai Box was designed to introduce the aromas and tastes of the popular tea to Atlantans. Creator Monica Sunny grew up in an Indian household, where chai was second nature. She now crafts her chai concentrate in small batches and offers custom blends and spices. The Parsi Dream blend introduces flavors of lemongrass, ginger and mint, while Sweet Monsoon features a tropical sensation of mangoes and coconut. Star Provisions, KarmaFarm and Savi Provisions carry these coveted blends.
Status: Online orders
Discover More
Get to know Atlanta, and discover the best things to do around the city.