Farmhouse Fried Chicken
white oak pastures. romanesco. mac 'n' cheese.
serves 6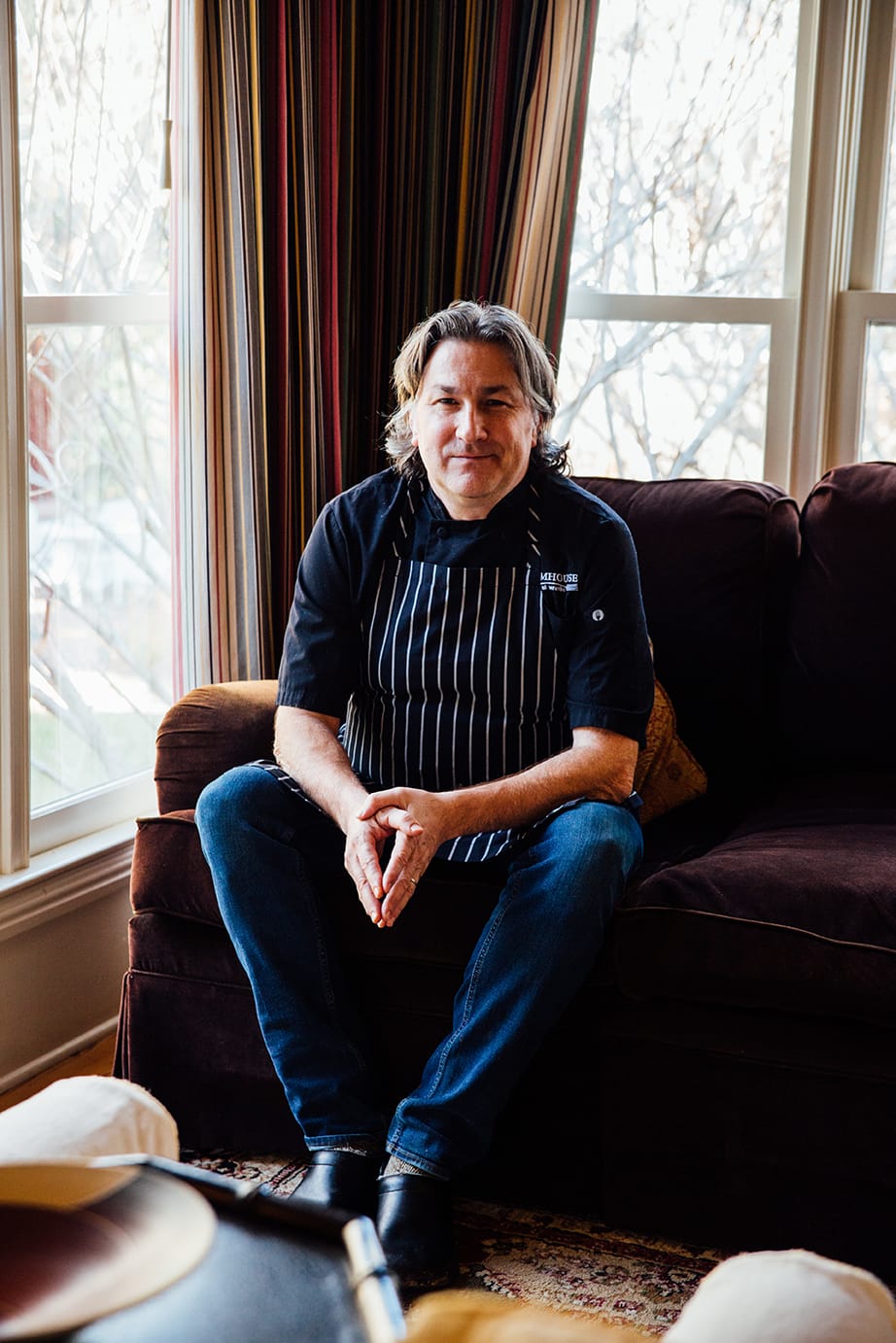 marinade
6 chicken breasts, bone in and skin on, from
White Oak Pastures
3 cups kosher salt
½ gal buttermilk, whole fat
2 tbsp hot sauce, Texas Pete
salt
black pepper
Place the chicken breasts in a metal bowl and cover in kosher salt. Allow to sit for 15 minutes.
Under running cold water, scrub the chicken with the salt and rinse off. Pat dry.
Place the buttermilk in a sealable container. Add hot sauce, salt and pepper. Add the chicken. Marinate overnight in the refrigerator.
fry
5 eggs
1 tbsp hot sauce, Texas Pete
12 cups all-purpose flour, organic
2 tbsp kosher salt
2 tbsp black pepper, f resh ground
2 tbsp garlic powder
2 tbsp onion powder
2 tsp aleppo pepper, ground
12 cups manteca
In a medium mixing bowl, whisk eggs and hot sauce. Season with salt and pepper.
In a large mixing bowl, sift the flour, black pepper, garlic powder, onion powder, aleppo pepper, and salt until homogenized.
Preheat oven to 375 F.
Remove chicken from the buttermilk, letting any excess buttermilk drip off. Dredge in the flour mixture, then lightly shake. Dip into the egg mixture and let excess drip off. Dredge once more in the flour mixture. Set aside on a sheet pan and allow to rest for 15 minutes.
In a large cast iron skillet, heat lard to 345 F. Gently place chicken into the skillet, skin side down. Fry on both sides until golden brown. Remove to a sheet pan.
Once all breasts are fried, place the sheet pan into the oven. Cook until chicken reaches 165 F internal temperature.
vegetables
1 lb tri-colored carrots, organic and washed
1 lb romanesco florets
4 oz olive oil
4 tbsp ras el hanout
sea salt
black pepper
Preheat oven to 375 F.
Place all ingredients into a large bowl and mix until seasoning is evenly distributed. Place on a sheet pan and into the oven for 20 minutes or until vegetables are slightly brown. Toss in oil from the pan before serving.
mac 'n' cheese
2 lbs penne pasta
1 lb sharp cheddar
1 lb Thomasville Tomme
1 vidalia onion
2 tbsp flat parsley leaves
4 eggs
1 qt heavy cream
salt
black pepper
2 tsp nutmeg
2 tsp Texas Pete hot sauce
1 tbsp worcestershire sauce
1 cup panko breadcrumbs
Preheat oven to 350 F. Grease a 9 x 13 inch casserole dish. Pyrex works best.
Cook the penne according to instructions on the package. Strain and lay out on a sheet pan to cool. Do not rinse.
Shred the cheddar. Cut the tomme into large dice. Grate the onion with a box grater. Chop the parsley leaves.
In a large mixing bowl, whip the eggs and cream together until smooth. Season with salt, pepper, and freshly grated nutmeg. Add the hot sauce, onion, parsley, worcestershire, and ½ of each cheese to the cream and egg mixture. Mix with a spoon to blend all ingredients.
Mix the panko and remainder of the cheeses together and set aside.
Toss cooked pasta in the cream mixture. Rest for 10 minutes, letting noodles fill with as much mixture as possible. Transfer into the casserole dish. Top with cheese and panko mixture. Cover with foil and bake for 20 minutes. Uncover and return to the oven. Bake until the cheese is golden brown. Cool for 15 minutes. Cut into single portion squares.
Discover More
Get to know Atlanta, and discover the best things to do around the city.