Scallop Crudo
Miso Black Rice. Candied Thai Chili Ginger. Basil Oil.
serves 3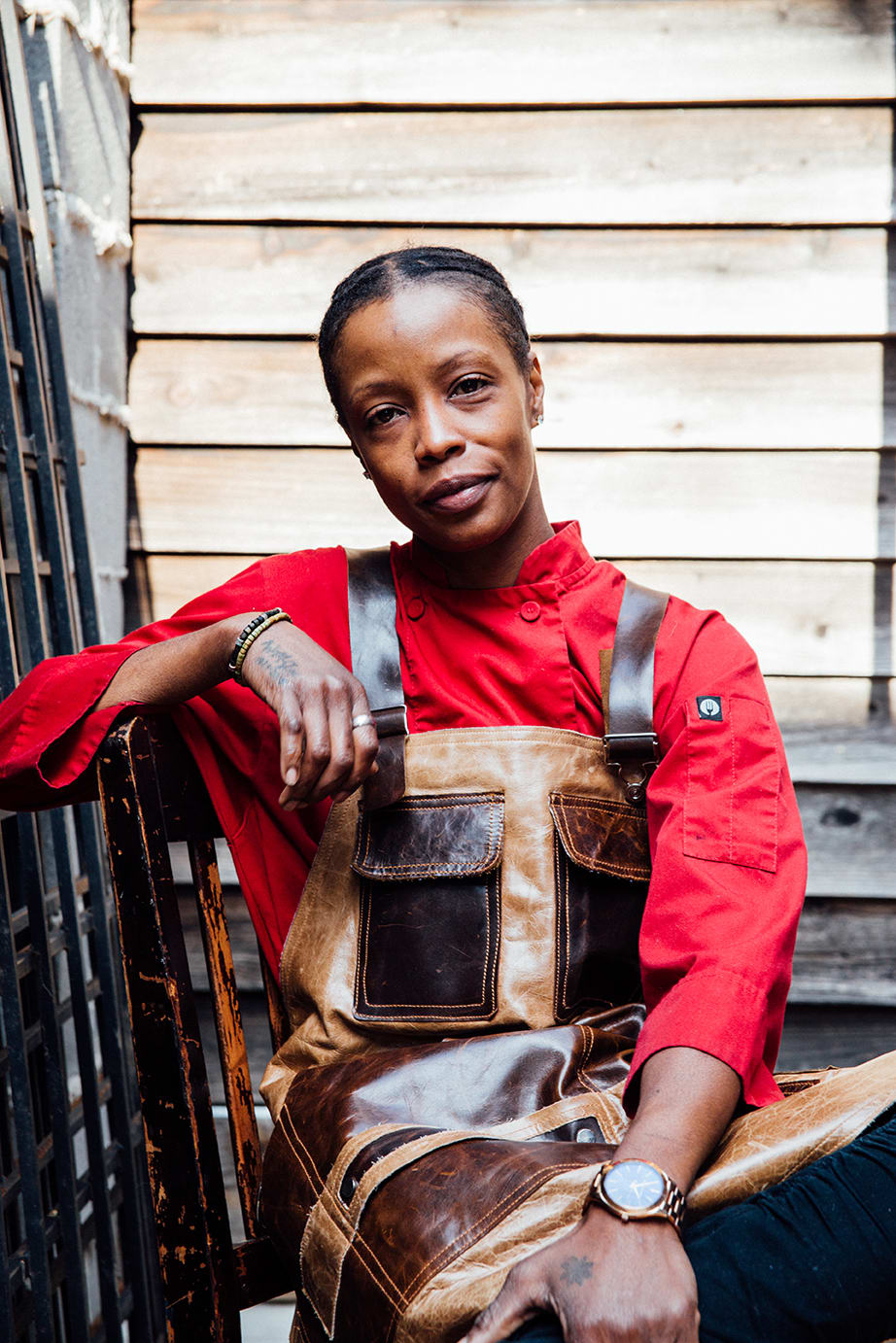 Forbidden Rice
2 cups black forbidden rice
6 cups water
2 tbsp miso paste
Grind the forbidden rice and mix with water. Cover and soak for two days.
After soaking for two days, strain through a chinois, reserving the liquid and rice separately.
In a saucepan over medium heat, combine reserved liquid and miso paste and reduce by 1/3. Strain and set aside in an ice bath to cool down.
Take 4 cups of water with the 2 cups of soaked black rice. Cook for 15 minutes. Puree till smooth (set aside to cool).
Candy
3 tbsp water
½ cup candied ginger
2 red Thai chilis
Julienne candied ginger. Slice chilis on the bias.
Put candied ginger and thai chilis in a small saucepan with water on low heat, allowing the sugar from ginger and chili to dissolve and slowly candy again.
Remove from heat and set aside to cool.
Basil Oil
2 qts (8 cups) water
2 tbsp salt
1 qt (4 cups) basil leaves
2 qts (8 cups) grapeseed oil
Bring water and salt to a boil. Blanch basil in water until bright green. Immediately transfer to an ice bath. Squeeze dry with a towel. Blend together the dry basil and grapeseed oil until basil is totally incorporated in
oil and the pitcher is warm. Strain basil oil through a chinois, into a container.
Scallops
5 scallops, u10 size
Clean scallops and pat dry.
Horizontally slice each into 3 equal pieces.
Plate
scallops
black rice paste
miso rice water
candied Thai chili ginger
basil oil
red Thai chili
green onion
black sesame seeds
lime zest
cocoa butter
flowers
Julienne the lime zest and green onion.
Use a 2 inch paint brush to brush black rice paste all the way across the plate with a sure, but not forced, pressure.
Arrange 5-6 scallop slices on each plate.
Gently pour miso/rice water into basin of the dish. Dot the basil oil on the surface of the black miso water.
Garnish with ginger, chilis, green onion, lime zest, black sesame seeds, and flowers.
Microplane cocoa butter over top.
Discover More
Get to know Atlanta, and discover the best things to do around the city.