Yellowtail Sashimi
Jalapeño. Cucumber. Ponzu.
serves 1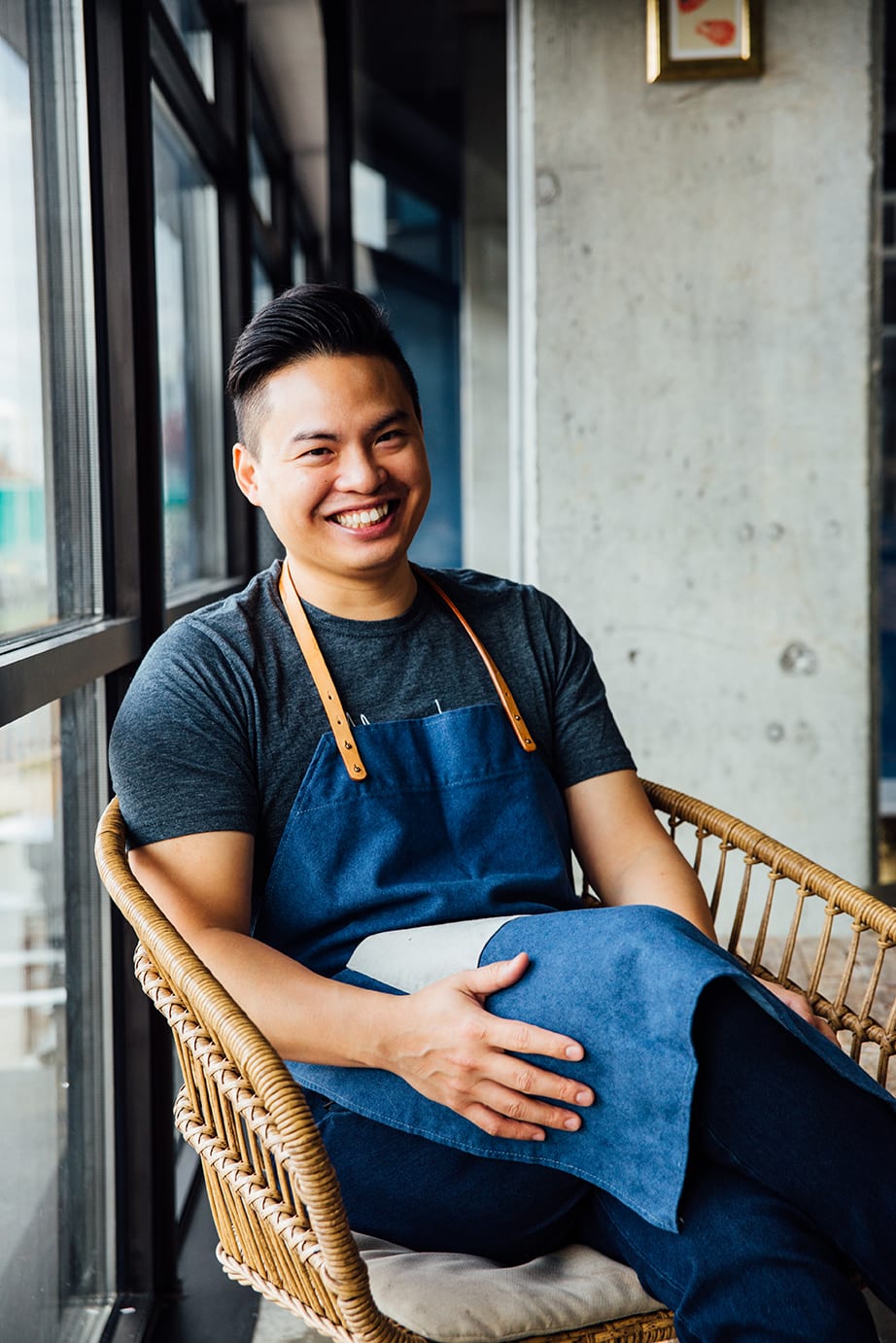 Salsa
1.5 oz onion
1 oz shallots
1.5 oz jalapeño
2 tbsp tamari
¾ cup japanese grain/rice vinegar
2 tbsp grapeseed oil
½ tsp chili oil
½ tsp sea salt
½ tsp chili garlic sauce
½ tsp ginger
1 oz cilantro
Chop onion and shallots. Seed jalapeño and cut to small dice. Grate ginger.
Mix all ingredients together in a bowl, bruising to encourage maceration.
Ponzu
¾ cup Japanese grain/rice vinegar
1 cup vegetable oil
½ cup sugar
1 tsp salt
1 tsp black pepper
8 oz gochujang
2.4 oz garlic
2 cups ponzu sauce
Combine all ingredients in a blender, except for vegetable oil. While blending, slowly add vegetable oil to emulsify, 2 minutes.
Cucumber
1 cucumber, small
1 tbsp mirin
¼ tsp salt
1 tsp sesame oil
Thinly slice cucumber on a mandoline. Add mirin, salt, and sesame oil. Massage with fingers. Cure for at least 30 minutes.
Plate
3 oz yellowtail
2 tbsp salsa
1.5 oz cured cucumber
3 half moon slices pickled daikon
9 slices radish
3 slices watermelon radish
1 oz chili ponzu
Thinly slice yellowtail into 6 pieces. Shingle slices in a straight line across the dish, just off from center. Top with a thin line of jalapeño cilantro salsa.
Arrange cured cucumber in a half circle coming off of the yellowtail.
Shingle radishes in a larger half circle around cucumbers, finishing the line with watermelon radish and pickled daikon on opposite sides.
Pour chili ponzu into a dipping ramekin or in between yellowtail and cucumbers.
Discover More
Get to know Atlanta, and discover the best things to do around the city.