Where to See Fall Colors in Atlanta
Published October 22, 2021
Last Updated February 2, 2023
While you may think of North Georgia for prime "leaf peeping," you don't have to venture far from the city to find fall color. Here are some of our favorite places to see fall colors in Atlanta.
Chattahoochee Nature Center
One of our favorite outdoor spaces to visit in the Atlanta area, Chattahoochee Nature Center offers tons of outdoor activities and events. Enjoy the hiking trails and gardens for lots of fall color. For an extra special fall experience sign your family up for an Atlanta Fall Colors canoe trip.
Grant Park
Located on the Eastside of the city, Grant Park is Atlanta's oldest park covering 131 acres of green space. Its abundance of mature trees makes it a great spot for catching fall color while enjoying the walking trail, playing on the playground or visiting Zoo Atlanta. Here are 4 reasons to visit Grant Park.
Lullwater Preserve at Emory University
Often overlooked, Atlanta's college campuses offer some great spots for respite from busy days, working or studying. The Lullwater Preserve at Emory University is one such spot, which includes a large peaceful park including a beautiful waterfall and a suspension bridge, perfect for spotting fall color.
Morgan Falls Overlook Park
This 28-acre park rests beside the Morgan Hills reservoir and is a great location for a fall date to peep the colors among the backdrop of beautiful, forested hills. Cuddle up on one of the porch swings and enjoy the scenery, or bring the whole family for a short trek along the hiking trail.
Piedmont Park
Two hundred acres of prime green space in the heart of Atlanta, Piedmont offers great opportunities to see fall foliage while exercising, playing or walking the dog. Piedmont Park has everything you need to spend a fun family afternoon (or day) outside enjoying the sights, sounds and smells of fall. Here are more things to do at Piedmont Park.
Stone Mountain Park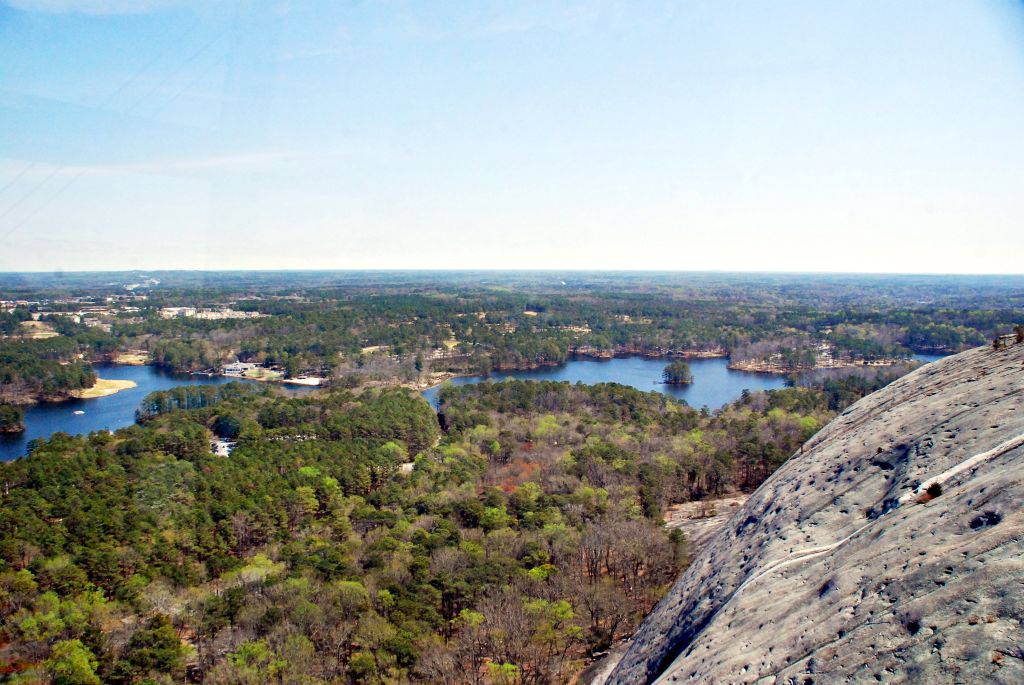 Not far from Atlanta, Stone Mountain Park is the ultimate hiking area with plenty of opportunities for peeping fall color. Added bonus: Stone Mountain Park's Summit Skyride offers vast views of the autumnal landscape. The park is home to lots of fall programming and events making it a great spot for fall family outings.
Sweetwater Creek State Park
Located just a few miles west of the city, Sweetwater Creek State Park is packed with trees, which means lots of fall color. A family-friendly mile hike on the Red/ History trail follows along Sweetwater Creek and ends at the ruins of a textile mill. You can wake up to an eyeful of autumn by booking one of the park's camping spots or even a yurt for a fun weekend outing.
Westside Park
Atlanta's newest and largest park, Westside Park covers 280-acres surrounding the old Bellwood Quarry creating a beautiful space for catching fall color. Fifteen years in the making, this park features 2.5 miles of hiking and biking trails and elevated viewing spots, perfect for leaf peeping.
If you're looking for more ways to spend fall in Atlanta, check out these upcoming events.
Discover More
Get to know Atlanta, and discover the best things to do around the city.