Best Atlanta Lunch Restaurants for a Delicious Dining Experience
Whether you have a business meeting and need a quiet, convenient place to talk shop or are looking to catch up with friends over lunch, we've got you covered. Lunch options in Atlanta are bountiful and delicious, no matter what part of the city you find yourself in. From Downtown to Midtown to Buckhead, enjoy a terrific midday meal experience at one of Atlanta's best lunch restaurants.
Please note: Restaurants throughout Georgia can offer in-person dining using social distancing guidelines set forth by the governor's office. Make sure to visit the restaurant website or call ahead to confirm dine-in, takeout or curbside pickup and delivery options.
Dine in Style at the Best Places for Lunch in Buckhead
The upscale neighborhood of Buckhead is not only known for its shopping but has long been home to great dining as well. Whether you are looking for a spot to host a lunch meeting or a place for a quick bite, here are some of the best restaurants for lunch in Buckhead that are sure to please.
Blue Moon Pizza
Everyone loves pizza, and Blue Moon does not disappoint. Offerings range from classic pies to specials like the Luna, drizzled with spicy ranch, house cheese blend, chorizo sausage, caramelized onions, and other goodies. Blue Moon also offers sandwiches, salads, wings and more.
Dine-in, curbside pickup and no-contact delivery available.
325 East Paces Ferry Rd NE #3, Atlanta, GA 30305
bluemoonpizza.com
(404) 814-1515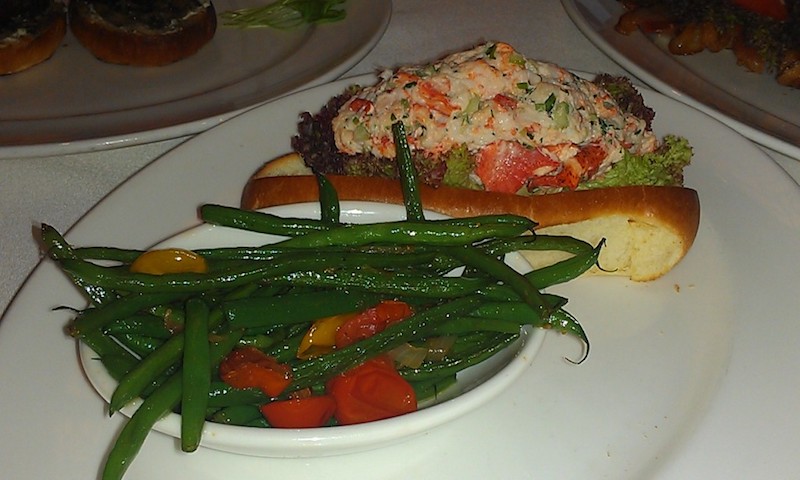 Capital Grille
Those in the know associate the Capital Grille with a great steak, but the restaurant also offers a delicious two-course lunch plates that will have you in and out in no time. Choose the porcini mushroom bisque followed by mini tenderloin sandwiches with Parmesan truffle fries for a decadent and filling lunch that's just $20.
Dine-in and curbside pickup available.
255 East Paces Ferry Road NE, Atlanta, GA 30305
thecapitalgrille.com
(404) 262-1162
La Fonda
This Latin restaurant features Cuban and Mexican specialties, including Cubanos and arguably the best enchiladas in town. Though La Fonda has both the traditional (with all the meats) and seafood-only paella, one of the most unique options is the vegetarian paella which includes, eggplant, artichoke hearts and squash. All paella is available in one- or two-person quantities. You will have a hard time choosing what to eat from the extensive menu.
Dine-in and takeout available.
2813 Peachtree Road NW, Atlanta, GA 30305
lafondaatlanta.com
(404) 816-8311
Red Pepper Taqueria
Located in the heart of Buckhead, this taqueria offers traditional Mexican fare using only the freshest local ingredients to create the best tacos. A local favorite is the Al Pastor taco with braised pork, pickled onions, pineapple y salsa verde. You will also find an assortment of weekly specials so make sure to check the menu.
Dine-in and takeout available.
3135 Piedmont Road NE, Atlanta, GA 30305
eatredpepper.com/buckhead
(404) 869-2773
Storico Fresco Alimentari e Ristorante
Not only can you fill up on fresh-made pasta dishes at Storico Fresco, this Buckhead lunch restaurant is also one of the best places around to buy fresh pasta to take home with you. Part of the dining room at Storico Fresco has been converted so that it connects to the covered patio and street, making it easy to get all the fresh pastas, paninis or tasty salads you want.
Dine-in, takeout or curbside pickup, and no-contact delivery available.
3167 Peachtree Road NE, Suite S, Atlanta 30305
(404) 500-2181
storico.com/strada
Sufi's
This Persian restaurant offers a great variety of specialty kebabs served with aromatic saffron basmati rice. There are lots of veggie options, falafel, lamb shank and a great Persian stew. There is even a special kid's menu.
Dine-in, curbside pickup, and delivery available.
1814 Peachtree St. NW, Atlanta, GA 30309
(404) 888-9699
sufisatlanta.com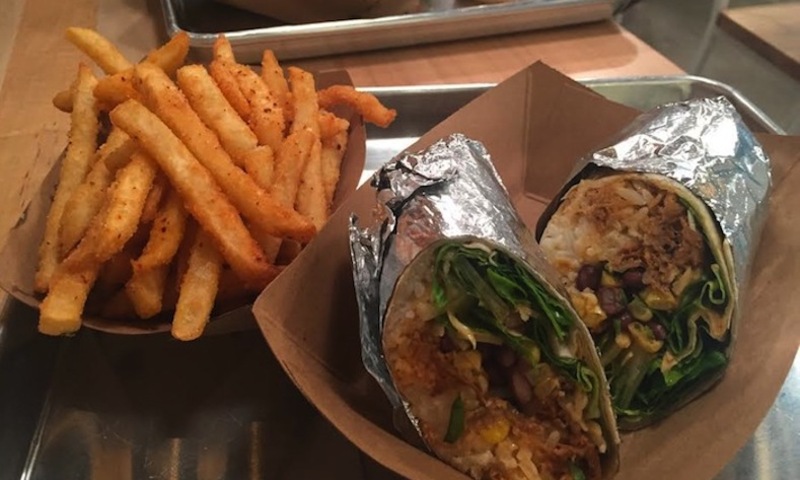 Yumbii
Not your average Taco Shop. Yumbii, a fusion of Mexican and Asian flavors, offers dishes like panko-crusted fish, Asian rib-eye tacos and spicy pulled-pork burritos. Sides include sesame fries tossed in sesame oil and Yumbii's own special spice mix with chipotle ketchup.
Dine-in, curbside pickup, and no-contact delivery available.
1927 Peachtree Road NE, Atlanta, GA 30309
(404) 975-3444
yumbii.com
Explore even more great restaurants in Buckhead Atlanta.
Chow Down at the Best Lunch Restaurants in Midtown Atlanta
Looking for a tasty spot in Midtown to have lunch? Whether you are taking a break from shopping, museums or the office — try this list of the best restaurants for lunch in Midtown.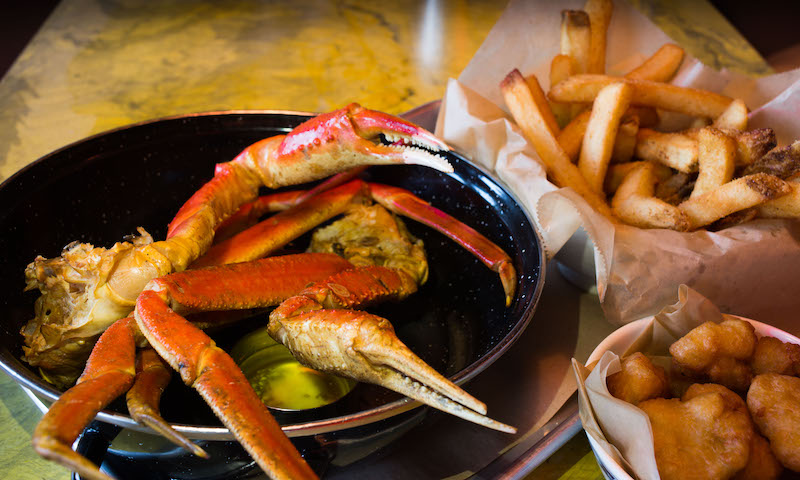 Bon Ton Boil House
A mash-up of Cajun and Vietnamese flavors? Yes please! Bon Ton Boil House offers mouth-watering sandwiches like the catfish banh-mi, boiled and fried platters, noodles and plenty more savory Cajun seafood entrees. And don't forget the corn nuggets.
No-contact curbside pickup and delivery available.
674 Myrtle St. NE, Atlanta, GA 30308
bontonatl.com
(404) 996-6177
Cafe Agora
If you love Mediterranean food, you will not want to miss Cafe Agora. It offers all the classics including a delicious gyro, shish kebab and tempting salads, but the appetizers are really where Agora shines. Greek favorites like spanakopita, domas, hummus and fried eggplant are delish, but we recommend you get the Maza Platter and try a little of each.
Dine-in, takeout, and no-contact delivery available.
92 Peachtree Place NE, Atlanta, GA 30309
(404) 253-2997
cafeagora.com
Pho King
If noodles are your game, Pho King is the place to eat. Generous helpings of tasty noodle dishes with a variety of meats and garnishes make a healthy and delicious lunch. The banh mi sandwiches and pho noodle soup filled with rice noodles, broth and your choice of meat, fresh veggies and herbs are other delicious options.
Takeout and delivery available.
950 West Peachtree St. NW Suite 240, Atlanta, GA 30309
(404) 565-1953
phokingexpress.com
Specializing in contemporary Southern cuisine, South City Kitchen doesn't disappoint. Nestled in an iconic bungalow on Crescent Avenue, enjoy lunch with a view of the city skyline from the patio. Dine on Southern classics such as buttermilk fried chicken, tasty shrimp and grits, fried green tomatoes and she-crab soup.
Dine-in and takeout available.
1144 Crescent Ave. NE, Atlanta , GA 30309
(404) 873-7358
midtown.southcitykitchen.com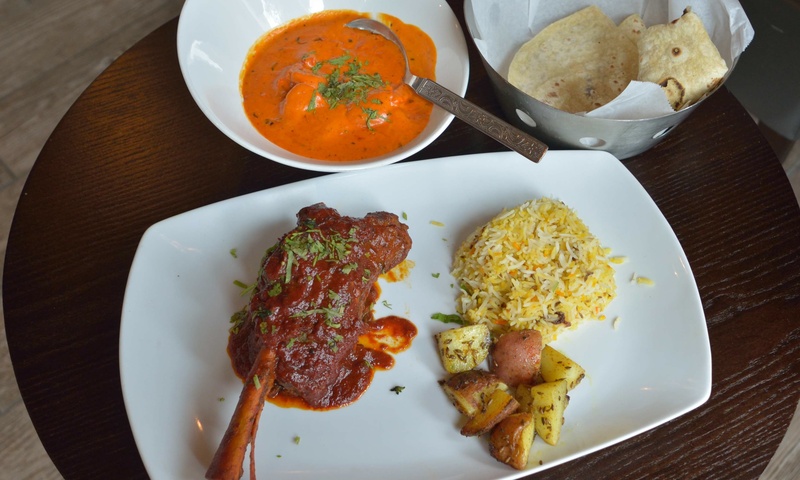 Tabla
Tabla is an outstanding lunch restaurant to add to your list. Boasting a mouth-watering selection of Indian dishes such as tandoori shrimp or octopus, lamb sheek kebab and an array of delicious curries that are sure to please your palate. For lunch, the small plates are a great option, and if you're in a hurry, try the wraps. A variety of sides and breads are available as well.
Dine-in, takeout, and no-contact delivery available.
77 12th St. NE #2, Atlanta, GA 30309
(404) 464-8571
tablaatlanta.com
Vortex
The Vortex is a longstanding Georgia establishment known as "The Godfather of Burgers." In addition to some of the best burgers in Atlanta, you will also find some scrumptious bar foods and drinks, all set within a rock 'n' roll atmosphere. Not into the beef, the Vortex offers beef alternatives, salads and other tasty snacks. Got your kids along? Skip this place as its strictly 21+, all day, every day.
Dine-in and takeout available.
878 Peachtree St. NE, Atlanta, GA 30309
thevortexatl.com
(404) 875-1667
Explore more restaurants in Midtown Atlanta.
Try One of the Top Restaurants for Lunch in Downtown Atlanta
With so many things to do in Downtown Atlanta, you need a list of restaurants nearby to keep handy for a lunch stop. Whether you are looking for a fancy place for a business meeting or a quick and casual spot to refuel, stop in at one the best downtown Atlanta restaurants for lunch.
Be transported to Naples, Italy right in the heart of Downtown Atlanta when you visit Amalfi Pizza. With the frescoes and cobblestone entryway, it perfectly sets the mood for pizza and other Italian goodies. Get the specialty, Pizza Carnevale, filled with pockets of ricotta cheese, and add an assortment of toppings like spicy sausage, meatballs, caramelized onions, peppadew peppers or Neapolitan spicy salami.
Dine-in, takeout, and delivery available.
17 Andrew Young International Blvd. NE, Atlanta, GA 30303
amalfipizzaatl.com
(404) 228-7528
Der Biergarten is a German beer garden and restaurant located only a short walk from Centennial Olympic Park in the Lucky Marietta District of downtown Atlanta. One of the go-to items here is the Jagerschnitzel. If you are feeding a hungry group, go for the König Ludwig Platte, a variety of the best items that serves six. Note: Der Biergarten is open for lunch only on weekends.
Takeout only.
300 Marietta St. NW, Atlanta, GA 30313
derbiergarten.com
(404) 521-2728
Riding MARTA downtown for an event? Allow enough time for a lunch stop at The Hub because where you'll find plenty of great lunch options. Gus's Fried Chicken is a restaurant worth seeking out for its slightly spicy fried chicken and generous, tasty sides, like mac and cheese. Panbury's, another great option at The Hub, is known for its delicious savory pies. Get the country chicken. Other great options in The Hub include Tin Lizzy's and top-rated Aviva (even if there's a line, it's worth the wait).
Peachtree Center MARTA Station or 225 Peachtree St. NE, Atlanta, GA 30303
peachtreecenter.com
(404) 654-1296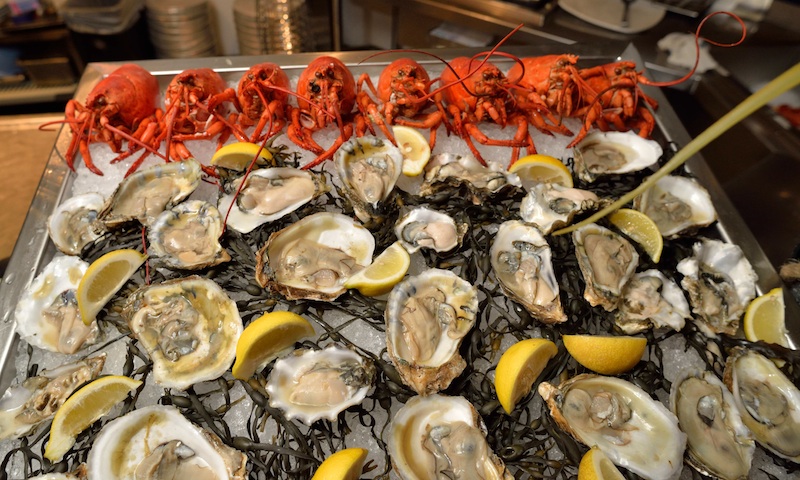 Right in the heart of Downtown near the entrance to the AmericasMart, you'll find Ray's in the City. Known for its delicious seafood flown in daily from the Atlantic and Pacific, a stop at Ray's will be well worth the time spent. At lunch, sandwiches are a good choice if you want to be in and out in a hurry. Want to keep it light? Get the Cobb salad with steak or lobster. And you can't go wrong with the signature horseradish-crusted grouper.
Dine-in, curbside pickup and delivery available.
240 Peachtree St., Atlanta, GA 30303
raysrestaurants.com
(404) 524-9224
Reuben's Deli
New York style, New York taste, New York vibe, in the South. Reuben's Deli is a hands-down favorite for deli sandwiches in Atlanta. This spot stays busy but that oh-so- delicious flavor will be worth the wait. Reuben's homemade soups and desserts are excellent options to add-on to any lunch. Just follow the posted rules for ordering — "Yell. Watch. Eat" — your tummy will thank you.
Takeout and delivery available.
57 Broad St. NW, Atlanta, GA 30303
(404) 589-9800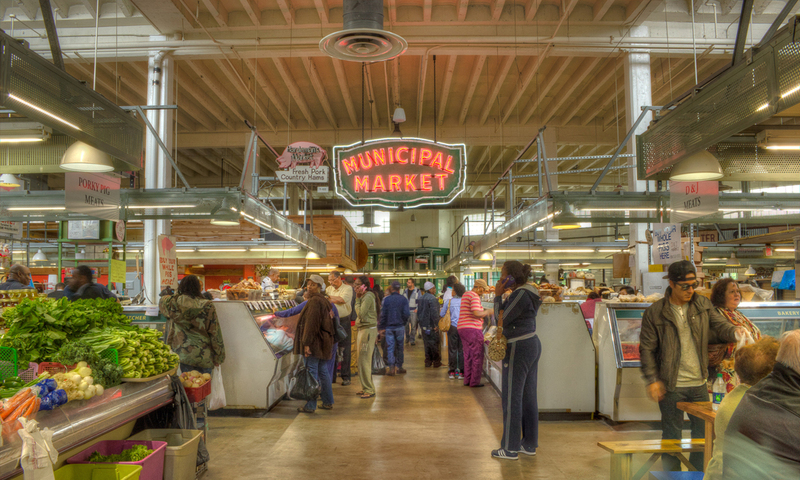 Why not do your food shopping and have lunch all at the same place? The Sweet Auburn Curb Market, steeped in history, features tons of fresh vegetables, seafood, and all kinds of cuts of meats. Need chicken feet or pigs' ears? You can find them here. Plus, there are several food stalls featuring everything from Southern cooking to trendy burgers (Grindhouse Killer Burgers) to sweets. It's a fun experience to share with your out-of-town guests.
209 Edgewood Ave. SE, Atlanta, GA 30303
municipalmarketatl.com
(404) 659-1665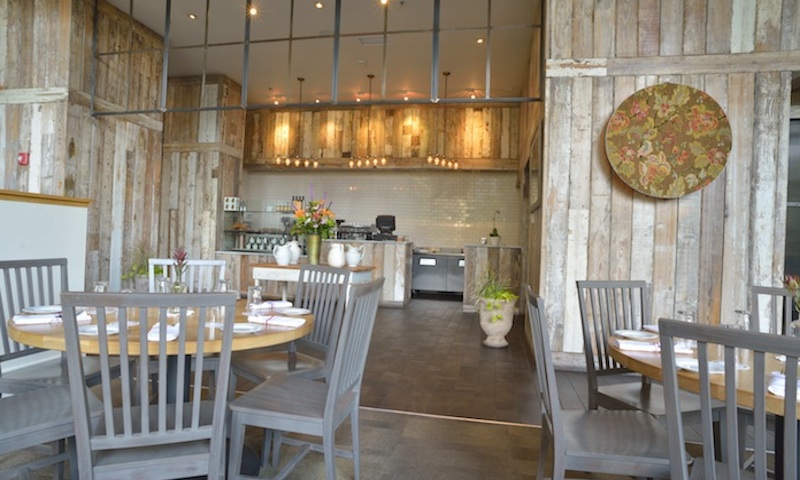 If a bright and swanky spot is what you are looking for, then head to White Oak Kitchen, an upscale Southern restaurant featuring excellent lunch entrees. White Oak offers the perfect ambiance for a quiet business lunch, and its upscale enough for a celebration. Start with the savory beignets and then get the lamb burger.
Dine-in, takeout and delivery available.
270 Peachtree St. NW, 100, Atlanta, GA 30303
whiteoakkitchen.com
(404) 524-7200
Explore a full list of places to eat in downtown Atlanta.
No matter what you're in the mood for, you've always got plenty of dining options in Atlanta.
Discover More
Get to know Atlanta, and discover the best things to do around the city.