Best Kid-Friendly Restaurants Around Atlanta
Published August 16, 2022
Last Updated March 7, 2023
Parents are always looking for kid-friendly dining that offers delicious food everyone will love. Luckily, Atlanta has many choices. Check out these local restaurants offering secret and not-so-secret, kid-friendly food.
The Varsity
The smile-inducing "What'll ya have?" greeting is a mainstay at the Atlanta staple, The Varsity. For nearly 90 years, Atlantans have enjoyed American food served at the Midtown location (and five others across the state). There is no kid's menu here because all the food is kid-friendly. Diners of all ages gobble up the chili dogs as well as the chili burgers (Yes. It's a thing.).
Bartaco
Come to one of three Atlanta Bartaco locations for authentic, fresh and delicious options for the whole family. Have a kid who can't decide on an entree? Order the Kids' Tray which includes a quesadilla, choice of taco, corn wheels and fruit skewer.
Flying Biscuit Café
A quintessentially Atlanta meal should include the light-as-air biscuits from Flying Biscuit. While there are 20+ locations throughout the Southeast, the Midtown one is a favorite for families. It's within walking distance of Piedmont Park and is situated at the famous rainbow crosswalk. For kids who gravitate toward carb-only options, order a single luscious biscuit with cranberry apple butter for less than $2. The grilled mac 'n' cheese side is also a great entrée for little ones.
Mellow Mushroom
Mellow Mushroom began in Atlanta in 1974 and has been serving piping hot stone-fired pizzas ever since. Locals know about these delicious pizzas. The soft pretzel appetizers are just as fantastic. Get the full order. You'll want it. Multiple locations are found across the city including Midtown and Downtown.
Folk Art
The Southern comfort food found at Folk Art in Inman Park is worth waiting for. It's no wonder Guy Fieri showcased it on Food Network's "Diners, Drive-Ins and Dives." The grits fritters are a fan favorite of families as is the Craft 5 Grilled Cheese, which, as a bonus, comes with tomato soup.
Grindhouse Killer Burgers
When Atlantans need a killer burger, they know to go to one of the six Grindhouse Killer Burger locations in the Atlanta area. Grindhouse serves some of the best burgers with a side of eclectic fun. The Midtown location has a covered patio that is perfect for families. Kids can snag a small-sized veggie, turkey or beef burger, fries, a drink and a scoop of soft-serve ice cream for less than $8.
Mary Mac's Tea Room
Mary Mac's Tea Room has been wowing generations of Atlantans and tourists since 1945. The made-from-scratch Southern food served with charm made this restaurant "Atlanta's Dining Room." First-time visitors get a complimentary serving of pot likker and cornbread. Families love the fried chicken here, but order the cinnamon rolls. They steal the show.
Hard Rock Cafe
It's hard to find a hipper place in Atlanta where kids are not only welcomed but encouraged to visit. The museum-quality rock music displays around Hard Rock will keep kids busy while waiting for their food. Plus, they will feel like rock stars when their perfectly cooked burger arrives on a guitar-shaped plate. Adults rave about the Twisted Mac Chicken & Cheese but kids go wild for the mini cookies and cream milkshake that includes a sugar-dusted brownie on top.
The Downwind
With fantastic views of Peachtree DeKalb Airport, children love this tucked-away spot. The outdoor patio gives kids (and adults) a bird's-eye view of the planes landing and taking off at this private airfield. Serving American classics with an impressive variety of seafood, The Downwind also has a kid's menu with perfectly sized hot dog, grilled cheese or chicken tender meals. Come for the food but stay for the amazing playground next door.
Six Feet Under
After visiting some of the most famous deceased residents of Atlanta at Oakland Cemetery, the refreshing selections at Six Feet Under, across the street, will hit the spot. The rooftop patio is a hit year-round as are the lobster rolls, gator bites and conch fritters. The baskets are kid-friendly and big enough for two kids to split.
R. Thomas Deluxe Grill
When anyone in the family wants nonstop breakfast, R. Thomas Deluxe Grill is the place to come. This Peachtree Street mainstay offers both carnivores and vegetarians unique tasty options. Patrons rave about the thick-sliced French toast, which is offered in a kid-friendly size as well as a regular portions.
Tin Lizzy's Taco Americana
Tin Lizzy's Taco Americana is an updated take on the original Tin Lizzy's restaurants. Families will appreciate the outdoor patio as well as the kid's menu which includes a treat with every kid's meal. Enjoy the unique options (Burger Taco anyone?) for only $2.95 each.
Bantam + Biddy
Fried chicken, roast chicken, chicken stew — Bantam + Biddy knows its way around a chicken. Using locally sourced ingredients and creative pairings, there is sure to be something for everyone here. Go for one of the breakfast all-day specials like Banana Bread French Toast or if visiting Friday through Sunday, try the Sunday Bucket of Chicken family special.
Fox Bros. Bar-B-Q
Come to Fox Bros. Bar-B-Q for authentic, slow-roasted Texas barbecue with all the fixings one would expect. The restaurant is casual and informal with a cozy patio that makes families feel welcome. Kids like that the chopped brisket sandwich looks like Mom and Dad's food. For those without the time or patience for a sit-down family dinner, this location has a drive-through.
Busy Bee Cafe
Opened in 1947, this downtown classic is still serving fried chicken and other Southern favorites at affordable prices. In 2021, Busy Bee Cafe was featured in Southern Living as one of "The South's Best Soul Food" restaurants. The cozy, no-frills cafe offers fresh sides that are the perfect way to entice kids into eating their veggies. Try the carrot souffle, candied yams or broccoli cheese casserole. Also, don't miss the banana pudding.
Shake Shack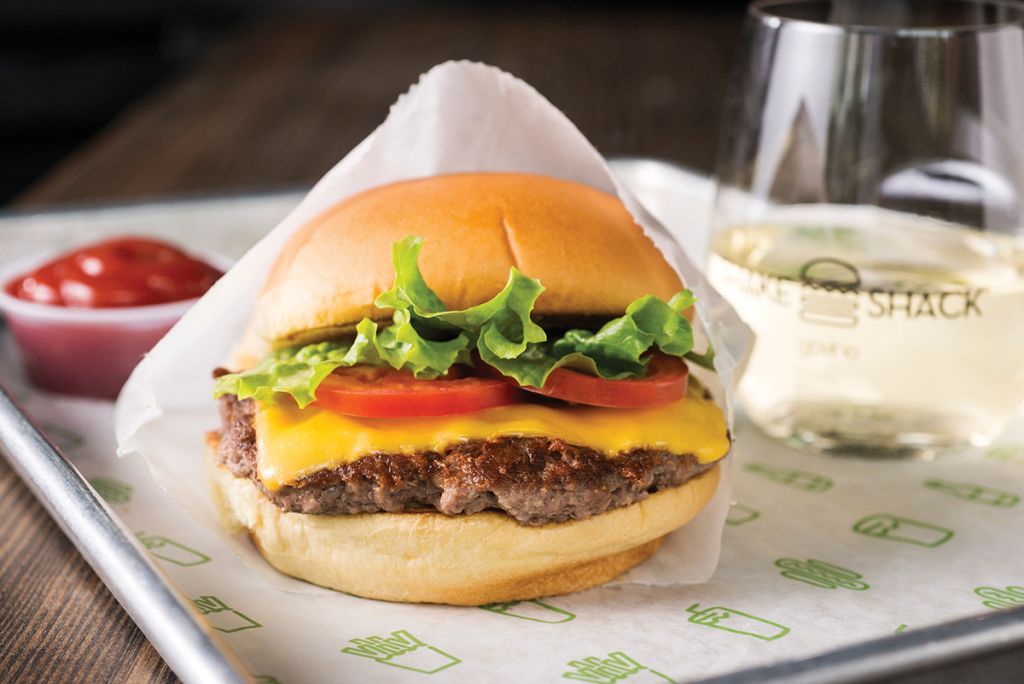 Get excited, Atlanta. A perennial family favorite, Shake Shack, opened its seventh Atlanta-area location at Piedmont Park. It offers the usual delicious menu items including the kid-friendly hot dog, grilled cheese and fried chicken bites, plus the creamiest, dreamiest milkshakes no one wants to share. Look for a patio here as well as a walk-up window for super easy ordering.
Ted's Montana Grill
You won't be disappointed in the thick, juicy bison burgers served at Ted's Montana Grill with locations all over Atlanta including Downtown and Midtown. The kid's menu offers not only bison burgers but also bison meatloaf and brisket. Not in the mood for bison? Beef and chicken are available, too, along with mac and cheese. Leave room for a Coke or IBC root beer float.
NFA Burger
Think you can't get an awesome burger inside a gas station? Think again. Food + Wine found that NFA Burger, located in a Chevron station, makes the best burger in Georgia. Anyone can (and should) try the "not-just-for-kids grilled cheese" made with secret Sassy sauce. The Sassy Tots and waffles with chocolate and caramel sauce are sure to be hits, too. Located in Dunwoody, this is a takeout-only restaurant.
What kid doesn't like cookies? Here's Where to Get the Best Cookies in Atlanta. Traveling with a group of kids. You'd better check our Most Affordable and Family-Friendly Group Dining Options in Atlanta.
Discover More
Get to know Atlanta, and discover the best things to do around the city.