Grab a Pint at Atlanta's Breweries with Beer Gardens and Patios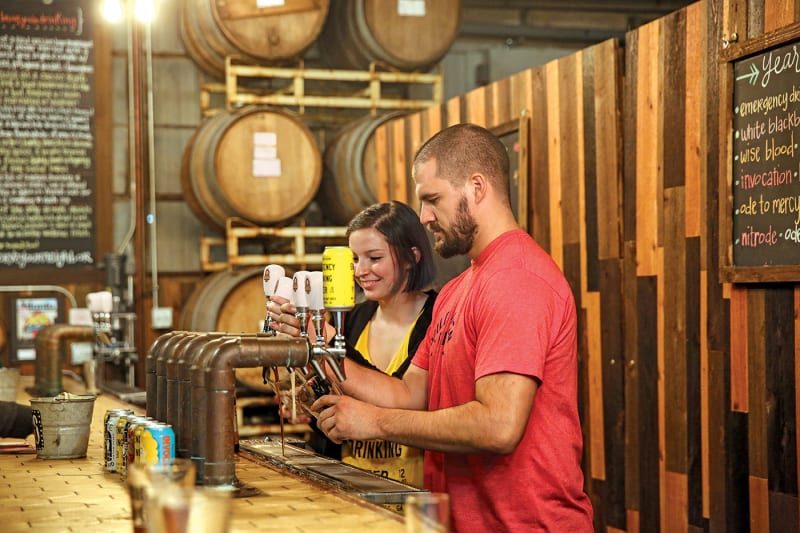 With a robust craft beer scene, it's no surprise that Atlanta recently landed on USA Today's Readers' Choice 10 Best list of Best Beer Cities in the nation. We've mapped out our picks of some of the city's craft beer pioneers and newcomers offering lively outdoor spaces and tours.
SCOFFLAW BREWING CO.
Scofflaw Brewing Co. lures beer fans to its taproom and expansive outdoor seating area in the Westside that also hosts a rotation of popular food trucks. Selections include Basement IPA, Hooligan IPA and Dirty Beaches American Pale Wheat.
Location: 1738 MacArthur Blvd. NW
ATLANTA BREWING CO.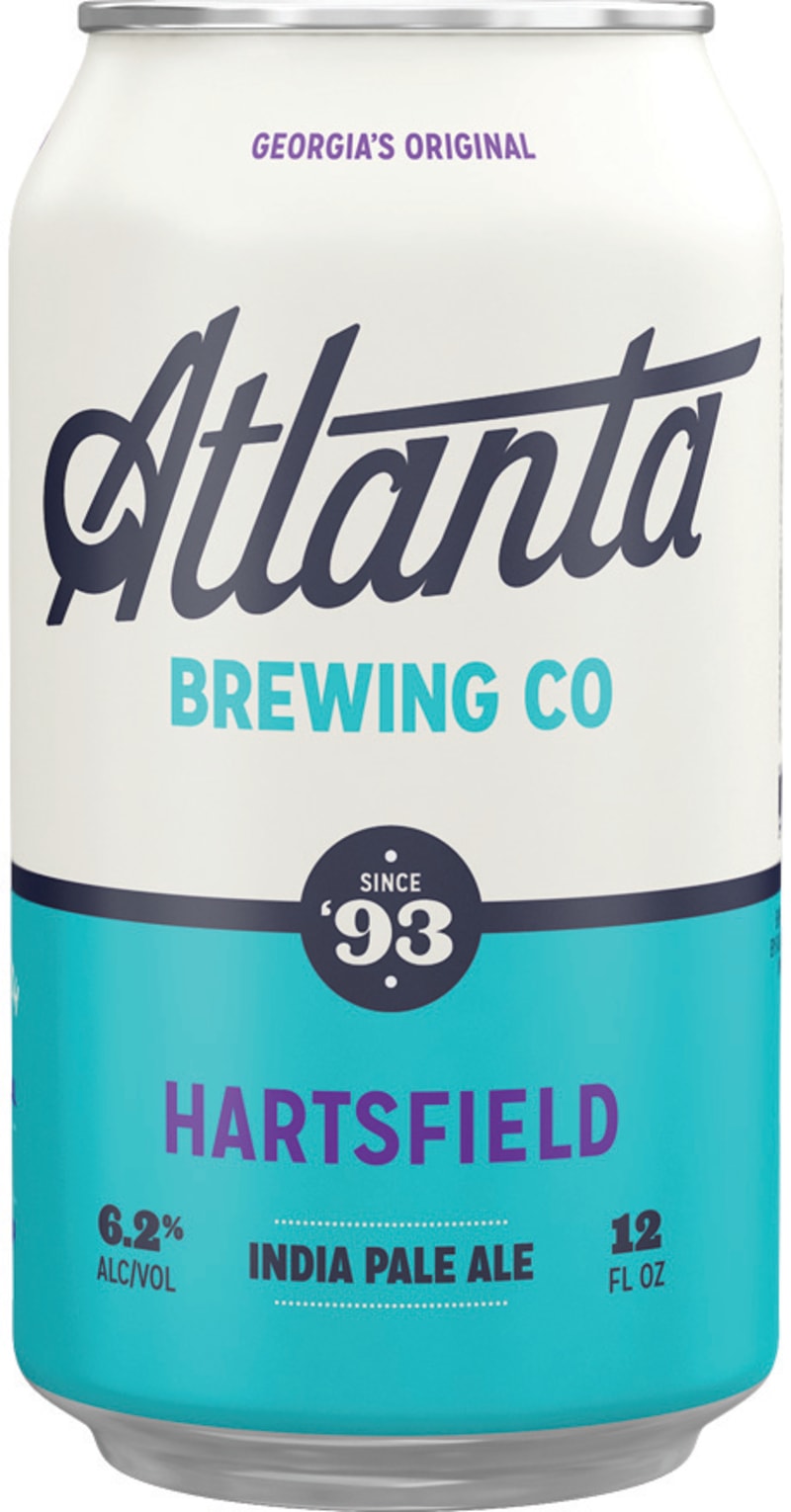 Cure what "ales" you at Georgia's first craft brewery, Atlanta Brewing Co. Settle into a picnic table on the patio and enjoy a Hartsfield IPA, Hoplanta West Coast IPA or Soul of the City American pale ale. Special events include Dog Day Saturdays ($1 off if with a furry friend) and Thursday team trivia in the taproom.
Location: 2323 Defoor Hills Rd. NW
HIPPIN HOPS BREWERY & OYSTER BAR
Georgia's first African-American owned brewery is located in East Atlanta. Hippin Hops Brewery serves a thick Liar Liar Oyster Stout, perfect to pair with the menu of oysters and po' boys served in the outdoor beer garden.
Location: 1308 Glenwood Ave. SE
SECOND SELF BEER CO.
Find flavorful brews at Second Self Beer Co. in West Midtown. Pair favorites such as Thai Wheat or Game Night IPA with cornhole on the lawn or make plans for Throwback Thursday deals, $3 pints on Fridays and bottomless Thaimosas on Sundays.
Location: 1317 Logan Cir. NW
BOLD MONK BREWING CO.
Inspired by Belgium's monasteries, Bold Monk Brewing Co. offers a taste of Europe and a 2,500-square-foot beer garden with a full menu and live music. Eater Atlanta recently named Bold Monk's beer garden in the top five for best relaxing patios for dining and drinking.
Location: 1737 Ellsworth Industrial Blvd. NW
FIRE MAKER BREWING COMPANY
Ranked the No. 2 new brewery in America by USA Today, Fire Maker Brewing Company has been making a spark on Atlanta's Westside since opening in 2020. Special events include rotating food trucks, music bingo, plus trivia and beer yoga.
Location: 975 Chattahoochee Ave. NW
STEADY HAND BEER CO.
Shake things up with a visit to Steady Hand Beer Co. boasting 24 taps, games, food trucks and live music in the taproom. The Westside Atlanta brewery's beer offerings include selections such as Cloudland hazy IPA, Imperial Coffee stout and Farmhouse ale.
Location: 1611 Ellsworth Industrial Blvd. NW
MONDAY NIGHT BREWING
Head to Monday Night Brewing in West Midtown and experience a rotating series of brewery-only IPAs made with premium ingredients at the Hop Hut or relax with friends on the expansive patio that's open late on weekends.
Location: 670 Trabert Ave. NW
SWEETWATER BREWING COMPANY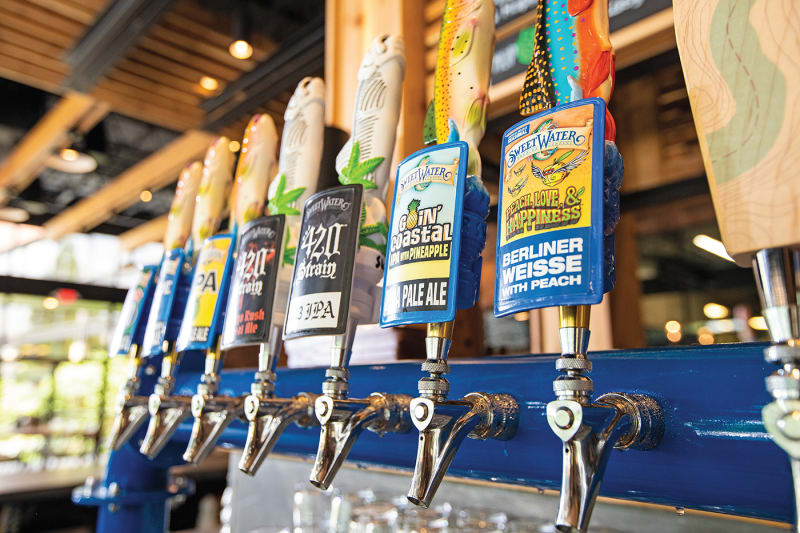 Never one to float the mainstream, SweetWater Brewing Company features a taproom with 24 beers on tap, a full menu, tours, a pet-friendly patio and live music on occasion. Stop in for a H.A.Z.Y. IPA or one of SweetWater's seasonal brews.
Location: 195 Ottley Dr. NE
ORPHEUS BREWING
Transmigration of Souls IPA and Atalanta tart plum saison are just two of the brews guests can enjoy at Orpheus Brewing's dog-friendly beer garden adjacent to Piedmont Park.
Location: 1440 Dutch Valley Pl. NE
NEW REALM BREWING COMPANY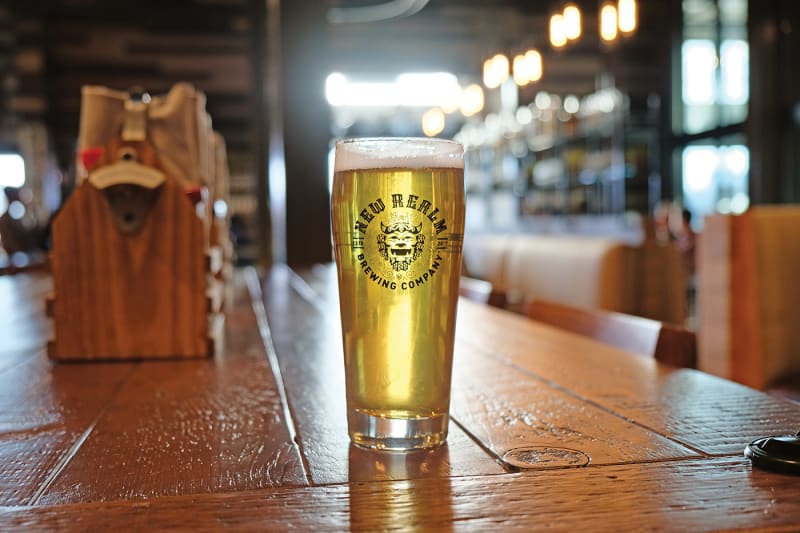 Explore this hop-filled brewing destination in the Old Fourth Ward. New Realm Brewing Company offers plenty of outdoor seating on the patio, rooftop and in the beer garden for sipping on Hazy Like a Fox IPA or Hoptropolis IPA.
Location: 550 Somerset Terrace NE
STATS BREWPUB
Score a seat on the rooftop patio at downtown Atlanta's ultimate sports bar. STATS Brewpub offers a menu of elevated bar food, a selection of home-brewed beers from its onsite brewery and personal beer taps on select tables.
Location: 300 Marietta St. NW
THREE TAVERNS CRAFT BREWERY
With the slogan "Surpass the Ordinary," Three Taverns Craft Brewery delves into its craft at two locations — The Parlour in Decatur and The Imaginarium, dedicated to experimental beers in the Atlanta Dairies complex. Both locations offer patio seating for savoring A Night on Ponce IPA, Rapturous Raspberry sour ale and Prince of Pilsen hoppy pilsner.
Note: STATS has been temporarily closed due to the COVID-19 pandemic. Please check online for hours.
Location: 300 Marietta St. NW
HALFWAY CROOKS BEER
Halfway Crooks Beer invites guests to catch some rays and toss back some brews on its rooftop and a dog-friendly patio that it shares with Big Softie and Little Tart. Located on Georgia Avenue in Summerville, Halfway Crooks boasts a full food menu and beers such as Ada unfiltered German pilsner and Seconds foeder-aged saison.
Location: 60 Georgia Ave. SE
ELSEWHERE BREWING
A shaded patio beckons guests to tap into one of Elsewhere Brewing's core offerings such as Playfield IPA, Dulce de Leche Cake stout or Carouse German pilsner. Seasonal and limited-time beers, a unique menu of Argentinian cuisine, happy hours and special events add to the fun.
Location: 1039 Grant St. SE
EVENTIDE BREWING
Eventide Brewing in Grant Park makes great beer that's not complicated. Grab a seat on the pup-friendly patio and tap into Citrus Grove hefeweizen, The A IPA or Cosmic Daydream hazy IPA. Special events include $4 drafts on Wednesday and Thursday trivia in the taproom.
Location: 1015 Grant St. SE
MONDAY NIGHT GARAGE
Monday Night Brewing's barrel-aging and souring brewery on the Atlanta BeltLine Westside Trail boasts a taproom and plenty of socially distanced seating both inside and out. Three separate barrel aging rooms, a garden and on-site orchard are also included here at Monday Night Garage, part of the Lee + White development.
Location: 933 Lee St. SW
BEST END BREWING COMPANY
Take in the chill vibe at Best End Brewing Company. The West End brewery boasts a taproom with a full menu and an expansive patio with the Graffiki Tiki Bar overlooking the Westside Atlanta BeltLine Trail.
Location: 1036 White St. SW
WILD HEAVEN BEER
Kick back with an ATL Easy ale at Wild Heaven in West End. The brewery offers snacks and tacos, upgraded patios and events such as Friday Happiest Hour with live music, Wing Wednesdays and weekend yoga.
Location: 1010 White St. SW
TUCKER BREWING COMPANY
With the fourth-best beer garden in America according to USA Today, family-owned Tucker Brewing Company is the only Georgia brewery dedicated to making easy-to-drink Germany-style lagers. Spread out on the brewery's 8,500-square-foot beer garden for live music, cornhole, fun times and more.
Location: 2003 S Bibb Dr., Tucker, Ga.
HIGH CARD BREWING AND BLUE TARP BREWING
Known as "The Best Little Brewhouses in Tucker," High Card Brewing and Blue Tarp Brewing offer a spacious patio for connecting with friends, creative beers and lots of good times.
Location: 2316 Main St, Tucker, GA
Discover More
Get to know Atlanta, and discover the best things to do around the city.