Things To Do in Atlanta This Weekend
Published June 5, 2023
Here's what's going on in Atlanta this weekend, June 9, 10 and 11. See the full list of weekend events here.
Around Town
Virginia Highland Summerfest Set for Saturday
Artists' Market? Yes. Maker's Market? Yes. Music? Yes. It's all there and plenty more. Where? The annual Virginia Highland Summerfest happens Saturday in one of Atlanta's oldest and most popular intown neighborhoods. See ya there at John C. Howell Park.
Atlanta Fringe Festival Returns for 11th Year
The Atlanta Fringe Festival occurs at various venues through Sunday. Enjoy live improv, comedy, theater, puppetry, storytelling, circus arts and more by indie artists from across the world. The 2023 festival takes place over one jam-packed week in venues throughout Little Five Points, East Atlanta Village and Old Fourth Ward. 
High Museum of Art Offers Two Weekend Events
Sunday is UPS Second Sunday at the High Museum of Art. That means free admission for all visitors and special family-friendly programming. Enjoy art-making activities, performances and the High's collection and special exhibitions. UPS Second Sunday runs from noon until 5 p.m.
Friday brings Oasis to the museum. Participate in yoga, reflect deeply with works of art or immerse in a bath of peaceful sounds. Oasis occurs from 6 to 9 p.m. and aims to cultivate a community centered on art, presence and contemplative practice. You are invited to slow down during one of six beginner-friendly yoga sessions; drop in for art-making activities throughout the evening; join a casual, thoughtful conversation connecting art and spiritual practice; and explore the museum.
Chick-fil-A College Football Hall of Fame Features 'The Art of College Football'
The Chick-fil-A College Football Hall of Fame features a limited-run exhibit. Included are works from 12 renowned artists. The exhibit, "The Art of College Football" captures the passion, pageantry, traditions and memorable moments of college football.
The centerpiece of the exhibit is a collection of four Arnold Friberg paintings commissioned in 1968 to celebrate the centennial of college football. The four paintings will remain on permanent display in the Andrea and James Clarke Family Gallery. Other artists represented in the exhibit include LeRoy Neiman, Mike Simpson, Joyce Ballantyne, Bill Williams, Herb Mott and Terrence Fogarty, among others.
Help for Ukraine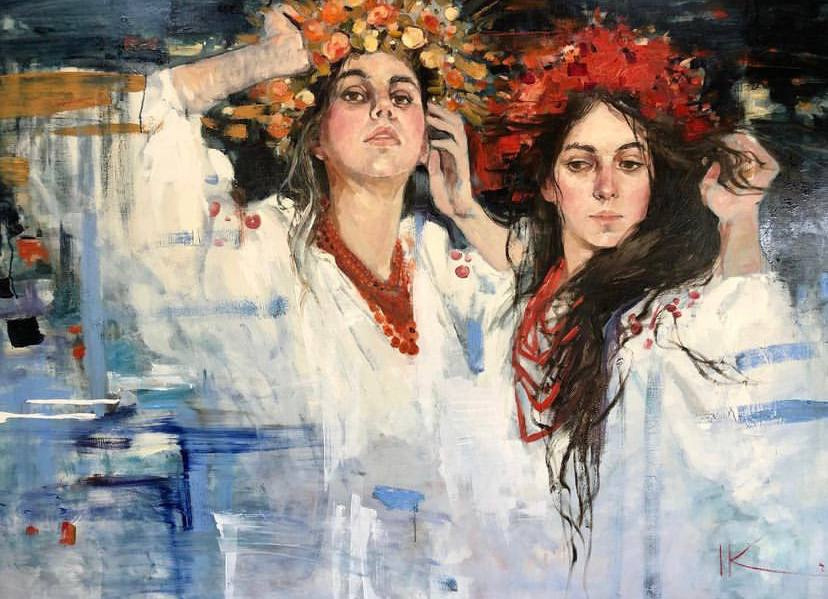 Buckhead Art & Company presents HelpingUkraine.us through June 17. This art exhibition features 30 works — 25 paintings and five sculptures — by contemporary Ukrainian artists and creatives who continue to fight back by choosing life and beauty. All works are for sale with a portion benefitting HelpingUkraine.us, a local humanitarian relief organization. 
See Giant Trolls at Atlanta Botanical Garden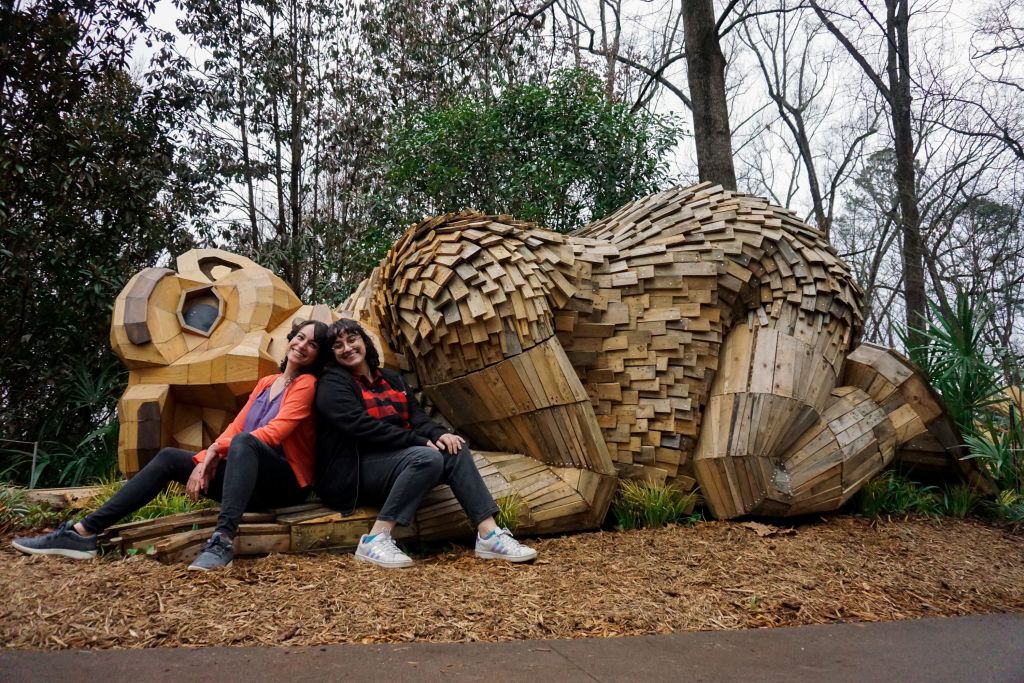 The exhibit, "Trolls: Save the Humans" by Thomas Dambo, is open at Atlanta Botanical Garden through Sept. 17. The exhibition, featuring six of the artist's enormous folklore-inspired sculptures built from reclaimed materials, makes its world premiere at the Atlanta Botanical Garden. 
Family
'Survival of the Slowest' Opens at Fernbank Museum of Natural History
Opening Saturday and running through Sept. 4 at Fernbank Museum of Natural History, "Survival of the Slowest" is all about slow-moving animals. Learn how traits that may be considered disadvantages actually help these animals survive — even thrive — in a world where their larger, stronger and faster neighbors are usually at the top of the food chain. You will meet a variety of live animals, including a two-toed sloth, boa constrictor, green iguana, hedgehog, bearded dragon and more.
Enjoy 'Flora, Fauna & Flight' at Fernbank Museum of Natural History
Fernbank Museum of Natural History has opened an outdoor exhibit, "Flora, Fauna & Flight." You'll discover how plants and animals defy gravity through flight as you stroll the nature walkways in WildWoods and see sculptures of birds, bees, dragonflies, butterflies, dandelions, cattails, flying fish, bats and more. You'll learn about the properties of flight, how plants and animals have evolved to fly and how their physical traits support the ability to soar through the air. The exhibit runs through Aug. 27.
Take a Family Outing to the New Museum of Illusions
Wait. Did I just shrink? No, I grew. Oh my gosh, I must be at the Museum of Illusions at Atlantic Station. The museum's more than 80 immersive and interactive exhibits include optical illusions and mind-bending puzzles.
Children's Museum of Atlanta Welcomes Kids to 'Shaun the Sheep: Flock this Way'
"Shaun the Sheep: Flock this Way" is open at the Children's Museum of Atlanta through Sept. 4. The exhibit is based on the film and television character and builds on problem-solving themes. Children will explore the antics of Shaun the Sheep and his friends on Mossy Bottom Farm. The exhibit is designed for children ages 3 through 9.
Immersive Disney Animation Invites you Inside your Favorite Films
Immersive Disney Animation takes the kiddos inside the greatest films of Walt Disney Animation Studios, from the very earliest features to today's hit movies. It is open in Atlanta through September.
Visit the All-New LEGO Discovery Center
North America's first next-generation LEGO Discovery Center is open at Phipps Plaza. Kiddos can blast into the new Spaceship Build & Scan and see their LEGO rocket fly into outer space. The little ones can head to DUPLO Park and hop on a carousel. Children may join the Master Model Builder to learn how to build the fastest race car in the new Build Adventures zone.
Sports
Atlanta Dream Plays Two at Home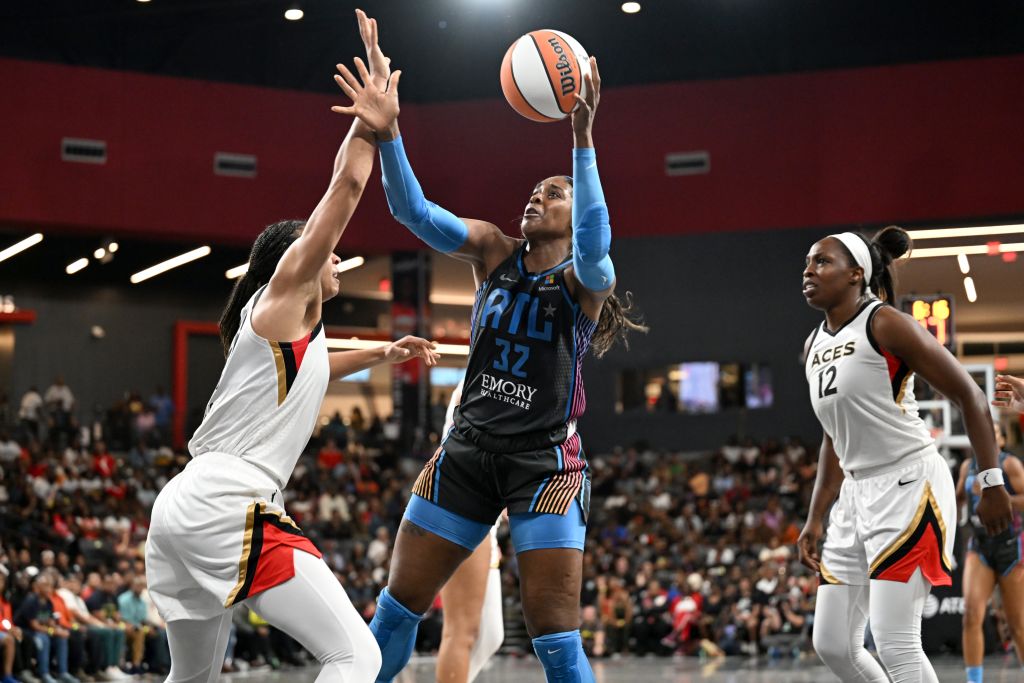 The Atlanta Dream plays at home twice this weekend. The Dream takes on New York Liberty at Gateway Center Arena on Friday at 7:30 p.m. On Sunday, the Dream welcomes the Connecticut Sun to Gateway Center Arena for a 4 p.m. tip off. The Atlanta Dream is ranked eighth on the season; New York Liberty is ranked third, and the Sun is ranked second.
Atlanta Braves Welcome the Washington Nationals
The Atlanta Braves and the Washington Nationals play three games at Truist Park this weekend. Ahead of Friday Night Fireworks, which cap off every Friday night game, the first pitch occurs at 7:20 p.m. Before dark, fans can don the sunglasses they received during a giveaway at the gate. Saturday's game begins at 4:10 p.m. Ahead of the game, fans can enjoy Play Ball Weekend where they can swing for the fences on the streets of The Battery beginning at 2 p.m. On Sunday, fans can enjoy Play Ball Weekend starting at 11:30 a.m. Game time: 1:35 p.m. Atlanta is ranked first in the NL East; Washington is ranked fifth.
Rugby ATL Takes On New York Ironworkers
Find the action at Silverbacks Park on Saturday when Rugby ATL welcomes the New York Ironworkers. Game time: 8 p.m. Rugby ATL is ranked fourth in the Major League Rugby Eastern Conference; New York is ranked third.
Atlanta United Plays D.C. United
Atlanta United welcomes D.C. United to Mercedes-Benz Stadium Saturday at 7:30 p.m. Atlanta is ranked sixth in the Eastern Conference; D.C. is ranked seventh.
Theater
'Water for Elephants' Opens at Alliance Theatre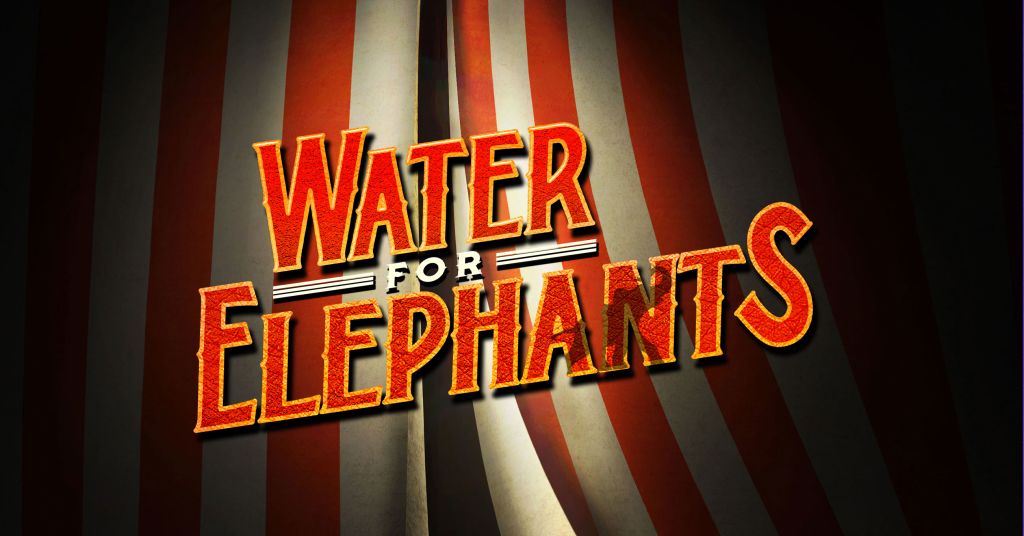 "Water for Elephants" is showing at the Alliance Theatre through July 9. Based on the best-selling novel, "Water for Elephants" takes you on an adventure filled with romance, deception and a little bit of magic, all under the big top of a traveling circus. 
See a Musical Love Story at the Rialto
"For Peace I Rise," the musical love story of civil rights activists C.T. and Octavia Geans Vivian, is playing at the Rialto Center for the Arts through June 18. They fell in love as two young freedom riders.
The 96-Hour Opera Project Arrives
The Atlanta Opera presents the 96-Hour Opera Project at the Ray Charles Performing Arts Center at Morehouse College this weekend. Featuring melodies and performances of composers and librettists from across the country, this event is your chance to enjoy their 10-minute operas.
Robin Hood Takes Aim at Shakespeare Tavern
Take a rip-roaring romp through Sherwood Forest with all the thrills, laughter and romance you could ever ask for during "Sherwood: The Adventures of Robin Hood" at Shakespeare Tavern Playhouse through July 2. Relive the enduring story of a hero of the people who takes on the ruthless powers that be. Get ready to duck a quarterstaff or two – you won't want to miss a moment of the swashbuckling fun.
'The Humans' Showing at Theatrical Outfit
"The Humans" is on stage at Theatrical Outfit through June 25. The play takes a hopeful, heartbreaking and humorous look at the decline of the American middle class and one family's hopes and fears.
Attractions
Illuminarium Adds James Webb Telescope Experience
Illuminarium has launched a new addition to its SPACE spectacle, an interactive James Webb Space Telescope Experience. The experience showcases cosmic views from the James Webb Space Telescope, the largest and most groundbreaking telescope ever built. Illuminarium's high-tech animation systems and 360-degree fully immersive screens provide viewers with a never-before-seen perspective and scale of the James Webb imagery.
Art in the A
See Work of Bruce Onobrakpeya at High Museum of Art
The Mask and the Cross is the first solo exhibition at an American museum for sculptor and printmaker Bruce Onobrakpeya (born 1932), one of the fathers of Nigerian modernism. The exhibit, on view at the High Museum of Art through July 30, describes the artist's creative phase from 1967 through 1978, during which he created numerous works marrying Nigerian tradition, folklore and cosmology with Catholic motifs and stories from the Bible.
Photography Exhibit on View at High Museum
The High Museum of Art presents Evelyn Hofer: Eyes on the City, a photography exhibit featuring landscapes and architectural views with portraiture, conveying the character and personality of urban capitals during a period of intense structural, social and economic transformations after World War II. The exhibit runs through Aug. 13.
Works by Ukrainian-American Artist on Exhibit at High Museum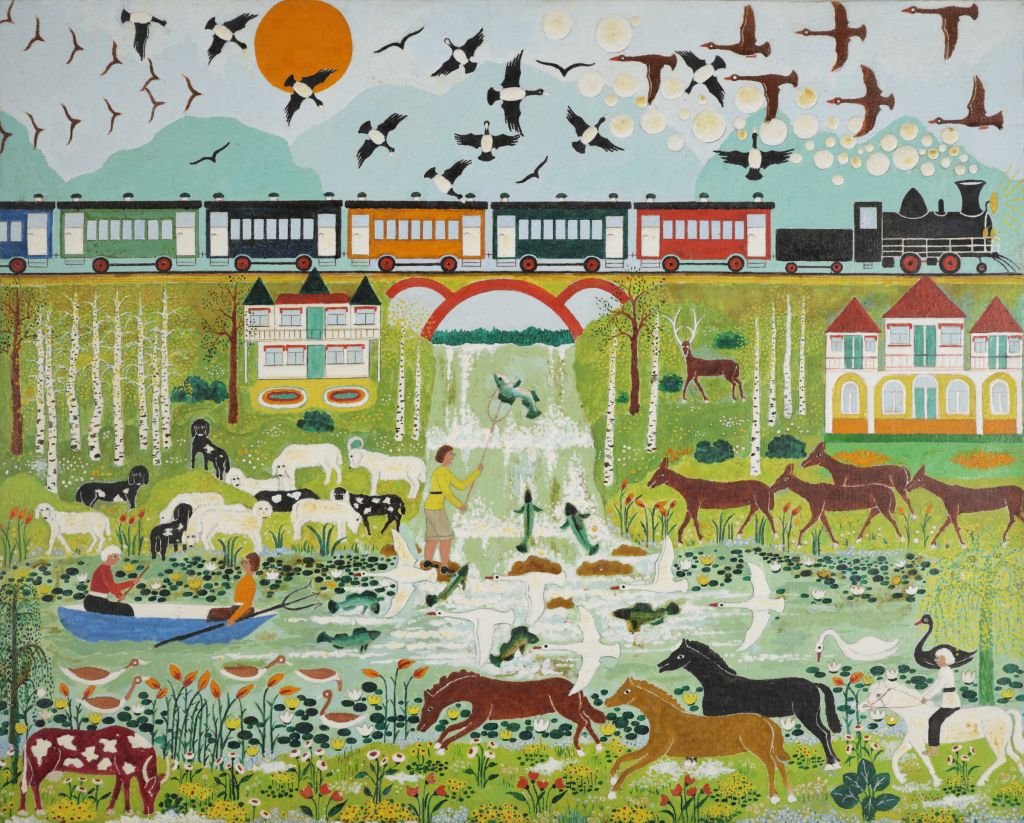 The exhibit George Voronovsky: Memoryscapes is on view through Aug. 13 at the High Museum of Art. This exhibition marks the first major museum presentation of work by the late Ukrainian American artist George Voronovsky. Born in a small village in eastern Ukraine in 1903, Voronovsky immigrated to the United States after World War II. The exhibition showcases approximately 40 of his paintings alongside sculptures he created from materials discarded along the beaches in Miami.
Michael C. Carlos Museum Exhibits Tom Dorsey Photos
The photo exhibit, "A Very Incomplete Self-Portrait: Tom Dorsey's Chicago Portfolio," is open through July 16 at the Michael C. Carlos Museum on the campus of Emory University. The exhibition presents never-before-exhibited works by photographer Thomas Dorsey. Widely known for his intimate portraits of African American families in their homes in Chicago and Atlanta, Dorsey also photographed the streets, houses and buildings of his childhood neighborhood on Chicago's West Side. This portfolio of black and white photographs, taken while Dorsey was enrolled at the Art Institute of Chicago, reveals the barren infrastructure of an underserved community and the resilience and stark beauty that can be discovered amid bleak circumstances.
This article updates weekly with brand new things to do in Atlanta for the weekend. Feel free to bookmark it for next weekend. For more weekend events, check our calendar.
Discover More
Get to know Atlanta, and discover the best things to do around the city.