The Ultimate List of Atlanta Bars, Breweries and Local Beers
Planning to celebrate in Atlanta? Whether you live here or are visiting for a conference, family reunion or special event, this ultimate list of Atlanta bars, breweries and local beers is for you.
Discover Atlanta Bars
Atlanta is home to a vibrant bar and nightclub scene with places for everyone to find their vibe in addition to delicious drinks and food. This ultimate list includes the best bars in Atlanta.
Atlanta Sports Bars for Cheering the Home Team
Sports and beer is pretty much as all-American as you can get. Cheer on the home team at these Atlanta sports bars where the big games are always on.
Check out this list of our favorite sports bars, including Hampton + Hudson, a community bar and pub located in Inman Park, serving food, 21 tap beers, unique wines and classic cocktails with a creative flair.
Cheering for Atlanta United or the Atlanta Falcons? These are the top bars and restaurants near Mercedes- Benz Stadium, including STATS, the high-energy, sports-centric brewpub in the Centennial Park District. STATS serves a handful of house cocktails, beer and wine alongside a variety of pub foods like burgers, sandwiches, salads and apps.
Rooting for the Atlanta Braves? Live! at The Battery Atlanta is a two-story, 30,000-square-foot sports lovers dream. Stop into PBR Atlanta for a little line-dancing, a ride on the bucking bull and a cold beer, or head to Sports & Social for gaming, game watching, food and drink. Both are located at Live! at The Battery, self -titled "The Capital of Sports Viewing." Here are more reasons to go to The Battery Atlanta.
Drink Picture-Perfect Cocktails at these Atlanta Bars
If you're looking for trendy and tasty drinks worthy of your next Instagram share, visit one of the best cocktail bars in Atlanta. Check out Bar Vegan for delicious (and gorgeous) cocktails accompanied by vegan bar food. Kimball House tops many best bar lists for its James Beard Award-nominated cocktail program served in a charming period bar nestled in a 1891 train depot. Looking for a little kitsch with your cocktail? S.O.S. Tiki Bar is for you. The retro-tropical destination serves up a wide variety of rums with over-the-top fruit garnishes.
Dog-Friendly Bars in Atlanta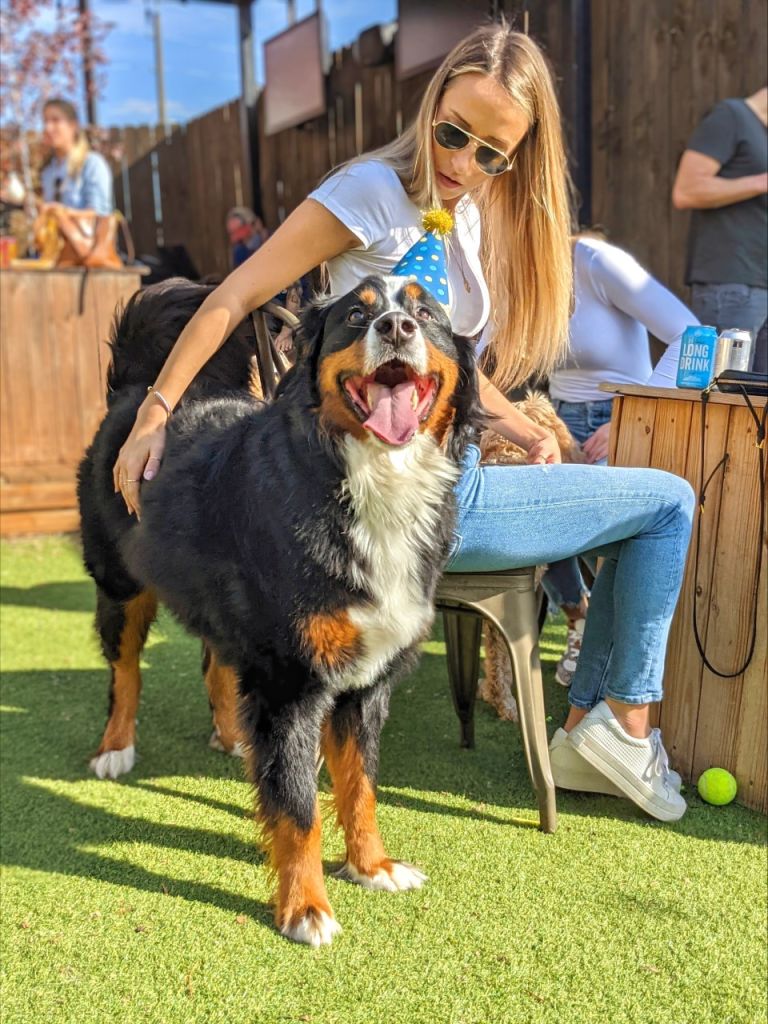 Family Dog ATL — Bring your furry pal to The Family Dog for dog-friendly outdoor dining on the covered patio accompanied by tasty from-scratch meals like burgers, sandwiches, homemade biscuits and killer salads. The bar serves classic cocktails, hard seltzers, wine and a nice selection of beers.
Fetch Park — Spend a day outdoors with friends and "man's best friend" at a dog-friendly bar in Atlanta. Fetch Park is a ground-breaking dog park and bar combo. Celebrate Fido's birthday and other alternative bashes in the A.
Lost Dog Tavern — Located in Buckhead, Lost Dog Tavern boasts a big outdoor courtyard where visitors can play cornhole, imbibe from the full bar and dance to live music. There is a dog-friendly area plus bar snacks to offset the cocktails.
Whiskey Bars and Atlanta Distilleries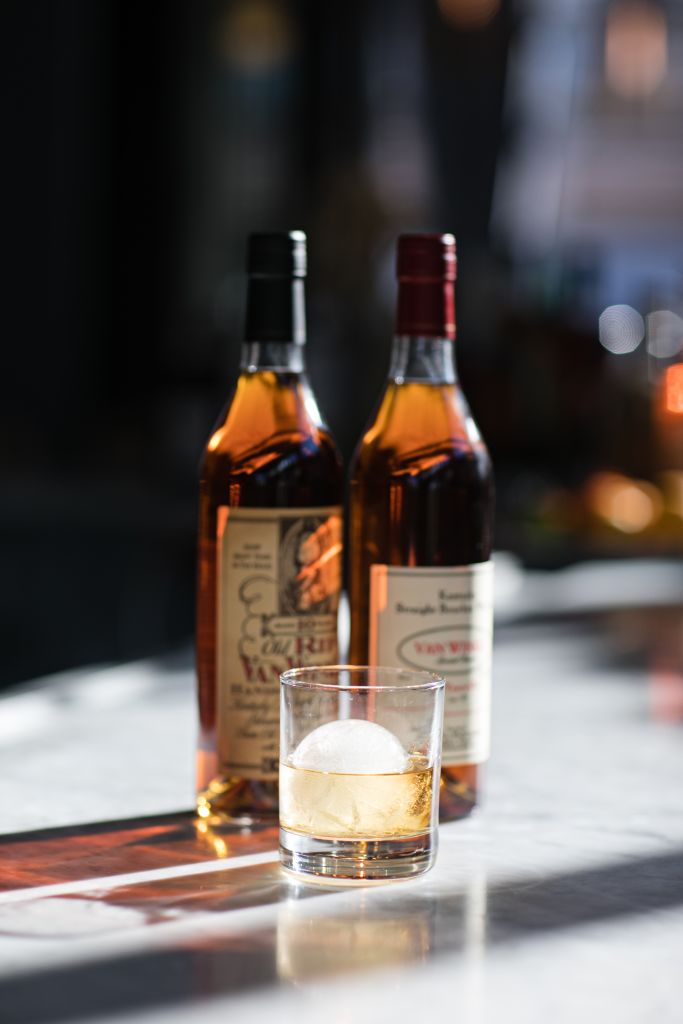 If whiskey is more your speed, Atlanta has a great selection of whiskey bars where you can find a vast selection of options from local distilleries and beyond, such as American Spirit Whiskey Exchange, Old Fourth Distillery and The Southern Gentleman.
Nightlife by Atlanta Neighborhood
Like all large cities, Atlanta is made up of unique neighborhoods with their own personalities and vibes. Explore the best nightlife by Atlanta neighborhood.
Buckhead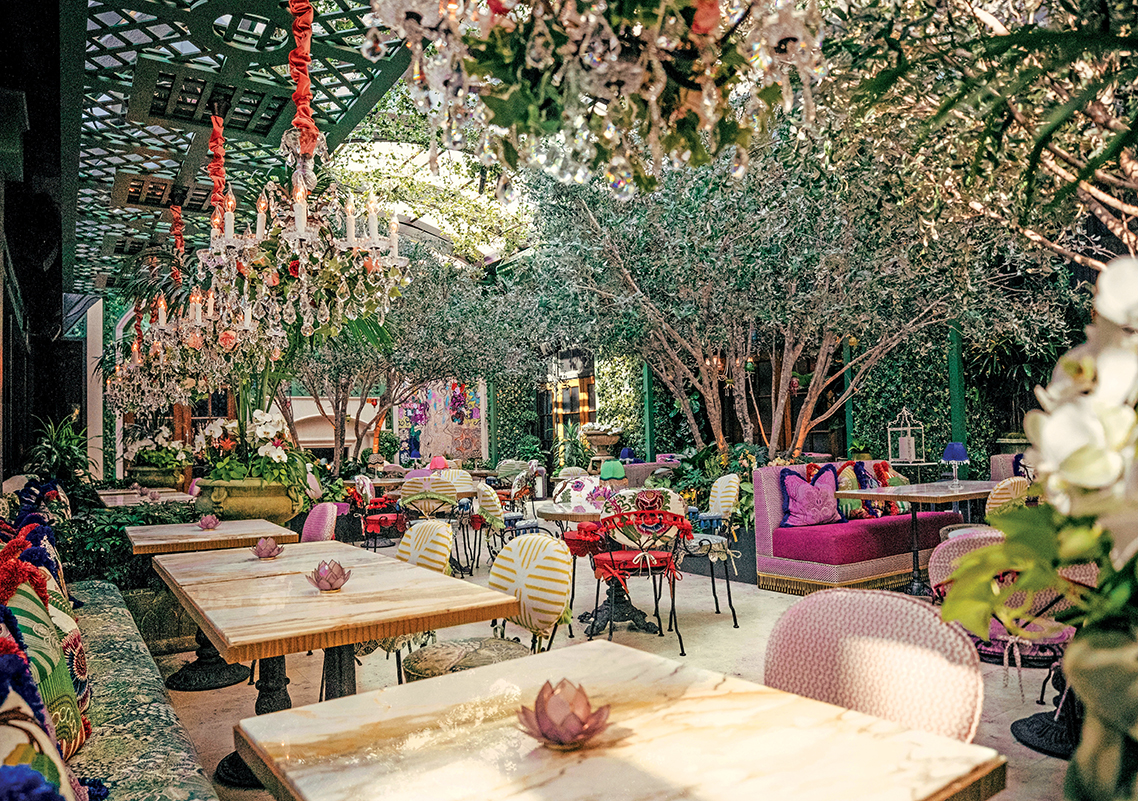 The Garden Room — This is a must-visit when visiting the Buckhead neighborhood in Atlanta. Enter this lush garden in the city and enjoy innovative cocktails along with delicious dishes and live music. Note: There is a dress code, which you can find on the website along with menus and reservation information.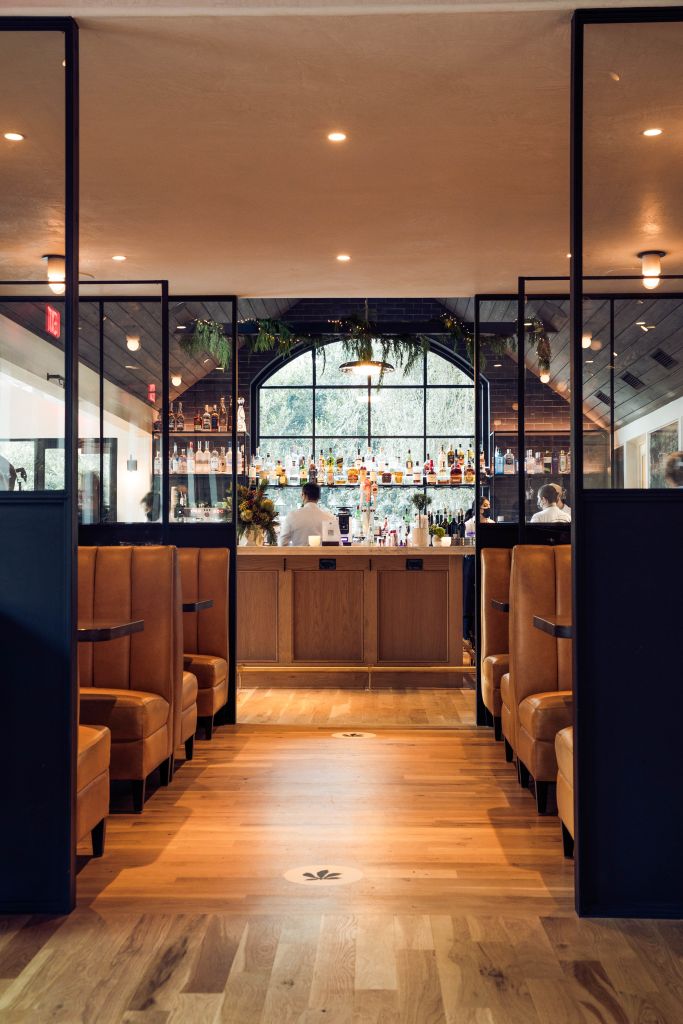 THE CHASTAIN — A sophisticated yet comfortable neighborhood bistro, THE CHASTAIN is located on the edge of historic Chastain Park. The restaurant features down-home classic dishes with modern twists and upscale cocktails, wines, beers and spirits.
Here are more bars, clubs and lounges for bar hoppin' in Buckhead.
Downtown
Max Lager's Wood-Fired Grill & Brewery — Located on the corner of Peachtree Street and West Peachtree, in Downtown Atlanta, Max Lager's offers local beer from Atlanta favorite's such as Bold Monk Brewing Co., Monday Night Brewing and Urban Tree Cidery. Try a selection of four Max beers on tap with the Max Sampler. For non-alcoholic options, try the in-house "Tap Root" Root Beer or Citrus Wheat from Rightside Brewing.
SkyLounge — Voted one of the Best Rooftop Lounges in the World on ABC, SkyLounge offers handcrafted cocktails with stunning views of the Atlanta skyline including Centennial Olympic Park. The lounge has a modern contemporary feel while maintaining the Southern charm of Georgia with comfortable furnishings and all-weather coverings to allow enjoyment year round.
Discover more of Atlanta in this guide to Downtown after dark.
Midtown
Jojo's Beloved Cocktail Lounge — Looking for a broody, romantic spot perfect for date night? Don't miss Jojo's in Midtown for a throwback to an all-vinyl music collection from the '70s and '80s, cocktails, bottle service and a brief escape from reality.
Mary's — Widely regarded as one of the best gay bars in the country, Mary's is a popular spot in Midtown for drinks and dancing. Enter the club and you'll be dancing the night away as you walk onto the dance floor.
Midtown offers a vibrant nightlife all week long. Here are more cool places to enjoy an evening in Midtown.
Old Fourth Ward
Located in Old Fourth Ward adjacent to the Atlanta BeltLine, is one of Atlanta's favorite food halls, Ponce City Market. Shop for yourself, your home and gifts, then enjoy food and cocktails from one of the many restaurants and bars. Celebrate something fun on The Roof or bar hop with friends at one of these beautiful bars.
12 Cocktail Bar — On the menu at 12 Cocktail Bar? Rare spirits and handcrafted cocktails curated uniquely for each guest's tastes. Award-winning barkeepers craft cocktails for guests in the intimate space where the views are unparalleled. Cocktail classes are also on the menu for those looking to get hands-on experience.
Atrium — Stop into the Parlor at The Atrium for an extensive list of cocktails, wine, beer, cider and zero proof cocktails. The Bistro at the Atrium is an eclectic, colorful space with seasonally driven dishes with a more curated cocktail menu including caffeine-infused cocktails and mimosa bottle service for brunch.
Bar Vegan — Created by the team behind the acclaimed vegan joint Slutty Vegan, Bar Vegan serves up eye-catching cocktails accompanied by vegan bar food. This "bar-theater" concept turns cocktail night into a high-energy show with flamboyant and exotic presentations of food and drink.
Biltong Bar — Biltong Bar has become a popular destination for its beef jerky (biltong) and acclaimed craft cocktail program landing it on lists of the top bars in the country.
City Winery Atlanta — If you love wine and live music (and comedy), then City Winery is a must visit, but there's more than wine on the menu here. Enjoy an intimate entertainment space, your favorite wine or cocktail and good food.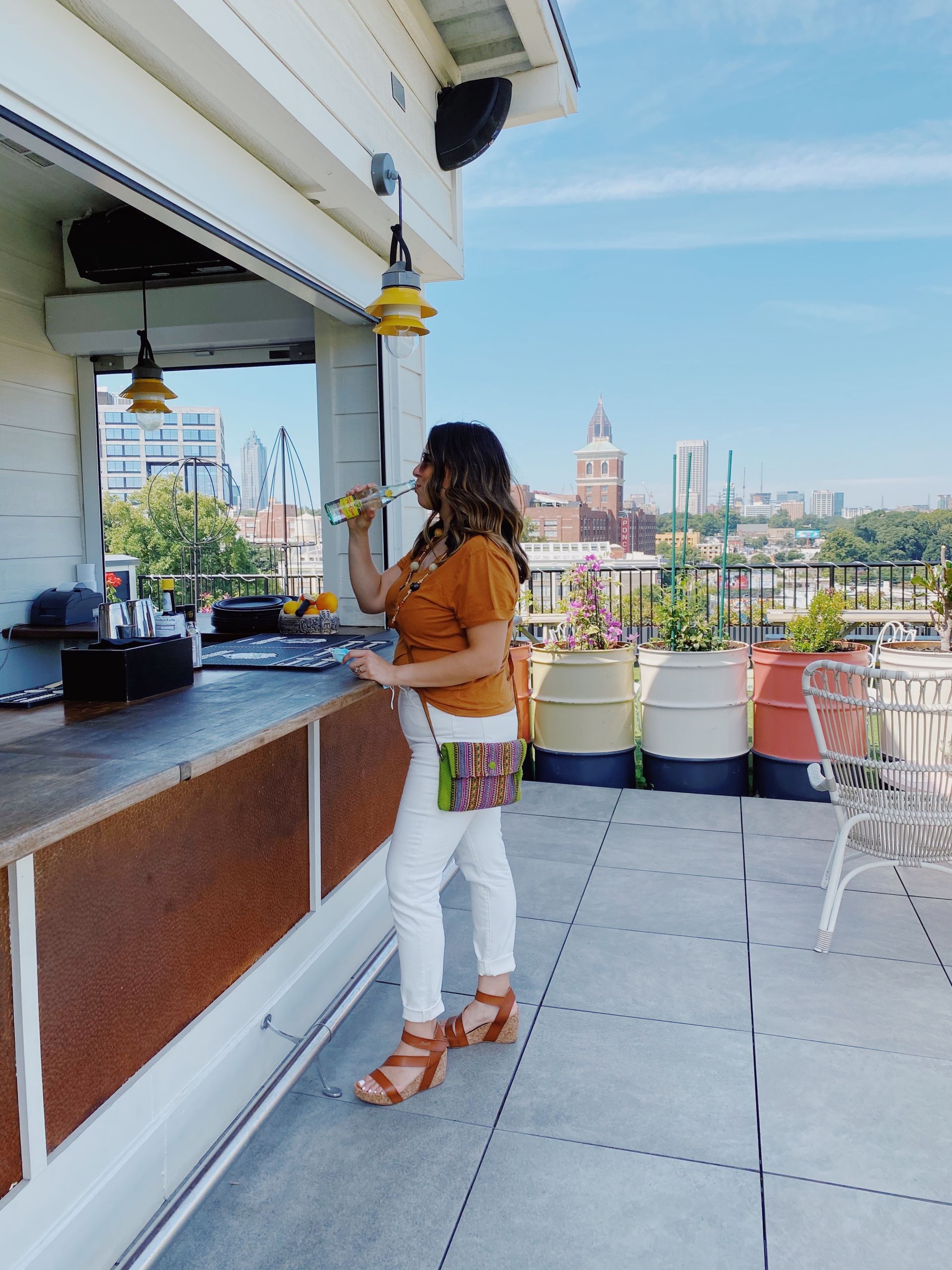 The Rooftop — The whimsical rooftop bar at the Hotel Clermont, is near PCM and a great place to kick-back during warm weather seasons and enjoy a glass of frosé amidst the kitschy Astroturf and skyline vistas.
Where to Drink Along the Atlanta BeltLine
Cold Beer — This tapas restaurant and bar is located overlooking the Atlanta BeltLine. It is a great stop for Southern-inspired dishes, beer, wine and craft cocktails by popular chef Kevin Gillespie.
Hop City Beer & Wine — Whether you're shopping for a great beer or wine for your next party or want to stop in for a cold one, Hop City has an amazing selection of beers (one of the largest in the country) and a healthy selection of wine as well. It is a must-visit destination for craft beer lovers.
Ladybird Grove & Mess Hall — Imagine a campground in the city. That's the vibe at Ladybird Grove & Mess Hall. The yard is scattered with bright umbrellas and Adirondack chairs where visitors can relax and enjoy wine, beer, patio punches, cocktails and yummy food. It is a great family friendly spot right off the BeltLine making it easily accessible via bicycle, skates or walking.
Where to Play Games and Drink
In Atlanta, we love to have a good time. Get your friends together for a day or night out, drinking and playing games. Think bowling, arcade games and shuffleboard. For more fun and games for the 21+ crowd, check out these Atlanta game bars and bowling alleys.
Puttshack — Puttshack is the perfect destination for drinks, dining and friendly competition on a colorful, oversized mini-golf course, Puttshack is a great location for spending a rainy day in Atlanta or celebrating your grown-up birthday.
Ormsby's — Looking for a classic game, pool, darts or shuffleboard? Head to Ormsby's for upscale American food and drink in a comfortable and welcoming environment.
The Painted Duck — This is the ultimate hangout for friends who want to enjoy libations while participating in some friendly gaming. The Painted Duck offers duckpin bowling, shuffleboard, basketball, air hockey and more in a comfy environment. The Painted Duck serves small plates, sliders, skewers and more.
The Roof — The Roof at Ponce City Market is a great place to meet friends after work or celebrate a special occasion. The Roof is home to Skyline Park where visitors can play a host of vintage amusements, mini-golf and games, accompanied by food and drinks.
Topgolf — Golf lovers and novices will love the ability to hit a few golf balls from the protected bays at Topgolf while enjoying food and drinks. Topgolf also offers a variety of video games, making it a perfect spot for family celebrations.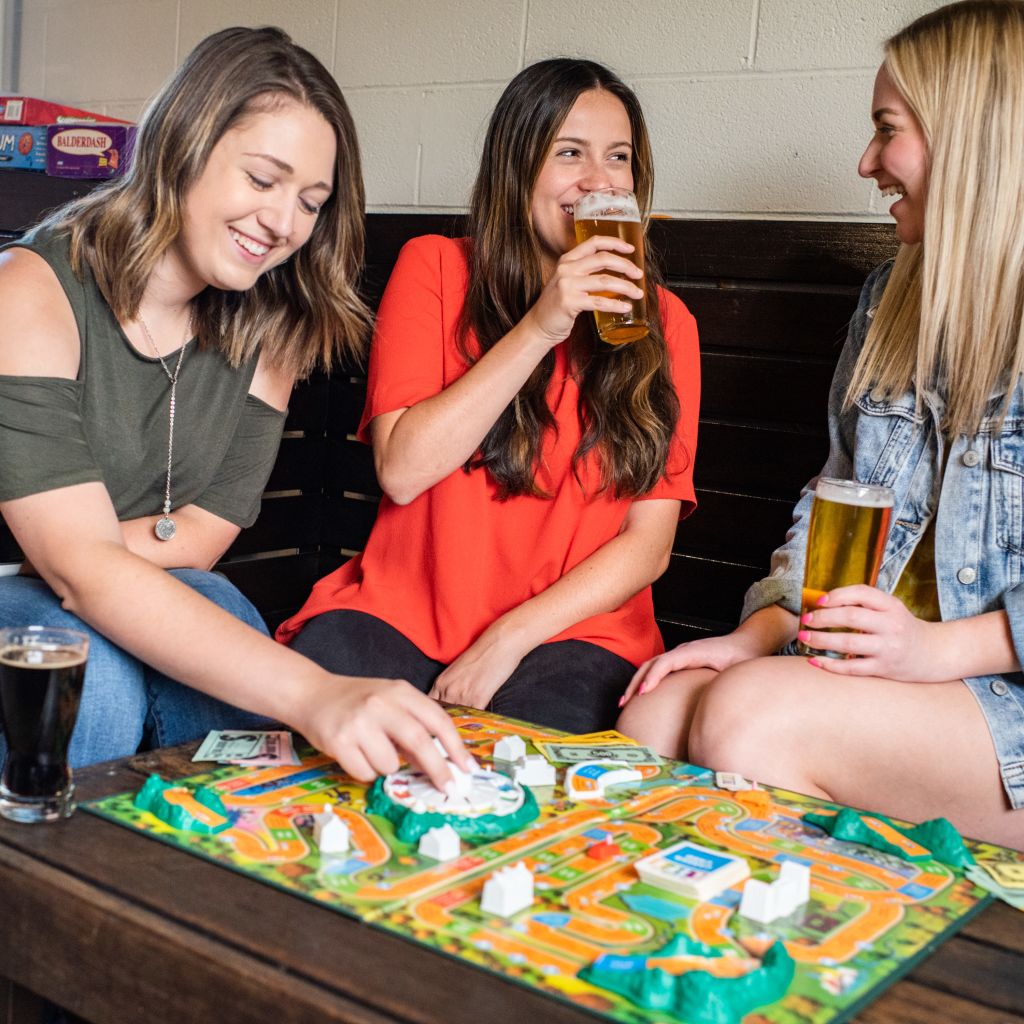 Second Self — Second Self Brewery is a great local brewery and taproom offering party space and special events. Play trivia every Wednesday night with the crowd or show up on Thursdays for rotating video games on the big screen, arcade games and a variety of board games.
Beer Made in Atlanta
When you think about Atlanta, beer may not be the first thing that springs to mind, however Atlanta is home to several breweries that draft beer, cider and seltzers. Consider this your Atlanta beer guide.
Atlanta Brewing Co. and Second Self Brewery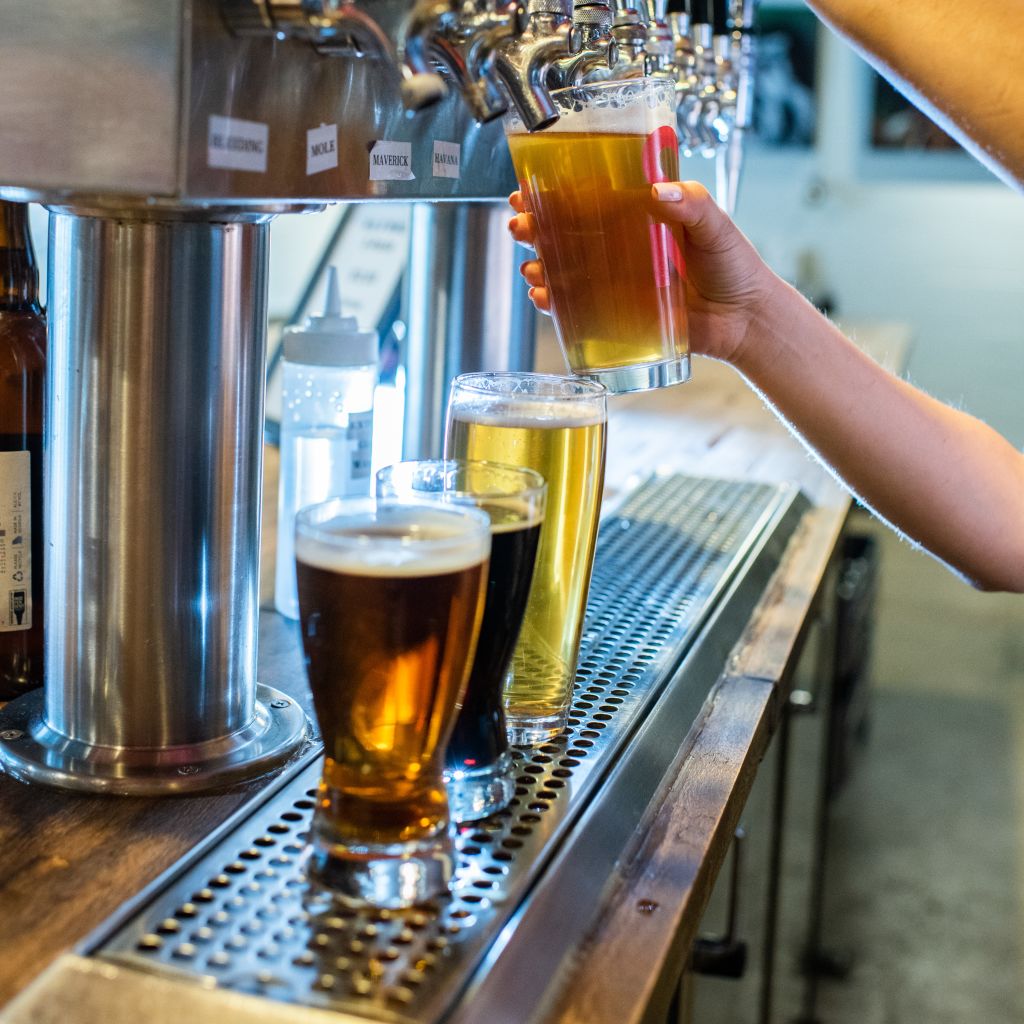 Atlanta's original craft brewery, Atlanta Brewing Co., drafts more than 20 beers including exclusive brews you can only get in its taproom. Find Atlanta Brewing Co. beers in its taprooms and distributed throughout the South. Atlanta Brewing Co. currently is relocating to downtown Atlanta with plans for a grand opening toward the end of 2022. In the meantime, the company has partnered with Second Self to contract brew its entire line of brews, including production and distribution. Second Self's own beers are all 100% vegan and brewed with fresh ingredients.
Down Home Brewing
Down Home is Atlanta's first Black-owned brewery. Created by Chris Reeves, the brewery creates beers with the goal of "having the right brew for you."
SweetWater Brewing Co.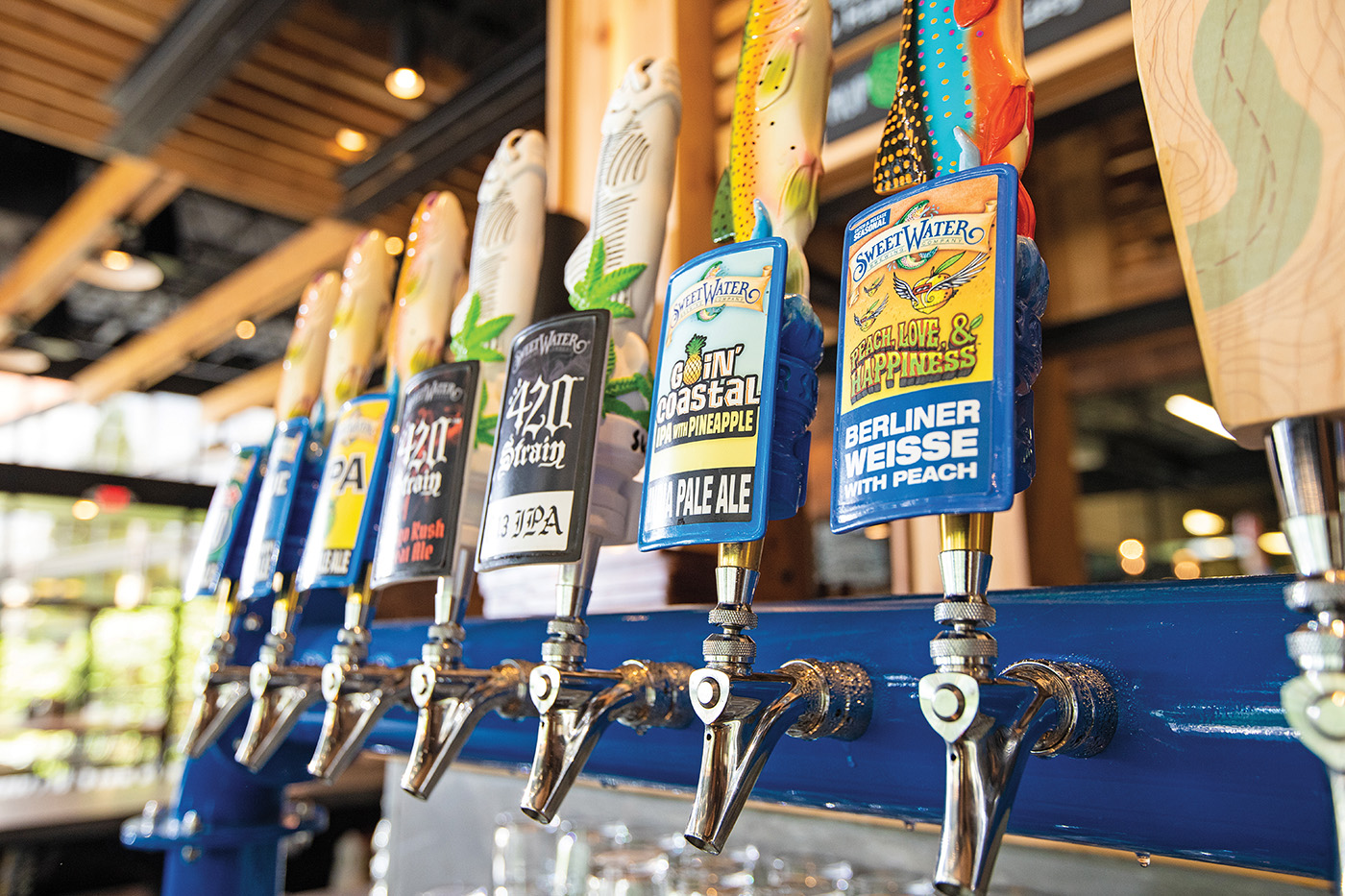 SweetWater Brewing is an Atlanta staple, crafting more than 20 beers, hard teas, hard seltzers, 420 strains and vodka sodas. Offerings consist of regular offerings, seasonal brews and more. Distribution is growing, meaning that you can find SweetWater beers in many stores and throughout several states.
Visit an Atlanta Brewery
Want to explore more of Atlanta's beer scene? Check out these breweries in Atlanta with patios and grab a pint or two while enjoying food, music and good company.
Take a Brewery Tour
Interested in how beer, cider and distilled liquor are made? Many Atlanta breweries offer tours. Make it extra fun by jumping on the Atlanta Beer Bus, which stops at seven breweries, one cidery and one distillery. Each bus comes complete with a "Beer Nerd" to make recommendations.
Head to These Boozy Festivals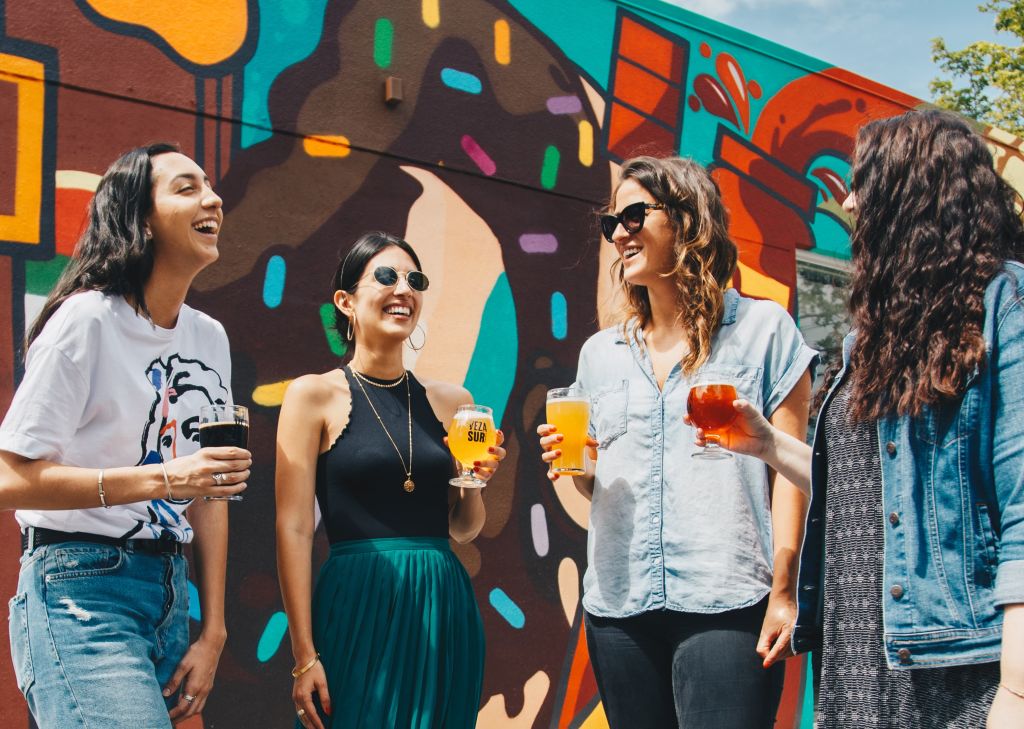 Atlanta is a hub for festivals of all kinds and that includes booze-themed festivals. Get your drink on at these popular annual festivals.
Atlanta Beer Festival
Atlanta Beer Festivals hosts two annual festivals (Summer Beerfest and Winter Beerfest) with more than 150 beers, 25+ wines, live and DJ music, food and fun.
Beer, Bourbon & BBQ Festival
We Southerners love the three Bs. At the Beer, Bourbon & BBQ Festival there is plenty of tasty BBQ, accompanied by more than 60 beers, 40 bourbons and games, music, shopping and fun. That makes this one of the best things to do in Atlanta's Westside.
Atlanta Food & Wine Festival
If wine is more to your taste, we've got a festival for that as well. The Atlanta Food & Wine Festival is dedicated to good Southern cuisine and fine wines from the region. Participate in tastings, dinners, brunches, demos, and more.
Holiday Pop-up Bars in Atlanta
No ultimate list of where to drink in Atlanta would be complete without mentioning holiday pop-up bars. These holiday bars pop up around Atlanta making for a whimsical and festive holiday season. Find one of these special Christmas bars around Atlanta during November and December (and sometimes into January).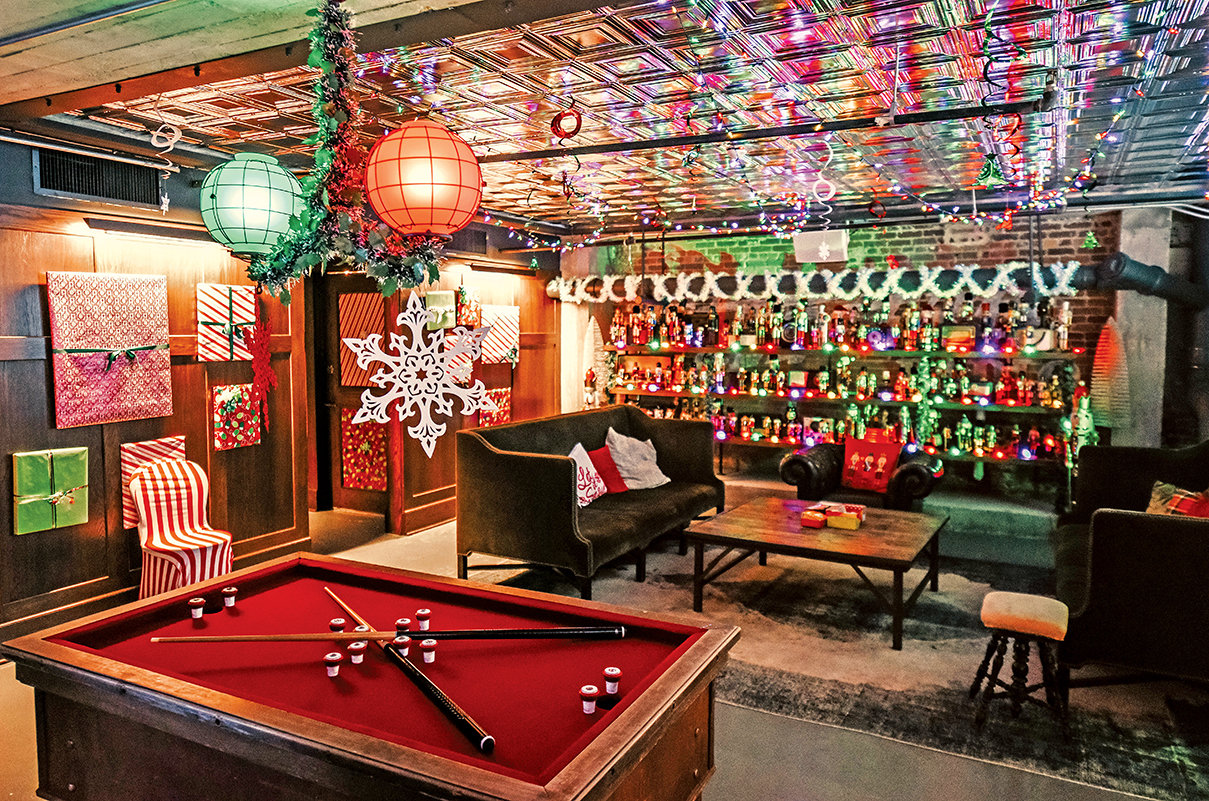 Blitzen Room by Biltong Bar — The Blitzen Room by Biltong Bar has been popping up around Atlanta for the last few years. Look for special cocktails such as the Famous Eggnog, Chartreuse Hot Chocolate and Elf on the Shelf at holiday locations that have included Buckhead Village, Avalon and Ponce City Market.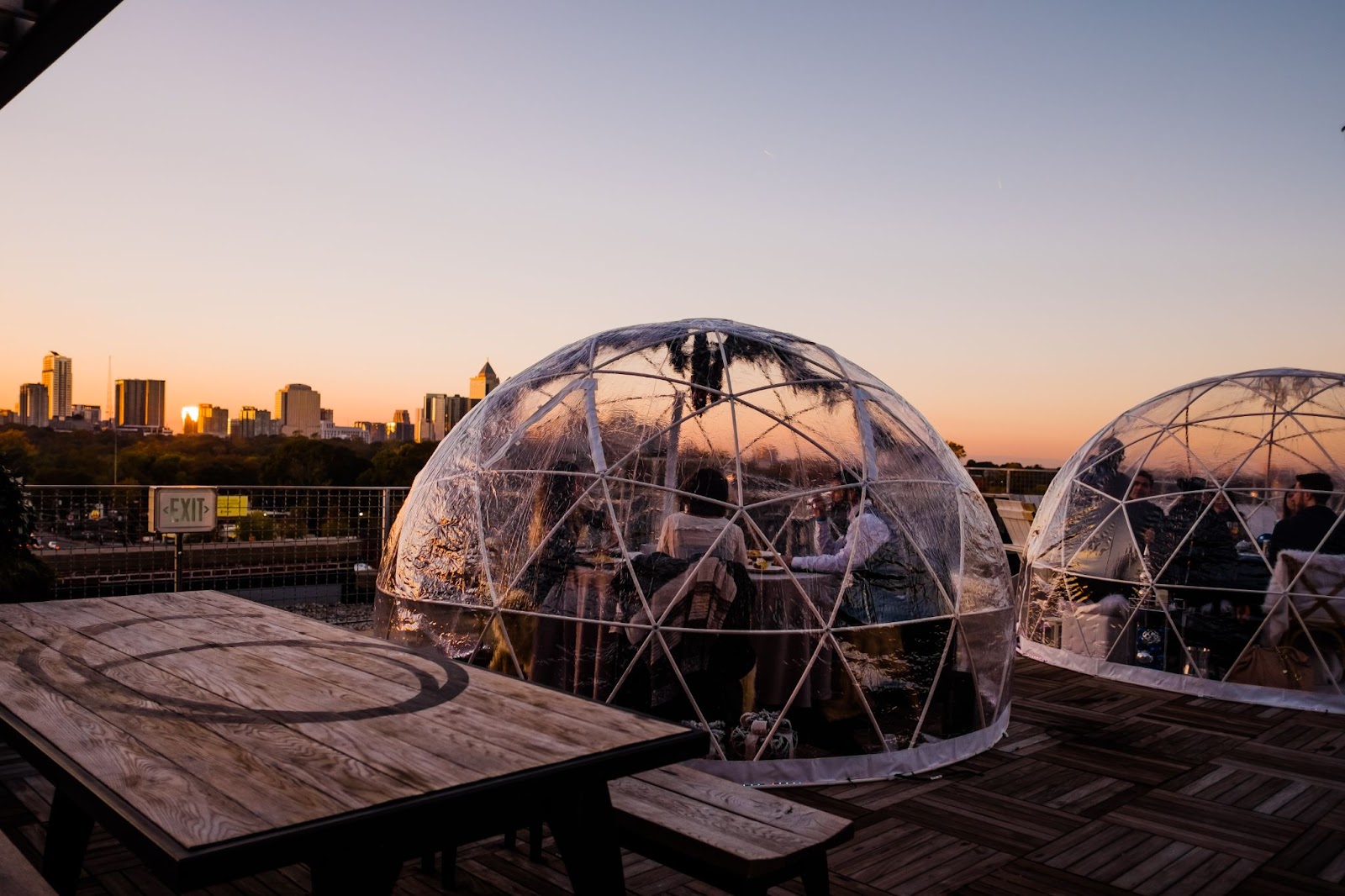 Holidays on The Roof — The Roof at Ponce City Market is fun any time of year, but the holidays bring additional festivities. Igloos don the rooftop terrace for cozy cocktails and food along with a front row view of the seasonal ice skating rink where visitors can participate in fur-coat ice skating. Just inside is the Holiday Social Bar, a great decked-out spot to stop for a holiday cocktail or two.
In years' past, Atlanta has seen fabulous holiday pop-ups from some of our other favorite bars. Check back on the availability of "Church Street Vacation" at The Third Door inspired by the Chevy Chase movie, "Christmas Vacation" or Mercantile Social, which has been known to turn its entire bar into a Whoville-themed wonderland. Publico presents Santa's Pub each year complete with over-the top-decorations, seasonal music and movie-inspired drinks.
For more romantic ideas check out our Ultimate List of Date Night Ideas in Atlanta.
Discover More
Get to know Atlanta, and discover the best things to do around the city.