Where to Celebrate Break-ups, Pet Birthdays & More Quirky Events
Published April 13, 2022
Last Updated April 18, 2022
After what we've all been through the past couple of years, is it any wonder that people are ready to get out and celebrate — literally just about  anything? If you're also thinking outside the box, then this list of altbashes in ATL is for you. We're sharing where to celebrate memorable occasions at equally unique Atlanta locations and venues. 
Unconventional Bachelor or Bachelorette Party
Sure you can hit the club or plan a spa day, but why settle for something expected when these unique ideas are sure to be fun and a celebration you won't soon forget.
ASW Distillery
American Spirit Whiskey (ASW) is a local distillery that provides a unique rustic backdrop to any party. Lovers of whiskey, bourbon, rye, vodka or gin will be enthralled with this distillery's history. Three locations (South Buckhead, West End and The Battery) provide a variety of options for your bachelor or bachelorette party.
Bad Axe Throwing
Make memories with this truly unique activity and take your friends to throw axes at Bad Axe Throwing. Rent a lane, or 10, get a coach and enjoy time bonding with friends and family before the big day. This is a fun idea for a joint bachelorette/bachelor party. Here are more ways to Chill Out at Atlanta's Game Bars and Bowling Alleys.
Cigar City Club
Enjoy an upscale evening at this 1920s-style speakeasy where guests can enjoy fine cigars, gourmet dining, top-shelf cocktails and fine wines. If you're looking for an evening of sophistication to say farewell to the single life, check into Cigar City Club.
Llama Yoga
Nothing will top the unique experience of Llama Yoga at Alpaca Treehouse. These 90-minute sessions are held in the reclaimed wood barn on the gorgeous farm, inhabited by rescued alpacas and llamas. Soak in the relaxation and Zen while surrounded by a beautiful bamboo garden, stained glass, reclaimed beams and soothing fountain.
Porsche Driving Experience
Getting your adrenaline flowing at the Porsche Driving Experience is a great option for bachelors and bachelorettes who like speed. Choose from a variety of Porsche models then drive around the course. Dine at Restaurant 356, check out the simulator lab and visit the Heritage Gallery for the full immersive experience.
Painted Duck & Painted Pin
Both The Painted Duck and The Painted Pin are unique boutique bars and gaming parlors located in Atlanta, and they are great venues for bachelor and bachelorette parties. A terrific option for a combined celebration, the Painted Hospitality properties offer a variety of unique gaming options including duckpin bowling, horseshoes, knuckleball, shuffleboard, toad in the hole and other unique competitive group gaming options. In addition, visitors can enjoy a variety of small plates, appetizers plus wood-fired pizzas, beers, wines and signature cocktails.
Back on the Market or Break-up Party
Whether you're celebrating a divorce, dumping that chump or bouncing back after a split, these spots may help you celebrate being newly single and ready to mingle.
Bar Vegan
Back on the market? Celebrate without the guilt at Bar Vegan. This trendy bar at Ponce City Market offers fun cocktails and a delicious vegan menu in a colorful and vibrant setting. It's the perfect setting to meet new people. Who knows? You may even spot a celebrity.
Happy Hour at the High
Meet new people while enjoying a night out at The High Museum of Art during a Happy Hour event. The High offers regular happy hours where visitors can mix and mingle while enjoying cocktails and listening to talks on various art topics by one of the museum curators. The High also hosts regular Jazz nights, "High Frequency Fridays" with DJs, cocktail parties, member-only events and more.
Stoddards Range & Guns
Blow off a little steam at the Midtown firing range, Stoddard's. This indoor shooting range offers a variety of lanes for shooting guns of all types. The "new shooter" package will teach even the complete newbie how to safely handle a gun and shoot. Lounge, patio and incredible views create a memorable, one-of-a-kind celebration.
Forever 29 Birthday Party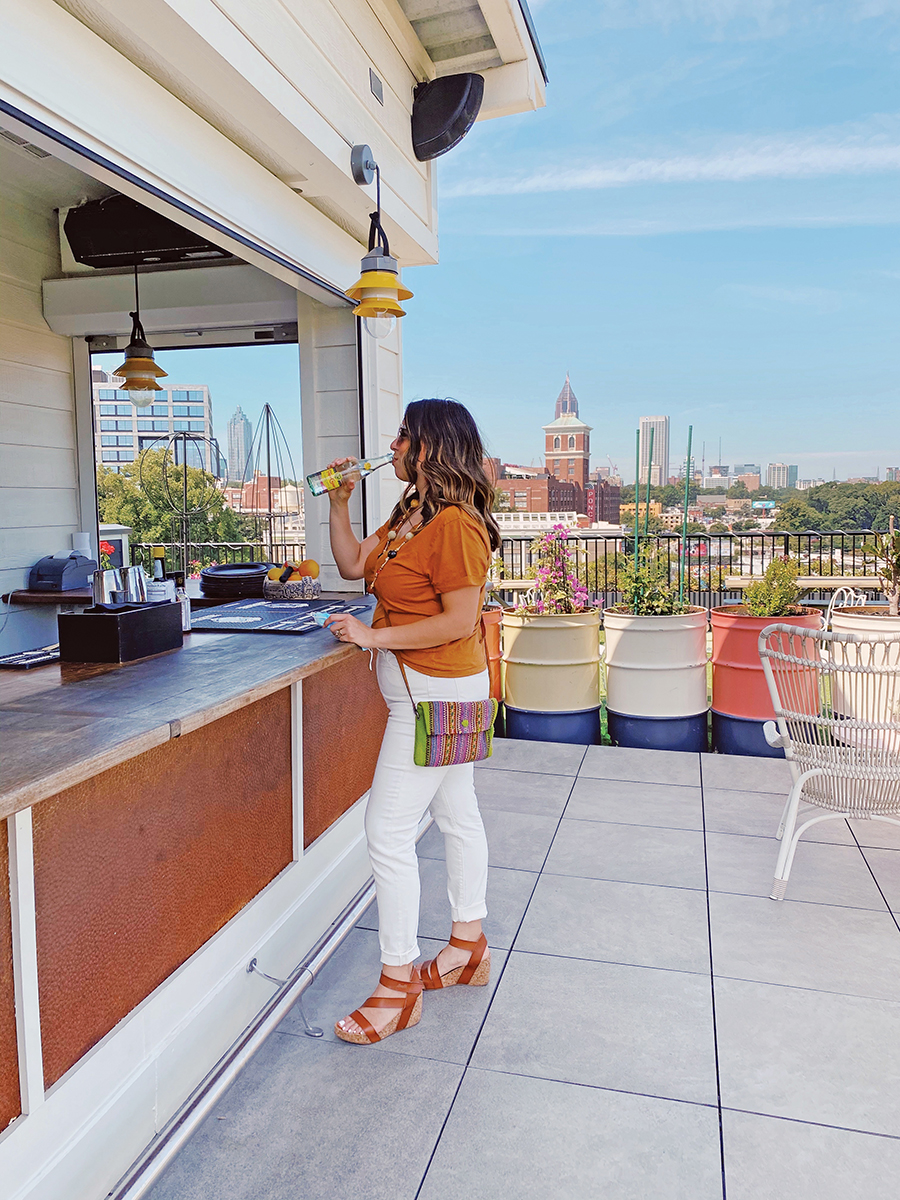 Let's face it, the thought of getting older is not appealing to many. Enter the Forever 29 party where you can celebrate your 29th birthday again and again. Here are some of our favorite picks for memorable spots to celebrate your 29th or (wink) the 10th anniversary of your 29th birthday.
Hotel Clermont
The Hotel Clermont is a great spot to celebrate any occasion. Its historic architecture and whimsy is updated with modern amenities and service. The Clermont is perfect for a weekend of celebrating or an evening at the Rooftop Bar for drinks, street food and fun with a spectacular view.
Ladybird Grove & Mess Hall
Ladybird Grove & Mess Hall is the first outdoor-oriented bar and restaurant to open right alongside the Atlanta BeltLine in the Old Fourth Ward. This charming outdoor space is the perfect spot to celebrate your "29th" birthday for the first or 10th time. Bring your friends to enjoy live music, craft cocktails, local brews and elevated campfire cuisine.
Puttshack
We'll admit that mini-golf may not be at the top of your birthday celebration list, but then maybe you haven't heard of Puttshack. Puttshack is a hip, tech-infused miniature golf course with a bar and dining. The technologically advanced game offers fun, excitement and the chance to win prizes like free drinks, games, pizza and more.
SkyLounge
The sophisticated SkyLounge offers incredible views in a one-of-a-kind rooftop venue perched atop the historic Glenn Hotel. Get a front row seat to Atlanta's Centennial Olympic Park and Downtown skyline. Toast the birthday celebrant with handcrafted cocktails, and choose from a variety of small plates.
Memorable Sweet 16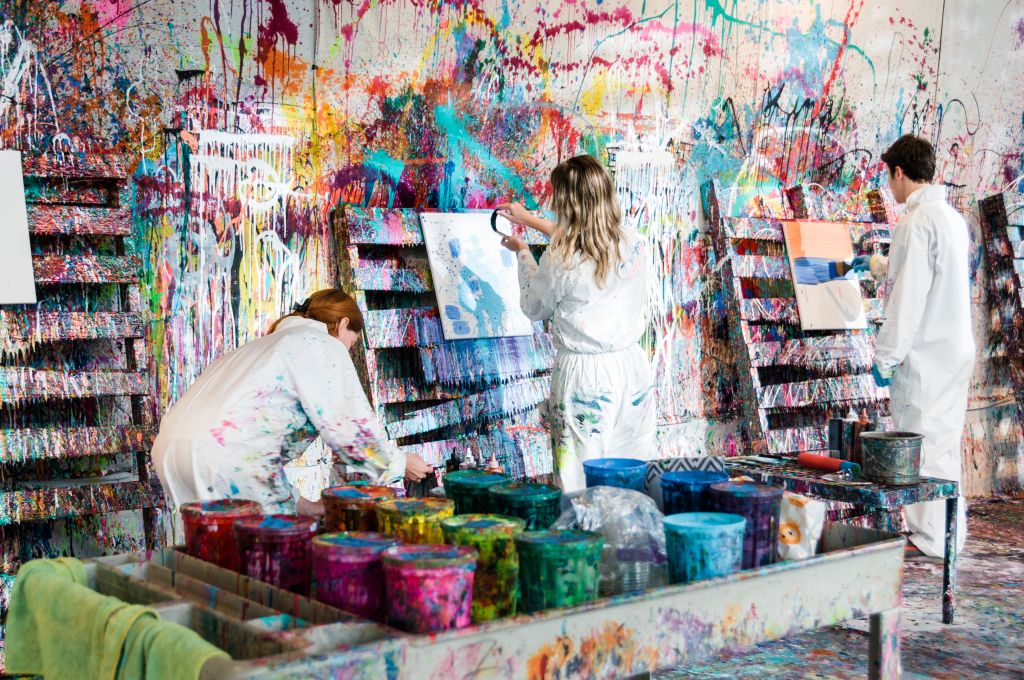 Turning 16 is a milestone in any young person's life, so the celebration should be memorable as well. Gather a group of friends and hit one of these fun Atlanta locations.
Dr Bombay's
Located in Candler Park, Dr Bombay's Underwater Tea Party is a quaint and eclectic spot for high tea, coffee, books, pastries and more. Book a private party in the piano room for a whimsical birthday celebration.
Skyline Park
Head to the ROOF at Ponce City Market for a fun celebration at Skyline Park. This unique park offers vintage amusements, games, rides, mini-golf and carnival-style food alongside breathtaking skyline views of Buckhead, Midtown and Downtown. Bring a few friends or book an event space for a larger party.
Splatter Studio
Artistic types will love celebrating at the Splatter Studio. Don some coveralls and fling paint to create your own unique masterpiece. Joined with friends, this experience is bound to create endless laughter and fun memories.
Dog's Birthday Celebration
Who says you shouldn't celebrate your dog's birthday? After all, dogs are man's best friend. Doggie birthday parties are a great way to get outdoors and have some fun. These dog-centric locations are the perfect places to host your furry friend's birthday. For a little more casual celebration for your prized pooch, check out these pet friendly destinations for great dog parks and pet-friendly patios in Atlanta.
Fetch Park
Fetch Park is a groundbreaking bar and dog park combo. Geared toward dogs and placing canine safety at the forefront, Fetch Park offers open space for Fido and his friends to run and play while also providing a place for their humans to mingle, enjoy drinks and participate in events such as trivia nights and live entertainment. There is a special area available for private events. Group birthday packages are available at the Old Fourth Ward location, and pups celebrate their birthdays at all Fetch Park locations. A new park opens at The Works on the Westside this summer.
Piedmont Bark
Want to take all the planning work out of your furry friends' birthday party? Look no further than Piedmont Bark doggie daycare center. Piedmont Bark offers doggie daycare + birthday packages for your precious pooches with a variety of options.
Pride Party
Atlanta is proud of its inclusivity and recognition as one of the top travel destination among gay-friendly cities. With that in mind, we can think of no better spot to celebrate Pride month as Atlanta rolls out all the stops with numerous celebrations and parades. Whether you're celebrating Atlanta's Pride Month in October or any special Pride celebration, we love these locations.
10th & Piedmont
Located at the epicenter of LGBTQIA culture in Atlanta, the rainbow painted crosswalk is located at 10th & Piedmont— the restaurant and the intersection. The restaurant is a terrific spot for a special dinner or celebration. Its floor to ceiling windows allow for ample people watching, and the menu offers Southern-inspired new American Cuisine.
Lips ATL
Celebrate any occasion at Lips ATL with delicious dinners, fierce cocktails and outrageous drag shows. Lips will tailor an event especially for any celebration from Sweet 16 to anniversary party, drag brunch or bachelorette parties.
Full Moon / Equinox Celebration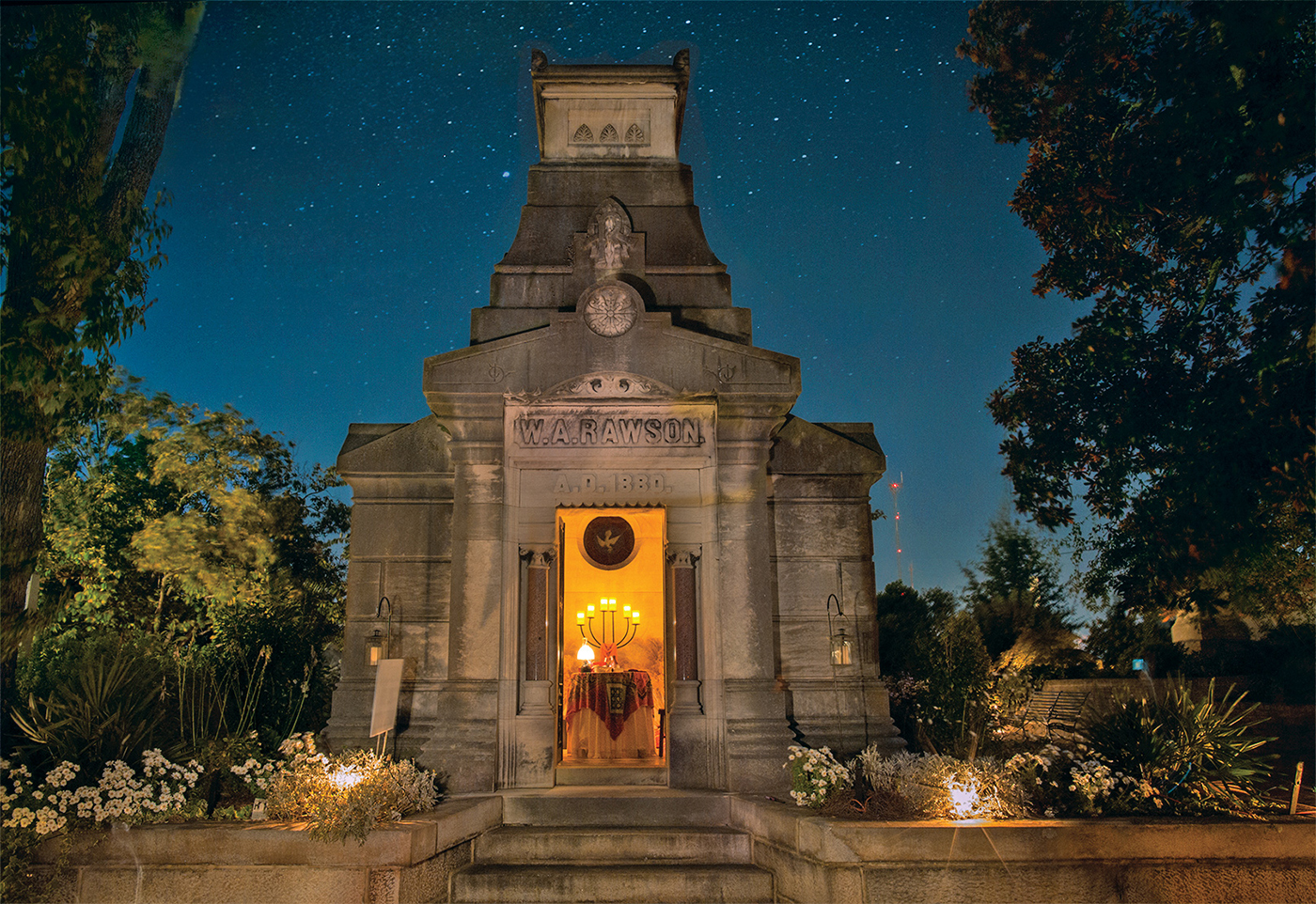 With its abundance of green space, Atlanta offers some undeniably amazing views of the night sky. Celebrate an important event with a sky gazing party or dance under the full moon at one of these great outdoor spaces.
Oakland Cemetery
Honor those who've gone before us at the Historic Oakland Cemetery. Oakland offers a variety of events, tours and special programming, both during the day and after dark.
Yurt Rental at Stone Mountain Park
While Stone Mountain Park offers many options for accommodations and parties, perhaps the most unique is the option to rent a yurt. Each yurt offers the rusticity of camping with some of the comforts of home (like electricity, heat and AC). Sleep up to eight people for a memorable stay with views of the lake, green space and night sky.
It's Your Anniversary
Celebrating your anniversary doesn't have to be a mundane, obligatory dinner out. Plan a truly memorable (and romantic) outing with your significant other.
Enjoy a Stylish Outdoor Picnic
Stylish outdoor picnics are all the rage right now, and there are several local businesses vying to design the perfect outdoor space for you. Elevated Picnics offers intimate, elevated, Pinterest-inspired picnic experiences in the heart of Atlanta. Comfort & Company promises custom-made, Bohemian-styled picnics to help celebrate life's moments. Transform any space into a special getaway. Pretty Picnics is a Black women-owned business that arranges a picnic spread at various locations for date days/nights, get-togethers and more.
Toast Your Relationship at a Favorite Atlanta Attraction
Cocktails in the Garden
With blooms nearly every day of the year we can think of no more romantic spot than Atlanta Botanical Garden to toast a special anniversary. Fortunately ABG hosts Cocktails in the Garden every Tuesday through Sunday from 5 to 9 p.m. from May through September. Live music accompanies the mixing and mingling, and the restaurants accept reservations for dinner.
Fernbank After Dark
If your loved one is interested in natural science, you may enjoy visiting Fernbank Museum of Natural History on the second Friday of each month for a unique Fernbank After Dark event. Enjoy cocktails, tapas, live music, and special exhibits and experiences designed just for adults.
Georgia Aquarium
Georgia Aquarium offers a couple of adult-only events for mixing, mingling and celebrating. Sips Under the Sea is a unique themed cocktail party featuring cocktails, live DJ and dining options for guests 21+ while Science on Tap is a 21+ lecture series with light hors d'oeuvres, beer and wine followed by an informative lecture. Check the calendar for topics and other fun events.
Looking for more great date night ideas? Whether you're celebrating an important anniversary or just getting to know that special someone, don't miss our list of ultimate date night ideas in Atlanta.
Discover More
Get to know Atlanta, and discover the best things to do around the city.