17 Atlanta Hotels Perfect for a Romantic Weekend Getaway
Published March 7, 2023
Last Updated March 20, 2023
Romance and love are always in the air in Atlanta, but sometimes you just need to get away — even if you stay in town — in order to keep the romance alive. You'll find plenty of romantic hotels in Atlanta that are perfect for couples to reconnect, rediscover and reaffirm their love.
Check out these Atlanta hotels that are perfect for a romantic weekend getaway for two.
Atlanta Hyatt Regency
Luxury in the heart of Downtown, the Atlanta Hyatt Regency has it all in one place to give you and your loved one a romantic experience. The sight is delightful from the moment you enter the lobby with majestic views of the elevators that you will most likely recognize from films such as "The Hunger Games." Take one of those elevators and head to the highest floor to dine at Polaris, a legendary rotating rooftop restaurant with a retro vibe and incredible views of the city. It can't get more romantic than that.
Where: 265 Peachtree St. NE
Ellis Hotel
Peachtree Street's boutique Ellis Hotel provides a chic and stylish stay in the heart of Downtown. This hotel is the perfect choice if you want to take strolls to some of Atlanta's top attractions such as Georgia Aquarium, Centennial Olympic Park and World of Coca-Cola. The Terrace Bistro Restaurant and Lounge offers a romantic dining experience at this historic landmark hotel that exudes Southern sophistication blended with old-fashioned hospitality.
Where: 176 Peachtree St. NW
Four Seasons Hotel Atlanta
From the time you step into the Four Seasons Hotel Atlanta, you will feel a sense of luxury and hospitality. With a stunning heated saltwater indoor pool and relaxing spa, this hotel is sure to offer a romantic experience. Plan to be around on Sunday and enjoy one of Atlanta's most iconic brunch buffets. From freshly baked croissants to exquisite desserts, Chef Daniella Lea will add sweetness to an unforgettable stay.
Where: 75 Fourteenth St. NE
Hyatt Centric Buckhead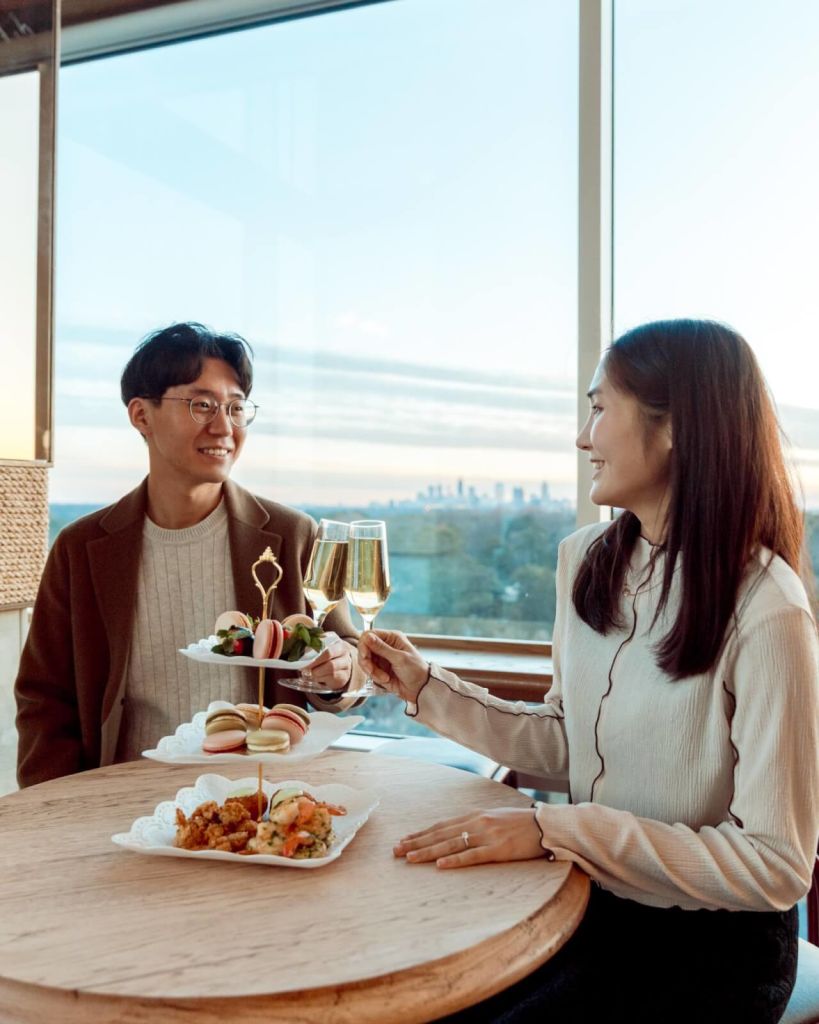 Located within walking distance of Lenox Mall and Phipps Plaza, Hyatt Centric Buckhead is a romantic getaway for couples looking to enjoy one of Atlanta's most vibrant neighborhoods. Downstairs you can enjoy a delightful Mediterranean meal by the firepit at Three Arches, or take a trip upstairs for breathtaking views from one of Atlanta's hot rooftop bars, Spaceman.
Where: 3301 Lenox Parkway
Kimpton Shane Hotel
Stay in the heart of Atlanta's art district and enjoy everything it has to offer. Just a short walk from the High Museum of Art, The Shane has chic and modern hotel rooms with ceiling-to-floor windows that offer stunning views of the city. Enjoy dinner at Hartley Kitchen and Cocktails located at The Shane. Don't skip dessert. Savor one of Chef Lindsey Davis's sweet creations. After a feast, head over to the Atlanta Symphony Hall for a lovely concert. Before calling it a night and diving into the comfortable beds, climb up the grand staircase in the lobby to Aveline, a vibrant cocktail bar with a curated selection of wines, spirits and botanically infused cocktails.
Where: 1340 West Peachtree St. NW
Nobu Atlanta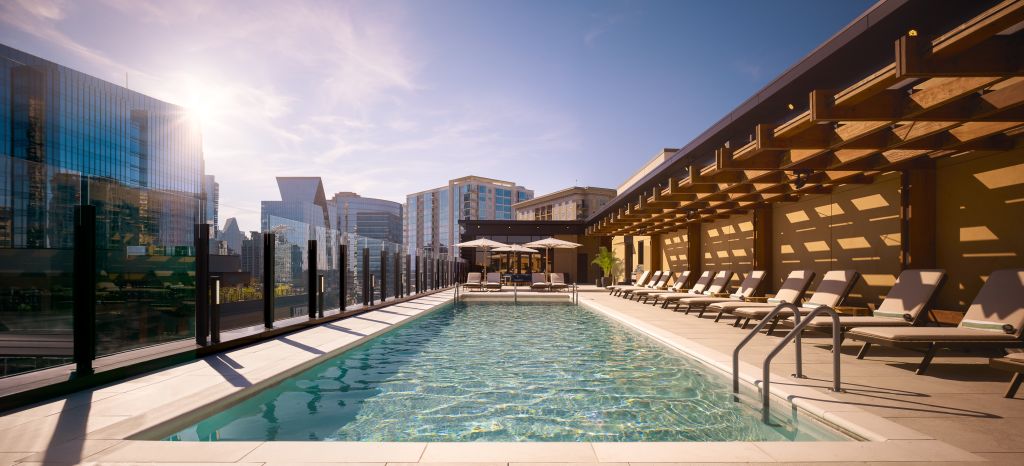 Step into ultimate luxury at the prestigious Nobu Atlanta. Located in Buckhead, this new addition to the city is right next to high-end luxury shopping at Phipps Plaza. Stay in one of the stylish guest rooms and suites with instinctive design and taste the latest trends in new-style Japanese cuisine at Nobu Restaurant. Need a ride nearby? Jump into one of their Porsches and let the chauffeur drive you to nearby attractions. Order a bottle of Nobu Champagne plus Breakfast in Bed and take your romantic getaway to the next level.
Where: 3520 Peachtree Road NE
Stonehurst Place
Stonehurst Place is an art-filled 19th-century mansion in Midtown with landscaped gardens and a relaxing (and romantic) sleeping porch. Guests enjoy a gourmet breakfast, natural bath amenities and complimentary refreshments throughout the stay.
Where: 923 Piedmont Ave. NE
The Burgess Hotel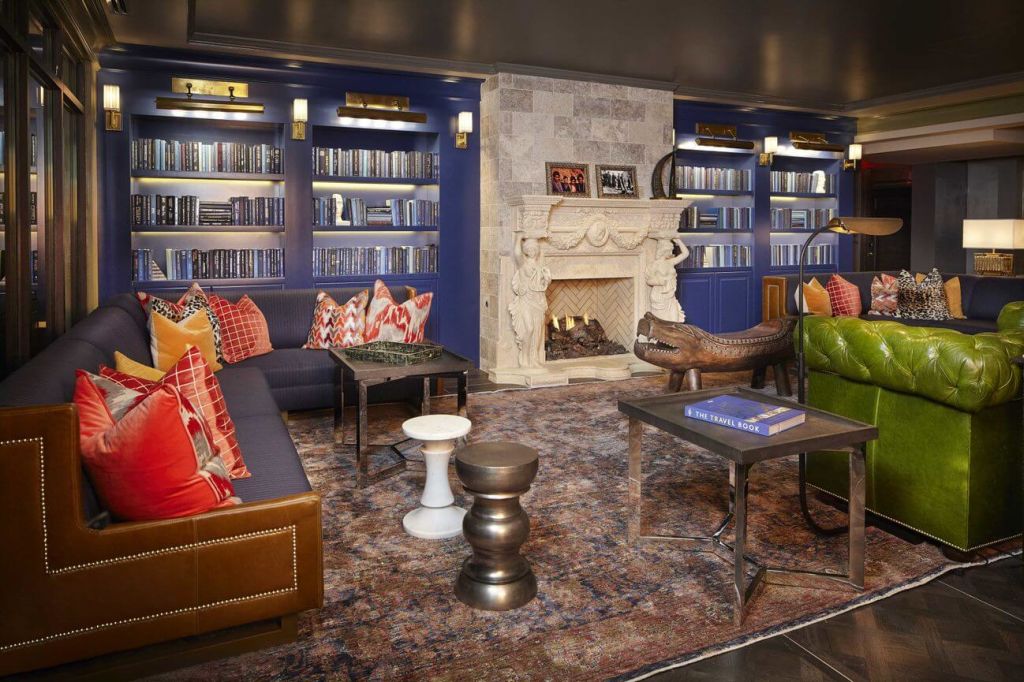 Fall in love in the midst of an unforgettable luxury lifestyle experience full of art at The Burgess. Live in the moment at this stunningly decorated hotel full of custom furniture, original artwork and objects from Asia and beyond. Plan a dinner date at Fia Restaurant, or grab a nightcap at Mr. B. Bar, both located in the intimate hotel. The lavish and inviting atmosphere is the perfect setting for you and your loved one to reconnect and enjoy in the heart of Buckhead district.
Where: 3600 Peachtree Road NE
The Candler Hotel
Relax and fall in love in the renovated guest rooms at The Candler in Downtown Atlanta. The marble, the statues and the modern luxurious decor will make you feel like you are in a castle as you notice how much history the building holds. Walk through the gold doors and feel the romance just steps away from both Woodruff Park and Centennial Olympic Park.
Where: 127 Peachtree St. NE
The Darwin Hotel
Experience uniqueness at this small hotel just a 10-minute walk from the vibrant Peachtree Street. At The Darwin, every room is different, offering a perfect setting to relax and enjoy a laidback getaway. If your version of romantic is more chill and casual and involves specialty coffee drinks, vibrant colors, fun drinks and activities throughout the city, The Darwin is for you.
Where: 585 parkway Drive NE
The Starling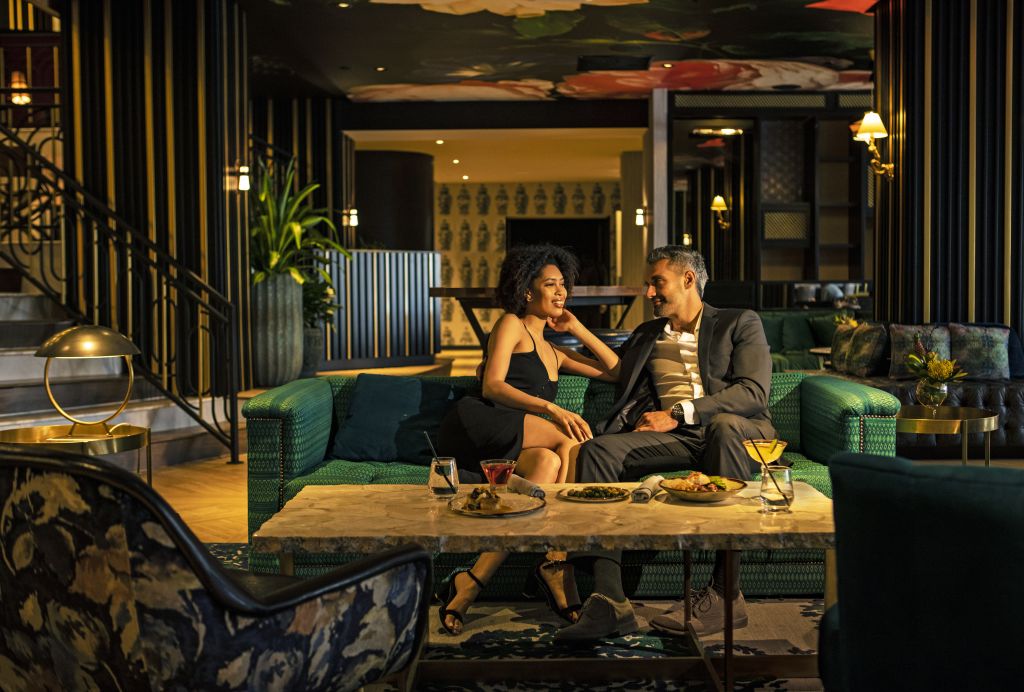 Get a taste of the city just steps from Piedmont Park and Colony Square, the heartbeat of Midtown. The Starling Hotel is an ode to Atlanta's reputation as the City in the Forest. Its eccentric interiors, skyline views and thoughtful amenities make it the perfect destination for a date night or romantic getaway. For vibes and tunes, you don't have to go too far. Head over to Lantana, the hotel's romantic and intimate lobby-level bar and lounge and enjoy live jazz and DJ tunes on certain days of the week.
Where: 188 Fourteenth St. NE
The St. Regis Atlanta
With its world-class service, beautiful marble and crystal accents, and luxury all around, St. Regis is the perfect setting for a romantic getaway in the heart of Buckhead. Get breakfast in bed, spend some quality time at the relaxing spa and make reservations for a unique dining experience. St. Regis houses two of the most iconic restaurants in the city — Atlas Buckhead, fine dining under renowned culinary leadership and a menu full of storytelling; and The Garden Room, an immersive garden bar and fine dining experience. With endless options of things to do around the hotel, this is the perfect setting for a luxurious romantic getaway.
Where: 88 West Paces Ferry Road NW
Waldorf Astoria Atlanta Buckhead
Waldorf Astoria Atlanta Buckhead is a five-star hotel where irresistible Southern charm and unforgettable luxury meet in a setting near the city's best shops, dining, entertainment and the Atlanta History Center. Experience Waldorf Astoria's sophisticated tradition of Afternoon Tea or head over to Brassica Bar for intimate jazz vibes every second and fourth Thursday and Brassica Restaurant for an elegant French fare.
Where: 3376 Peachtree Road NE
Just a Few Miles from Atlanta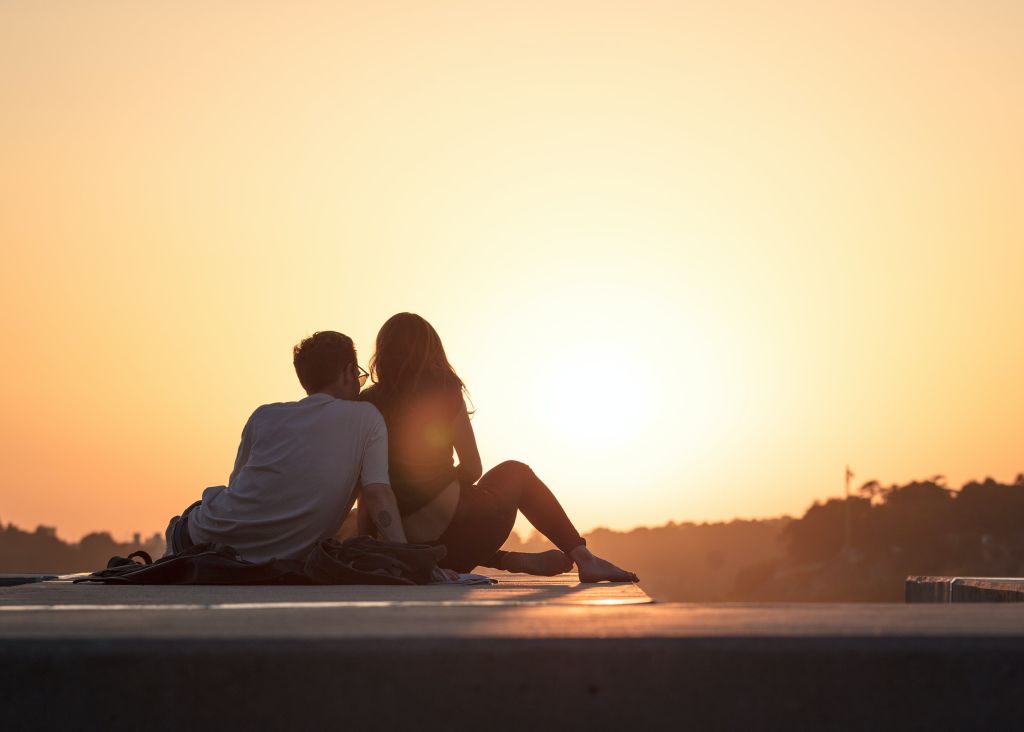 Barnsley Resort
There's a reason that Barnsley Resort is a favorite spot for weddings. It's incredibly romantic. Located in the North Georgia mountains, the Barnsley Resort offers beautiful gardens as well as other amenities such as topnotch dining, horseback riding, canoeing and spa treatments.
Where: 597 Barnsley Gardens Road NW, Adairsville, Ga.
Chateau Elan Winery & Resort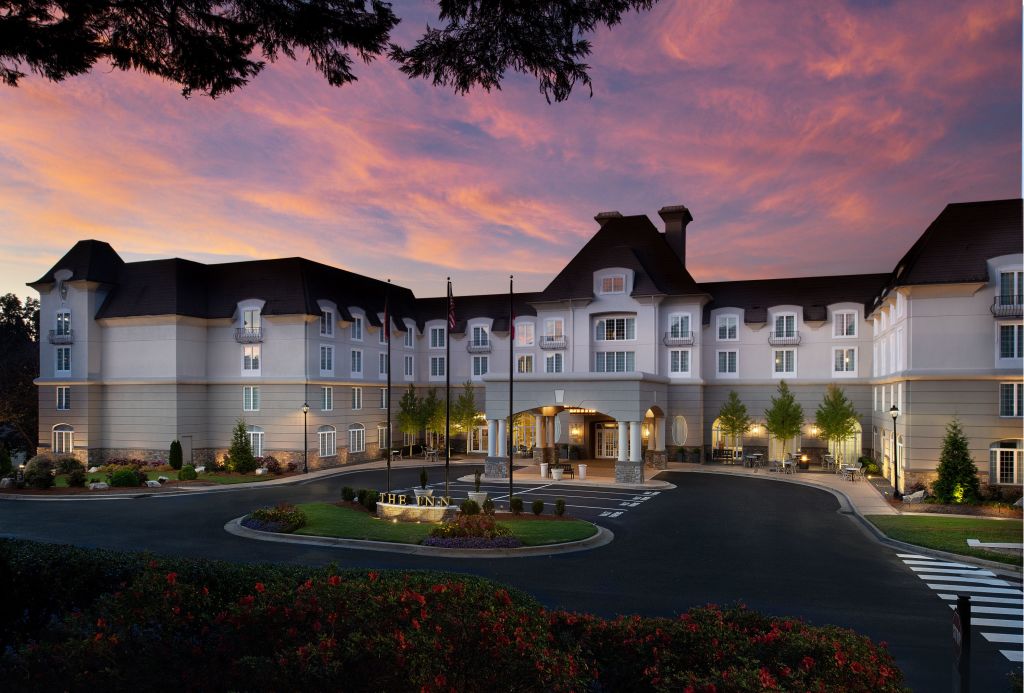 Eighty-five miles from Atlanta, Chateau Elan Winery and Resort in Braselton offers a great option to getaway for a romantic weekend. Surround yourself with more than 3,500 acres of wooded forests with lush vineyards, multiple restaurants, tennis courts, championship golf courses and European-style spa treatment rooms. Cozy up 16th-century style at this chateau.
Where: 100 Rue Charlemagne Drive, Braselton, Ga.
The Inn at Serenbe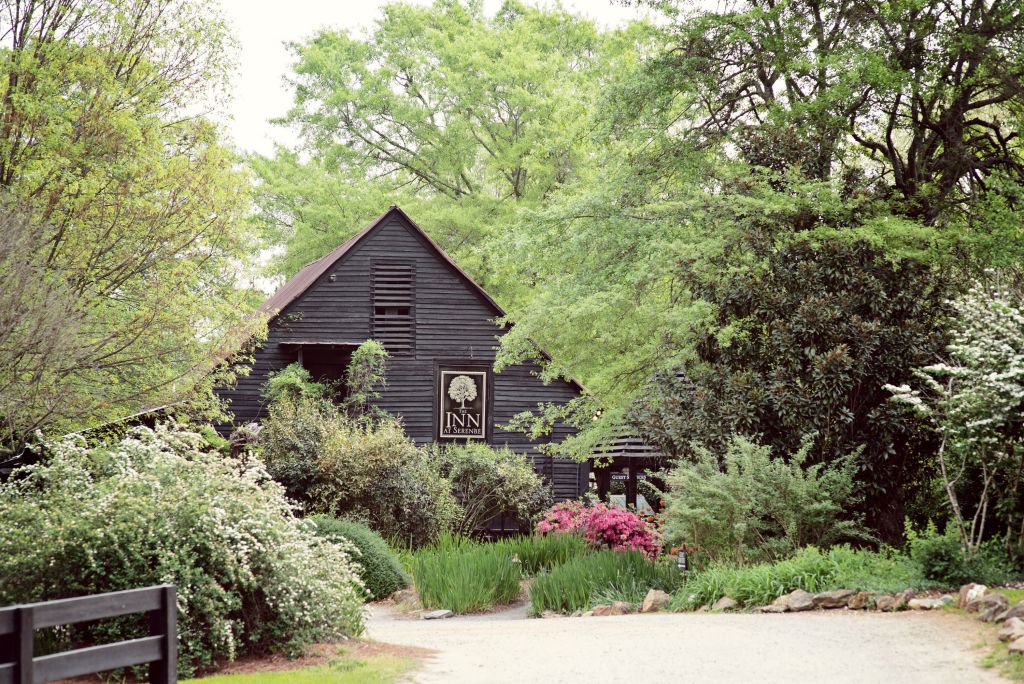 The Inn at Serenbe is nestled in the rolling countryside south of Atlanta and offers 900 acres of preserved forestland and wildflower meadows. There is a croquet lawn and a pool with two hot tubs. The Inn at Serene has 27 guest rooms.
Where: 10950 Hutchesons Ferry Road, Chattahoochee Hills, Ga.
The Ritz-Carlton Reynolds at Lake Oconee
About an hour-and-a-half outside of Atlanta, The Ritz-Carlton Reynolds at Lake Oconee is set on 30 acres of lake shoreline surrounded by Georgia pines. This is the ultimate romantic getaway.
Where: 1 Lake Oconee Trail, Greensboro, Ga.
Pair your perfect romantic stay with unforgettable dining experiences and other fun and unique activities around Atlanta for you and your special someone. And, if you have plans to pop the very special questions during your romantic getaway, check out our Guide to Atlanta's Most Unique Proposal Spots. Atlanta is the perfect backdrop for your love story.
Discover More
Get to know Atlanta, and discover the best things to do around the city.