Best Things to Do at Piedmont Park
Piedmont Park's reputation as Atlanta's central urban oasis is a bit understated. Its rolling hills and miles of paved trails earn it that title, but today there are plenty of attractions and several hidden gems packed into this nearly 200-acre green space located just north of Downtown. Whether you're looking to sprawl out a blanket for an afternoon picnic, join in a game of kickball with friends or go for a dash of culture at one of the dozens of annual festivals, Piedmont Park has a way of bringing it all together.
Originally founded as a country residence outside the city in the 1830s, Piedmont Park ties together several neighborhoods, including Midtown to the west, Ansley Park to the north and Virginia-Highland to the east. It connects to the Atlanta BeltLine Trail at the park's southeastern corner.
Walk, Run or Bike
Exploring the park on foot is a great way to see all it has to offer, with a variety of trails throughout. The park is connected to the the BeltLine's Eastside Trail, a three-mile path that runs south through the city to Kirkwood Avenue (and eventually much further). Bike rentals offer a breezy way to get around and explore.
Music, Food and Arts Festivals Galore
Lots of events take place in Piedmont Park each year. Concert series like Music Midtown and the Atlanta Jazz Festival play to their own tune, packing the greens with throngs of music lovers. Foodies have tough choices about what to eat and drink during the Atlanta Food and Wine Festival and the weekly Green Market on Saturday mornings. Some of the region's best artisanal wares and custom creations are on full display (and sale) during the Atlanta Dogwood Festival and Piedmont Park Arts Festival.
Play Games and Sports
Sports fields fill up fast during the warmer months (sign up early), with facilities for volleyball, softball, soccer, basketball, tennis, bocce and running. You'll also find plenty of open green spaces to throw a Frisbee or play catch, and the park organizes several free outdoor yoga and fitness classes each month.
Super Fun Playgrounds
The park features two impressive playgrounds for younger kids. The Mayor's Grove Playground is surrounded by trees and is close to bathrooms and picnic tables. It's a "Boundless" playground, which means it's filled with sensory-rich features that allow children of all abilities to participate. The Noguchi Playscape was designed by artist and sculptor Isamu Noguchi, and it's filled with objects of different shapes, colors and textures, perfect for climbing and playing.
Two Dog Parks
Two well-maintained dog parks (one for the big dogs, the other for the little ones) are located in a secluded nook in the northeast section of the park.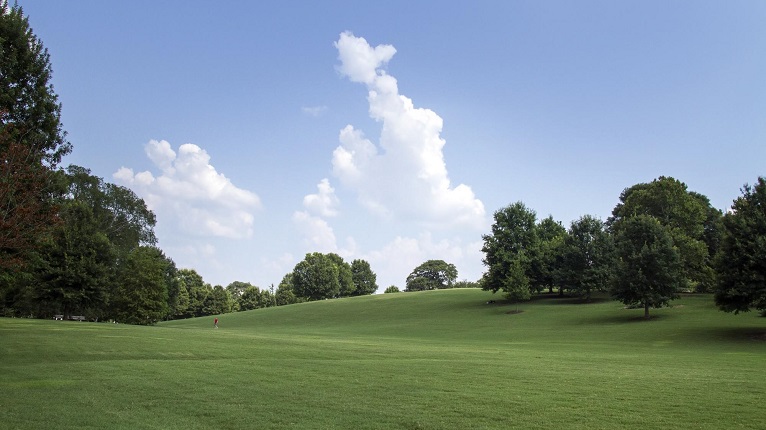 Cool Pool and Splash Pad in Summer
An enticing draw during sweltering summer months is a chance to take a dip at the splash pad and Aquatic Center. The large, impressive pool includes four lap lanes, a beach entry and a current channel for lazy floating. The Legacy Foundation Splash Pad, which is free, features more than 70 jets that push water up 30 feet in the air. It's a great way for kids to quickly cool off.
Ice Cream in the Summer
Indulge in a sweet treat at the annual Atlanta Ice Cream Festival in late July.
Ice Skating in the Winter
In the winter, indoor ice skating is in full swing at Park Tavern every day of the week.
Wedding and Event Venues
Three historic venues are popular destinations for upscale weddings and other private events, including glamorous Magnolia Hall, granite-lined Greystone and Dockside, with skyline views on the shores of Lake Clara Meer.
Restaurants, Hotels and Shopping Nearby
There are many dining, lodging and shopping options near Piedmont Park. Mainstay bars and restaurants near Piedmont Park like Park Tavern and the Nook offer killer views and signature vibes (and decadent eats, of course). Several hotels near Piedmont Park offer accommodations within walking distance. These include the W Atlanta Midtown, Hyatt Atlanta Midtown and Loews Atlanta Hotel. Each neighborhood is home to a unique array of boutiques, cafes and nightlife. After enjoying a day in the park, that's not a bad way to spend the evening.
How to Get to Piedmont Park
Piedmont Park is located in the heart of Midtown Atlanta, bordered by Piedmont Avenue, Monroe Drive and 10th Street.
The address is:
Piedmont Park
1320 Monroe Drive
Atlanta, Ga. 30309
Nearest MARTA rail stations: Midtown Station and Arts Center Station
Where to Park at Piedmont Park
A parking garage in the center of the park is an easy option for first-time visitors. Parking rates are typically based on the amount of time you spend in the park, and you can access the garage off of Monroe Drive on Worchester Drive or off Piedmont Avenue at the Atlanta Botanical Garden entrance. Access the park from the lower level.
Discover More
Get to know Atlanta, and discover the best things to do around the city.