Civil Rights Itinerary
Get an in-depth look at Atlanta's past
In the early 1960s, Atlanta became the cultural catalyst for the American civil rights movement. As activists found their center within the Sweet Auburn District, the city built a legacy. Explore these attractions for an in-depth look at Atlanta's past.
"Atlanta is known for its rich African-American culture," said Kathleen Bertrand, former ACVB senior vice president of governmental and community affairs. "Visitors to Atlanta may find history, cultural attractions and the spirit of the black family in the many churches, restaurants and attractions in Atlanta."
Breakfast
Wake up with a cup of coffee paired with sweet and savory bites from Sweet Auburn Bread Company. For produce and unique eateries, visit the historic Sweet Auburn Curb Market, one of three food halls in Atlanta.
Morning
The Sweet Auburn District was Atlanta's first African-American business district. Take the Sweet Auburn walking tour, given by the Atlanta Preservation Center, and explore the historic landmarks (parties of 10 or more only).
Estimated Time: 45 minutes
Also in this district is the Martin Luther King, Jr. National Historic Site with the King Birth Home, Ebenezer Baptist Church, a visitor center and the tombs of Dr. King and his wife, Coretta Scott King.
Behind the visitor center is the International Civil Rights Walk of Fame, where the shoe prints of civil rights heroes such as Rosa Parks, Andrew Young, Thurgood Marshall and others are embedded in a memorial.
Estimated Time: 1 hour (fast-paced) to 2 hours (leisurely)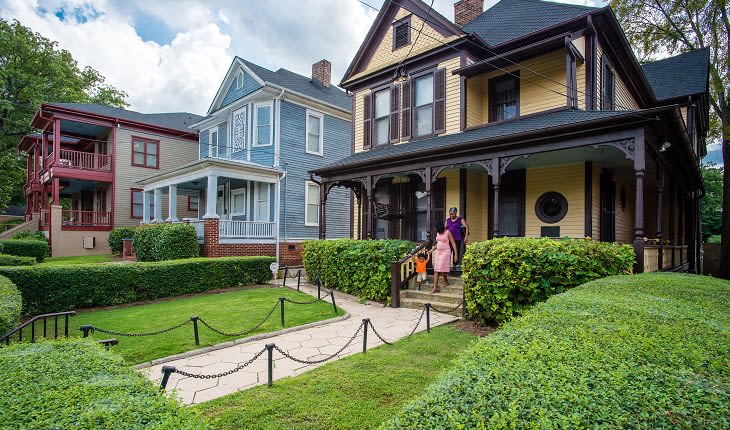 Visit the APEX Museum (African-American Panoramic Experience) to hear stories of early African-American pioneers who helped transform Atlanta.
Estimated Time: 45 minutes
Near Centennial Olympic Park, the National Center for Civil and Human Rights connects the American civil rights movement to today's global human rights movements. 
Estimated Time: 1 hour
Lunch
Enjoy traditional soul food at Busy Bee Café. Must-try items include fried, smothered or oven-roasted chicken, pork chops, Southern style veggies and banana pudding for dessert. Or head for Sweet Georgia's Juke Joint, located Downtown on Peachtree Street, and sample sumptuous Southern staples such as fried green tomatoes and beef brisket.
Afternoon
The Atlanta University Center, the world's largest consortium of historically black colleges and universities, has educated many famous leaders. Clark Atlanta University, established in 1867, houses one of the nation's finest collections of African-American art. Morehouse College is the alma mater of Spike Lee, Samuel L. Jackson and Dr. Martin Luther King, Jr. Spelman College spotlights African-American artists, exhibiting contemporary works, folk art and more at its Museum of Fine Art.
Estimated Time: Tour of Universities can range from 1 to 3 hours
Visit the Hammonds House Museum, which features artists of African descent with more than 350 works in the permanent collection.
Estimated Time: 1 hour
Tour the 1910 Herndon Home. The home is a tribute to the family of Alonzo Herndon, founder of Atlanta Life Insurance Company and the city's first African-American millionaire.
Estimated Time: 1 hour
Tour The Wren's Nest, home of Joel Chandler Harris, author of the Uncle Remus stories. Harris's narratives became the first serialized storyline of walking, talking animals. Preserved with the original 1880s furniture, structure and fixtures, the house also hosts storytelling on some Saturdays.
Dinner
Starting in the 1960s, civil rights leaders and strategists came together for savory cooking at Paschal's Motor Hotel and Restaurant, now closed. Today, Paschal's Restaurant in Castleberry Hill still hosts Atlanta's leaders for breakfast, lunch and dinner, seven days a week.
Evening
Check the schedule of True Colors Theatre Company. The company is committed to staging groundbreaking African-American plays.
Atlanta's Civil Rights Itinerary Map
Discover More
Get to know Atlanta, and discover the best things to do around the city.