Chill Out at Atlanta's Game Bars and Bowling Alleys
Published February 9, 2023
Last Updated May 11, 2023
Whether you're a born competitor or just like to relax by playing games with friends, Atlanta has a gaming spot for you. There's miniature golf, carnival games, bowling and plenty more.
Bowling
Can you break 100? No worries if you can't. Bowling is fun even if you throw more gutter balls than strikes. Spare a moment to consider these bowling alleys in Atlanta:
Bowlero Bowl
Perfect for the intown crowd, Bowlero Bowl resides at Atlantic Station. The lanes feature black lights and comfy seats. To top it off, there's an arcade with games galore and a sports bar for sipping wine or downing a brew while watching the big game.
Where: 261 Nineteenth St. NW
Midtown Bowl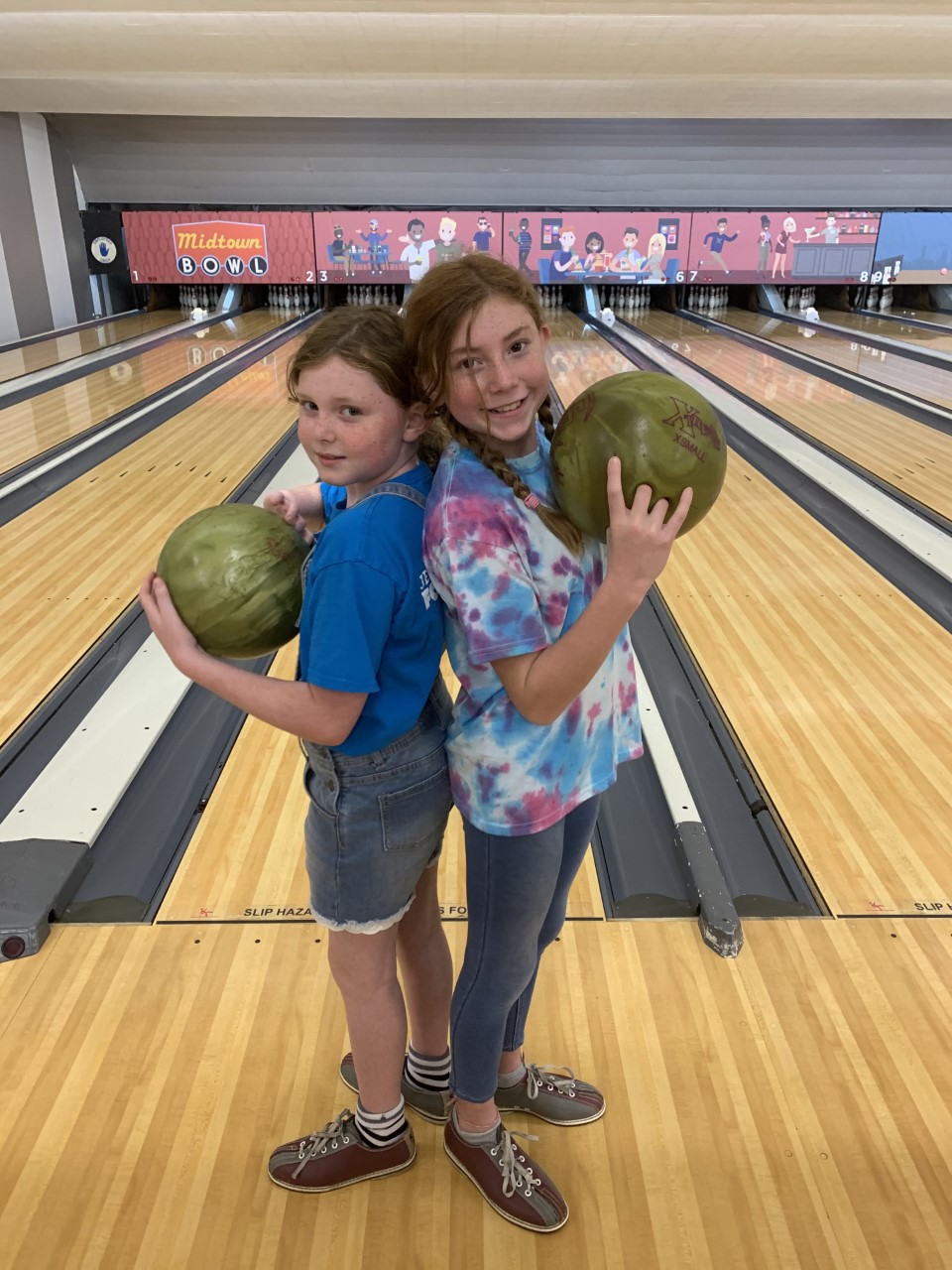 Not far from Cheshire Bridge Road and close to Fat Matt's Rib Shack, Midtown Bowl is in the heart of this popular 'hood. Thirty-two lanes await, along with craft beers from rotating breweries and a menu that includes burgers, hot dogs, pizza, wings and more.
Where: 1936 Piedmont Circle NE
Painted Duck
Situated near 10th Street, the Painted Duck offers games, games and more games including duckpin bowling, Belgian feather bowling, horseshoes, shuffleboard, toad in the hole, snookball and knuckleball. Try duck phat fries, French bread pizza, Cobb salad or something skewered on the barbie.
Where: 976 Brady Ave. NW
The Painted Pin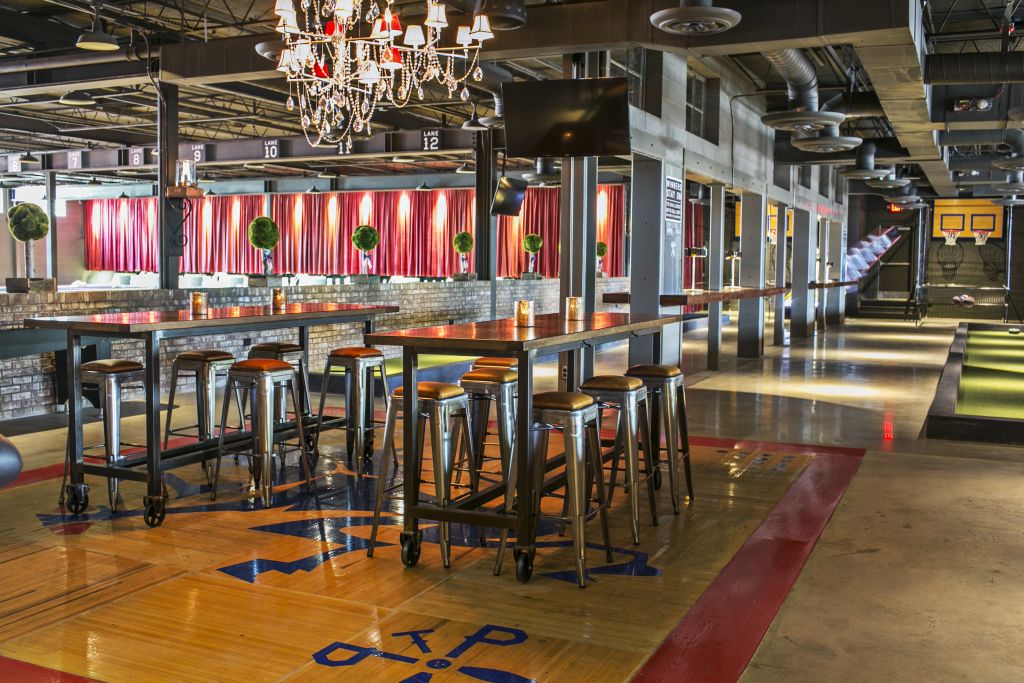 If Buckhead is your locale, find The Painted Pin on Miami Circle. Of course, you can bowl; you also can play bocce ball, Ping-Pong, skittles, darts, Giant Jenga and ring toss. Order Cajun boiled peanuts or ranch and cheddar pork rinds then chase it with fried oyster sliders or your choice of tacos. Save room for rum raisin bread pudding bites. 
Where: 737 Miami Circle NE
Golf Games
Topgolf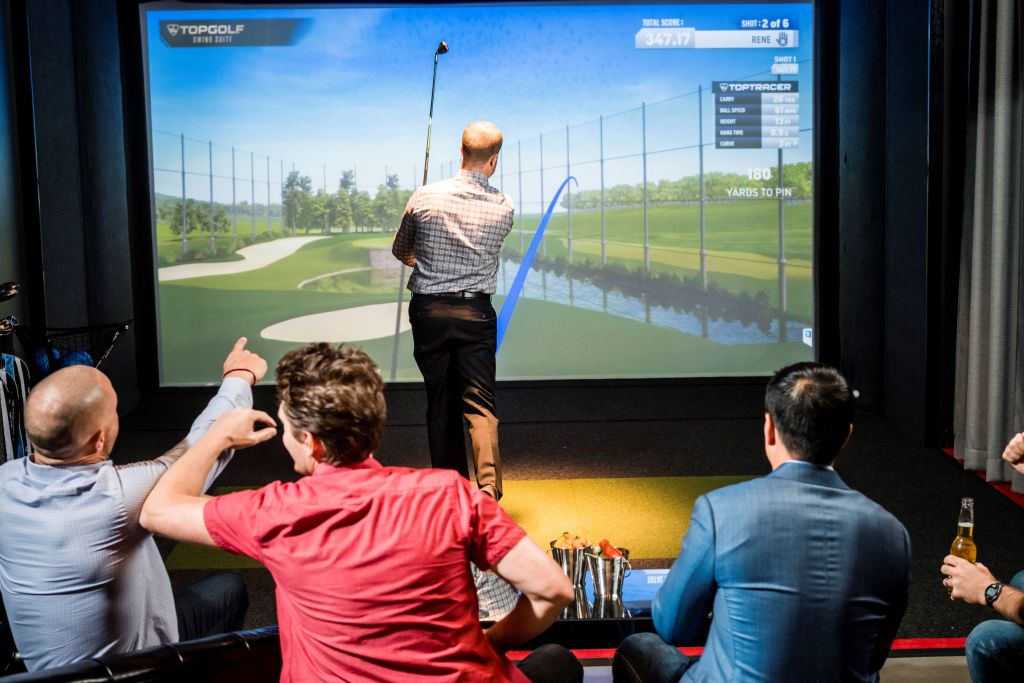 Think you're a golf klutz? No worries. Topgolf has games for all levels — beginner, intermediate and advanced. There's even an Angry Birds game. When you work up an appetite, consider bites and shareables, burgers, salads, even breakfast. Jon Rahm's got nothing on you (Well, maybe a little).  
Where: 1600 Ellsworth Industrial Blvd. NW
Puttshack
Puttshack is an entertainment venue, which boasts that it takes miniature golf to a whole new level through technology. Natch, you can get both food and drink there (to refresh you after an exhausting game of minigolf). It's on the Westside.
Where: 1115 Howell Mill Road
Carnival Games
The Roof at Ponce City Market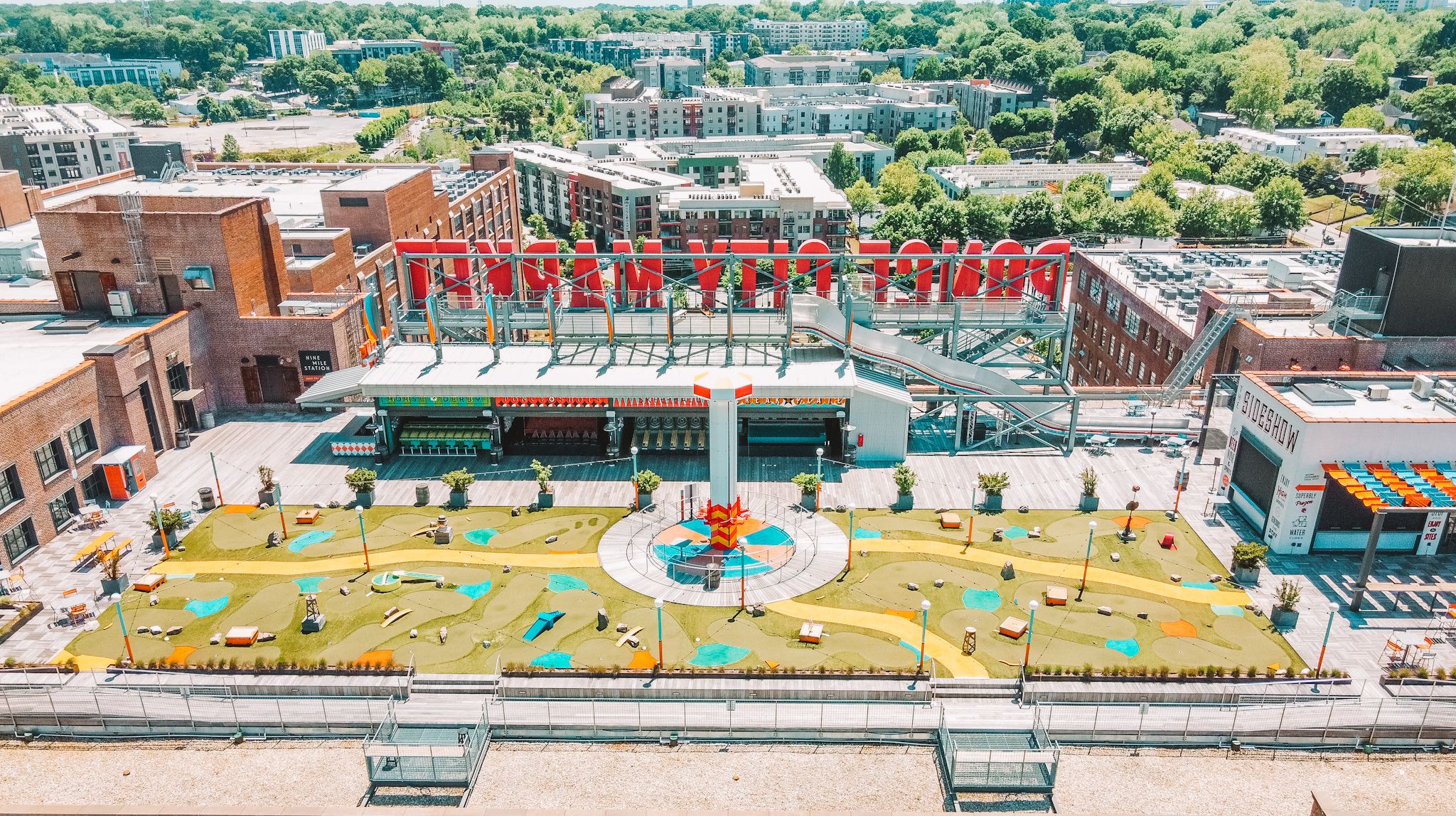 You can eat and shop at ground level or on the upper floor at Ponce City Market. Or you can go up, up, up to the roof where you'll find Skyline Park with eats and drinks and, yay, carnival games. Try your luck at boardwalk-type games such as miniature golf, Skee-ball, horse derby race and break-a-plate. Hop a ride on a three-story slide or the Heege Tower then celebrate food and drink at 9 Mile Station.
Where: 675 Ponce de Leon Ave. NE
Shuffleboard, Darts and More
Arcadia at Red Door Tavern
The Red Door Tavern has been a mainstay in Buckhead for 16 years. To celebrate its staying power, the tavern recently added an arcade. Stop by for a brew; stay for a game or three.
Where: 3180 Roswell Road NW
Flight Club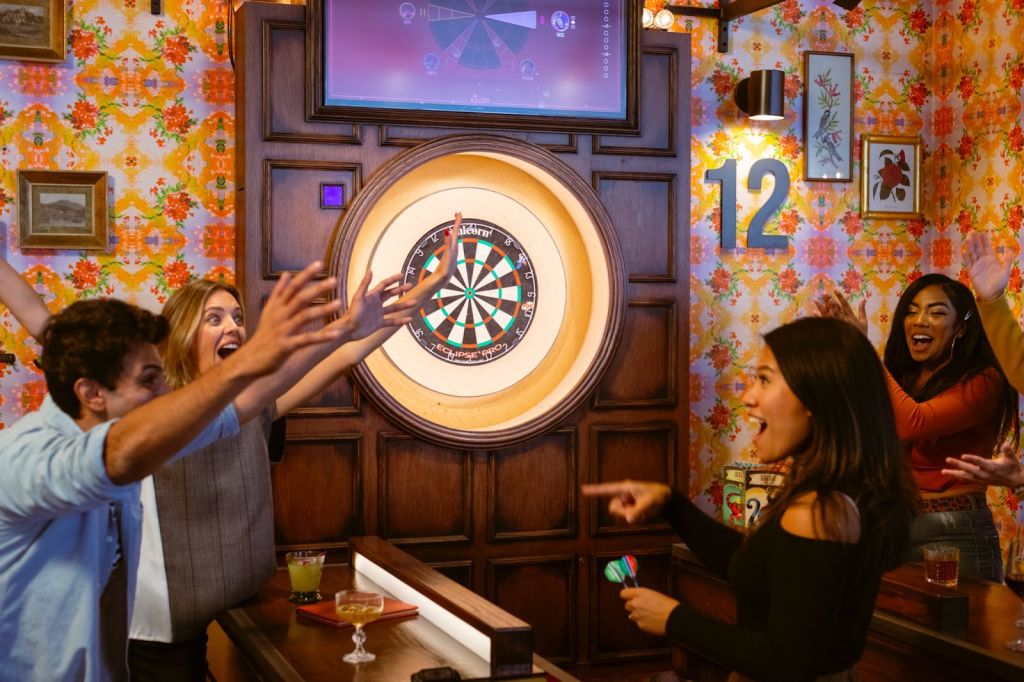 At Flight Club, they call it Social Darts — definitely not your father's darts game. Flight Club offers six games for up to 12 people to play simultaneously. There are three throw lines (rookie, regular and pro). Rumor has it that Social Darts is a perfect group activity for both darts rookies and darts veterans.
Where: 1055 Howell Mill Road
Ormby's
Ormsby's is an Atlanta neighborhood tavern, and, as the folks there like to say, "It's a good place to be." It's also a good place to play games. Here's what's on the game menu: backgammon, bocce, darts, pool and shuffleboard. You can get a beer-dipped pretzel from the starters menu. There's an arugula Caesar salad. On the entrees menu, consider Panhandle Mac & Cheese or taco plate of the day. Ormsby's serves lunch and dinner plus plenty of drinks.
Where: 1170 Howell Mill Road
Joystick Gamebar
Among the old-school gaming cabinets at Joystick Gamebar are the following: California Speed, Crazy Taxi, Mortal Kombat, Frogger and X-Men. There are many more. Also available are the following: pinball, foosball and board games. Grab a cocktail, a slushie or a soda and have fun.
Where: 427 Edgewood Ave. SE
Your 3rd Spot
The question is: "What CAN'T you do at Your 3rd Spot?" You can eat. You can drink. You can bring he kiddos during the day, but you must get a sitter if you're coming after 5 p.m. What can you do? There are 60 games, so boredom will not be a problem. To name but a few, there are arcade games and table games (shuffleboard, air hockey, foosball). There are low-tech games such as giant Jenga and giant Connect 4. There's pinball and cornhole and darts. Etcetera. When you get hungry, try blue crab fritters or market oysters. Then stop by the peanut butter truffle bar.
Where: 400 Chattahoochee Row
Football plus Bowling = Fun
Fowling Warehouse
This is a gaming location that combines football with bowling. When you party here, you'll be known as a fowler. In addition to the game and lots of TVs, enjoy food and drink.
Where: 1356 English St. NW
Virtual Reality
Revery
Cocktails, virtual reality (VR) and live DJs — that is what to expect at Revery. If VR is your thing, Revery offers cloud rooms that seat up to five and a cloud room and dream room that seats 10 to 12.
Where: 728 Monroe Drive NE
Ax Throwing
Atlanta Axe Throwing
Atlanta Axe Throwing is located at The Works ATL. The venue shares the space with Fox Bros. Bar-B-Q and Dr. Scofflaw Brewing so you can eat and enjoy a brew.
Where: 206 Chattahoochee Row.
For plenty more things to do in Atlanta, Get Your Game On at These Atlanta Restaurants and Bars, and visit our events page. If facts and factoids are more your thing, find out Where to Play Trivia in Atlanta.
Discover More
Get to know Atlanta, and discover the best things to do around the city.