Chill Out at Atlanta's Game Bars and Bowling Alleys
Whether you're a born competitor or just like to relax by playing games with friends, Atlanta has a gaming spot for you. There's miniature golf, carnival games, bowling and plenty more. The choice is yours.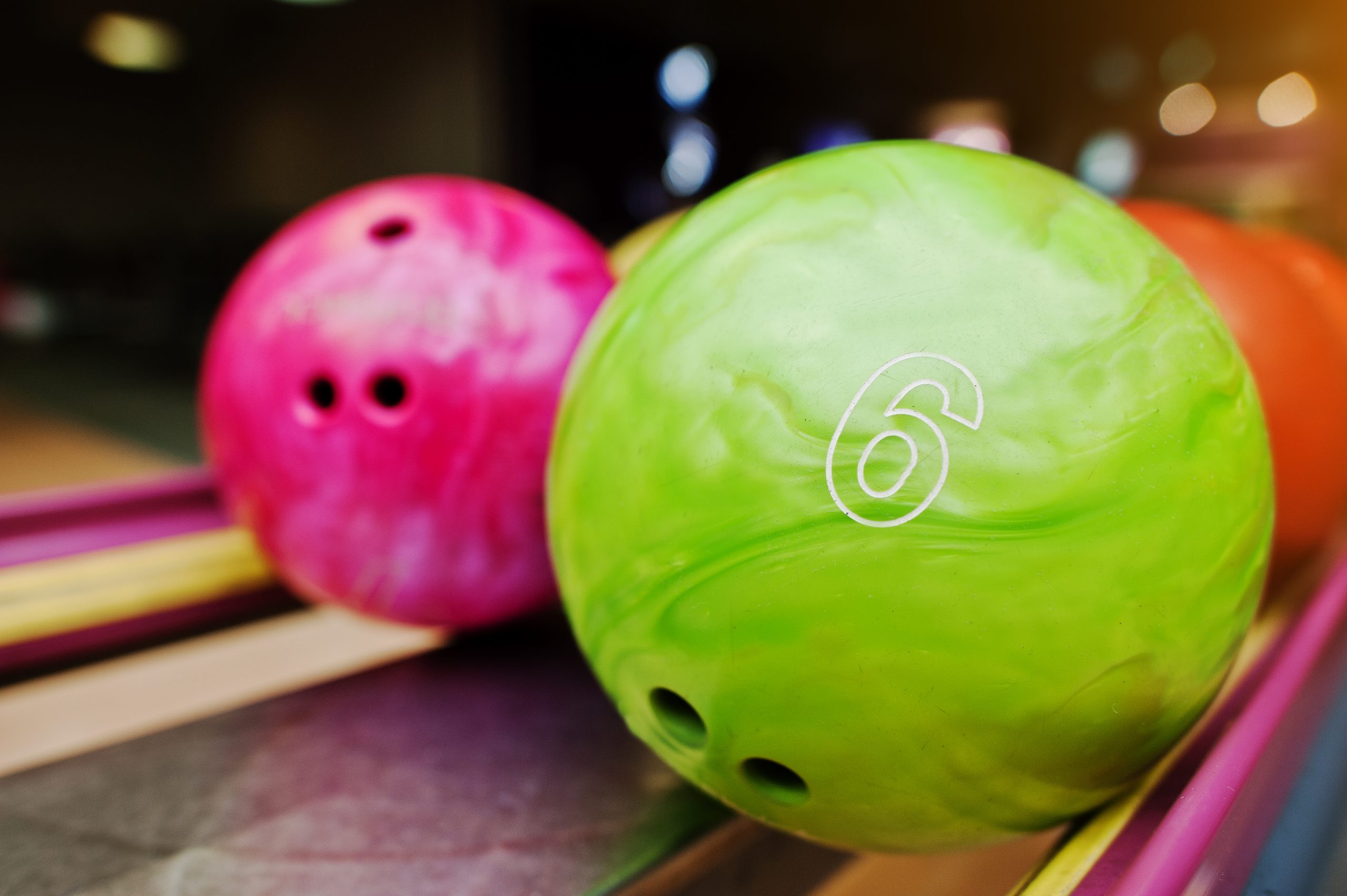 Bowling
Can you break 100? No worries if you can't. Bowling is fun even if you throw more gutter balls than strikes. Spare a moment to consider these bowling alleys in Atlanta:
Bowlero Bowl
Perfect for the intown crowd, Bowlero Bowl resides at Atlantic Station. The lanes feature black lights and comfy seats. To top it off, there's an arcade with games galore and a sports bar for sipping wine or downing a brew while watching the big game.
Location: 261 19th St NW Suite 1150 Suite 1150, Atlanta 30363
Midtown Bowl
Not far from Cheshire Bridge Road and close to Fat Matt's Rib Shack, Midtown Bowl is in the heart of this popular 'hood. Thirty-two lanes await, along with craft beers from rotating breweries and a menu that includes burgers, hot dogs, pizza, wings and more.
Location: 1936 Piedmont Circle NE, Atlanta 30324
Painted Duck
Situated near 10th Street, the Painted Duck offers games, games and more games including duckpin bowling, Belgian feather bowling, horseshoes, shuffleboard, toad in the hole, snookball and knuckleball. Try duck phat fries, French bread pizza, Cobb salad or something skewered on the barbie.
Location: 976 Brady Ave. NW, Atlanta 30318
Painted Pin
If Buckhead is your locale, find Painted Pin on Miami Circle. Of course, you can bowl; you also can play bocce ball, ping-pong, skittles, darts, giant Jenga and ring toss. Order Cajun boiled peanuts or ranch and cheddar pork rinds then chase it with fried oyster sliders or your choice of tacos. Save room for rum raisin bread pudding bites.
Location: 737 Miami Circle NE, Atlanta 30324
Golf Games
Topgolf
Think you're a golf klutz? No worries. Topgolf has games for all levels — beginner, intermediate and advanced. There's even an Angry Birds game. When you work up an appetite, consider bites and shareables, burgers, salads, even breakfast. Phil Mickelson's got nothing on you (Well, maybe a little).
Location: 1600 Ellsworth Industrial Blvd. NW, Atlanta 30318
Puttshack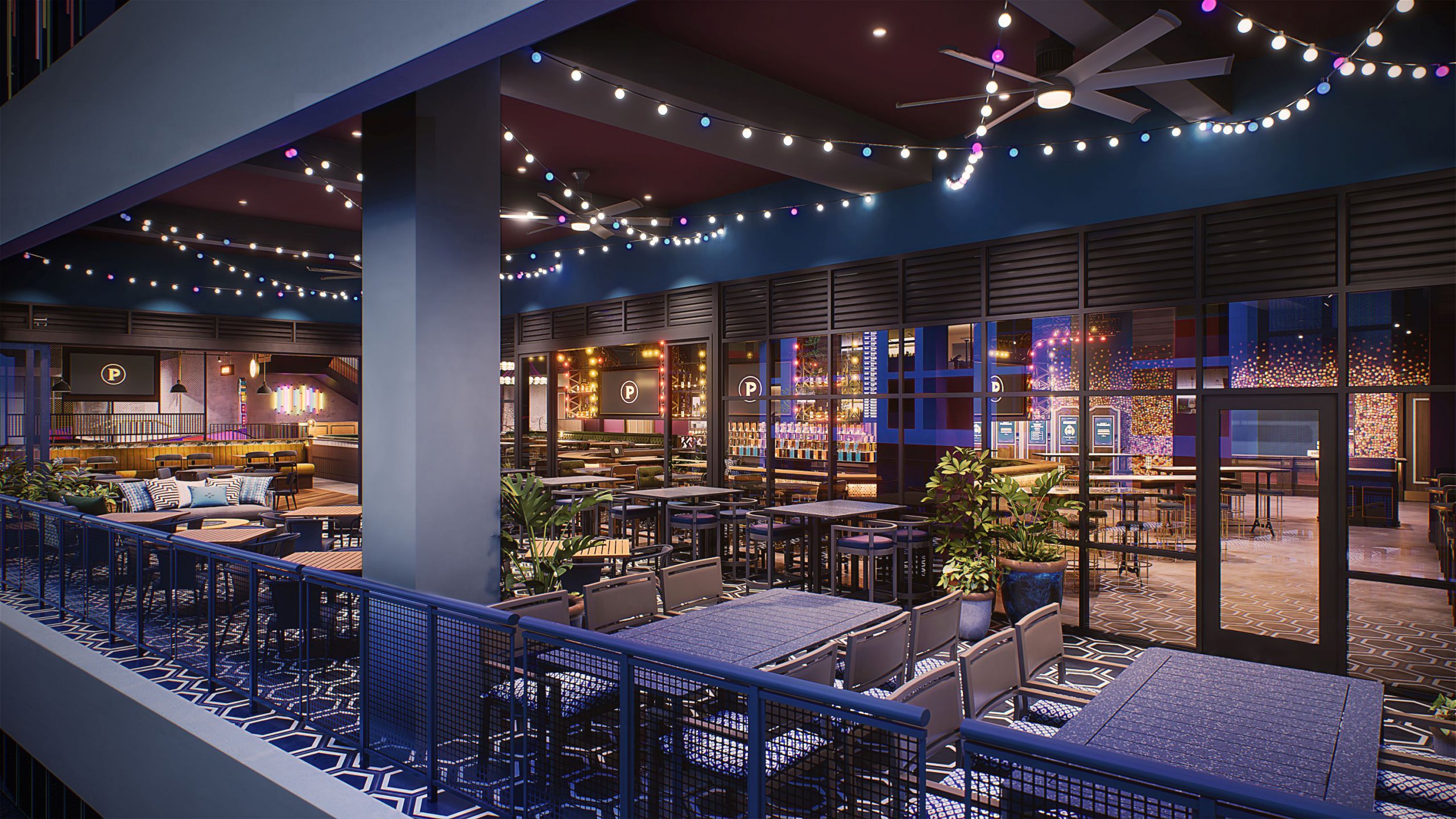 Atlanta is Puttshack's first U.S. location. It's an entertainment venue, which boasts that it takes miniature golf to a whole new level through technology. Natch, you can get both food and drink there (to refresh you after an exhausting game of mini-golf). It's on the Westside.
Location: 1115 Howell Mill Road, Atlanta 30318
Carnival Games
The Roof at Ponce City Market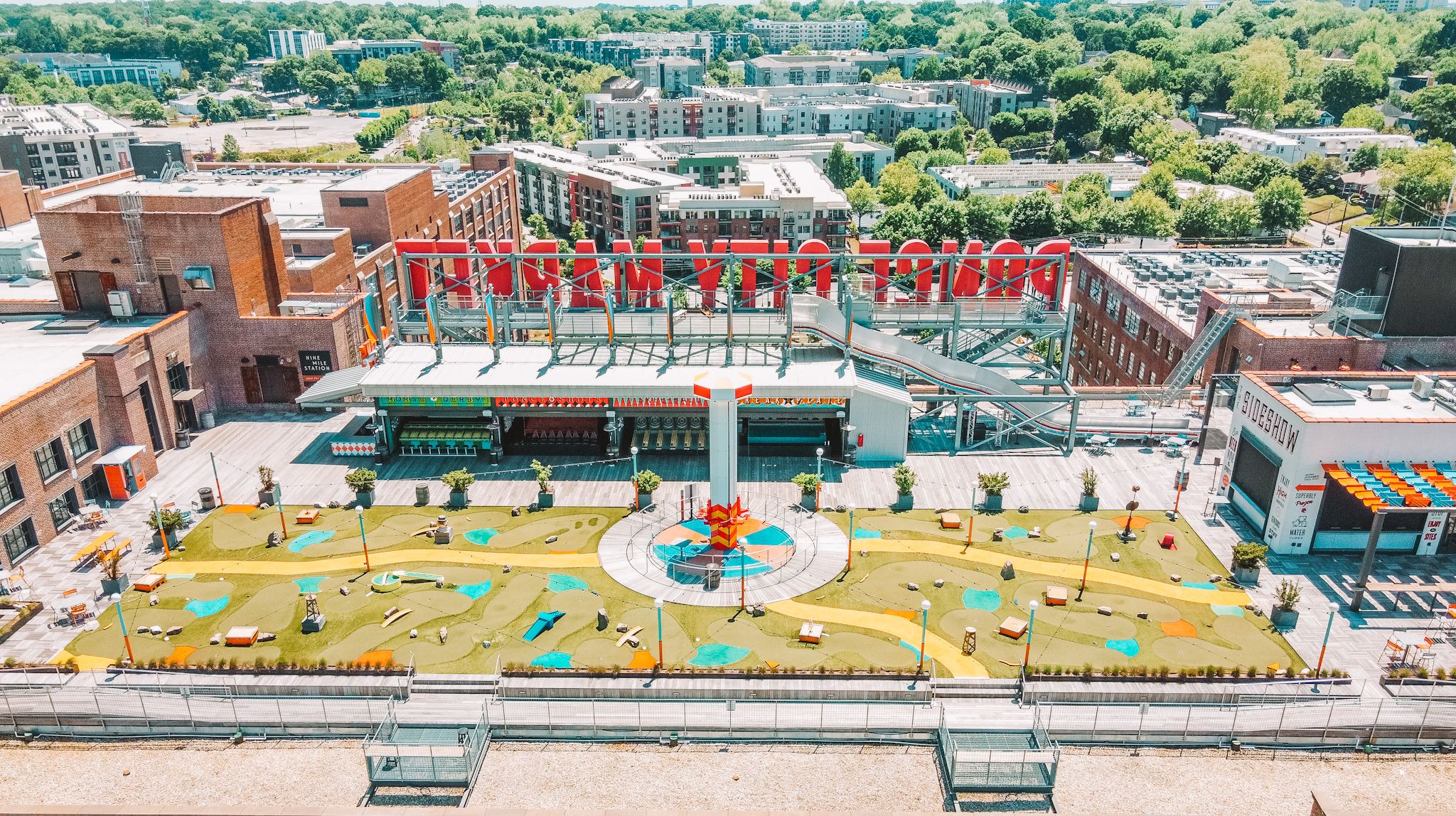 You can eat and shop at ground level or on the upper floor at Ponce City Market. Or you can go up, up,up to the roof where you'll find Skyline Park with eats and drinks and, yay, carnival games. Try your luck at boardwalk-type games such as miniature golf, skee-ball, horse derby race and break-a-plate. Hop a ride on a three-story slide or the Heege Tower then celebrate food and drink at 9 Mile Station.
Location: 675 Ponce de Leon Ave. NE 30308
Games of all Shapes and Sizes
Game X
Right now, you can book a private party at Game X. Hopefully, this popular spot will reopen to the public soon. Inside you'll find more than 60 high-tech arcade games as well as some retro classics. You can take a break at one of the two full bars, order a plate of nostalgic food and relax in the lounge.
Location: 275 Baker St., Atlanta 30313
Shuffleboard and More
Ormsby's
Ormsby's is an Atlanta neighborhood tavern, and, as the folks there like to say, "It's a good place to be." It's also a good place to play games. Here's what's on the game menu: backgammon, bocce, darts, pool and shuffleboard. You can get a beer-dipped pretzel from the "snackie" menu. There's a cilantro lime salad. On the entrees menu, consider Panhandle Mac & Cheese or taco plate of the day. Ormsby's serves lunch, rotating beers, and, not only does Ormsby's offer Scotch, it serves up a whole lesson on more than you thought you would ever know about it.
Location: 1170 Howell Mill Road, Atlanta 30318
Football plus Bowling = Fun
Pin & Proper
Pin & Proper is an 8,600-square-foot indoor gaming and entertainment venue specializing in Pinfall, a football-bowling hybrid. Two teams set up bowling pins across from one another and take turns to knock each other's pins down by throwing a football. The first team to knock down all of the opposing team's pins wins. Also available at Pin & Proper are corn hole, giant Jenga and giant Connect 4. And, yes, food and drink are available, too.
Location: 1039 Grant St. SE, Atlanta 30315
Fowling Warehouse
This is another gaming location that combines football with bowling. When you party here, you'll be known as a fowler. In addition to the game and lots of TVs, enjoy food and drink.
Location: 1356 English St. NW, Atlanta 30318
Ax Throwing
American Axes, Axe Throwing Atlanta, Civil Axe Throwing
Yes, it is a thing these days. Reportedly, ax throwing is an excellent team-building activity. There are coaches to help you, um, put an edge on your technique. Word to the wise: Venues remind you to leave your open-toed shoes at home.
Locations: American Axes, 206 Chattahoochee Row, Atlanta 30318. Axe Throwing Atlanta, 306 Auburn Ave., Atlanta 30303; and Civil Axe Throwing, The Beacon Atlanta, 1039 Grant St. SE 30315.
For plenty more things to do in Atlanta, Get Your Game On at These Atlanta Restaurants and Bars, and visit our events page.
Discover More
Get to know Atlanta, and discover the best things to do around the city.