Top Black-Owned Cocktail Bars and Hangout Spots in Atlanta
If there is one thing Atlanta knows how to do well, it's nightlife. The city teems with nightclubs and lounges — everything from upscale and swanky to cool and casual. For something a little more mellow, check out some of Atlanta's best cocktail bars. Here is a list of Atlanta's best Black-owned cocktail bars plus a few hangouts to check out while you're in Atlanta.
Bar Vegan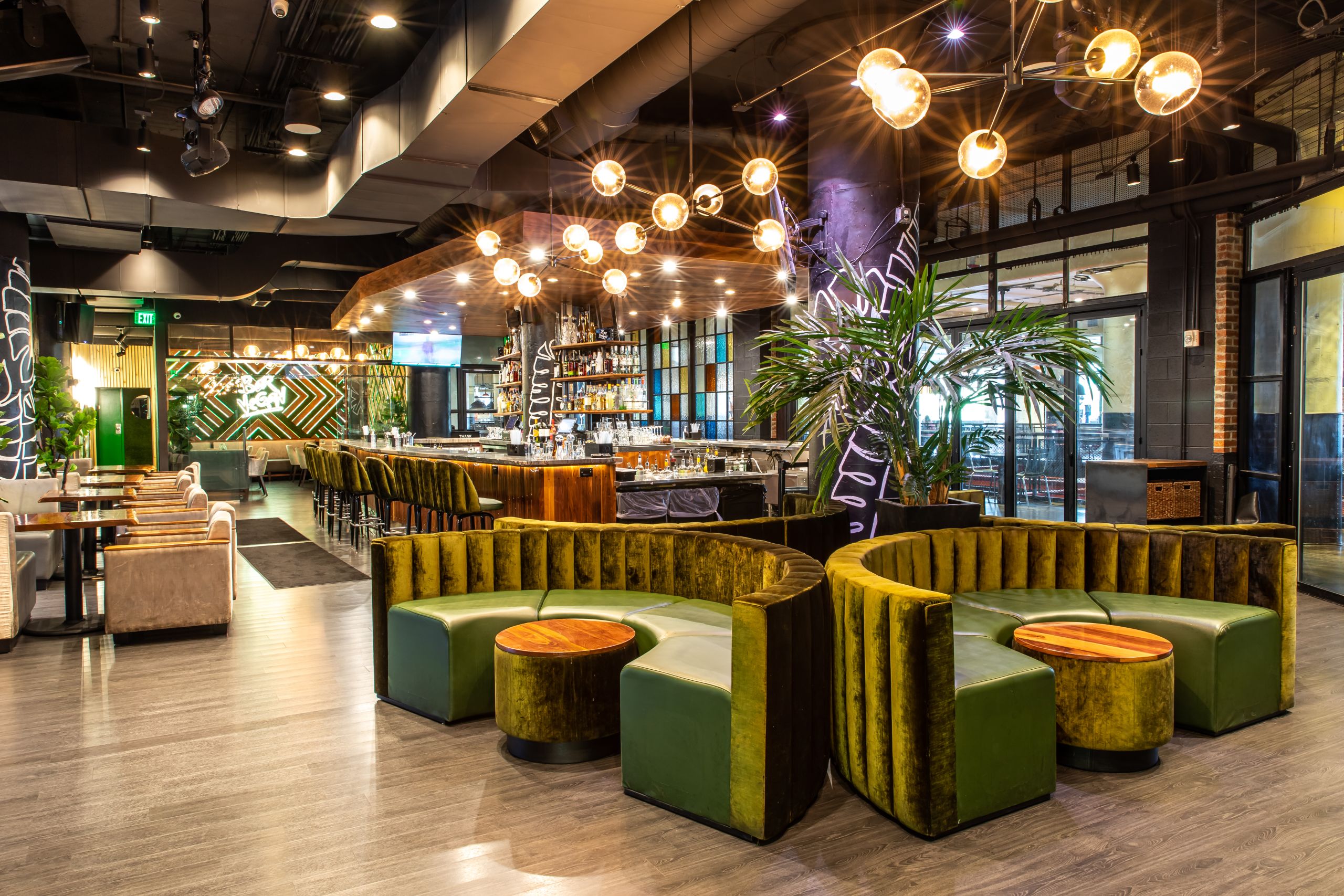 Ever had your sips served in a fire extinguisher or a Ferris wheel? Or what about a gas can or a bank safe with musical sound bites? No? Then you should absolutely head over to Ponce City Market and pull up a chair at Bar Vegan for a twist on some of your favorite classic cocktails. The owner of Atlanta's famed Slutty Vegan is back with an experiential restaurant and cocktail bar that is serving up tableside elixirs with dramatics and theatrics. Indulge in classics like an Old-Fashioned or lemon drop martini, or tantalize your taste buds with a signature cocktail like the Strawberry Bourbon Smash, Fancy Pants or Rise Up. If you prefer non-alcoholic libations, Bar Vegan has a menu of mocktails. Soak it all up with vegan bites that won't make you feel guilty for having seconds or thirds. Cauliflower wings, vegan eggrolls and Philly chili cheesesteaks are fan favorites.
Where: 675 Ponce de Leon Ave. NE
BlaqHaus ATL
Blaqhaus North Hollywood (NoHo) was so popular that the owners duplicated the formula, opening BlaqHaus ATL. The culture of Atlanta is woven into every aspect of the restaurant/cocktail/hookah bar, from Southern staples like shrimp and grits or chicken and waffles, served on the brunch menu, to signature cocktails like Southern sangria. Want a drink that feels like Sunday morning on the beach? Try the Diddy Bop. For a tried-and-true classic with a fruity twist, the Lemon Drop the Mic may be your tipple of choice. Of course, you can't talk about Georgia without mentioning peaches. That calls for the Peach Perfectionist and Peach Bellini Swirl.
Where: 16 Atlanta St. SE, Marietta
Boogalou Restaurant & Lounge
Looking for a good Black-owned happy hour spot in Atlanta, or somewhere to grab a cocktail and catch up with a friend? Boogalou Restaurant & Lounge delivers on all fronts. Head to Boogalou for happy hour, Tuesday through Friday, and indulge in $3 house liquor and $5 margaritas, martinis, Long Islands and wine. Pull up a stool at the bar or hop into one of the Instagrammable bar swings and vibe out to good music and great drinks. If you'd rather have a little more stable seating, opt for one of the comfy tufted velvet booths. You've got to try the D, one of Boogalou's most popular drinks, made with Absolut Peach Vodka, 151 rum, peach schnapps, pineapple juice, sour bitters, grenadine and fresh lime juice. Sip slowly, because this is one that will definitely sneak up on you.
Where: 239 Ponce De Leon Ave NE
Continent Restaurant & Cigar Lounge
Experience the fusion of hand-crafted cocktails and swanky vibes at Continent Restaurant & Cigar Lounge. Get "lit" with the signature Continent Punch cocktail, which comes adorned with a flaming lime. Escape the woes of the world with the Henney-Thyme Henney Place concoction or soar with the Crown Royal Cocktail Flight. Toast the city's most famous street with The Peachtree, made with highland Tequila Deleon reposado, creme de peche, Scotch bonnet honey, lemon juice, grilled peach and mint garnish. On the menu are ​​Afro-Caribbean and Asian-inspired dishes served up by Hell's Kitchen contestant Scotley Innis. Top it all off in the cigar lounge and humidor filled with your choice of rare tokes.
Where: 4300 Buford Highway NE, No. 201-202
Parlor Cocktail Den
It's 5 o'Scotch somewhere, right? That means it's always a good time to cruise over to the Castleberry Hill district and pull up to Parlor Cocktail Den for signature cocktails and small bites. The intimate lounge is outfitted in jewel tones and draped with a 19th-century appeal that pays homage to the African American culture. Guests can cozy up on plush velvet sofas and drink in the moment. This space provides a more mellow escape with curated R&B and jazz play lists. Some nights offer live music or a DJ.
Where: 249-A Peters St. SW
​​Revery VR Bar
Cocktail bar meets metaverse? Sign us up, please. In case you missed the memo, it is all about the metaverse these days, and Atlanta has a Black-owned, first-of-its-kind virtual reality (VR) bar that will immerse you in a world beyond. Borrowing from the pages of Korean noraebangs (aka karaoke rooms), Revery VR Bar allows visitors to book semi-private or private rooms for an otherworldly VR experience. You may incite mayhem with games like Drunkn Bar Fight, boogie to the beat with Beat Saber or have your mind boggled with puzzle-based games. Whether you're a professional gamer or a newbie to VR, on a date or hanging out with friends, there's something for everybody. It doesn't hurt that this super fun VR bar also doubles as a pretty awesome cocktail bar with sparkling cocktails on draft and signature sips. Get there early for the VR experience (6 to 10 p.m.), stay late for the partying (10 p.m. to 2 a.m.).
Where: 728 Monroe Drive NE, Suite C
TEN ATL
Live music? Jazz jam sessions? Happy hour comedy shows? There isn't a better place to indulge, taste and play than TEN ATL. Whether you roll through on a Monday or wind down on a Wednesday, a good time awaits this new hot spot in East Atlanta Village. Ditch the regular date night plans of dinner and a movie and opt for something a little more sultry. You'll be e serenaded by the smooth sounds of some of Atlanta's finest artists. If shisha is your thing, TEN ATL has a full menu, along with delicious cocktails.
Where: 495 Flat Shoals Ave. SE
The James Room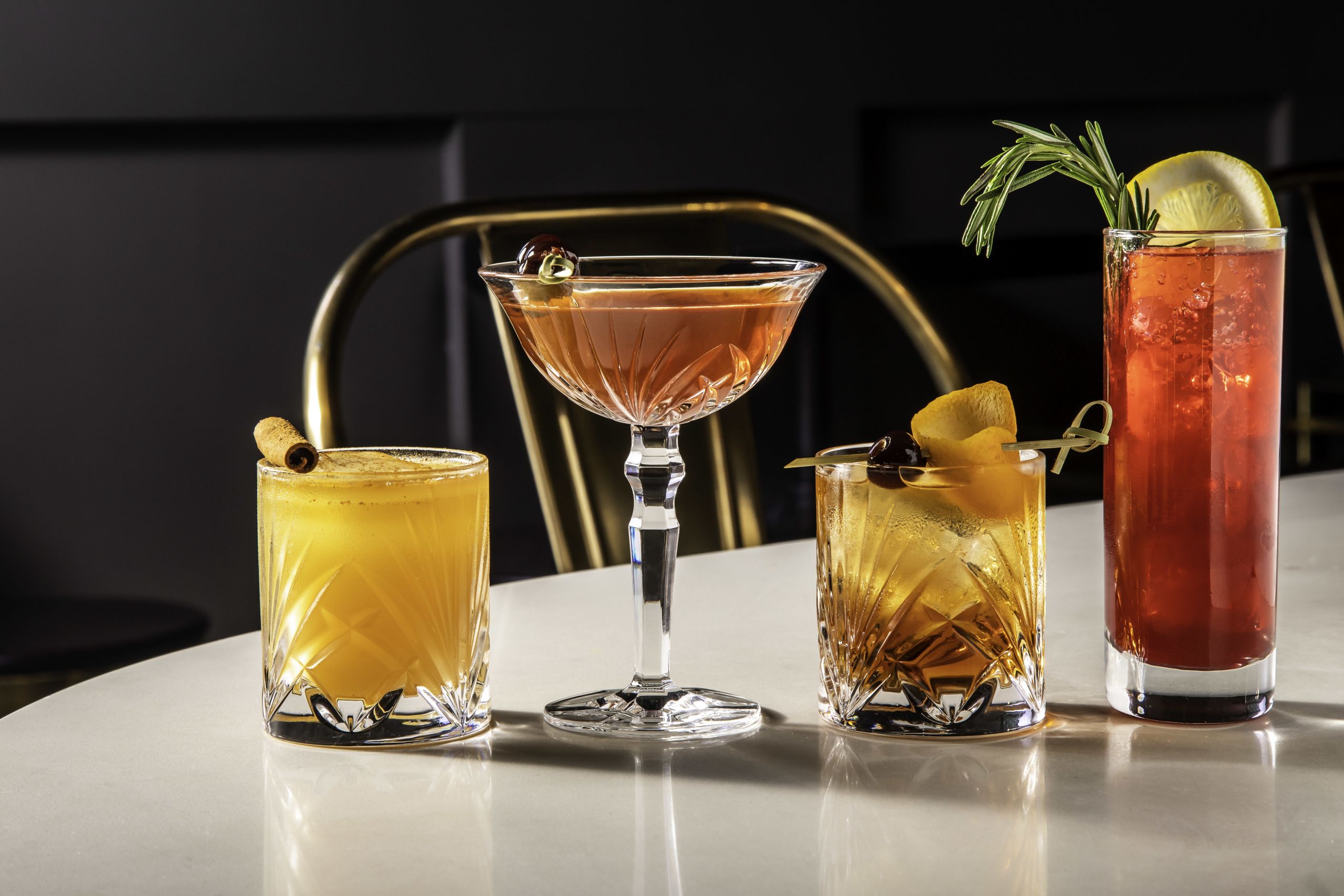 This Atlanta BeltLine gathering spot is a patisserie by day, serving up sweet treats like Oreo macarons. And just behind the case housing these delights is a door that leads to a seductive cocktail bar by night. Dim lights illuminate the deep mahogany and forest green accents, creating a speakeasy atmosphere. Cozy seating makes it easy to spend hours drinking in the good vibes over cocktails. The music is carefully curated to ensure the ultimate experience.
Where: 661 Auburn Ave. NE, Suite 280
Other Cool Hangouts
Drawbar
The scenic rooftop bar Drawbar offers more than 25 cocktails and more than 250 spirits. Located on the third floor of Bellyard Hotel, Drawbar is not your typical hotel lobby bar. The sophisticated space is filled with cozy seating for mixing and mingling, and it's perfect for you and your happy hour crew. The real gem is the terrace overlooking 14th Street. Enjoy colorful cocktails and elevated bites to either kick off your night or wind it down. In the same building, you'll find Puttshack, a tech-infused minigolf experience. You can make it one epic night of fun all in one location.
Where: Bellyard Hotel, 1 Interlock Ave. NW
Hotel Clermont Rooftop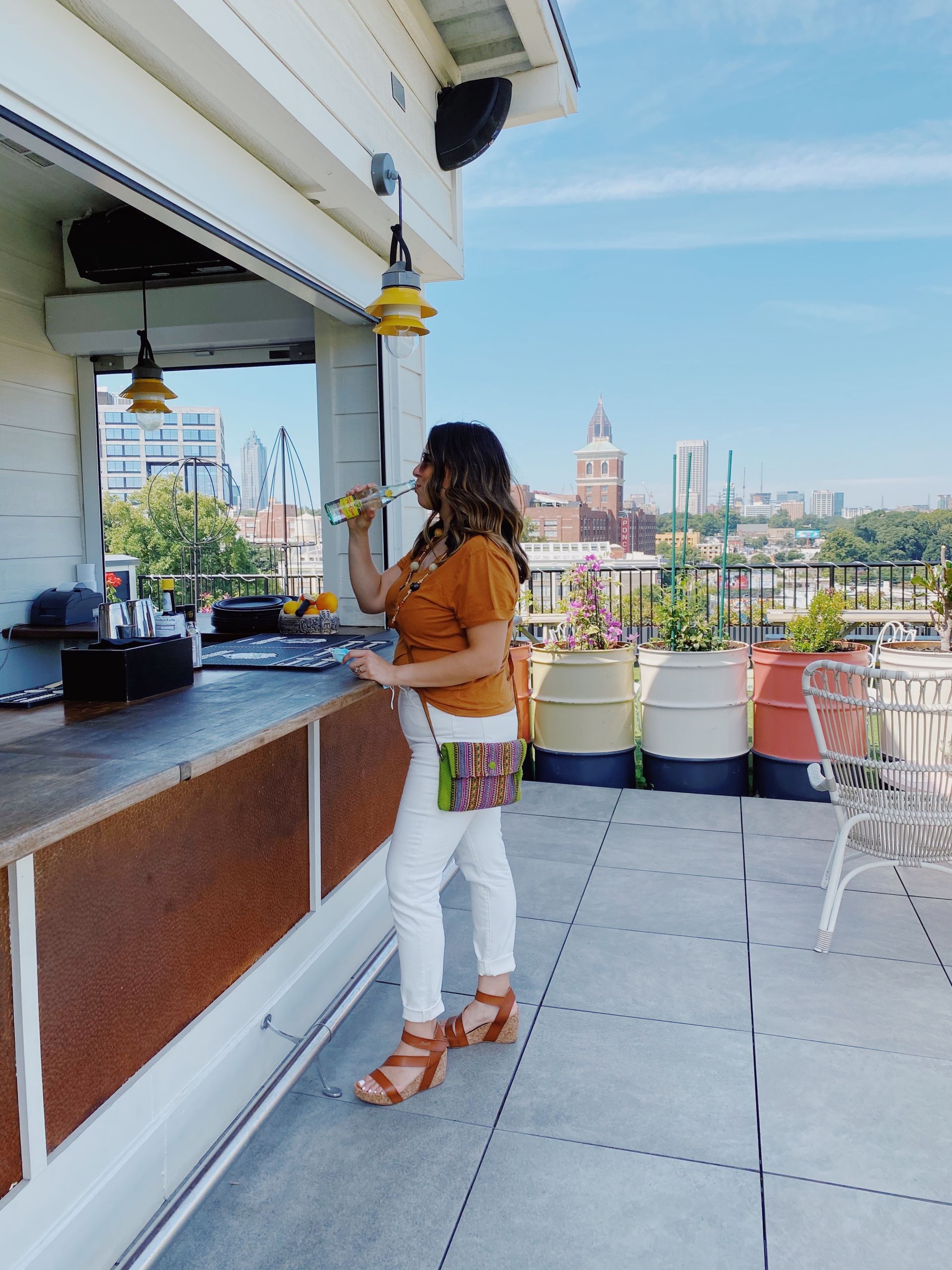 Frosé all day, you say? You're going to love slurping them down as a cool respite from the summer on The Rooftop at Hotel Clermont, one of Atlanta's most popular boutique hotels. You may be in the heart of the city, but the tiki-inspired drinks will make you feel like you're on a tropical getaway. The Astroturf rooftop, lined with string lights and dotted with lawn games, gives playful-retro vibes, and the panoramic views aren't too shabby either. Whether you're looking for fun with friends or a cute rooftop date night idea, Hotel Clermont Rooftop is your place.
Where: Hotel Clermont, 789 Ponce De Leon Ave. NE
RT60 Rooftop Bar by Reverb Hard Rock
Summertime is upon us and you know what that means — it's rooftop season. One of Atlanta's newest rooftop bars, RT60, is making its way up the list as a fan favorite. When a rooftop bar is located within the Reverb Hotel by Hard Rock you know it's going to be a good time with some great music. You can expect to see nightly live performances or a live DJ while sipping sundowners and taking in views of the skyline and Mercedes-Benz Stadium. RT60 is perfect for locals and travelers who are looking for a cool hangout complete with bird's-eye view of the city.
Where: 89 Centennial Olympic Park Drive NW
Skyline Park
You can't make a trip to Atlanta and not visit Ponce City Market, your one-stop place to eat, play and shop. High atop the market is Skyline Park, a vintage amusement park perched above the restored 1925 Sears, Roebuck building. The Coney Island-style boardwalk in Midtown Atlanta offers minigolf, a three-story slide and games such as skee ball and goblet toss. Grab a hot dog topped with chow chow, a Southern favorite, and delight in Skyline Park's famous frozen lemonade with Belvedere Vodka. Skyline Park is a playground for people of all ages.
Where: Ponce City Market, 675 Ponce De Leon Ave. NE
The Bar at the Illuminarium
Looking for a mind-blowing sensory experience while you're in Atlanta? Check out the Illuminarium where you'll take a visual journey through the savannas of Kenya, to the moon and beyond or through a dreamlike wonderland with characters such as Cheshire Cat and the Mad Hatter. Illuminarium even features After Dark experiences for adults only. Take advantage of the full bar and tasty tapas during one magical evening.
Where: 550 Somerset Terrace NE
Delve further into Atlanta's nightlife and check our calendar for more things to do in Atlanta.
Discover More
Get to know Atlanta, and discover the best things to do around the city.