Best Holiday Cocktails in Atlanta
Published December 14, 2022
Last Updated February 7, 2023
Experiencing the holiday season in ATL always brings warmth to the soul. Whether or not that warmth is from a hot toddy or spiked hot cocoa from one of the many holiday pop-up bars is up to you. With the endless number of holiday cocktails to discover, we sought to find the best.
Biltong Bar
Try popular menu items like the Chartreuse Hot Chocolate with chartreuse verte, drinking chocolate, amaretto, white chocolate cream and smoked sea salt. The Famous Eggnog is another must-try if you enjoy all the flavors of eggnog with extra spice and spirit.
Holiday Social Bar
You can't go wrong with a holiday beverage in hand while enjoying all the festivities the Roof at Ponce City Market has to offer including fun cocktails at Holiday Social Bar. Try the famous Sleigh Fuel, a spiked coffee eggnog made with Old Grand-Dad Bourbon, plus new holiday-inspired cocktails. The Die Hard is a Christmas Movie cocktail is another fan favorite topped with ginger candies.
Reverence at Epicurean
Epicurean Atlanta has all the options. Reverence Restaurant serves up an Ornamentini consisting of hibiscus-infused vodka, dry curacao, lemon juice and falernum liquor, served in an ornament sphere atop shaved ice and garnished with rosemary. The Early Grey Holiday Toddy is perfect if you enjoy bourbon whiskey, lemon, honey and cinnamon, served warm and steeped with Earl Grey tea. Visit The Office Bar for a delicious Lemon Pound Caketail with rum limon, limoncello, cinnamon and lemon bitters served over ice with a honey and graham cracker crust rim. The Under the Mistletoe is a popular option for tequila lovers.
Tinsel Tavern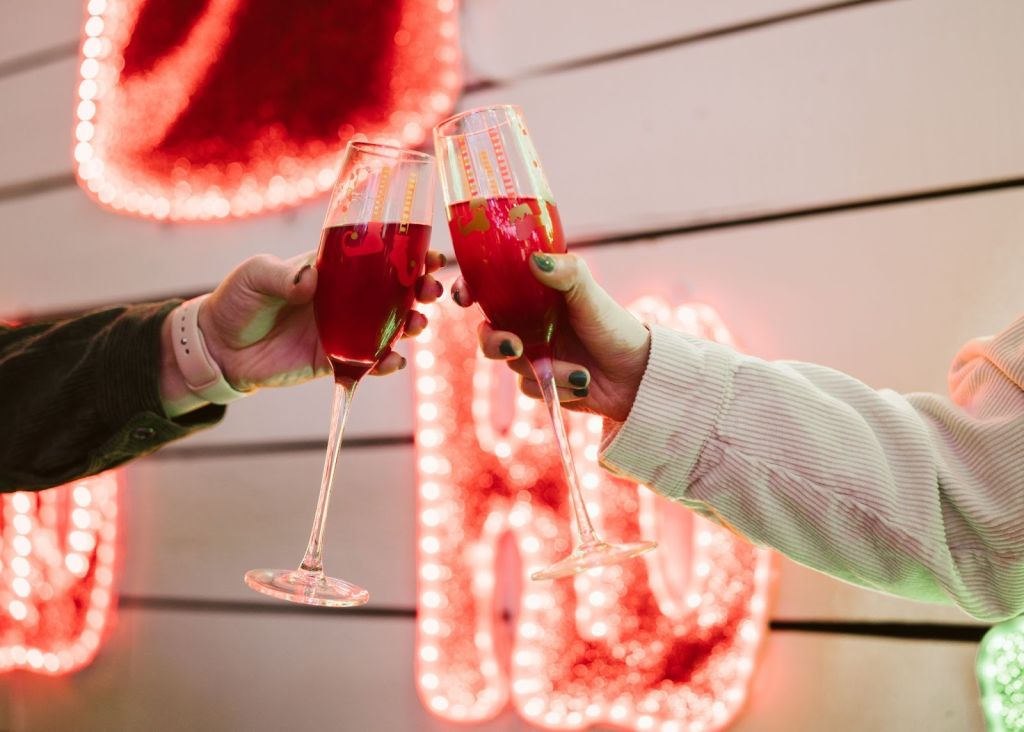 You are sure to have a lively time at Tinsel Tavern. Enjoy all things tangy and sweet with special cocktails like Electric Sex. The Santa-gria is a Christmas spin on a classic red wine sangria. Enjoy the Festivus-Rita if you're a fan of margaritas (the pomegranate flavor adds a festive touch).
Best End – Mingle Jingle
Its time to mingle and jingle at this Best End Brewing Christmas pop-up. The menu is filled with delicious bites to go with tasty holiday cocktails. Some fan-favorite beverages include the School of Hard Nog, Santa Sleigh Bomb and the ever-popular Is Your House on Fire, Clark?
The Select
The Select's winter wonderland is back in full effect. One sip from the festive cocktail menu will put you in the holiday spirit. The Santa's Milk and Cookies cocktail will make your heart sing and your stomach happy. Try the Gingerbread Man if you're in need of a little spice. The Grinch will steal your heart with delicious flavors served with a green candy cane.
Miracle Bar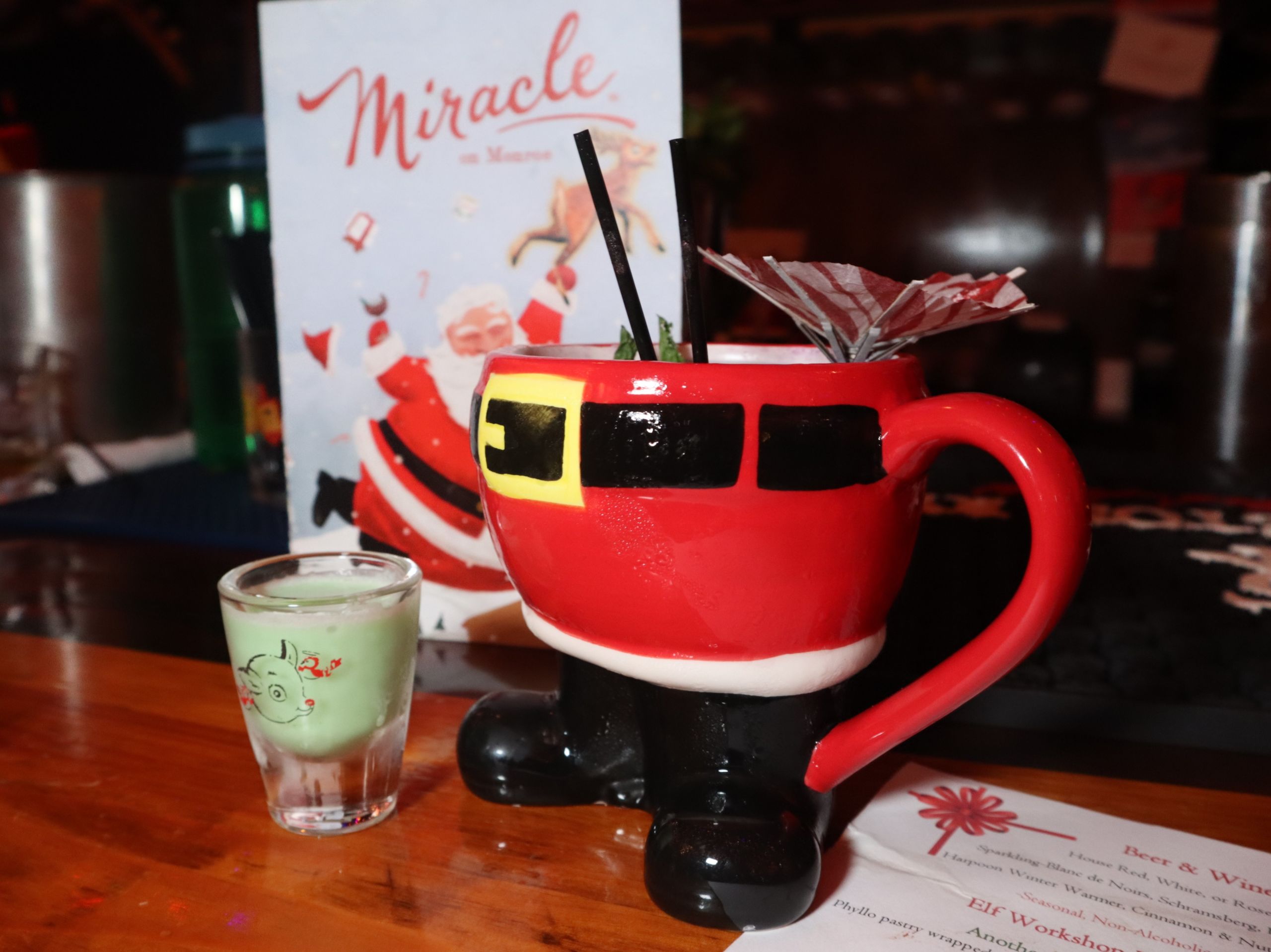 This Christmas-themed pop-up has a menu filled with a variety of holiday cocktails to pair with the festive food menu. The Yippee Ki Yay Mother F****r is a fan favorite with a sweet blend of flavors including rums, pumpkin-almond orgeat, lime and Angostura bitters. Add a kick to your night with a Naughty shot or a Nice shot.
The North Pole
This Colony Square pop-up is all decked out in holiday decor with delicious cocktails to match. The Zacapaccino is great for coffee lovers as it includes Ron Zacapa 23, house cold brew coffee and cream. Whether you're craving a hot or cold cocktail, there's something for everyone.
Superica
You might find Santa's sleigh at Superica with these special cocktails. Try the Christmas Cactus if you enjoy the taste of Blanco tequila, hibiscus liqueur, rosemary syrup, Dolin blanc and lemon. The Pomegranate Margarita can do no wrong. Santa's Sangria has the perfect hint of spiced red wine, brandy and marinated fruit. The Poinsettia is your go-to if you are a fan of cranberry.
Tre vele – Jingle Bar
Jingle all the way to Tre-Vele and experience the holidays at the rooftop patio pop-up. Cozy up by the firepit and enjoy seasonal cocktails out of festive glasses. You might end up staying all night with a heated terrace, a full dining menu and cheerful decor.
The holiday drinks don't stop here. Take the holiday spirit up a notch by visiting some of the best Christmas Pop-Up Bars this season.
Discover More
Get to know Atlanta, and discover the best things to do around the city.