Best Brunch Spots in Atlanta in Every Neighborhood
Atlanta loves a good brunch shared with friends, a variety of foods and, more often than not, delicious cocktails. From a traditional eggs Benedict to shrimp & grits or something more, there is nothing better than a leisurely weekend brunch with friends, great food and, perhaps, a mimosa or three. Prepare for a delicious and satisfying meal at one of these popular brunch spots in Atlanta.
Best Places for Brunch in Buckhead
Did somebody say brunch? From high-end to no-frills, here are some of the best brunch locations in Buckhead.
Dantanna's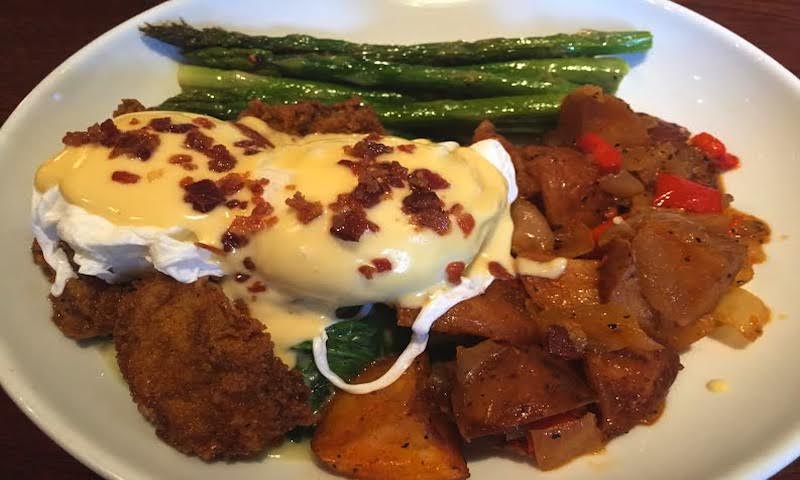 Located adjacent to Lenox Square Mall in the Shops Around Lenox, this Buckhead restaurant is worth writing home about. For one, Dantanna's offers a selection of seafood flown in daily. It also has an awesome build-your-own bloody Mary bar. But we recommend you let the bartender make yours, complete with the made-from-scratch mix. Want a recommendation? Try the poached eggs with fried oysters with Sambuca-creamed spinach. Or get the shirred eggs in tulips (two eggs baked in crepes stuffed with lobster, shrimp, and crawfish in brandy cream sauce).
Where: 3400 Around Lenox Road #304
Goldberg's Deli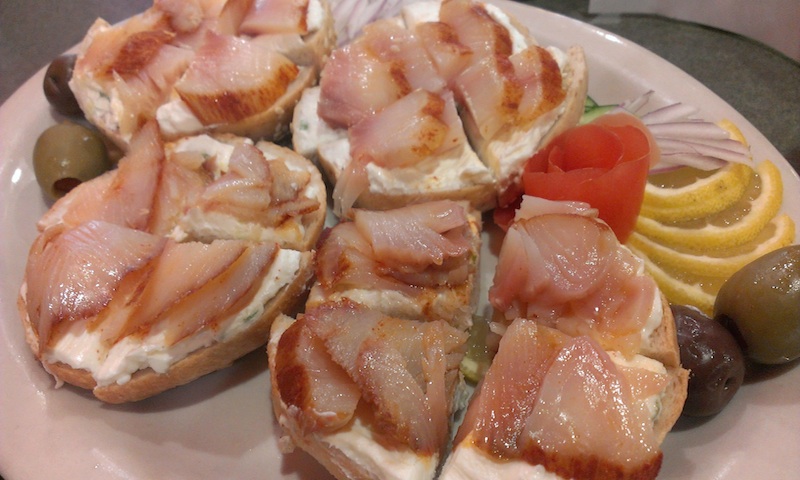 If you are looking for authentic deli, don't miss Goldberg's. From classics like fresh boiled bagels to Reubens and homemade brisket, Goldberg's also mixes it up a bit with whimsical creations like the Reuben egg rolls and bagel beignets.
Where: 4383 Roswell Road NE
Highland Bakery
Highland Baker is a local favorite for a delicious cup of coffee, delectable baked goods and mouth-watering breakfasts. Choose from a variety of tasty Benedicts including fried chicken Benedict or crab cakes Benedict. In addition, Highland is known for cilantro corn pancakes, and you will not want to miss the sweet potato pancakes.
Where: 3343 Peachtree Road NE #130
Joy Café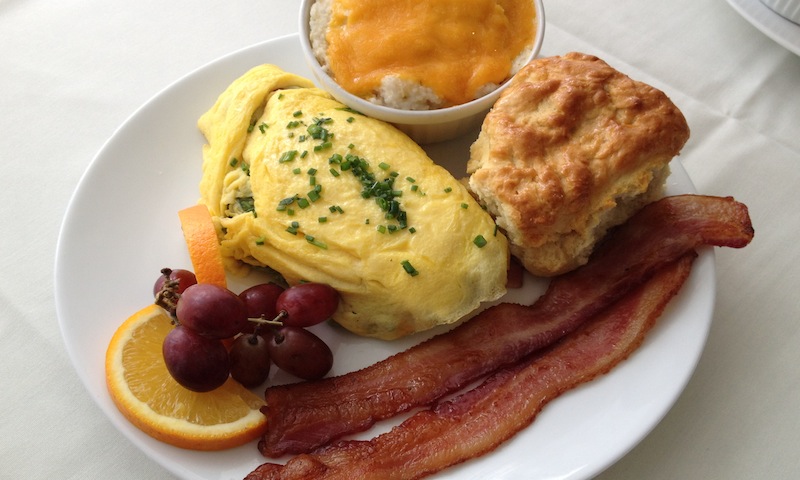 Joy offers simply all the delicious things made from scratch that you can imagine. Our mouths water at the thought of Joy's Big Berry Belgian Waffle or the famous shrimp & grits, but Joy Café has other offerings like classic eggs Benedict, fresh omelets, breakfast sandwiches and salads, too. Want a casual spot for a stick to your ribs, hearty brunch? Joy Café is it.
Where: 1100 Peachtree St. NE #110
Local Three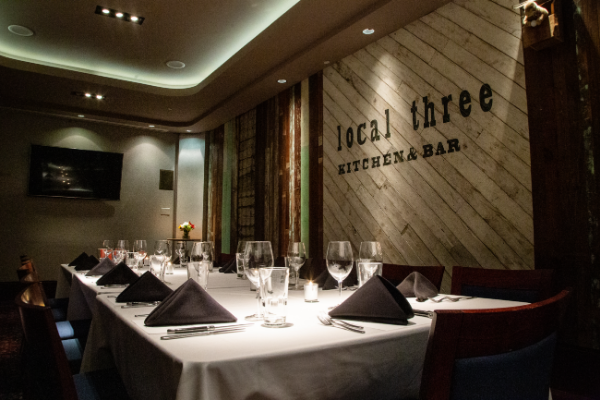 This Buckhead eatery has plenty of great brunch options. Curried chicken salad and biscuits with bacon gravy accompany unique renditions like chocolate chipotle French toast. The brunch menu at Local Three changes weekly based on what ingredients are available. While you sip a mimosa, let the little ones enjoy a cocktail for kiddos. The "Muddy's Puddle" features house ginger beer and pineapple, and the Orange Creamsicle is a sweet combination of Tang, milk and vanilla caramel. So gather the troops and prepare for a brunch banquet to be remembered.
Where: 3290 Northside Parkway NW
THE CHASTAIN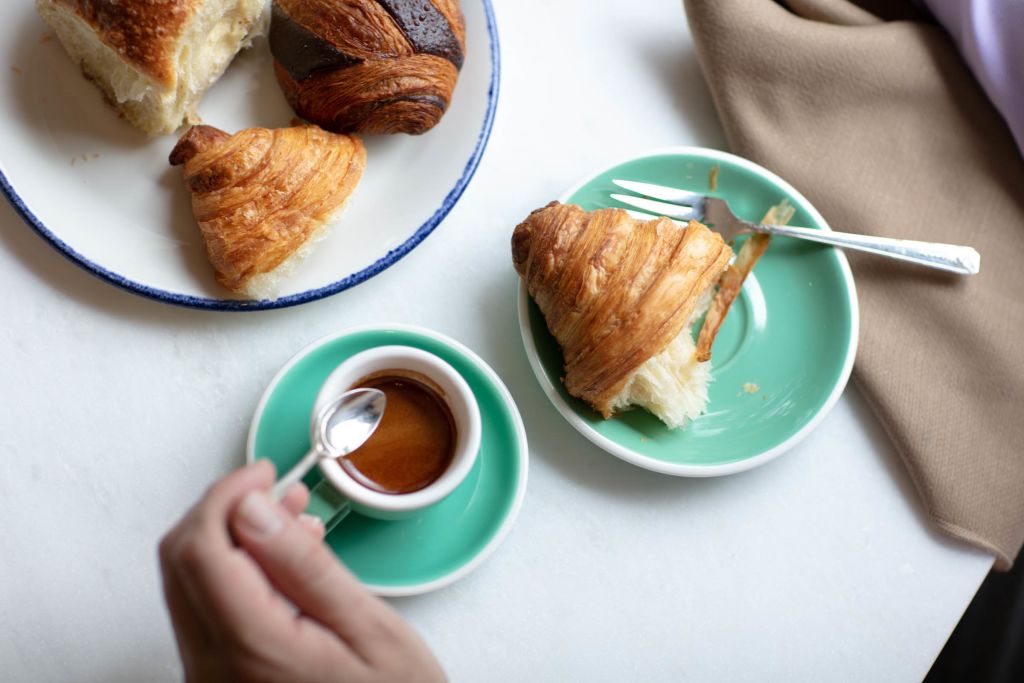 The new American bistro-style restaurant known as THE CHASTAIN lies adjacent to Chastain Park in Atlanta's Buckhead neighborhood and provides modern twists on Southern classics. Enjoy brunch on Saturday and Sunday from 11 a.m. to 2 p.m. (with breakfast and coffee bar items served from 8 a.m., or 7 a.m. Monday through Friday). THE CHASTAIN strives to serve the freshest ingredients right from its own garden and from local farmers. These ingredients can be found on such dishes as avocado toast loaded with avocado, sumac, puffed quinoa, lemon oil and chili powder on freshly baked double fermented house sourdough, which incidentally you can order by the loaf. Shrimp toast, fresh garden salads and handcrafted sandwiches round out the menu, which also includes a variety of freshly baked pastries. Pick up a matcha croissant (Saturdays only), apple coffee cake or a sticky pecan bun to accompany your morning coffee from the espresso bar.
Where: 4320 Powers Ferry Road
The Southern Gentleman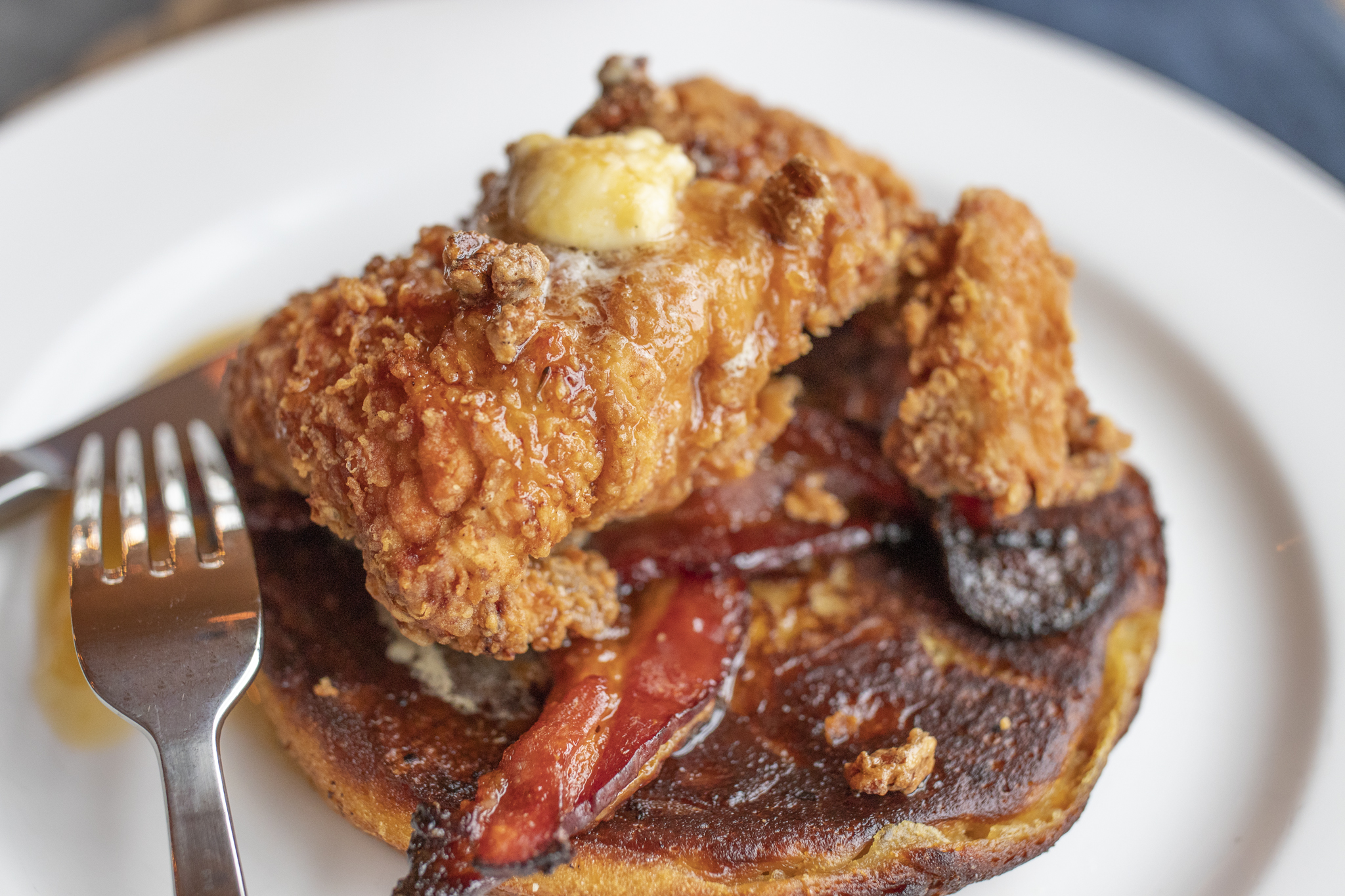 It doesn't get much better than brunch with The Southern Gentleman. Lucky for you, this distinguished gastropub at Buckhead Village District recently introduced a menu that would make any lady blush. Imagine crispy anadama toffee waffles with caramelized bananas and rum and vanilla syrup or ricotta and cornmeal pancakes with stewed heirloom apples. For meat lovers, try the pork burger with bacon jam and a braised Creekstone beef cheek hash. And wet your whistle with a brunch cocktail. The TSG Bloody Mary, Brunch Punch and Scarlett Belle will have you counting the seconds until 12:30 p.m. (Remember, on Sundays in Atlanta you must wait until then for an adult beverage.)
Where: 3035 Peachtree Road
Explore even more great restaurants in Buckhead Atlanta.
Best Brunch Restaurants in Downtown Atlanta
Downtown Atlanta restaurants have a place for everyone's morning dining routine. Start your day off right with breakfast or brunch in downtown Atlanta.
Atlanta Breakfast Club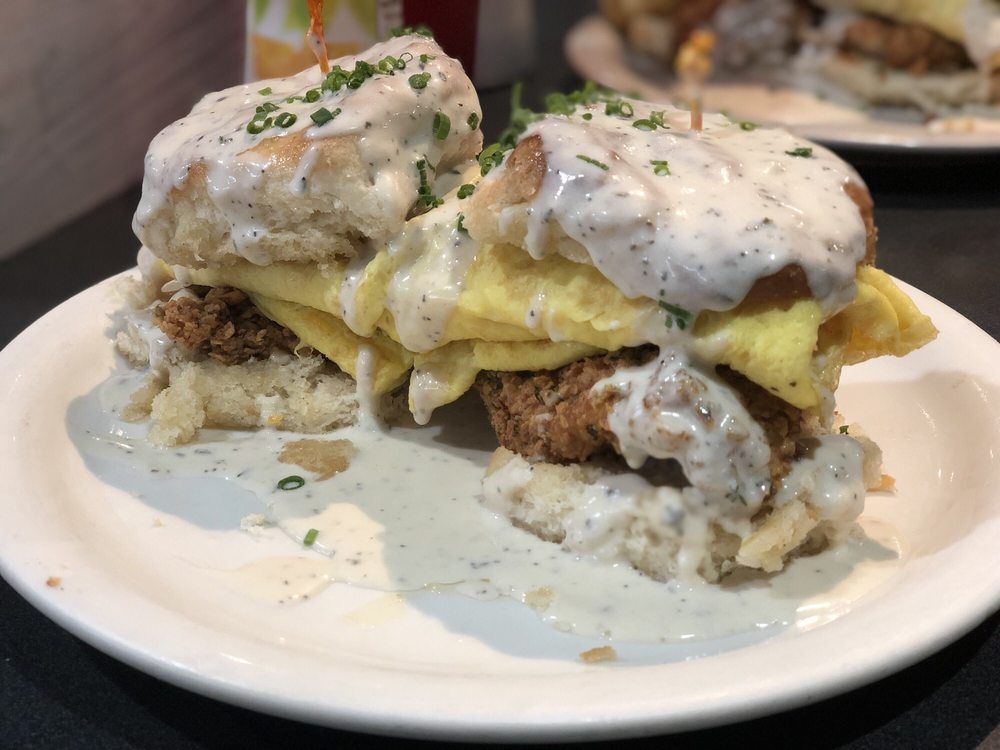 Atlanta Breakfast Club, located on Ivan Allen Boulevard, is a great place to stop near Atlanta's major tourist attractions. This cozy Downtown restaurant offers a variety of breakfast options including peach cobbler French toast, breakfast tacos, fried chicken & waffles, shrimp & grits, and a Southern breakfast (eggs, meat, grits and biscuit).
Where: 249 Ivan Allen Jr. Blvd. NW
Corner Bakery Cafe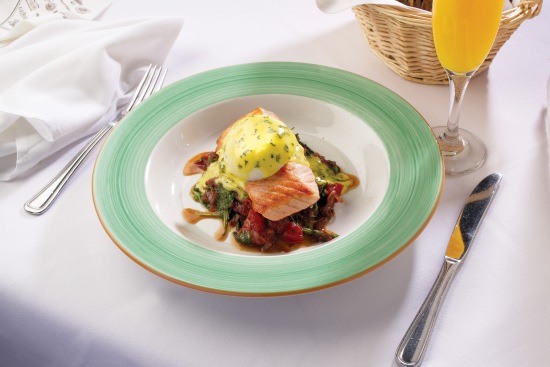 Corner Bakery Cafe, located across from the Hyatt Regency, offers a variety of breakfast sandwiches, oatmeal and yogurt as well as sweets from its bakery. The bakery recently introduced a new breakfast option, the Power Breakfast Egg Bowl with fresh mozzarella and a drizzle of pesto and the BLT & Egg sandwich made with applewood smoked bacon, scrambled eggs, tomatoes and lettuce. The coffee, by the way, is a hand-roasted cold brew.
Where: 270 Peachtree St. NW
White Oak Kitchen & Cocktails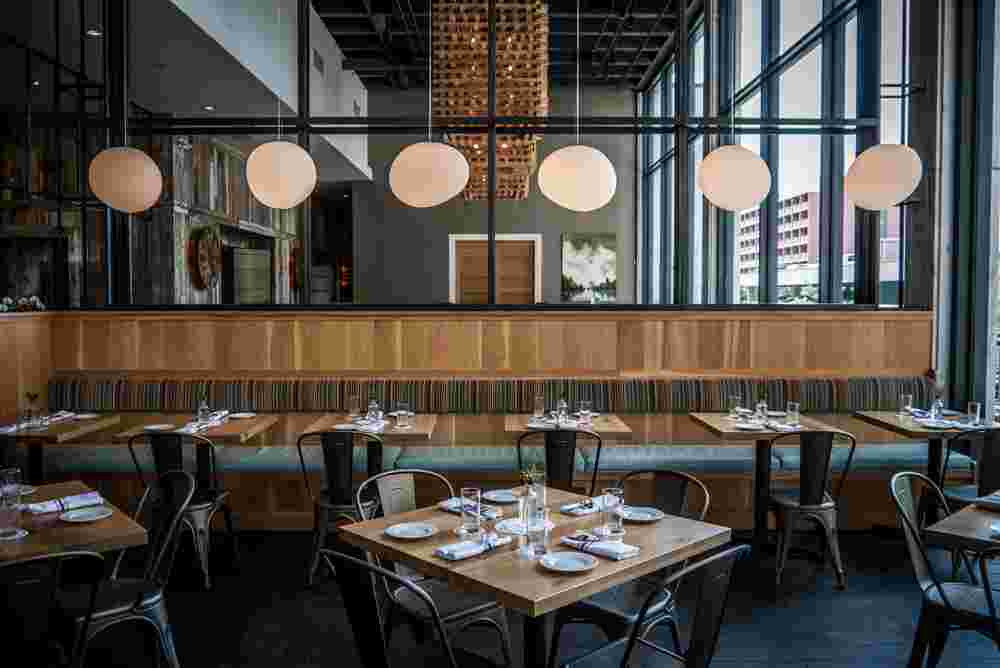 White Oak Kitchen & Cocktails is an upscale Southern restaurant boasting a weekend brunch that features mimosas, beignets and "ginormous cinna-buns."
Where: 270 Peachtree St. NW
Explore even more great restaurants in Downtown Atlanta.
Best Brunch Restaurants in Midtown
Sometimes a couple of pieces of toast and a fried egg just won't cut it. You want to indulge, spend a lazy, extended morning enjoying a fine meal and – hello — mimosas. We have taken the guesswork out of where to find the best brunch in Midtown with these top spots. Bon appetit.
5Church Atlanta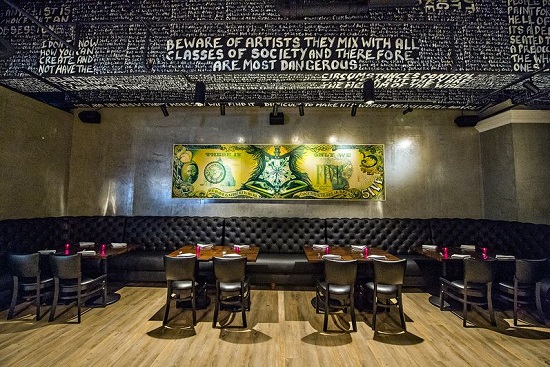 If you are looking for a Southern brunch, then head to 5Church Atlanta for a mouthwatering option. The offerings range from classic chicken and waffles to shrimp & grits. The crab cakes and poached eggs are perfect and full of lump crab. Another fine choice is the juicy lamb burger with crispy fries. A variety of barista drinks and cocktails are also available. When you step inside at brunch, you will notice a fancy cart on display with all kinds of interesting items for customizing your bloody Mary.
Where: 1197 Peachtree St. NE #528
Apres Diem
A Mediterranean fusion restaurant located in the heart of Midtown, Apres Diem has been an Atlanta staple for years. Its expansive brunch menu offers classics such as bagel & lox or French toast as well as specialties like the Lobster Scramble Sandwich or Huevos Española. Choose from a variety of small plates like hummus and baba ghanouj or crab cakes, and imbibe in the extensive wine, beer and liqueur menu.
Where: 931 Monroe Drive NE, Suite C103
Bantam + Biddy
This family-friendly Atlanta brunch restaurant offers a menu that won't quit. Banana Bread Waffles, Breakfast Tacos and the Big Chicken Skillet are just three of the multitude of offerings you will find at Bantam + Biddy. And if you feel like breakfast for dinner, no problem. Bantam + Biddy offers a handful of breakfast-all-day offerings including the Southern Breakfast All Day, which includes three farm eggs, creamed grits, pimento cheese, fried okra, Patak bacon and jalapeno cornbread. Yum.
Where: 1544 Piedmont Ave. NE #301
Flying Biscuit Cafe
Indulge in the epitome of Southern comfort food at the Flying Biscuit Cafe, a homegrown spot so good that it now features locations in the double-digits throughout Georgia and nearby states. The Midtown location wasn't the first, but it's easily one of the busiest. A bustling, eclectic environment is part of the Flying Biscuit experience. Its sweeter standards — French toast with raspberry sauce, organic oatmeal pancakes with warm peach compote — are a dream. The crowning jewel, of course, is the famed biscuit itself — perfectly fluffy inside and subtly sprinkled with sugar on top.
Where: 1001 Piedmont Ave. NE
Highland Bakery
Starting life as a bakery and now offering more filling options such as the signature sweet potato pancakes or peanut butter French toast, Highland Bakery has made its mark as a popular brunch choice. The fried chicken Benedict gets high marks, as do the cilantro corn pancakes. A full coffee bar complements the delicious brunch offerings.
Where: 1180 Peachtree St. NE
South City Kitchen
South City Kitchen has been the go-to spot for Southern dining with a modern twist in Atlanta for more than two decades so why should brunch be any different? Banana French toast, malted buttermilk waffles (with or without the fried chicken) and the smoked brisket Benedict are just three of the tasty offering that make our mouths water.
Where: 1144 Crescent Ave. NE
The Nook
The Nook on Piedmont Park is situated so that it faces the park and features one of the best-known patios on the city. The tavern features an extensive food and drink menu, but if you are up for an indulgence, try the signature Totchos (tater tot nachos) that are available throughout the day. Get the breakfast variety, which comes with chicken sausage, gravy and an egg over easy. You may want to add an extra mile or two onto your run, but it will be worth it.
Where: 1144 Piedmont Ave. NE
Explore more restaurants in Midtown Atlanta.
Best Brunch Spots on Atlanta's Eastside
The work week can be pretty chaotic. And don't those weekends go by too quickly? No wonder people don't want to leave their 'hood to dine out. And luckily, it isn't necessary since there are plenty of great brunch restaurants on Atlanta's Eastside.
9 Mile Station
Though the menu is small at this rooftop restaurant in Ponce City Market, it is still hard to choose. If you've got a group of at least four, start with the sticky buns. Served with a coffee glaze, they are a sweet kickoff to brunch. If you fancy more sweetness, get the banana-stuffed French toast. Topped with pecans and berries, it is quite a filling portion. However, for a more hearty and meaty choice, go with the Benedict. What sets it apart is the pretzel bun, which marries well with the poached eggs and spinach. There are lots of specialty brunch cocktails and excellent wines and beers to sip while taking in the splendid city views from 9 Mile Station.
Where: Ponce City Market, 675 Ponce De Leon Ave. NE
Atrium
The bright and eclectic Atrium offers weekend brunch from 11 a.m. to 3 p.m. on Saturday and Sunday. Located in Ponce City Market, Atrium's menu is filled with unique and tasty offerings like sweet potato hash and challah French toast. Need something filling? Try the Beltline Sandwich loaded with Southern ingredients including brown sugar bacon, hash browns, pickled green tomato, red onion, fried egg and greens. Pair your meal with a signature cocktail for a mini celebration, because brunch is made for celebrations.
Where: 675 Ponce de Leon Ave. NE, #158
Folk Art
Folk Art is the sister restaurant to the upscale Wisteria restaurant in Inman Park. Folk Art is a great spot for breakfast, lunch, dinner or brunch. There are all-day breakfast menu items such as biscuits with sausage gravy, Benedicts, and chicken and waffles. Specialty cocktails include Mr. Sunshine, a mixture of gin, OJ, lemon juice and ginger syrup; and What's Up Doc, featuring vodka, carrot juice, apple cider and fresh ginger.
Where: 465 North Highland Ave. NE
Hampton + Hudson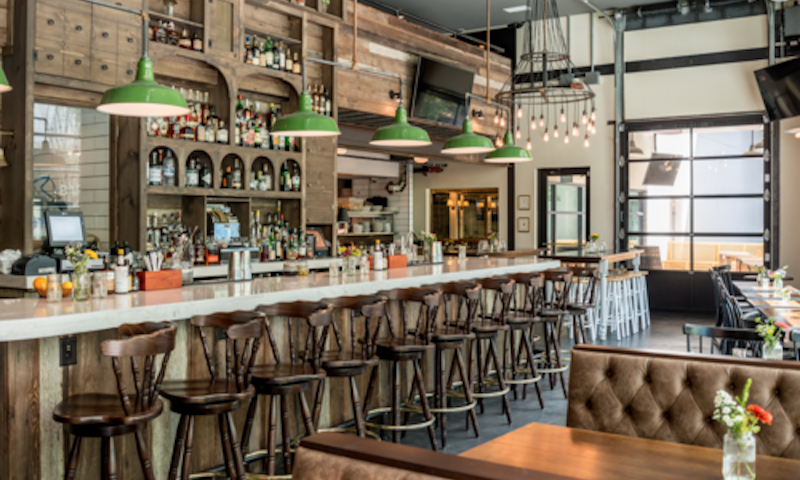 In the new Inman Quarter development, Hampton + Hudson is a lively spot to catch your favorite sports team. But the food is way better than the eats in your average sports bar. Think items like steak tartare and octopus. At brunch, get the hangover fries or the pastrami hash. Then come back for the daily specials Monday through Friday.
Where: 299 North Highland Ave. NE
Highland Bakery
The Highland Bakery is a local favorite. Luckily for fans of Highland Bakery, there are several locations in Atlanta, and the Eastside is no exception. Whichever route you choose, Highland Avenue in the Old Fourth Ward isn't far — and that's where enticing brunch options abound. Built on great coffee and healthy-but-scrumptious muffins, the selection has grown to include an array of homemade breads and home-style Southern fare. Shrimp & grits, sweet potato pancakes, black-eyed peas and Benedict eggs done every which way make it hard to save room for sweets, like mini-doughnuts or cinnamon rolls.
Where: 655 Highland Ave. NE
Sun in My Belly
Sun in my Belly serves breakfast menu items all day. Choose from the brioche French toast served with honey ricotta and fresh berries. If you're in the mood for more savory fare, the pimiento cheese omelet may fit the bill. The restaurant offers a range of brunch items with a traditional Southern twist including fried green tomatoes and shrimp & grits as well as a variety of tasty sides, sandwiches and salads.
Where: 2161 College Ave. NE
Ladybird Grove & Mess Hall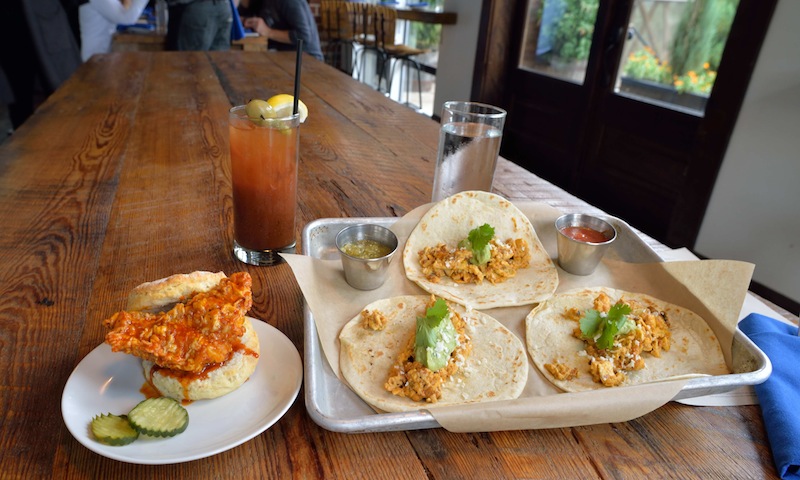 Located along the BeltLine, Ladybird is a popular restaurant on weekends for the fun bar atmosphere, but Ladybird serves an incredible brunch, too. Modeled with the outdoors enthusiast in mind, Ladybird resembles a campground lodge. It includes the cozy "Map Room," a bigger mess hall with a massive flag and taxidermy adorning the walls, and a patio that completes the communal camp vibe. Weekend brunch is a hearty selection of Southern staples and tasty extras like mushroom strata and breakfast tacos with chorizo scrambled eggs. Standouts include the Nashville hot chicken biscuit (the biscuits are made from scratch) and skillet hash.
Where: 684 John Wesley Dobbs Ave. NE
TWO Urban Licks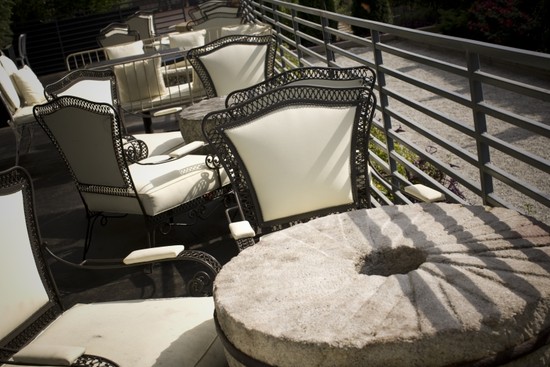 Another great Beltline restaurant boasting spectacular views of the Atlanta skyline set in a chic industrial space is TWO Urban Licks. Start your brunch with the Get Proud Mary Ma – made with sriracha. Get the pimento cheese BLT or brisket hash for entrees.
Where: 820 Ralph McGill Blvd. NE
Best Brunch Spots on Atlanta's Westside
Gocha's Breakfast Bar
To get your breakfast fix in Atlanta's Cascade area, Gocha's Breakfast Bar doesn't miss. Gocha's provides a wide variety of breakfast options to fulfill every taste, including pescatarian and vegan. The menu offers specials like salmon sliders, a breakfast pizza and a variety of breakfast bowls. Fancy something on the sweet side? Gocha's Krunch-tastic French toast is served with fresh berries and house vanilla bean sauce while traditional chicken and waffles mix sweet and savory together.
Where: 3695 Cascade Road, Suite 440
Pijiu Belly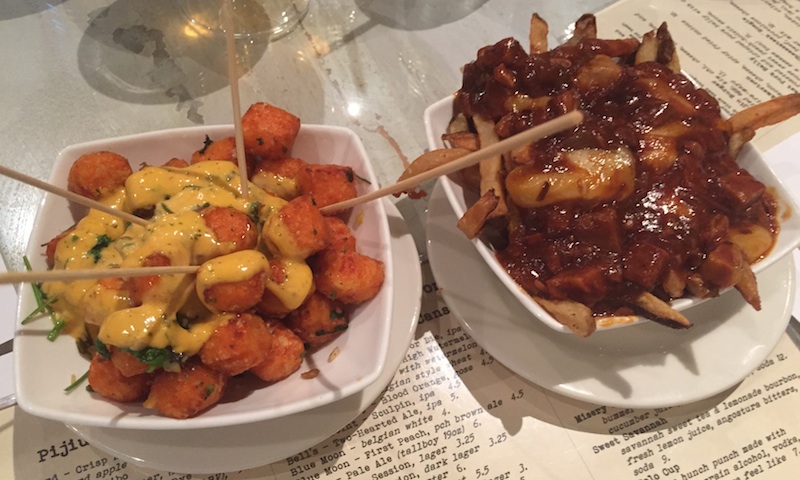 This Westside gastropub infuses American, Southern, Chinese and Korean flavors into delightfully delicious offerings. "Pijiu" means "beer" in Mandarin. The name is fitting as the restaurant has a wide variety of craft brews. However, lesser known is the brunch menu. The specialty is a Korean-spiced rotisserie chicken, but the menu is vast with intriguing offerings such as Thai Tater Tots, Japanese Mini Sausages and Crispy Braised Pork Belly. One of the most popular dishes is chicken and waffles, served with the restaurant's signature rotisserie chicken.
Where: 678 10th St. NW
Excellent brunches abound in Atlanta, whether you are looking for bottomless mimosas or just a great mid-morning meal. Looking for a meal in Atlanta beyond brunch-time? Start at our Atlanta restaurant search.
Discover More
Get to know Atlanta, and discover the best things to do around the city.