Ultimate List of Things to Do in Atlanta with Kids
Atlanta is a great destination for families, and if you're reading this it's likely you've got kids to entertain. Here is your ultimate guide to fun. We've got something for everyone and every budget on this ultimate list of things to do with kids in Atlanta – from top attractions to the best playgrounds, unique experiences, must-see landmarks and cultural destinations. Scroll through the list which is divided into sections with things to do for every kid from toddlers to teenagers as well as for families. Get active, be entertained and, most of all, have fun.
Unique Things to Do with Kids in Atlanta
Buford Highway
If you're in the mood to explore with your kids, we suggest a ride along Buford Highway, a cultural melting pot that has attracted a high concentration of international communities. During your visit you can stop at the Buford Highway Farmers Market for tasting snacks and candy from all over the world. A trip down Buford Highway will give you culinary options ranging from rolled ice cream to a wide variety of international cuisines, boba tea and more. Don't miss a stop at Plaza Fiesta for a unique and colorful shopping experience. Kids will love the arcade.
Head to The Yard
Outrageous, colorful and mouth-watering milk shakes are what you'll find at The Yard Milkshake Bar. It's fun and picture-perfect for the entire family. Try concoctions like "Who's your Patty?" and "The Mermaid." The Yard Milkshake Bar offers a variety of gourmet milk shakes along with sundaes, coffee drinks and edible cookie dough.
Immersive Experiences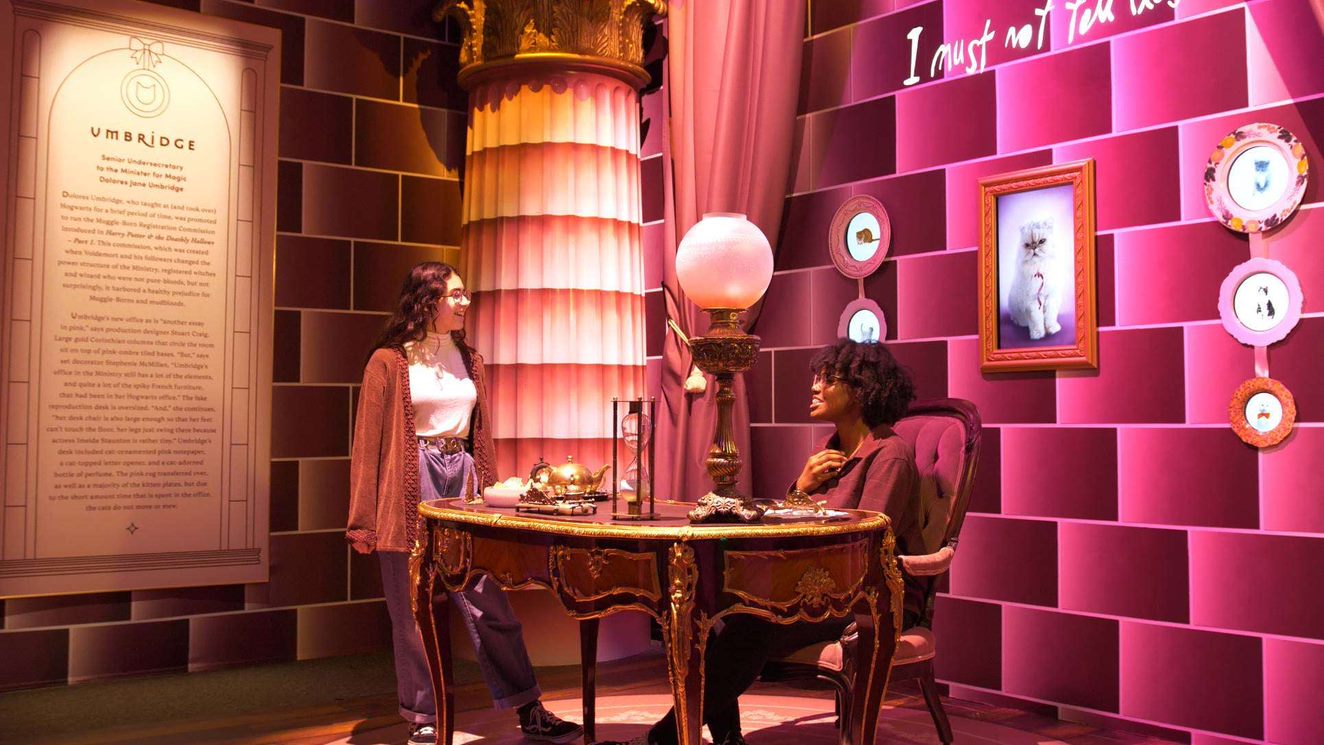 Advancements in technology have brought forth a variety of unique and engaging immersive experiences that are perfect for the whole family and wildly popular. These exhibits have had families exploring the plains of Africa in the WILD Immersive Safari Exhibit at Illuminarium. Others explore the works of famous artists such as Georgia O'Keeffe, Claude Monet and Vincent Van Gogh. These immersive exhibits have included "visits" to some of TV's most popular shows as well experiences based on "Friends" and "Stranger Things." We are sure to see many more exhibits pop up here in Atlanta. This year, check out Harry Potter: The Exhibition through April 16.
LEGO Discovery Center Atlanta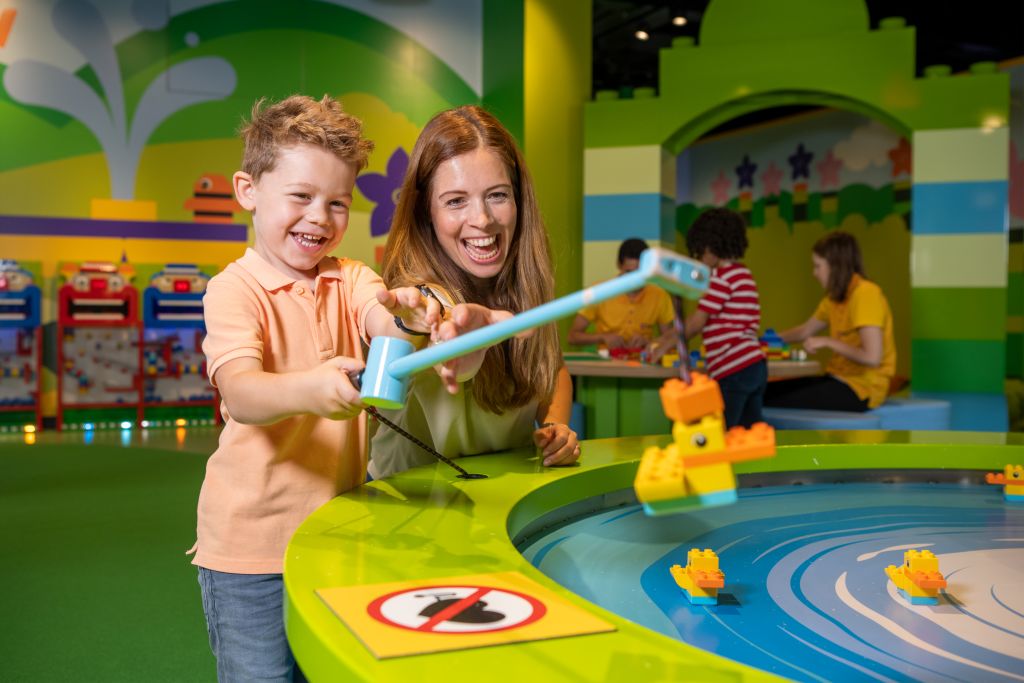 Fans of the popular colorful building brick won't want to miss a visit to LEGO Discovery Center when it reopens on March 31 after an overhaul. The ultimate indoor play space will still feature all things LEGO along with new rides, interactive exhibits, building stations and more.
Porsche Experience Center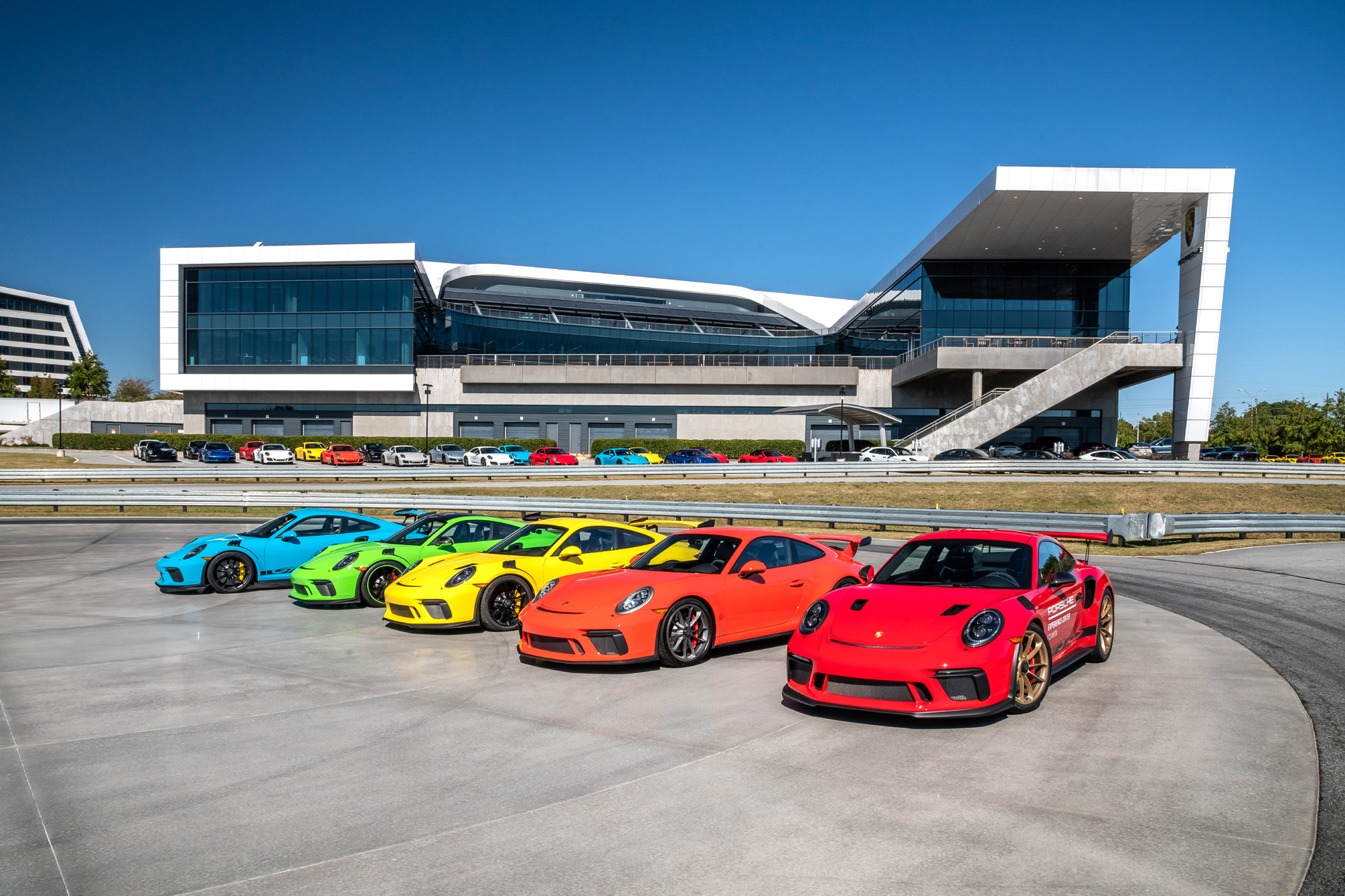 This one's for the big kids. Auto enthusiasts and Porsche lovers will enjoy a visit to Porsche Experience Center, which includes a heritage gallery, classic factory restoration workshop, drive simulator labs and actual driving experiences. A valid driver's license is required. A professional driving coach will accompany young drivers, ages 16 through 21.
Sloomoo Institute
Slime has grown popular over the past decade, and Sloomoo has captured the essence of all things slime in the Sloomoo Institute in Atlanta. Visitors of all ages can experience the fun colors, scents and textures of a variety of slimes in this slime extravaganza.
Starlight Drive-In
Jump back in time with a family movie night — in your car. Grab some pillows and blankets, pack up the kids and head to the Starlight Drive-In Theatre for movies seven night a week at the classic drive-in movie theater in Atlanta. Admission for kids ages 5 to 9 is only $1.
The ROOF at Ponce City Market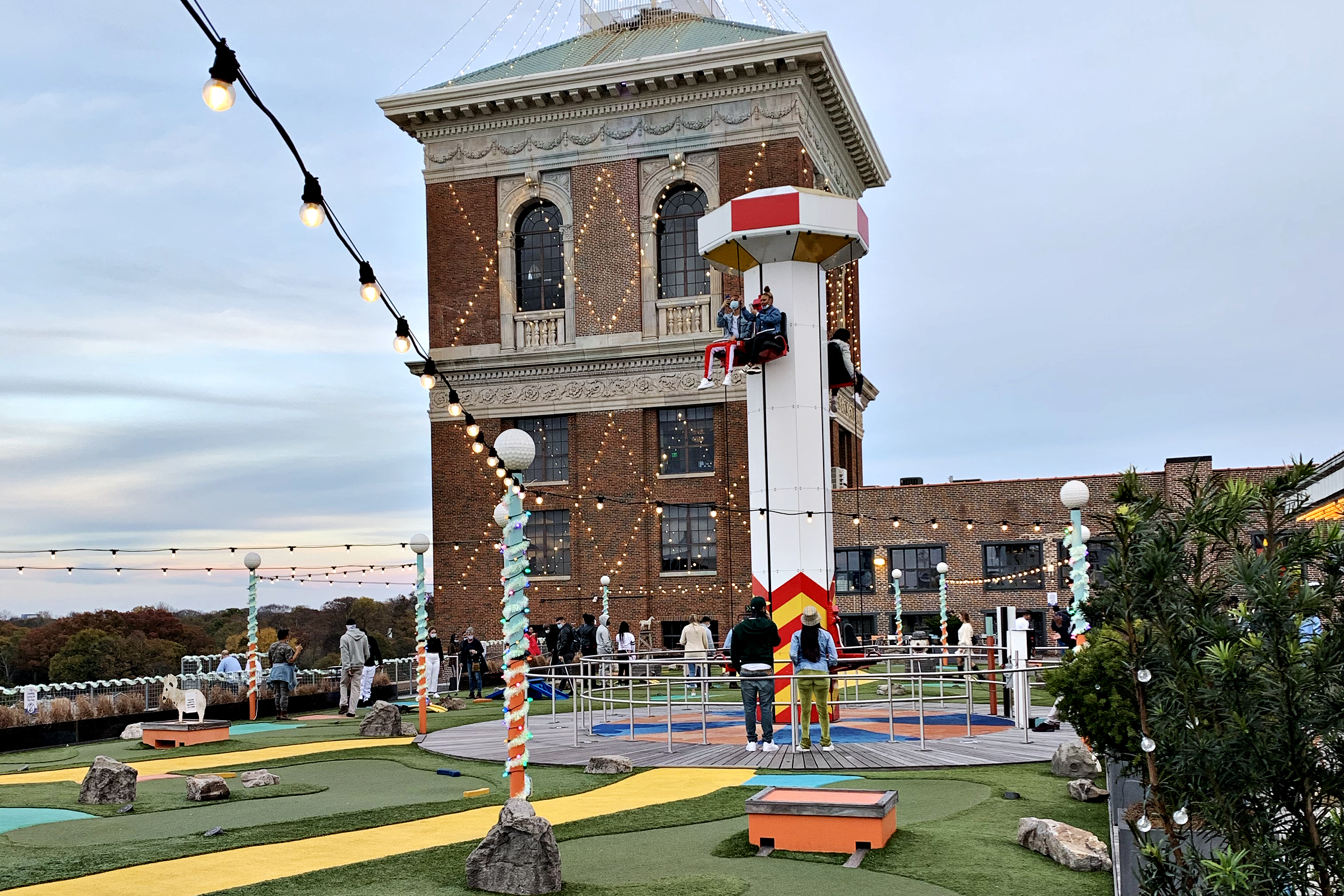 A truly unique offering in Atlanta is Ponce City Market, a renovated, historic Sears, Roebuck and Co. building turned marketplace with a food hall, shops and living space. Up on the roof is The ROOF, a great place to dine, have cocktails and experience Boardwalk-style rides and games. Zoom down the three-story slide, play miniature golf or try your hand at games like Skee-Ball, break-a-plate and horse derby while enjoying spectacular views. Check out the seasonal calendar for special events geared toward children and families.
The Wren's Nest
The historic Wren's Nest in Atlanta's West End is an Atlanta institution that celebrates the heritage of African and Indigenous folklore through the art of storytelling in the former home Joel Chandler Harris, creator of Br'er Rabbit. Take a tour, visit the gift shop and check the calendar of special events, which includes magical storytelling hours.
Outdoor Adventures the Whole Family will Love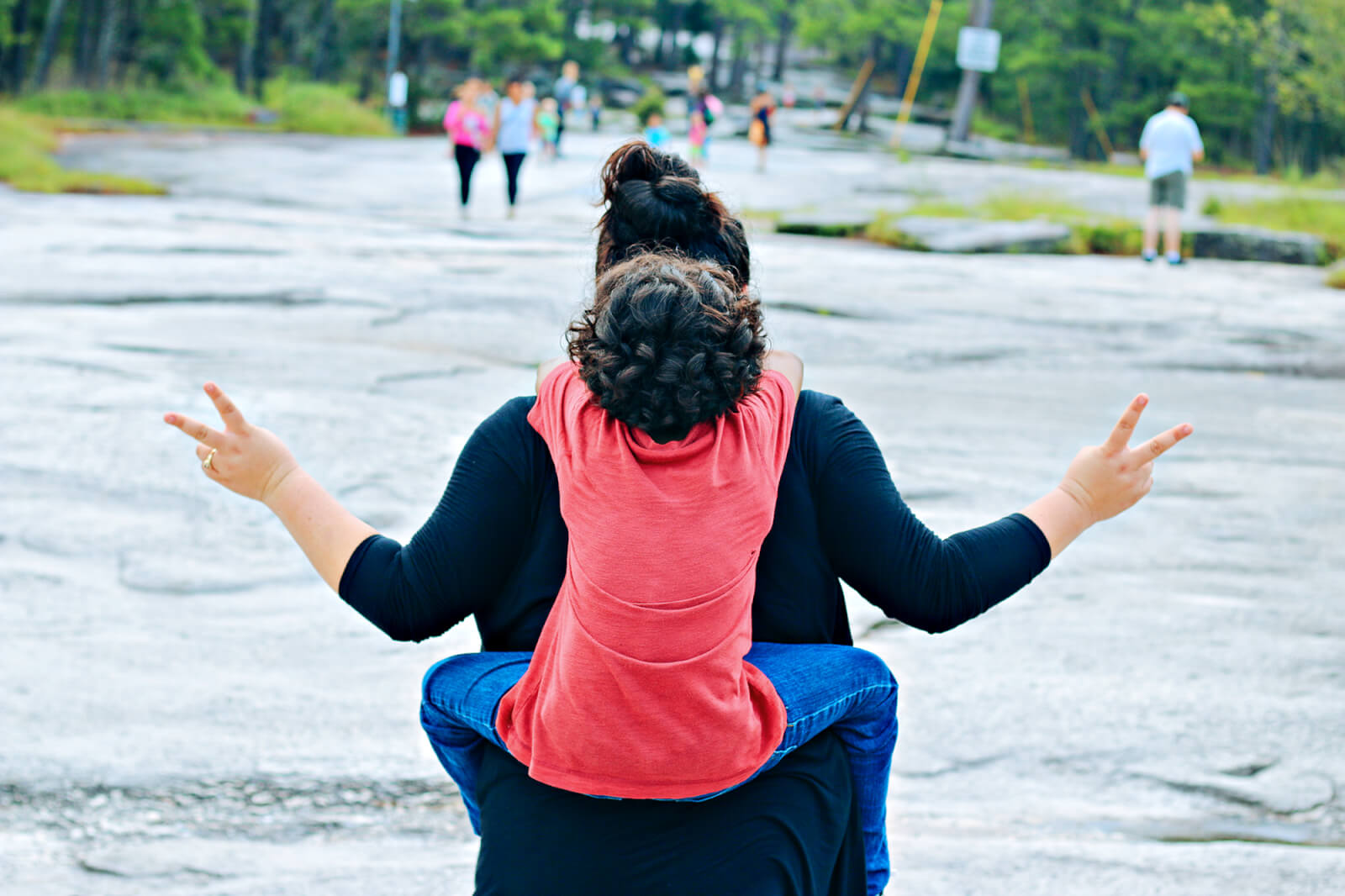 Atlanta is a city that loves its green space and time spent in nature. The city has worked to preserve land within the city for parks, hiking trails and recreational areas. Families can easily get outside without having to make a long drive. Whether it's taking in a sports game, playing a sport, hiking or learning more about nature, the Atlanta area has plenty of opportunities for outdoor time that the entire family will enjoy.
Atlanta BeltLine
One of the most iconic features of Atlanta is the Atlanta BeltLine, a multiuse trail that follows a historic railroad corridor through intown neighborhoods. The trails are designed for varied uses such as walking, running, skating and bicycling. Stop off at favorite restaurants, shopping spots, cafes and other attractions or just take a leisurely stroll.
Tiny Doors ATL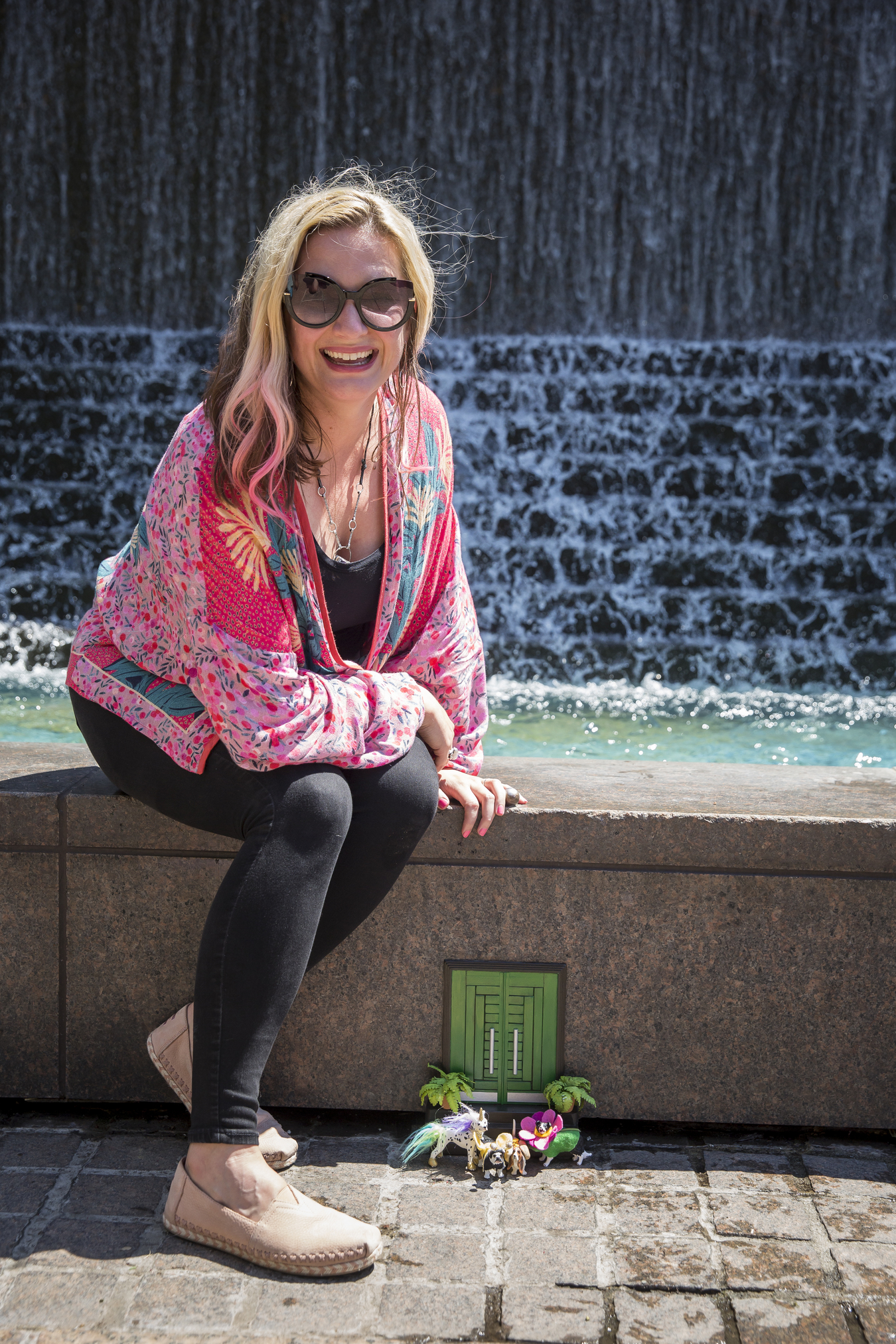 In recent years, Tiny Doors ATL have been popping up all over the city. An Atlanta-based art initiative that brings "big wonder to tiny spaces," Tiny Doors are there for you and your family to find using this map. Tiny Doors make for great Instagram photo ops and can be found at many favorite Atlanta attractions such as Georgia Aquarium, Center for Puppetry Arts, Fox Theatre, State Farm Arena, Woodruff Arts Center, Atlantic Station and Centennial Olympic Park. Visit the giant door that will make you feel tiny on the Eastside BeltLine Trail. Tiny Doors ATL maintains a studio at Atlantic Station where the artist, Karen Anderson Singer, often offers open studio tours, book signings and more. Follow her social channels for updates.
Atlanta Professional Sports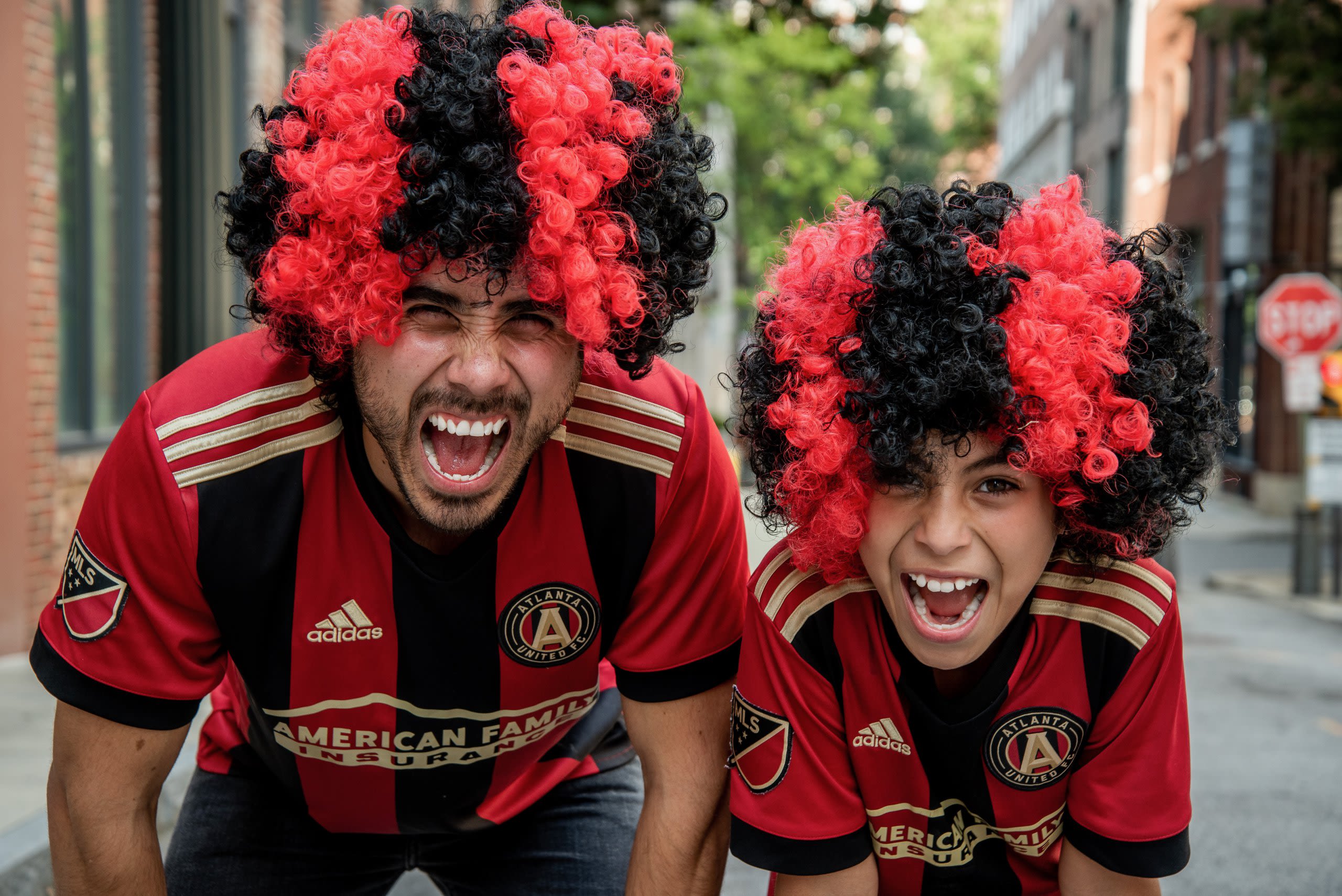 Atlanta is home to several professional sports teams including Atlanta Falcons, Atlanta Dream, Atlanta Hawks, Rugby ATL and Atlanta United FC. Baseball fans will love cheering for the Atlanta Braves, and those with younger kids will want to check out the KidsZone at Truist Park and the Beat the Freeze race.
Centennial Olympic Park

The iconic 21-acre Centennial Olympic Park was created in 1996 to welcome visitors to the Atlanta Olympic Games. You can play in the Fountain of Rings, take a selfie at The Spectacular sculpture or enjoy the playgrounds, gardens and expansive lawns. In addition, Centennial Olympic Park hosts many festivals and special events throughout the year. SkyView Atlanta Ferris wheel towers above the park offering stunning views not only of the park below but of the Atlanta skyline and beyond. Enjoy the ride at night for a dose of city lights that will take your breath away. A great way to experience Centennial Olympic Park and the surrounding area is by taking a tour with ATL Cruzers which offers electric car and Segway tours of Downtown and its highlights.
Chattahoochee Nature Center
The Chattahoochee Nature Center is a 127-acre educational facility that lies adjacent to the Chattahoochee River in Roswell. The nature center focuses on engaging families in educational outreach through the use of flora and fauna and a variety of programs and experiences.
Dunwoody Nature Center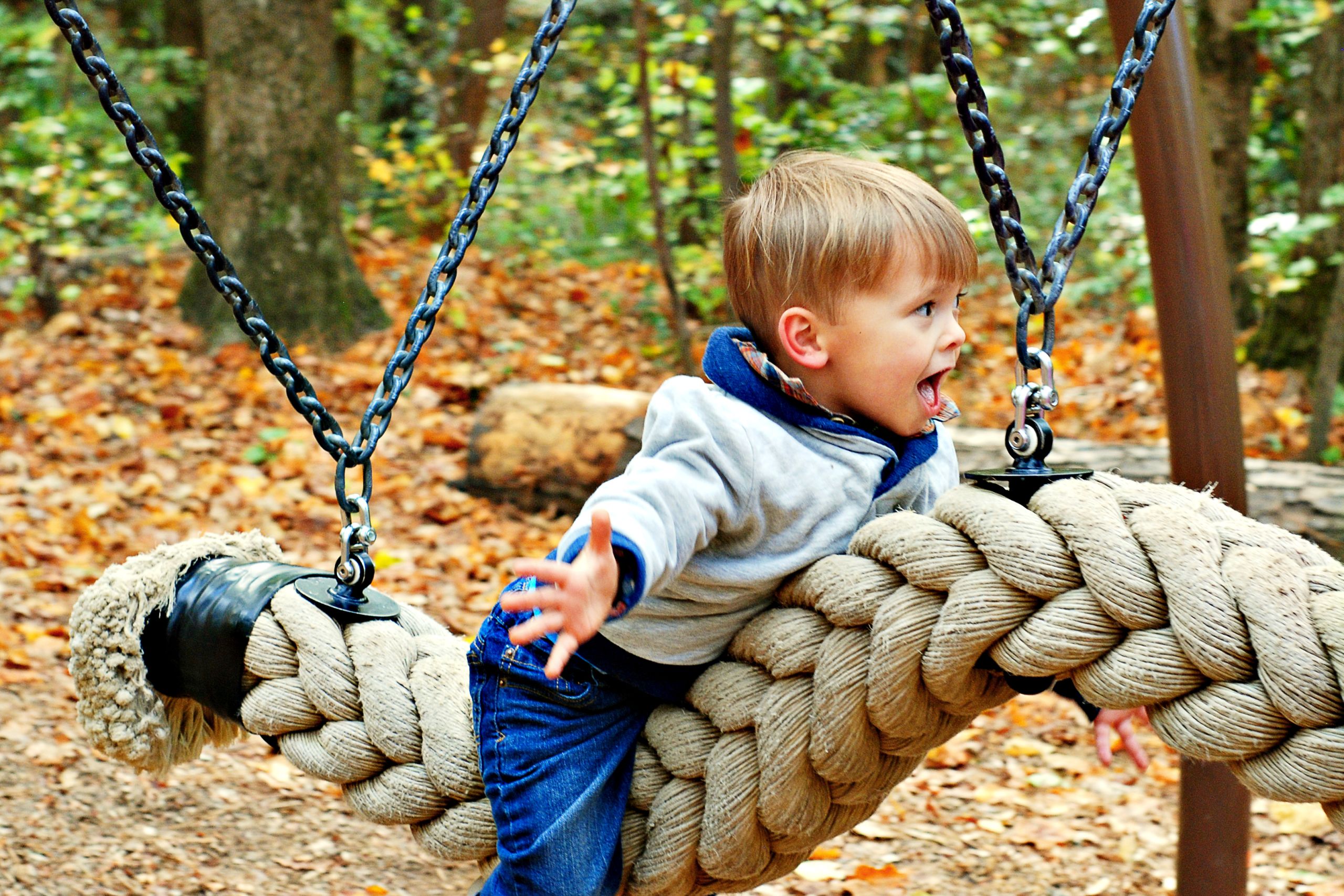 Dunwoody Nature Center provides opportunities for families to explore and play in the great outdoors through nature programs and outdoor areas where kids can jump, swing, teetertotter, splash, hike and play. Families may enjoy a night hike or camp out.
Sweetwater Creek State Park
Families who enjoy the outdoors may wish to visit Sweetwater Creek State Park for a variety of outdoor activities including geocaching, hiking, boating, camping and fishing. Located just 15 miles from Atlanta, this is a great spot to teach the kids to bait that hook on one of two dedicated fishing docks. Fun tip: Many films and shows have used the park and the mill ruins as a filming location.
Golf in Atlanta
Golf has become more popular with multiple generations playing the game. Atlanta has its share of golf courses that welcome golfers of all ages. Check out Cross Creek Golf Club and John A. White Golf Course in the metro area. If your golfers are a bit smaller or less serious about the game, try a game of putt-putt at The Fringe, Skyline Park, Great Locomotive Chase at Stone Mountain Park or Mountasia. Great options if the weather is not the greatest are indoor locations including Topgolf, Puttshack and Lunar Golf.
Intown Atlanta Hiking
Atlanta is known for its green space, and one doesn't have to venture far from the city center to take a hike with some pretty impressive views. Here are the 10 best easy hikes in Atlanta. Want to tackle a bit tougher terrain or experience a backpacking trip? Check out our guide to hiking and backpacking in Atlanta.
Piedmont Park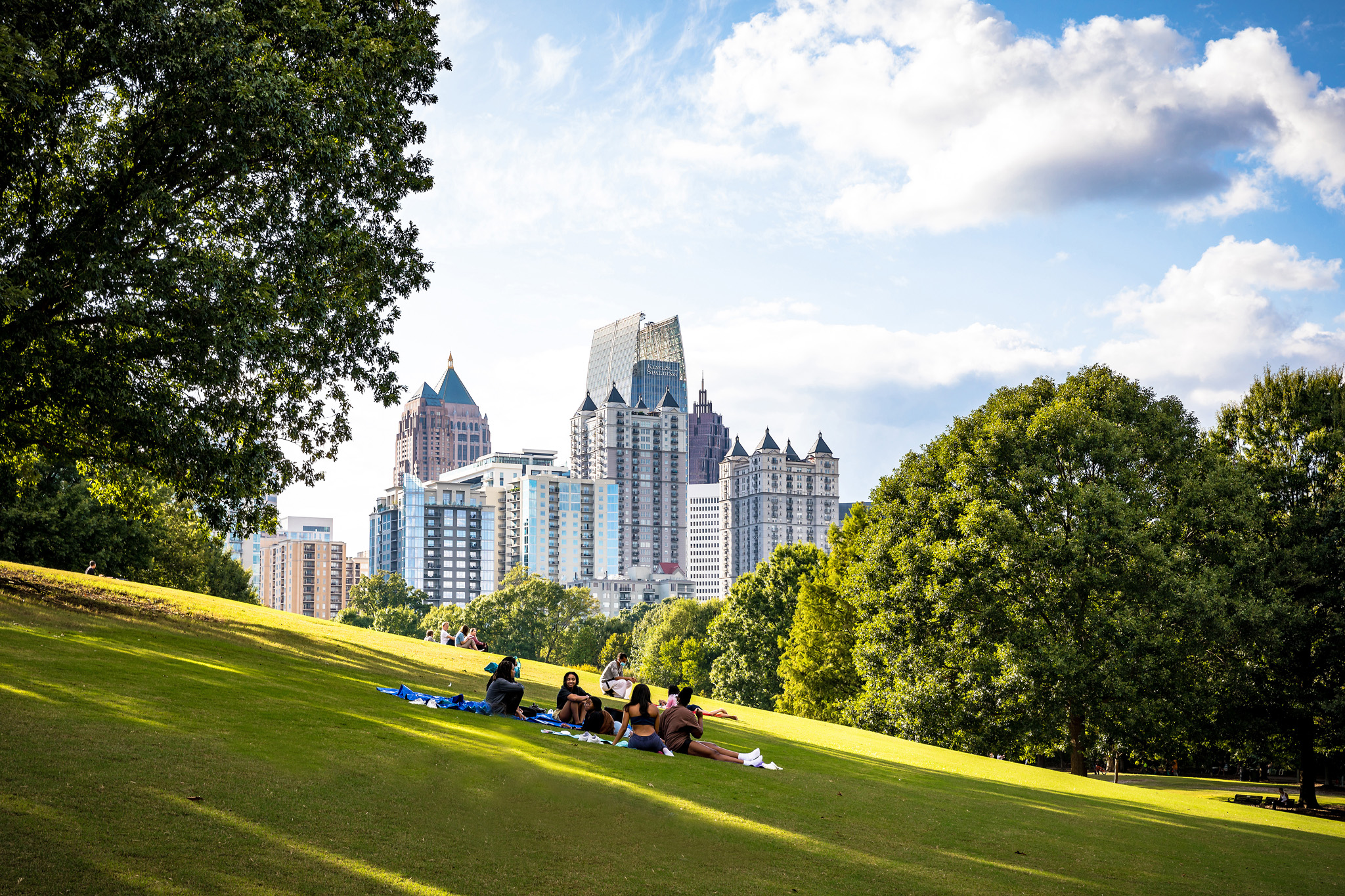 Nestled in Midtown, Piedmont Park is an urban green space, which hosts several miles of paved paths suitable for walking, running, biking and inline skating. In addition, the acres of lawn are perfect for soccer, Frisbees and play. Pack a lunch and spread a blanket under the trees. Piedmont also offers lighted hard courts for a variety of sports in addition to softball and soccer fields and a swim center.
Skateboard Parks and Bike Parks
Most kids love any opportunity to ride their bikes or jump on a skateboard, and Atlanta is full of great places to roll along. Explore the Atlanta BeltLine on wheels, visit Old Fourth Ward Skatepark, which has features for every level. Many of Atlanta's parks have extensive trails that are suitable for bicycling, skating and more.
Smith Gilbert Gardens
The botanical oasis Smith Gilbert Gardens features beautiful gardens, intriguing outdoor sculptures and the historic Hiram Butler House. You will enjoy a variety of plantings and exhibits including the bonsai exhibit and Butterfly House. In addition, Smith Gilbert Gardens, which is in Kennesaw just north of Atlanta, offers a variety of special events and educational experiences.
Stone Mountain Park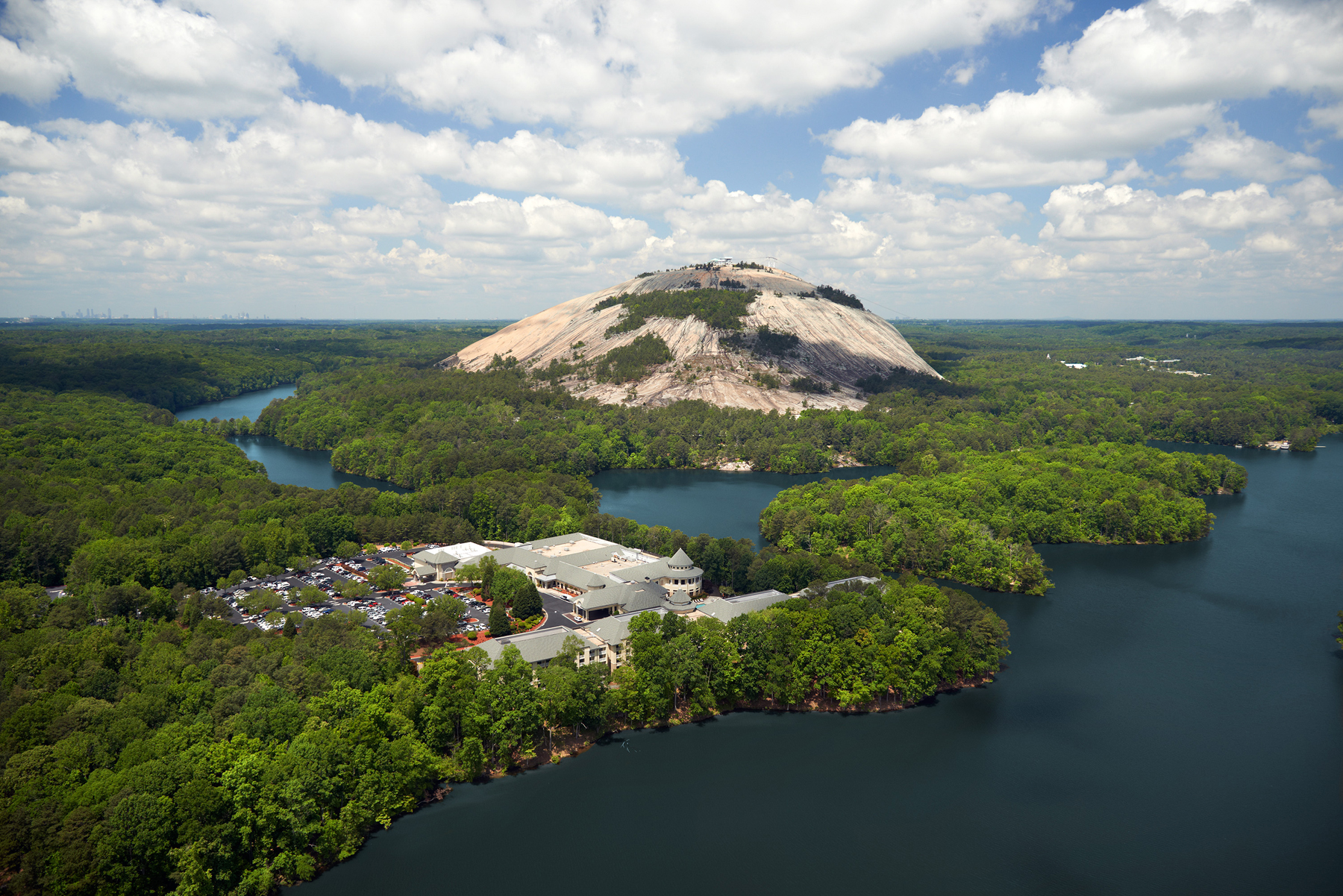 This popular park promises a full day (or longer) of fun. Stone Mountain Park features hiking, camping and exploring, as well as theme rides, zip lines and other attractions. You can make a weekend trip by booking a Stay and Play package at on-site accommodations or just spend a full day riding the tram, immersing yourself in history, shopping and visiting any one of the numerous special events the park hosts each year. Outdoorsy kids will enjoy the Summit Skyride tram and Dinosaur Explore, which includes interactive paleontology tents, fantastic photo ops and a dinosaur feeding wall. Geyser Towers is a network of net tunnels, rope bridges and more overlooking the geyser. Get low and wet or stay high and dry.
Tennis in Atlanta
Those who love to volley that little green ball will be grateful to know that in addition to private tennis clubs, Atlanta offers up a variety of parks with tennis courts. Get out and hit the ball at Candler Park or Grant Park, or sign up the entire family for lessons at Chastain Park Tennis Center.
Treetop Quest
Not far from the Atlanta perimeter is Treetop Quest, nestled into the Buford woods. This action-packed adventure course will encourage kids of all ages to climb, swing and explore among the trees. There are rope courses, bridges, nets and more to challenge the most timid as well as the bravest of kids and adults.
Kid-Friendly Entertainment in Atlanta
Center for Puppetry Arts
Kids of all ages will enjoy a visit to Center for Puppetry Arts. Puppet shows feature a variety of puppets including hand puppets, rod style, shadow puppets and more. Performances are largely geared toward children, many of which are for ages 4 and younger. Shows frequently include accompanying workshops in which kids can create their own puppets to take home.
Music for the Very Young
Presented by the Atlanta Symphony Orchestra, Music for the Very Young is a wonderful way to expose young children to chamber music in a fun environment created just for them.
Theatre for the Very Young
Much like its sister program Music for the Very Young, Theatre for the Very Young is designed for children ages 0-5 to engage and nurture their creative thinking through an inventive experience. It's an inspiring and unique activity for kids and caregivers.
Must-See Attractions in Downtown, Midtown and Beyond
Whether you're visiting Atlanta, have visitors from out of town or are just looking for something to do, these top Atlanta attractions are crowd pleasers for all ages. Many are completely indoors making them a perfect option for super hot or rainy days. Looking for more rainy day activities? Don't miss our ultimate list of rainy day things to do in Atlanta.
Atlanta Botanical Garden
Atlanta Botanical Garden is a magical 30-acre oasis tucked next to Piedmont Park in Midtown. The beautiful space offers numerous exhibits, greenhouses and plantings that can be enjoyed by all ages and has special areas especially for the younger visitors. Kids will enjoy the Children's Garden, water play at Sunflower Fountain and learning about various plants and animals in Soggy Bottom. The garden also offers kid-friendly programming listed in the online events calendar.
Atlanta History Center
While the museum at Atlanta History Center may not appeal to the youngest of visitors, there are several outdoor spaces that will engage children of all ages. Explore the gardens, stumble upon the Lee Playhouse and find the Victorian Playhouse near the historic Swan House. Venture further to discover the rustic wood cabin and stop by Smith Family Farm to view the gardens and interact with farm animals.
Chick-fil-A College Football Hall of Fame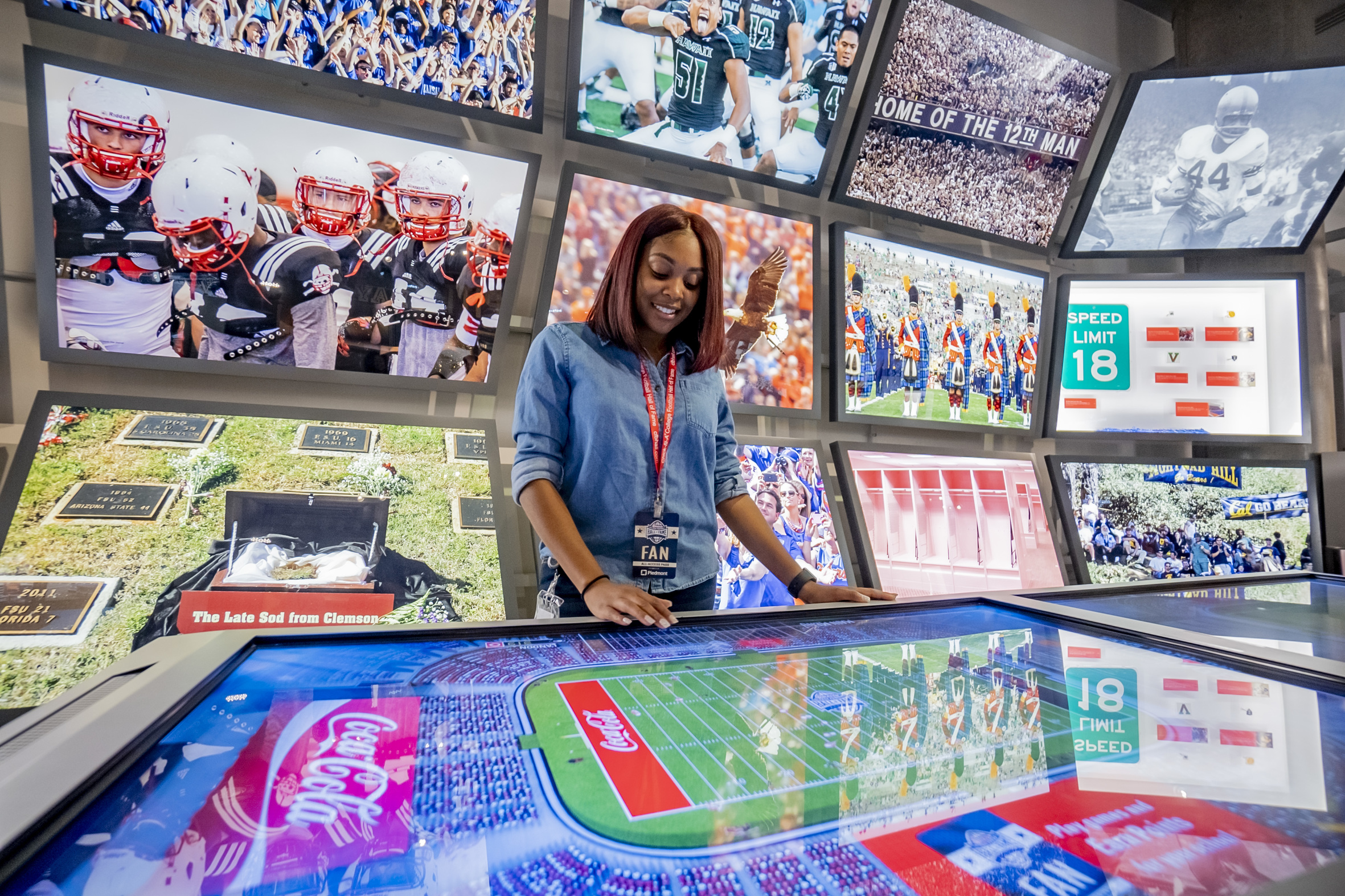 Sports fans won't want to miss a visit to Chick-fil-A College Football Hall of Fame with its interactive and personalized exhibits. From the moment you enter, you'll experience a personalized tour with a variety of highlights, interactive experiences and more. Museum exhibits, attractions and play make this a fun stop for the entire family.
Children's Museum of Atlanta
Children's Museum of Atlanta is a must-do for families with younger kids. This largest children's museum in the state encourages the power of learning through play. Children will explore using all their senses in six permanent learning zones and special exhibits. In addition, kids can experience live programming and performances by trained "Imaginators."
Fernbank Museum of Natural History
Explore indoors and out at Fernbank Museum of Natural History to learn about dinosaurs, nature and science in an interactive environment offering exhibits, attractions and learning opportunities. Wildwoods offers 75 acres of outdoor exhibits, walking trails, a canopy walk, native wildlife and nature playgrounds. Watch a movie in the Giant Screen theater, take your little ones to NatureQuest and delve into the natural history of Georgia and our world.
Georgia Aquarium
Georgia Aquarium appeals to visitors of all ages and is one of the most popular attractions in Atlanta. Georgia Aquarium is the country's largest aquarium boasting 11 million gallons of fresh and salt water, multiple galleries and exhibits plus more than 500 species from around the globe.
High Museum of Art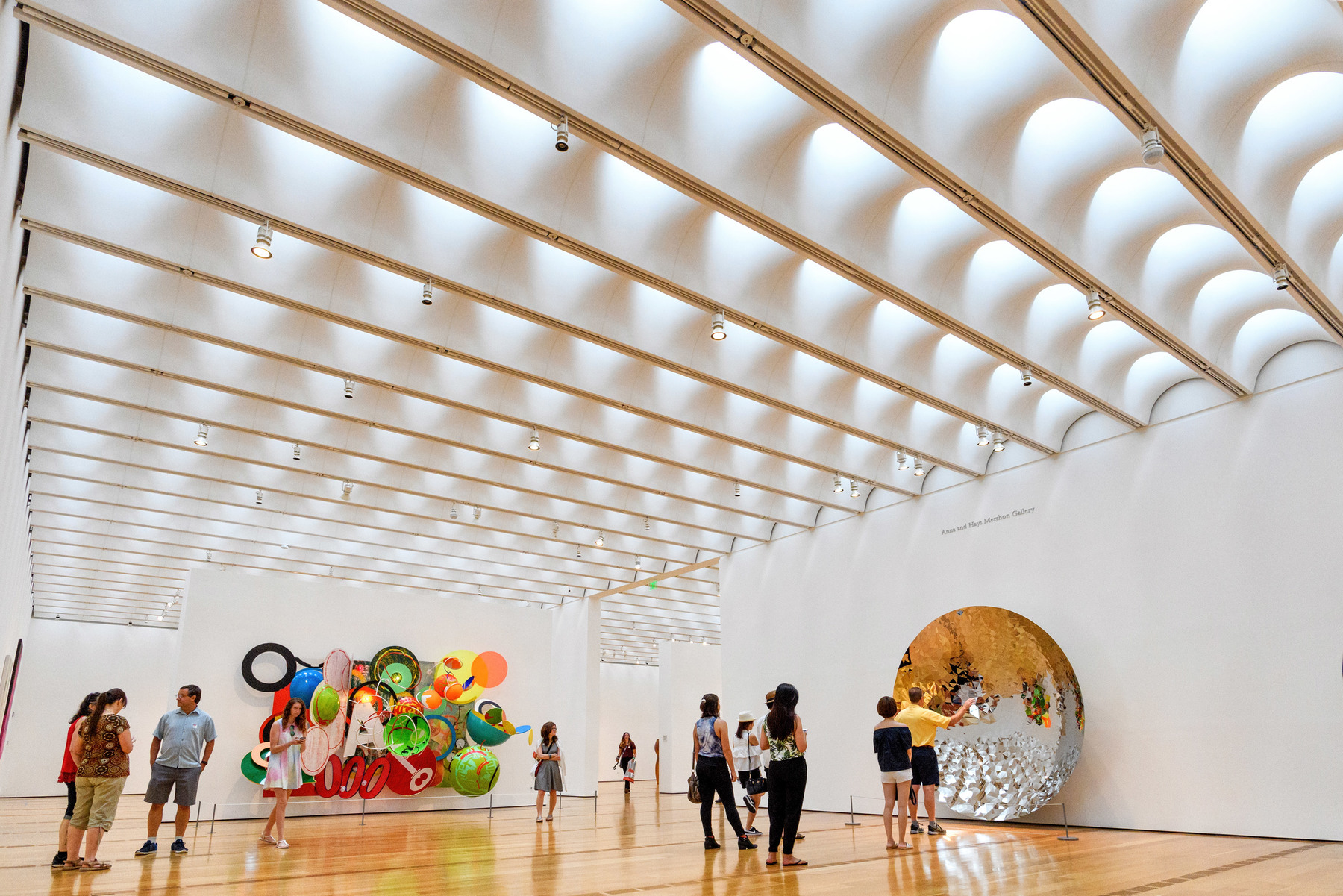 Visiting the art museum is a great way to expose children and teens to the arts. The High Museum of Art offers permanent and special events and a wide variety of art programming for all ages including art classes for a variety of ages and Toddler Thursdays with special activities just for preschoolers. Teens can get together with like-minded peers for Teen Night and Teen Art Afternoon programming.
Jimmy Carter Presidential Library and Museum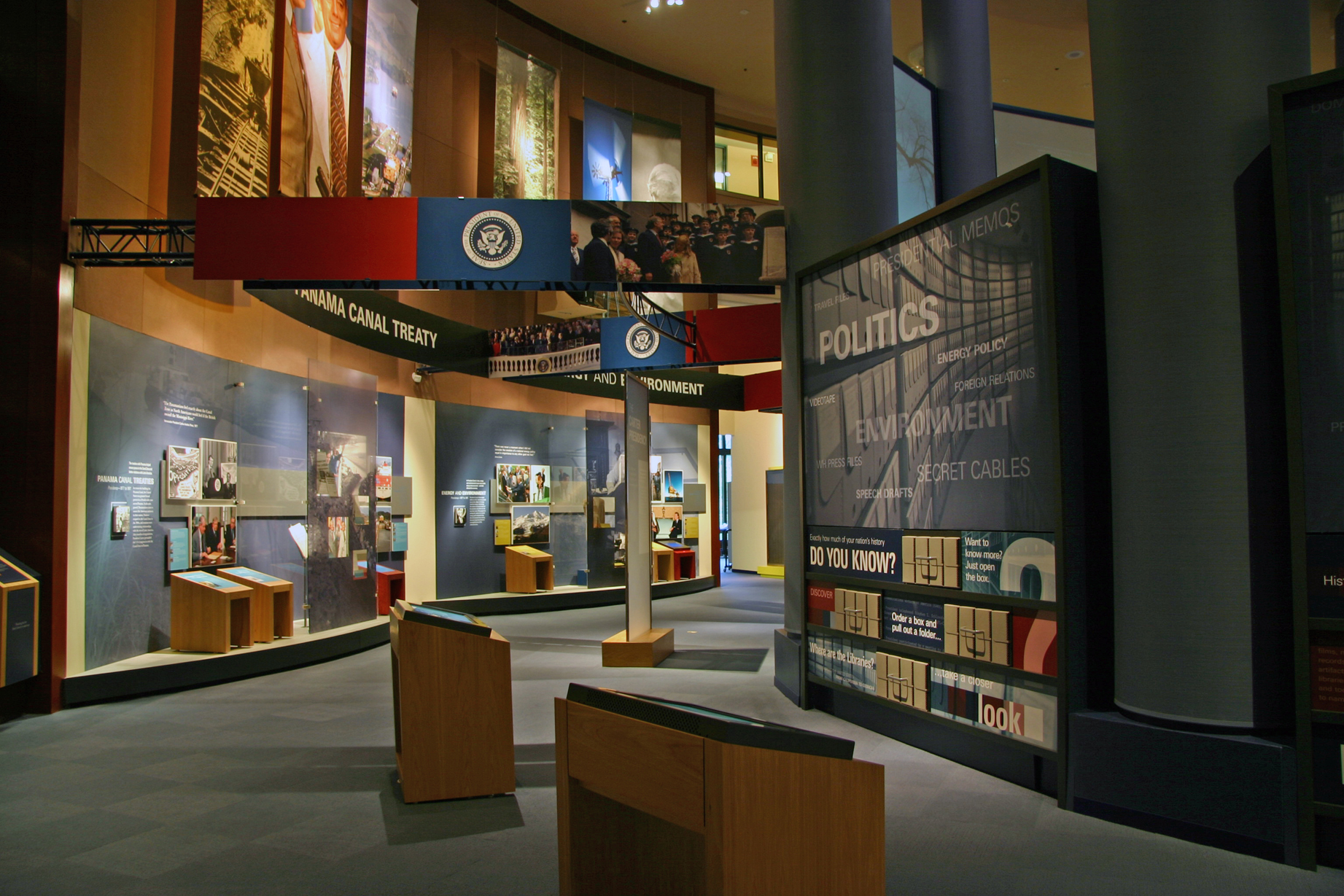 A great place to learn about the U.S. government and presidency, Jimmy Carter Library and Museum offers tours and programming for kids in addition to beautiful grounds and a movie theater.
National Center for Civil and Human Rights
Visiting the National Center for Civil and Human Rights can be a great way to talk to your kids about our nation's history and the importance of equal rights for all. Through a variety of immersive and interactive exhibits, you can learn about the changemakers who helped shape our history and policies. Participate in a lunch counter sit-in, learn the stories of the Freedom Riders and be amazed about the power of people to create change.
Martin Luther King, Jr. National Historical Park
Explore an important part of our nation's history by visiting this park, which includes the birth home of Dr. Martin Luther King Jr., Ebenezer Baptist Church and the World Peace Rose Garden. Kids between the ages of 9 and 12 can become a Junior Ranger by picking up a booklet or downloading it here.
Museum of Design (MODA)
Expose your kids to the magic of art and design through MODA's Youth Programming workshops. Kids ages 7 and up can choose from a variety of workshops that introduce design concepts and potential career paths while combined with popular kid's games and activities like LEGO and Minecraft and other fun activities. MODA offers workshops both in person and online.
Six Flags Over Georgia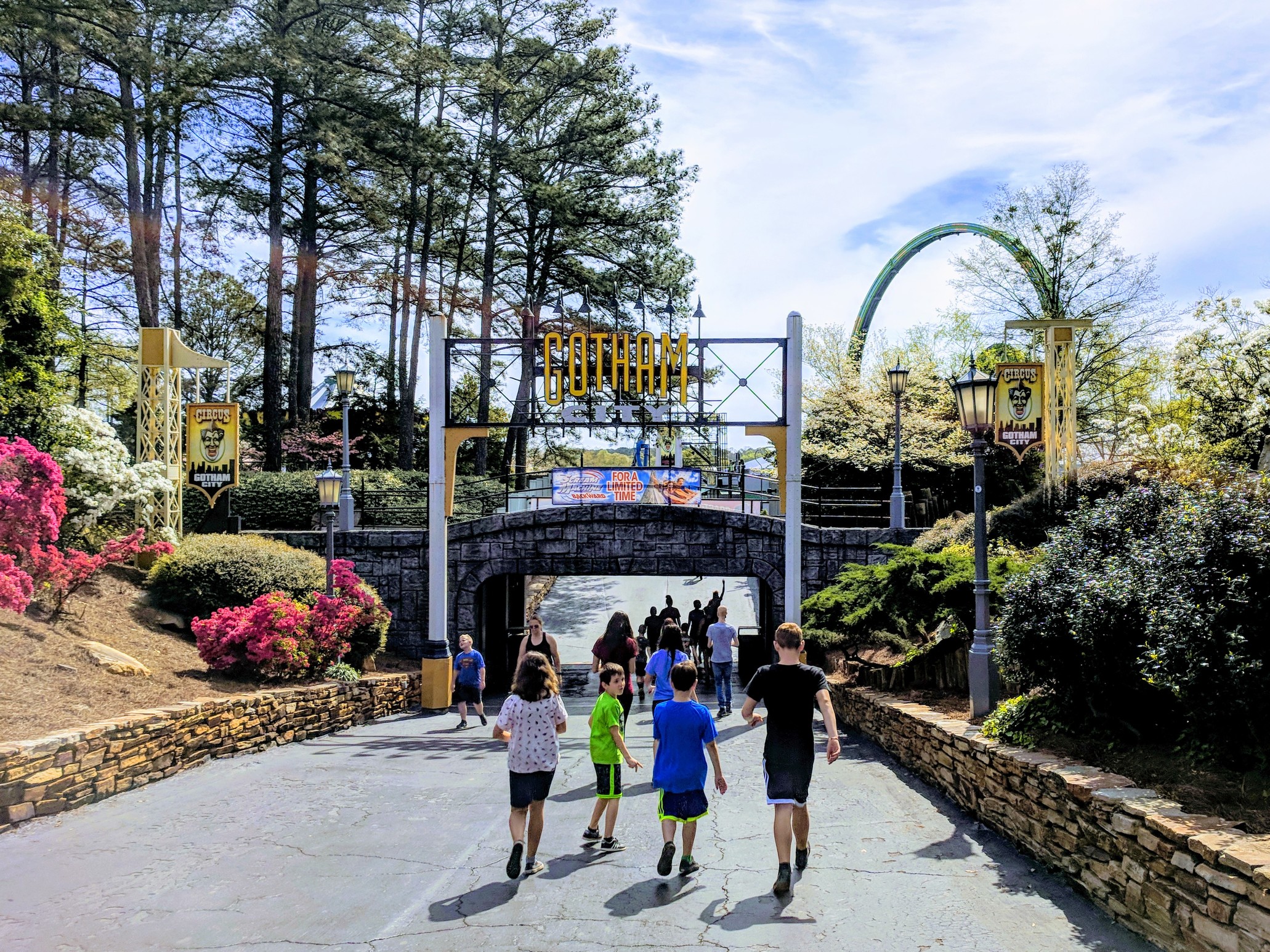 Atlanta's thrilling theme park offers a variety of amusements and exciting rides for families with children of all ages. Thrill seekers will love the variety of high energy rides that twist, drop and zoom, while smaller kids will find rides perfectly tailored to them. Six Flags Over Georgia also offers a variety of special and seasonal events. No matter your age, you will enjoy visiting Hurricane Harbor water park during the summer, where you can float, slide and play in the cooling water.
SkyView Atlanta
While exploring Downtown, grab some tickets for SkyView Atlanta, the 20-story Ferris wheel that offers incredible birds-eye views of Atlanta. The Ferris wheel offers enclosed, climate controlled cars that hold up to six. The wheel rotates four times offering the opportunity for complete views of our beautiful city.
Woodruff Arts Center
Woodruff Arts Center is the third largest arts center in the country, home to the High Museum of Art, Alliance Theatre and Atlanta Symphony Orchestra. A variety of stunning statues in a park-like setting encourages you to explore and find inspiration even before stepping inside one of the buildings.
World of Coca-Cola
Located in the same courtyard as Georgia Aquarium is this amazing museum dedicated to all things Coca-Cola. Inside World of Coca-Cola you can taste, smell and experience the history and lore behind this iconic brand with interactive exhibits, tastings, movies and more.
Zoo Atlanta
Enjoy a trip to Zoo Atlanta, located just minutes from Downtown and housing more than 1,000 animals crossing 200 species. Get up close and personal with a variety of critters through exhibits, animal encounters and more. Younger kids will love stopping at the Kid Zone, riding the train and splashing in the water park.
Save with Atlanta CityPASS
If you're visiting Atlanta with family and plan to visit some of these more popular attractions within a small window of time, definitely check out Atlanta CityPASS as it offers savings of up to 44% on admission to five of Atlanta's top attractions including Georgia Aquarium, World of Coca-Cola and Zoo Atlanta.
Fun Things to Do with Younger Kids in Atlanta
Children's Museum of Atlanta
Children's Museum of Atlanta is a space completely dedicated to teaching young children through the power of play. Kids will enjoy interactive exhibits, activities and live age-appropriate entertainment.
Interactive Neighborhood for Kids
This kid-centric "museum" was designed to immerse children in a world of interactive play and imagination. Interactive Neighborhood for Kids (INK) features interactive exhibits that will pique kids' interest and encourage imagination. Kids ages 2 through 12 can visit GrandPappy Airlines, the Medical Clinic, Family Playhouse, Gainesville Radiology Clinic, Dentist office, bank and so much more.
Southeastern Railway Museum
The Southeastern Railway Museum is a toddler's dream, featuring numerous train cars and other vehicles to explore or ride in. There are areas to eat (bring your own lunch), host parties and learn about the history of transportation.
The Southern Museum of Civil War & Locomotive History
Most little kids are enthralled with trains and vehicles so the Southern Museum of Civil War & Locomotion History is a great destination to take tots. Explore a variety of train cars and vehicles from throughout history and learn about their impact on the Civil War. The Jolley Education Center offers numerous hands-on and interactive exhibits that are fun for the entire family.
Toddler Thursdays at The High
Designed for children ages 15 months through 3 years old and their caregivers, Toddler Thursdays at The High Museum of Art engage children's creativity and explore monthly topics with related artwork, self-guided tours and new art-making activities each week.
Tot Spot at Atlantic Station
Tot Spot at Atlantic Station is designed for visitors ages 5 and younger as a place where preschoolers can play in giant bubbles, participate in free crafts, singalongs and kid-friendly yoga, and enjoy pre-packaged snacks and more. Visit the website for availability and seasonal hours.
Cool Things to Do with Older Kids in Atlanta
Let's face it, being a parent to older kids can sometimes be tough. They seem to find any activity "BORING!" when suggested by a parent. We've come up with some pretty great ideas to get those tweens and teens out of the house to have fun in and around Atlanta.
Best Atlanta Instagram Photo Ops
If there is one thing that almost any teen loves, it's social media. Atlanta is overflowing with amazing backdrops to make scroll-stopping Instagram posts or TikTok videos. Pose in front of one of the myriad murals that can be found around the city or try out that new TikTok dance at any number of stunning spots. Start with this guide to the best Atlanta street art to get inspired.
Chick-fil-A Backstage Tour
If you love seeing the history "behind the thing," don't miss the Chick-fil-A Backstage Tour. You can experience a storytelling journey covering the history of the No. 1 chicken restaurant in America through virtual tours hosted by live tour guides. Visit the website for details.
Escape Rooms
Escape rooms are hugely popular, and Atlanta has a great variety to choose from. Gather your kids and their friends for a perfect afternoon outing or birthday party location at The Escape Game Atlanta, Netherworld Escape Rooms or the newer trap-centric escape room, Escape the Trap.
Krog Street Market
Much like Ponce City Market, Krog Street District offers a trendy vibe in its historic, rehabbed building. You will find a plethora of unique dining and shopping experiences.
Roller Skating
This popular activity is making a comeback, and teens will love lacing up a pair of skates and gliding to some funky beats. Check out Cascade Family Skating, Golden Glide Skating Rink, Hot Wheels Skate Center, Metro Family Fun Center or Stone Mountain Skates. These rinks are fun places to have parties and gatherings as well. If you'd rather catch a few rays while skating, try renting skates at Skate Escape Bike Shop and hop on the Atlanta BeltLine for some fun on wheels.
Round 1 Bowling & Amusement
Round 1 is a bowling and amusement center packed under one roof at Cumberland Mall. Teens will love bowling, gaming in the arcade, playing pool and Ping-Pong or belting out a few karaoke tunes. It's the perfect spot for rainy days and birthday parties or just an afternoon of fun.
Splatter Studio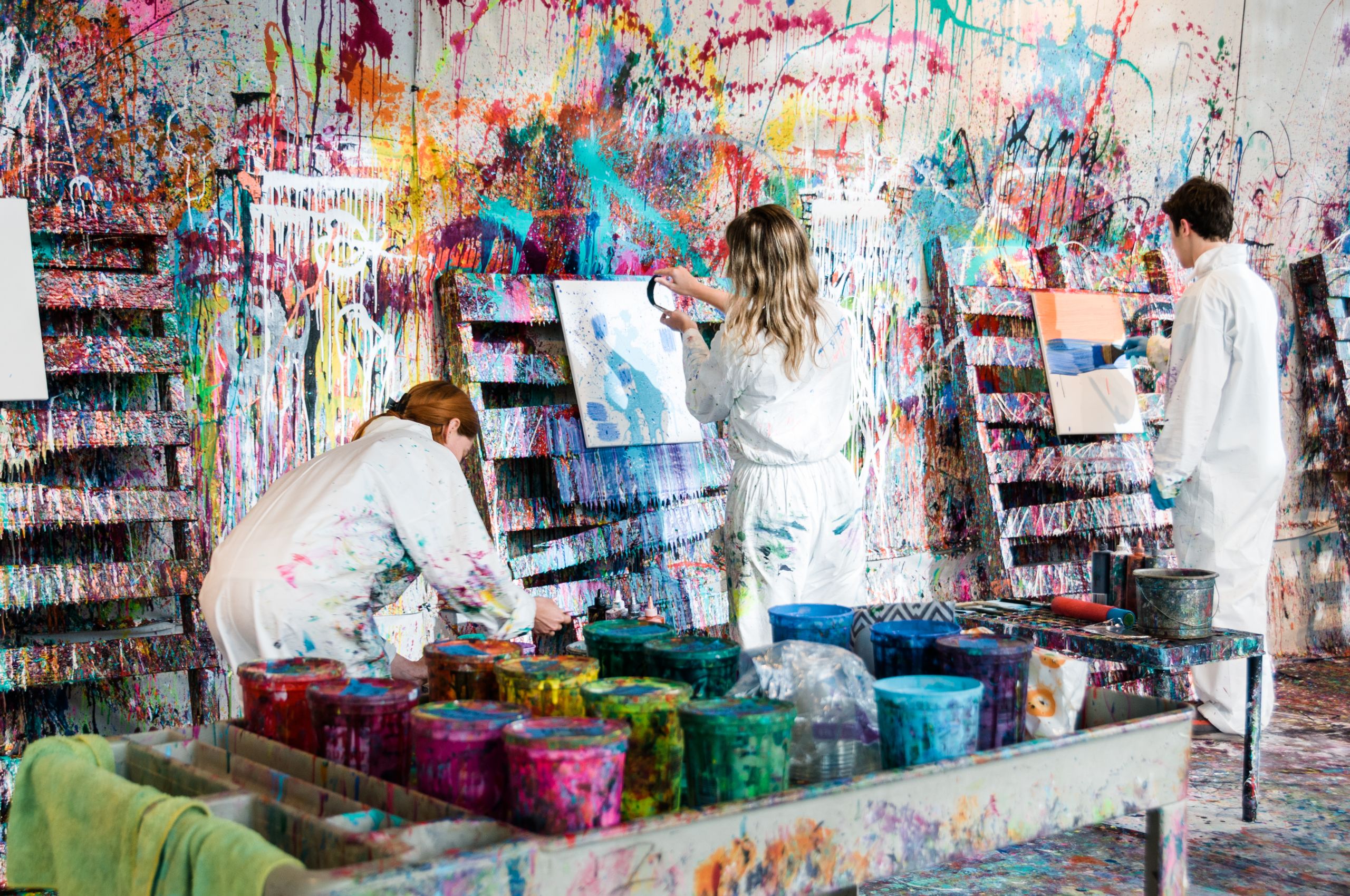 Make time to get messy and make art at The Splatter Studio where you can don protective gear (for your clothes) and flick, drip and splatter paint til your heart's content to create your own masterpiece. Splatter studio is a great place to have a great time with your besties or host a birthday party.
Street Art Tours
Set up an afternoon of exploration on two wheels to tour the unique and diverse street art of Atlanta with Bicycle Tours of Atlanta or ATL-Cruzers.
Teen Art Afternoons
Teens who love art will appreciate the opportunity to learn and create in a world-class museum. The High Museum of Art offers just that with its Teen Art Afternoons where young adults learn, take tours and create art for free.
Bicycle Tours
Kids as young as 9 (4'8") are welcome to join Bicycle Tours of Atlanta's tours covering the art, history and culture of Atlanta. Take a leisurely ride around the city and learn about the history of the civil rights movement, Atlanta's icons, sustainability, landmarks and more.
The ROOF at Ponce City Market
Teens and tweens will love shopping and exploring Ponce City Market. The variety of shops have a young vibe, and the dining hall offers food selections for every palate. Up top, you can visit The ROOF for boardwalk-style games and rides.
Six Flags Over Georgia
A traditional amusement park with thrilling rides for all ages. Six Flags Over Georgia also includes a water park (Hurricane Harbor) for those hot Southern days. Whether you go with them or drop them off, your teens will surely find tons of fun here.
Walk, Bike and Skate the BeltLine and Historic Fourth Ward Park
Kids who love being outdoors will enjoy exploring the Atlanta BeltLine and adjoining parks, properties and experiences. One particularly popular spot for teens is the Historic Fourth Ward Park with its acclaimed skateboard park. In addition the Atlanta BeltLine offers lots of opportunities for the perfect selfie.
Yoga in the park
What better way to unwind a little than an invigorating yoga session outside? Check out Zoo Yoga at Zoo Atlanta, free Yoga at Woodruff Park, Wellness Wednesdays on The Green at Atlantic Station and Yoga on the BeltLine.
Coolest Playgrounds Around Town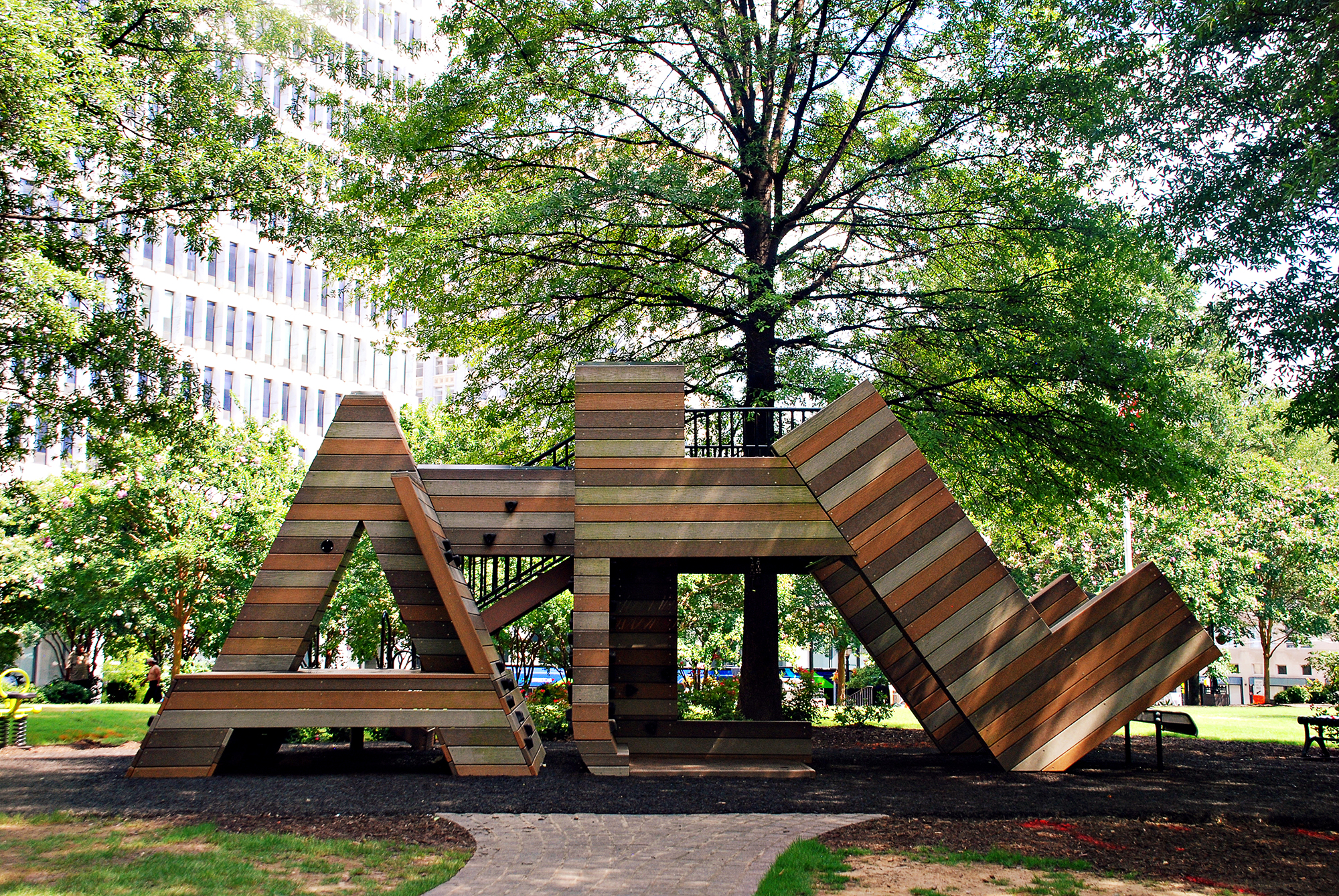 A good playground can make a kid's entire day. Fortunately Atlanta is home to dozens of parks and playgrounds. Here are our top choices:
ATL Playground at Woodruff Park
The ATL at Woodruff Park is cleverly disguised as art. This cool sculpture hides a climbing wall, slides and even monkey bars inside its cool facade.
Cabbagetown Playground
This tiny neighborhood park off the beaten path is good for little kids. Lots of green space makes it a great spot for eating your lunch in the shade.
Chastain Park
Routinely touted as one of the best in Atlanta, the playground at Chastain Park features lots of colorful playground equipment, restrooms and open space.
Dunwoody Nature Center
While some might argue that Dunwoody is a giant natural playground in and of itself, the town also features a more traditional area for kids to climb, crawl and swing surrounded by majestic trees and lush foliage. Dunwoody Nature Center's areas for toddlers and bigger kids allow play for everyone. Try the giant rope swing or new-school teetertotter.
Old Fourth Ward Park
The playground at Old Fourth Ward Park has been described by kids as "cool" and "super fun." Bonus points for it being adjacent to a great splash pad for hot days.
Piedmont Park (Noguchi Playscape)
The Noguchi Playscape is located near the 12th Street gate of Piedmont Park. The geometrically shaped, modernist playground includes a soaring swing set, slide, sandpit, climbing dome and more – all made of bright and exciting colors.
Springvale Park in Inman Park
Springvale Park has a great playground with shaded play structures, sand boxes and a cool tall slide. It is housed near a beautiful pond and features plenty of open space for play. This area doubles as the kids' area during the Inman Park Festival.
Zoo Atlanta Playgrounds
Zoo Atlanta is home to two fun playgrounds. The Naked Mole Rat playground encourages kids to tunnel around this interactive experience the mole rat way. KIDZone Playground is a great way to burn off excess wiggles by sliding, swinging and playing in the multicolor, interactive play structure.
Seasonal Things to Do with Atlanta Kids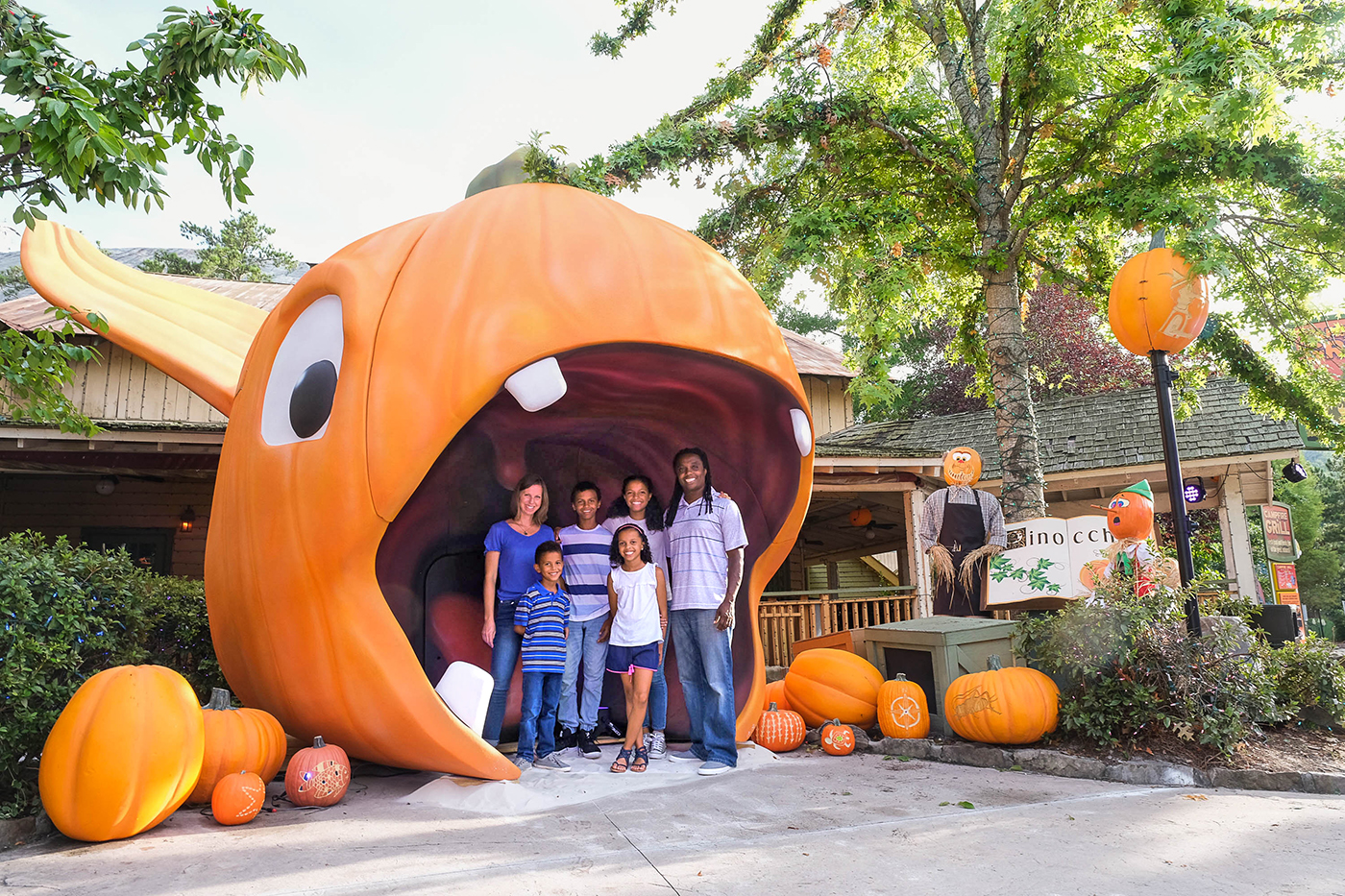 Atlanta serves up all four seasons, from humid but verdant summer days to cold winter days with a dusting of snow and plenty of rainy days sprinkled in. Fall is a riot of color while spring truly showcases new beginnings with blossoms and buds. Try these experiences to make the most of the seasons (and the holidays within them) and create unforgettable family memories.
Apple Picking and Pumpkin Patches Near Atlanta
A favorite way to usher in fall is a day trip for apple picking and/ or pumpkin patching. Many apple orchards and pumpkin patches not only feature picking but also a variety of family friendly activities like corn mazes, hayrides, pumpkin chucking and more. Here are some of our other favorite fall activities for families.
Fun Spot America
Located in Fayetteville (about 40 miles from Atlanta) is Fun Spot America. This family fun center features traditional carnival rides such as a Ferris wheels, roller coasters and bumper boats in addition to unique attractions like a four-story go kart track, the "Sampson." In addition, you can play miniature golf, hit inside the batting cages or head indoors for arcade games and bumper cars. It's great fun for kids of all ages.
Ice Skating in Atlanta
Another cool winter experience is ice skating, yes, even in the South. Visit one of these seasonal outdoor ice skating rinks in Atlanta for festive fun.
Margaritaville at Lake Lanier
Located about an hour from Atlanta, Margaritaville at Lake Lanier offers seasonal activities for the whole family. In winter Margaritaville offers "snow island" and an incredible holiday lights display, while summer brings excitement at the water park.
Outdoor Movies
Outdoor movies seem to be a staple of summer around Atlanta. You can find showings at many locations including Atlantic Station, Candler Park, Town Brookhaven, Movies on the Town, Jimmy Carter Presidential Library and Museum, and many local neighborhood parks.
Seasonal Festivals in Atlanta
Atlanta is home to some amazing festivals during nearly all seasons of the year. Some of special interest to families with children include the Atlanta Ice Cream Festival, Atlanta Dogwood Festival, Atlanta Science Festival and the Decatur Book Festival.
Shoot the 'hooch
Shooting the 'hooch (Chattahoochee River) is a perennial warm weather favorite for Atlantans. Water lovers can tube, canoe, kayak, paddleboard and more off the banks of the Chattahoochee. Here's where to cool off in Atlanta.
Splash Pads
Families with younger kids will love the abundance of splash pads around Atlanta. The epic Centennial Olympic Rings Fountain and the Legacy Splash pad in Piedmont park are more traditional fountain style pads, while the Historic Fourth Ward has a more colorful, splash pad with unique water features and a playground. D.H. Stanton Park has a beautiful and colorful splash pad, as does the Riverside Sprayground in Roswell, which also features a snack bar, shaded playground and pavilion.
Strawberry Picking Near Atlanta
Summer wouldn't be summer without at least a few fresh strawberries. They're even better if they are freshly picked from one of the strawberry farms close by. Picking usually starts in late March or early April. Check out LCCL Strawberry Farm or Fitzgerald Fruit Farms.
Year-Around Favorite Activities in Atlanta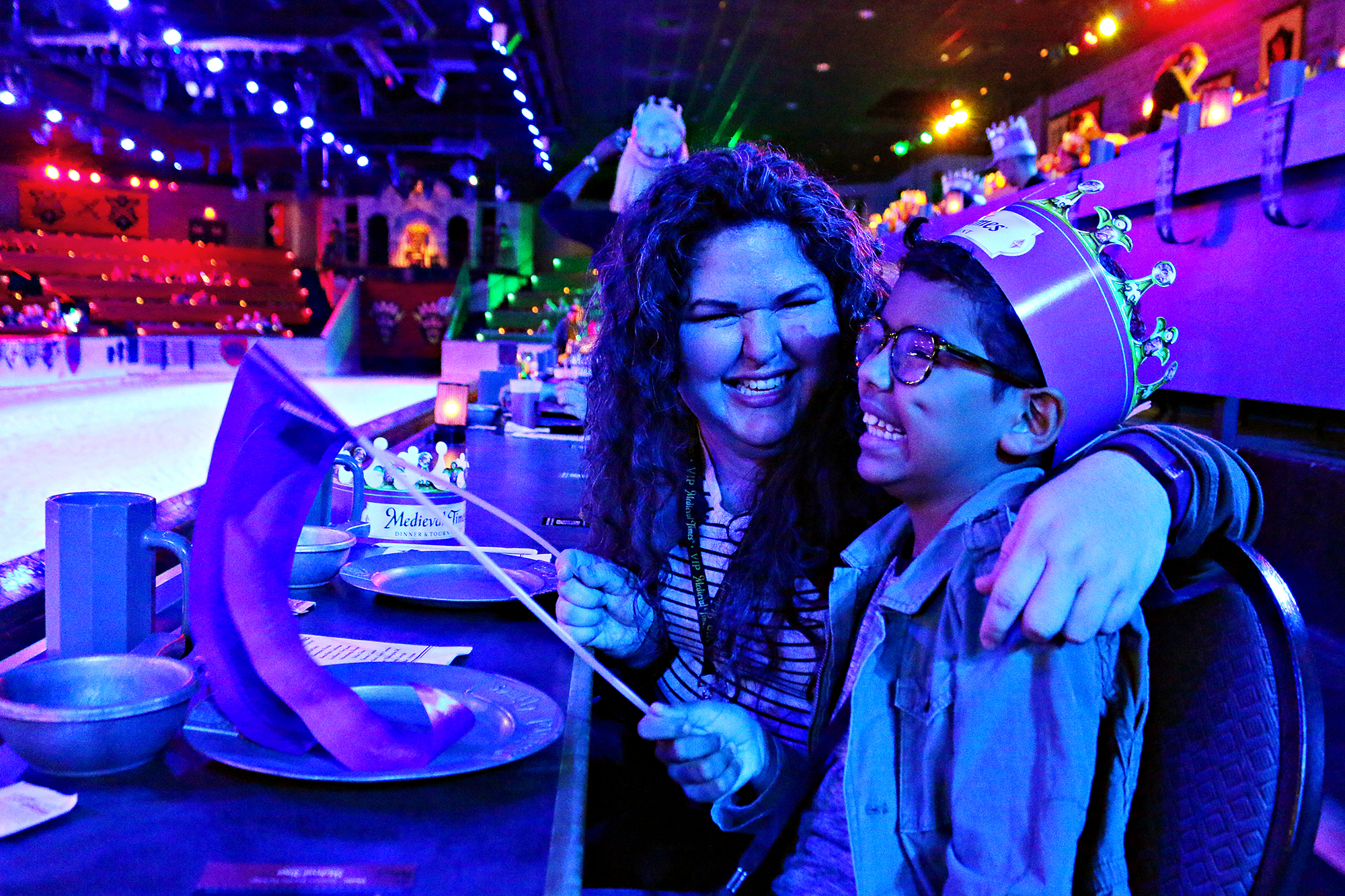 Andretti Indoor Racing
Kids love getting behind the wheel of a go kart at Andretti Indoor Karting and Games. Drive a few laps and then hit the arcades, grab a bite to eat and check out the other fun activities like boutique bowling and laser tag. It's a great options for birthday parties.
Where to Go Bowling in Atlanta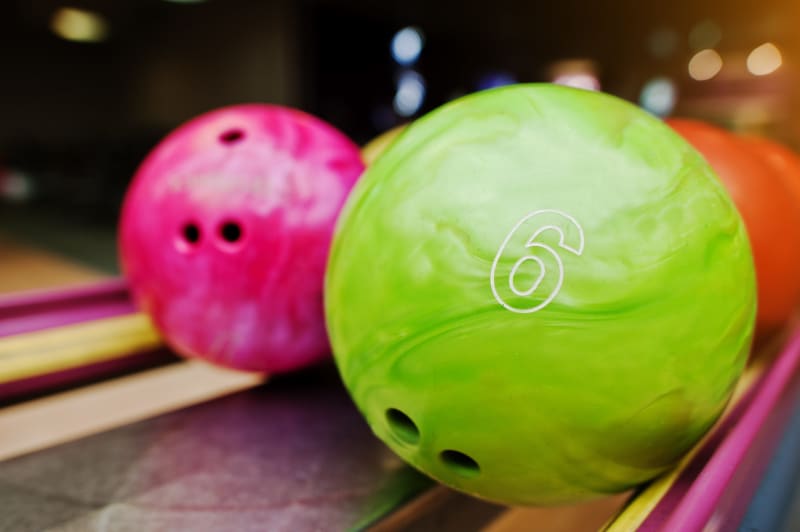 Bowling is making a resurgence as a fun family activity. Get the bumpers raised when you have little bowlers or take advantage of the thrill of black-light bowling with older kids. Check out Bowlero Bowl, Main Event, Round 1 and Midtown Bowl. See the full guide to Atlanta's bowling alleys here.
Delta Flight Museum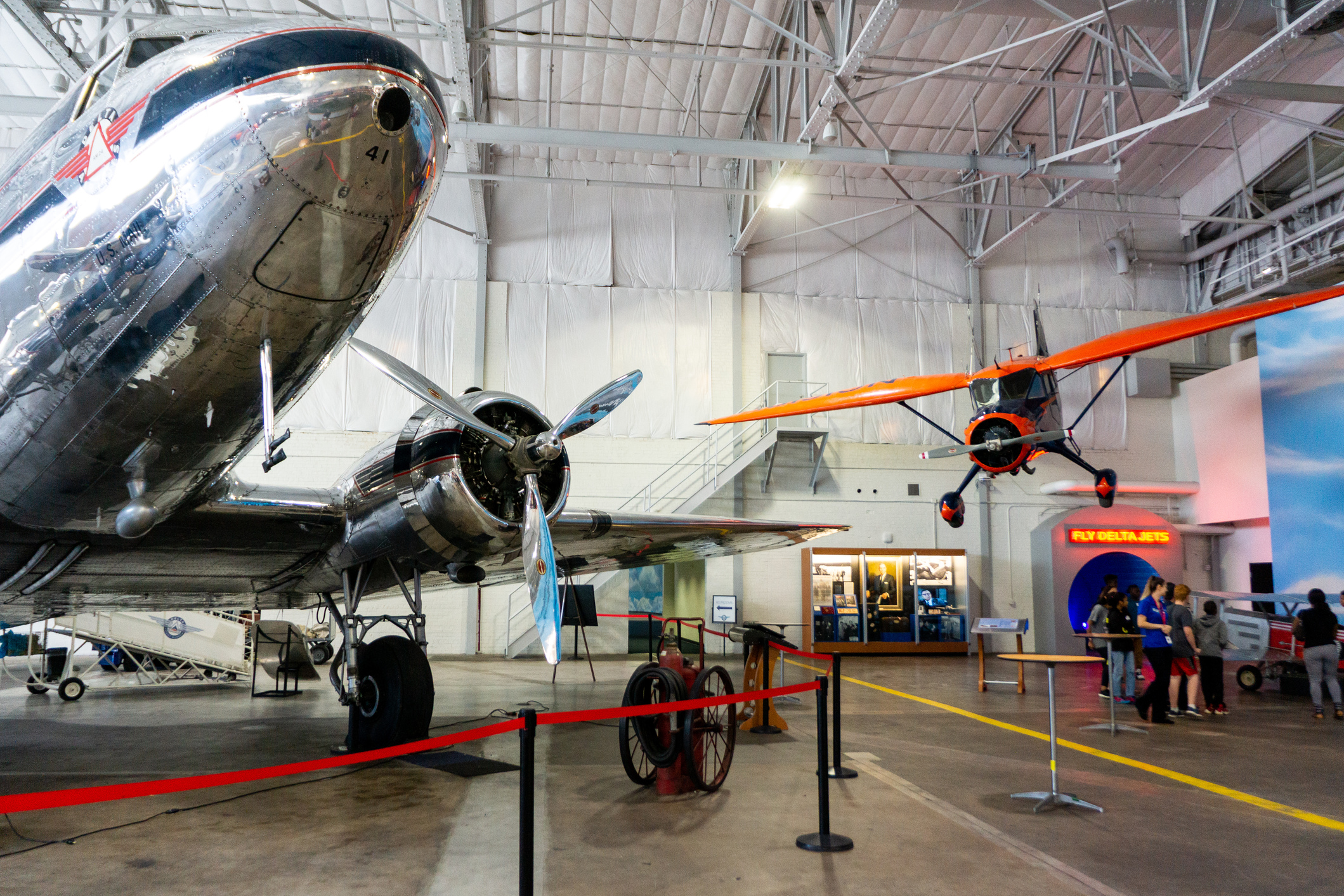 Learn about the history of flight or test your skills in the flight simulator at the Delta Flight Museum. Kids will love the interactive activities and exploring retired aircraft, unique collections and exhibits.
Great Wolf Lodge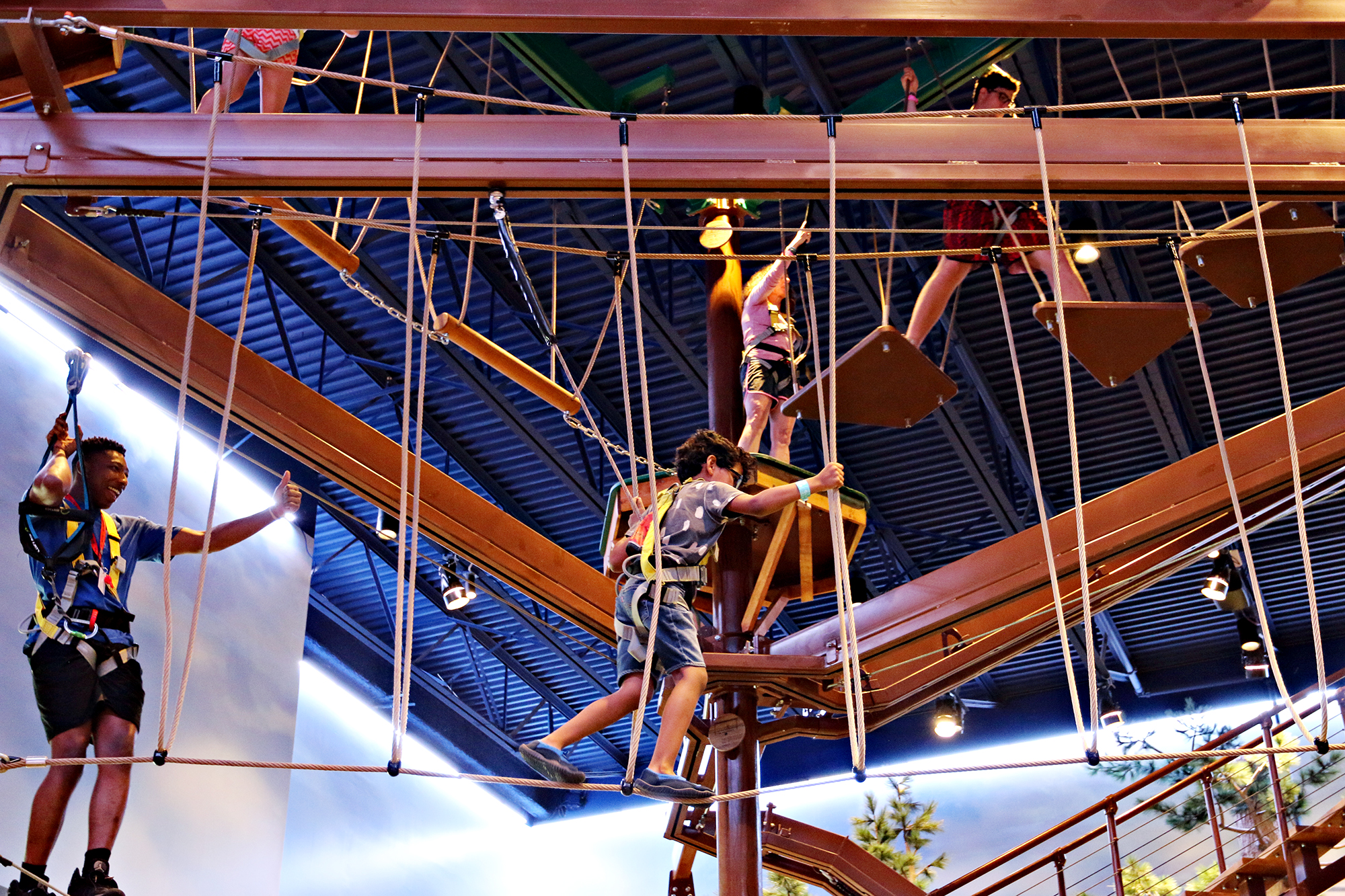 Plan a weekend getaway at this family-focused lodge in LaGrange, Ga., that is tailored to family activities. Experience camping while tucked warm and safe in a comfortable hotel. Story times, dance parties, a ropes course, and arts and crafts are just a few of the experiences your family can enjoy. Don't forget the indoor water parks.
Medieval Times Atlanta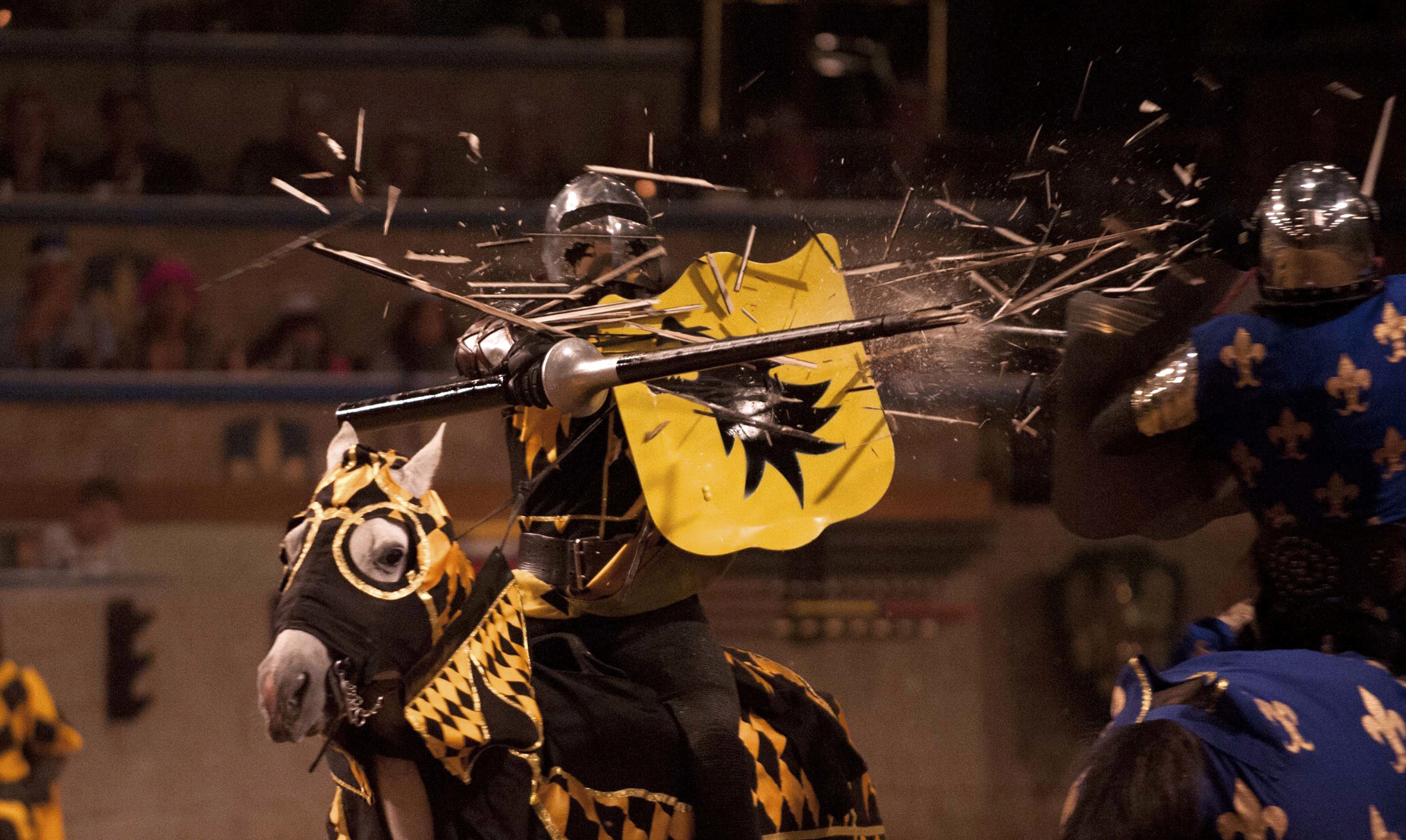 Step back into the age of knights and fair maidens and experience live-action jousting, sword fighting and mounted games of skill while dining in a castle. Medieval Times Atlanta is where to go for an action-packed evening (or afternoon) of fantasy and adventure.
Rock Climbing in Atlanta
You don't have to wait for good weather to hit the rocks. Tie on your shoes and grab a finger hold at one of the rock climbing gyms in the Atlanta metro area. We like Wall Crawler Rock Club in Candler Park, Stone Summit Climbing Atlanta or Stone Summit Midtown. Got good weather? Head out to Boat Rock Bouldering Area and polish your skills outdoors.
Starlight Drive-in
The Starlight Drive-in is Atlanta's only classic drive-in theater and is a super spot to bring the entire family or carloads of friends for movie night. Just $10 per adult and $1 for kids, it's a bargain, especially since you can pack your own snacks and drinks. Bring lawn chairs to sit outside or hunker down in the car or truck bed old-school style.
Tellus Science Museum
Science-minded kiddos will love visiting the Tellus Science Museum in Cartersville, Ga., checking out the planetarium and observatory and hands-on exhibits for visitors of all ages. Kids can pan for gems, explore dinosaur bones and learn about space.
Topgolf
Budding golfers and fans of fun will enjoy an outing to one of Atlanta's Topgolf entertainment centers. Golf in private, all-weather bays, dine on world-class food, take lessons or host a party. There's even a kid's zone with lessons and activities.
Trampoline and Bounce Houses
When the weather outside is less than ideal, head indoors to bounce, flip, jump and play at one of Atlanta's jump zones. Check out Adventure Air Force, Sky Zone, Xdrenaline or Rockin' Jump for a variety of bouncy, trampoline action for even the littlest jumpers.
Where Kids Can Volunteer in Atlanta
A great way for kids to fill some time while making new friends is by volunteering. Giving back to our communities is a great way to increase self-esteem and lend a sense of accomplishment. Check out these resources to find places that welcome youth volunteers:
J.O.E.Y. at Zoo Atlanta
KiwanisKids
Hands On Atlanta
Trees Atlanta
Zip Lining in Atlanta
Ready for a little (or big) boost of adrenaline? Visit Treetop Quest for a day of exploring the treetops of Atlanta. Zip lines, obstacles and rope courses will test your resolve and skill while letting you enjoy the beauty of Atlanta's green space. Great for ages 4 and up.
Free and Cheap Things to Do with Kids in Atlanta
Looking for a budget-friendly family outing in Atlanta? We've compiled a list of our favorite free and cheap things to do with kids in Atlanta. From a walk on the Atlanta BeltLine to $1 movies (for kids) at the Skylight Drive-In, these activities are easy on the pocketbook. For a complete list of ideas, check out 50 fun free & cheap things to do.
Free Things to Do with Kids in Atlanta
Big Trees Forest Preserve – Visit this 30-acre preserve to immerse yourself in nature.
Blue Heron Nature Preserve – This 30-acre nature preserve is home to three-mile Blueway Trail, which encompasses a variety of habitats.
Castleberry Hill Art Stroll – Peruse art during Castleberry Hill's monthly art stroll.
Family Free Days at Children's Museum of Atlanta – Watch social media for free family days at CMA.
Second Sundays at The High – The High Museum of Art offers free family admission and programming the second Sunday of each month with advance reservations.
Georgia Aquarium – Admission is free on your birthday for Georgia residents.
Historic Fourth Ward Skatepark – Drop in for some skateboard fun.
Self-guided Atlanta street art walking tours
Cheap Things to Do with Kids in Atlanta
Lasershow Spectacular at Stone Mountain Park (parking fee)
Delta Flight Museum
Planetarium Show at Fernbank Science Center
Chattahoochee Nature Center
Piedmont Park Aquatic Center and Pool
For more ideas for all ages, check out this list of 50 fun things to do in Atlanta. Also, our Events Calendar and list of things to do this weekend in Atlanta will be sure to keep you in the know.
Discover More
Get to know Atlanta, and discover the best things to do around the city.