The Ultimate List of Rainy Day Things to Do in Atlanta
If there is one thing you can predict, it's that Atlanta weather can be a bit unpredictable. Sunshine today but rainy tomorrow? No problem. We've taken the stress out of figuring out what to do and where to go with this ultimate list of things to do on a rainy day in Atlanta.
Andretti Indoor Karting and Games
Got restless tweens and teens at home? Andretti is a whopping 100,000 square feet of indoor activity from karting to gaming, rock wall, laser tag and more. All this resides under one roof complete with a restaurant and bar for Mom and Dad. There are two Georgia locations.
Atlanta Monetary Museum
Show me the money. At Atlanta Monetary Museum you can see the money up close and in person. This museum covers the Federal Reserve, U.S. currency and more. See how robots are used to move the money, how it's made, how it's destroyed and learn all about money in our daily lives. It's a great educational stop for the entire family.
Center for Puppetry Arts
A trip to the Center for Puppetry Arts is a surefire way to beat the rainy day blues, especially for youngsters. Tour the Worlds of Puppetry Museum, catch a performance or sign up for one of CPA's fun curriculum-based workshops for an educational, creative and fun outing.
Children's Museum of Atlanta
Kids climbing the walls? Get them out of the house and into educational, hands-on fun at the Children's Museum of Atlanta, located Downtown. With plenty of places to explore, climb, play and learn this children's museum is bound to entertain kids for hours.
Cinebistro
Dinner and a movie? It's perfect for couples. Or choose a family flick and bring the kids. Cinebistro, located in Brookhaven, allows you to enjoy a film and a real meal, complete with alcohol if you so choose, in the comfort of a reclining chair. It's a great place to hide from Mother Nature, kick back and enjoy the show.
Kid-Friendly Dining
Everyone's gotta eat but let's be honest, sometimes the thought of taking your kids out to a restaurant might cause a bit of anxiety. Relax, we've compiled some kid favorites. Ranging from a classic Atlanta landmark to a true medieval experience, these 8 fun restaurants for kids in Atlanta are guaranteed to please.
Escape Rooms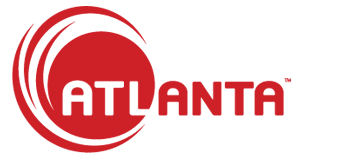 This popular new entertainment trend is a great way to spend some time with teens or adult friends. Spend an hour or two solving puzzles, uncovering hints and playing detective to escape a locked themed room at The Escape Game Atlanta, Escape the Room, Mission Escape and Ultimate Escape. Follow up your adventure with drinks or dinner out. The Escape Game also offers physical and virtual games online, so you can bring the fun home.
Fernbank Museum of Natural History
What do dinosaurs, fish and roses have in common? They're all at the Fernbank Museum of Natural History, where the entire family can enjoy getting out of the rain and into the past. Explore "A Walk through Time in Georgia," see the largest dinosaurs that roamed the earth and so much more. The great interactive exhibits, Giant Screen theater and 900-gallon saltwater aquarium are just a few of the attractions that await.
Game-X
This Downtown venue offers lots of gaming fun for the whole family. With more than 60 state-of-the-art arcade games, this place offers hours of fun for every age. Game-X has food and drinks plus a full bar offering happy hour entertainment and all-day weekend fun for the entire family.
Georgia Aquarium
A year-around favorite, Georgia Aquarium is a great spot to spend an inclement day and a terrific place to take visitors in case Mother Nature is raining on your parade. The nation's largest aquarium houses 10 million gallons of fresh and saltwater habitats, plus interactive exhibits, animal encounters, tours, the 4D Funbelievable Theater and so much more.
High Museum of Art
An afternoon at the High Museum of Art is a wonderful place for you and your honey if you are trying to get out of the rain. More than 17,000 works of art in its permanent collection, a healthy rotation of visiting exhibitions, a fabulous museum shop, on-site cafe and other amenities allow you to stay under one roof and out of the weather while indulging in a little culture.
Hodgepodge Coffeehouse
The rain is coming down, but you just wanna grab your sweetheart and get out of the house for a bit. Head down to Hodgepodge Coffeehouse in Little Five Points. This eclectic spot features art and merchandise by local artists and artisans, has a full menu of delicious breakfast and sandwich offerings and, of course, a full espresso bar with signature drinks. It's a great space to hang out and read the paper, play a game or visit. Got kids in tow? There is a play area just for them.
Jimmy Carter Presidential Library and Museum
History buffs enjoy a visit to the Jimmy Carter Presidential Library and Museum, located in Atlanta and nestled in a beautifully landscaped area. It is filled with interactive displays and fascinating exhibits that the entire family will enjoy. Experience "A Day in the Life of the President," step into a replica of the Oval Office, take a virtual trip with the Carters to fight disease and promote democracy around the world.
Kefi
Rain got you down? Head to Kefi in Buckhead for a fun and interactive afternoon of play. Kefi offers state-of-the-art activities like creating music, testing toys and other modern, relevant experiences designed to stretch your child's imagination. Kefi offers safe and clean play spaces for kids, ages 2 through 12, with a separate work space/lounge for caregivers.
LEGOLAND Discovery Center
Everyone's favorite toy brick is the centerpiece of this center that is a great place to take the kids on a rainy day. There are rides, activity stations, a 4D movie theater and so much more, all under one roof. It is a fun and educational spot for families with kids of all ages. Located within Phipps Plaza.
Marietta Fire Museum
The Marietta Fire museum offers a free tour of fire memorabilia including vehicles, uniforms and more. The gift shop includes shirts, hats and other souvenir items. Open Monday through Friday, it's a must visit for firefighting buffs.
Museum of Design Atlanta
Art and design buffs love checking out MODA, the only museum in the Southeast devoted exclusively to the study and celebration of all things design. While providing community outreach and education, MODA also offers exhibitions highlighting architecture, industrial and product design, interiors and furniture, graphics, fashion and more. This is a great stop for families with older kids or couples looking for a unique date night.
Public Markets for Food and Shopping
Got cabin fever and just itching to get out of the house? Head to one of Atlanta's public market spaces for food, shopping and fun. Both Krog Street Market and Ponce City Market offer great indoor spaces for shopping, dining. Be sure to check the event calendars for classes, pop-ups, workshops and more.
Southeastern Railway Museum
Train lovers and toddlers love spending time at this museum that is full of all things train, including a "warehouse" filled with replica train stations and retired train cars just waiting to be explored. If the rain lets up there are 35 acres of trains and other vehicles outside to explore. Check the calendar for the Toddler Programs and other special events throughout the year.
SkyZone
SkyZone offers so many indoor activities it's impossible to experience them all in one day, which makes it a great repeat option for Atlanta rainy days, summer heat, and winter sleet and snow. Trampolines, dodge ball, rock climbing, "warrior" course and sky hoops are just a few of the offerings. SkyZone even has spaces for the smallest family members to play in the Tot Zone, making this a true family destination.
Stars and Strikes
Bowling appears to be making a come back, and with spots like Stars and Strikes we can see why. There's a ton of options all under one roof, with 20 bowling lanes, a full arcade and even laser tag. Plus you can dine on gourmet food, enjoy a drink and celebrate any occasion, even if it's just getting out of the rain.
SweetWater Brewery
If you love beer you may want to venture into SweetWater Brewery next time the rain sends you scrambling for cover. This craft brewery offers tours every Wednesday through Friday evening as well as Saturday and Sunday afternoons. Catch the tour and taste the offerings of year-round favorites and seasonal releases.
The Painted Pin
This upscale boutique bar is the perfect spot for couples trying to escape a stormy day. Head inside this industrial space for interactive gaming such as bocce ball, Ping-Pong and more, in addition to 20 lanes of pin bowling. The full-service bar turns out classic cocktails, wine, and craft and local beers that can be accompanied by chef inspired "alley" foods like wood fired pizzas, tacos, sliders and salads. It's a true upscale playground for adults.
Tiny Towne
Nearly all kids love to get behind the wheel and "drive." So when the weather isn't so great outside, head inside to Tiny Towne, where kids of all ages can learn the rules of the road and drive cars sized just for them. Even teens appreciate the hands-on experience and opportunity to hone their driving skills.
Topgolf
It's pouring rain but you're itching to drive golf balls? Topgolf offers a driving range with opportunities to play outdoors or in. Hit a bucket of balls, enjoy yummy food and drinks, and catch the latest game on one of 200 HDTVs.
Wren's Nest
Fans of Br'er Rabbit and his antics delight in a rainy day visit to the Wren's Nest-once the home of Joel Chandler Harris, editor of the Atlanta Constitution and author of the Uncle Remus Tales, based upon stories he heard during his youth. Take a tour, hear stories and partake in activities on weekends at this historic site.
Xdrenaline
Bound to wear out the most energetic of kids, Xdrenaline is bursting with high-energy activities like trampoline fun, rope courses, rock climbing and even a "ninja" course. Kids love playing alongside adventurous moms and dads.
If you're looking for even more things to do on a rainy day, there are a few more ideas on this list of indoor things to do in Atlanta.
Discover More
Get to know Atlanta, and discover the best things to do around the city.