Things To Do in Atlanta This Weekend
Note: Many attractions and events are requiring masks for the safety of customers and employees. See the full list of weekend events here.
Here's what's going on in Atlanta this weekend, Sept. 30, Oct 1 and 2.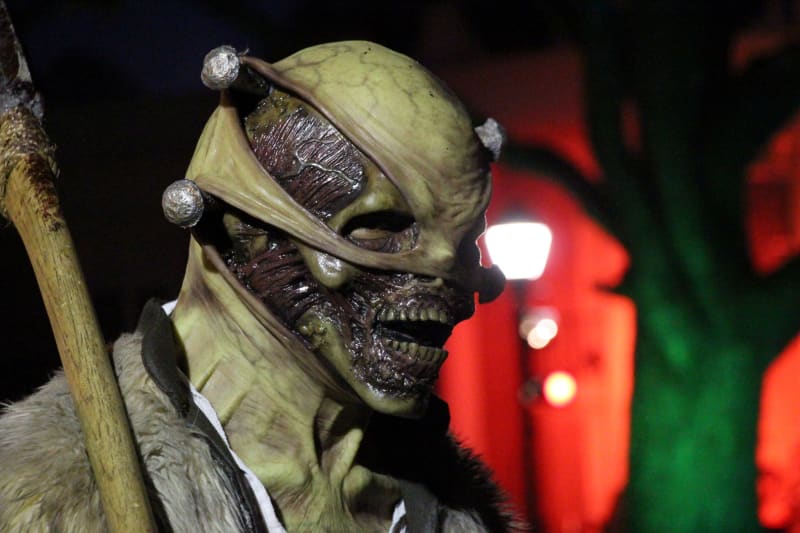 Around Town
Elevate ATL: This Weekend's Events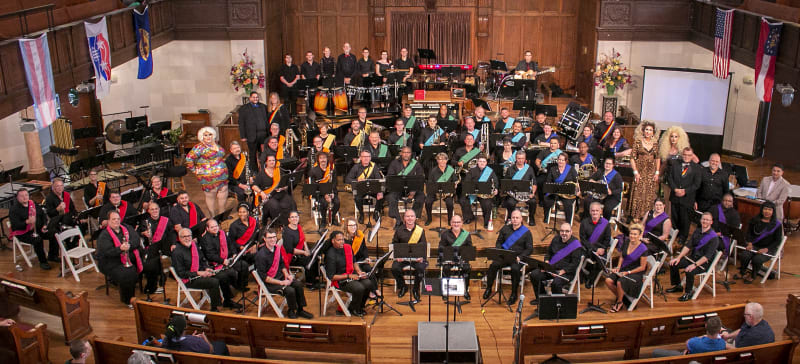 Elevate Open Spaces is a public art program that, for several weeks in the fall, brings all kinds of arts to Atlanta neighborhoods. Here's what's coming up this weekend.
Friday
"Emergence" by Rachel Parish for flux projects, 10 a.m. to 10 p.m.
Hidden beneath Atlanta lies a system of waterways upon which the constantly developing city relies. With the project "Emergence," Rachel Parish presents a series of temporary monuments to the four spring heads that lie beneath downtown Atlanta and feed the region's life-sustaining rivers and creeks. The above-ground sites of these spring heads include The Tabernacle parking lot, Grady Hospital, the Georgia State Capitol in Georgia Plaza Park and The Gulch by the MARTA Five Points Station. "Emergence" will feature sound and sculptural installations at the above-ground sites of these spring heads, daily performances from 10 a.m. to 6 p.m. and and a video light projection from 8-10 p.m. only at The Gulch.
Where: The Tabernacle parking lot at Ted Turner Drive and Williams Street; Grady Hospital at Armstrong Street; Georgia Plaza Park at 180 Central Ave. SW; and The Gulch overlooking from Forsyth Street Bridge.
"Come Together" by Cat Eye Creative from 6 to 10 p.m.
Cat Eye Creative is presenting events to bring the city together for a collaborative community mural painting; a group art exhibition featuring work by Lucy Luckovich, Erin Nicole Henry, Manic Lawd and Andrew Munoz; artist talks; art education classes; and a block party. Events are all-inclusive and immersive, and will take place in the indoor and outdoor galleries. Events will take place all weekend, through Sunday.
Where: 186 Mitchell St. SW
Common Thread: A Skyline Fashion Show and Night Market and After Party, 6 to 11 p.m.
It's a one-night pop-up market and fashion show featuring sustainable fashions by 10 of Atlanta's top emerging designers. The Bakery is excited to take hemlines to the skyline on the top level of 76 Forsyth Parking Deck in south Downtown. The fashion show will highlight local designers and creatives. The market will feature handmade clothes, accessories and sustainable fashion. The evening will highlight queer, person of color and multidisciplinary artists.
Where: Top level of parking deck at 76 Forsyth St. SW
Dance Performance by Qudus Onikeku at Gallerie 88 at 8 p.m.
The internationally renowned choreographer and dancer will perform Africaman Original. The solo performance will take the audience on a journey into the world of Black dances from Africa, Brazil and the United States, set to the music of the king of Afrobeat, Fela Kuti. This event is being presented in partnership with Elevate, Villa Albertine, France-Atlanta and Gallerie 88.
Where: Buckhead Village, 3025 Bolling Way NE, Suite G115
Saturday:
Color = the Body" poetry reading and creative conversation from 2 to 4 p.m.
"Color + the Body" features poet, professor and short story writer Opal Moore moderating accomplished poets — Melba Joyce Boyd, E. Hughes, Andrea Jurjević, Charleen McClure and Sharrif Simmons — who will read original poetry and engage with the audience in a creative conversation. The poetry and discussion will explore an aspect of science (physics) and the physicality of color through the body as conceptualized by artist Deanna Sirlin's exhibition, Wavelength. The event will be recorded to share online with a global audience.
Where: Chastain Arts Center, 135 Chastain Park Ave NW
Remembering Bagley Park, Mount Olive Cemetery and an erased African American Community in Buckhead. Installation opening reception from 4 to 6 p.m.
Kimberly Binns expands on her recent body of work on race and the history of city planning and development to create a visual installation on the story of Bagley Park and Mount Olive Cemetery in Buckhead. This exhibition honors those who rest at Mount Olive Cemetery. Exhibtion dates are Oct. 1-15.
Where: Buckhead Library, 269 Buckhead Ave. NE
Cassie's Ballad Outdoor Theatrical Hiking Experience by Found Stages at 5 p.m.
"Cassie's Ballad" follows the story of Brandon, a young Black teen living in Atlanta during the 1980s. His friend Cassie has lost her voice after a child they know has gone missing. With the guidance of an ancestor, Brandon leads the audience on a literal search for the missing child and a figurative search for Cassie's voice. From the "Graveyard of Innocence" to Cassie's Bottle Tree, the journey leads them to a sad but healing discovery.
This experience takes place outdoors in the woods of the West Atlanta Watershed Alliance. Attendees will hike an approximately 1 1/2-mile round-trip path with some steep, single-file portions. There is limited seating at certain stops along the path. Closed-toe walking or hiking shoes are required. Water bottles and layered clothing are recommended. This experience lasts approximately 45 minutes. There is a second production at 6:30 p.m. There will also be experiences on Oct. 2 at 5 p.m. and 6:30 p.m.
Where: West Atlanta Watershed Alliance: 1442 Richland Road SW. This is a free event but sign-up is required to reserve your space.
National Black Arts Festival presents Black to Life Film Festival at the Atrium Rooftop on Sweet Auburn Avenue from 7 to 10 p.m.
The National Black Arts Festival presents Black to Life, a film festival featuring the work of emerging and independent artists of African descent. Films being shown are black and white shorts with narratives that reflect the physical, mental and spiritual spaces that encompass the daily lives of Black people. The films being screened are: "Spirit Never Dies Only Transitions" by Logan Burroughs; "Straight Yet Narrow" by Danie Etienne; "Heart of the City" by Artemus Jenkins; "DayBlack" by Justin Jordan; "Us" by David F. Fortune; and "Young Kings" by Jonathan Banks.
Where: 236 Auburn Ave.
Sunday
Atlanta Freedom Bands Concert Celebrates Atlanta Pride from 3 to 5 p.m.
Atlanta Freedom Bands celebrate Atlanta Pride Week with a Pops in the Park concert in Westside Park. The MetroGnomes Stage Band will kick off the concert with swing and big band favorites, followed by a performance from the AFB Color Guard who will spin, toss and twirl to heart-thumping music. Combined concert and marching bands complete the show with a diverse program including film music, pop tunes, marches and more. Bring a blanket and a picnic.
Where: Westside Park, 1660 Johnson Road NW
Bautanzt Here presents "The Games We Dance" at the Playground at Grant Park at 3 and 4 p.m.
"The Games We Dance" are dance and music performances on public playgrounds. Performers will reimagine popular games through the lens of dance to create a dynamic, fun and engaging spectacle for audiences of all ages. Live musicians will accompany performers to create a playful soundscape. Bautanzt Here merges dance and theater, creating a unique language to tell meaningful and visually engaging stories in unconventional performance spaces, usually outdoors.
Where: 90 Cherokee Ave. SE
Candler Park Fall Festival
The popular Candler Park Fall Festival brings music, more than 200 arts and crafts stalls, a tour of neighborhood homes, a 5k race and food trucks to the neighborhood from noon to 10 p.m. Saturday and Sunday.
Hip-Hop Day Festival
Saturday and Sunday from 11 a.m. until 8 p.m., the Hip-Hop Day Festival sets up in Woodruff Park.
Gather 'Round
Gather 'Round, celebrating Southern culture's food, drink, music and art, gathers this weekend at locations including Guardian Works, Nick's Westside, El Ponce and Westside Motor Lounge. The event features Southern makers, artisans and creators of deliciousness as they bring their craft to life while sharing stories that have helped to shape and define the new South.
Out on Film Festival
Out on Film, Atlanta's LBGTQ film festival, is open through Oct. 2 and features more than 140 films. Just a few of the films to see are Billy Eichner's romantic comedy "Bros;" the drag queen comedy "Chrissy Judy," the sexy romance "Lonesome" and the award-winning documentary "Mama Bears."
The Queen's Ball: A Bridgerton Experience
The Queens' Ball: A Bridgerton Experience is in full swing at the Pullman Yards. Guests are transported to 1813 London to take part in the most coveted ball of the season. Prepare for an evening unlike any you have ever experienced before. The ball is on through September so if you have been procrastinating, now's the time to shift into high gear because this is the final weekend.
Celebrate Fashion Designer Christian Siriano
SCAD FASH presents fashion designer Christian Siriano's body of work in the exhibit, Christian Siriano: People Are People, on view through Oct. 9. Garments on display include creations worn by Michelle Obama, Janelle Monae, Celine Dion, Lady Gaga, Lizzo, Billy Porter and Ariana Grande. Can you say, "Wow?"
Free Yoga in Woodruff Park
Join yoga aficionados on Saturday for free yoga in Woodruff Park. Just remember to BYOM (Bring Your Own Mat). Class begins at 9 a.m. and runs for one hour. Here are more Free Ways to Workout in Atlanta.
Howl-oween
Pumpkin Festival Returns to Stone Mountain Park
It's back. Stone Mountain Park's popular Pumpkin Festival is open through Oct. 30. The festival includes a nighttime parade and, brand new this year, the world's largest pumpkin light show as well as plenty of other not-so-spooky glowing experiences.
Woodland Spirits Lurk at Fernbank Museum of Natural History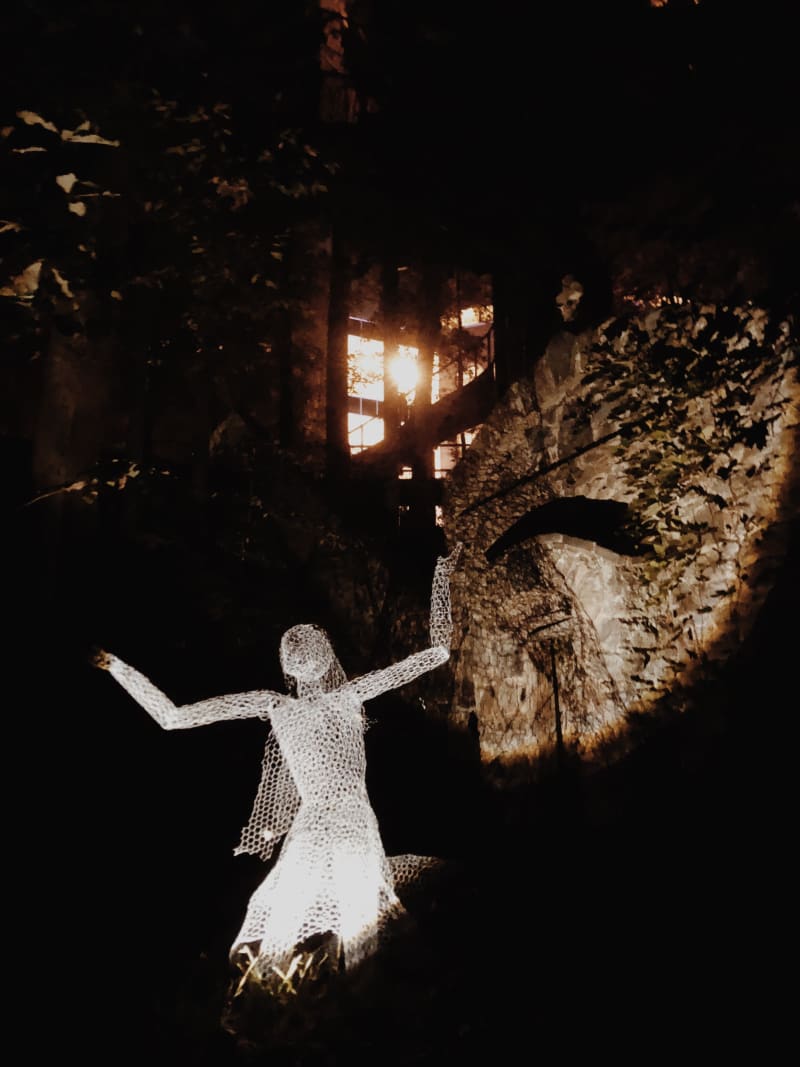 The Halloween adventure, Woodland Spirits, at Fernbank Museum of Natural History evokes mystery, adventure and imagination through commissioned sculptures created by artist Laura Lewis. This outdoor exhibit puts guests face-to-face and nose-to-snout with dozens of ghostly "visitors" lurking among the trails outside in WildWoods and Fernbank Forest. See Woodland Spirits through Nov. 6.
Fright Fest Brings Screams at Six Flags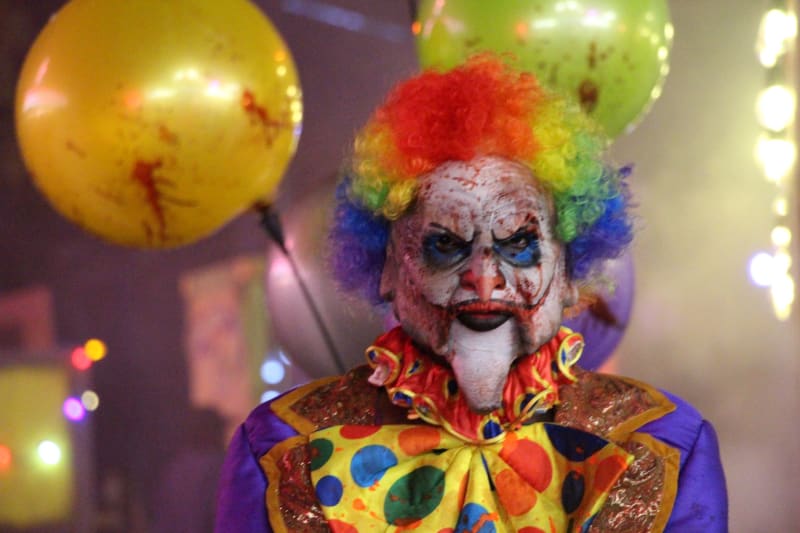 Fright Fest is open at Six Flags Over Georgia select nights from now through Oct. 31. The festival includes haunted houses, spooky shows, frightening rides and scare zones. Daytime activities include treats for the little ghouls and goblins. At night, those same ghouls come to life.
Little 5 Points Ghost Tours
Boo! Scared ya, didn't I? Every weekend from now until Nov. 6, from 7 to 8:30 p.m., you can take a Little 5 Points Ghost Tour. It is a mile long, 90-minute trek through the bohemian neighborhood's most historic and eerie landmarks, in search of long ago lost souls and their apparitions. You may encounter phantasms such as Lady Sintana from House of Ravenwood, the resident ghosts of 7 Stages, Deacon Lunchbox and Gregory Davis.
Scarecrows in the Garden
Atlanta Botanical Garden's Scarecrows in the Garden is back, running Saturday through Oct. 30. The scarecrows on display throughout the garden are handcrafted by businesses, individuals, schools and organizations.
Family Affairs
Paw Patrol: Adventure Play
Paw Patrol: Adventure Play is open at the Children's Museum of Atlanta through Jan. 8, 2023. Kiddos can join the PAW Patrol pups — Marshall, Chase, Skye, Rubble, Everest, Rocky, Zuma and Tracker — to explore their unique abilities, overcome challenges and help friends. The Children's Museum also is celebrating Latinx Heritage Month through Friday.
Sports
Pro Teams
The Atlanta Falcons play the Cleveland Browns at 1 p.m. Sunday at Mercedes-Benz Stadium. Terrapin Tailgate tickets are available and include access to Terrapin Tailgate in the Home Depot Backyard. That access includes music, TVs, outdoor games, food, drinks, Falcons legends and cheerleaders. Terrapin Tailgate starts three hours prior to kickoff.
The playoff-bound Atlanta Braves host the New York Mets all weekend at Truist Park. Friday's game begins at 7:20 p.m. and fans should stick around after the last out for Friday Night Fireworks. First pitch Saturday is at 7:20 p.m., but fans can go early to the Georgia Power Pavilion and hear Party Nation at 5:30 p.m. in a concert sponsored by the Papa Johns Live Music Series. Sunday, with game time at 7:08 p.m., is Alumni Sunday. Post season begins Oct. 7.
College Football
The Clark Atlanta University Panthers host the Tuskegee University Golden Tigers at 4 p.m. Saturday at CAU Panther Stadium. On Saturdays throughout college football season, the Chick-fil-A College Football Hall of Fame presents Tailgate Saturdays, Built by The Home Depot. Tailgate Saturdays feature entertainment, tailgate games, prizes for fans, the new Home Depot College GameDay Desk and live college football games – all located within the Hall of Fame's facility for honoring the sport. During Tailgate Saturdays, fans can watch the week's most important college football match-ups, while also enjoying the Hall of Fame's exhibits.
On Stage
'Everybody' Playing at Alliance Theatre
The Alliance Theatre opened its new season with the play, "Everybody." In "Everybody," everybody is a happy person, a free person, a person who believes nothing but the best lies ahead. Then Death comes calling, and everybody must go on a journey to find what has had lasting significance in his lifetime. Inspired by the 15th century play " Everyman," "Everybody" explores the meaning of life and the roles we play along the way. The play has been described as a "sunny, stunning journey from life to death" that "fills the heart in a new and unexpected way." The plays runs through Sunday
Teenage Life Takes the Stage at Theatrical Outfit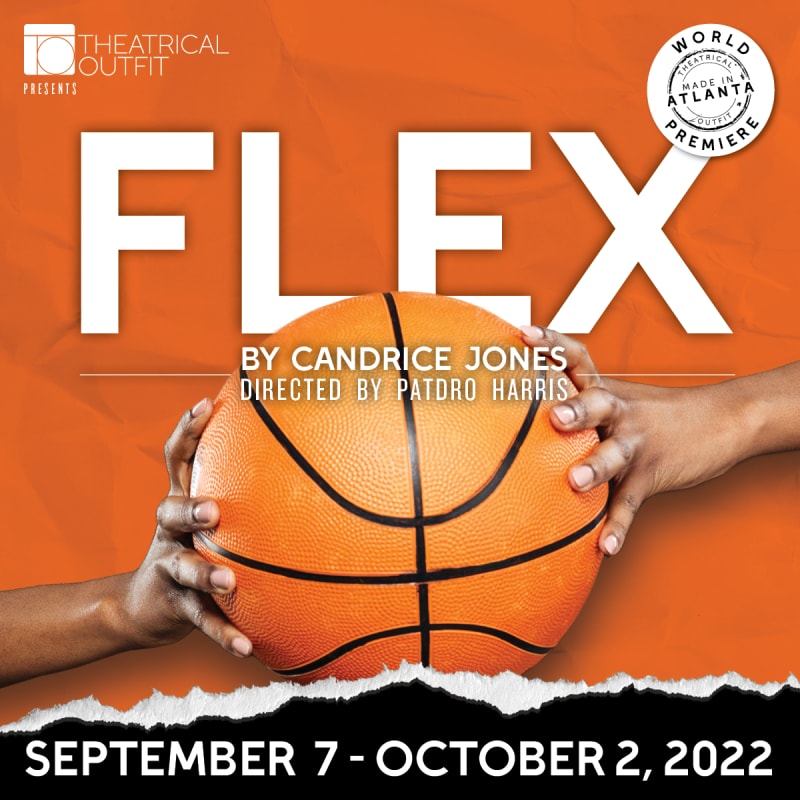 "Flex," a world premiere, is playing at Theatrical Outfit through Sunday. It is a story about a high school basketball team exploring the strength of young Black women in the South and what it means to be part of a team.
See 'Much Ado About Nothing' at Shakespeare Tavern
William Shakespeare's "Much Ado About Nothing" plays at Shakespeare Tavern through Sunday. Here's a quick refresh if you haven't read this play since high school: Will Benedick, the ever-confirmed bachelor, admit his love for the witty and independent Beatrice? Will the young lovers Claudio and Hero survive the devious meddling of others? What do you want to bet there will be two weddings in the end?
Two New Experiences Open at Illuminarium
Waking Wonderland: An Immersive Experience is open through the end of the year at Illuminarium. It takes you on a dreamlike journey, inspired by Lewis Carroll's Wonderland. You will tumble down the rabbit hole and encounter surreal settings and colorful characters, chase the Cheshire Cat through the magical forest, stir things up in the Mad Hatter's tea factory and tiptoe into the throne room to awaken the Queen of Hearts.
Open through Nov. 30 is Space Illuminarium: A Journey to the Moon & Beyond. You will journey across the galaxy, fly through a technicolor nebula, kick up dust on the moon, see Saturn's rings up close and weave through an asteroid belt.
Origami Exhibit Wows at Atlanta Botanical Garden
The delicate nature of folded paper meets the massive stature of metal sculpture during Origami in the Garden through Oct. 16 at Atlanta Botanical Garden. The traveling exhibition features 18 installations of nearly 70 larger-than-life sculptures inspired by origami – the centuries-old Japanese art of folding paper – created by Santa Fe artists Jennifer and Kevin Box. Throughout the Midtown garden, look for massive sculptures – made from paper and wax fabricated into cast-metal pieces – of flying birds, emerging butterflies, blooming flowers, grazing deer and other flora and fauna themes.
Art in the A
High Museum Exhibit Examines Joyful Living
The High Museum of Art presents "Stephen Burks: Shelter in Place," through March 5, 2023. The exhibit surveys the last 10 years of Burks' practice, which combines globally sourced handcraft with industrial design. The exhibition presents more than 50 works drawn from several of his key projects alongside a multifaceted new commission, also titled "Shelter in Place." This new commission explores ideas concerning domesticity during a time of worldwide upheaval, tackling the question of how we can design interiors to enable joyful living while empowering creativity.
Atlanta Art Week
Atlanta Art Week, culminating this weekend, Thursday through Sunday, aims to bring awareness to the contemporary art scene in Atlanta. The inaugural week features extended opening hours and special events by participating galleries, museums, institutions, artists and nonprofit spaces.
Gemstones Shine in New Exhibit at Carlos Museum
"Making an Impression: The Art and Craft of Ancient Engraved Gemstones," is open at the Michael C. Carlos Museum at Emory University. The show continues until the end of November. The exhibit draws on the museum's collection of Greek and Roman gems, the majority of which have never been displayed publicly. Carved from semi-precious stones with miniature images of various subjects, including gods, emperors, animals and characters from myth, engraved gems in the Greek and Roman worlds were used as signets, amulets and personal ornaments, typically mounted in rings.
This article updates weekly with brand new things to do in Atlanta for the weekend. Feel free to book mark it for next weekend. For more weekend events, check our calendar. Find out more about Must-See Fall Plays, Performances and Exhibits in Atlanta.
Discover More
Get to know Atlanta, and discover the best things to do around the city.