Hit the Road with the 10 Best Day Trips for Atlanta Families
Whether you live in Atlanta or are planning to visit, there are so many great options for day trips with kids and staycations for families. Bookmark this fun list for the next time you need a change of scenery for the day or weekend and hit the road for one of these 10 best road trips from Atlanta. And if you're planning a road trip TO Atlanta, don't miss this super fun guide for how to plan an epic road trip to Atlanta.
1. Alpine Helen
"It's the charm of Bavaria in the Blue Ridge Mountains." Alpine Helen is a little town, approximately 95 miles north of Atlanta. Spend the day exploring the great outdoors with numerous activities for all. Kayaking, hiking, exploring the corn maze, panning for gold and horseback riding are only a few of the multitude of activities available at Alpine Helen. Of course, the dining options vary as much as the activities – from formal to casual, with German offerings and kid friendly options as well.
2. Amicalola Falls State Park
If you're looking to spend the day outdoors then consider Amicalola Falls State Park, an 829-acre park located approximately 75 miles north of Atlanta, between Ellijay and Dahlonega in Dawsonville, Ga. Amicalola Park is home to the Amicalola Falls, one of the highest cascading falls east of the Mississippi, making it a gorgeous place to hike and picnic. There are a variety of trails of varying difficulty. Of note is a five-mile hike leading to the Len Foote Hike Inn, Georgia's only backcountry lodge. The park is also home to Springer Mountain Summit, the southernmost start to the Appalachian Trail which begins its 2,000+ mile, epic journey northbound for Maine. Be sure to stop by the visitors center to learn about the area, pick up a map, grab a bite at the Mountain View Restaurant and let kids play at the playground.
3. Barnsley Resort and Spa
Barnsley Resort is located just an hour north of Atlanta and definitely is a destination to choose if you want to splurge on class and style. This gorgeous "Grand Southern Estate" can keep you busy – or not. Choose a brisk bicycle ride by the lake, a horseback adventure, disc golf, canoeing or an afternoon shooting at the sporting club. Take your kids to the barnyard, kick back and relax by the pool or get pampered in the spa. There are activities for the whole family, including "Fido," as Barnsley has been called "The best pet–friendly resort in the Southeast."
4. Blue Ridge, Georgia
Just short of two hours from Atlanta proper is Blue Ridge, one of Georgia's favorite mountain towns. Nestled amid unspoiled beauty, find a variety of activities for the whole family. From horseback riding to hiking and zip lining to the must-not-miss Blue Ridge Scenic Railway, this little town is bursting with beauty as far as the eye can see. Be sure to stop by Mercier Orchards for apple picking and a luscious fruit stand. You can also try the local wines in the tasting room and grab a bite in the deli.
5. Callaway Gardens
Although there is plenty to do at Callaway Gardens for a day, you're really going to want to stay the whole weekend to soak up all the fun activities available at this amazing lake resort. From a relaxing spa day or day on the beach to more adventurous activities like tubing and water skiing, Callaway can accommodate. Go inland a bit and enjoy the natural surroundings via trails, bikes or zip line. Callaway Gardens offers a variety of dining, from casual to fine, with a multitude of special culinary events for the foodie in you. Kids will love the Discovery Cafe where they can dine overlooking the water. Callaway Gardens is located approximately 75 miles south of Atlanta.
6. Downtown Atlanta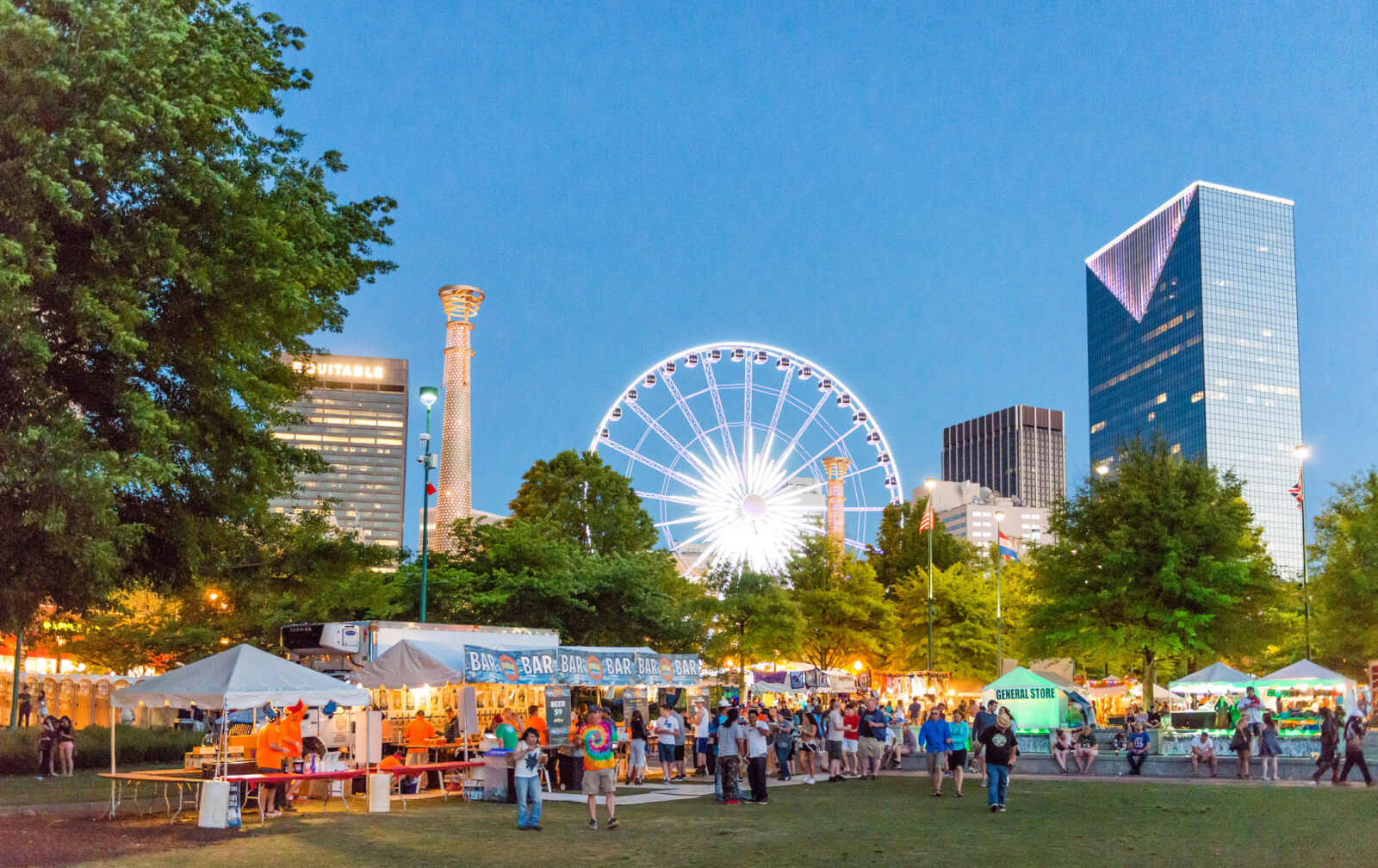 Atlanta is a metropolitan city and comes with all the trappings of such. From museums to theater, great parks, fabulous shopping and more, it will take more than just one day to experience all Atlanta has to offer. Visiting with the family? Head to Centennial Olympic Park with its iconic Fountain of Rings (you can play in it) and light show set to music. Across the street from the park, be sure to take the kids to the Children's Museum of Atlanta to explore all things art, science, technology and more.
Art enthusiasts will not want to miss the High Museum of Art, a world-class museum that caters to even the smallest family members with special programs and exhibits. You'll also want to check out the Center for Puppetry Arts, which presents entertaining puppet theater for young and old. Workshops and special programs are available, and be sure to visit the Jim Henson Collection at The Worlds of Puppetry Museum.
Atlanta is home to a world-class zoo, and a visit to Zoo Atlanta is sure to delight any animal lover. It is home to twin giant pandas and more than 1,000 animals from around the world.
Active families will love spending a day on the Atlanta BeltLine. The BeltLine is miles of trails and transit around the city proper, linking neighborhoods, shopping and dining. Check out the Eastside Trail, which runs from Piedmont Park to Inman Park and the Old Fourth Ward. Take your bikes, skates or just stroll along the trail to explore the amazing public art, and don't forget to check out the Krog Street Tunnel. Stop at Ponce City Market for lunch or a sweet treat, grab some goodies to prepare dinner or do a little shopping among the quirky shops at either PCM or Krog Street Market. This is just a sampling. There are many more things to do for a weekend of family fun in Atlanta.
7. Hillcrest Orchards
While only open a few short months a year, Hillcrest Orchards in Ellijay, Ga., is one of the places to visit in fall. Pack your apple picking bags and some snacks and head out on the 90-minute trek to Apple Heaven. During apple picking weekends you can pick a variety of apples to your heart's content, enjoy apple-laden treats fresh from the bakery and watch your kids enjoy a "day at the farm." Kids will be able to interact with farm animals in the petting zoo, enjoy a variety of rides, watch pig races, play in mazes and so much more. Enjoy lunch in the Country Cafe, pick up some goodies in the Farm Market before heading home.
8. Lake Lanier
The Legacy Lodge at Lanier Islands is a deluxe 1,500-acre resort located 40 miles from Atlanta and featuring top-notch activities and a wonderful spa, making it the perfect weekend retreat. If golf is your game, you won't want to miss the award–winning Legacy on Lanier Golf Club. The kids can spend time in the pool or LanierWorld Water Park, which is loaded with water slides, beaches and other activities. Get out and enjoy the nature trails via horseback, hiking or zip lining and then choose from casual dining or gourmet farm-to-table fare.
9. Stone Mountain Park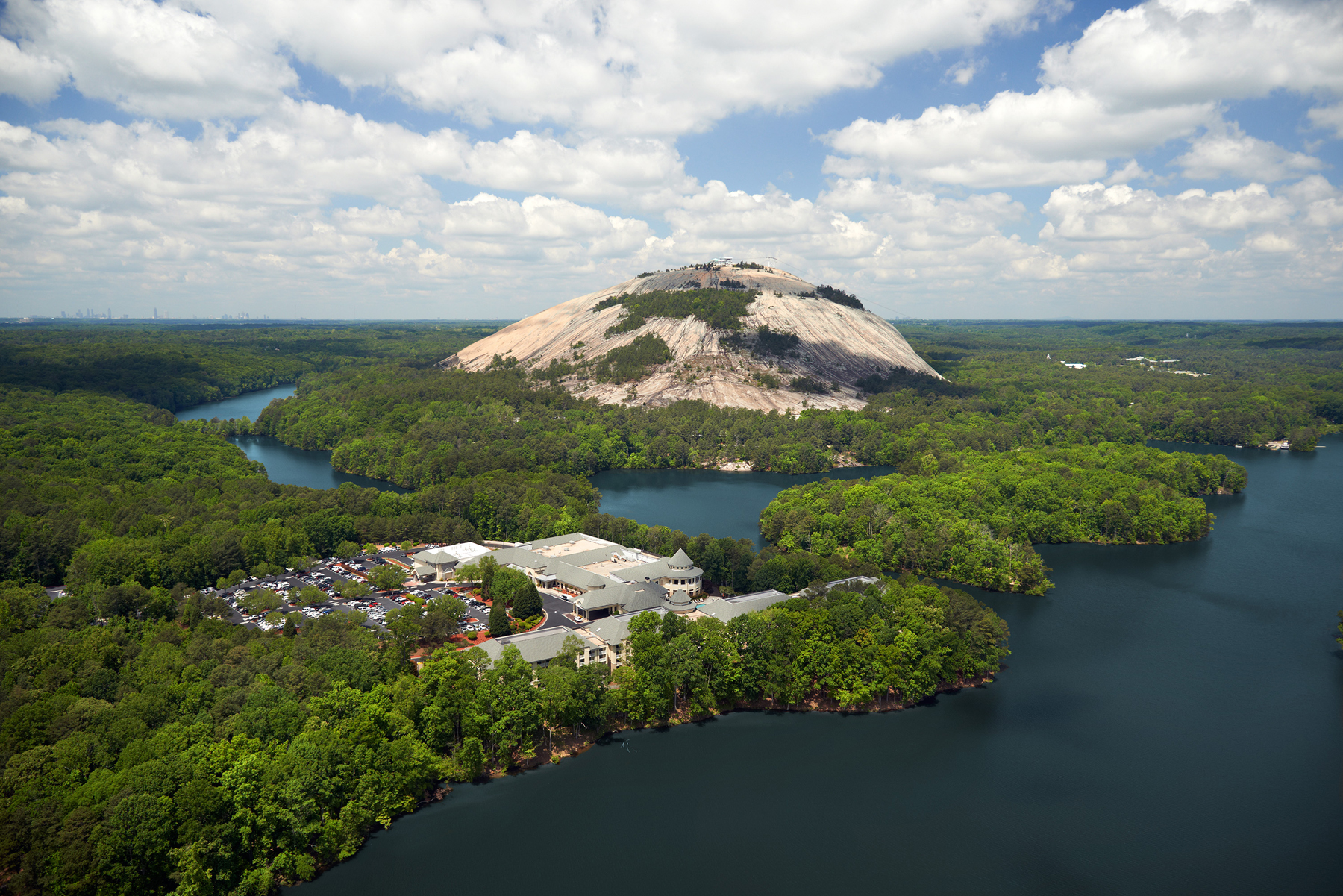 Stone Mountain is definitely worth a trip for the view alone. From its 825-foot elevation, the top of Stone Mountain offers incredible views of the Atlanta skyline, the Appalachian Mountains and beyond. Hike to the top or take the Summit Skyride cable car. Stone Mountain is loaded with other activities for visitors of all ages – from adventure golf, the barnyard, adventure hikes, museum and laser shows to a multitude of festivals and special events. The 3,200-acre park also offers a variety of dining and shopping, enabling a family to easily spend a day exploring. The awesome part? It's only 22 miles from Downtown Atlanta.
10. Great Wolf Lodge
If you're looking for a fun getaway with the kiddos, the Great Wolf Lodge in Lagrange, Georgia is a terrific option. The lodge-style resorts are jam packed with entertainment and activities right within their own walls. From world class water parks to camp fire stories, character encounters, camps and so much more. Mom and Dad will enjoy the unlimited WiFi and 24 hour fitness centers. Great Wolf Lodge offers a variety of accommodations, from standard to premium, which will provide a home away from home no matter the size of your family.
Discover More
Get to know Atlanta, and discover the best things to do around the city.