Outdoor Adventures Around Atlanta for Kids of All Ages
Atlanta parks and green spaces offer lots of outdoor fun. Whether it's a peaceful nature walk or a more amped-up adventure like tubing down the area's most famous waterway, the Chattahoochee River, there's a head-spinning array of options for enjoying the great outdoors and making awesome memories in the process. Explore these outdoor adventures around Atlanta that will make kids of all ages giddy with delight.
For Tweens and Teens
Chattahoochee River National Recreation Area
Who doesn't love some time in the water? Be sure to "shoot the 'hooch," the local lingo for tubing down the Chattahoochee River, one of the most beloved waterways in this neck of the woods. Peacefully floating down the Hooch is the perfect way to while away a hot summer day (you can also kayak or canoe, of course). The Chattahoochee River National Recreation Area also boasts plenty of land-based adventures, including a network of trails like the popular gravel loop of Cochran Shoals, which is a favorite among runners. The Island Ford in Sandy Springs, where the visitor center is located, is also worth exploring.
Silver Comet Trail
Stretching from Smyrna some 65 miles to the Alabama state line, the popular Silver Comet Trail, which is built on old railroad lines, is a hands-down, all-around winner for active families. Whether one person is on a bike and another is on roller skates and others just prefer to stroll, the flat trail makes it easy for parents to keep an eye on everyone while giving older kids a chance to do their own thing. Eventually, the Silver Comet and its sister trail in Alabama, the 33-mile-long Chief Ladiga Trail, will reach all the way to Anniston, Ala., for a 94.5-mile adventure — a lofty, but achievable, goal for hard-core cyclists.
Kennesaw Mountain
Get a real-life history lesson at this park, which preserves a 2,965-acre Civil War Battlefield. In the summer of 1864, more than 160,000 Union and Confederate troops raged on three battlefields in front of what's now the visitor center off Burnt Hickory Road and Cheatham Hill, the site of the main battle. In addition, 11 miles of earthworks are preserved within the park, and reenactments by Civil War history groups bring the somber history to life. Seventeen miles of trails are popular with runners and hikers, offering a peaceful, shady respite in warmer months. And whether you hike or drive to the top of 1,808-foot Kennesaw Mountain, the views of metro Atlanta are spectacular.
For Elementary-School Age Children
Stone Mountain Park
The bald dome of Stone Mountain is one of Atlanta's most recognizable landmarks, and after a visit to this must-do destination, kids will love being able to say, "I did that!" The scramble to the top of the granite summit at Stone Mountain Park is a highlight (there are handrails along the way), and you can make the return trip equally awesome via a ride in the high-speed Swiss cable car. The family-friendly spot includes 15 miles of hiking trails, the quarter-mile SkyHike loop of suspended wooden bridges (bonus points for the brave souls who tackle the 40-foot high one) and the Geyser Towers, a playground full of rope tunnels and bridges that span an erupting geyser. Finally, the nighttime laser light show is legendary — and a fitting end to a fun-filled day your little adventurers won't soon forget.
Serenbe
This idyllic community about 40 miles south of Atlanta offers a peaceful, back-to-nature escape from the bustle of the city. Even so, there's plenty to keep the kiddos entertained: animal feeds, farmer's markets and oodles of kid-centric events, or you can opt for low-key exploration of the community's meadows, miles of nature trails and paths. Not quite ready to leave? Make it an overnight retreat at one of 27 rooms at the Inn at Serenbe.
Atlanta BeltLine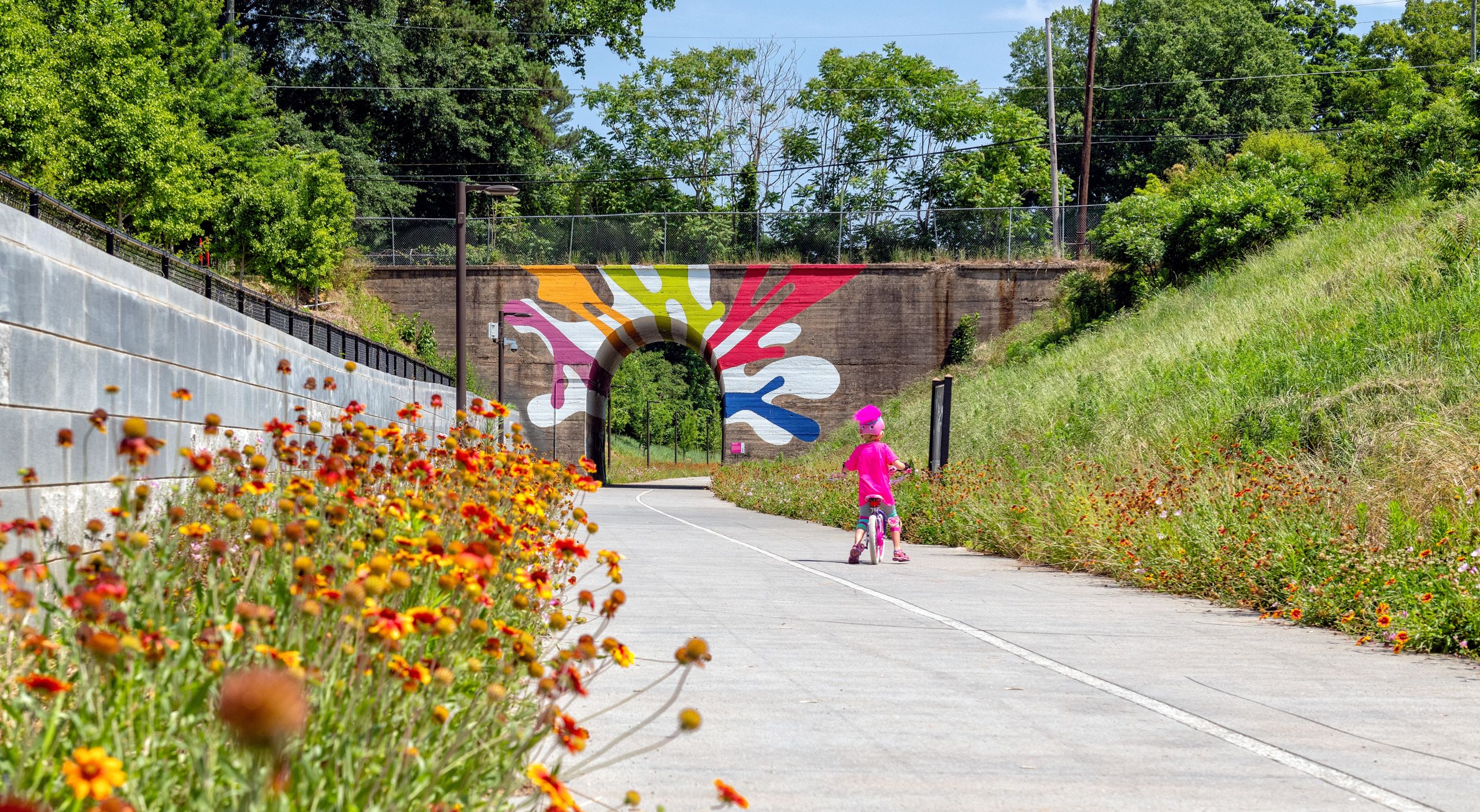 This massive urban project, which eventually will connect 45 neighborhoods in town via a 22-mile loop of trails, pathways and streetcar routes, has been getting national buzz and for good reason: It's a brilliant hybrid of urban renewal, community engagement, environmental stewardship and visionary thinking. Kids won't care about any of that, of course, but they will absolutely love the Atlanta BeltLine's many features: wide, flat paths where they can ride their bikes (or skateboards or non-motorized scooters) to their hearts' content; fun stops like the Old Fourth Ward skateboard park; and destinations like the massive Ponce City Market.
For the Little Ones
Atlanta Botanical Garden
This verdant spot offers an outdoor oasis in the heart of Atlanta. In the Lou Glenn Children's Garden at Atlanta Botanical Garden, there's kid-friendly fun galore, from the new tree-house area with climbing nets, a slide and a water-painting wall. And, of course, there are gardening activities facilitated by the garden's full-time educational horticulturist. Perhaps this process will cultivate some little green thumbs.
Historic Fourth Ward Playground and Splash Pad
Climbing structures, slides, swings and rock walls — the Historic Fourth Ward Playground is topnotch, with plenty of appeal for tykes of all ages, whether they're crawling or running. But come warm weather, the splash pad is where it's at, with water jets streaming from below and above. Spacious play areas and lots of benches for parents mean hours of fun for the whole family, especially during Atlanta's toasty summers. (The splash pad is open from May to October.)
For Kids of All Ages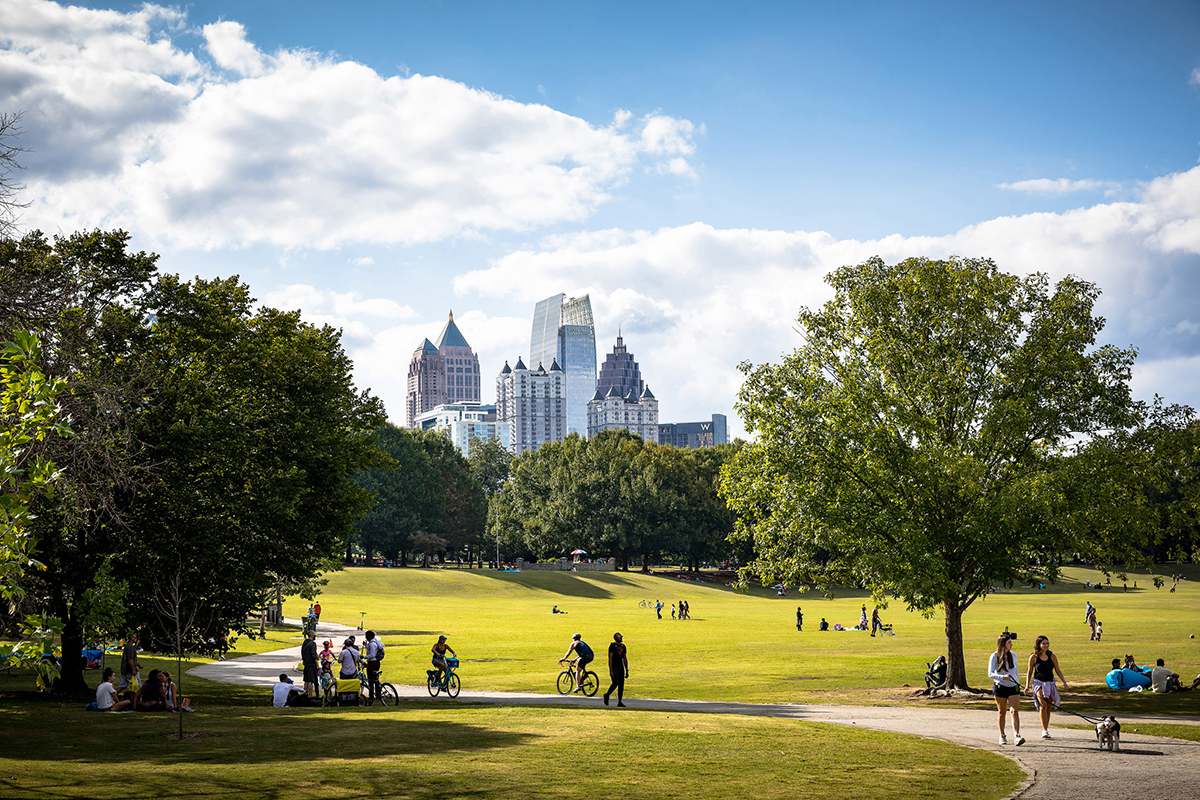 Piedmont Park
A popular park and gathering space in Midtown Atlanta, Piedmont Park offers plenty of activity and adventure for kids of all ages. Piedmont's public pool is busy during summer months, while there's year-round fun in the expansive green space. Play ball, climb on the play structures, run with the family dog or picnic under a shady tree. Piedmont Park is conveniently connected to the Atlanta BeltLine making access easy via walking, biking and skating.
Westside Park
Atlanta's newest green space, Westside Park, is a sparkling gem for Atlanta's already lush parks system. The 280-acre park comes in as Atlanta's largest and features awe-inspiring views from its highest points which overlook an abandoned quarry. The sparkling quarry reservoir holds emergency water for the community while offering a beautiful centerpiece for walkers, bicyclists and other visitors. Westside Park is packed with 2.5 miles of ADA- accessible trails, a rustic playground and space for parties and other special events.
Learn more about the great outdoors in Atlanta.
Discover More
Get to know Atlanta, and discover the best things to do around the city.