Awesome Playgrounds in Atlanta for Kids of All Ages
Few things are treasured more by parents than a great park for their kids to safely play. Atlanta is brimming with impressive green space, awesome play structures, slides, swings or splash pads. Here are the best playgrounds in Atlanta and beyond.
ATL Playground at Woodruff Park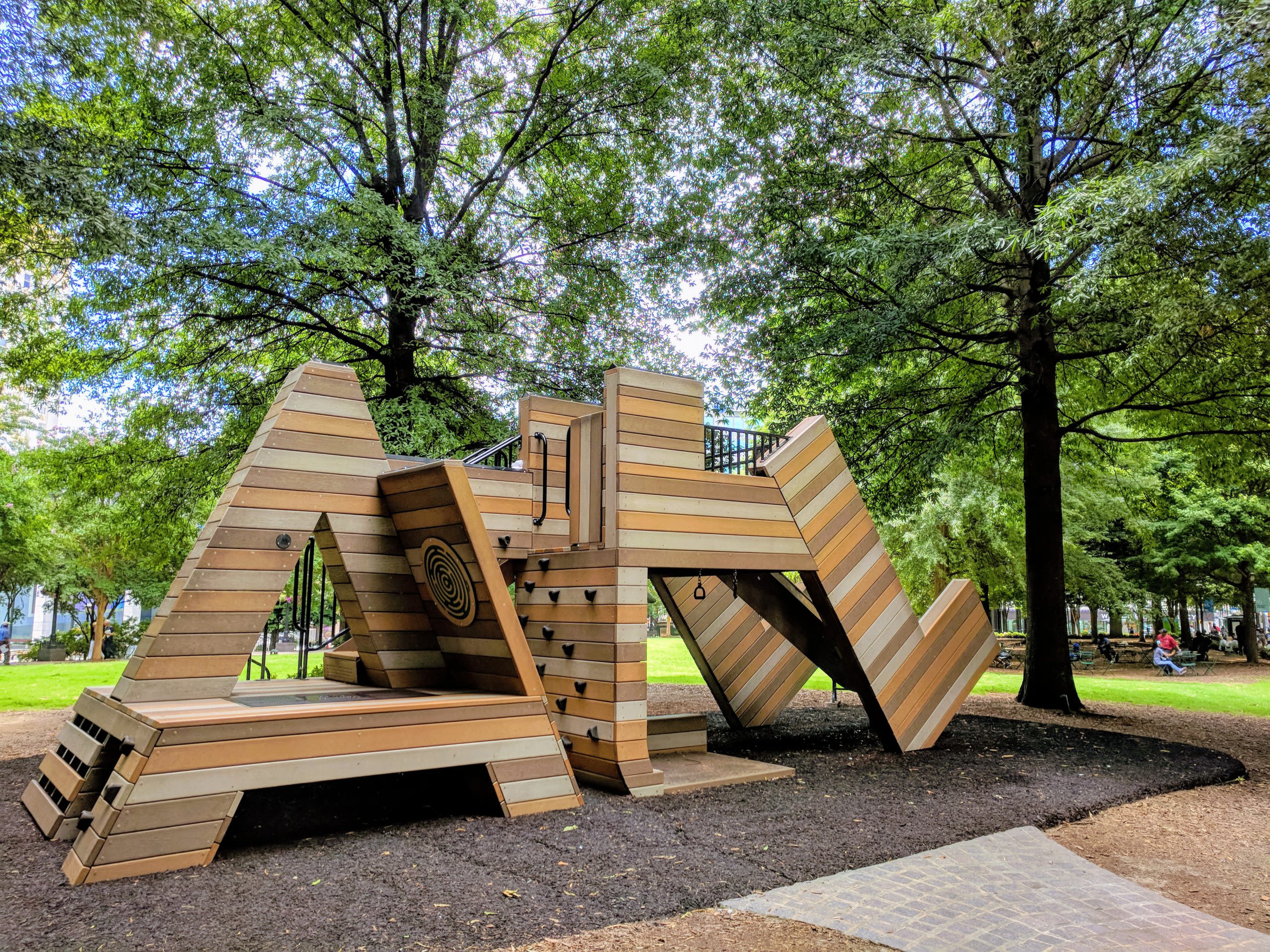 Perhaps one of the more iconic play structures in Atlanta, the ATL at Woodruff Park is cleverly disguised as art. This cool sculpture hides a climbing wall, slides and even monkey bars inside its cool facade.
Where: 91 Peachtree St
Atlanta Memorial Park (Buckhead)
At 200 acres, Atlanta Memorial Park is Atlanta's third largest park. It includes plenty of paths for bicycle riding and walking along with playgrounds with a variety of play structures including webs, slides, swings and others.
Where: 650 Wesley Drive NW
Blackburn Park Playground
Unlike many parks, at Blackburn Park Playground there is no brightly colored plastic but a huge natural looking structure composed of wood, ropes and lots of knots. Kids of all ages can climb, hang and shimmy the giant web, cables and swings. Across the park is a smaller, toddler-friendly playground.
Where: 3493 Ashford Dunwoody Road.
Brook Run Park
The Children's Adventure Garden at Brook Run Park features four colorful play structures divvied up for smaller kids and bigger kids. These shaded structures include rubberized matting that cushion falls from the wild playing that will occur and include slides, swings and monkey bars as well as a "log roll" and multicolored tunnel.
Insider's Tip: When the weather calls for it, let the kids wear a bathing suit for wading in the creek that streams through the entire playground.
Where: 4770 North Peachtree Road, Dunwoody
Centennial Park All Children's Playground
This playground was designed to be inclusive of all kids, including special needs and disabled kids. The park features wheelchair friendly swings, special slides, a multisensory roller slide and other activities that all children can participate in.
Where: 140-186 Baker St. NW
Chastain Park
Chastain Park offers a colorful array of play structures, shade and climbing structures for kids to play on. There are roller slides, swings and playhouses that children of all ages will love plus specially sized attractions for toddlers. The park offers water fountains and restrooms on site along with therapeutic elements and wheelchair accessible areas.
Where: 140 Chastain Park Ave. NW
Dunwoody Nature Center
While some might argue that Dunwoody is a giant natural playground in and of itself, it also features a more traditional area for kids to climb, crawl and swing surrounded by trees and lush foliage. Areas for toddlers and bigger kids allow play for everyone. Try the giant rope swing or new-school teetertotter.
Where: 5343 Roberts Drive, Dunwoody
Fernbank Museum of Natural History
There's tons to do at Fernbank Museum of Natural History, but children will be especially enamored with WildWoods, an elevated walkway leading kids on an adventure that includes hands-on, trailside experiences, a sensory wall and nature-inspired playground. Weather not cooperating? Head inside to NatureQuest, a multilevel clubhouse providing immersive experiences for the whole family, such as live animal interactions, hands-on activities and other explorations.
Where: 767 Clifton Road
Garrard Landing Park
Certainly one of the prettiest parks in the Roswell area, Gerrard Landing is located right on the bank of the river, which provides a cool locale for playing on the huge play structure. Giant tube slides, climbing walls, spinners and a giant fish deck out this fenced playground. Play on the large grassy area, too, or grab mom and dad and take a canoe ride down the river.
Insider's Tip: This is a popular destination for family photo sessions with local photographers in the fall.
Where: 8000 Holcomb Bridge Road, Alpharetta
Historic Fourth Ward Park
Conveniently located on Atlanta's BeltLine, Historic Fourth Ward Park is a great place to stop on your morning walk or a great destination for the whole family. Littles can play on the play structures while parents enjoy coffee from the nearby Ponce City Market. Older kids can enjoy the skate park and everyone can cool off on the huge splash pad so be sure to bring some towels and a change of clothes.
Where: 680 Dallas St. NE
Mason Mill Park
Argh! Ahoy me hardies. If pirates are your game this park has your name written all over it. This park has a fun pirate ship on the playground in addition to a tri-level treehouse, giant tube slides, climbing wall and swings for littles and bigs.
Insider's Tip: Not much shade here, so pack plenty of sunscreen and water and a shade umbrella or pop-up if handy.
Where: 1340 McConnell Drive, Decatur
Morgan Falls Overlook Park
If your kids are climbers, this park is for them. The playground at Morgan Falls not only includes a climbing wall but also a fun spider web to dangle from in addition to more traditional slides and structures. This park is a natural beauty and smartly features shade awnings for cooling off breaks in between playing.
Insider's Tip: It's a great location for parties. Get here early on weekends to find a parking space and a place to "camp" out.
Where: 400 Morgan Falls Road, Sandy Springs
Noguchi Playscape at Piedmont Park
Centrally located at Piedmont Park, you will find the famed Noguchi playscape by the 12th Street entrance, the only playground in the world designed by artist Isamu Noguchi. After playing, visit the ducks and grab a cup of coffee before heading home. If the weather calls for it, head to the Legacy Fountain for splash pad fun.
Insider's Tip: Piedmont Park is big – bring a stroller or wagon to tote toddlers or everything you need for the day.
Where: Active Oval Loop, 1320 Monroe Drive NE
Peachtree-Dekalb Airport Park Playground
Most kids love airplanes and helicopters, and that's what makes the Airport Park Playground so special. Located right next to a runway at Peachtree-Dekalb Airport, the airplane-themed park has stellar views of planes taking off and landing, helicopters and you may even catch a blimp.
Insider's Tip: It's conveniently located next door to the Downwind restaurant where you can pop in for a refreshment or lunch.
Where: 2000 Airport Road
Playable Art Park at Abernathy Greenway
This cool park features huge, colorful works of art that you can play on. From giant red swings to a climbable spider and colorful mosaic wall, this park is full of beautiful form and function. This is one place where you are definitely encouraged to touch the art.
Where: 70 Abernathy Road NE, Sandy Springs
Playtown Suwanee
Imaginations will go wild at Playtown Suwanee, one of the few parks with a sandpit. Playtown also features a magical bus, a cabin, a castle, a rocket and so much more. If your child is into imaginative play this is the playground to visit.
Insider's Tip: It's located next door to a public library where you can read books together and grab refreshments after you play.
Where: 425 Main St., Suwanee
Roswell Area Park
This huge park has amenities for everyone from the sports fields and nature trails to the community swimming pool – but it's the three separate playgrounds that captured our attention. Playgrounds are geared toward age groups and have lots of swings, slides and climbing structures.
Where: 10495 Woodstock Road, Roswell
Shorty Howell Park
This 67-acre park is huge and full of things to do. Kids will love playing on the colorful play structures or feeding the ducks in the pond. There's a track for running and a nature trail for walking together.
Where: 2750 Pleasant Hill Road, Duluth
Stone Mountain Park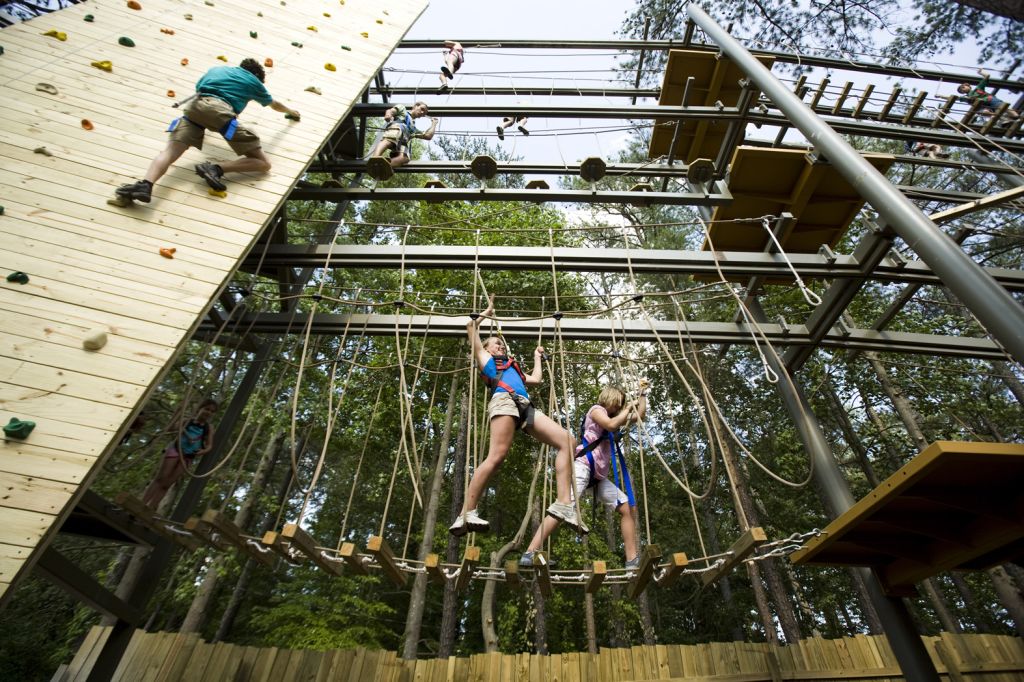 Stone Mountain Park is home to SkyHike — a fun "playground" for all ages. This quarter-mile adventure course will challenge you to play amongst the treetops while you master suspended wooden bridges and leap from one wooden slat to another. Balance on a single rope high above the ground or climb to the top on vertical net bridges. Interested in something a little tamer? Try Camp Highland Outpost, a low ropes course and climbing wall adventure fit for the entire family. Make a day of it with hiking, fishing, picnicking and more.
Where: 1000 Robert E. Lee Blvd., Stone Mountain
Swift-Cantrell Park Playground
State of the art play equipment greets kids big and small at Swift-Cantrell Park Playground. There is a playscape just for toddlers and another for bigger kids, including circuits, rings, swings, bridges and more, all right next to a large open turf area. This park also includes a dog park, skate park, jogging trails and more. It's a great visit for the entire family.
Where: 3140 Old 41 Highway NW, Kennesaw
Toy Park at the First Christian Church of Decatur
You can leave your playground toys at home because this delightful toy park is full of them. Push cars, tricycles, scooters and more await kids who visit this park to climb on multicolored play structures and in the tiny play houses. It's close to cafes and eateries, too.
Where: 133 Nelson Ferry Road, Decatur
Webb Bridge Park
This fun park full of sports fields also has a playground with three play structures for different age groups. Lots of swings, a covered sandpit and a fun man-made stream make this a great place to cool off, too. Picnic areas and concession stands during baseball games make this a great park to spend a few hours.
Where: 4780 Webb Bridge Road, Alpharetta
Winn Park Playground
Winn park is great to visit in the heat of summer because there is plenty of shade. Kids enjoy a fun wooden playground with a separate toddler area, wobbly bridge, slides, swings and rocking benches. There is plenty of green space at this park, so it's great for kicking the ball around or taking a nature walk and exploring the creek.
Insider's Tip: There are no restrooms or water fountains so plan accordingly.
Where: 32 Lafayette Dive NE
Zoo Atlanta
Need to burn off a little energy while visiting Zoo Atlanta? The zoo is home to two fun playgrounds and a splash pad.
The Naked Mole Rat playground encourages kids to tunnel around this interactive experience the mole rat way.
KIDZone Playground is a great way to burn off excess wiggles by sliding, swinging and playing in the multicolor, interactive play structure and kiddie rides like the Zoo Train and carousel.
Splash Fountain – After a few hours experiencing the animals and exhibits, visitors can cool off in Splash Fountain which offers 18 water jets of fun. Located in KIDZone.
Insider's Tip: Be sure to bring a towel and change of clothes as kids must be completely dry to ride attractions.
Where: 800 Cherokee Ave. SE
Indoor Playgrounds
oodazu
Located in the Shops at Miami Circle in Buckhead, oodazu is an indoor activity center for kids. Kids can participate in yoga, climb walls and nets, play gaga ball, slide and more. With a full event calendar this location is guaranteed to get your kids moving even when the weather is poor.
Insider's Tip: Requires reservations. Be sure to book in advance and check the calendar for camps and special events.
Where: 800 Miami Circle
Boomerang Play Center
It's a great place for kids of all ages to get some playtime and exercise during inclement weather. Boomerang offers a ninja warrior-style course, wall ball, climbing structure, inflatable slides and interactive dance floor in addition to a toddler only play area.
Where: 560 Amsterdam Ave., Suite A
HippoHop
HippoHop indoor playground is full of climbing walls, inflatables, giant legos, games, activities and more. Whether you need to drop off your child for a couple hours to run errands or want to head out for some active family time, HippoHop is a great indoor playground, also offering a cafe and relaxing parent area. It is available for parties.
Where: 1936 Briarwood Court NE, Atlanta
Atlanta is full of amazing play spaces for kids to wiggle, giggle and get some exercise. If the weather isn't cooperating, check out our ultimate list of rainy day things to do in Atlanta.
Discover More
Get to know Atlanta, and discover the best things to do around the city.