Guide to Hiking and Backpacking in Atlanta
Published September 1, 2022
Last Updated February 7, 2023
The best time of year to go hiking in Georgia is debatable. The official hiking season kicks off the first weekend in March with the first backpackers headed northbound on the Appalachian Trail. Hiking remains popular all through spring and even summer for those who can stand the heat. Arguably the most beautiful time of year for hiking in Atlanta and North Georgia is fall. Take advantage of longer days, fewer bugs and smaller crowds once school is back in session. Nights are still warm in September for those who are interested in backpacking over weekends and longer. And, of course, there is the opportunity to see fall colors, especially mid-October through November.
Explore Atlanta's Outdoors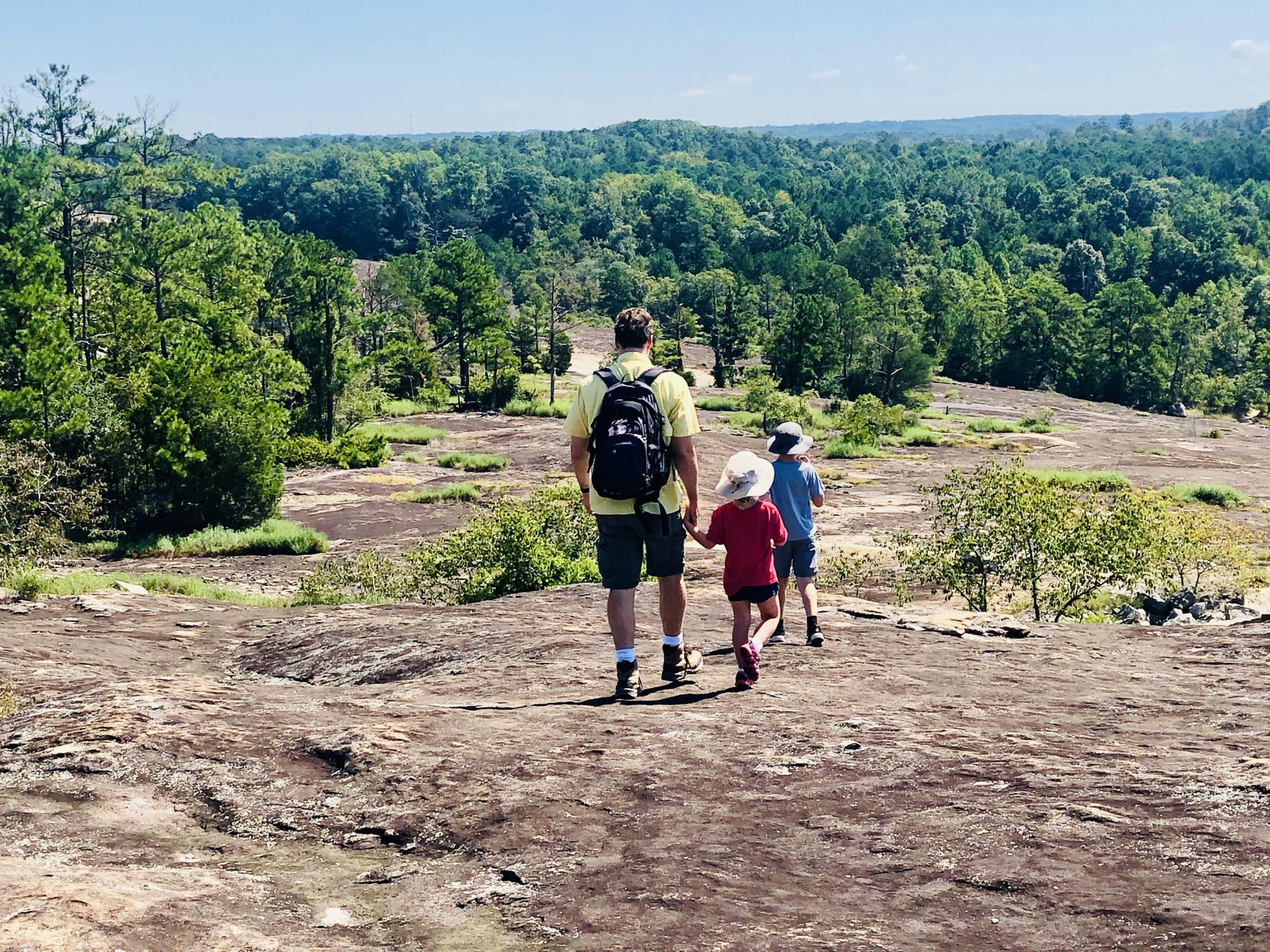 There is so much to see and do outdoors in Atlanta. Many of our local parks and gardens offer trails or greenways for exploring nature and getting exercise by foot. Take a walk or try trail running.
2022 marked the 10th annual Monadnock Madness, where participants can hike-as-you-like Arabia, Kennesaw and Panola mountains as part of a Triple Hike Challenge that takes place each year in March. Hikers submit a selfie from each location to earn a prize. The event has included Stone Mountain Park in years past.
Training on the Atlanta BeltLine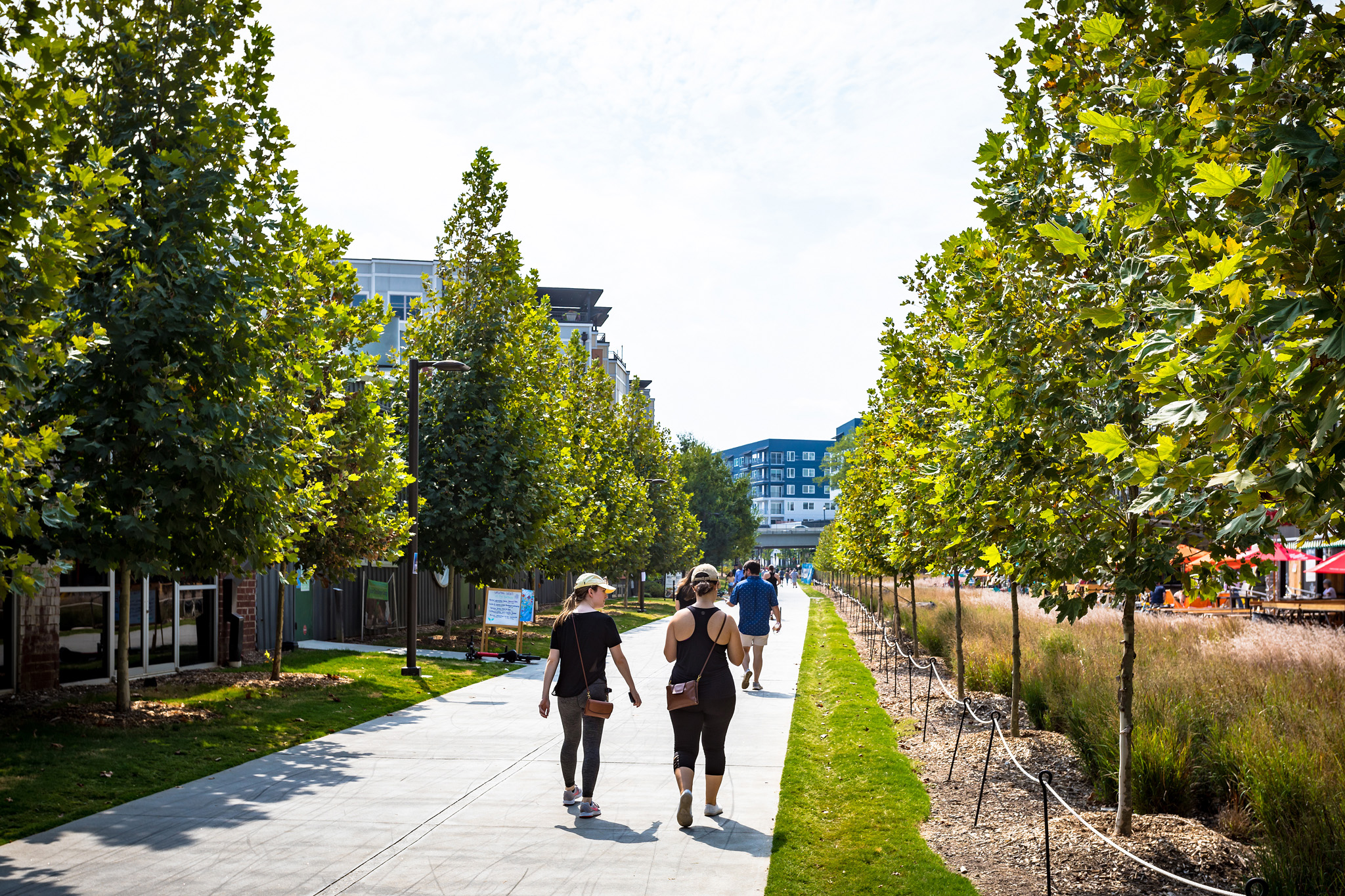 A big part of hiking or preparing for a backpacking trip, is simply to get miles in. You can use a program like the Couch to 5K training program or put together your own plan for increasing mileage. The Atlanta BeltLine is the perfect place for walking, because the distance you cover is really up to you. To date, the BeltLine consists of a 22-mile network of multi-use trails. Use our ultimate guide to the Atlanta BeltLine to plan your next training walk.
Day Hiking in Atlanta
Any hiking that can be completed in a day is technically considered a day hike. Generally speaking, this encompasses anywhere from three to 10 miles but there are, all around Atlanta, shorter day hikes available for beginners, kids and hikers with dogs. Several of these easier trails are designed in a loop to conveniently leave you right back where you parked your car. Temperate weather makes day hiking enjoyable nearly year-round in Atlanta, and there are plenty of opportunities.
Here are the 10 best easy hikes in Atlanta, including The Palisades, a unique and popular destination for hikers of all levels. West Palisades is the easier section, without much incline over four miles of mostly paved trail. East Palisades is typically less crowded but more strenuous. However, you'll be rewarded with a tall bamboo forest and an overlook of the river.
Chattahoochee Nature Center is another great place to hike with kids. Explore the 2.5 miles on your own or take a guided tour. The center offers several themed hikes and events each year.
The Peachtree Creek Greenway runs along North Fork Peachtree Creek and connects to PATH400 and the Atlanta BeltLine in Brookhaven. This paved trail runs for 1.3 miles from North Druid Hills Road to Briarwood Road and is open daily.
Hiking with Dogs
Good news for man's best friend. Dogs are allowed on most hiking trails and parks in Atlanta and North Georgia. You'll want to do a little research before heading out to the trail with Fido, specifically for the leash rules, water availability, trail surface and difficulty. You will find lots of dogs on every kind of hike in Atlanta, but only you know what your own dog is capable of doing. The Georgia Department of Natural Resources has a great tool for searching hikes with dog trails and learning more about each.
Strenuous Hikes Near Atlanta
If you're wondering what constitutes a "strenuous hike," the National Park Service considers it to be generally longer and steeper than most hikes and a challenge for most hikers.
Amicalola Falls
Amicalola Falls State Park in Dawsonville is located just short of a 90-minute drive from Atlanta. It makes for a beautiful day trip and hike, depending on your ability. Some people choose to park above the falls to enjoy the view before hiking one of the trails. Others, specifically those looking for a challenge, park below the falls and "hike the stairs" to the top. Be prepared for this strenuous climb of 600 stairsteps, especially if you're backpacking as part of the Approach Trail to Springer Mountain. It's a doozy. Amicalola Falls is home to just one of 11 great waterfalls with hikes in Georgia and it makes for a beautiful backdrop and hiking destination.
Blood Mountain Loop
Blood Mountain Loop is a six-mile loop located near Blairsville, and at 4,458 feet, is the highest peak in the Georgia section of the Appalachian Trail. It's one of the more challenging hikes and also the most rewarding. Celebrate with an incomparable view, a snack and electrolyte water. Here are more Georgia Hikes With Amazing Views (Within 3 Hours of Atlanta).
Backpacking Near Atlanta
Backpacking is a multiday hike where you carry everything you'll need to hike, eat and sleep. If you're interested in backpacking, Atlanta is a great place to live and visit. Anyone of any age, shape or background can get into backpacking. One of the most appealing things about it (besides being in nature) are the diverse people you'll meet along the way. It's also a fun activity to do with family and friends.
You'll want to determine when and where your first backpacking trip will be. Use the more local trails in Atlanta to train for distance and be sure to plan a few training hikes with higher elevation gains. You'll gain 700 feet hiking up Stone Mountain. Another great starting point is the 3.2-mile Indian Seats Trail where you'll summit Sawnee Mountain in about an hour and a half. Coosa Backcountry Trail is a popular, strenuous hike from Vogel State Park. Test your backpacking gear over a weekend hike of this 12.8-mile loop trail.
If you're in Atlanta, the Southern terminus of the Appalachian Trail (A.T.) is in your own backyard. You may be so inspired during your research that you decide to train and save for the entire 2,000 mile hike up to Katahdin, Maine (also known as a "thru hike") or start with a "section hike" (any section of the A.T.). The Georgia section of the Appalachian Trail is 78.2 miles not including the Approach Trail through Amicalola Falls State Park.
Best Tips for Backpacking near Atlanta
Research everything and then put a plan in place. You need to know where you're hiking, how many days your trip is, when it will take place and what you will have in your pack.
"A goal without a plan is just a wish."

Antoine de Saint-Exupéry
Consider your "Big 3" — your sleep system, your cooking system and your tent. The season in which you plan your backpacking trip will determine how warm you need to keep yourself. There are several outfitters in Atlanta, including REI, that will help you determine the best gear for your trip.
North Georgia Premium Outlets offers brands like Columbia, Eddie Bauer, Merrell, Nike, The North Face and Under Armour, where you might find the clothing, shoes and outerwear for hiking. Explore Georgia has an extensive list of what to pack for your backpacking trip.
Be prepared for the weather. Having a way to cover yourself and your pack from rain is a great idea. Atlanta stays green and beautiful because it rains often. The weather doesn't have to bring you indoors if you're prepared for it.
Safety first. Always tell someone your hiking plans and be aware of your surroundings. There are bears in Georgia. Take precaution when packing your food (use a bear canister or bear bag and pulley system).
Perhaps it goes without saying, but be prepared to pack out all of your trash. Keeping Atlanta trails beautiful is a community effort and the pay off is a beautiful experience for all.
For more fun things to do outdoors, check out this ultimate list of things to do in Atlanta for nature lovers.
Discover More
Get to know Atlanta, and discover the best things to do around the city.