Where to Dine Out on Christmas Day
Published December 14, 2022
Last Updated December 15, 2022
Fine. You made the cookies for Santa and you don't want to spend any more time in the kitchen for a few days. We get it. There are plenty of restaurants open for Christmas and others offering takeout dinners. Here are some fantastic options for Christmas dinner.
10th & Piedmont and Gilbert's (aka G's)
Midtown's 10th & Piedmont and Gilbert's (aka G's) will stay open until Christmas Eve and then will offer a late Christmas dinner — and Funday Xmas sweater party — from 5 p.m. until midnight.
Where: 991 Piedmont Ave. NE
Chop Shop
Chop Shop has you covered whether you need an impressive rack of lamb or sides such as collard greens, cranberry and brie en croute or caramelized Brussels sprouts. Orders must be picked up by Dec. 23.
Where: 1366 Memorial Drive SE
Del Frisco's Double Eagle Steak House
Del Frisco's Double Eagle Steak House will not only be open on Christmas, but the restaurant will have a special holiday entree — a 20-ounce prime rib served with horseradish cream, red wine au jus and chateau mashed potatoes.
Where: 3376 Peachtree Road NE (Buckhead); 236 Perimeter Center Parkway NE (Dunwoody)
Fox Bros. BBQ
Fox Brothers BBQ won't be open on Christmas Day, but it is offering to-go holiday packages that include sliced turkey breast and gravy, a whole smoked turkey or smoked ham. The packages include sweet potato casserole, mac & cheese, green bean casserole, salad and dessert. If you don't want all the fixings, smoked turkey breast, whole smoked turkey, whole smoked ham and a whole smoked brisket are available.
Where: 1238 DeKalb Ave. NE
Hampton + Hudson
Hampton + Hudson's holiday dinner includes a festive holiday menu along with H+H's favorites. Not only will there be holiday movies on the televisions, but a live DJ will get you into the holiday spirit.
Where: 299 North Highland Ave. NE
Humble Pie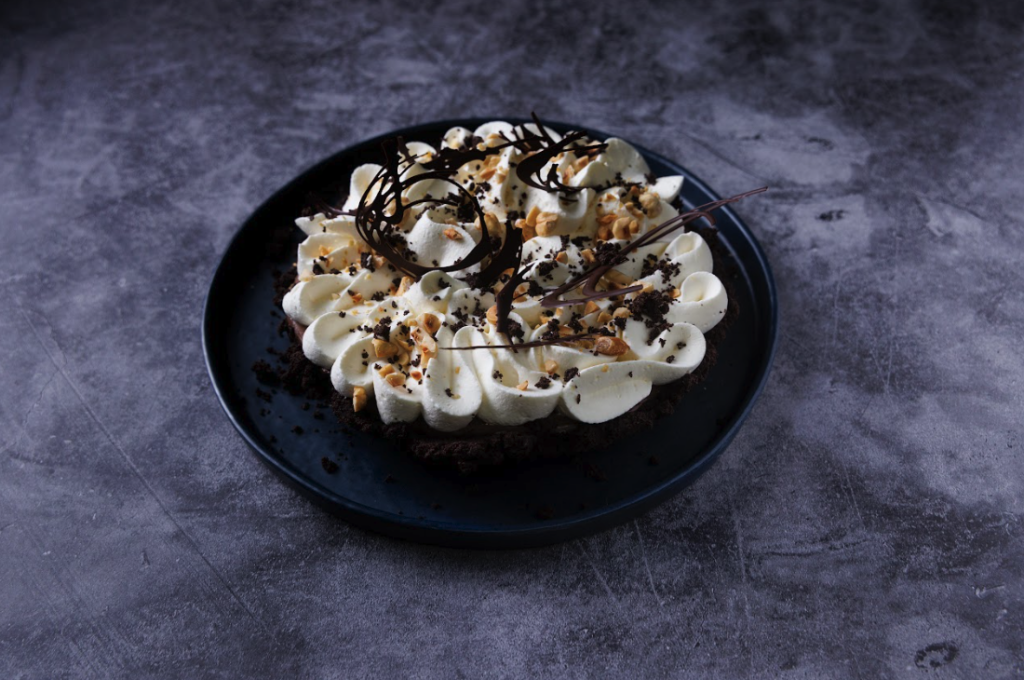 A neighborhood restaurant offering chef-driven American dishes is opening soon on the Westside. Humble Pie, whose owners are the team behind the acclaimed restaurants, Lazy Betty and Juniper Cafe, will offer a variety of baked goods to go for your Christmas table. Pastry chef Carelys Vazquez is offering a Holiday Cookie Package with two dozen cookies such as vanilla and cinnamon pinwheel cookies, berry almond jam cookies, gingerbread glazed cookies and Juniper Cafe cookies – gooey cookies stuffed with pecans, oatmeal and chocolate chips ($25); a nine-inch eggnog cheesecake with white chocolate roasted chantilly ($35); and a nine-inch peppermint chocolate mud pie ($35). Orders must be placed by Dec. 21 and pickup will be on Dec. 24 between 3 and 6 p.m. at Juniper Cafe.
Where: Juniper Cafe at 2260 Marietta Blvd. NW
Local Three Kitchen and Bar
Local Three Kitchen and Bar in Buckhead has a Christmas Dinner kit for $375.93 that feeds four to six. Included are cheese and charcuterie, herb- crusted ribeye roast, potatoes, thin beans, salad, yeast rolls and eggnog cheesecake.
Where: 3290 Northside Parkway NW
Red's Beer Garden
If you prefer a more casual Christmas dinner, head over to Red's Beer Garden where you can share a holiday meal, relax inside with a board game or sit outside by the heaters, grab a beer and enjoy the day with friends and even your dog.
Where: 1328 Boulevard SE
STK Steakhouse
STK Steakhouse will be open from 10 a.m. to 10 p.m. not only on Christmas Eve but on Christmas Day as well. But, if you just want to stay snuggled up on the couch, STK Steakhouse offers takeout and delivery packages for singles ($79) or two ($154).
Where: 1075 Peachtree St. NE
Varuni Napoli
Want to cook the perfect holiday dinner but may need a little head start? No problem. Head over to Varuni Napoli in Midtown or at Krog Street Market and pick up special at-home kits that include a margherita pizza kit ($90); cannoli kit (six-pack: $30) and the holiday bundle ($175.)
Where: 1540 Monroe Drive NE (Midtown); 99 Krog St. NE (Krog Street Market)
Hotels
Embassy Suites — Ruth's Chris Steak House
Ruth's Chris Steak House extended its holiday hours and is offering Christmas to-go with AtHomeFeast where you can preorder a multicourse steak house-style dinner with salad, two mini-cheesecakes and beef tenderloin with creamy horseradish sauce. Want a little more? Then add steamed lobster tails or jumbo lump crab cakes. The steak house, with locations in the Buckhead and the Downtown Embassy Suites, also offers curated selected of preordered wines.
Where: 267 Marietta St. NW (Downtown); 3285 Peachtree Rd NE (Buckhead)
Hotel Colee
Hotel Colee's restaurants will be open, and not only will you have a delightful Christmas dinner, but packages are offered, including saving 20% on overnight stays and access to 20%-off select Atlanta Ballet performances of the "The Nutcracker."
Where: 3377 Peachtree Road NE
Hyatt Centric Buckhead — Three Arches
Three Arches has two Christmas options. The restaurant, located in the Hyatt Centric Buckhead, will have a High Tea & Small Bites event from 3 to 5 p.m. with savory finger sandwiches such as smoked salmon on pumpernickel and egg salad on seven grain, sweet courses such as scones and fruit tartelettes as well as a variety of teas. Reservations are strongly recommended and are $52 per person.
Where: 3301 Lenox Parkway
InterContinental Buckhead Atlanta — Americano
The newly opened Americano at the InterContinental Hotel in Buckhead offers a $145 Christmas menu with a first course including items such as oysters on the half shell or Caesar salad with the second course including scallops or veal chop parmigiana. There are plenty of vegetables to choose from as well as eggnog pudding or chocolate tortino for dessert.
Where: 3315 Peachtree Road NE
Ritz-Carlton Atlanta — AG
The Ritz-Carlton Atlanta has a special holiday meal, served family-style with buffet stations featuring classic Christmas dishes along with a variety of side dishes. End the meal with delicious homemade pies and cakes in the Pastry Room. Reservations are required. The festivities are priced at $125 per guest, $60 per children ages 3 to 12; complimentary for children age 2 and younger. Complimentary valet is included. The dinner is so fabulous, rumor has it that Santa may drop in for a bite.
Waldorf Astoria Atlanta Buckhead — Brassica
Brassica, the Waldorf-Astoria's signature restaurant, is offering a full a la carte brunch menu from 11 a.m. to 3 p.m.
Where: 3376 Peachtree Road NE
Westin Peachtree Plaza — Sun Dial Restaurant, Bar and View
The Sun Dial Restaurant, Bar and View in the Westin Peachtree Plaza offers not only the best 360-degree views of the city, but, for $125 each, you will enjoy lobster bisque, Wagyu and braised beef short ribs.
Where: 210 Peachtree St. NW
Chinese on Christmas Day — a Tradition
Starting a very long time ago, immigrants to the United States from other cultures did not celebrate Christmas. But, just like nearly everybody, they had the holiday off. Even better, Chinese restaurants were open on the holiday, thus began the tradition of eating Chinese or Asian food on Christmas Day. Two choices in Atlanta are Nan Thai Fine Dining or Tok Tok Thai Food Loft near the Amtrak station.
Where: 1350 Spring St. NW (Nan Thai Fine Dining); 1745 Peachtree Road NW (Tik Tok Thai Food Loft)
For more dining choices in Atlanta, though not necessarily on Christmas Day, check our dining guide.
Discover More
Get to know Atlanta, and discover the best things to do around the city.