What You Need to Know About Atlanta's Famous Peachtree Streets
Published July 15, 2022
Last Updated March 3, 2023
If you visit Atlanta, chances are very high that you'll find yourself on Peachtree Street. Here's everything you need to know about Atlanta's famous Peachtree streets, including how many go by this exact name and everything there is to do and see along the way.
Why is Peachtree Street Famous?
Peachtree Street is one of Atlanta's main thoroughfares, and its history stretches way back to the 1800s when soldiers began using Muscogee Indian trails as a road to travel between Fort Peachtree and Fort Daniel. Starting at Little Five Points in downtown Atlanta and heading north through Midtown and into Buckhead, Peachtree Street becomes Peachtree Road along the way.
Along Peachtree Street, you'll find some of Atlanta's most notable architecture and landmarks including several skyscrapers: 191 Peachtree Tower, Georgia-Pacific Tower, Westin Peachtree Plaza and SunTrust Plaza all line Peachtree, as does the Atlanta campus of S.C.A.D. (Savannah College of Art and Design), The Woodruff Arts Center and, on Peachtree Road, Oglethorpe University.
Author Margaret Mitchell introduced the city and its most famous street to pop culture in her novel, "Gone With the Wind." Sadly, she was killed by a speeding car in 1949 while crossing Peachtree Street as a pedestrian. Though currently closed, you can see the outside of her apartment located at 10th and Peachtree Street. The Margaret Mitchell House comprises the Midtown campus of Atlanta History Center. Check out the Atlanta in 50 Objects exhibition to learn more.
Peachtree Street is a popular parade route. In addition to hosting the route of the annual AJC Peachtree Road Race, it's also often the location of the Atlanta St. Patrick's Day Parade, Children's Christmas Parade and Dragon Con Parade, as well as celebratory parades like the 100th anniversary of the Coca-Cola Co. and Atlanta Braves World Series celebrations in 1995 and 2021.
Atlanta Pride Festival and Parade is the largest Pride festival in the Southeast and takes place each October. The parade route begins at the Civic Center MARTA Station and merges from Ralph McGill Boulevard onto Peachtree Street and travels north toward Piedmont Park, where the parade officially ends.
How Long is Peachtree Street in Atlanta?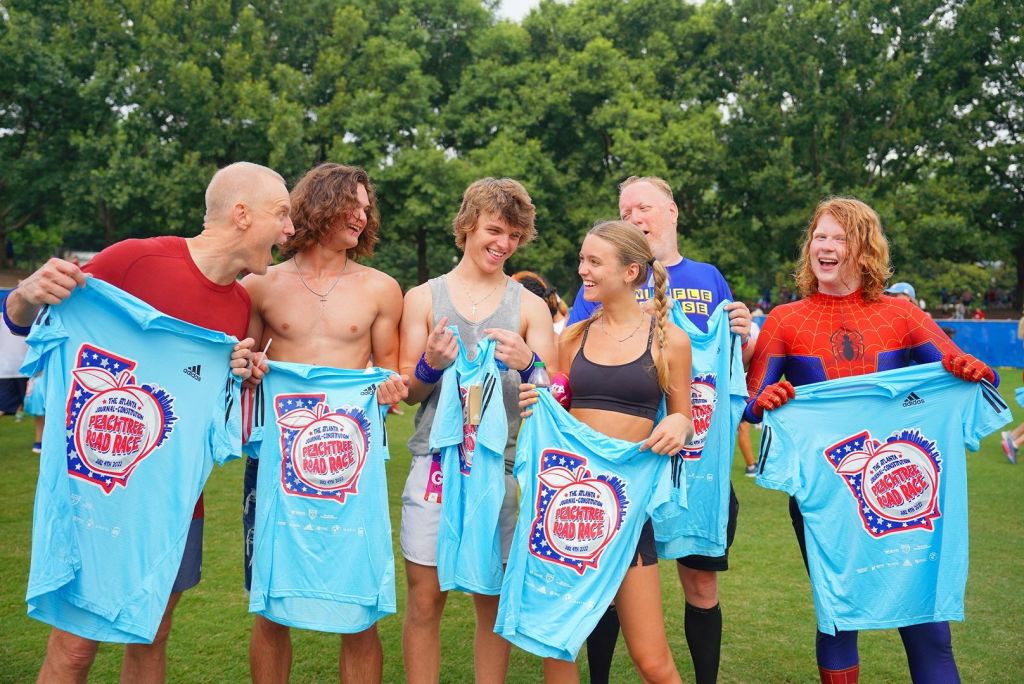 Peachtree Street, 6.2 miles long, is the route from Lenox Square to Piedmont Park of the Annual AJC Peachtree Road Race — the world's largest 10K race with approximately 60,000 participants from all over the world.
How Many Streets in Atlanta are called Peachtree?
Atlantans joke that if you take a right and two lefts off of any street you will end up on a street with "Peachtree" in its name. In fact, there are 71 streets with some version of Peachtree as part of their name.
Things to Do on Peachtree Street in Downtown Atlanta
Beginning at Five Points in downtown Atlanta there are a number of places to stop and things to see on Peachtree Street.
Peachtree Center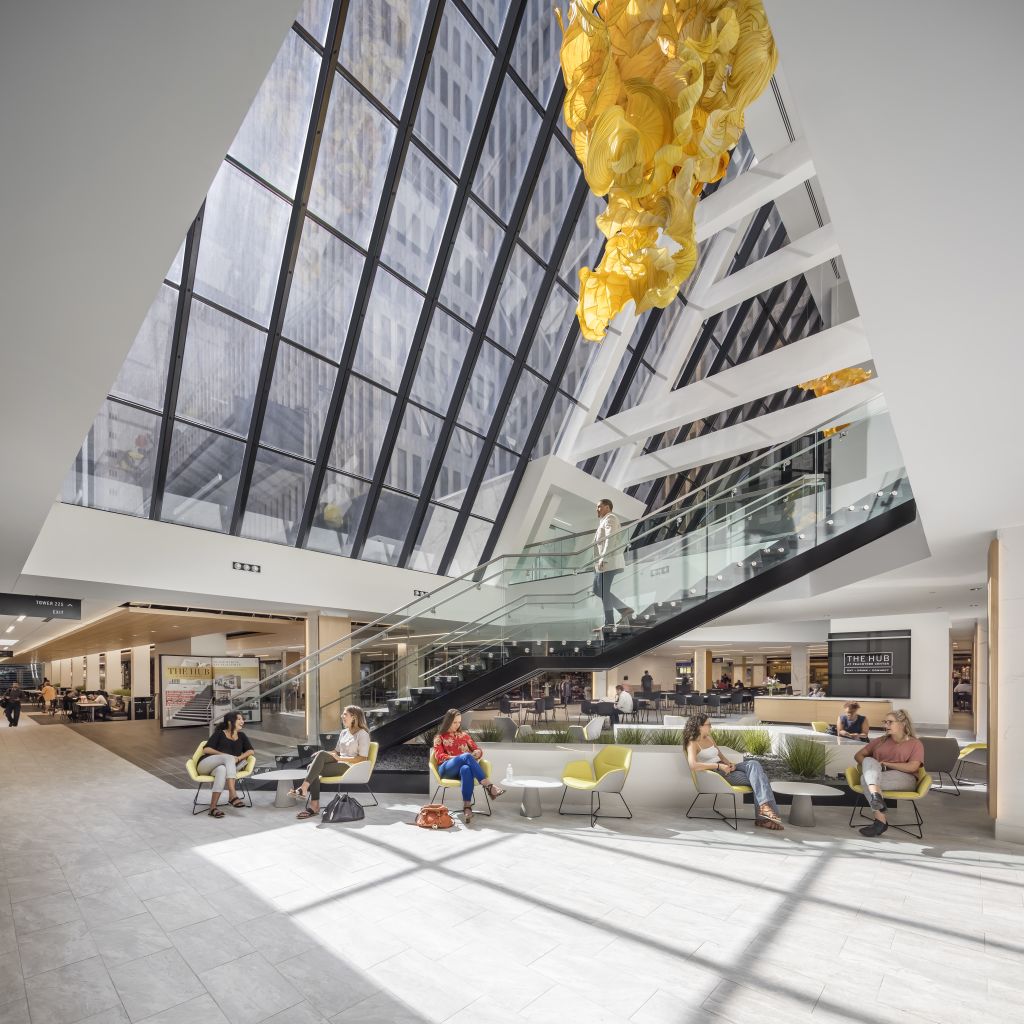 Easily accessible by MARTA, Peachtree Center is a convenient stop for travelers and business people. As Downtown is a prime location for conventions, corporate and special events, The Hub at Peachtree Center serves as a one-stop destination for dining, services like haircuts and nail care, and shopping for essentials.
Woodruff Park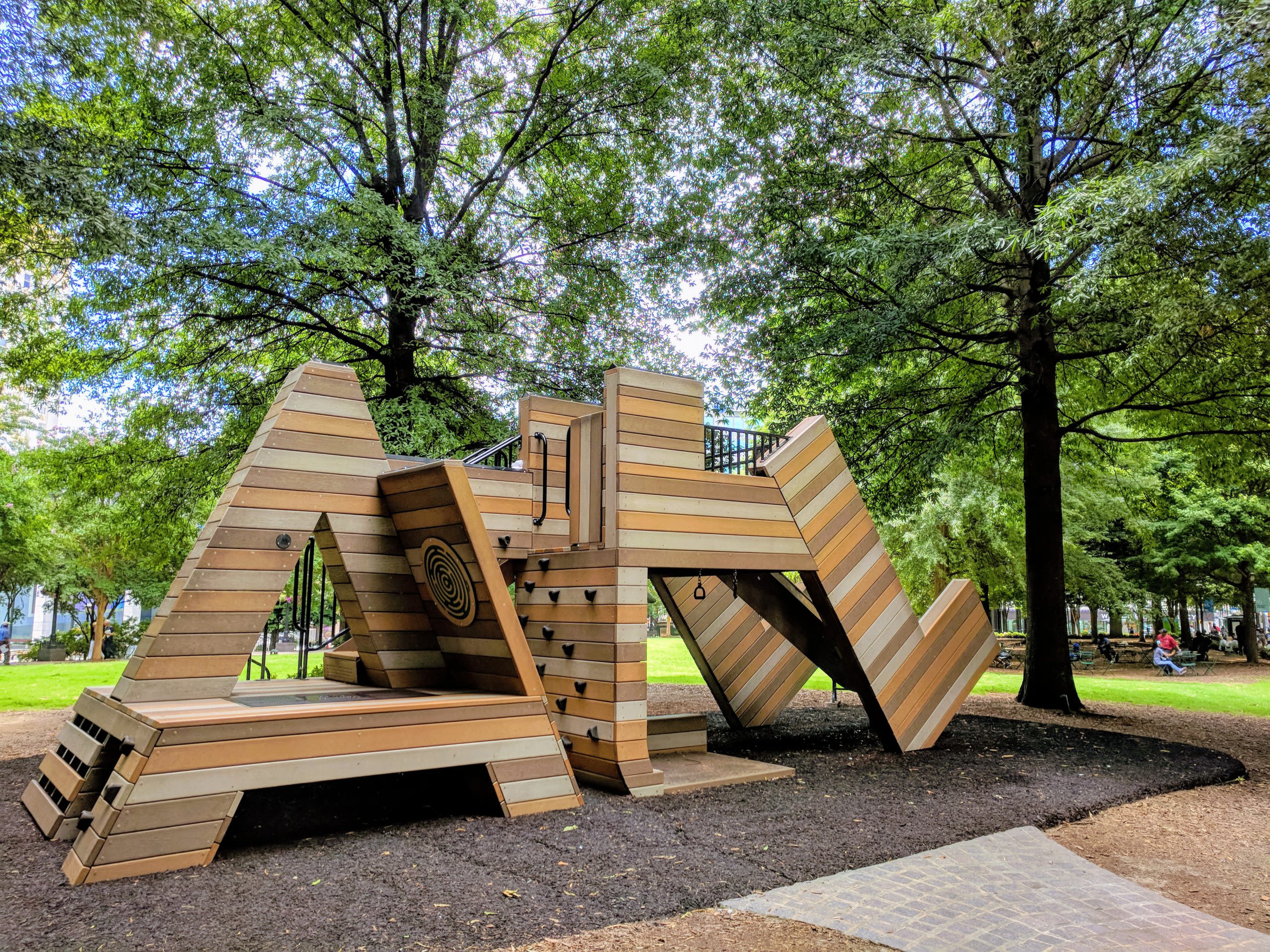 The geographical center of Atlanta, Woodruff Park is a six-acre green space on Peachtree Street, home to events and a great location to rest or relax during the day. Stop and play a game from the GameCart, enjoy the free Wi-Fi, have a picnic or just soak up the sun.
Peachtree Street crosses Auburn Avenue where you'll find The Apex Museum, Municipal Market and MLK attractions nearby. Atlanta is an important location in the history of the civil rights movement. The Dr. Martin Luther King National Historical Park is a prime centerpiece and lies within walking distance.
Centennial Olympic Park and all major Downtown attractions are nearby.
Things to Do on Peachtree Street in Midtown Atlanta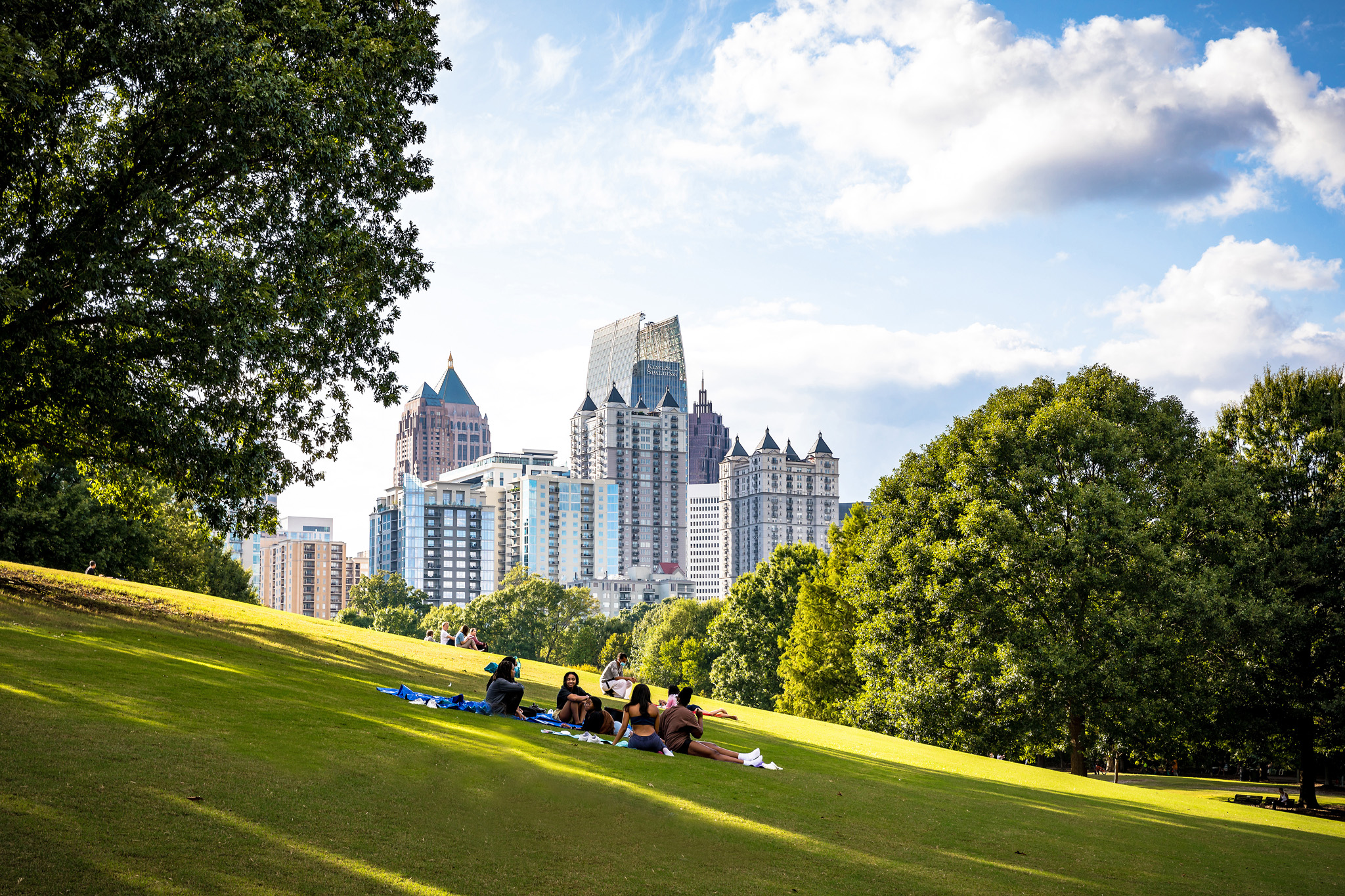 Peachtree Street runs north through Midtown Atlanta and houses some of Atlanta's top attractions.
Peachtree Street NE is the home of:
Bank of America Plaza — Atlanta's tallest building at 55 stories (1,023 ft), it is a centerpiece of the Atlanta skyline.
Fox Theatre — This stunning historic building originally opened in 1929 as a movie palace. The "Fabulous Fox" remains a performing arts venue for such events as Broadway shows and the Coca-Cola Summer Film Festival as well as popular musicians on tour. The theater may also be rented for private events.
Margaret Mitchell House — Mitchell wrote her classic Gone With the Wind in her apartment at the corner of 10th and Peachtree streets.
Federal Reserve Bank — across the street from the Margaret Mitchell House, the Federal Reserve Bank has a museum, which is open to the public and displays a fascinating history of money and examples of rare coins plus interactive, multimedia exhibits and displays.
Woodruff Arts Center — Woodruff Arts Center is the cornerstone of fine arts in Atlanta and home to High Museum of Art, Atlanta Symphony Orchestra and the Alliance Theatre. The center itself features outdoor art and green space.
Not far from Peachtree Street in Midtown is one of Atlanta's most popular parks. Piedmont Park is 200+ acres of green space perfect for any sport, playing, walking and running. It is home to many special events and festivals.
Peachtree Road connects to Peachtree Circle at the Ansley Park neighborhood. Also located on Peachtree Road is the Atlanta campus of Savannah College of Art and Design.
Things to Do on Peachtree Road in Buckhead Atlanta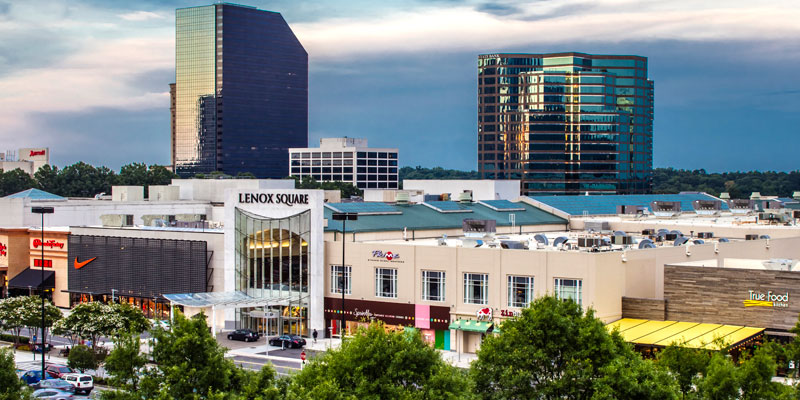 Peachtree Road crosses the Buford Highway connector.
The Buckhead portion of Peachtree Street crosses Peachtree Creek and Peachtree Battle Avenue.
Buckhead Theatre lies where Peachtree Street forks in the Buckhead neighborhood. Just a short walk from Peachtree Road is this historic art deco theater which opened in 1931 and was completely remodeled in 2010.
Lenox Square — Visit this popular shopping mall located on Peachtree Road in Buckhead and home to nearly 200 tenants. Find upscale brands like Bloomingdales, Cartier, Fendi, Neiman Marcus and Rolex in addition to many other shops and restaurants.
Phipps Plaza — Find upscale shopping with stores like Louis Vuitton, Johnny Was, Gucci and Prada, see a movie or eat at one of several dining options.
Where to Eat on Peachtree Street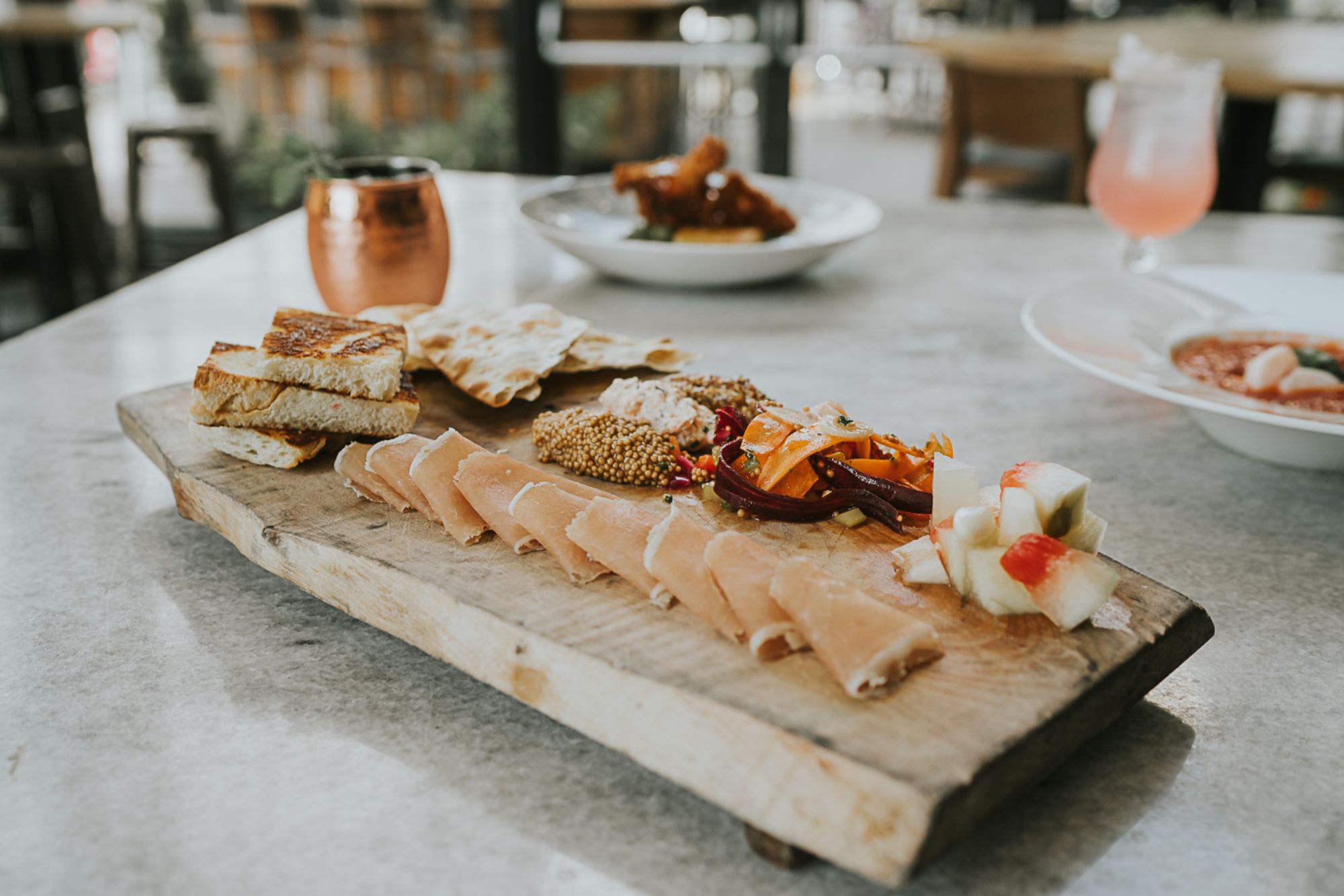 As you can imagine, a street with the history and geographical length of Peachtree has a vast quantity of restaurants that line its curbs. Here are the best restaurants on Peachtree Street.
Discover More
Get to know Atlanta, and discover the best things to do around the city.