Best Restaurants on Peachtree Street in Atlanta
Published June 22, 2022
Last Updated October 21, 2022
You can't come to Atlanta without landing on one of the city's many Peachtree streets, lanes, drives and circles. The most renowned is Peachtree Street itself, also known as Atlanta's Main Street. If you lose yourself in the hustle and bustle of downtown Atlanta just do what Dorothy did in the the "Wizard of Oz' when she followed the Yellow Brick Road. In Atlanta, follow Peachtree Street or Peachtree Road and you'll always get where you're going. Stick to Peachtree Street and you'll always be in proximity to popular hotels, restaurants and businesses. Starting Downtown and running through Midtown all the way up through Buckhead, Peachtree Street is a mecca for top-notch bites, drinks and overall vibes.
Feeling hungry? You're in luck. By taking a quick stroll down this peachy street you'll find an endless number of dining options.
Downtown Peachtree Street Eats
You can never go wrong with some good old Southern cooking. Here's where to start if you're in downtown Atlanta.
Sweet Georgia's Juke Joint
Right in the heart of Downtown, Sweet Georgia's Juke Joint puts heart into everything that comes out of the kitchen. From delicious Southern cooking to live music and entertainment, you'll be sure to enjoy this soul-feeding experience.
Where: 200 Peachtree St., L05
Gus's World Famous Fried Chicken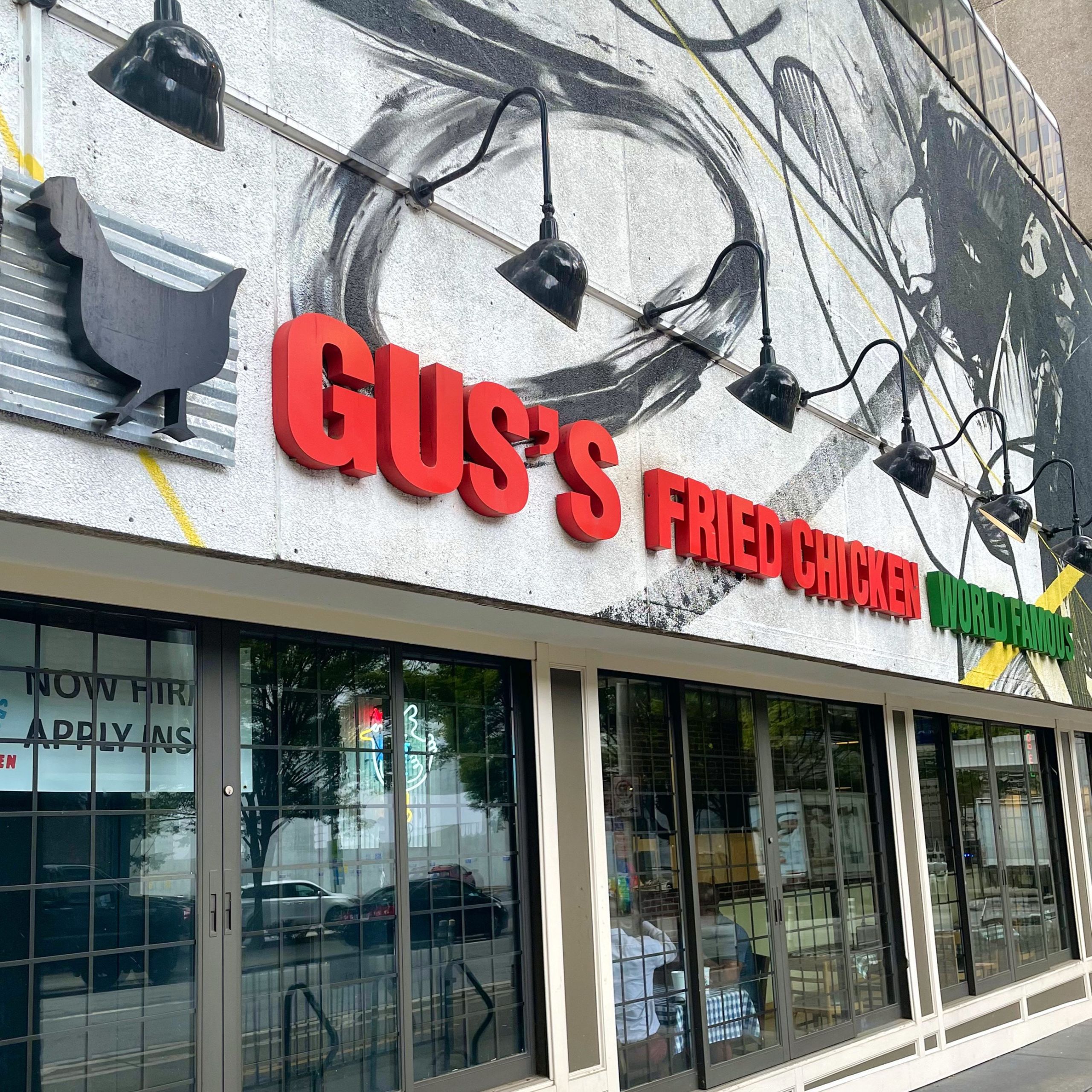 Freshly served and never frozen, Gus's Fried Chicken might just be an Atlanta treasure. Using a recipe that dates back to the 1950s, Gus infuses the warmth of history and tradition into every bite.
Where: The Mall at 231 West Peachtree St. NW, Suite A-05
Red Phone Booth
Journey back to the 1920s with an authentic speakeasy experience that includes cigars and bites at this hidden gem located both Downtown and in Buckhead. Finding the secret code to get in is all a part of the experience, however many say that if you're staying at any of the nearby hotels the front desk staff can steer you in the right direction (as in, they'll whisper the code to you).
Where: 17 Andrew Young International Blvd. NE (right off Peachtree Downtown) and 3242 Peachtree Road NE (Buckhead)
Anatolia Café & Hookah Lounge
Looking for hookah in a lounge setting? Get that plus delicious Turkish food at Anatolia Cafe & Hookah Lounge, a casual bi-level hangout.
Where: 52 Peachtree St. NW
Alma Cocina
With locations right on Peachtree Street in both Downtown and Buckhead, the Latin-inspired Alma Cocina will satisfy your taste for Mexican cuisine.
Where: 191 Peachtree St. NE (Downtown) and Terminus 100, 3280 Peachtree Road NE, No. 100 (Buckhead)
Mellow Mushroom
A Peachtree Street staple with locations along the famous street in both Downtown and Buckhead, the funky art-filled pizza chain Mellow Mushroom is a must-add to your foodie list.
Where: 400 West Peachtree St. NW Suite #1 (Downtown) and 1770 Peachtree Road NW (Buckhead)
Blossom Tree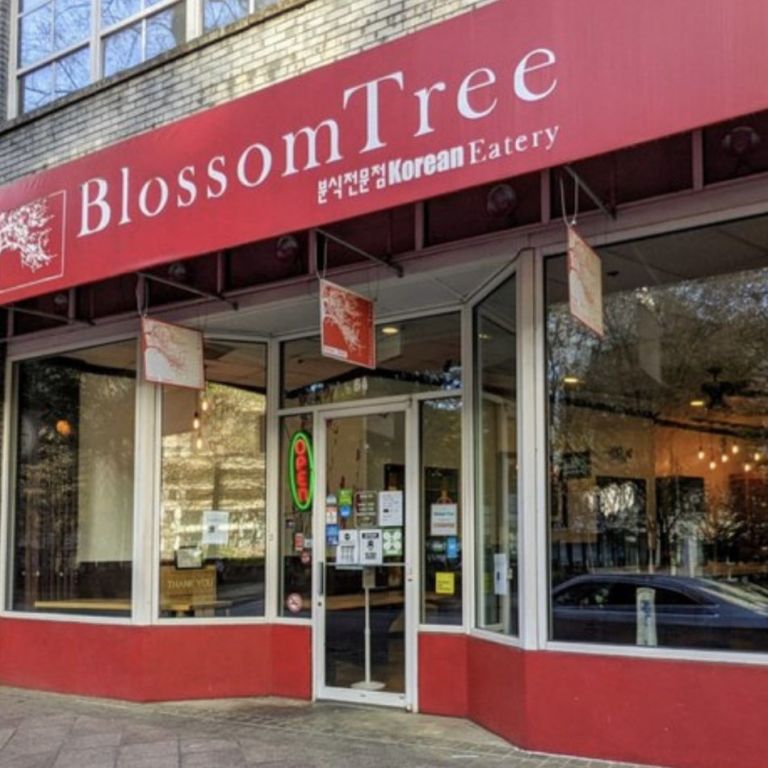 The Korean restaurant Blossom Tree provides a casual experience and food with a wonderful blend of Southeast Asian flavors. Looking for a good recommendation? Try the tacos with Asian-inspired fillings.
Where: 64 Peachtree St. NW
Pacific Rim Bistro
Specializing in Pan-Asian cuisine, Pacific Rim Bistro offers a variety of different menus with dishes that bring to mind the frozen tundra of Mongolia as well as the tropics of Thailand. If you are looking for fresh sushi, sashimi and eats from all over Asia, Pacific Rim might just be the perfect spot for you.
Where: 303 Peachtree Center Ave. NE
HSU's Atlanta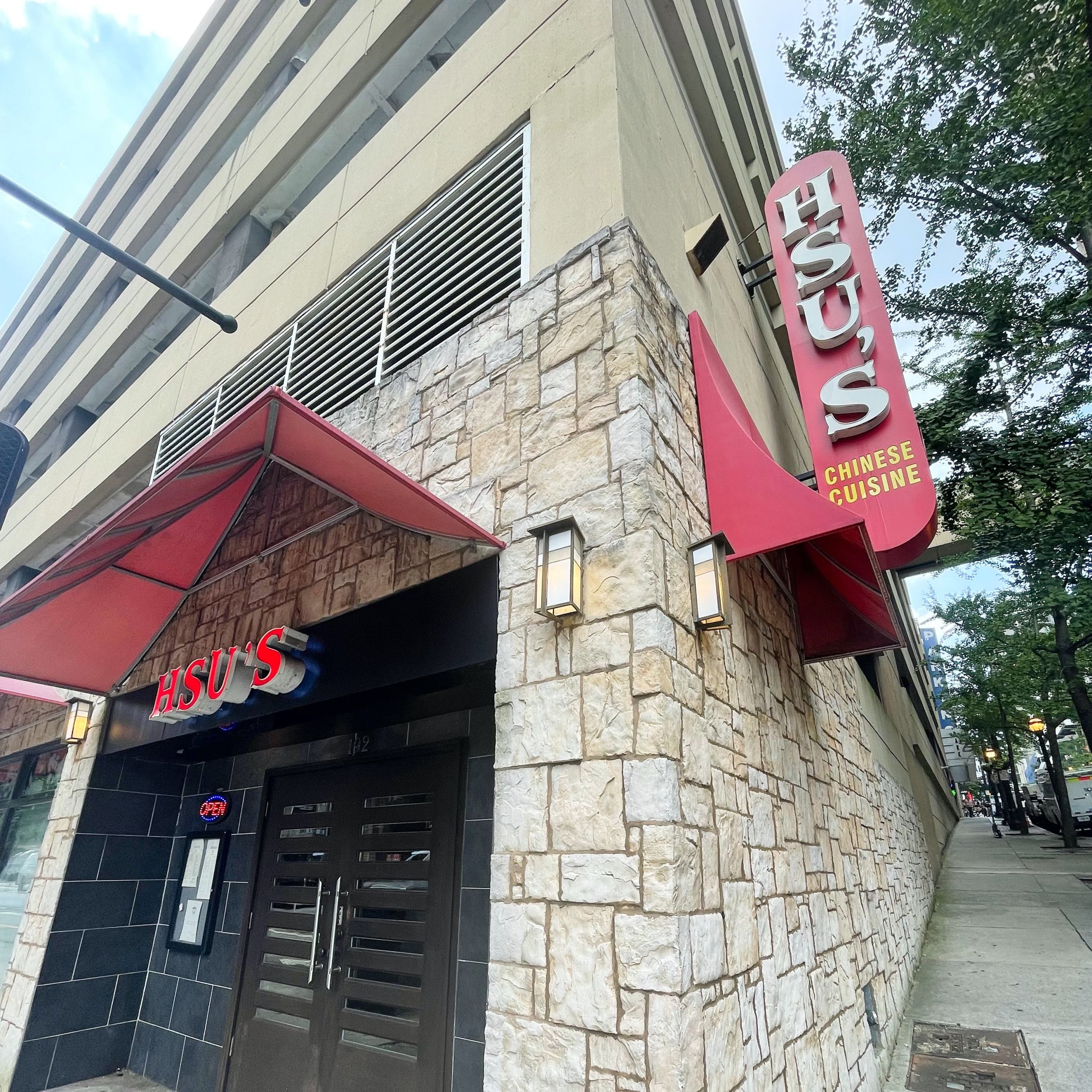 This family-run restaurant is known for its wide range of gourmet Chinese dishes. HSU's specializes in Szechuan- and Cantonese-style cuisine with several options when it comes to noodle and soup dishes. All roads lead here if you are looking for delicious Chinese food in the heart of Downtown.
Where: 192 Peachtree Center Ave. NE
The Poke Spot
Does the perfect poke bowl actually exist? You might just find your answer at the popular The Poke Spot. If you're not sure where to start, try the signature bowls including ahi tuna, chili ponzu salmon, garlic ahi or spicy tuna.
Where: 200 Peachtree St. NE
Aviva by Kameel Downtown and Midtown
Ready to explore the Mediterranean? Let your taste buds take you there at this counter-serve cafe featuring classic Mediterranean dishes. Aviva by Kameel also has a juice bar with locally sourced ingredients. If you are craving flavor, try the lamb shawarma.
Where: 225 Peachtree St. NE (Downtown) and 756 West Peachtree St. NW (Midtown)
Hard Rock Cafe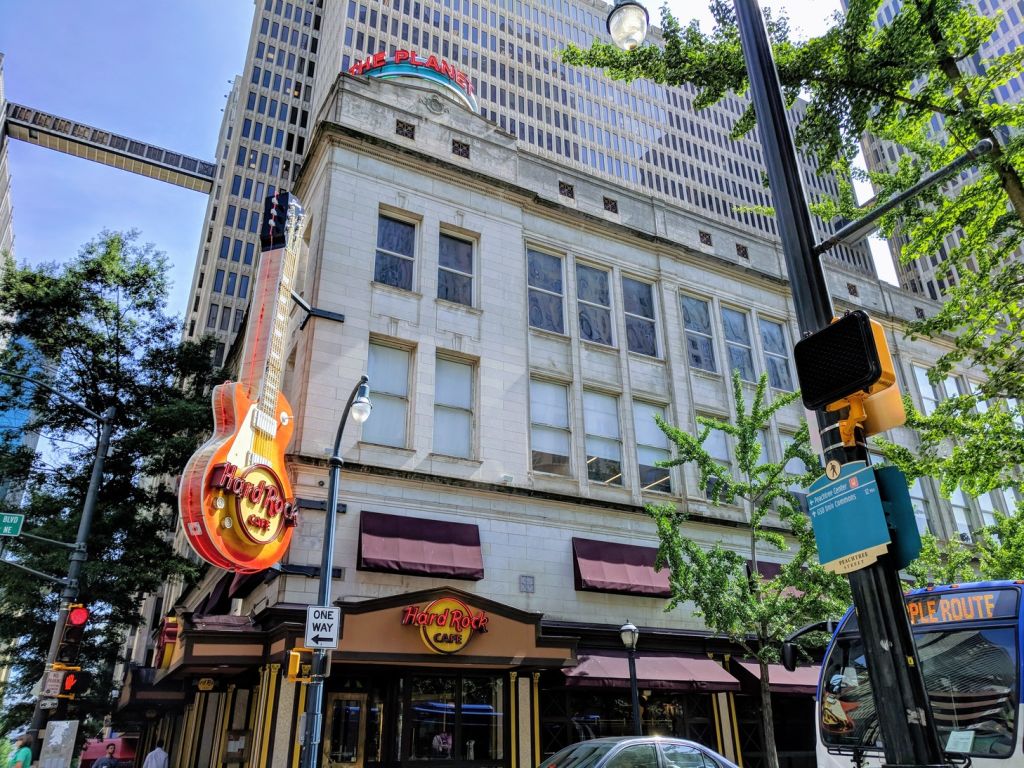 Who doesn't like a little rock 'n' roll along with with tasty American classics and a high-energy vibe? Hard Rock Cafe Atlanta provides a unique experience with both Southern charm and an inviting menu. If you are a burger connoisseur you might want to try the Legendary Burger, known for its combination of savory flavors.
Where: 215 Peachtree St. NE
Cuts Steakhouse
Just a block off Peachtree Street, this steak house serves succulent steaks, short ribs and several Southern classics. Cuts Steakhouse provides a fine dining experience that includes drool-worthy Southern dishes such as shrimp and grits and fried lobster tail.
Where: 60 Andrew Young International Blvd. NE
Morton's The Steakhouse/Downtown
The upscale chain Morton's The Steakhouse/Downtown serves aged prime beef, seafood and additional steak house fare in a club-like setting. Whether you are in town for business or leisure, this popular dinner option will leave you satisfied.
Where: 303 Peachtree Center Ave. NE
Views Bar and Grill
Lamb chops for $2, anyone? Yup, you read that right. Every Tuesday this upbeat eatery offers both lamb chops and tacos for just $2. Along with a delicious food and great deals, Views Bar & Grill also provides spectacular entertainment.
Where: 200 Peachtree St. NE
AG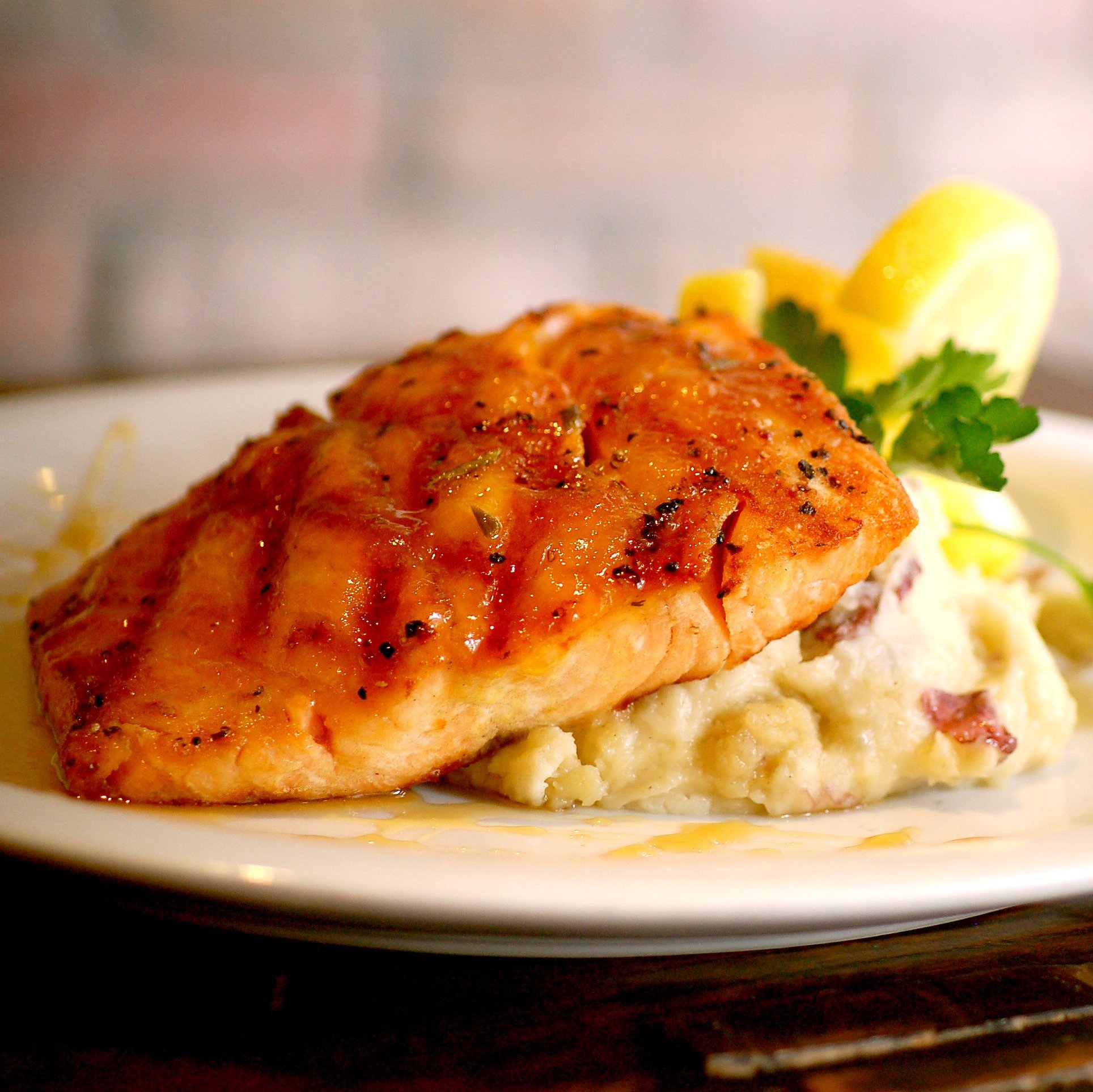 Whether you are staying at the The Ritz Carlton Atlanta or find yourself nearby, the AG steak house inside the Ritz blends Southern style with seasonal ingredients. Choose from grilled steaks, seafood and popular cocktails — and enjoy all of it in a stylish setting.
Where: 181 Peachtree St.
Ray's In the City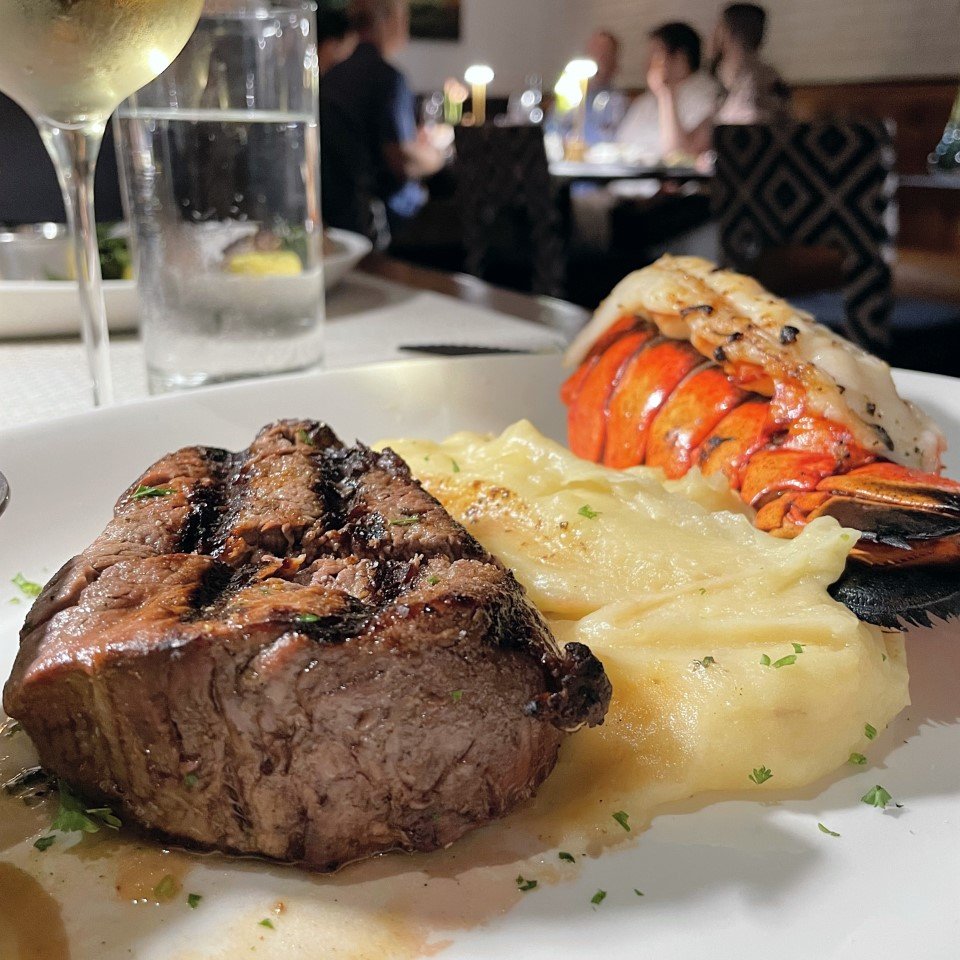 You can't go wrong with prime cuts and weekly live jazz. Ray's in the City gives guests an excellent dining experience along with an extensive wine list and a menu that includes flavorful seafood selections.
Where: 240 Peachtree St.
Max Lager's Wood-Fired Grill & Brewery
Catering to various cravings, Max Lager's Wood-Fired Grill & Brewery carries items like hickory-smoked chops, steaks, pork BBQ, pizza and veggies. Not only is the food comforting, but the atmosphere is, too.
Where: 320 Peachtree St. NE
White Oak Kitchen & Cocktails
For premium whiskey and bourbon cocktails and a warm Southern meal, this modern-rustic hangout will serve you well. From the tasty American cuisine to the uniquely crafted cocktails, the creative zest at White Oak Kitchen & Cocktails will definitely leave a mark on your time in Atlanta.
Where: 270 Peachtree St. NW, 100
Land of a Thousand Hills Coffee
Directly support a network of Rwanda coffee farming communities when choosing Land of a Thousand Hills Coffee. Dedicated to creating flavorsome coffee that also makes a difference this shop makes choosing your morning coffee spot much easier.
Where: 84 Peachtree St. NW
Corner Bakery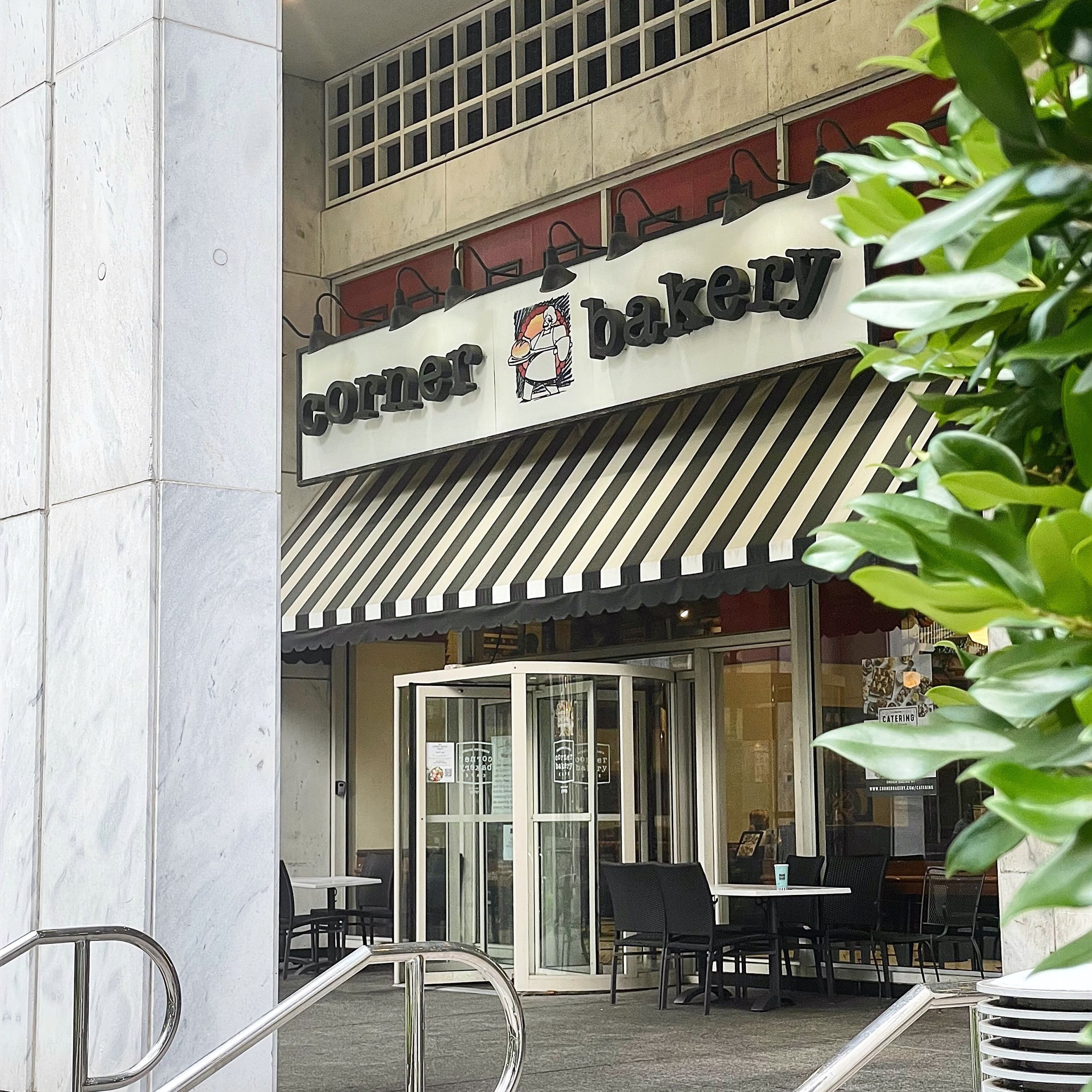 If you're looking for a quick and casual experience when grabbing your morning cup of joe, head to Corner Bakery for a delicious bite and even better coffee. Whether you want to stay a while or grab something to go, this bakery satisfies.
Where: 270 West Peachtree St. NW
By George
Located in the Candler Hotel, this restaurant serves classic cuisine inspired by contemporary American cooking. The menu is spearheaded by two-time James Beard Award-winning chef Hugh Acheson.
Where: 127 Peachtree St. NE
Sun Dial Restaurant, Bar and View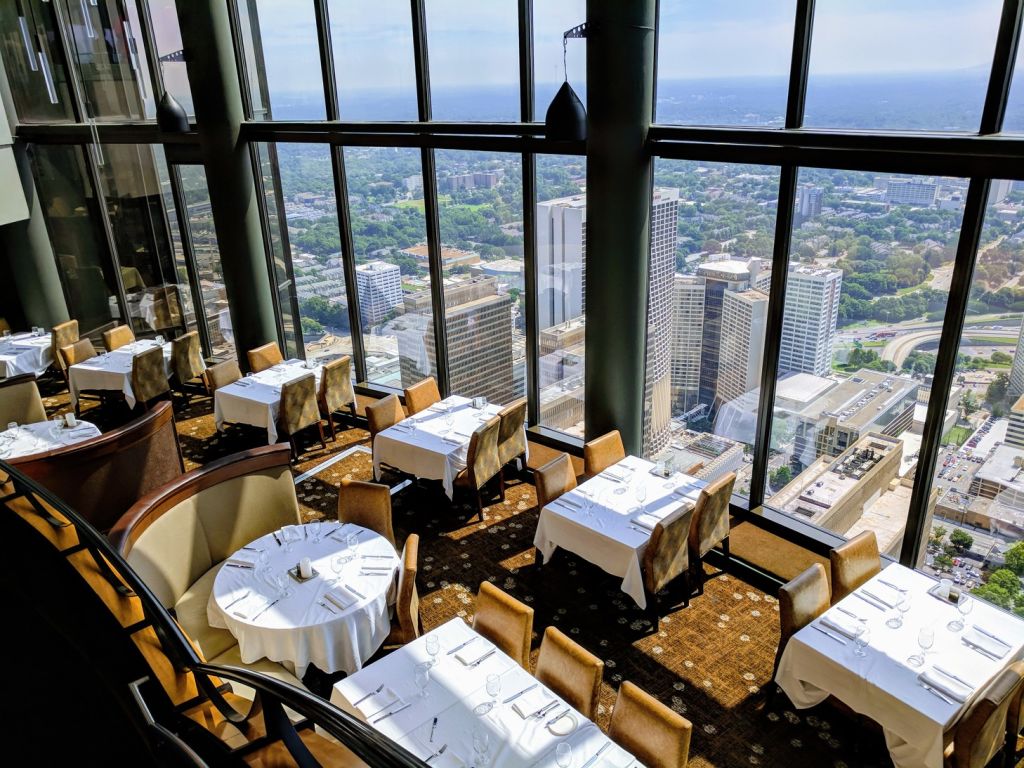 The Sun Dial Restaurant, Bar and View is located inside (and atop) The Westin Peachtree Plaza Atlanta. You'll enjoy seasonal American cuisine as you sit 723 feet up with a 360-degree view of the city.
Where: 210 Peachtree St. NW
Midtown Peachtree Street Eats
The options become endless as you wander up and into Midtown Atlanta. Feeling crabby? Getting your seafood fix at these restaurants might just cheer you up.
The Oceanaire Seafood Room
The sophisticated and lively environment at The Oceanaire Seafood Room is paired with fresh, flown-in-daily seafood, steaks and an extensive wine list.
Where: 1100 Peachtree St.
The Steamhouse Lounge
For a casual seafood-filled experience, The Steamhouse Lounge carries many choices ranging from oysters to lobster bisque and so much more. It is a great spot if you're looking for the option to dine outside in the center of Midtown.
Where: 1051 West Peachtree St. NW
BK Lobster Midtown
This Brooklyn-based seafood restaurant brings a Taste of Maine with Brooklyn flavors to the heart of Atlanta. Offering a hassle-free way to taste the wide variety of lobster rolls, you can enjoy your food indoors or easily take it for an on-the-go stroll.
Where: 855 Peachtree St. NE, Suite No. 3
Lyla Lila
This European restaurant not only offers seafood, but Lyla Lily also serves a wide range of vegetable-based dishes. Just a two-minute walk from the Fox Theatre, the location means you can enjoy a delicious dinner before or after a show.
Where: 693 Peachtree St. NE, Unit 118
Need a break from seafood? Check out more Midtown Peachtree eats below
Cafe Agora
Whether you're in Midtown or Buckhead, you can enjoy Turkish, Greek and Mediterranean bites at Cafe Agora. If you're in need of a suggestion, the gyros and meat plates are a great start.
Where: 92 Peachtree Place NE (Midtown) and 318 East Paces Ferry Road NE (Buckhead)
Joy Cafe
This locally run cafe serves sandwiches, and salads, and Joy Cafe even has a weekend brunch, which you can enjoy in a comfy setting. If you want to dine in the sun you can enjoy your meal on the outside patio.
Where: 1100 Peachtree St. NE, Exhibit A
Dancing Goats Midtown
The modern Dancing Goats Midtown is essential if you are in need of espresso or are interested in a cup of single-origin coffee. With free Wi-Fi and a sleek interior, Dancing Goats is a great place to catch up on emails or get some work done.
Where: 33 Peachtree Place NE
Blue India
Enjoy pan-Indian fare and tasty cocktails in an elegant space right in Midtown. Indian food has been at the heart of the British food scene since the mid-18th century, and this restaurant does a great job of highlighting that influence in its menu.
Where: 33 Peachtree Place NE
Herban Fix
Vegans need love, too. Herban Fix serves delicious pan-Asian fare with strictly plant-based ingredients. It's a staple for all vegans, vegetarians and even meat lovers.
Where: 565 Peachtree St. NE
From tasty tacos to chips and guac you can never go wrong with discovering some of Atlanta's popular Mexican restaurants. Peachtree Street is home to many. Check out some of Midtown's best below.
El Valle
Showcasing the unique flavors that makeup Mexico's gastronomy, El Valle offers a contemporary flair to your favorite Mexican dishes with a long list of options when it comes to Latin American wines and craft cocktails.
Where: 800 Peachtree St NE, Suite F
El Vinedo Local
The quaint El Vinedo Local serves South American eats with options like empanadas and ceviche. Need to get work done? This restaurant is the perfect spot with plenty of seating options on the outdoor patio as well as sleek inside seating.
Where: 730 Peachtree St. NE. No. 100
Taco Mac
Known as Georgia's neighborhood bar, Taco Mac is great if you need a place to watch a game. With endless taco options, Taco Mac also strives to win you over with its finger-licking wings.
Where: 933 Peachtree St. NE
Not craving Mexican? Enjoy more great food, drinks and upbeat vibes along Midtown's Peachtree Street with these great options:
Soigne Garden
Great views and scenery are easy to come by when dining at Soigne Garden, a spacious restaurant and lounge. Whether you are looking for an after-work happy hour or a fun night out, the food, drinks, hookah and vibes will definitely make you want to stay a while.
Where: 848 Peachtree St. NE
5Church Midtown & Buckhead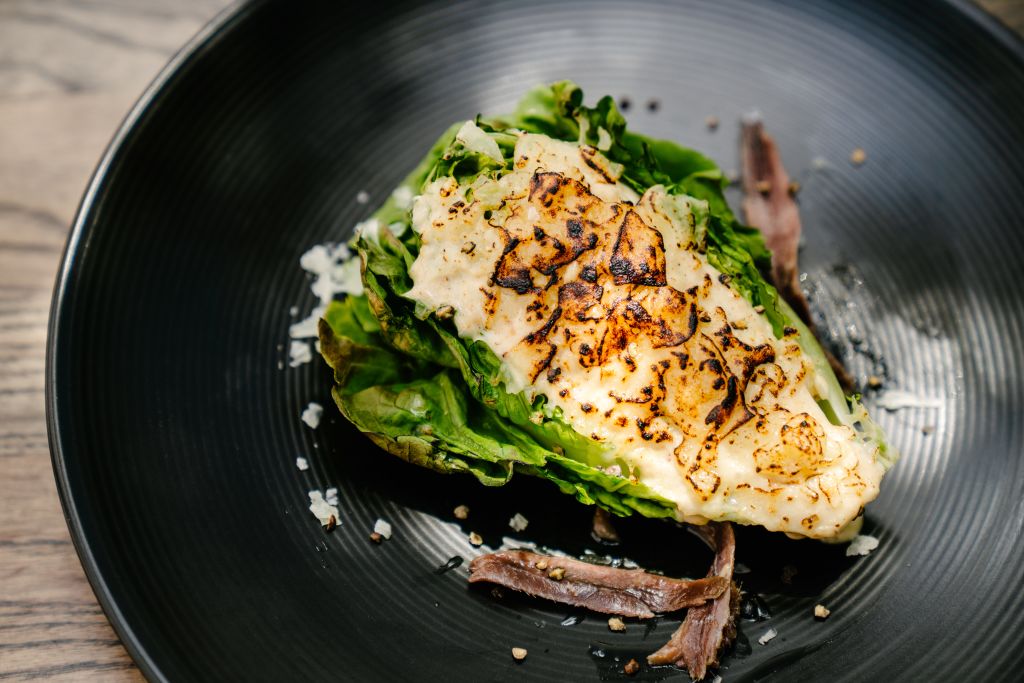 This hip and high-end restaurant offer delicious steaks and American fare with a unique selection of cocktails. With two locations on Peachtree in Midtown and Buckhead, you can take your pick on where you'd like to enjoy the flavor-filled menus at 5Church Midtown and Buckhead.
Where: 1197 Peachtree St NE, No. 528 (Midtown) and 3379 Peachtree Road NE, Suite 125 (Buckhead)
Vortex
Enjoy a vast selection of malts and beers in a rock 'n' roll-inspired setting. Known for its inventive burgers, Vortex is the perfect choice if you enjoy juicy bites. And to top it off, the Vortex claims to be an "idiot-free zone." Cool.
Where: 878 Peachtree St. NE
Publik Draft House
Publik Draft House serves upscale pub fare complemented with a range of pours. Satisfy your cravings while enjoying live music and trivia.
Where: 654 Peachtree St. NE
Pour Taproom
A lively option if you enjoy self-serve beers, tasty cocktails and bar bites. The exciting atmosphere and collection of beers at Pour Taproom may just keep you here all night.
Where: 1180 Peachtree St. NE, Suite A
Edgars Proof & Provisions
Edgars Proof & Provisions is the perfect choice if you're looking for a hip hangout serving barrel-aged drinks and and tempting small plates. Find it inside the Georgian Terrace Hotel.
Where: 659 Peachtree St. NE
STK Steakhouse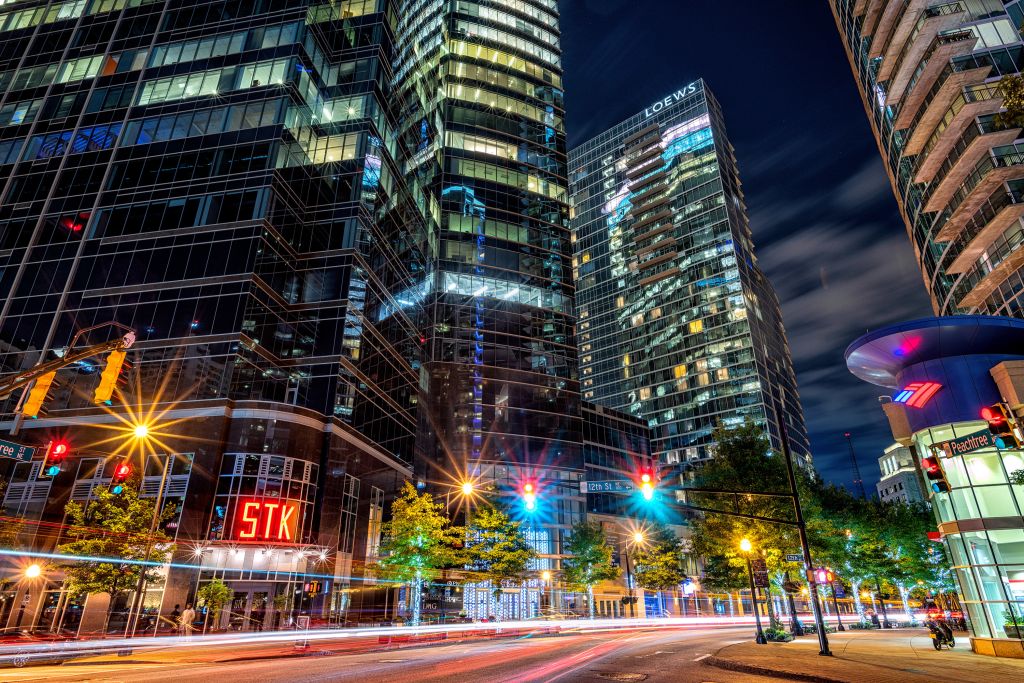 The New York-based STK Steakhouse is a prime choice if you're looking for guaranteed satisfaction when it comes to cocktails and savory grilled meats.
Where: 1075 Peachtree St. NE
Melting Pot
Grab your friends and experience an interactive dining experience at Melting Pot, with heated pots of cheese, chocolate or broth for both dipping and cooking.
Where: 754 Peachtree St. NE
Twelve Eighty
Located at Woodruff Arts Center, Twelve-Eighty is a wonderful spot to grab a light dinner before enjoying performances of the Atlanta Symphony Orchestra, at the Alliance Theatre or seeing the latest exhibition at the High Museum of Art.
Where: 1280 Peachtree St. NE
Livingston's
Just off Peachtree inside The Georgian Terrace Hotel, Livingston's serves American cuisine in an elegant setting.
Where: 659 Peachtree St. NE
Bar Margot
Located at the Four Seasons Hotel Atlanta, Bar Margot serves new American eats with signature cocktails in a plush atmosphere.
Where: 75 14th St. NE
Politan Row at Colony Square
Politan Row is a staple for every ATL itinerary. If you are feeling overwhelmed by the number of food options in the area, head to this food hall for a one-stop shop of all your favorite cuisines. From Asian, Caribbean and Italian to seafood; this food hall makes dining easy.
Where: 1197 Peachtree St. NE
Peachtree Road Eats in Buckhead
As you journey north on Peachtree Street into Buckhead, Peachtree Street becomes Peachtree Road. Check out a few Peachtree favorites below.
Flying Biscuit Cafe
The laid-back chain, The Flying Biscuit, knows what it's doing when it comes to Southern food. Did someone say all-day breakfast? Choose The Flying Biscuit if you wake up late with a strong craving for perfectly cooked eggs.
Where: 3280 Peachtree Road, No. 145
The Hive
If you are looking for an upbeat experience paired with hookah and great music, this will be your go-to. The Hive serves the perfect mix of healthy foods and American fare, complete with soul food flair.
Where: 1845 Peachtree Road NW
Egg Harbor Cafe
Serving up a creative-style breakfast, Egg Harbor Cafe also offers brunch and lunch options. From the weekly and seasonal specials to the award-winning Big Shoulders Coffee freshly brewed to go with your meal, Egg Harbor Cafe makes sure diners can taste the difference.
Where: 1820 Peachtree Road NW
Highland Bakery
Highland Bakery will satisfy both your brunch and sweet tooth needs. The fried chicken Benedict is a must-try, and the all-day breakfast menu will be sure to win you over.
Where: 3343 Peachtree Street, NE, Suite 130
DaVinci's Donuts
Your mouth may water at the site of the cake-style doughnuts at DaVinci's Donuts. Each doughnut is hand-dipped and individually created right at the counter.
Where: 3393 Peachtree Road
El Azteca
Indulge in some of the best Mexican food in all of Atlanta at El Azteca. This laid-back eatery offers plenty of chef's specials, combination plates and hard-to-pass-up margaritas.
Where: 1784 Peachtree Road NW
Bell Street Burritos
Celebrate Taco Tuesday any day at the popular Bell Street Burritos. Voted the best burrito in Atlanta, you will just have to visit to find out why.
Where: 1816 Peachtree St. NW
Tuk Tuk Thai Food Loft
Tuk Tuk Thai Food Loft brings you delectable classics when it comes to Thai street food. Who can pass up a patio with great skyline views and food to match?
Where: 1745 Peachtree Road NW
Osha Thai Sushi Galleria
Featuring a menu of masterpieces that combine Thai food and Japanese sushi, the Asian fusion Osha Thai Sushi Galleria is the place for small plates with global accents plus craft beer and cocktails.
Where: Northwest, 1820 Peachtree Road, No. 1
WIN – Taste of Bali
Let your taste buds voyage to Bali with WIN — Taste of Bali's world-famous rijsttafel. If you are dining with a group of friends, the shareable Balinese small plates will definitely be a WIN.
Where: 2285 Peachtree Road, Unit 100
Starfish
Are you a sushi lover? The serene Starfish offers delicious sushi options with an additional omakase (chef's choice) tasting menu.
Where: 2255 Peachtree Road
Storico Fresco Alimentari e Ristorante
The minimalist Italian Storico Fresco Alimentari e Ristorante will keep you coming back for more hearty pasta and fantastic wines. Storico Fresco also has a specialty shop that sells handmade pasta and other imported goods.
Where: 3167 Peachtree Road NE, Suite S
Maggiano's Little Italy
Maggiano's Little Italy is everyone's go-to for casual dining at a restaurant chain known for its Italian-American cuisine.
Where: 3368 Peachtree Road
La Grotta
The upscale, white-linen La Grotta will be sure to wow you with its menu of classic Northern Italian pasta and antipasto.
Where: 2637 Peachtree Road NE
Fellini's Pizza
Whether you are on a time crunch and looking for a quick bite or just looking for a good slice of pizza, Fellini's Pizza is essential for thin crust or Sicilian pizza lovers.
Where: 2809 Peachtree Road
Varsano's Pizzeria
The relaxed Varsono's Pizzeria features traditional sourdough thin-crust pizza with delicious small plates and pasta.
Where: 2171 Peachtree Road, Unit 100
Botica
Botica offers great Mexican cuisine including tacos, burritos and even burgers. It distinguishes itself as a sophisticated bodega with its highly specialized menu inspired by the many flavors of Mexico.
Where: 1820 Peachtree Road NW
The Usual
The acclaimed chef Nick Leahy's take on a modern-day tavern, The Usual's airy space and its globally influenced menu will make you want to return.
Where: 1777 Peachtree St. NE
Buckhead Village
Buckhead Village delivers the best modern and chic dining and shopping . Enjoy an afternoon in this dynamic village for delectable Southern and modern eats. Check out the list below for some of the best restaurants to consider.
Where: 3035 Peachtree Road
The Southern Gentleman
The Southern Gentleman will win you over with a large selection of craft cocktails and delicious food, sourced locally.
Where: 3035 Peachtree Road NE
Gypsy Kitchen
Explore a menu filled with shareable Spanish snacks and plates with Moroccan and Indian hints at Gypsy Kitchen.
Where: 3035 Peachtree Road NE
Fado's Irish Pub
Enjoy Irish libations with appetizing bar food at the charming Fado's Irish Pub. If you're a soccer fan, this is a great spot to catch a game.
Where: 273 Buckhead Ave. NE
Le Bilboquet
Le Bilboquet offers a light and airy space with traditional French cuisine. It is open for lunch and dinner and offers takeout and delivery options as well.
Where: 3027 Bolling Way NE
Le Colonial
Le Colonial is a 1920s' styled restaurant serving French Vietnamese cuisine with a lavish cocktail lounge attached.
Where: 3035 Peachtree Road NE
Peachtree Battle Shopping Center
Whitehall Tavern
Whitehall Tavern is the perfect game-day hangout offering American pub bites and an extensive beer list.
Where: 2391 Peachtree Road
Cafe Lapin
Cafe Lapin is a neighborhood BYOB bistro that serves light cafe fare for breakfast, lunch and dinner.
Where: 2341 Peachtree Road
Pasta Vino
Pasta Vino is a family-friendly Italian restaurant with delicious seafood, pizza and pasta along with house wines.
Where: 2391 Peachtree Road
Jalisco Restaurant
Jalisco is a casual restaurant serving up south-of-the-border cooking with menu items like chalupas and Mexican stew. Jalisco is perfect if you are looking for a quick bite before a day of discovering the rest of Atlanta.
Where: 2337 Peachtree Road
Buckhead's Hotel District
Davio's
Shop until you drop then dine at Davio's, an Italian steak house gem offering an upscale menu with a vast number of wine options.
Where: Phipps Plaza, 3500 Peachtree Road NE
True Food Kitchen
Have a healthy bite at True Food Kitchen, a relaxed eco-chic chain that includes several vegan options and great cocktails.
Where: 3393 Peachtree Road NE, Suite 3058B
St. Cecilia
Enjoy coastal European food at St. Cecilia inside Buckhead's Pinnacle Building. You can't go wrong with Italian seafood and pasta in this glamorous venue.
Where: 3455 Peachtree Road NE
Atlas
Just off Peachtree, the upscale Atlas restaurant resides inside The St. Regis Atlanta. Atlas serves artfully plated American food with seasonal ingredients.
Where: 88 W Paces Ferry Road NW
The Garden Room
Instagram-worthy The Garden Room serves new American cuisine and cocktails in a plant-filled space just off Peachtree Road.
Where: 88 West Paces Ferry Road NW
Ruth's Chris Steak House
This high-end Ruth's Chris Steak House chain is known for serving sizzling, butter-topped beef in an elegant setting.
Where: Embassy Suites Hotel, 3285 Peachtree Road NE
The Palm
The Palm is a storied chain offering high-end steak house fare and seafood with a wide variety of wines.
Where: 3391 Peachtree Road NE
The Americano
Helmed by two-time James Beard Award winner Scott Conant, The Americano, inside the InterContinental Buckhead Atlanta provides several great options including house-made pasta, Italian antipasti and Mediterranean seafood.
Where: 3315 Peachtree Road NE
Even though you'll find plenty of restaurants on Atlanta's famed Peachtree Street, the city has lots more restaurants that don't have a Peachtree Street address. Find more restaurants in our dining guide.
Discover More
Get to know Atlanta, and discover the best things to do around the city.