Atlanta Neighborhoods to Discover this Spring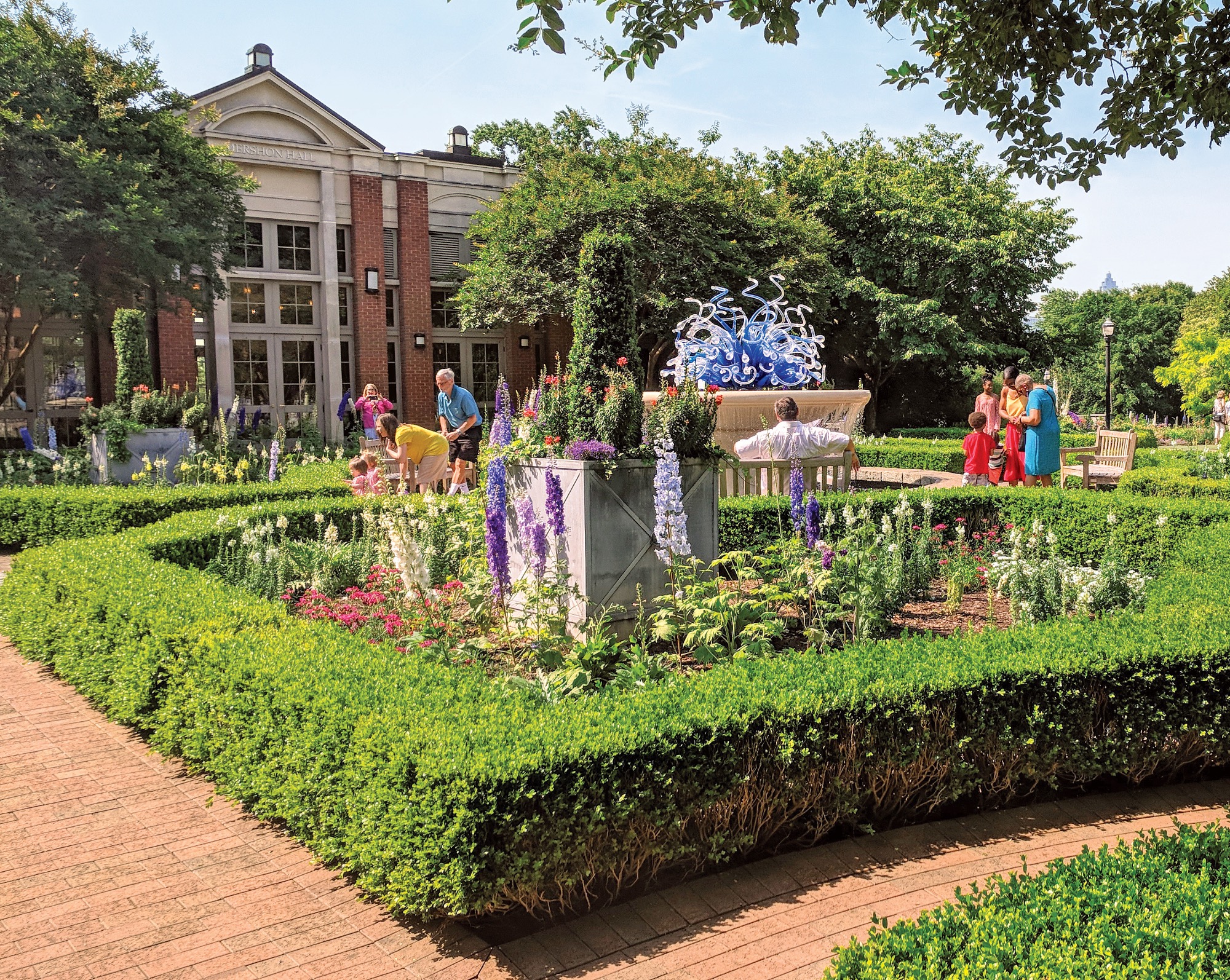 It's spring. Let's get out and explore "the city in the forest." Peachtree Street travels through Downtown, Midtown and Buckhead, connecting outdoor excursions and attractions to luxury shopping and delectable cuisines. Within a couple of miles off Peachtree, you'll find some of Atlanta's trendiest areas on the Eastside and Westside.
Experience springtime in the city through Atlanta's distinctive
neighborhoods, lying beneath a canopy of blooming trees and lush, green landscape. Discover the unexpected in each community, offering unique experiences during Atlanta's most alluring season.
DOWNTOWN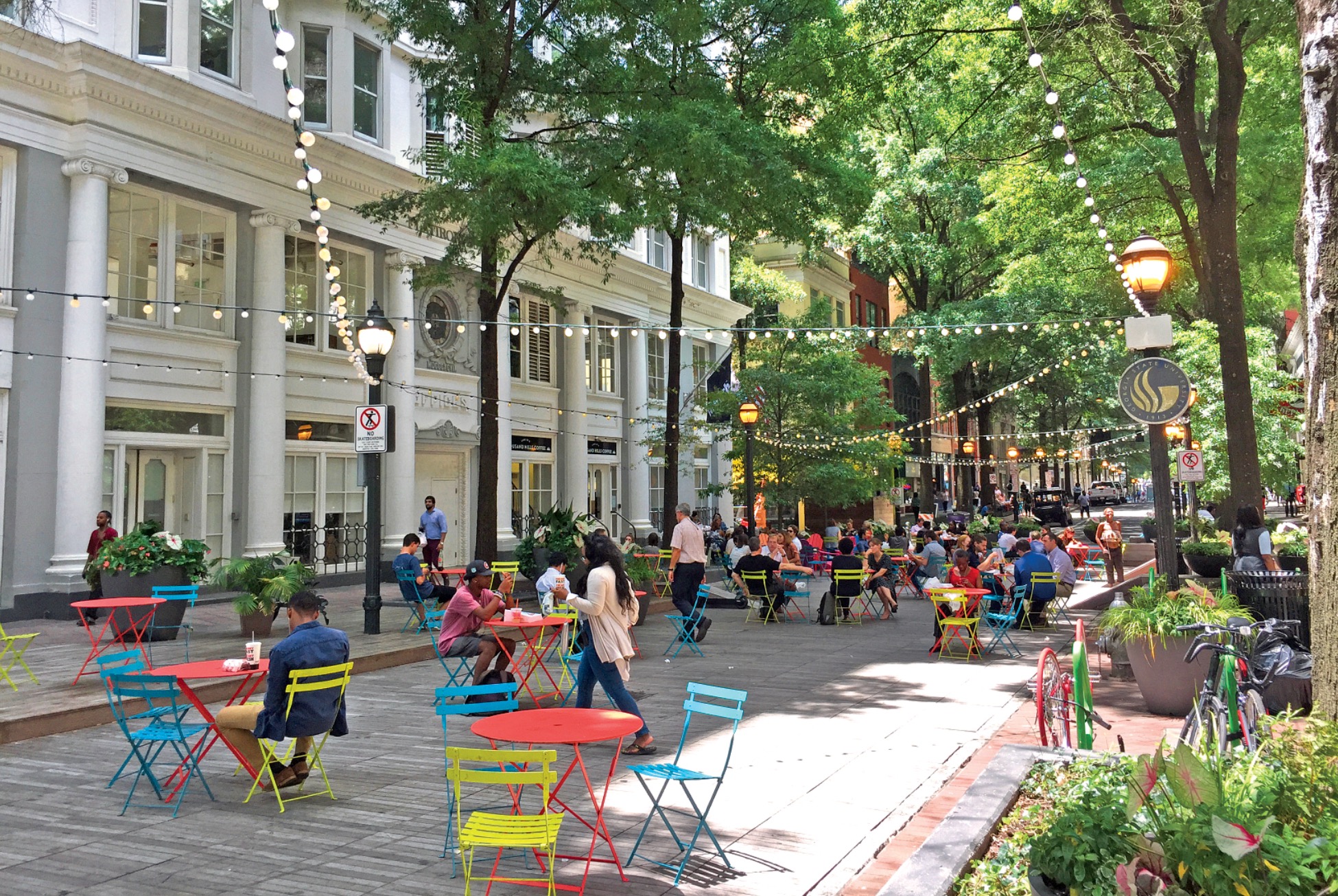 Downtown buzzes with can't-miss attractions, Woodruff Park and local
restaurants surrounding the area. Nearby Broad Street's dining spots include NaanStop, recently featured nationally as owners Neal and Samir Idnani had a virtual conversation with President Joe Biden about small businesses. Visit the Centennial Park District with more local restaurants offering plenty of outdoor seating and courtyards to take in the atmosphere. Centennial Olympic Park is also located here, but is temporarily closed.
Contained within the Downtown district are several smaller neighborhoods, each with individual character. Castleberry Hill provides eclectic artistry, galleries and public art. The neighboring Fairlie-Poplar district is a hub for small performing art venues and studios.
Strolling the Sweet Auburn neighborhood, you'll experience civil rights history in its greatest sense. The birthplace of Dr. Martin Luther King Jr., the area pays homage to Dr. King's life and legacy at the Martin Luther King, Jr. National Historical Park. Stop by local places such as Refuge Coffee Co., which started as a training program for resettled refugees, serving friendly service and perfectly crafted lattes.
MIDTOWN
North of Downtown is Midtown, known as Atlanta's Heart of the Arts. Theaters, performing arts venues and museums such as Fox Theatre and Woodruff Arts Center can be found here.
Midtown's centerpiece Piedmont Park borders Atlanta Botanical Garden and stretches 185 acres with paved trails lined with flowering dogwoods and established hardwoods. Cycle or walk through the park, passing Lake Clara Meer, a large dog park and many native blooming trees. Restaurants bordering Monroe Drive offer takeout for picnics.
Hop on the Eastside Atlanta BeltLine Trail via a connecting trail from the park, passing public art and a bevy of restaurants and breweries along the BeltLine.
Visitors to West Midtown are treated to a walkable retail district full of shopping, restaurants and entertainment at Atlantic Station, which includes a newly renovated courtyard.
BUCKHEAD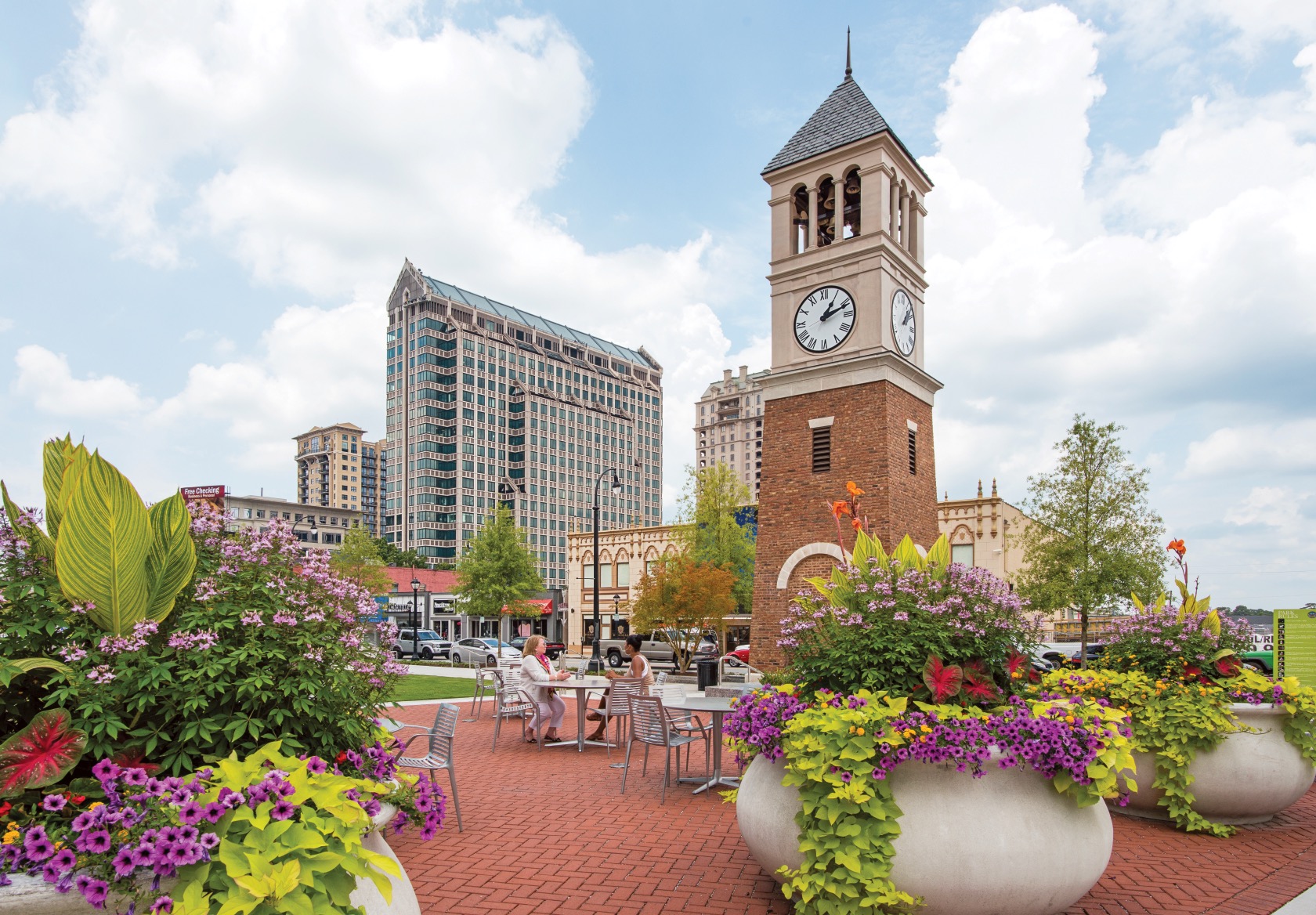 Atlanta's Buckhead and its elegant, tree-lined residential streets are full of remarkable architecture and landscapes including Swan House, located at Atlanta History Center.
Find a day of experiences at Buckhead Village District with upscale, outdoor shopping and restaurants boasting outdoor seating and shaded balconies. Livable Buckhead offers drive-in movies and seasonal experiences. Shop at Lenox Square and Phipps Plaza down the street and dine at some of the many restaurants ranging from casual eats to gourmet fare.
Bike or hike along PATH 400 Greenway Trail, a multiuse trail lined with murals. When complete the trail will span 5.2 miles along the Georgia 400 highway. Chastain Park provides a respite with the 3-mile PATH trail encircling the golf course.
EASTSIDE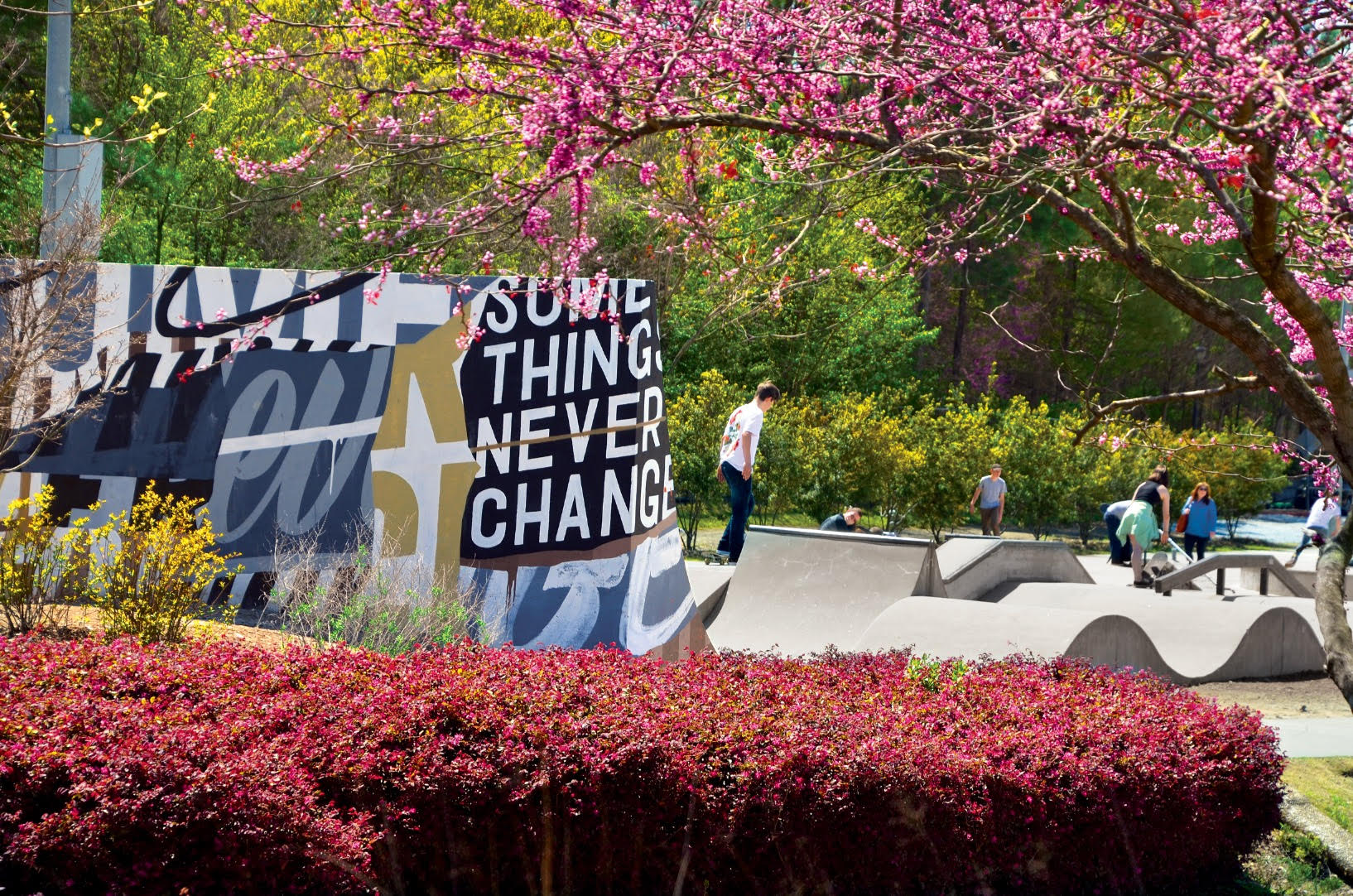 Atlanta's Eastside begins just a mile from Downtown and is where local street art and community food halls come together.
The Eastside Atlanta BeltLine is part of a 22-mile stretch of unused railroad tracks circling the core of the city's intown neighborhoods. From trails and walkways to open green space and parks, the paved path winds along through these areas, passing restaurants with outdoor patios, Historic Fourth Ward Skate Park, Ponce City Market and Krog Street Market.
The Eastside offers a unique blend of neighborhoods that include Virginia- Highland, East Atlanta Village, Little Five Points, Inman Park and Old Fourth Ward. While each of these communities has its own personality, the beautiful oaks, Victorian or Craftsman-style homes, blooming azaleas and dogwoods frame the neighborhood streets.
Grant Park is Atlanta's oldest city park with rolling green hills leading to Zoo Atlanta. Walk a few blocks south and find The Beacon Atlanta with 110,000 square feet of restaurants, a gourmet market, Elsewhere Brewing and a bakery, as well as the Artist's Cove.
WESTSIDE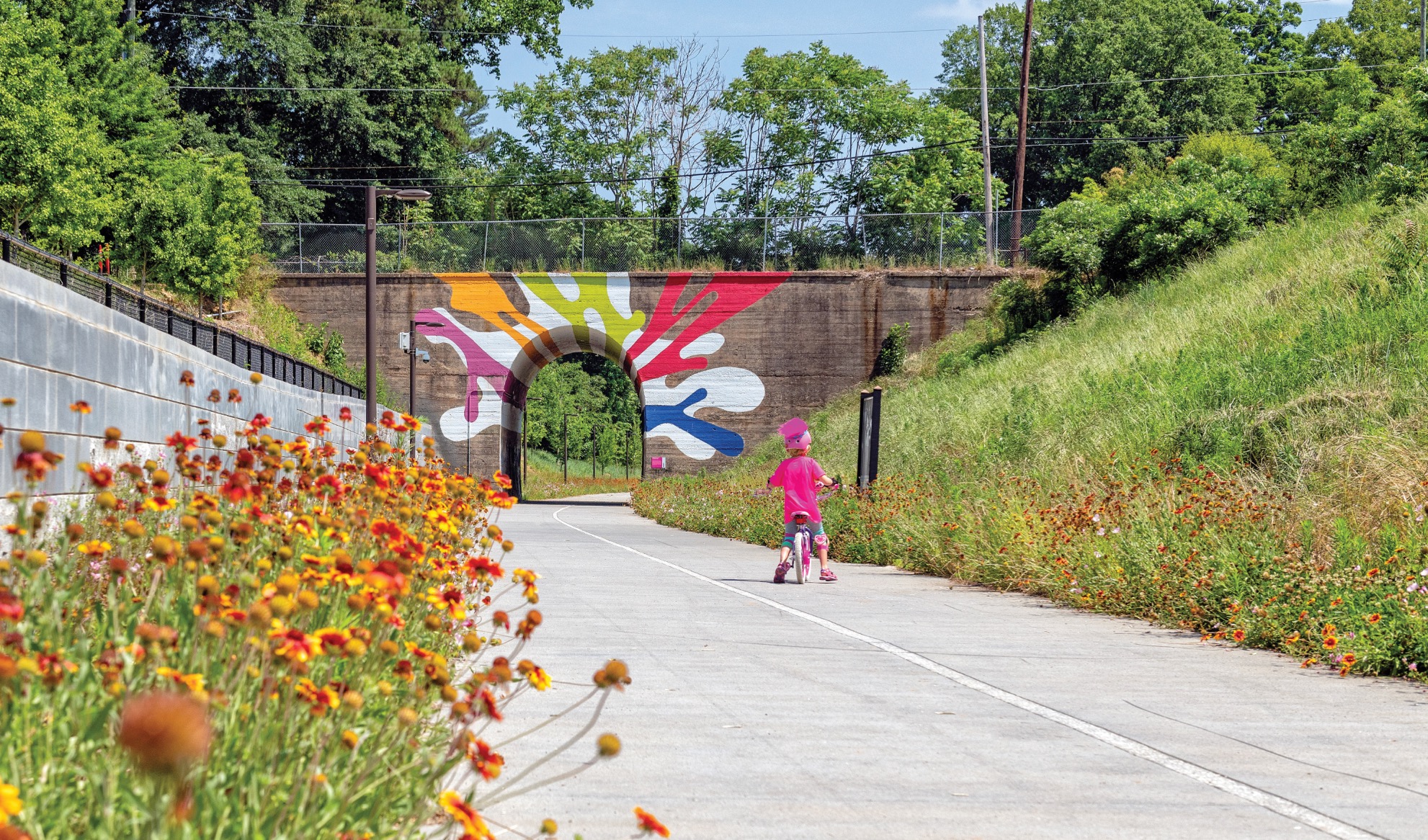 Atlanta's Westside starts less than a mile from Downtown. From Upper Westside to Southwest Atlanta, this area is where history and heritage meet
design. Westside Provisions District is an outdoor mixed-use area encompassing many chef-owned, local restaurants, chic shopping and plenty of outdoor courtyards hidden within renovated warehouses.
Learn about the historical significance of West End and Atlanta University Center, which includes Clark Atlanta University, Morehouse College, Morehouse School of Medicine and Spelman College.
A tad quieter than its eastside counterpart, the Westside Atlanta BeltLine winds past the Lee + White entertainment district that includes Monday Night Garage, Wild Heaven West End Brewery and Gardens, Boxcar at Hop City Brewing and more, all enclosed in an area where open containers are allowed. The soon-to-open Westside Park encompassing Bellwood Quarry will also be along this route. Also in this area are a number of local, vegan restaurants, soul food destinations and much more.
Discover More
Get to know Atlanta, and discover the best things to do around the city.