Spring Shopping in Atlanta
Published March 23, 2022
Last Updated May 9, 2023
Atlanta is the perfect place to check everything off your spring shopping list. From Mother's Day gifts to reading recommendations, Atlanta shops have it all.
Set a Stylish Table
East Fork is an homage to Southern entertaining. Nestled inside Westside Provisions District, the retailer sells stunning pottery made by hand in the South. Discover place settings and serving dishes in limited-time seasonal glazes like Utah. Find inspiration to fill the platter from the collection of Southern cookbooks including "Southern Ground" by Jennifer Lapidus, "The Taste of Country Cooking" by Edna Lewis and "Jubilee" by Toni Tipton-Martin.
Bring a taste of Georgia home from the Virginia Highland Farmers Market which runs every Thursday from April 22-Oct. 28, 4-8 p.m. Local producers sell fresh pecans, artisanal honey and jams made from peaches and watermelon. Stop by Urban Cottage for a bright, happy tea towel to wrap up your spread.
Star Provisions Market & Café is stocked with locally roasted coffee, gourmet pantry items and quality cookware used by chefs. Stop in for lunch and pick up a few items at this market, located off Ellsworth Industrial Boulevard in Atlanta's Westside.
Honor the New Graduate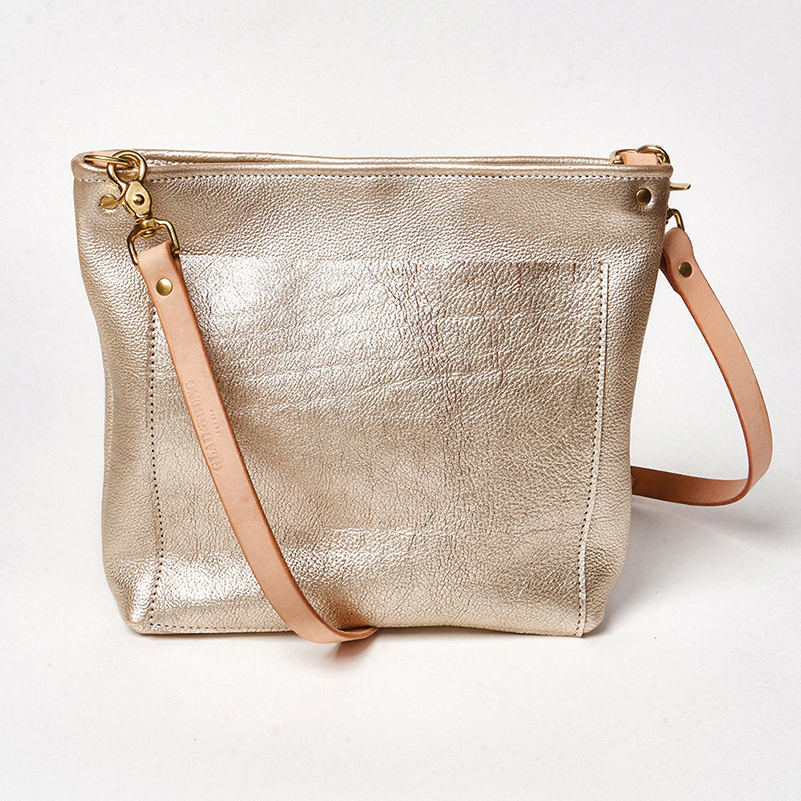 For the graduate setting out on a new adventure, Glad & Young stocks great travel bags. Designed and crafted by hand in the studio inside of Ponce City Market, the classic crossbody bag is suited for carrying every day. Featuring metallic champagne leather, it is the perfect reminder that every day is a celebration.
SQ/FT in Decatur carries a range of travel goodies to go on any trip. "50 Hikes in the North Georgia Mountains" offers clear and concise directions, easy-to-follow maps and expert tips. The Slanguage series of illustrated flash cards gives basic phrases for asking directions or ordering food. And, there are pencil pouches, glasses cases and dopp kits in funky prints such as periwinkle tiger.
Refresh your Home
"In preparing for a new season – in nature or in life," says Chloe Bernard, manager of Squash Blossom Boutique in Decatur, "take time for cleansing, centering and grounding your space." She recommends lighting a sage stick or Palo Santo to clear negative energy and indulging in aromatherapy with reviving scents like bergamot.
Clearing the space can also mean switching to a streamlined design aesthetic. Souk Bō'hēmian opens this spring in Ponce City Market with a range of minimalist home décor. Find open-work candleholders in matte black, organic wooden vases and lightweight papier-mâché bowls.
Remember Mom
Moms love a good dress they can throw on and feel effortlessly chic. Veronica Beard in Buckhead Village District has the perfect chambray option with delicate eyelet embroidery and a tiered silhouette. It can easily go from weekday errands in sneakers to an impromptu date night in strappy heels.
Lucy's Market in Andrew's Square can make custom baskets for the women in your life. A new mom might appreciate a spa basket with comforting bath salts, soothing lotions and candles. A mom with older children might like a me-time basket with a nice bottle of red, an insulated wine cup and a 1,000-piece puzzle.
Jewelry is always a safe bet. Range Boutique in Buckhead Court carries local Atlanta designers including Ingrid Ysla and Caro's. The shop specializes in statement earrings and necklaces that will certainly say what a great mom she is.
For the mom who is active, a local Atlanta father and daughter duo created BIOLYTE, a drinkable supplement that works like IV rehydration therapy. The equivalent of drinking 6.5 bottles of the leading sports drink, BIOLYTE helps re-energize with four flavors: berry, tropical, citrus and melon.
Munch Really Great Chocolate
For a grown-up take on Easter candy, try Cacao in Buckhead. The Salame di Cioccolato is worthy of a chocolate charcuterie board – yes, it is a thing. Bean-to-bar chocolate is rolled with shortbread and amaretti cookies into this traditional Italian confection that is served sliced.
Xocolatl "chock-oh-LAH-tul" sells small-batch chocolate in Krog Street Market. Committed to sustainable chocolate trade, the brand crafts single origin bars from some of the world's finest cacao regions including Central America and East Africa.
Open a Book
"Spring makes me crave the beginning of beach read season," says Sandra Huff, owner of Virginia Highland Books. "When I go to the beach, I want fiction, romance or a good thriller."  So, what are Huff's top picks?
"Violeta" by Isabel Allende
"Black Cake" by Charmaine Wilkerson
"Book Lovers" by Emily Henry 
"Finlay Donovan Knocks 'em Dead" by Elle Cosimano
"The Paris Apartment" by Lucy Foley
"A lot of students are interested in fantasy and Afro-futurism," says Cheryl Lee, one of the owners of 44th & 3rd Bookseller in West End. "It's a release from everyday life and having to study." Cheryl notes that Atlanta author Nic Stone is popular, especially with "Blackout," a novel where she joins five other acclaimed writers to tell a series of love stories. What else are the young ones raving about?
"Raybearer" by Jordan Ifueko 
Graphic series, like Marvel's "Miles Morales" and "Black Panther"
"One True Loves" by Elise Bryant
"Fat Chance, Charlie Vega" by Crystal Maldonado
"Stuntboy, In the Meantime" by Jason Reynolds
For more ways to shop in Atlanta, visit our shopping guide.
Discover More
Get to know Atlanta, and discover the best things to do around the city.