Revitalizing One of the Atlanta's Most Historic Neighborhoods — South Downtown
Published March 20, 2023
Last Updated April 14, 2023
A once-bustling area of downtown Atlanta is buzzing with new development. German-based Newport opened its U.S. office, Newport RE US, in Atlanta in 2016, and today is investing more than $100 million to purchase historic buildings and sites across eight city blocks along Peachtree, Mitchell and Broad streets, and Martin Luther King Jr. Drive Downtown.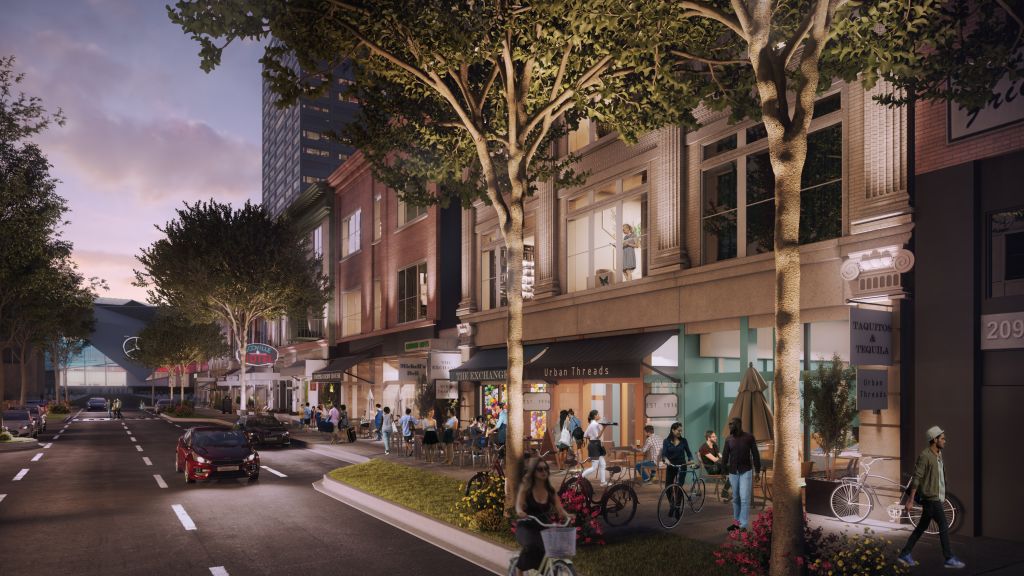 Terminal Station Brought Passengers to Historic Hotel Row
Newport RE's renovations began with the historic area known as Hotel Row and 222 Mitchell. In the early 20th century, Hotel Row, which is listed on the National Register of Historic Places, was home to several hotels built to accommodate passengers going and coming from Terminal Station, the city's main railroad station, which sat at Mitchell and Spring streets. The hotels were the Gordon, the Scoville and the Sylvan. The buildings in the area formed Atlanta's original business district. Today, Newport RE is transforming Hotel Row into food stores, restaurants and bars, boutiques and office space.
A city of Atlanta document describes the area as it was then: "The hotels on Mitchell Street were not in competition with the Piedmont or the Ansley, which were considered to be grand, New York-style hotels located on "upper Peachtree," beyond the immediate vicinity of the railroad station. Instead, the Mitchell Street hotels provided comfortable lodging directly across from the Terminal Station plaza. Druggists, tailors, the Astoria Cafe and the L & J Soda Company provided a diversity of activity within a block's walking distance from the station."
The decline of the area, according to the city document, "began in the 1920s due to the increased availability of automobile transportation and the construction of the Spring Street viaduct, which made getting to hotels in the northern part of the city even easier. In the 1950s and '60s, the increase in air travel led ultimately to the demolition of the Terminal Station in 1971."
222 Mitchell
The building at 222 Mitchell, which takes up a city block in South Downtown, combines a brick building dating to 1909 and two mid-century modern buildings. Formerly home to Citizens & Southern Bank, the property offers rooftop views of Downtown and eventually will include office space, a park, retail and restaurants.
A Look at What's Coming
Openings planned for early this year include Spiller Park coffee at 233 Mitchell St.; Twelve80, floral design at 215 Mitchell St.; Tyde Tate Kitchen, serving Thai food at 229 Mitchell St.; Pizza Clementine at 219 Mitchell St; Pins Mechanical, a game bar at 222 Mitchell St.; Slater Hospitality Thirteenth Floor cocktail lounge at 219 Mitchell St.; Slater Hospitality rooftop diner and lounge at 222 Mitchell St.; and Cat Eye Creative art gallery at 186 Mitchell St.
Liz & Leon's Southern Kitchen, a new concept by Atlanta chef Bella Jones, is joining the lineup of restaurants and retail establishments on the reviving Hotel Row. The restaurant's menu will provide a fresh perspective to the phrase "soul food," says Jones. Liz & Leon's, aiming for a fall opening, will occupy nearly 3,000 square feet at 231 Mitchell St. on the ground floor of the old Sylvan Hotel plus an additional 2,800 square feet of terrace level space. A secret bar, Sweet Gigi's (also by Bella Jones), will operate downstairs, while Liz & Leon's will do business on the main floor.
A Place to Live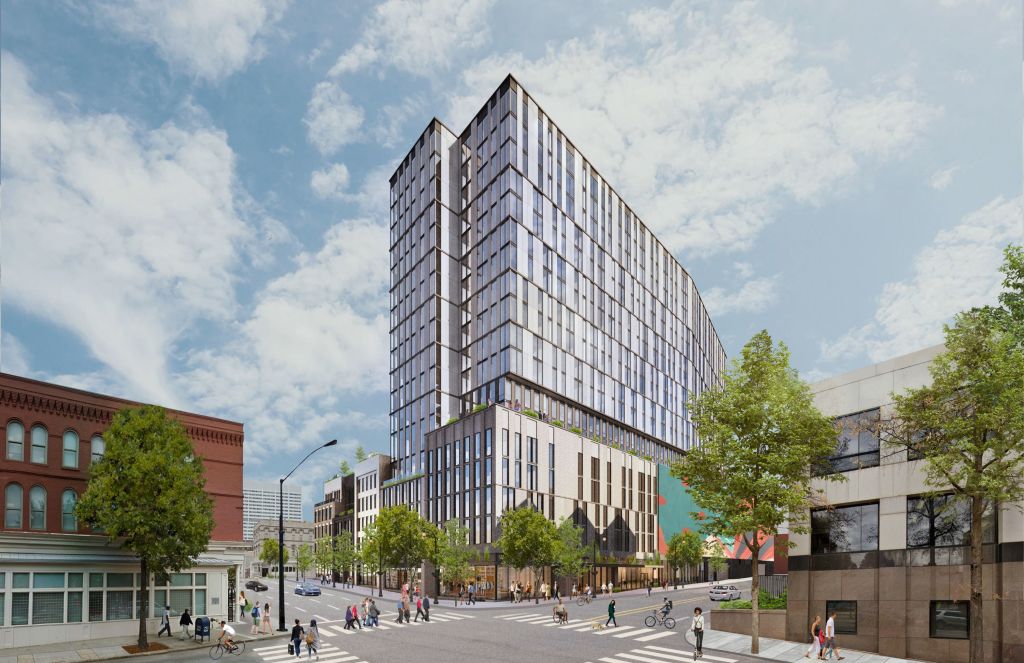 Ultimately, the Newport development will include more than 1,000 new apartments, plus office space, retail stores and restaurants, and public and community spaces.
Recent Acquisitions
To complement the renovations at Hotel Row, Newport RE US announced in January that it has acquired four buildings and one surface lot along Broad and Mitchell streets. The buildings are located at 111 and 115 Broad St., and 185, 187 and 191 Mitchell St.
Atlanta has a fascinating history. Find out more about Atlanta's History & Heritage. See how much you know — Atlanta's History Trivia: Test your Knowledge of ATL's Past
Discover More
Get to know Atlanta, and discover the best things to do around the city.