Locally Owned Ice Cream Shops in Atlanta
Summers can be, um, a bit warm in Atlanta. Luckily, the city is home to plenty of great places to cool off with a frosty treat. Pick a favorite or two from this list of locally owned ice cream and dessert shops.
Butter and Cream
Find Butter and Cream just off of the Atlanta BeltLine Eastside Trail. The shop offers flavors such as Midnight Snacks (sweetened condensed milk and cream cheese ice cream with chocolate chip cookies, brownies, chocolate covered cake pieces and a dulce de leche swirl); Honeycomb Forest (honey ice cream with honeycomb candy); and Butterscotch Brownie (butterscotch ice cream with brownies mixed in). Butter and Cream also sells ice cream cakes and cookies as well as vegan and gluten-free items.
Jake's Ice Cream
Irwin Street Market is where you'll find Jake's Ice Cream. Flavors include Brown Shugah Vanilla, Better Pecan and Chocolate Slap Yo Mama. Get your treat at Jake's walk-up window then relax at the outdoor seating or hop back on the Atlanta BeltLine.
WonderKid's King of Pops Soft Serve
In Reynoldstown you can find WonderKid, a great place for diner-style food and dessert. Inside the restaurant, a walk-up dessert bar serves baked goods, King of Pops frozen treats and King of Pops soft serve ice cream in flavors such as the Comeback Kid (chocolate with maple, cinnamon and espresso) and Space Fruit (raspberry and pineapple with freeze dried fruit).
PanPaleta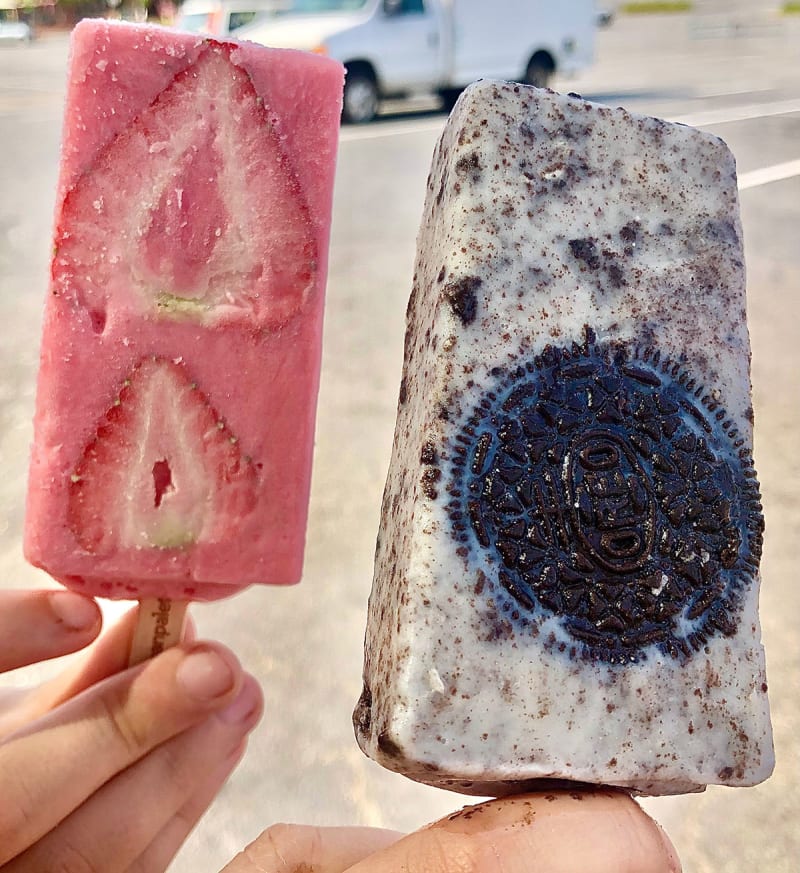 Off of Buford Highway is a little store in Northeast Plaza that sells bread, cakes and paletas, which are Mexican frozen treats on sticks. PanPaleta offers flavors like coffee, mango chile and strawberry kiwi. Try out your treats at a table in the store with lively music and colorful pinatas hanging from the ceiling.
Sweet Stack Creamery
Check out Sweet Stack in downtown Atlanta. The small shop serves ice cream and doughnut sandwiches (Sweet Stacks) with crazy combinations of flavors such as Black Panther (charcoal and coconut) and Amber Rose (cotton candy-flavored ice cream with pop rocks). Sweet Stack also offers fun toppings and vegan options such as French Press.
Big Softie
In Summerhill, Big Softie offers a variety of soft serve flavors. Come for Sammies (ice cream between two freshly baked cookies from Little Tart Bakery) and ice cream in classic flavors like chocolate and more unique flavors like strawberry sorbet, Masala chai and vegan oat vanilla. One thing that really sets Big Softie apart from the rest is toppings such as milk chocolate crunch pearls and cornflake streusel. Hard shells come in flavors like chocolate, Dulcey (dulce de leche) and strawberry.
For family fun and ice cream treats from all around the city, visit the Atlanta Ice Cream Festival, which takes place during summertime at Piedmont Park.
Discover More
Get to know Atlanta, and discover the best things to do around the city.