Hotel Dining ATL Style
Published May 31, 2023
Last Updated June 7, 2023
Gone are the days of stuffy, white tablecloths and stale peanuts at the bar. The swanky digs that are Atlanta's hotel restaurants are perfect for an evening (or afternoon) out. A bonus: What do most hotel restaurants have? Breakfast. Add that to your list of early-morning indulgences.
Bellyard Hotel in West Midtown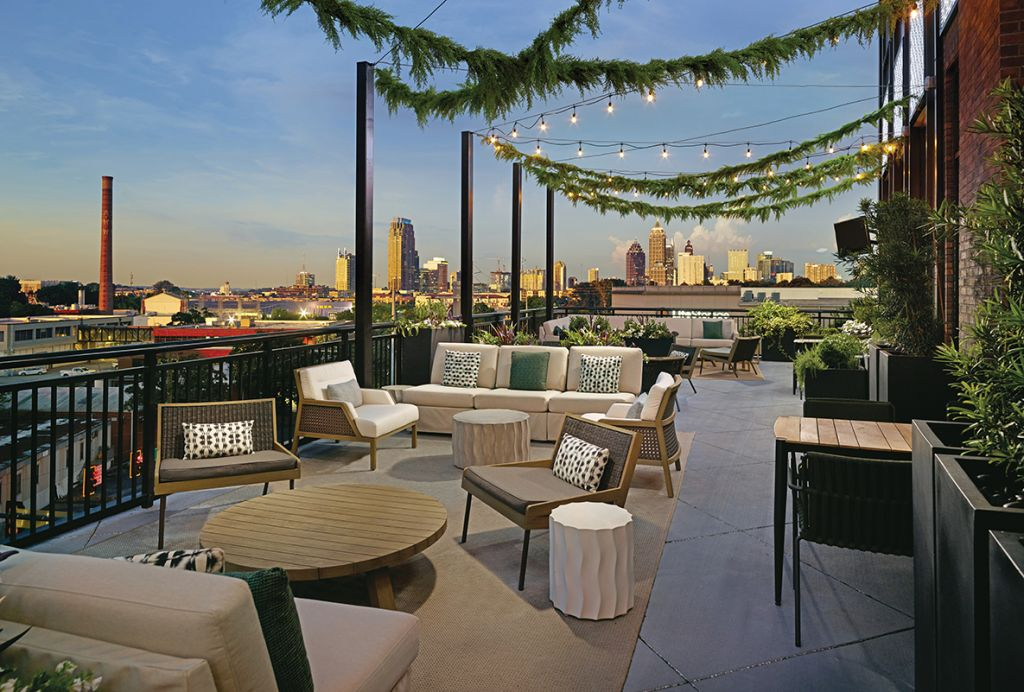 Drawbar
Drawbar offers locally sourced and Southern-inspired food. Come for brunch and the customizable Bloody Mary bar Saturday and Sunday or stop in for a craft cocktail during the week. The new menu has several popular favorite including a delicious french toast you can indulge in for brunch.
Where: 1 Interlock Ave. NW
The Candler Hotel
By George
Located right on Peachtree Street, By George offers a contemporary American menu complimented with a wine program that satisfies diners with curious palettes. Enjoy brunch and live music on Saturday and Sunday from 11 a.m. to 2 p.m.
Where: 127 Peachtree St. NE
Hotel Colee
Sister
Enjoy sensational small plates, sandwiches and creative cocktails at this hot spot in Buckhead. Located right inside of Hotel Colee, Sister is the perfect spot to enjoy happy hour on the patio or transition into the night with a delicious meal.
Where: 3377 Peachtree Road NE
Rosé & Rye
Sitting atop Hotel Colee, you can indulge in Buckhead views, signature light bites and house cocktails made with fresh ingredients. You can start downstairs with happy hour at Sister and make your way up top to Rosé & Rye for a memorable night.
Where: 3377 Peachtree Road NE
Epicurean Atlanta in Midtown
Epicurean Atlanta is specially designed for food lovers. Even the rooms at the Epicurean cater to foodies with fully stocked pantries, minibars and food-themed designs. As a bonus, the Epicurean Theatre is a high-tech kitchen classroom, which holds events hosted by chefs and bartenders.
Reverence
On the ground level of the Epicurean Atlanta is Reverence with dishes carefully crafted from local ingredients including heritage meats and fresh seafood. The open kitchen allows guests to watch Executive Chef Henry Tapia and his team create seasonal dishes such as wild-foraged Sapelo Island razor clams ceviche.
Where: 1117 West Peachtree St. NW
Aerial Kitchen & Bar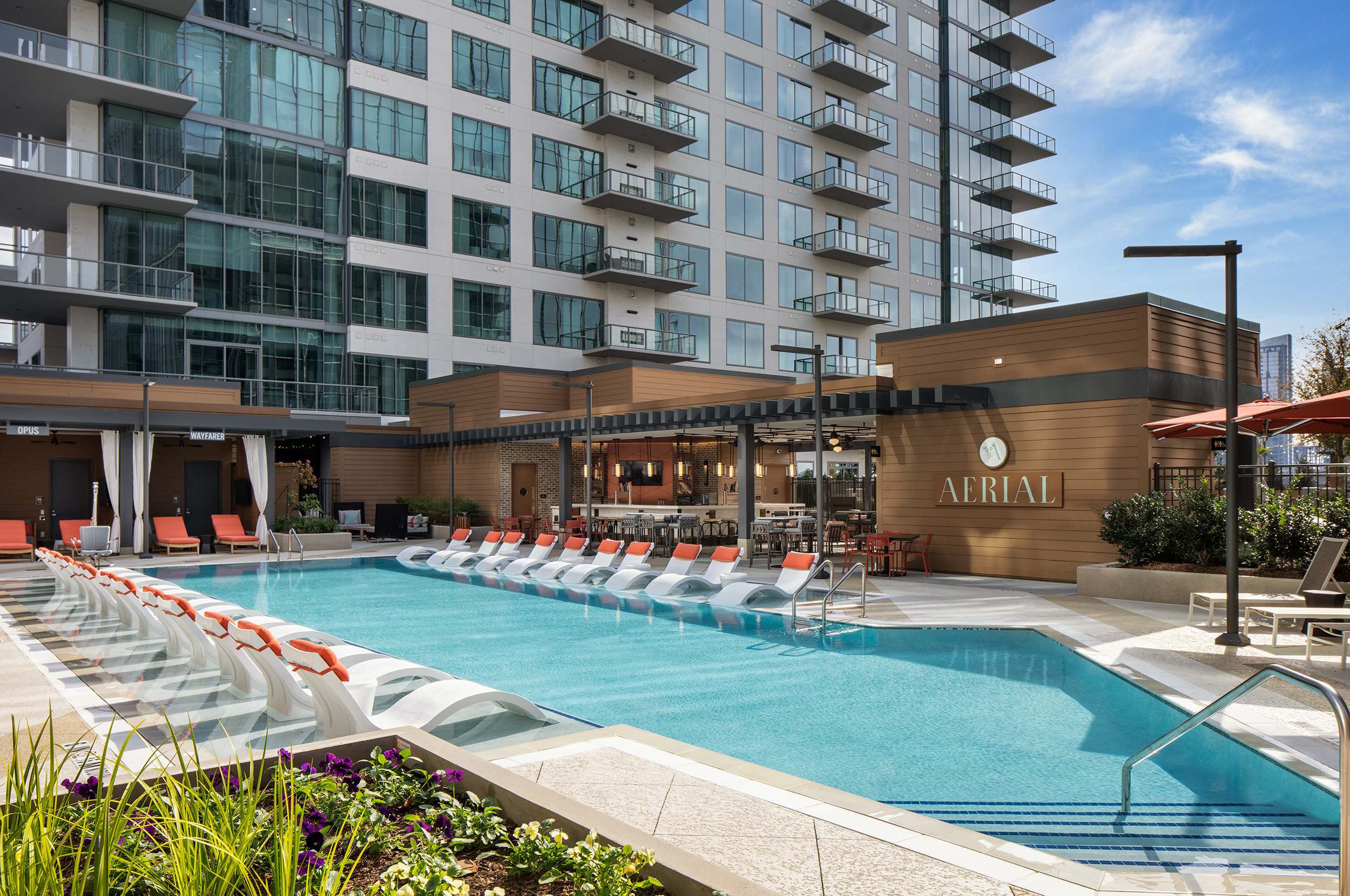 Step into a lush garden paved with outdoor lounge seating on the ninth-floor terrace at Aerial Kitchen & Bar. Enjoy flavors of South America and Mexico and drinks as you relax overlooking scenic vistas of the city.
Where: 1117 West Peachtree St. NW
The Office Bar
This newly opened gem, just across from the motor entrance to the Epicurean Atlanta, provides the perfect location if you are working remotely or want to enjoy live music during your Thursday happy hour. Revel in the extensive whiskey selection with plenty of seasonal food options to go with it.
Where: 1105 West Peachtree St. NW
Hilton Atlanta
Nikolai's Roof
This upscale French-Russian dinner spot provides incredible views of Downtown from the 30th floor of the Hilton Atlanta. Enjoy fresh takes on traditional European-inspired cuisine and a swoon-worthy drink menu in a fancy atmosphere.
Where: 225 Courtland St. NE
Trader Vic's
This Hilton Atlanta staple is a must if you want to enjoy a tropical experience with Pacific Rim dishes. The menu is filled with items that will transport your taste buds to international locations like the Mediterranean, the Middle East, Asia and Japan.
Where: 225 Courtland St. NE
The Hyatt Centric Buckhead
Three Arches
Transport your senses to the Mediterranean with vibrant surroundings to match the diverse menu. Experience comfort not only in the atmosphere both inside and outside but in the culturally focused plates as well. Fill up your belly then head up to the rooftop for after-dark drinks at Spaceman ATL.
Where: 3301 Lenox Parkway
Spaceman ATL
Spaceman ATL brings all things creative and cool to the center of Buckhead. Not only are the skyline views one-of-a-kind, but the mixologists create a unique experience with carefully crafted cocktails. Grab a glass and drool over delicious dishes while taking in tantalizing city views.
Where: 3301 Lenox Parkway
Hyatt Regency Atlanta
Polaris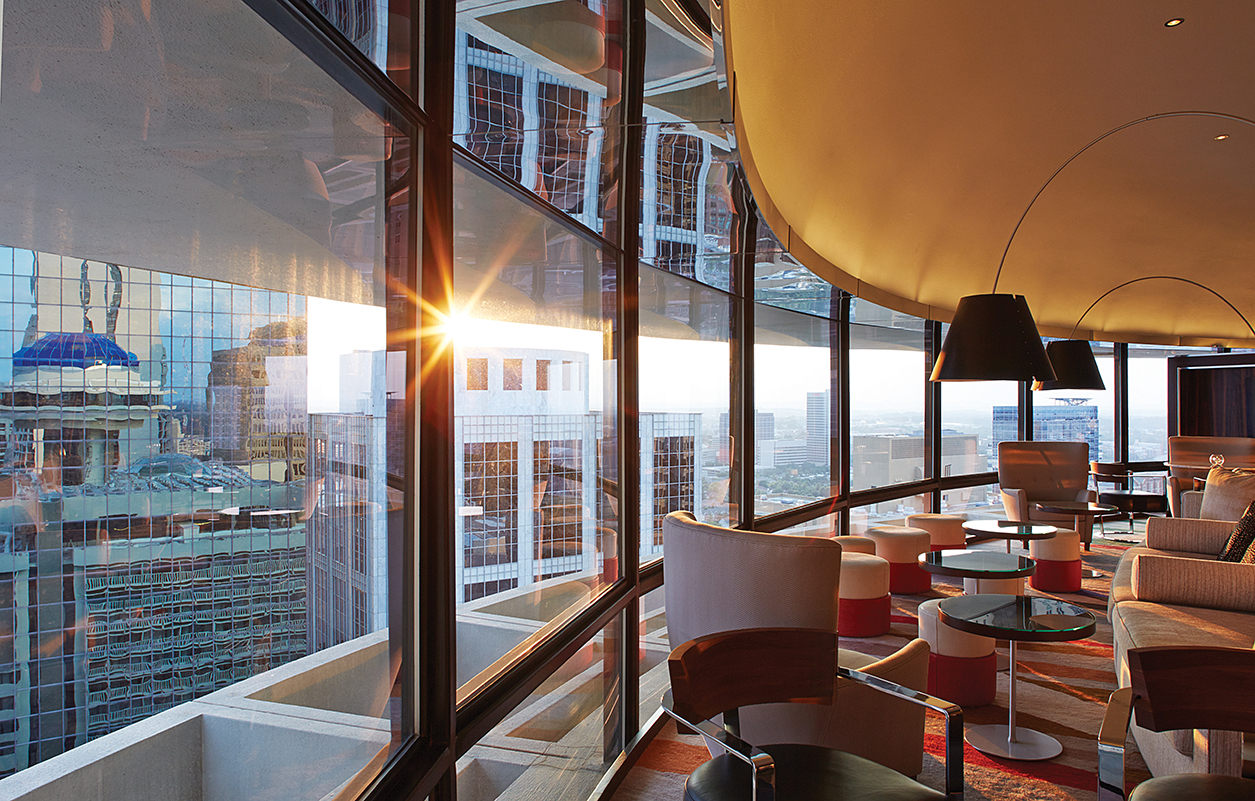 At one of Atlanta's most legendary rotating restaurants, guests can enjoy chef-inspired shared plates and hand-crafted cocktails to go with an unforgettable panoramic view. Overlook the Downtown skyline and even get a peek at the rooftop Bee Garden, which produces fresh honey for the cocktails and entrees.
Where: 265 Peachtree St. NE
Intercontinental Buckhead
The Americano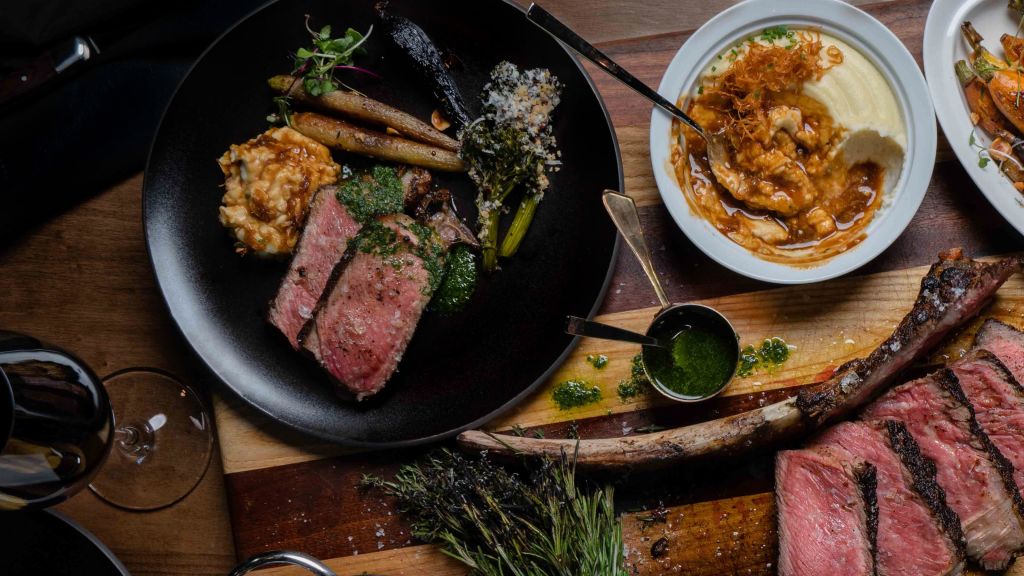 The Americano is an Italian steak house helmed by the well-known chef Scott Conant. Indulge in tasty eats that give a modern approach to the Italian spirit. Located in the sophisticated InterContinental Buckhead Hotel, The Americano offers a dining experience that matches that vibe.
Where: 3315 Peachtree Road NE
The Kimpton Shane
Aveline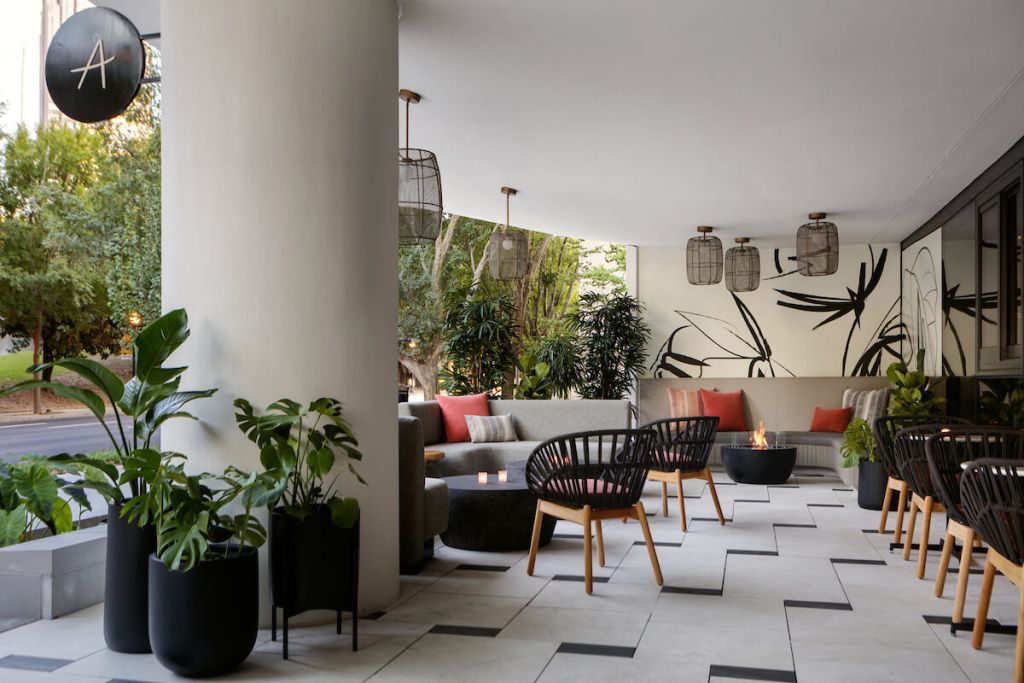 Enter the Kimpton Shane Hotel and see a beautiful staircase going to the second level above the restaurant. This elegant modern space is Aveline, a cocktail lounge with the perfect drink and light bites. Try one of the botanically infused cocktails pairing it with an array of their elegant light bites. It goes along perfectly with a nice layback conversation on the patio overlooking Peachtree Street.
Where: 1340 West Peachtree St. NW
Hartley Kitchen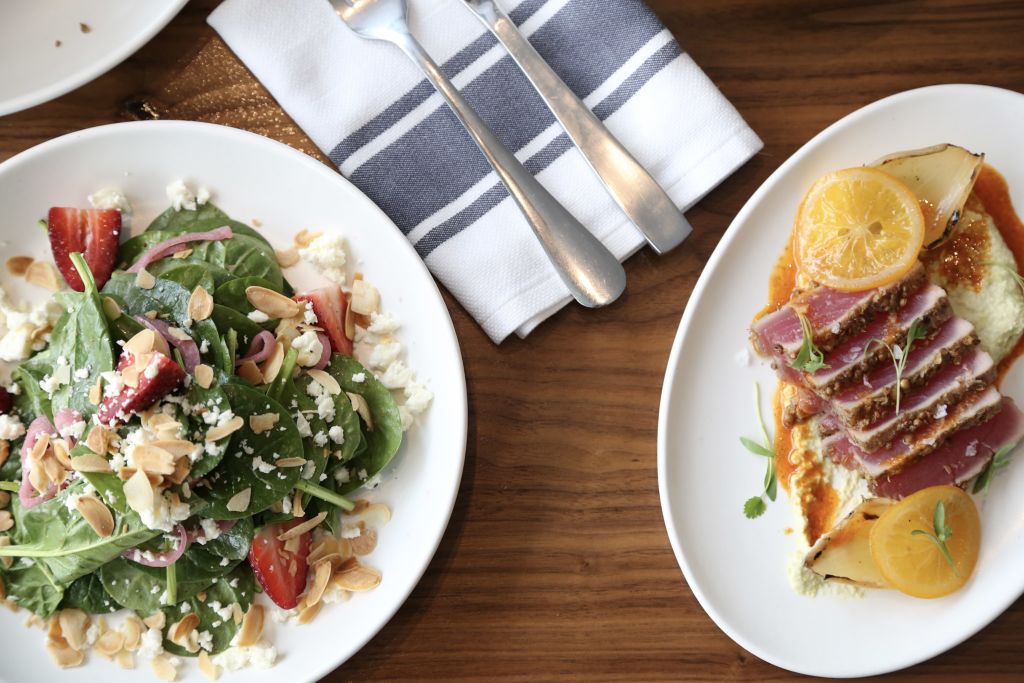 This casual American restaurant offers polished options for breakfast, dinner, weekend brunch and the newly launched lunch menu. If you're going for lunch try the popular roasted Scottish salmon or tagliate pasta. Both will make you want to come back for more.
Where: 1340 West Peachtree St. NW
Loews Atlanta Hotel
Saltwood Charcuterie & Bar
Restaurant Chef Travis Cox and Executive Pastry Chef Allison Poirier offer bold, flavorful dishes rooted in elevated southern cuisine, just steps from Piedmont Park, in the heart of Midtown. Breakfast is served with freshly baked pastries and dinner offers an array of creative dishes with unexpectedly delectable ingredients. On Tuesday, Wednesday and Thurday, Saltwood's gourmet salad experience is like no other. Harvest is the perfect lunch option when in Midtown, with over 80 fresh ingredients, you can design your perfect gourmet, chef-inspired salad. Insider tip: the steak is a superb option for your protein.
Where: 1065 Peachtree Street NE
Saltwood Bar & Lounge
The Lobby Bar at Loews Atlanta is like no other. Count on it being alive on week evenings and weekend nights as guests stroll in, and locals join for their self-proclaimed best old-fashioned in town and delectable small plates. The Peachtree hot wings pair well with any of their local beers offered, the charcuterie board is perfect for a glass of wine, and their fried chicken sandwich is a delight with a well crafted cocktail. Reservations are not required but can be arranged online.
Where: 1065 Peachtree Street NE
The St. Regis Atlanta
Astor Court
Whether you're looking to enjoy your Southern favorites or indulge in a seasonal selection, Astor Court provides a variety of options for a flavor-filled brunch or lunch. You can't miss the Afternoon Tea ritual with a delicious selection of bites and teas.
Where: 88 West Paces Ferry Road NW
Atlas Buckhead
Give your taste buds a fresh and innovative experience with the traditional cooking Atlas Buckhead has to offer. Thanks to partnerships with local farms, you can expect to taste the story each dish is designed to tell.
Where: 88 West Paces Ferry Road NW
The Garden Room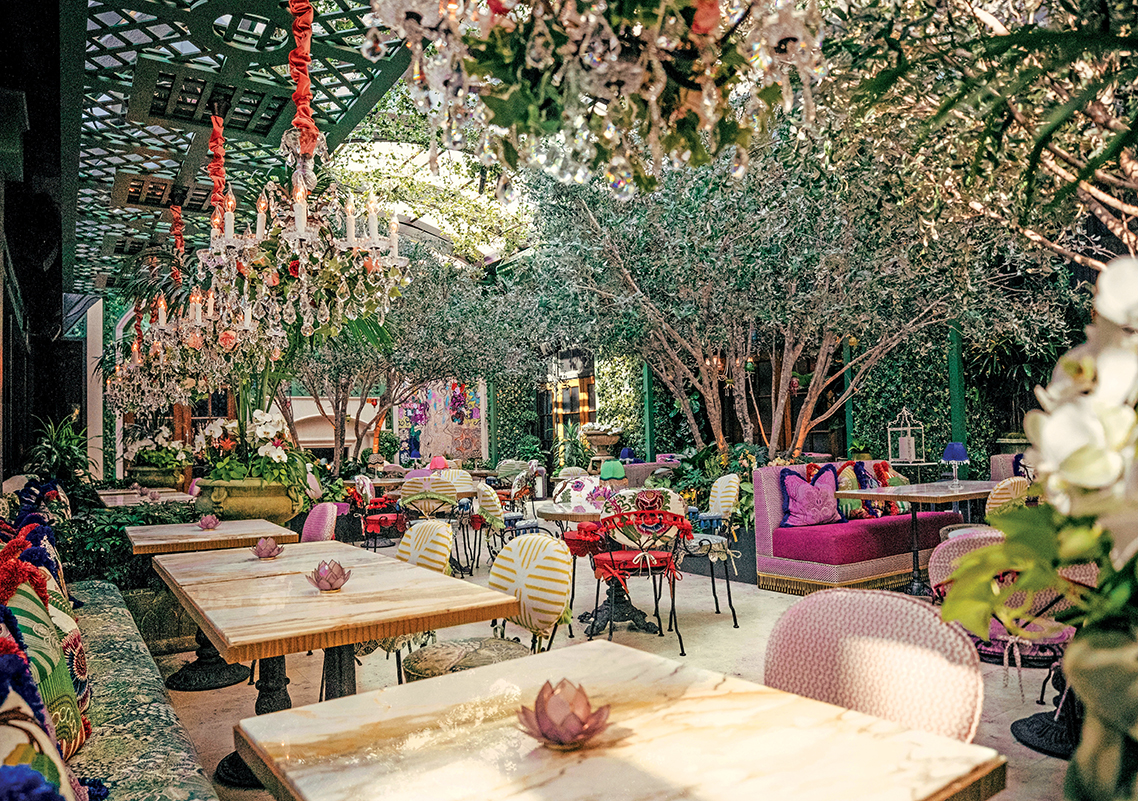 Garden party anyone? Gather your gang for an immersive bar and fine dining experience that causes many diners to rave. The Garden Room offers the perfect backdrop for your Instagram photos with endless flower arrangements and chic decor.
Where: 88 West Paces Ferry Road NW
Sylvan Kimpton Buckhead
The Betty
Step into old Hollywood glamour when you enter this restaurant gem. The new American menu recalls continental dishes of yesterday with special creations in a supper club atmosphere. A 21st-century spin on classics includes items like oysters on the half shell with cucumber and rice wine mignonette and larger dishes like lasagna Rotolo and a lobster and shellfish roast. Classic cocktails such as The Vesper with Ketel One, Bombay Sapphire and Lillet Blanc, and The Hemingway daiquiri complement the offerings.
Where: 374 East Paces Ferry Road NE
St. Julep
On the hotel's rooftop deck, weekend DJs spin and guests munch on bar nuts with brown butter and rosemary, lemon pepper ranch popcorn, corn dogs and spiked soft serve while taking in the views from indoor and outdoor seats. No-fuss cocktails wash down all of those snacks.
Where: 374 East Paces Ferry Road NE
The Westin Peachtree Plaza
Sun Dial Restaurant, Bar & View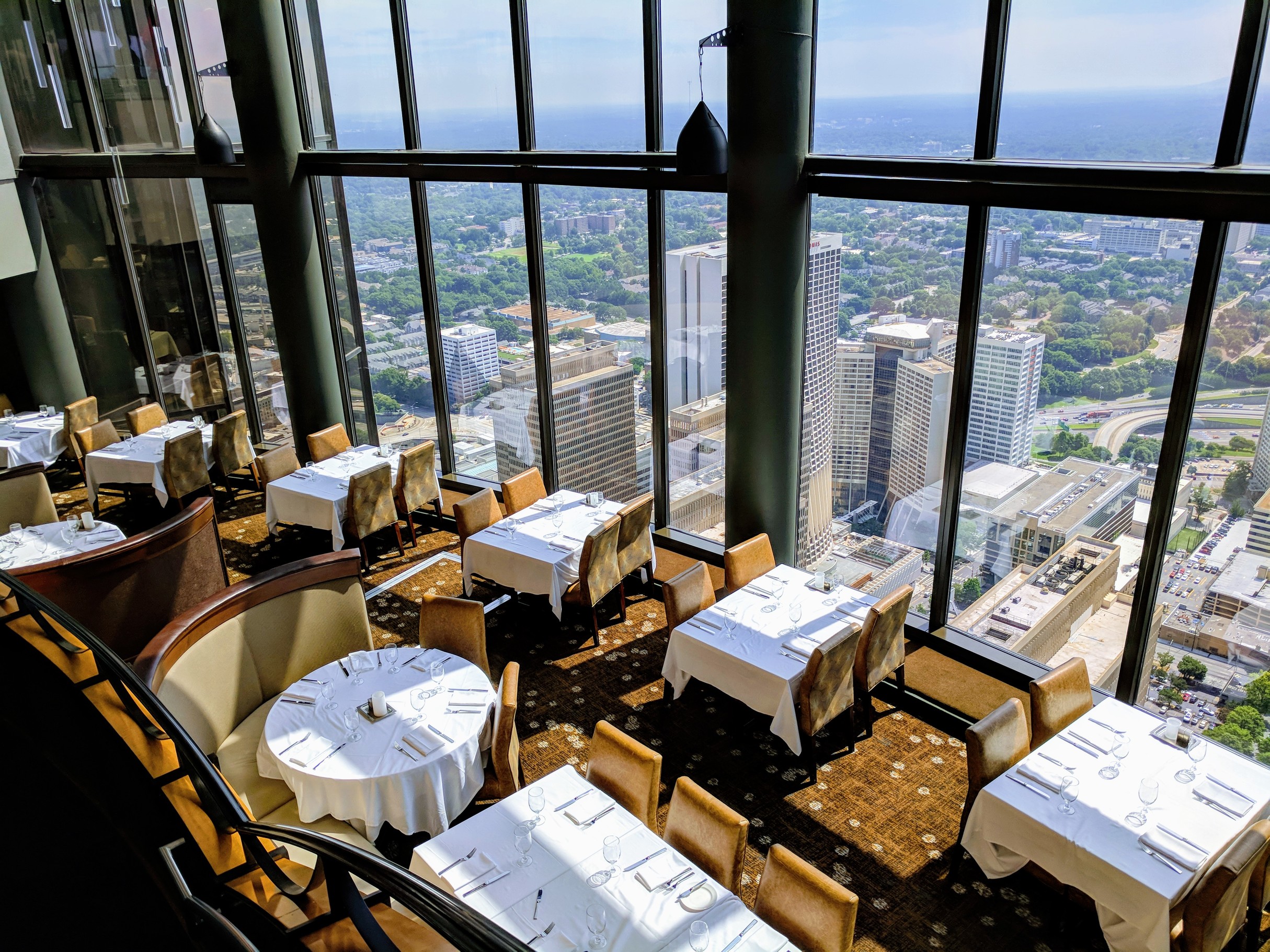 Enjoy an iconic 360-degree view of the city with seasonal American cuisine. The Sun Dial Restaurant, Bar & View provides the perfect setting for a fancy dinner with loved ones on the highest level of The Westin Peachtree Plaza.
Where: 210 Peachtree St. NW
Wylie Hotel in Midtown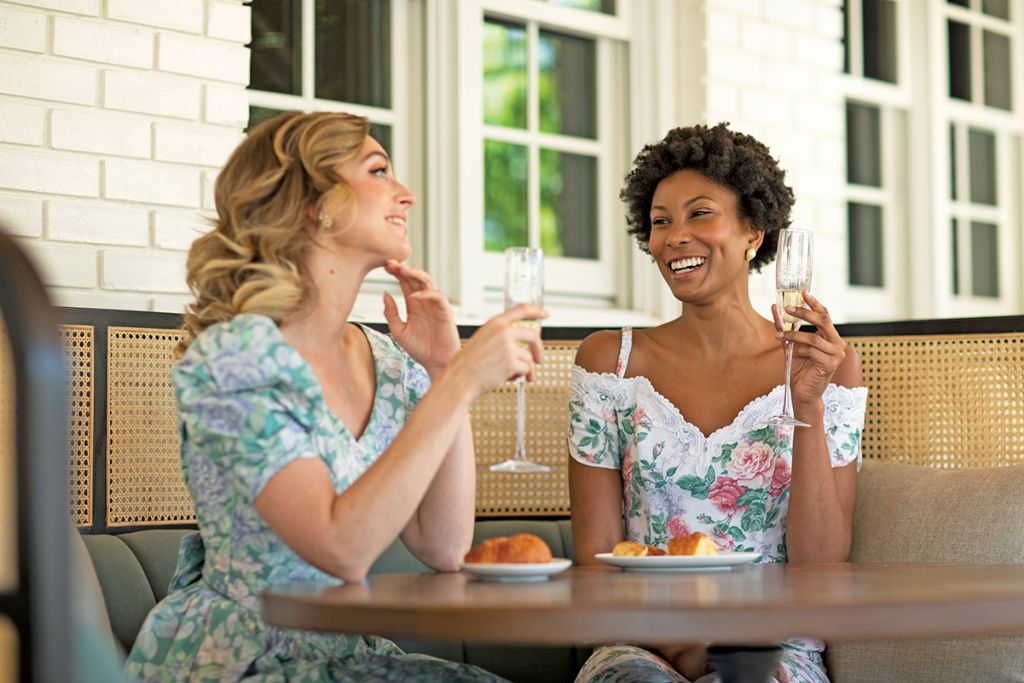 Mrs. P's Bar & Kitchen
This seasonal Southern restaurant is named for the original restaurant: Mrs. P's Tea Room from the 1950s. It was transformed almost a decade later into Atlanta's first openly LGTBQ-friendly bar and now reinvents itself once again. Pick a mealtime (breakfast, lunch or dinner) and order breakfast tacos; red beans and rice arancini for lunch, or try BBQ lamb lollipops and okra "devils on horseback" with pancetta and candied jalapeno glaze. Grab a cocktail and indulge in an original Mrs. P's favorite: boiled peanuts. Try the new update with kombu, chili, orange and pepper.
Where: 551 Ponce de Leon Ave. NE
Looking to get out on the town after enjoying a delicious dining experience? Check out the Ultimate Guide to the Best Nightlife Spots in Atlanta for Every Occasion.
Discover More
Get to know Atlanta, and discover the best things to do around the city.