Spend 24 Hours Supporting LGBTQ+ Owned Atlanta Businesses
Atlanta takes great pride in being the LGBTQ+ capital of the South and a destination that welcomes all visitors. Atlanta Pride is a week-long celebration in October and is the largest of its kind in the Southeast. The event features a three-day festival (Oct. 7-9) with music, art and food along with a parade and both educational and social events.
Whether you are coming into town for the celebration or you live locally, here is a 24-hour itinerary highlighting some of the top Atlanta LGBTQ+-owned businesses, restaurants and merchants.
Morning
Finca to Filter
Start your day with fresh black coffee or a chai latte from Finca To Filter located inside Wild Heaven brewery in Atlanta's West End. This queer- and female-owned business celebrates being "queer and caffeinated" every day and also hosts regular events like Drag Queen Bingo.
The business also offers light breakfast items so order ahead for pick up and then get in your steps on the three-mile Westside Trail of Atlanta BeltLine. The trail stitches together some of Atlanta's oldest and most historic neighborhoods and is a great way to spend the morning.
Lunch
Baker Dude Bakery Café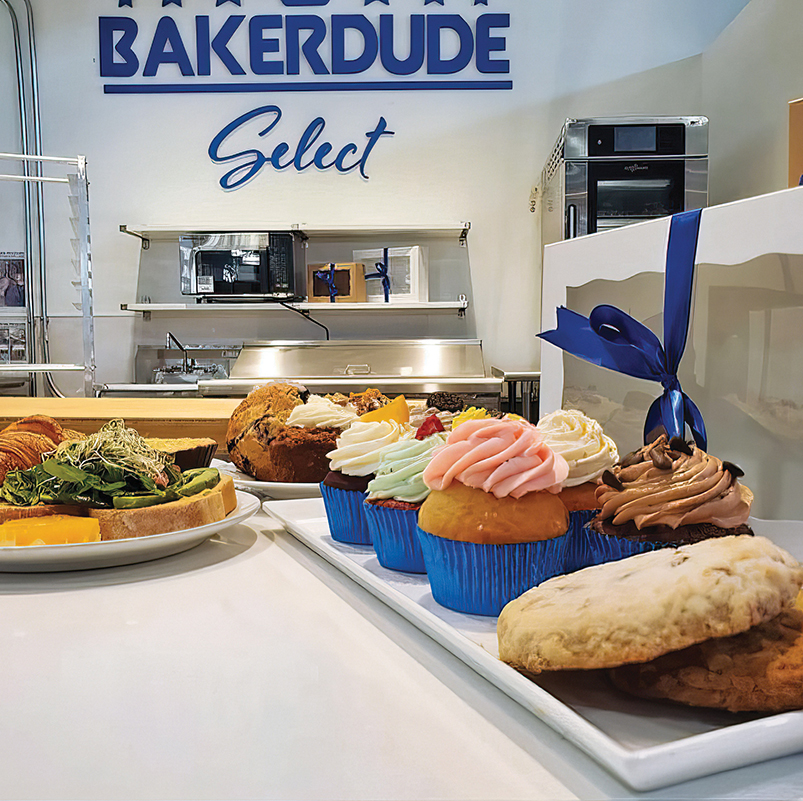 Now that you've worked up an appetite, fill up on quiche, a Yogi yogurt bowl or the Hungry Dude Plate at Baker Dude Bakery Café in Grant Park at The Beacon Atlanta. This Black-owned business also boasts fresh French and Italian desserts, crafty cakes and a healthy lunch menu. Before you leave, order a signature treat for later – maybe the rainbow cupcake or Funfetti Rainbow cake with six colorful layers of deliciousness. Another location is at Chattahoochee Food Works.
Afternoon
Antiques and Beyond
Antiques and Beyond on Cheshire Bridge Road is possibly the largest antique store in the city with more than 25,000 square feet filled to the brim with authentic and eclectic items waiting to be explored. Browse more than 70 merchants offering an interesting mix of antique, vintage and gently used decorator items for the home and garden.
YEAHBUZZY (YBZY)
Grab a graphic tee, sporty tank or cool headgear and accessories from YEAHBUZZY (YBZY). Not only does the shop take pride in producing top-quality merchandise for Atlanta's queer locals and visitors, but YBZY collaborates with local artists and brands to further spread awareness of the LGBTQ+ community. Find them at The Beehive in the Edgewood District, Home Grown and Brushstrokes in Ansley Mall.
Souk Bō'hēmian
Another spot to check out is located in Ponce City Market. Souk Bō'hēmian is a Black-owned, woman-owned, queer-owned shop that partners with local and global artisans and features minimal palettes and global aesthetics. You will feel like you've entered a bazaar in North Africa as you browse the ready-to-wear pieces, home goods, small-batch jewelry and handmade accessories.
KAI LIN ART
After you've had your dose of shopping, browse local contemporary art and catch the latest exhibitions at KAI LIN ART in the Westside neighborhood. This gallery has been recognized by regional, national and international publications for being on the cutting edge of art in America. 
Evening
Guac y Margy's
Take a late afternoon stroll on Atlanta BeltLine Eastside Trail, and, after enjoying the cityscapes and public art, stop at the GYM, otherwise known as Guac y Margys. All margaritas are made with in-house syrups and fresh-squeezed juices, which is why the eatery has been dubbed "Atlanta's Margarita Bar."
No Mas! Cantina
Another Mexican cuisine favorite is No Mas! Cantina, located in Castleberry Hill. Part café and part artisan market, there's plenty of food and shopping to take in before and after your dining experience.
Georgia Beer Garden
After filling up on tacos, head to Sweet Auburn District's Georgia Beer Garden, open until 2:30 a.m. on Fridays and Saturdays. This is where you will experience Downtown's largest backyard patio with feel-good music and 20 taps of locally brewed beer.
Joystick Gamebar
Off Edgewood Avenue just a few minutes away from Downtown, hang out at Joystick Gamebar featuring retro video, classic arcade and tabletop games.
Sister Louisa's Church
Nearby in the Sweet Auburn neighborhood is another queer-owned business – Sister Louisa's Church of the Living Room & Ping-Pong Emporium. Sip the signature drink, Spiritual Sangria, sing your favorite songs accompanied by a gorgeous organ and take part in the weekly Ping-Pong tournaments.
Mary's East Atlanta
Another evening option is Mary's East Atlanta. Proudly referred to as East Atlanta's gay dive bar, Mary's was named by Logo Channel and Out Magazine as one of the best gay bars in the world. Mary's is the place to see weekly drag shows and live performances from Atlanta's top queer talent. Locals and visitors come here to sing their hearts out to one of 15,000 songs.
Explore Atlanta's gay neighborhoods, and spend more than one day supporting LGBTQ+ businesses throughout Atlanta. From events to bars and nightlife, the LGBTQ Atlanta Guide will give you all the details you need to know to enjoy Atlanta's vibrant gay communities.
Discover More
Get to know Atlanta, and discover the best things to do around the city.