Georgia Resorts Offer Unique Event Venues
The perfect setting for a meeting or corporate retreat can make all the difference to your attendees. The state of Georgia is home to a diverse array of resorts, ranging from a winery to a serene community to beautiful gardens to lakeside splendor. Each is an easy drive from Hartsfield-Jackson Atlanta International Airport. There are ballrooms, intimate meeting rooms and breathtaking outdoor meeting spaces. Your attendees can stay in lakeside villas, lodges or, in one case, a comfortable home. In addition to perfect accommodations, Georgia resorts come with options for after-hours relaxation on golf courses, on horseback and trails, in spas and in the water. Why not put Georgia on the minds of your attendees?
North of Atlanta
Barnsley Resort
Add a little romance to your meeting at Barnsley Resort, built two centuries ago by Godfrey Barnsley for his bride to be. About an hour north of Atlanta in Adairsville, Barnsley Resort maintains the Southern traditions that Godfrey Barnsley built into the estate. Since 1999, the resort has welcomed visitors into an English-inspired village setting. In addition to 16,000 square feet of meeting space, there is a championship golf course plus a sporting club, spa, horseback riding and trails. Meeting spaces range from Georgian Hall, with more than 9,000 square feet of indoor space and 8,350 square feet of outdoor space to Birch Cottage, with various rooms perfect for small gatherings. The Savannah Ballroom can accommodate up to 360 guests for catered meals or 480 for a presentation.
Ninety cottage rooms and suites feature private porches plus there are six one-bedroom Arbor Cottages and even more accommodations in the inn.
Chateau Elan Winery and Resort
Chateau Elan Winery and Resort is about one hour north of Atlanta in the foothills of the North Georgia mountains. Established in 1981, Chateau Elan today is one of the most awarded wineries in the Southeast. Its 50,000 square feet of indoor and outdoor meeting space includes three ballrooms plus meeting rooms of varying sizes. The largest ballroom can accommodate 1,900 people theater style. Each ballroom can be broken down into small areas. These smaller rooms can accommodate from 40 to 180 people theater style. Accommodations include luxurious guest rooms, two- and three-bedroom private villas and spa suites.
In addition to golf, tennis and a fitness center, there are classes in mixology plus a culinary studio, painting classes and a charcuterie studio. Your attendees may take a wine tour or enjoy an afternoon tea.
Forrest Hills Resort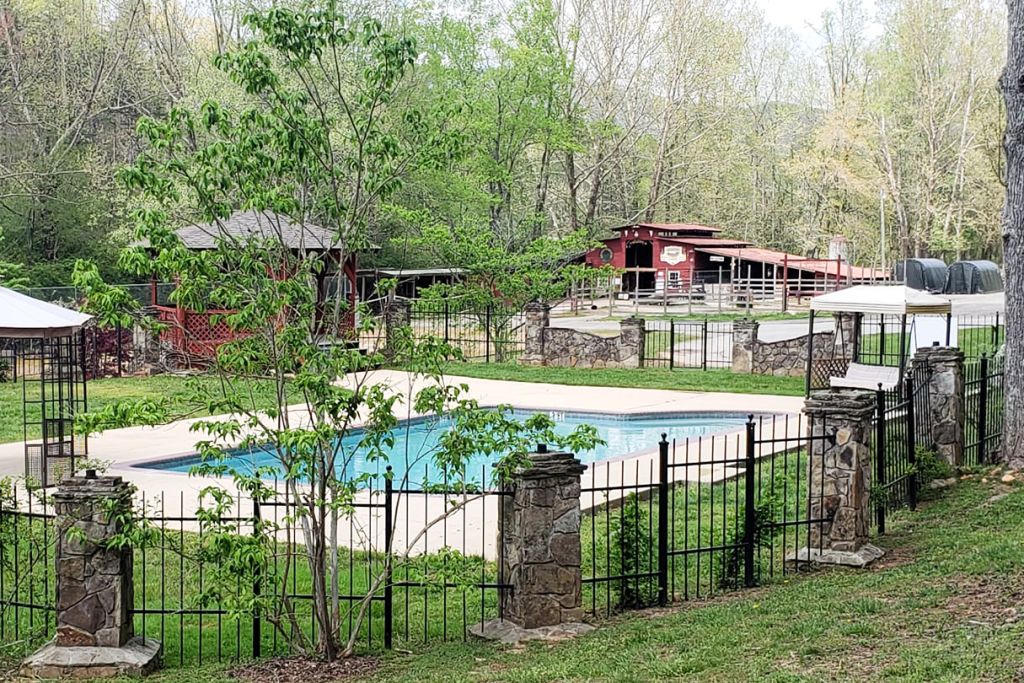 Sixty-five miles north of Atlanta in the foothills of the North Georgia mountains, Forrest Hills Resort in Dahlonega offers a peaceful venue for corporate events. Dahlonega sits atop the largest gold deposits east of the Mississippi River. In fact, gold was discovered in Dahlonega two decades before the California gold rush.
Meeting facilities range from the Mountain Laurel Inn, a 12-suite lodge, to Tree Topper Lodge, with 16 bedrooms and plenty of meeting space, to Bear's Den Lodge and Eagle's Nest Lodge, both with eight bedrooms plus meeting space. Groups can relax on walking trails, in an outdoor pool, on the volleyball court or during a horseback ride.
Lanier Islands
Travel 45 minutes north of Atlanta and find conference rooms, lakeside pavilions and excursion yachts ready for your meeting. The venue features more than 38,000 square feet of flexible event space and 1,200 acres of places to relax. There are three ballrooms plus smaller rooms that accommodate from 50 to 200 people, an amphitheater and a Summer House.
Ballroom options include the 6,000-square-foot Grand Ballroom, capacity 700 people; the the 4,340-square-foot Blue Ridge Ballroom, capacity 500 people; and the 1,443-square-foot Island Ballroom, capacity 150 people. The 1, 870-square-foot Veranda Room holds 200 people and has a private courtyard. There are several room for smaller groups including poolside rooms and the 8,500-square-foot pavilion and amphitheater, capacity 500 people. Accommodations vary from the Legacy Lodge, which offers both rooms and suites, to Legacy Villas, with a variety of floor plans, to lake houses. For relaxing, the resort offers a heated saltwater pool, fitness center, gaming area and firepits.
East of Atlanta
The Ritz-Carlton Reynolds, Lake Oconee
The Ritz-Carlton Reynolds, Lake Oconee, in Greensboro, Ga., is about  90 minutes east of Atlanta. Situated on 30 acres of shoreline along Lake Oconee, the resort features access to championship golf, a spa/fitness center and more than 58,000 square feet of indoor and outdoor meeting space encompassing lakefront lawns, a historical barn and luxury ballrooms. Options include rooms of various sizes plus ballrooms, salons and clubhouses. Guestrooms overlook either gardens or Lake Oconee plus there are lake houses and cottages with kitchens, living rooms and outdoor spaces. Outdoor activities range from fishing, swimming, waterskiing, jet skiing, paddleboarding and wakeboarding to trail biking and hiking.
Stone Mountain Park
Stone Mountain Park, in metropolitan Atlanta, is Georgia's most visited tourist site. In addition to meeting facilities, it is home to the massive monadnock, Stone Mountain, 1,686 feet up. There are facilities for company picnics and, at the Atlanta Evergreen Marriott Conference Resort, spaces for conferences, board meetings and team-building exercises. Picnic packages include use of a private pavilion, a one-day attractions pass, free parking, free promotional materials and a buffet. Meeting venues at the Evergreen Resort range from 20,000-square-feet of outdoor space to two ballrooms, a lakefront pavilion, an amphitheater and conference-style meeting rooms. Most guestrooms overlook either the lake or the tree line. And there are suites of varying sizes.      
South of Atlanta
Callaway Resort and Gardens
Situated 60 miles southwest of Hartsfield-Jackson Atlanta International Airport, Callaway Resort and Gardens, in Pine Mountain, Ga., offers traditional and non-traditional venues for meetings large and small, all nestled into Callaway's 2,500 acres of trails, gardens and natural beauty. Meeting facilities include 12 venues ranging from ballrooms to meeting rooms and outdoor spaces that include lakeside settings. The Mountain Creek Inn Ballroom complex covers 17,000-square feet of meeting space while the Cottage Meeting Center offers 4,620 square feet of space, and the Lodge and Spa includes 54,000-square feet of meeting space. Options for team building are a treetop adventure, a photo rally and a ropes course. Relaxation options include golf, tennis, fishing, swimming, biking and hiking.
Serenbe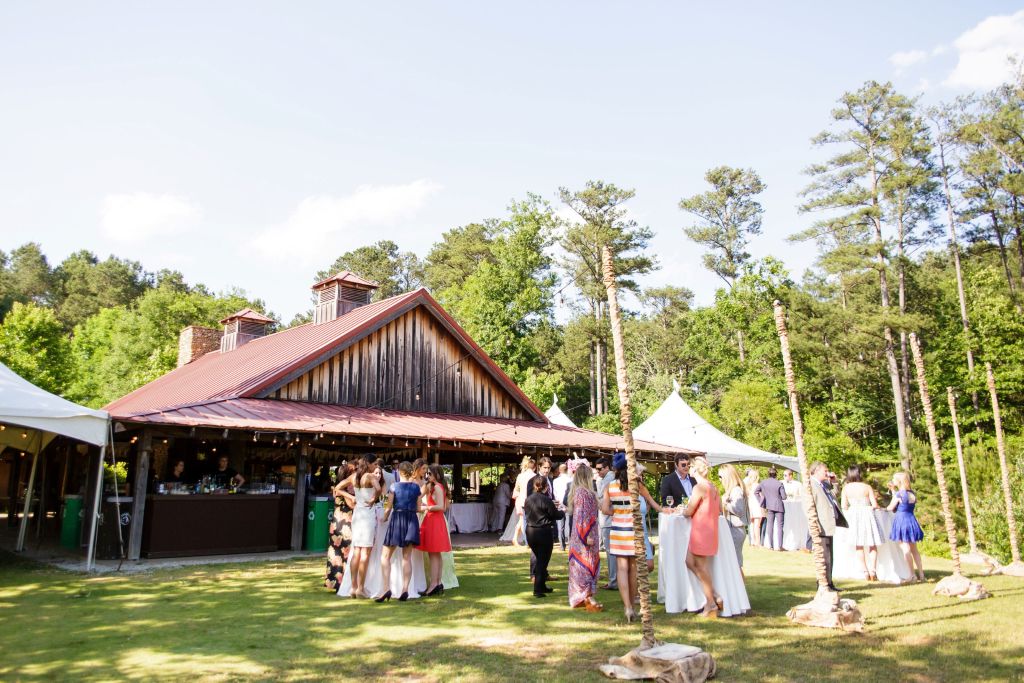 Serenbe, about a 30-minute drive south of Atlanta, is a community of fewer than 1,000 residents in the serene Chattahoochee Hills. The Inn at Serenbe has four conference rooms with capacity to accommodate 10 to 175 participants. Additionally, there is an open-air lake pavilion suitable for groups ranging from 100 to 400. Serenbe includes shopping, dining and nature trails. Accommodations at The Inn at Serenbe feature 27 rooms among six different buildings 
West of Atlanta
Foxhall Resort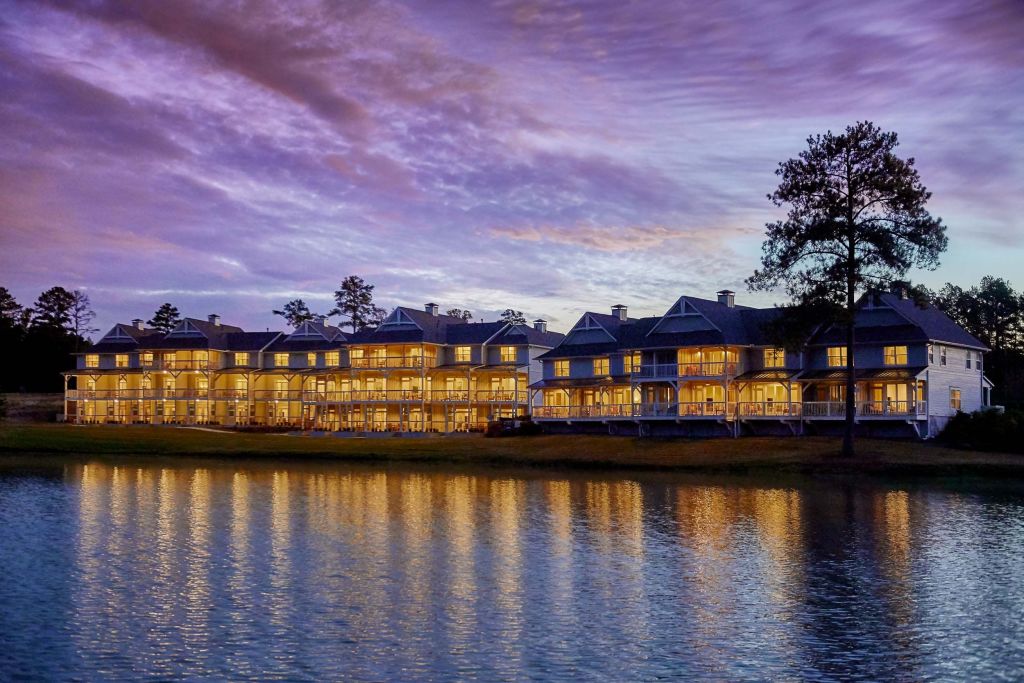 Located 30 minutes south of Hartsfield-Jackson International Airport in Douglas County, Foxhall Resort is ideal for corporate retreats and private meetings. Groups can enjoy catered company picnics on the expansive grounds and take advantage of the infinity pool. Foxhall offers large, fully equipped indoor and outdoor meeting spaces, as well as villas and lakeside cottages, with two- or four-bedrooms and complimentary hospitality suites. All are served by Foxhall's dining options, the grab-and-go Flying Fox Market and the Pheasant Blue restaurant, open for breakfast, lunch and dinner. Outdoor adventures range from clay shooting to customized golf cart scavenger hunts, archery, fishing, kayaking, paddle boarding and more. Guests can enjoy croquet, bocce ball and horseshoes and roasting s'mores around a fire. Nestled along a picturesque bend of the Chattahoochee River, Foxhall offers 16 spring-fed lakes and miles of hiking trails. The resort's professional outfitters will plan daily excursions or provide self-guided tours of the 1,100-acre resort.
Historic Banning Mills
Historic Banning Mills, located in Georgia's only hidden gorge, is less than one hour west of Atlanta in Whitesburg, Ga. Originally home to the Creek and Cherokee nations, the area grew into an industrial site of both textile and paper mills. Today the area is known as the birthplace of the modern paper industry. This historic area offers your group several meeting options as well as ways to relax on 80 acres of trails, in the billiard room, aboard paddleboats and with catch-and-release fishing. With five meeting rooms, Banning Mills can accommodate groups ranging in size from six to 150 people. Several of the meeting rooms overlook the Snake Creek Gorge, 150 feet below. Accommodations include the North Georgia Country Inn and Retreat Center, said to have the atmosphere of a bed and breakfast. Also available are tree houses and family cabins.
No matter which venue suits your company or organization, Atlanta and Georgia are home to the perfect spot for your meeting. In Atlanta, our amazing attractions sport unexpected event venues. Also in Atlanta are unique venues with a nod to history and unique outdoor and rooftop special event venues.
Still wanting to see more of what Atlanta's venues have to offer? There are a variety of venue options and one of these could be the perfect spot to inspire your group. To help with your planning, peruse and build your list with our venue catalog.
Discover More
Get to know Atlanta, and discover the best things to do around the city.