Unique Outdoor and Rooftop Special Event Venues
Published May 10, 2022
Atlanta lives up to its name of the City in the Forest with its beautiful tree canopy of established hardwoods and gentle pines. When you plan your meeting here in our city, take advantage of our stunning outdoor offerings and rooftop perches throughout Atlanta's in-town neighborhoods. Soak up Atlanta skyline views of our city draped in green with these unique outdoor special event venues.
RT60 at Reverb by Hard Rock
Take the stage at Reverb by Hard Rock-Downtown Atlanta, designed for music lovers. Located next to Mercedes-Benz Stadium in the heart of Atlanta, Reverb's RT60 Rooftop Bar will treat your guests like the rock stars they are. Live music will rock your event. The terrace accommodates 100 attendees for cocktails as they catch up-close views of Mercedes-Benz Stadium and the city skyline.
St. Julep at Kimpton Sylvan Hotel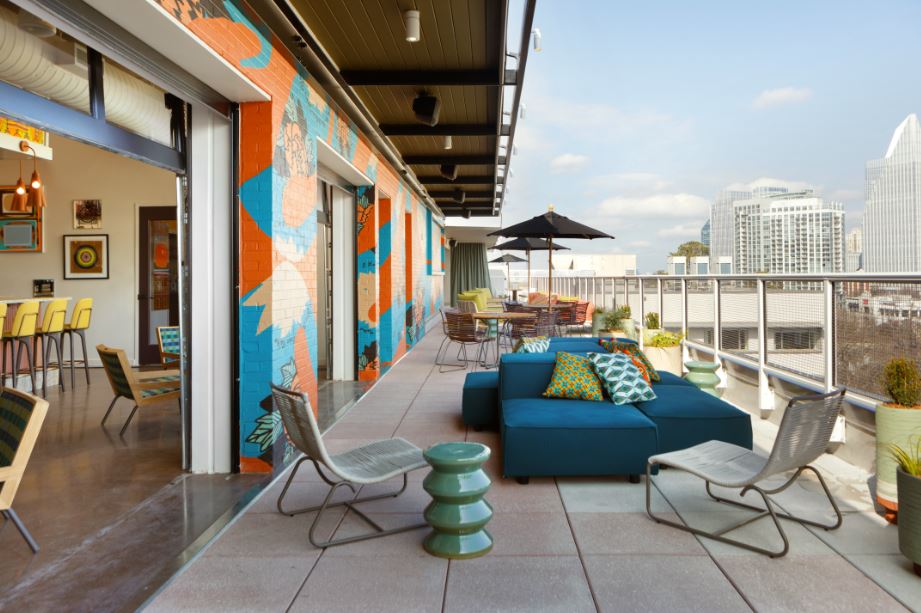 What once was a 1950s residential building has morphed into a chic hotel called Kimpton Sylvan Hotel in Buckhead. The bar St. Julep on the hotel's rooftop deck offers playful fun with funky, craveable snacks and no-fuss cocktails. Attendees can take in the views from brightly colored indoor and outdoor mid-century seating. If guests wander around the property, they will find nearly 5,000 square feet of gardens that beckon with hidden enclaves and an inviting pool.
Gypsy Kitchen
Your attendees can channel Spanish vibes on a lively second-floor patio at Gypsy Kitchen. Serve an elaborate spread of modern-day Spanish tapas flavored by the spices of Morocco and India in this space overlooking Buckhead Village District. Your guests can mingle and marvel at the beautiful surroundings while sipping Old World-style wines, craft cocktails and European beers.
Grand Hyatt Atlanta
Need a waterfall in the city to amaze your guests? No problem. Head straight to Grand Hyatt Atlanta in Buckhead. Plan your event on the West or East Terrace, both of which naturally spill into the Japanese Zen Garden. Attendees can keep their own Zen in check while lingering near the 30-foot waterfall, offering a lush peek into Atlanta's green landscape. The terraces measure 1,892 square feet each, giving plenty of room for cocktails or a breezy dinner outdoors.
The Rooftop at Hotel Clermont

Located on top of the legendary Hotel Clermont on Ponce de Leon Avenue in Midtown, The Rooftop is a one-of-a-kind gathering spot offering views of the vibrant lights and buzz of the city. This once-popular 1924 motor lodge has reclaimed its coveted place as a boutique, retro establishment that remembers its roots, accommodating 80 guests on The Rooftop. Attendees can kick back on the throwback furniture, astroturf underneath, with a swank beverage.
Aerial Kitchen & Bar at Epicurean Atlanta
If you're looking for a destination specifically designed for food lovers, the new Epicurean Atlanta perfectly fits the bill. Step into a fragrant garden at the hotel's restaurant Aerial Kitchen & Bar, lined with outdoor lounge seating on the ninth floor Sky Terrace. Flavors of South America and Mexico are served through appetizers, raw bar selections and drinks as guests indulge in the scenic vistas of the city and an open-air bar. The 3674-square-foot terrace can accommodate 240 guests.
The Rooftop at The Overland at Kimpton Overland Hotel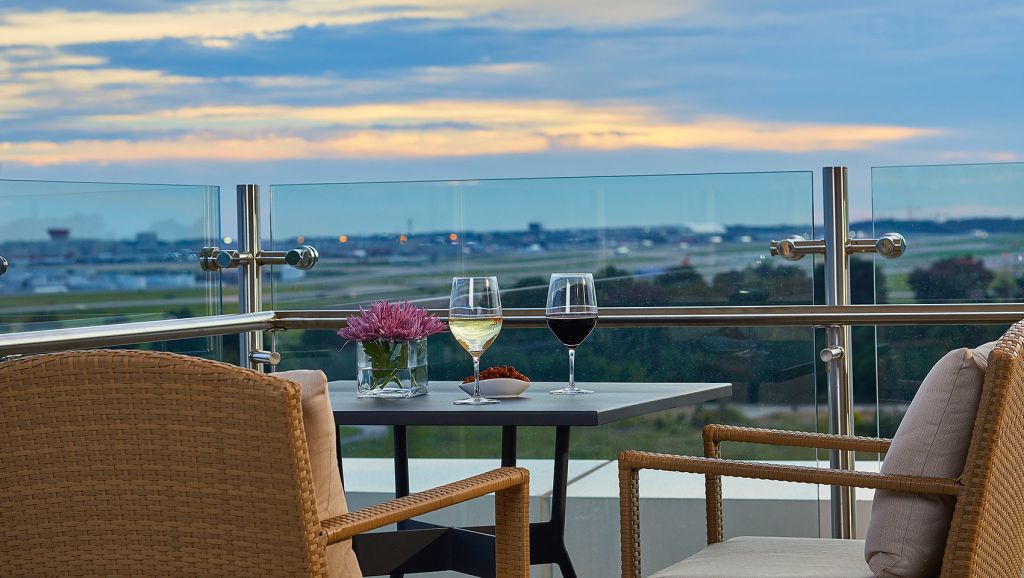 Planes and automobiles zooming by might not seem like much of a view, but your guests will be dazzled by all of the busy happenings at the modern boutique Kimpton Overland Hotel. The Rooftop at The Overland is located eight floors up with an incredible view of the 1.6-mile driver development track at Porsche Experience Center. If that's not enough excitement, guests can sip handcrafted cocktails while overlooking the runways at Hartsfield-Jackson Atlanta International Airport.
Spaceman at Hyatt Centric Buckhead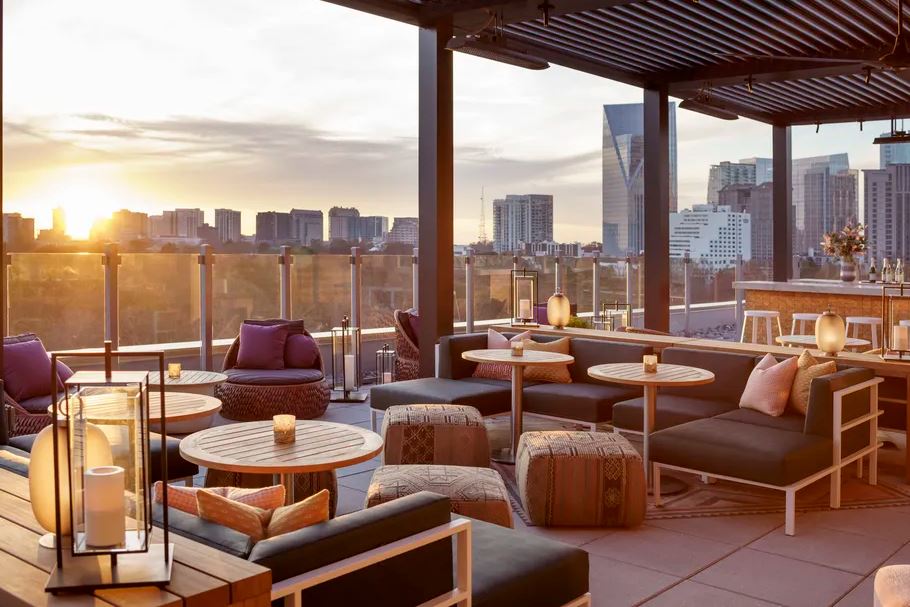 The new Hyatt Centric Buckhead has a distinct, neighborhood feel that travels all the way up to the hotel's rooftop bar, Spaceman. In addition to fantastic views of Buckhead's Lenox Square and the surrounding area, Spaceman promises an out-of-this-world experience for guests, whether it's an intimate gathering or large cocktail event.
Whiskey Blue at Hotel Colee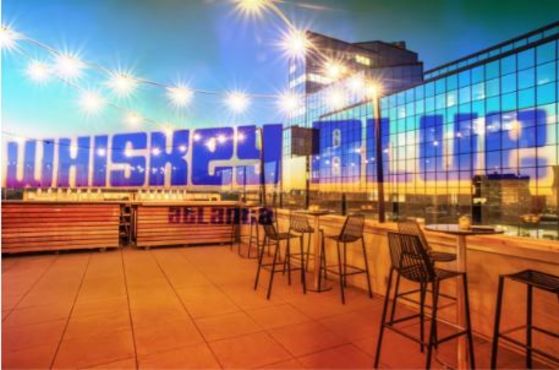 Hotel Colee recently finished a multimillion-dollar renovation, but the glorious views from Whiskey Blue are still the same. Located on the rooftop of Hotel Colee, Whiskey Blue has two terraces offering full-service bars. The Atlanta Terrace accommodates 50 guests while Buckhead Terrace, adorned with brilliant blue sectional seating and views of Buckhead, accommodates 75.
SkyLounge at The Glenn Hotel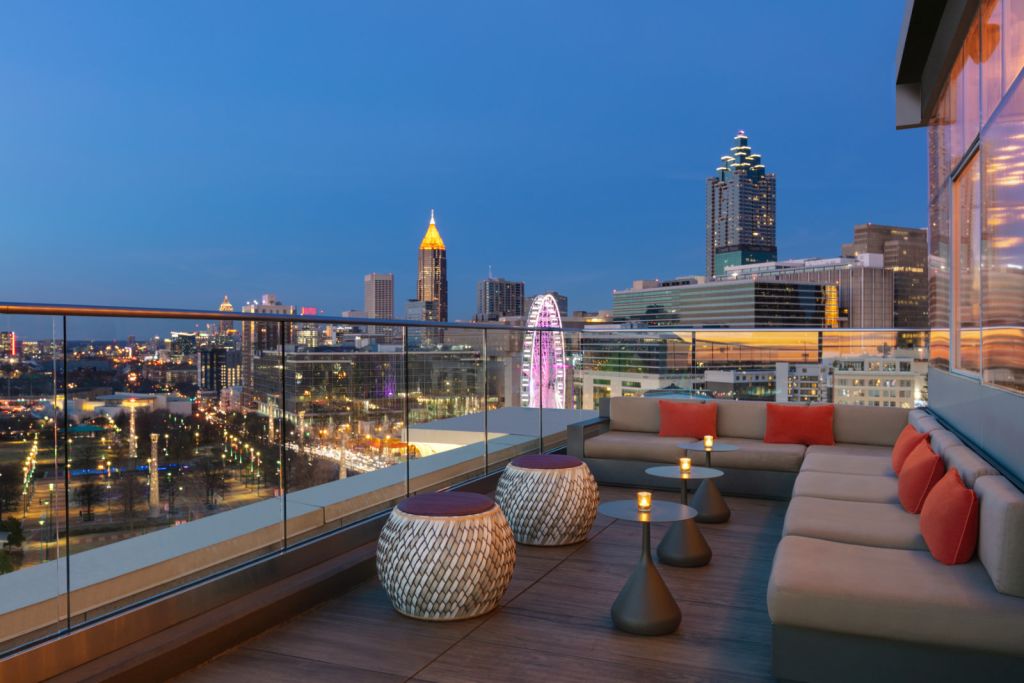 The amazing SkyLounge atop the 1920s boutique Glenn Hotel overlooks Centennial Olympic Park and SkyView Ferris wheel. Recently voted as one of the "Top 23 Best Rooftop Lounges in the World" by ABC.com, this hot gem is perfect for impressing your attendees. With both an outdoor terrace and covered rooftop, SkyLounge accommodates both private and semi-private events year-round.
Drawbar at Bellyard
Atlanta's Westside has exploded with growth, producing many chef-owned restaurants and shopping areas from former industrial warehouses. The new Bellyard hotel is built on land once used as stockyards and houses Drawbar, a hot destination for cocktails and cuisine. Drawbar's outdoor terrace offers a unique view of Atlanta's skyline and accommodates 90 for a reception in modern digs.
9 Mile Station
Located on top of historic Ponce City Market, 9 Mile Station is a rooftop beer garden that offers sensational views of the city's skyline. Host a semi-private or private event for as many as 400 attendees with offerings including cocktails, local beers and food as spectacular as the views. Need an after-dinner activity? Let your guests wander over to Skyline Park, also on the roof, for retro carnival games, a giant slide and mini-golf.
STATS Brewpub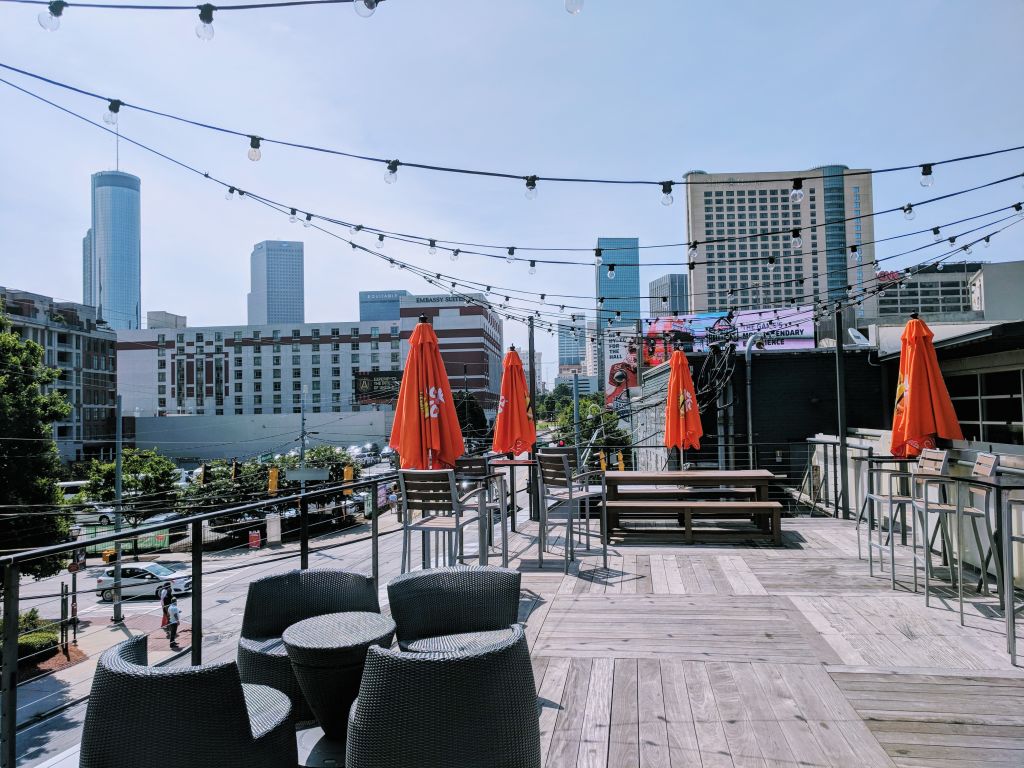 Views and brews? If you're looking for a sports-themed gathering spot, attendees will love STATS with its elevated bar food and home-brewed beers from an on-site brewery. A spacious, partially covered rooftop patio overlooking the Centennial Olympic Park District provides plenty of atmosphere.
Ventanas
Let the Downtown skyline inspire your guests during an evening cocktail party or gala event on the outdoor terrace at Ventanas. This amazing space sits across the street from Centennial Olympic Park and boasts 10,000 square feet of outdoor and indoor space. Special VIP guests can use the helipad to make a grand entrance. Guests can network around firepits or lounge with a cocktail amid luxurious seating, making everyone feel like a VIP, helicopter or not.
Grana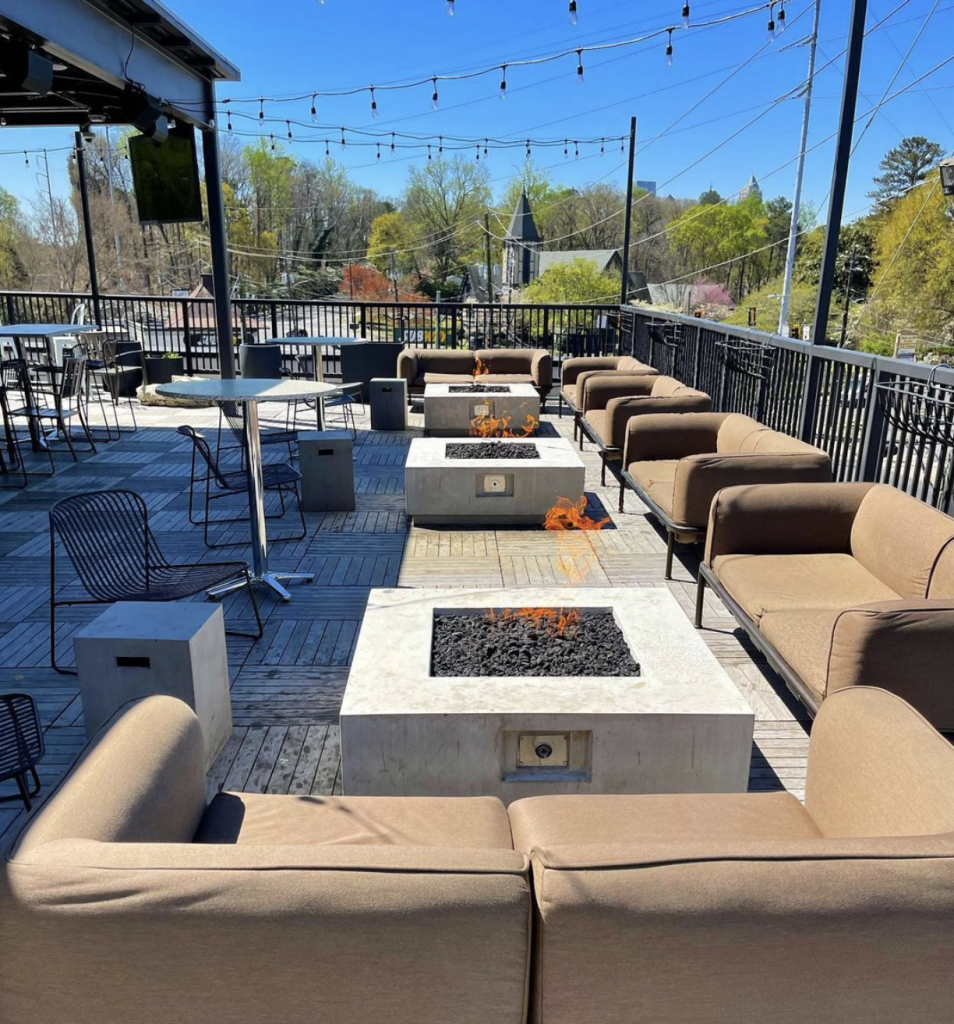 Southern Italy beckons at Grana where your attendees can indulge at an exclusive pasta making station on the rooftop. Grana in Midtown overlooks the beautiful neighborhood of Piedmont Heights, shaded by lush, green hardwoods. Consider authentic Neapolitan cuisine at a seated dinner on the roof or reserve the three intimate firepit sections with room for up to 45. A mixology station can be customized especially for your group and a flexible floor plan across the whole roof offers space for 120 guests.
Wylie Hotel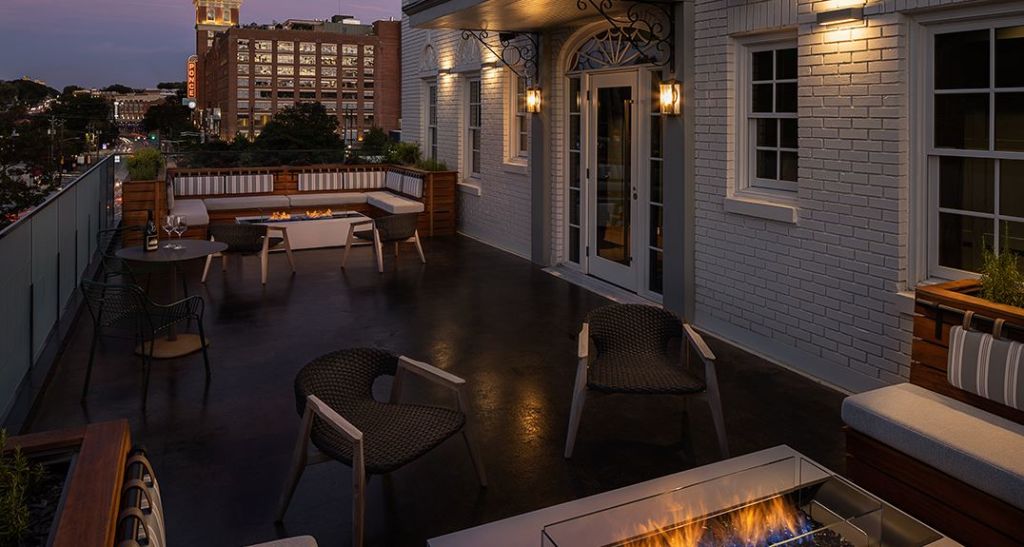 Book the terrace at the Wylie Hotel for your intimate outdoor gathering and watch the scene on busy Ponce de Leon Avenue below. The recently reinvented Midtown boutique hotel makes any event intimately memorable with two firepits, comfortable patio seating and seasonal Southern cuisine.
Der Biergarten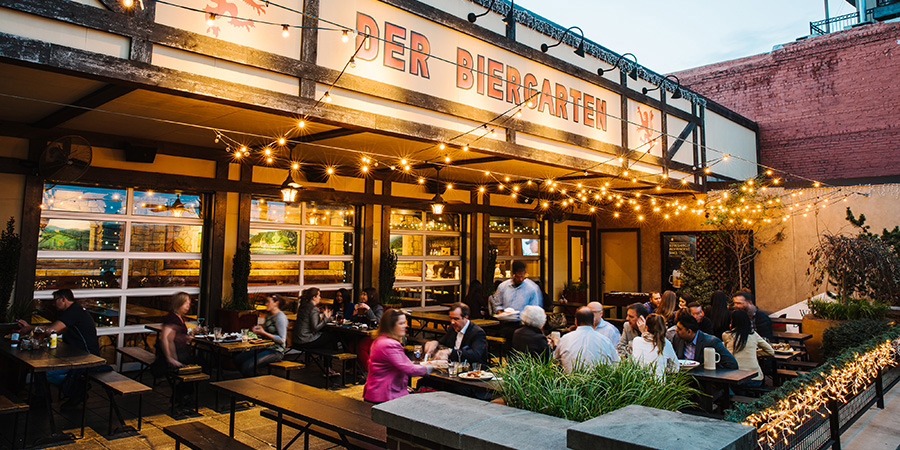 How about hosting a casual gathering in one of the top beer gardens in the country? Der Biergarten spreads across 7,000 square feet of indoor and outdoor space. Traditional German beers and cuisine set the mood for a spirited event with festive lighting and long, communal tables. Attendees will love the views of Centennial Olympic Park while sampling warm pretzels and authentic German fare.
Looking for even more unique venues in Atlanta. How about venues at top-rated attractions or venues with a nod to history?
Still wanting to see more of what Atlanta's venues have to offer? There are a variety of venue options and one of these could be the perfect spot to inspire your group. To help with your planning, peruse and build your list with our venue catalog.
Discover More
Get to know Atlanta, and discover the best things to do around the city.