Elevate Your Meeting with these Atlanta-Only Experiences
Published December 14, 2022
Last Updated January 13, 2023
Crank up your meeting a notch with these experiential ideas. Need more than just cocktails? Whether you need a truly unique team-building event or want to book a hands-on class for your guests, these ideas will help get your attendees out of their seats to delve deeper into some of our many unique Atlanta attractions.
The ROOF at Ponce City Market
Your attendees will feel like they are on top of the world at The ROOF at Ponce City Market. Consider a team-building event at Skyline Park with vintage carnival-style games and rides. Nine Mile Station rooftop bar and restaurant offers unparalleled views of Atlanta and a unique blend of options for an intimate gathering for 25 people or a large reception for up to 400.
Location: Eastside
Puttshack
Toss out the idea of a regular golf outing and try Puttshack. This indoor playground takes miniature golf to a whole new level through technology. Scoring is done in fun, unexpected ways as guests play through nine holes to win the most points at this upscale venue. Add in some globally inspired appetizers and flatbreads plus craft cocktails and you'll have a hole-in-one event.
Location: Westside
Painted Duck
Depart from the normal with duckpin bowling, a cool substitute for traditional 10-pin bowling. Sixteen full-service lanes are offered along with Belgian feather bowling (a cheese wheel is involved, of course), knuckleball, table shuffleboard, horseshoe pits, snookball, toad-in-the-hole and many more games that you just don't see every day. To refresh, the Painted Duck offers backyard bar fare of small plates, sliders and skewered wood-fired meats called Quills, prepared on a custom grill.
Location: Westside
Knock Music House
Roll out the VIP rock star experience for your attendees. With full-service event planning capabilities, Knock Music House takes care of all the details needed to throw an awe-inspiring party, right down to the red carpet. Choose from multiple locations in the Atlanta area, including one in Lenox Park which can host events for 150 to 500 people. Find a second location in Virginia Highland (maximum capacity 125) with a third coming soon.
Painted Pin
This upscale bowling lounge will ensure that your event will throw a strike, and in bowling terms, that's a good thing. Try out the indoor gaming courtyard for happy hour or add on skee ball, indoor bocce, Ping-Pong, shuffleboard tables or Giant Jenga. Elevated snacks like pretzel bites, waffle dogs, tacos and wood-fired pizzas are available, as well as cocktails. Buy out the place for up to 400 guests. A semi-private space is available with eight lanes and lounge-style seating.
Location: Buckhead
Bowlero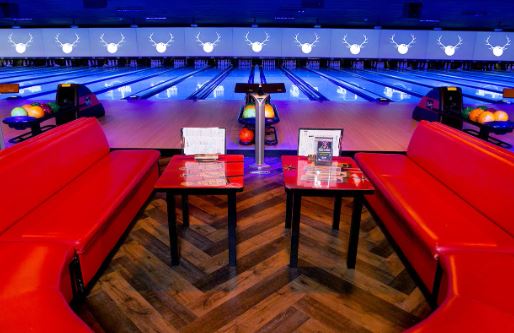 Your event will glow, literally, with black light lanes, sleek lounge seating and HD video walls to complement a bowling extravaganza for your group. A laser tag arena and a deluxe arcade are also offered to get the game on in this retro-cool space in Atlantic Station. Guests can dig into a menu of wings, pizza, beer and even the six-pound Behemoth Burger.
Location: Westside
Trap Music Museum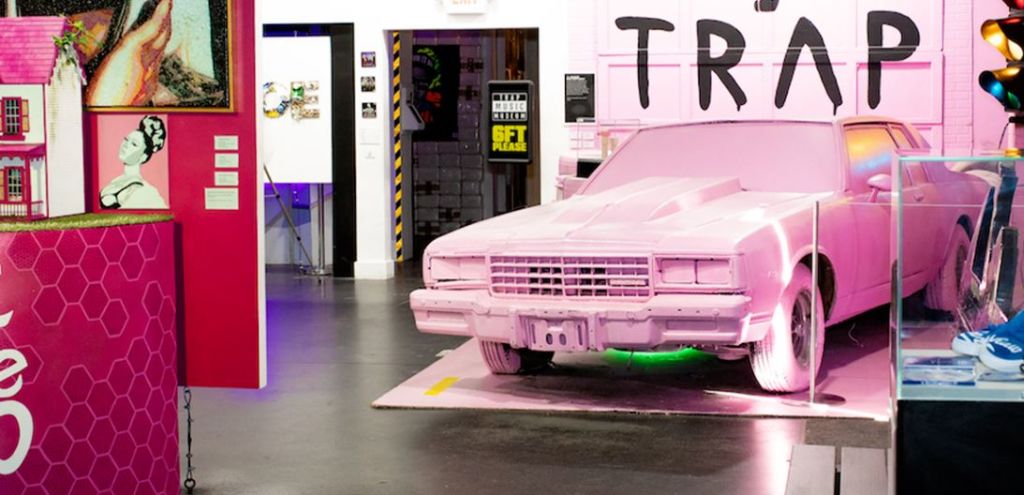 For something off-the-beaten-path, delve into this dynamic space centered around trap music culture with unique pieces highlighting some of hip-hop's most famous trap music stars. Escape the Trap escape room is perfect for team building and promoting cooperation across multiple genres. The team at Trap Music Museum will make it happen, no matter if you need a group outing or anything else you can dream up.
Location: Westside
Porsche Experience Center Atlanta
Give your guests a high-speed thrill ride they will never forget at Porsche Experience Center Atlanta, near Hartsfield-Jackson Atlanta International Airport. Book an exhilarating 90-mile-an-hour test drive around the track and watch attendees take a spin in their dream car. These can't-miss memorable experiences are available in a two- or four-hour program that gives attendees the opportunity to experience the Porsche 911 and 718 on 1.6 miles of skill-focused, purpose-built track. Demonstration laps are available, with guests riding in the passenger seats with a Porsche driving instructor at the wheel.
Location: Airport
Illuminarium Atlanta
Imagine your guests sipping a drink inside a Parisian courtyard or mingling beneath the sea amidst a coral reef. Illuminarium can transport your party to another world with customizable screens, sights and sounds, encompassing nearly 14,000 square feet of event space. Located on the Eastside Trail of the Atlanta BeltLine, Illuminarium includes a bar and patio and can be customized for your perfect immersive event.
Location: Eastside
Andretti Indoor Karting and Games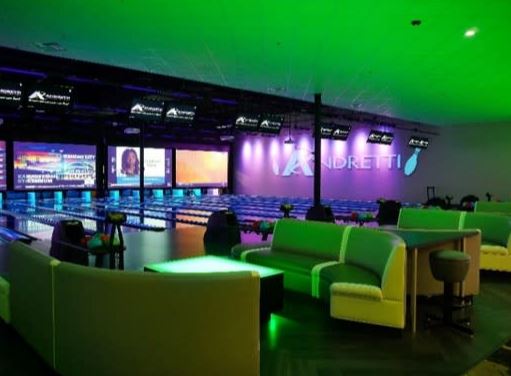 Pack in high speed thrills and nonstop entertainment with Superkarts, an arcade, a ropes course, laser tag, motion theater, VR racing simulators, boutique bowling and more at Andretti Indoor Karting. An on-site restaurant and two full bars cover more than 10,000 square feet of expansive event space with audiovisual capabilities and free Wi-Fi. Choose from several packages or customize something completely unique for your team.
Location: Marietta
Epicurean Theatre
Create your own gourmet masterpiece at Epicurean Theatre. Located at the culinary-themed Epicurean Atlanta Hotel, Epicurean Theatre offers cooking classes and private team building designed for learning, creating and tasting together. From themed menus to a cooking class or a signature immersive experience, the Epicurean staff can cook up just about anything you can imagine. Up to 71 people can spread out comfortably.
Location: Midtown
Bellina Alimentari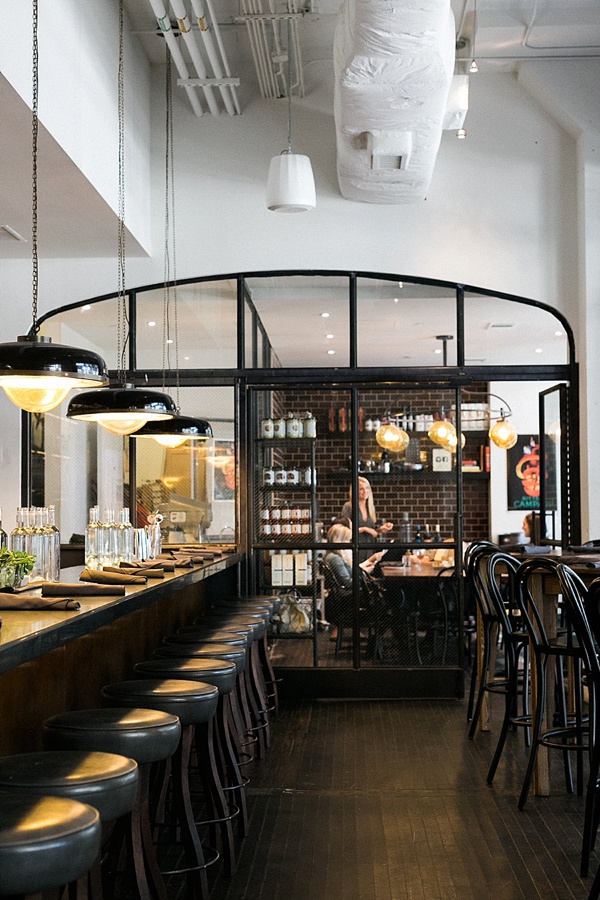 At Bellina Alimentari, set up a cooking class or a chef's tasting dinner at this spot inspired by cafes of Northern Italy. Located in Ponce City Market, Bellina has a private culinary club to accommodate intimate groups of up to 10. Interactive pasta making classes will guide guests through the process of making fresh pasta. As a bonus, all guests get to take home their pasta to enjoy the taste of traditional Italian cooking at home.
Location: Midtown
Janke Glassblowing Studio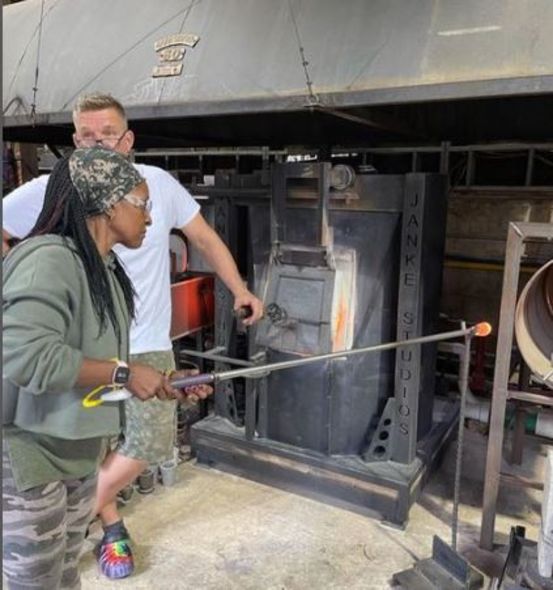 Atlanta's first complete glassblowing center is located in the Studioplex complex in the old Fourth Ward neighborhood. Book the Glassblower for a Day or the All Things Glassblowing session where all your attendees try their hand at using a 2,000-year-old glassblowing art form. Three-hour time blocks allow for plenty of instruction. For larger parties, try the private Behind the Scenes Party as glass artist Matt Janke and his team create stunning pieces. Hosts can bring their own food and beverages and enjoy on the Glass Sculpture patio.
Location: Eastside
Wine Shoe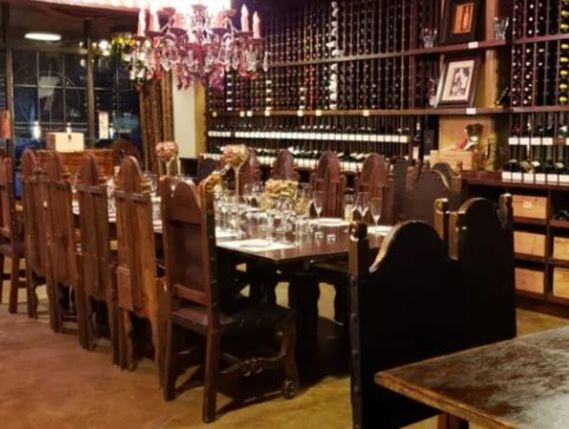 This woman-owned boutique wine shop is located in the Castleberry Hill neighborhood, a perfect backdrop for your Tasting Social where guests can mingle and try selected wines at their own pace. Guided tastings are available with staff pouring from Wine Shoe's curated selection of wines. Looking to break the ice and get to know each other? Let the conversation flow with a private wine class.
Location: Downtown
Stoddard's Gun Range
Stoddard's Gun Range features 24 modern pistol, rifle and shotgun lanes with state-of-the-art technology, located in Atlantic Station. All levels of experience are welcome and range safety orientations are included with every reservation. Four event spaces can accommodate up to 250 guests for team building or fun, curated competitions. Guests can relax afterward on the patio with food and drink.
Location: Westside
Grana
Your attendees can immerse themselves in southern Italy with chef Pat Pascarella's private pasta making classes. The chef will guide the group through the process with hands-on steps that will result in delicious homemade pasta. Afterward, guests can enjoy the rooftop at Grana, overlooking the Piedmont Heights neighborhood, shaded by lush, green hardwoods.
Location: Midtown
Double Zero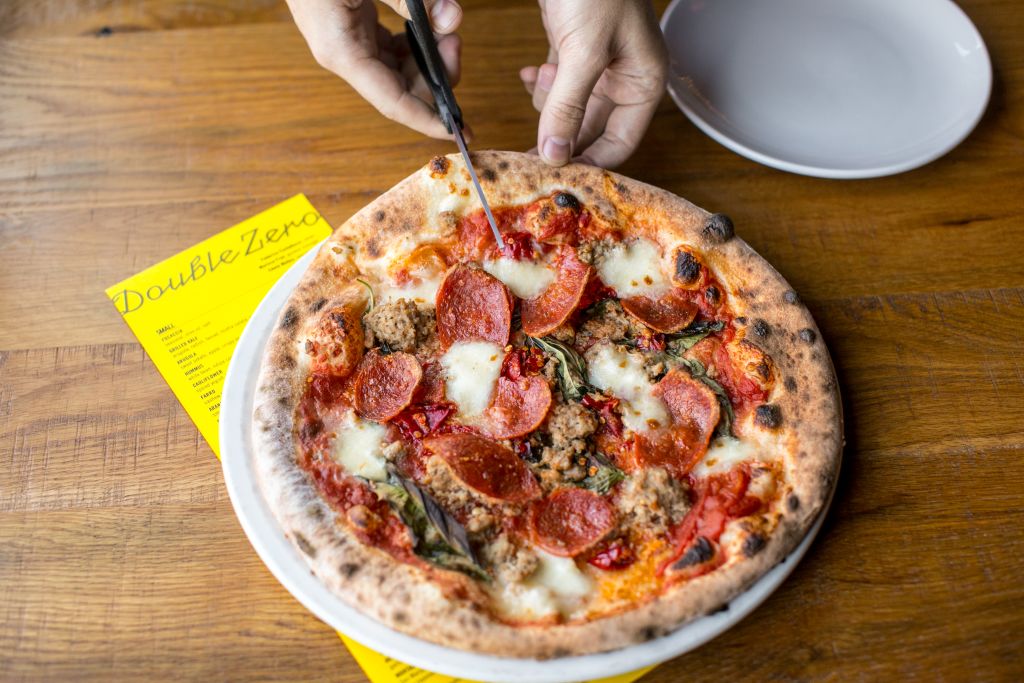 Gather your attendees to learn the art of making Neapolitan pizza on the handcrafted Stephano Ferrara ovens from Naples. Executive chef Zachary Lanier will guide guests through the unique process of making dough at the highest level, then guests can enjoy their very own pizza creation and a glass of wine at Double Zero, located in Emory Village.
Location: Eastside
Morrison Magic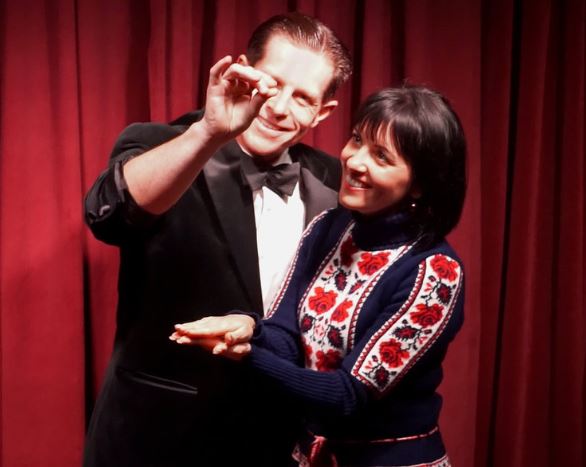 Need a little enchantment to complete your event? Critically acclaimed magician Peter Morrison will bring his captivating magic show to your stage, wherever that might be. Choose from close-up magic, stage magic, mind reading or even mentalism, mixed with plenty of comedy. Peter will conjure up a spectacular act with theatrical lighting, sound and technical staging, guaranteeing an extraordinary element to your event. Regular shows are presented at Embassy Suites by Hilton Atlanta at Centennial Olympic Park. but Peter will gladly travel to your event.
Location: Downtown, or anywhere
Dad's Garage Theatre Company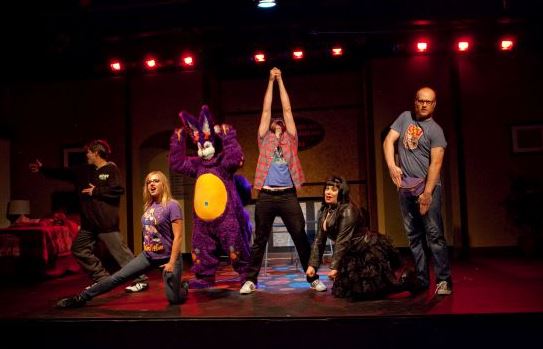 Book this local improv favorite and your event will erupt in nonstop laughter. Dad's Garage will keep your audience engaged with hilarious, laugh-out-loud merriment as they engage guests with a one-of-a-kind show. Customized workshops are available, too, and Dad's Garage will gladly host your event at their headquarters in Old Fourth Ward.
Location: Eastside, or anywhere
Adult Big Wheel Club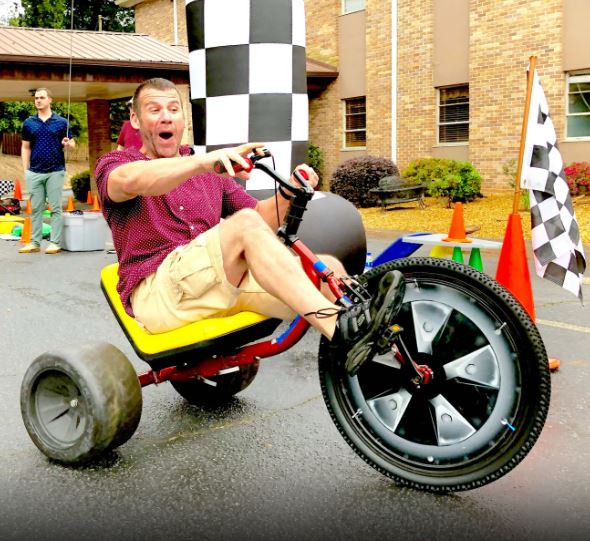 Why yes, you sure can book a Big Wheel event for your next meeting and you won't be disappointed. With Adult Big Wheel Club, guests can take part in relay challenges and races, plus many more team building offerings. Outdoor facilities are available for spreading out and, in case of rain, a modified team-building course can also be arranged.
Bottle Rocket ATL
The Castleberry Hill neighborhood plays host to many fun, experiential places and Bottle Rocket is no exception. This trendy spot is popular for locals, and your guests can delve into a private sushi-making class with chef instruction and hands-on team building. Who knows, you could learn a new skill to dazzle at the next dinner party.
Location: Downtown
Lot 23 Chandler Co.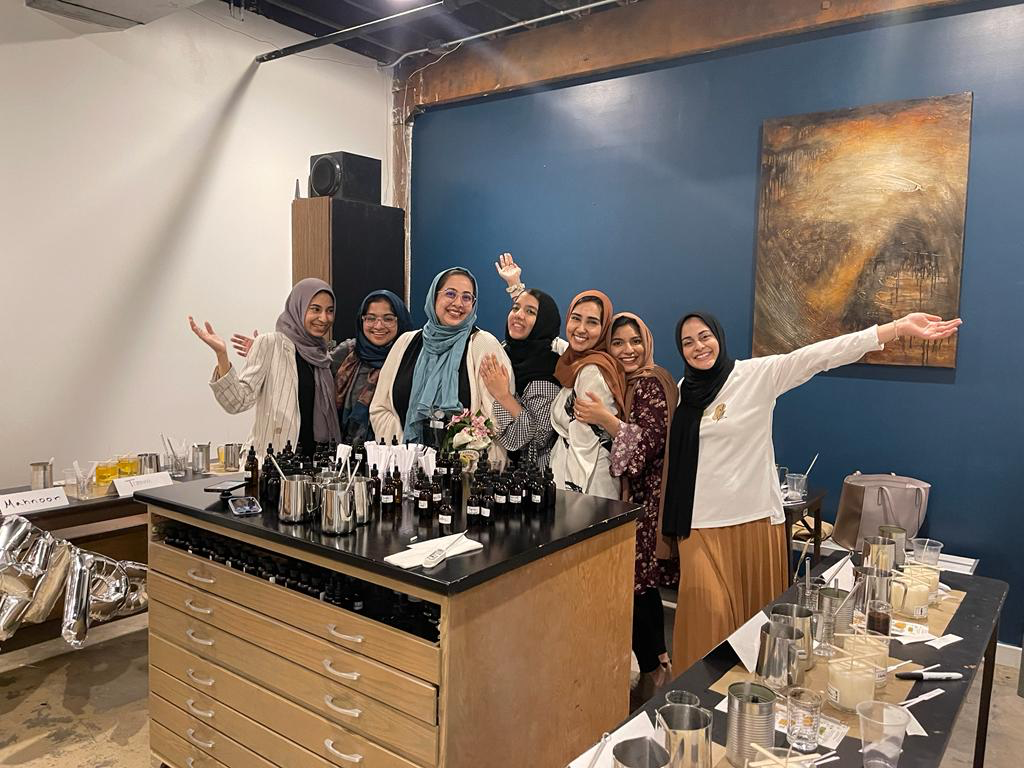 Create a spark with private candle making at Lot 23 Chandler Co. in Castleberry Hill. Candle making experts will guide guests through the process of creating a custom-made candle to take home. Several workshops are perfect for team building during this intimate experience. Fun, signature classes include learning the fundamentals of candle making, Trivia Night and Scents x Pop Culture. Amazing chandlers (candle making experts) will guide guests through the experience.
Location: Downtown
Atlanta has a variety of options for your event. Consider booking one of Atlanta's top attractions. Or try Unique Atlanta Venues with a Nod to History. Another option is Local Atlanta Food Halls with Innovative Event Space. Atlanta also offers Off-the-Beaten Path Venues for Meeting Planners and Georgia Resorts with Unique Venues.
Discover More
Get to know Atlanta, and discover the best things to do around the city.