Unique Atlanta Venues with a Nod to History
Published March 22, 2022
Last Updated April 28, 2022
If you're wishing for a venue with more personality than four walls and a table, consider one of these options in Atlanta. Each venue has a tie to Atlanta history which is perfect for board meetings, association gatherings, exhibitor groups, nonprofits and businesses. Your group can surround itself in history, meet in one of the nation's 15 presidential libraries, convene at a storied Atlanta university, assemble in the great outdoors, gather in a "castle," a converted industrial space, a former church or the home where a famous book was written.
Buckhead
Atlanta History Center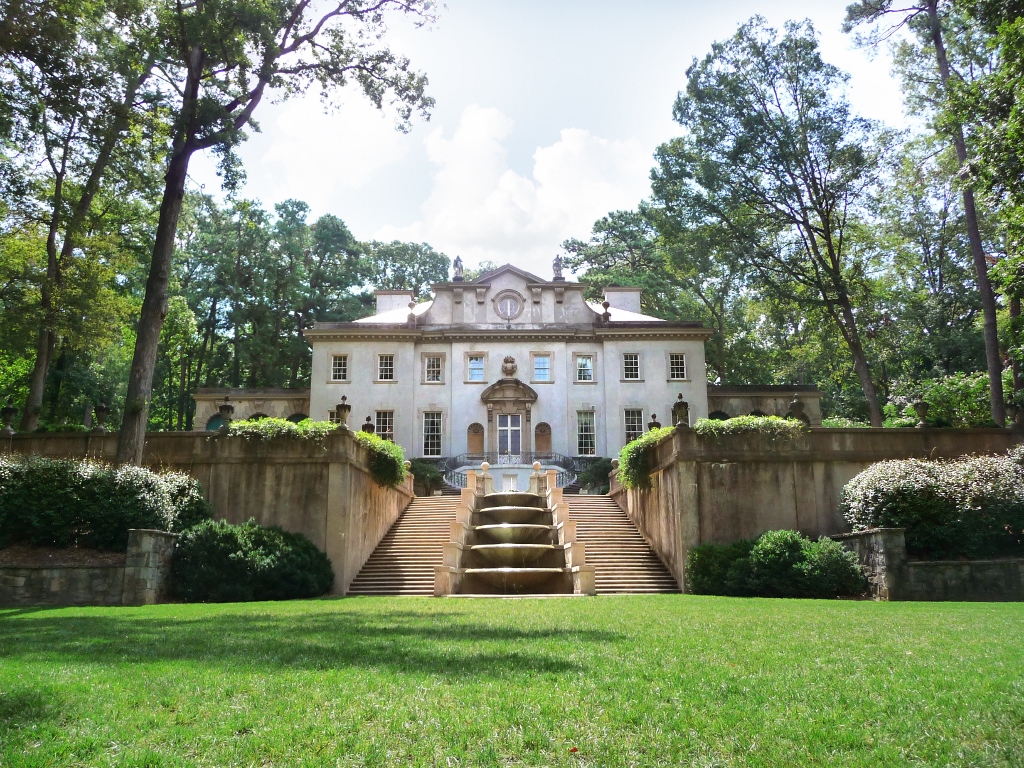 Atlanta History Center, located in Atlanta's upscale Buckhead neighborhood, offers more than one unusual option for your retreat. Consider holding the meeting portion of your retreat in the Cox Room, a space inspired by Atlanta's rail-rich history. On display in the Cox Room is a replica of an 1880s Pullman Car along with tintype mural photographs of various railroad settings.
For your social hour, possibilities include the Swan House or the boutique ballroom in McElreath Hall. If the weather is nice, you could enjoy cocktails in Olguita's Garden. Between all the meetings, you could include a tour of the Atlanta Cyclorama and Texas Locomotive. If your members want to explore Buckhead, they'll discover a neighborhood rich in luxury shopping, fine dining and elegant homes.
Another nearby option is the Swan Coach House, located on the grounds of Atlanta History Center. This elegant restaurant, which includes a gallery and gift shop, is home to five meeting rooms including the Kaydid Room (30 guests seated; 60 reception style). Its sliding glass doors open to a patio. The intimate Swan Room holds 22 guests for a seated meal. Sally's Porch, an enclosed room overlooking the gardens, seats 20. The Bellenita Room, with access to an outdoor terrace and garden, can accommodate 50 to 120 guests, depending on the arrangement. Finally, the Main Dining Room seats 66 and accommodates 100 for a reception.
The Estate
The mansion at The Estate was built in 1797 in Wilkes County, Ga. It was moved brick by brick and rebuilt on Piedmont Road in Atlanta, reopening in 2012. The brick walls from the original home were used in the redecoration and the main level features two bars, two salons and a ballroom. Downstairs, the wine cellars double as modern lounge areas with more salons and a sunporch upstairs.
Eastside
The Carter Center
The Carter Center, located in Atlanta's diverse and trendy Eastside, is home to the Jimmy Carter Presidential Library & Museum. The Jimmy Carter Library & Museum Lobby often is used for receptions, award ceremonies and special events. Rental of the Cecil B. Day Chapel includes use of upper and lower foyers for refreshments, receptions or breakout sessions. An added bonus is that the linear Freedom Park provides easy access to six intown neighborhoods and attractions.
The Cyprus Room, which overlooks the the Cypress Lawn and the Japanese Gardens, can be used for seated meals, receptions and seminars. The Zaban Room, with access to a patio and the grounds, is perfect for meetings of up to 65 people. Other options are the main foyer, the rotunda, the lower commons and the executive dining room. During breaks, your members have access to the gardens — 35 acres of formal gardens that include waterfalls and a Japanese Garden designed by master gardener Kinsaku Nakane.
Emory University
Emory University began in 1836 as Emory College in the town of Oxford, about 40 miles east of Atlanta. The Emory Conference Center Hotel specializes in meetings and conferences of any size. Located on Emory University's campus in Atlanta's historic Druid Hills neighborhood, the hotel resides within the 26-acre tranquil setting of Hahn Woods. The meeting space includes two amphitheaters and the Wisteria Lanes Bowling Alley & Pub, often used for team events. The historic Houston Mill House has a main meeting room that accommodates up to 40 and four breakout rooms that accommodate 10 people each.
The Michael C. Carlos Museum on the Emory campus has space for meetings, with an opportunity a visit to the galleries and cultural exhibits. Ackerman Hall, perfect for small gatherings, features floor-to-ceiling windows and overlooks Emory Quadrangle. The Executive Board Room is a wood-paneled space with state-of-the-art audio-visual equipment.
Midtown
Piedmont Park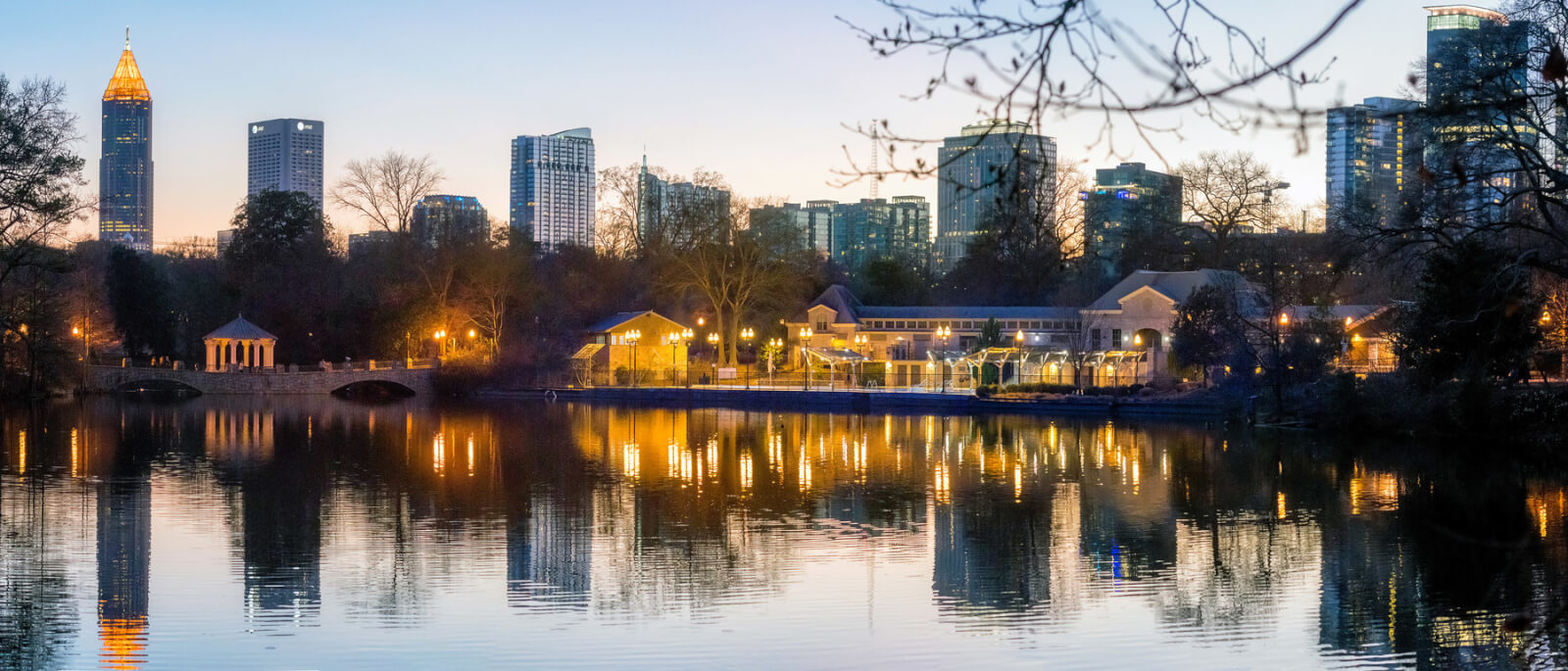 Atlanta's much-loved Piedmont Park in Midtown offers four historic venues for your meeting. Built in 1945, Magnolia Hall features Mission-style lantern chandeliers and the original working fireplace. Greystone covers 9,000 square feet of LEED-certified event space including a terrace overlooking Lake Clara Meer. It is a popular spot for events, exhibitions and galas. The Promenade offers 41,000 square feet of green space. The open-air venue is used for parties, outdoor performances and team building.
Another outdoor choice is Dockside, which includes two contiguous spaces: a dock/lawn area and historic Visitor Center building. Boardwalks and stone steps connect the two areas forming an amphitheater-like space nestled into the western end of the Lake Clara Meer. It is used for smaller events such as company picnics.
Midtown is known as Atlanta's heart of the arts. Your members will find the Woodruff Arts Center, home to The High Museum of Art, Atlanta Symphony Orchestra and Alliance Theatre, not far from Piedmont Park.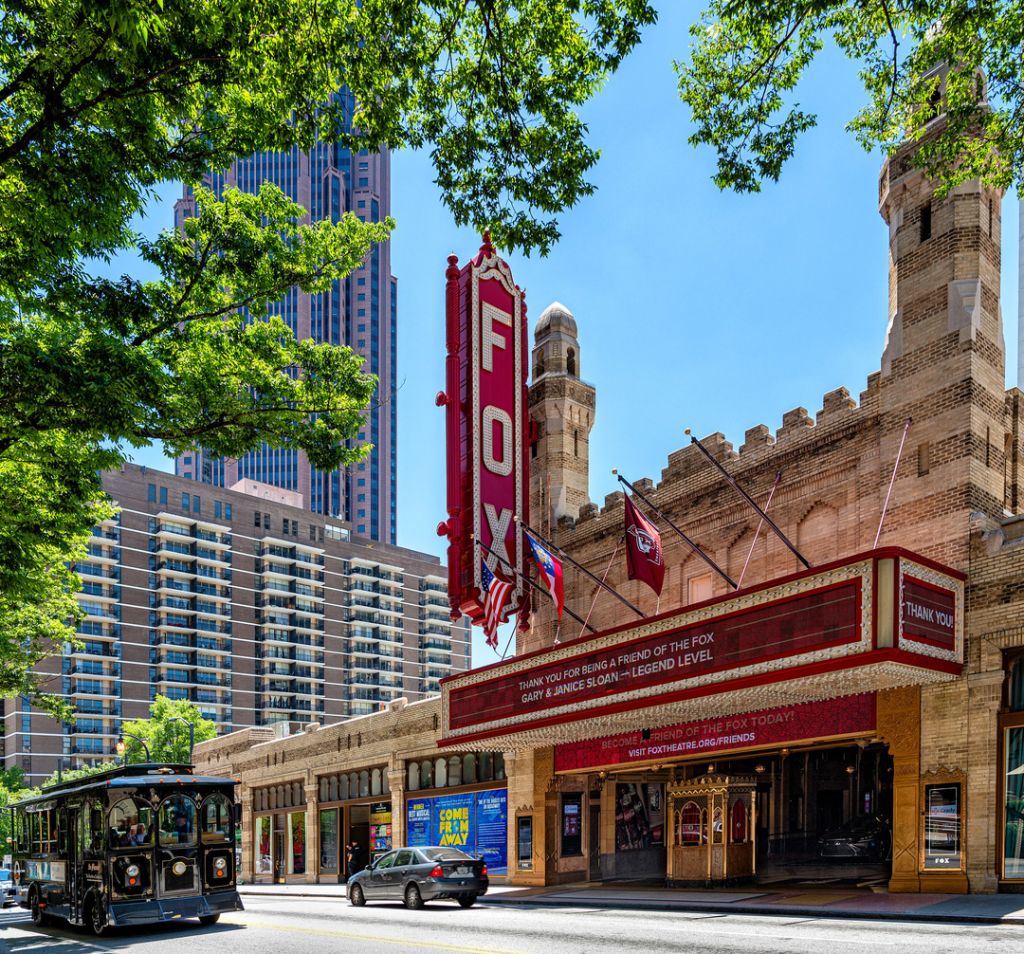 Another Midtown treasure is the fabulous Fox Theatre, which brings to Atlanta movies, Broadway plays and performing artists. Event spaces at The Fox include the Egyptian Ballroom, originally a dance hall; the Grand Salon with access to the outdoor Terrace; and the Marquee Club, Spanish Room, Main Lobby, Landmarks Lounge and Auditorium.
Rhodes Hall
Known as the Castle on Peachtree, Rhodes Hall, was built in 1902 as the private residence of Amos Rhodes, founder of Rhodes Furniture. Rhodes Hall is constructed of Stone Mountain granite in the Romanesque Revival style and events hosted here use the first floor, front porch and lawn. The first floor of Rhodes Hall can accommodate 150 people for a buffet/cocktail-style reception. A maximum of 100 people can be seated throughout the first floor for a seated dinner, with the largest room holding 40 people.
Downtown
Tabernacle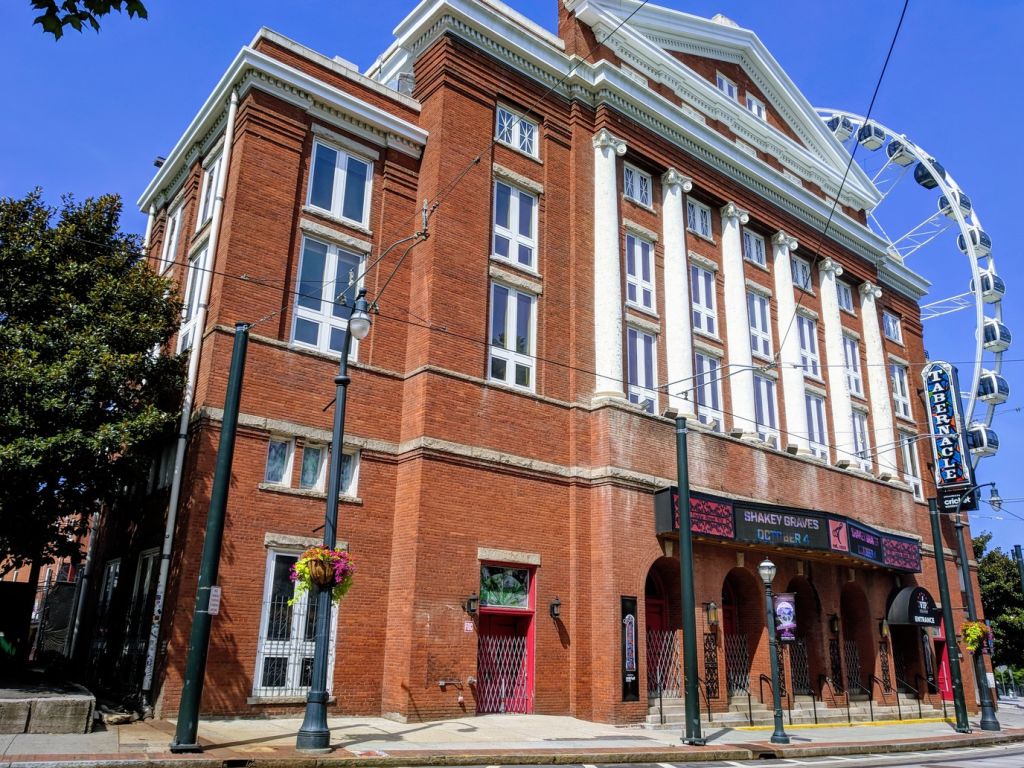 The Tabernacle in downtown Atlanta was founded as a Baptist church in 1911 and later converted to a music hall for the Centennial Olympic Games in 1996. Located just two blocks from Georgia World Congress Center, the Tabernacle can accommodate groups as small as 25 and as large as 2,500. Two VIP rooms each accommodate as many as 28 people. The Room and the Artist Lounge each can handle up to 150 people. For larger groups, consider The Cotton Club, Concert Hall or full-buyout of the Tabernacle Building.
Rialto Center for the Arts at Georgia State University
Atlanta's Rialto Center for the Arts at Georgia State University dates to 1916 when it was originally built as a movie house. This cultural centerpiece of Downtown is available for rentals. With a capacity of 833 seats, the theatre can accommodate large-scale corporate presentations, film screenings, theatrical productions and musical events. Another option is the Lobby, often used for meetings, presentations, banquets and receptions. Finally, the SunTrust Presidential Suite, at 1,100 square feet, is available for small meetings, workshops and dinners.
Adjacent to the Rialto, in the historic Fairlie -Poplar neighborhood is The Balzer Theater, home to Theatrical Outfit, and the historical site of Herren's, the first restaurant in Atlanta to voluntarily desegregate in 1962, and is the first U.S. theater to achieve LEED certification from the U.S. Green Building Council. The Stage and Rehearsal Hall are available for performances, meetings, events and parties. The Balzer Theater at Herren's is designated as a historical site by the League of Historic American Theatres.
Westside
King Plow Event Gallery
King Plow is a turn-of-the-century renovated warehouse. Just minutes from both Downtown and Midtown, King Plow can accommodate 400 to 800 guests with room combinations available to accommodate 1,500. With natural light and 30-foot ceilings, King Plow offers an airy atmosphere. Paintings throughout provide an art gallery vibe, and artifacts give a nod to King Plow's industrial roots.
The Foundry at Puritan Mill
Built in 1921, The Foundry at Puritan Mill was constructed and operated by Puritan Chemical Company until 1996. In 2000, the location was converted into a mixed-use facility within Atlanta's King Plow Arts District. The foundry's 12,000 square feet can accommodate groups ranging in size from 120 to 1,200. Characteristics of the available spaces include original pine beams and skylights.
Still wanting to see more of what Atlanta's venues have to offer? How about an event at one of Atlanta's top attractions? There are a variety of venue options and one of these could be the perfect spot to inspire your group. To help with your planning, peruse and build your list with our venue catalog.
Discover More
Get to know Atlanta, and discover the best things to do around the city.